Southern Cornbread Dressing Recipe
At my family dinner table, this classic side dish needs no introduction. This cornbread dressing recipe is a Southern must-have for the Thanksgiving table. It tastes just like coming home for the holidays!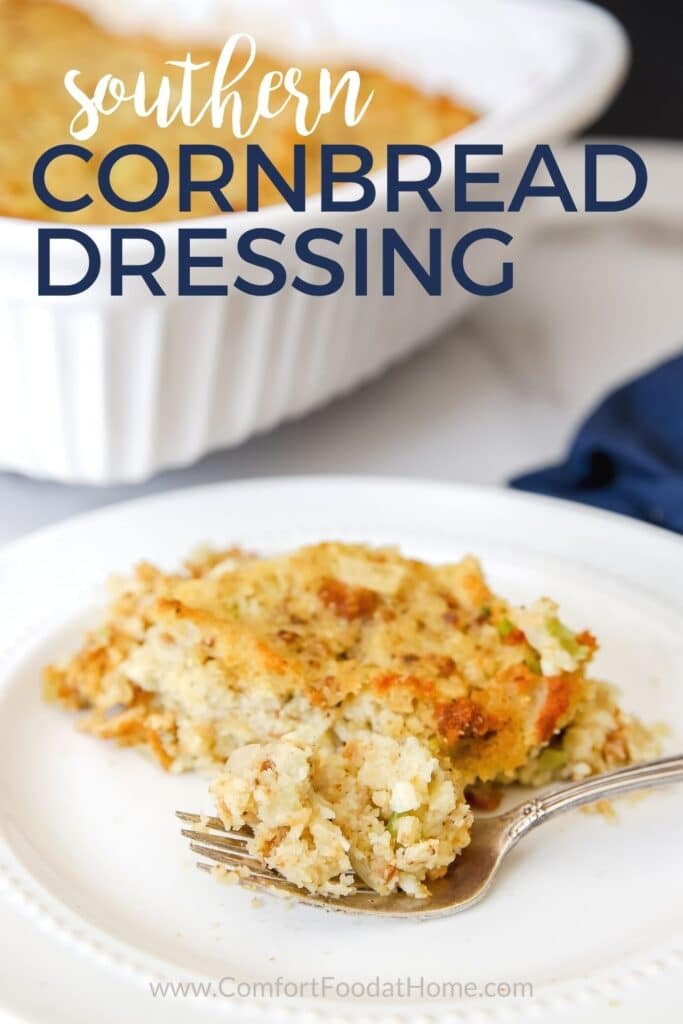 Make This Cornbread Dressing Recipe To Serve At Your Southern Thanksgiving!
When it comes to family traditions, just about everyone has their own unique take on holiday dinner. From grandma's fresh dinner rolls to my great aunt's pumpkin pie, I love it when I get to hear about everyone's special take on classic recipes.
In my family, this cornbread dressing recipe is a Thanksgiving must-have.
If you're a little confused about the name of this recipe, let me shed some light. What other places may call stuffing, the South calls dressing. The term dressing originated around 1850 when the Victorians decided that stuffing was too crude of a word to be used for the recipe. Oh, how things change!
Dressing is a favorite among us Southerners, most often made with cornbread instead of white bread. This cornbread dressing recipe also uses biscuits, and it tastes exactly as I remember it.
When it comes to Thanksgiving, no dinner is complete without dressing. It's a family favorite and always one of the first dishes to be passed around the table. In fact, it's probably one of the only items everyone will willingly take seconds of.
Just don't tell my kids there are onions and celery in it! Ha!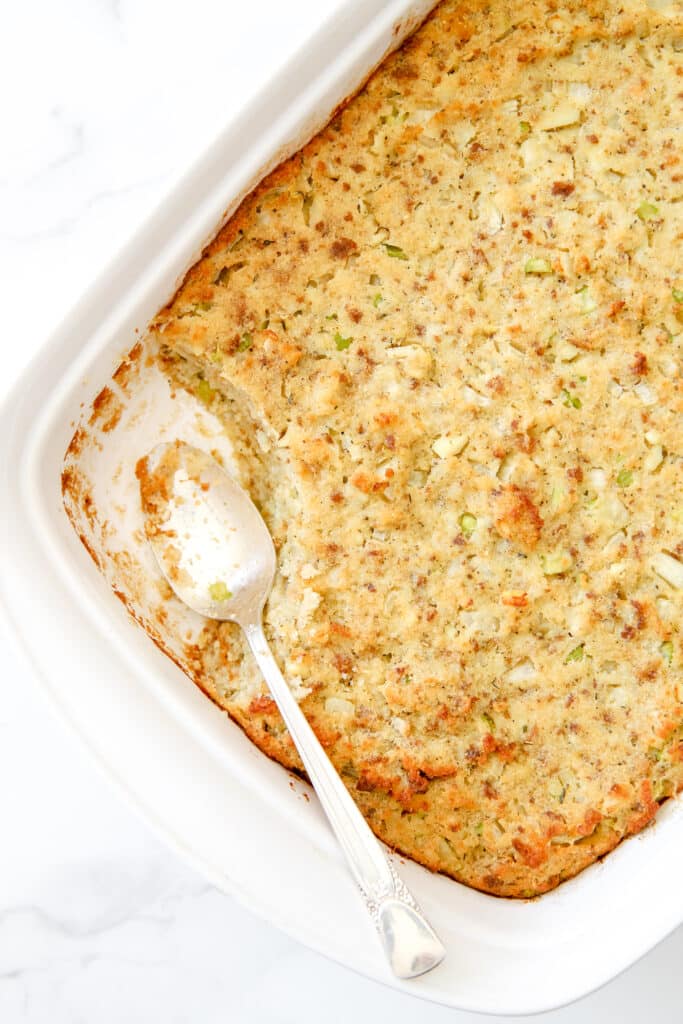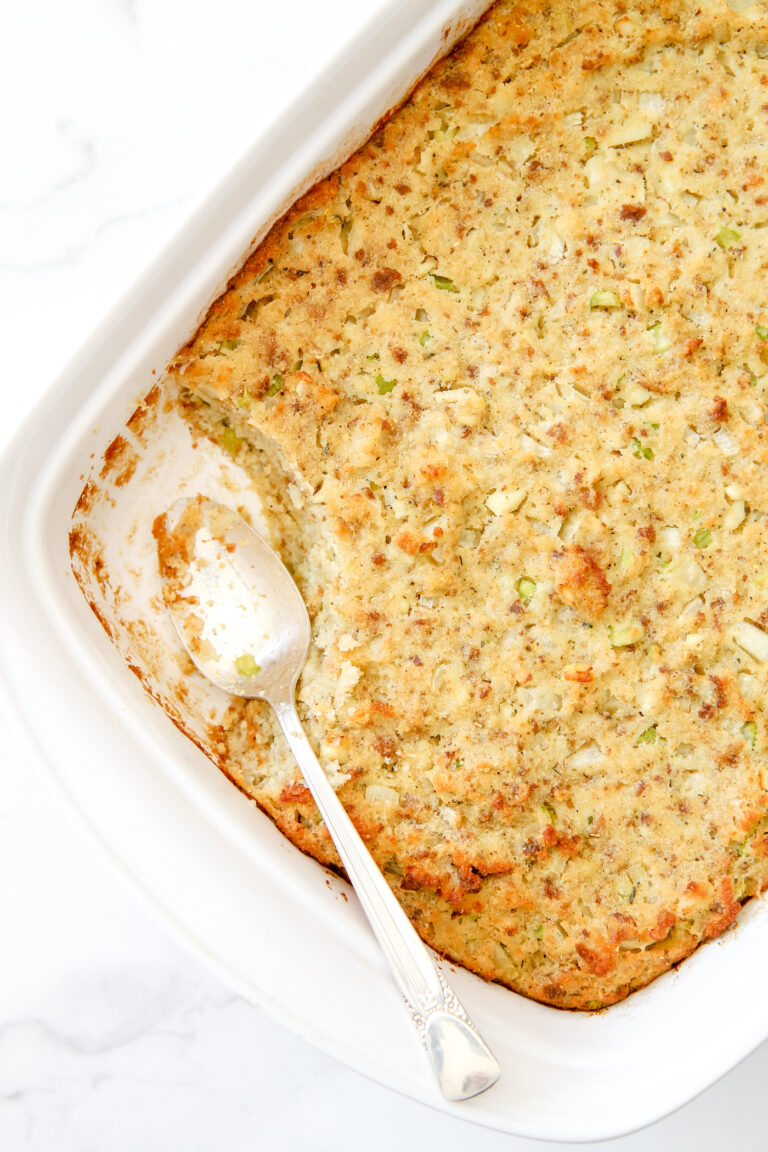 Ingredients Needed to Make Homemade Cornbread Dressing
I know that dressing is a staple at many Thanksgiving and Christmas dinners. While it is a signature taste of the holidays, don't be scared to break the rules and make it any time of the year.
To make this cornbread dressing at home, here's what you will need:
Cornbread Crumbs: To make things easier for yourself on Thanksgiving Day, make your cornbread the day before. Keep it wrapped up tight and crumble when you're ready to use it.
Biscuits: Just like your cornbread, crumble your buttermilk biscuits just before you get started making the dressing. It's easier to do this when they are cold. (Feel free to make things easy for yourself and cook frozen biscuits the day before. They taste great!)
Butter: 1 stick of butter helps to keep the cornbread soft and moist!
Celery and Onion: Finely chopped, celery and onion are a must-have for southern dressing. Plus, you can feel good about adding a hint of veggies.
Eggs: You are going to need eggs for two parts of this recipe. For some extra texture and different flavors, add in a few chopped hard-boiled eggs. This is also something you can prep in advance. You are also going to need a few raw eggs to help bind the ingredients together.
Spices: For this cornbread stuffing, I used sage, thyme, salt, and black pepper to really help enhance the flavor in this recipe.
Chicken Broth: For extra moisture, the chicken broth keeps your dressing from getting too dry while also adding additional flavor. I prefer low-sodium broth, but if you use regular broth, tone down how much additional salt you add.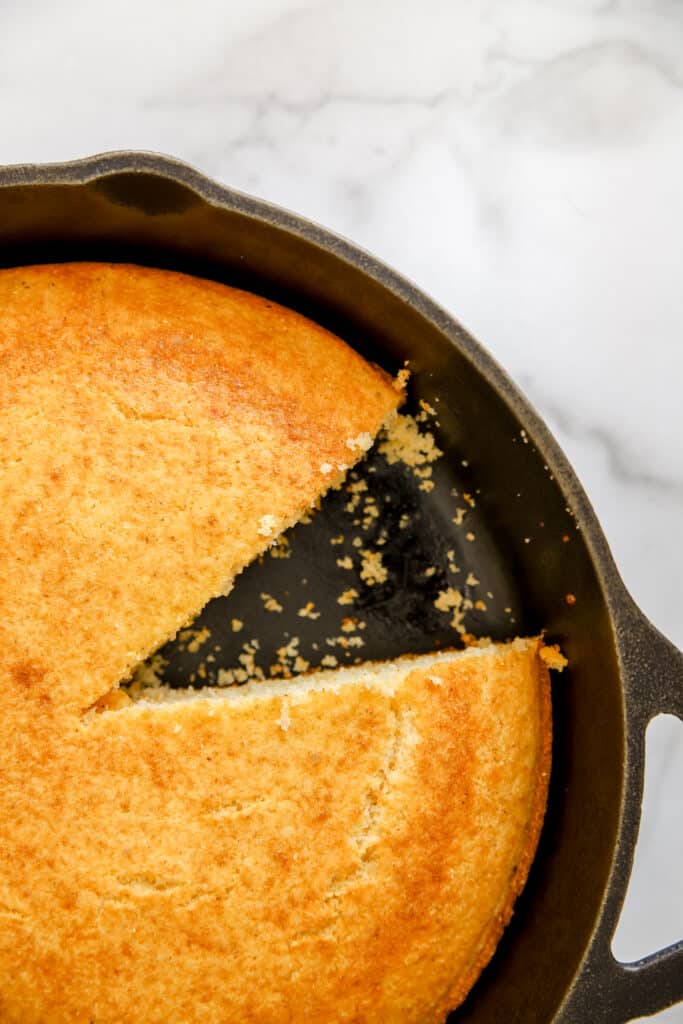 What To Serve With Southern Cornbread Dressing
Since this cornbread dressing is a side dish, you're going to need some other star dishes to round off the meal. Of course, there's the turkey, but there are plenty of other comfort-filled side dishes to include.
To begin dinner, I liked to make a pot of roasted butternut squash soup. The flavors taste just like fall, and the creaminess is to die for.
If you're looking for another meat to include besides turkey, consider these cheesy sausage balls. They are sure to be devoured!
For vegetables, consider making some baked sweet potatoes, mashed potatoes, or sauteed Brussel sprouts.
And, for dessert, you can never go wrong with pumpkin pie or apple pie! You can also make this chocolate chip bundt cake for those wanting something chocolatey.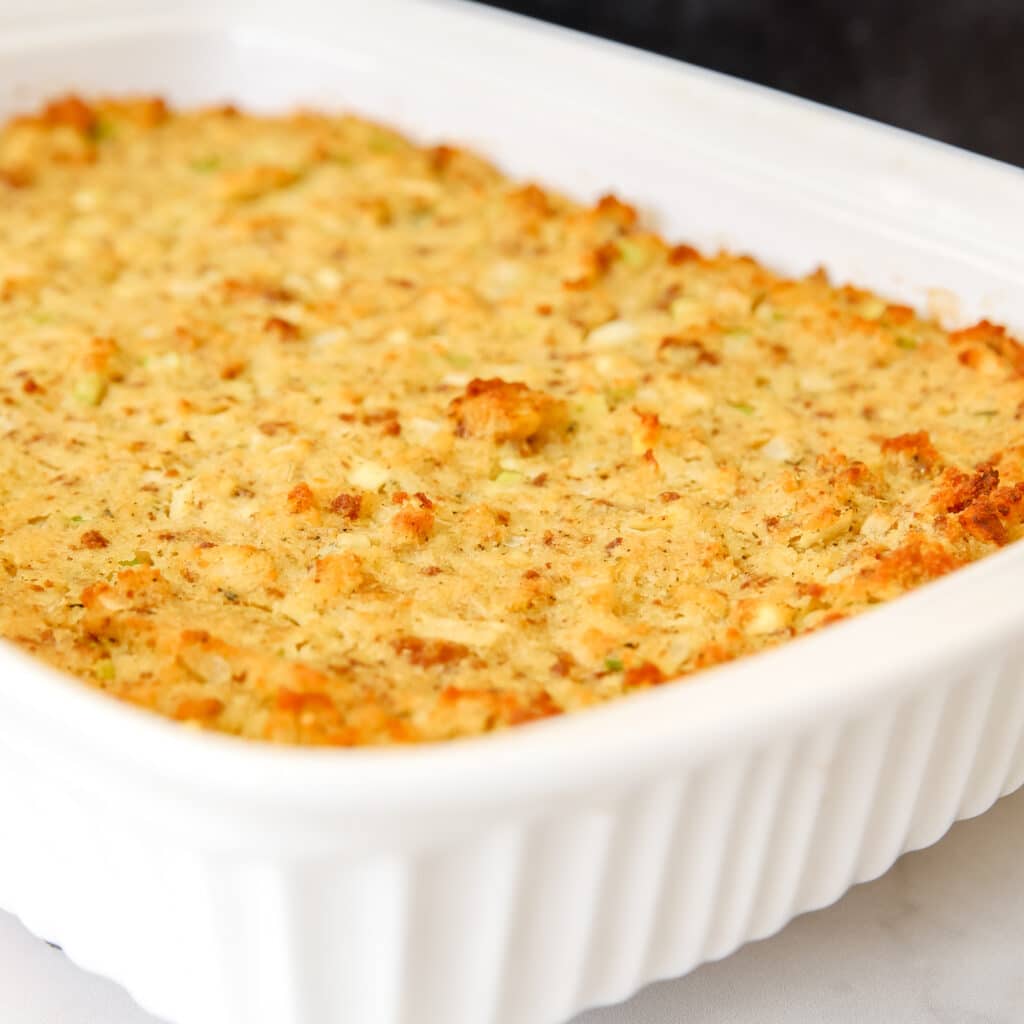 Frequently Asked Questions About Cornbread Dressing
Whenever I share this recipe, I get some of the same questions. Here are the most popular ones that people ask!
If you have a question that isn't listed here, please leave them in the comments, and I'll answer them as soon as possible.
Do you have to add eggs in the dressing?
The hard-boiled eggs are optional, but I encourage you to try out the recipe with them. You may be surprised!
As for the raw eggs, they act as a binder to keep all the other ingredients in place. You can omit the eggs, but keep in mind your dressing may be a little more 'crumbly'.
Should dressing be baked covered or uncovered?
When you're baking with a casserole pan, you want to cover your dressing with aluminum foil for the first 30 minutes. After that, remove the aluminum foil and let it bake for 10 more minutes.
This ensures the moisture stays locked in but that the top is golden and crispy.
Can you make this cornbread dressing recipe ahead of time?
It's okay to make the cornbread dressing ahead of time, as long as you keep it refrigerated. I like to use half my chicken stock when preparing it and then cover it and place it in the fridge.
The bread will soak up the flavors from the herbs, vegetables, and stock overnight. When I'm ready to cook it, I add the rest of the stock and bake it normally in the oven.
MORE GRANDMA-APPROVED RECIPES TO TRY
If you enjoyed this recipe for southern cornbread dressing, take a look at some of these other yummy recipes:
So, have I convinced you to make this cornbread stuffing recipe at your next holiday dinner? If so, let me know! I'd love to hear what you think in the comments below!
Print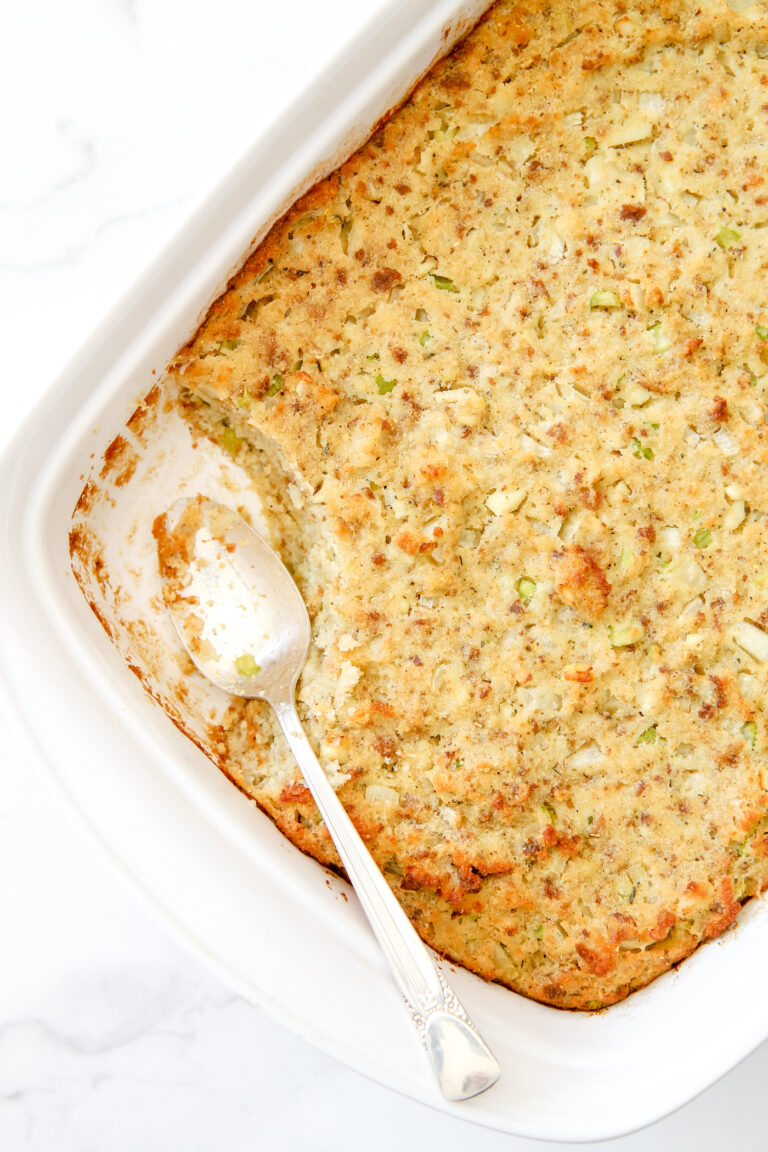 Cornbread Dressing Recipe
At my family dinner table, this classic side dish needs no introduction. This cornbread dressing recipe is a southern must-have for the Thanksgiving table. It tastes just like coming home for the holidays!
Total Time:

2 hours

Yield:

8

people

1

x
6 cups

southern-style cornbread crumbs

6

cold buttermilk biscuits, crumbled

½ cup

butter (

1

stick)

1 cup

celery, finely chopped

2

medium onions, finely chopped or minced

1 tsp

. black pepper

3

hard boiled eggs

1

–

2

tsp. sage

¼ tsp

. thyme

1 tsp

. salt

2 cups

chicken broth

3

raw eggs, slightly beaten
Instructions
Before starting, cook the cornbread, bake the biscuits and boil the eggs.
Once they are slightly cooled, crumble the breads and chop the boiled eggs.
Preheat oven to 400 degrees.
Finely chop celery and onions.
Melt butter in a large saucepan.
Add chopped celery and onions.
Saute until vegetables are soft, but not browned.
Combine crumbled breads in a large bowl.
Add onion and celergy mixture, chopped eggs, chicken broth and seasonings to the bread mixture.
Taste and add more seasonings if desired.
Add raw eggs last and stir to combine.
Dressing should be sloppy at this point, so add more chicken broth if needed.
Pour into a 9 x 13 casserole dish or greased skillet.
Bake in oven on 400 degrees untl lightly browned on top, about 45 minutes.
Notes
If you don't already have a cornbread recipe, you can buy Martha White's Buttermilk Cornmeal and use the recipe for southern cornbread on the back.
Author:

Laura

Prep Time:

1 hour 15 minutes

Cook Time:

45 minutes

Category:

Side Dish

Cuisine:

American
Keywords: dressing, side dish, Thanksgiving