How to cook a sweet potato? Let me show you! These baked sweet potatoes are a healthy side-dish that is full of vitamin A, fiber, and add color to your plate!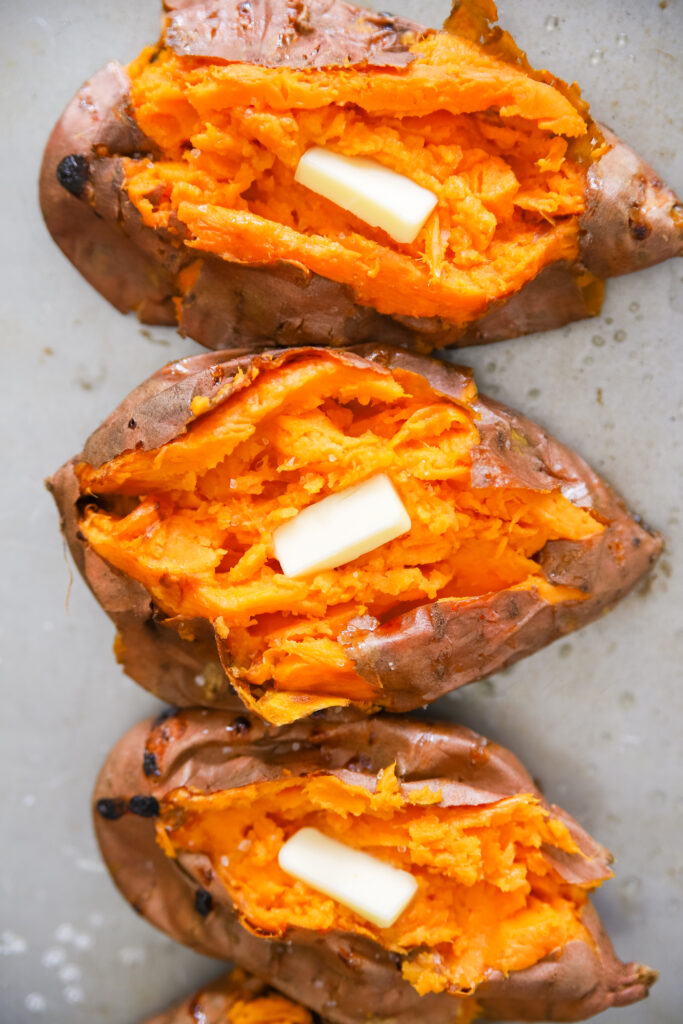 Yummy Baked Sweet Potato Recipe
Sometimes, you just want something that is classic, simple, and really good for you too…
Enter baked sweet potatoes.
This side dish recipe reminds me of my favorite steakhouse. Sure, lots of people enjoy baked potatoes, but when you want something that is both savory and mildly sweet, this recipe is perfect.
The best thing about making sweet potatoes is how easy it is to make! Easy recipes are my favorite kinds. You know, the ones where you don't have to memorize a complicated list of steps.
Don't just stop at a basic sweet potato. There are lots of ways to make them. Plus, you can mix things up with lots of different toppings, too!
Different Ways To Make Easy Baked Sweet Potatoes
I'm already a huge fan of sweet potatoes. From mashed sweet potatoes to yams and crispy fries, this is one versatile vegetable.
This recipe is so uncomplicated, that I'll be sharing lots of variations and ways you can change it up.
Some sweet potatoes recipes call for lots of steps and spices but this recipe has basically one step.
Bake the potatoes.
Easy, right?
But, it all comes down to HOW to make these baked sweet potatoes. Well, there are several different ways to do that.
This post contains affiliate links for your convenience.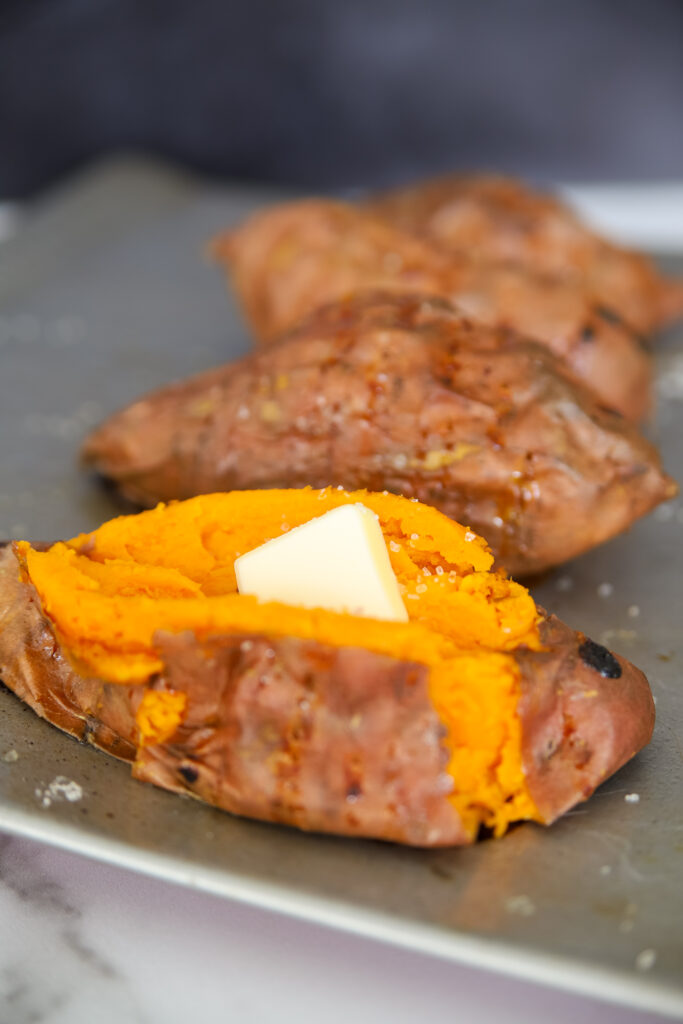 How To Cook Sweet Potatoes In The Oven
This is the most popular way to make baked sweet potatoes! There are only a few steps between you and a soft, delicious potato.
Preheat the oven to 400 degrees F.
Use a fork to poke holes all over the sweet potatoes.
Place them on a baking sheet.
Roast the potatoes for 50-60 minutes.
You will know they are done when they are puffed up and soft inside when you can easily pierce them with a fork.
How To Make Baked Sweet Potatoes In The Air Fryer
This method takes the same amount of time as it takes in the oven. Using the air fryer means it's easier to clean up! Here's how to do it.
Pierce the sweet potatoes all over with a fork or knife.
Drizzle olive oil on the outside of the potatoes and rub it in.
Place sweet potatoes on the air fryer rack or basket – leave space between them and don't stack them.
Cook at 390 degrees for 40-50 minutes. Flip them over halfway through the cooking time.
How To Make Baked Sweet Potatoes In The Microwave
This is the fastest way of all to make them. You won't believe me, but it really only takes about 5 minutes!
Pierce the sweet potato with a fork multiple times.
Place it on a microwave-safe plate.
Microwave on high for 5 minutes, turning it over halfway through cooking time.
Cut it open and test how well it is cooked. If you want it softer, cook it again in 30-second increments.
How To Make Baked Sweet Potatoes In The Instant Pot
This method doesn't take as long as the oven or the air fryer, and the sweet potatoes come out tasting perfect!
Pierce the sweet potatoes all over with a fork.
Set a heatproof trivet or a steamer basket inside your Instant Pot.
Add 1 cup of water to the bottom of the removable bowl and add the potatoes to the steamer basket.
Cook under high pressure for 12-25 minutes, depending on the size of your sweet potatoes. It will take about 7-10 minutes for it to come up to pressure.
Naturally release the pressure. This will take about 10 minutes.
How To Cook Sweet Potatoes In The Slow Cooker
If you like crispy baked sweet potatoes, don't make them in the slow cooker. This makes the skin softer. It is still a really simple way to make them.
Place the sweet potatoes in the slow cooker.
Cook on low for 8 hours or on high for 4 hours.
That's it! No need to pierce them with a fork or turn them over.
How To Make Baked Sweet Potatoes On The Grill
The grill isn't just for summertime. You can grill all year long (I enjoy using an indoor grill too).
Here's how to make these delicious sweet potatoes on the grill.
Heat the grill to medium-high heat.
Plate the potatoes directly on the grill grates.
Cover and grill them, flipping halfway through until they can be pierced with a fork. This takes roughly 30-45 minutes.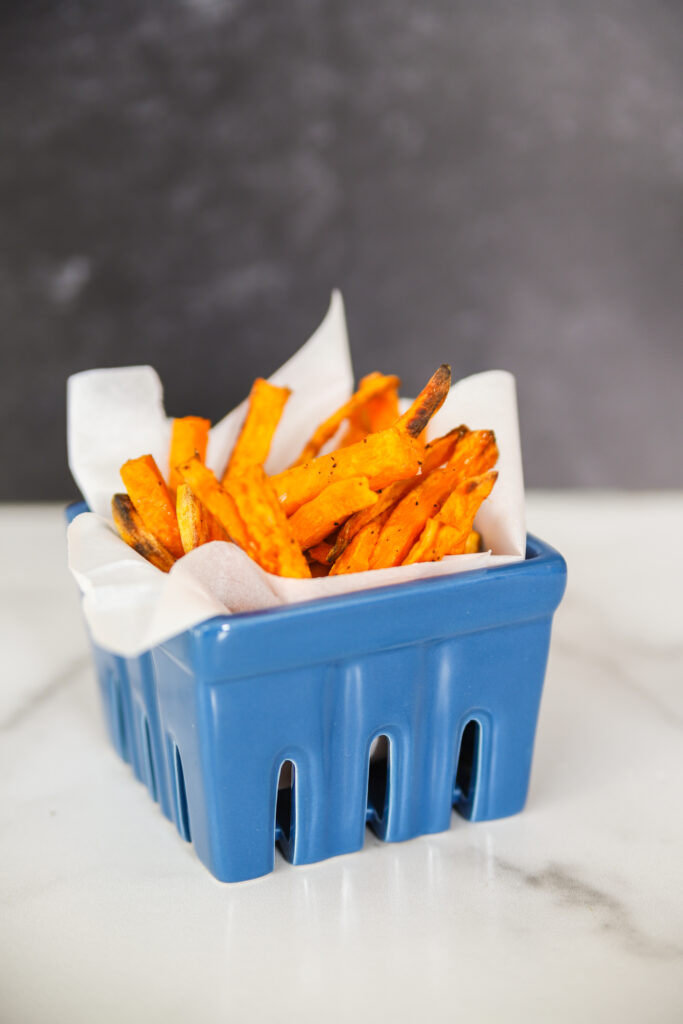 How to Make Sweet Potato Fries?
Let's deviate from the original topic just a bit to chat about one of the easiest ways to cook a delicious sweet potato. And that is to make sweet potato french fries! Simply peel the potato and cut them into long fry shaped strips. Then you will:
add the fries to a baking sheet in a single layer,
drizzle some olive oil on top,
and season with sea salt and black pepper
Bake them at 400 degrees for about 25 minutes, flipping the fries halfway through.
And voila! A delicious snack or side dish that even the kids will love!
I love to pair my sweet potato fries with a spicy mayo dipping sauce. Mix 3/4 cup of mayonnaise and slightly less than 1/4 cup of sriracha sauce together. Serve with the sweet potato fries for a delicious sweet and spicy treat!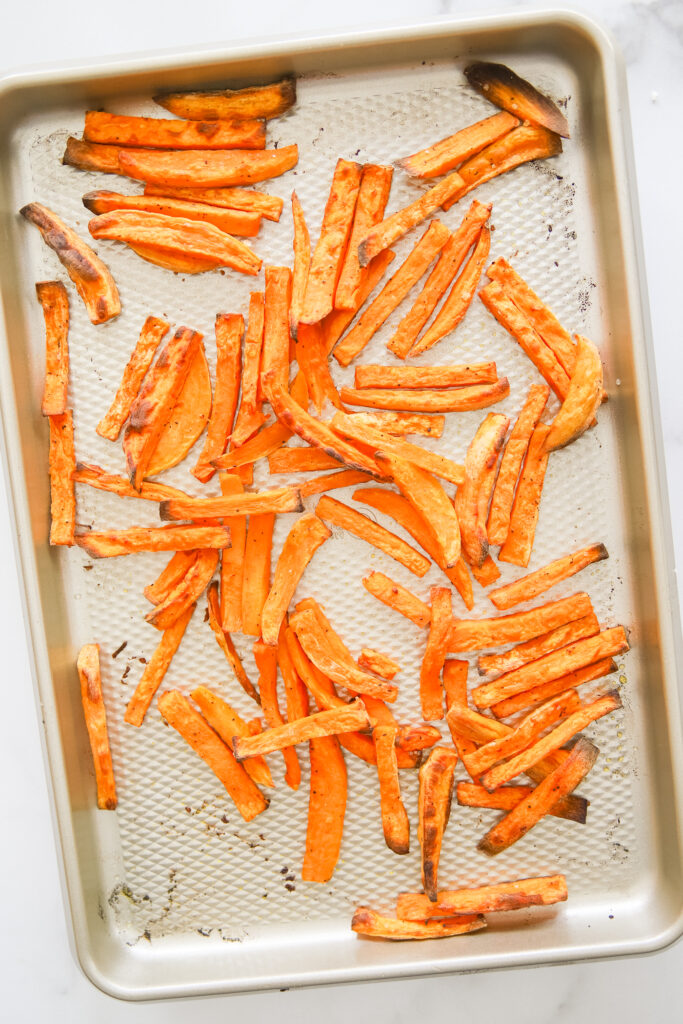 Roasted Sweet Potatoes
One final way to cook this delicious vegetable is by simply chopping it up into cubes and roasting it. The process is very similar to making fries, outlined above. Only this time you'll peel the potato and chop in into cubes about a half inch thick.
Then place them on a baking sheet in a single layer, add olive oil and salt. Finally, you'll roast them in the oven at 400º for 25 minutes, flipping the potatoes halfway, until they are crispy on the outside. Delicious!
Baked Sweet Potato Toppings
What do you like to put on top of your sweet potatoes? These are so versatile, that the ideas are endless! You can even have fun and serve a baked sweet potato bar for a party.
Here are some of my personal favorite ideas:
BBQ shredded pork
Shredded buffalo chicken
Avocado
Broccoli
Bacon
Marshmallows
Caramelized apples
Chili
Brown sugar
Butter
Frequently Asked Questions About How to Cook Sweet Potatoes
As easy as this recipe is, there are still a few questions people ask. You might have wondered the same things.
Is it better to boil or bake a sweet potato?
This depends on how you want to eat it. If you want crispy skin and soft meat, then you should bake the sweet potatoes. If you want to mash them or use them like yams, boiling is a better option.
Do you need to wash sweet potatoes before you bake them?
Yes, you should always wash your produce before you eat them. This is especially important for foods like potatoes that have edible skin. All you need to do is rinse them off in cool water really quickly and then pat them dry.
What temperature is baked sweet potato done?
Baked sweet potatoes are done at 205-212 degrees F. The temperature isn't as important as the texture. It's safe to eat a sweet potato raw, it's just not very enjoyable!
More Grandma-Approved Recipes To Try
If you enjoyed this recipe for baked sweet potatoes, then take a look at some of these other yummy recipes:
What do you like to put on top of your sweet potatoes? What is your favorite way to bake them? I'd love to hear about it in the comments below!