Chocolate Chip Muffins With Sour Cream
This post contains links to affiliate websites, such as Amazon, and we receive an affiliate commission for any purchases made by you using these links. We appreciate your support!
These moist chocolate chip muffins with sour cream are the perfect foolproof muffin recipe! They are easy to make and always come out of the oven, tasting delicious and perfectly sweet with just the right amount of chocolate. My kids LOVE them!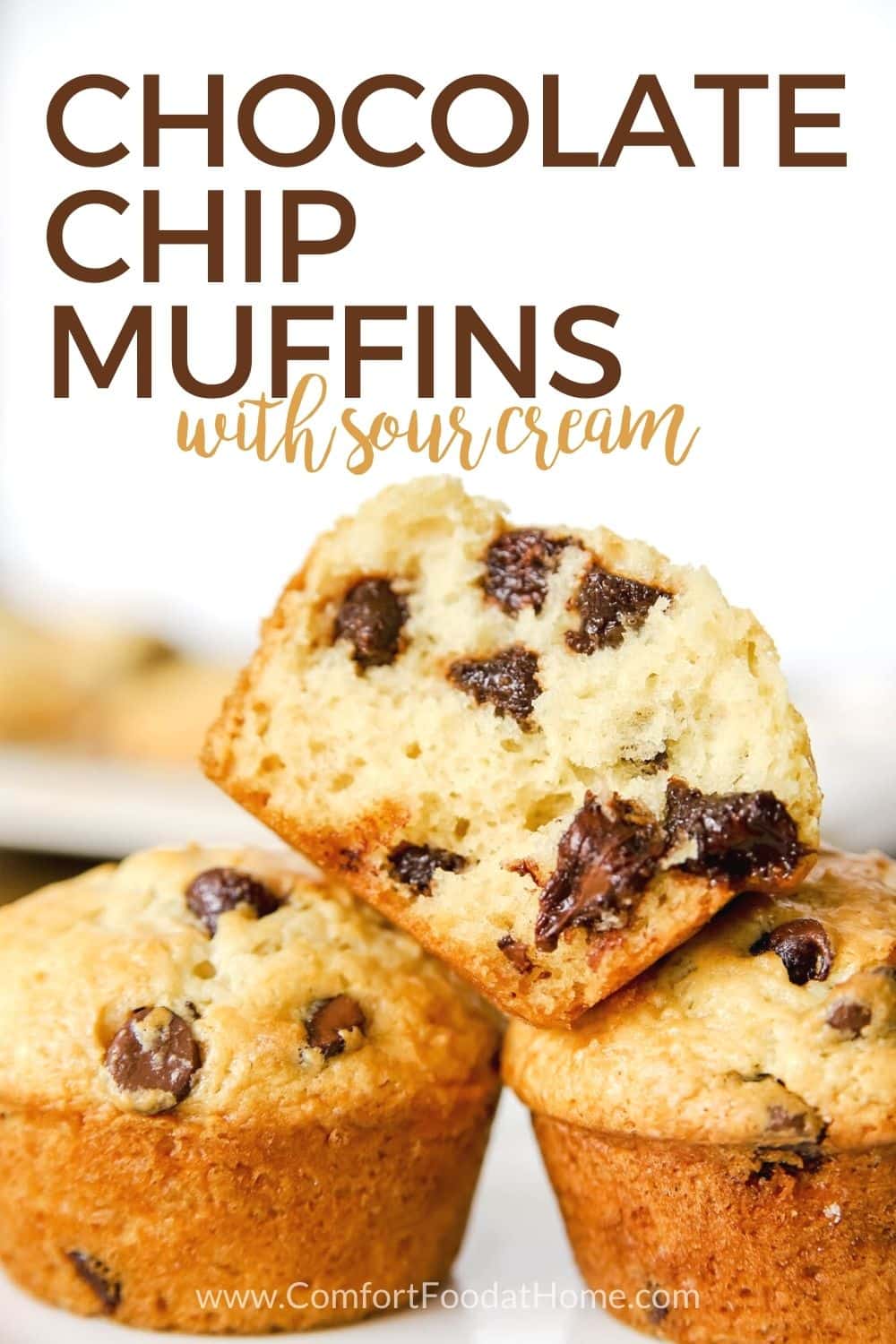 Make These Chocolate Chip Muffins With Sour Cream For A Sweet Summer Snack!
These sour cream muffins are perfectly delicious while still being simple to make!
If I am ever craving a sweet snack, all I have to do is quickly mix these ingredients together and throw the batter in the oven. This is a very simple recipe that is very hard to mess up! They always come out of the oven perfectly risen and perfectly fluffy.
They have just the right balance of sweetness that isn't overpowering. This makes them a great option for a sweet breakfast if you are feeling up to something chocolatey!
I personally like to have one of these muffins with a cup of coffee at midday or as an after-dinner dessert.
The kids also love these easy muffins and gobble them up while they are still warm!
Because they are such a crowd-pleaser, they make a great dessert to take to gatherings. They can quickly be thrown together, and you can feel confident that they are going to come out of the oven perfectly golden and moist.
If there is a recipe that I am constantly going back to, it would have to be these chocolate chip muffins with sour cream.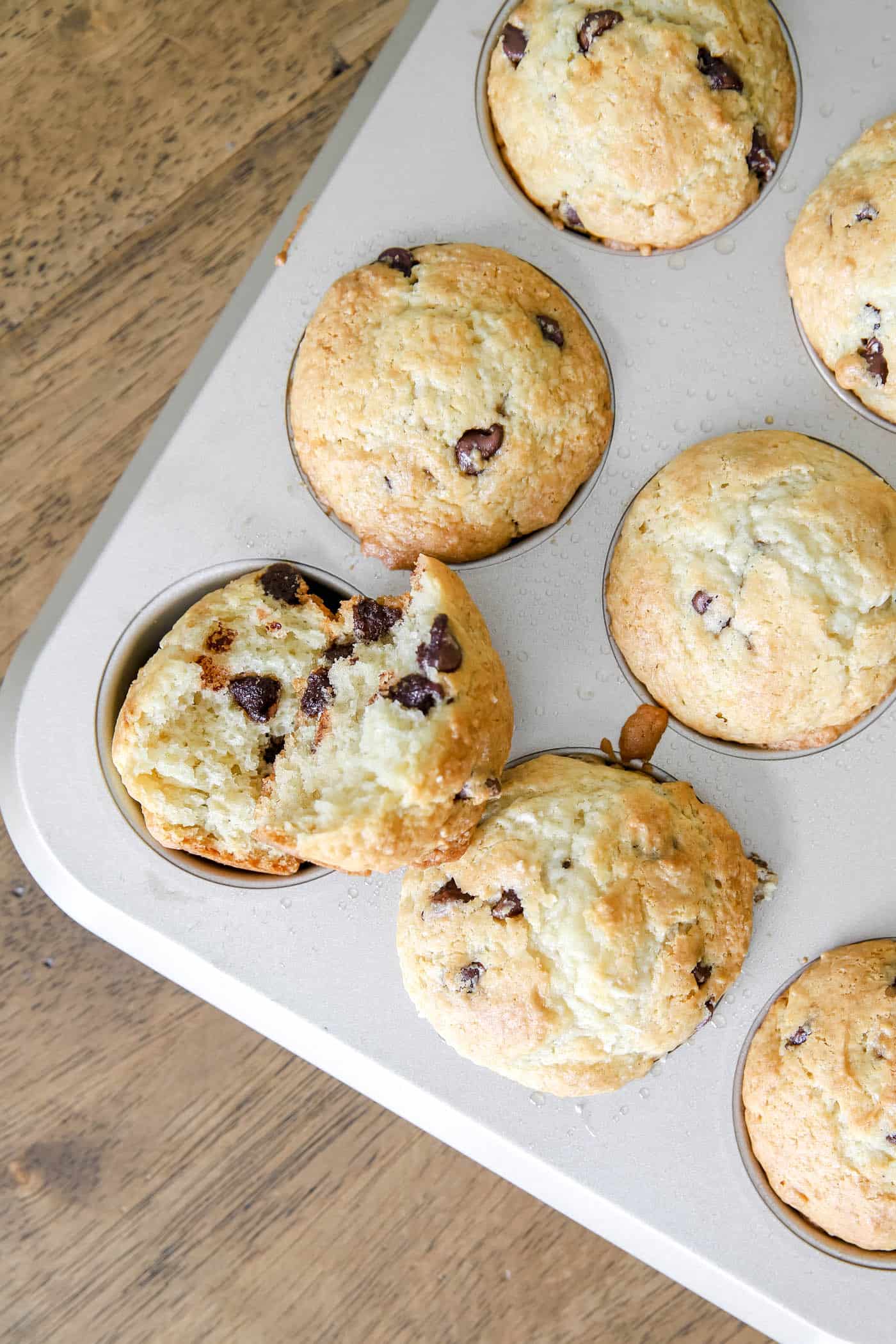 Ingredients Needed To Make Sour Cream Chocolate Chip Muffins
To make these tasty sour cream muffins, you will need the following ingredients:
Flour: Flour is the base of any baking recipe. All -purpose flour is used in these muffins to create the perfect muffin texture that is light and airy with a slight bite.
Sugar: Some sugar helps these muffins to turn out perfectly sweet without being overly sweet. The chocolate chips will also add some sweetness, which is why there is less sugar than you might expect.
Baking Powder and Soda: Baking powder and baking soda help these muffins to come out of the oven perfectly light and fluffy. The combination adds height and makes the crumb perfectly light.
Eggs: Eggs are the perfect ingredient to add structure to these muffins. It helps the ingredients to bind together to rise into perfectly rounded muffins.
Sour Cream: Sour cream adds the slightest tang to these muffins, but that isn't all it does. It also helps to create an amazingly moist muffin that is not dry at all.
Butter: Butter adds richness and plenty of fat, which helps to create the perfect textured muffin that is moist and rich.
Salt: Salt helps to pull all of the other ingredients together and balances out the sweetness and chocolate.
Vanilla Extract: Vanilla extract is the perfect companion to the chocolate chips and makes this muffin even more delicious and fragrant.
Chocolate Chips: The chocolate chips turn this simple muffin recipe into something deliciously chocolaty!
Substitutions
Brown Sugar: If you prefer, you can substitute brown sugar for white sugar. This will give the muffins a deeper flavor and a slightly softer texture.
Greek Yogurt: If you do not have sour cream, you could also use plain greek yogurt. Preferably unsweetened, but sweetened is fine as long as you slightly decrease the sugar in the muffin recipe.
Baking Chips: If you do not like chocolate chips or want to get more creative, you can use all kinds of baking chips. You could try out caramel, toffee, or butterscotch baking chips instead.
What To Serve With Chocolate Chip Sour Cream Muffins
These sour cream muffins are the perfect sweet treat that you can eat without anything extra. But, they are even better served with a little something!
I love to have one of these muffins with a big cup of coffee, but they would also go nicely with:
A scoop of vanilla ice cream
A glass of cold milk
A scoop of warm peanut butter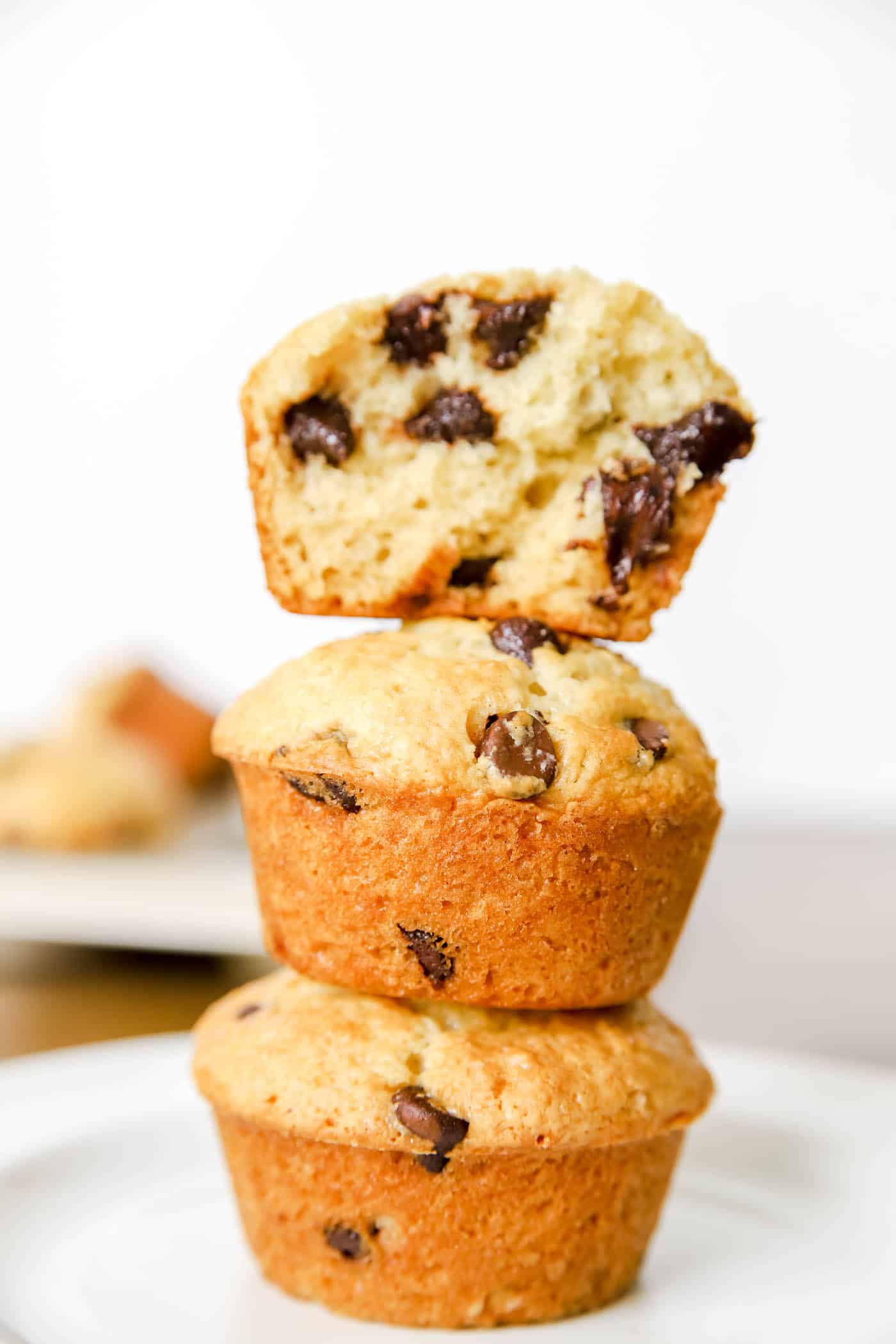 Frequently Asked Questions About Chocolate Chip Muffins With Sour Cream
Whenever I share this recipe, I get some of the same questions. Here are the most popular ones that people ask!
If you have a question that isn't listed here, please leave them in the comments, and I'll answer them as soon as possible.
Why did my muffins turn out dry?
This muffin recipe is made to create a very moist muffin. So, if your muffins turned out dry, something must have gone wrong.
Most likely, you either measured an ingredient incorrectly or overbaked them in the oven. Your oven might even run a bit too hot and need to be turned down, or the muffins need to be taken out earlier.
These are some of the most common culprits that could cause your muffins to turn out dry.
Can I replace the butter with oil?
Yes, you can replace the butter with an oil of your choosing! Many baked goods can be made with butter or oil depending on what you prefer.
Oil will make the muffins a bit richer and give you a slightly denser crumb. Olive oil is a great option, but most vegetable oils will work.
How do I store these muffins?
If you plan on eating these muffins within two days, you can store them out on the counter as long as they are covered.
If you don't plan on eating them that quickly, you should store them in the fridge. These muffins will last for a week in the fridge.
If you want an even longer option, you can store these muffins in the freezer for 2 to 3 months. Just make sure that they are wrapped and stored in an airtight container.
Defrost them and eat them as is, or you can warm them up in a toaster oven in a regular oven.
Tools you'll need for this recipe:
Tap the images above to find my favorite kitchen tools for this recipe! The bowls are so pretty and have a non-slip grip on the bottoms.
More Grandma-Favorite Recipes to Try
Print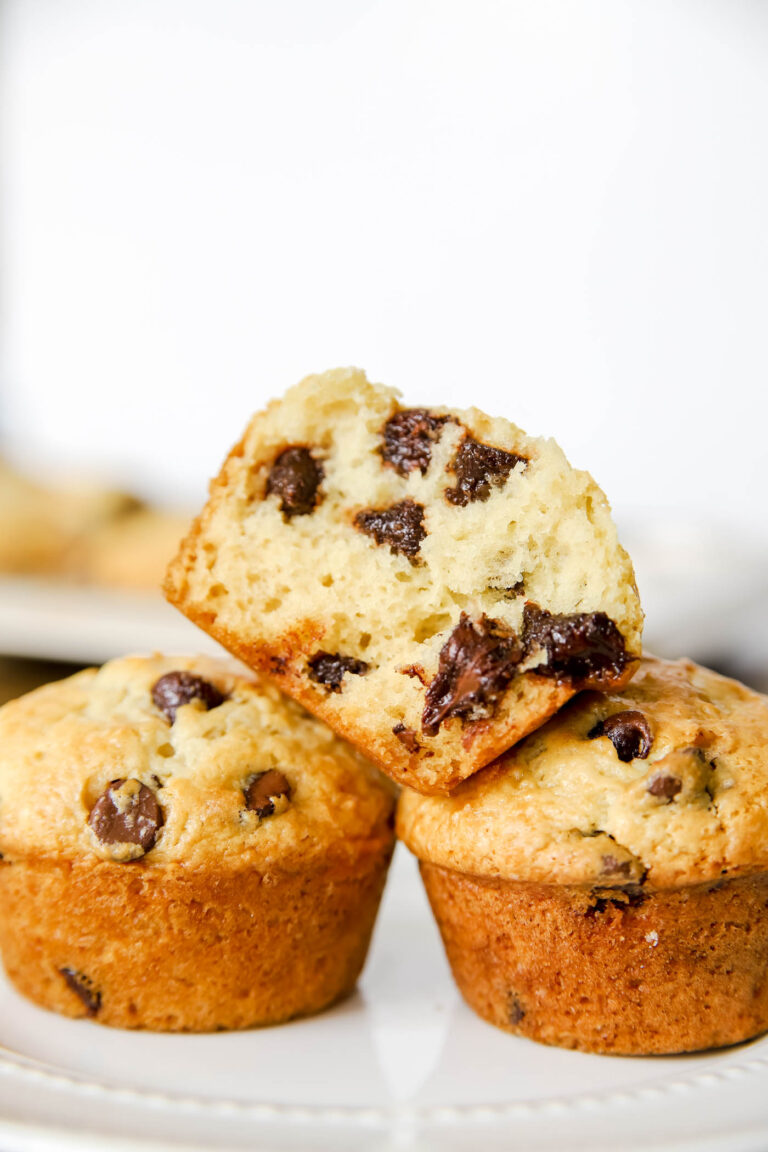 Chocolate Chip Sour Cream Muffins
These moist chocolate chip muffins with sour cream are the perfect foolproof muffin recipe! They are easy to make and always come out of the oven, tasting delicious and perfectly sweet with just the right amount of chocolate.
Total Time:

33 minutes

Yield:

12

muffins

1

x
1 ½ cups

cups all-purpose flour

⅔ cup

granulated sugar

¾ tsp

. baking powder

¾ tsp

. baking soda

¼ tsp

. salt

1

large egg

1 cup

sour cream

5 Tbsp

. butter, melted

1 tsp

. vanilla extract

1 cup

semi-sweet chocolate chips
Instructions
Preheat the oven to 350 degrees.
Spray cooking oil in muffin tin or line with cupcake liners.
In a large bowl, mix together the flour, sugar, baking powder, baking soda, and salt.
In another large bowl or stand mixer, combine the egg, sour cream, melted butter, and vanilla extract, mixing well.
Gradually add the dry ingredients to the wet ingredients and stir with a spatula until just combined.
Stir in the chocolate chips until thoroughly combined.
Evenly divide the batter among the muffin tin until they are about 3/4-full.
Bake at 350 degrees for about 14-18 minutes. Start with 14 and keep an eye on them until the tops are golden brown. The muffins are done when a toothpick inserted into the center of the muffins comes out clean.
Prep Time:

15 minutes

Cook Time:

18 minutes

Category:

Breakfast

Cuisine:

American
Nutrition
Serving Size:

1 muffin

Calories:

321

Sugar:

23 g

Sodium:

290 mg

Fat:

17 g

Saturated Fat:

10 g

Unsaturated Fat:

4 g

Trans Fat:

0 g

Carbohydrates:

37 g

Fiber:

2 g

Protein:

7 g

Cholesterol:

170 mg
Keywords: baked goods, breads and muffins, breakfast, chocolate