Looking for a healthy, low-carb version of a classic lasagna? This delicious zucchini lasagna recipe is a must! This dish is perfect for anyone looking to cut down on carbs or just looking for a new and exciting way to enjoy lasagna.
Instead of lasagna noodles, you use thinly sliced zucchini between layers of cottage cheese and a homemade tomato and beef sauce. Baked at 375°F, this baked lasagna will be a hit with your family and friends!
If my family could choose to eat one dinner recipe every day of the week, it would be just a simple, classic lasagna. The al dente noodles with creamy layers and a rich tomato sauce… YUM!
I get it. This is my mom's recipe, and I love it too. However, sometimes it's nice to change things up and switch out the regular lasagna noodles for a healthier option. So that's why I'm so excited about this zucchini lasagna recipe!
I like to mix things up and challenge myself in the kitchen. So instead of using lasagna noodles, I decided to use thinly sliced zucchini to create an amazing low-carb version of this classic Italian dish!
It's a healthier, low-carb version of a classic that's still just as delicious.
Zucchini meat lasagna is a great healthy recipe because it is low in carbs and calories. This dish is also loaded with nutrients and vitamins, making it a great way to fuel your body.
So if you are looking for a healthy and delicious lasagna recipe, try this zucchini lasagna!
Ingredients needed
You will need the following ingredients to make this homemade zucchini lasagna:
Ground beef: I prefer lean ground beef, but you can also use turkey or other meat. Italian sausage also tastes great!
Crushed tomatoes: I used canned crushed tomatoes to make my base. You can use canned tomato sauce if you want more of a loose sauce.
Zucchini: Slice the zucchini into thin slices, making it easier to layer in the lasagna. You'll need about three small zucchini squashes.
Cheese: For that creamy, cheesy layer, I mixed cottage cheese, parmesan, and mozzarella cheese! I used cottage cheese to keep this recipe a bit healthier, but you can also swap it out for ricotta cheese.
Herbs and spices: To give the lasagna some flavor, don't forget to add your favorite herbs and spices. My go-to's are onion and garlic powder, dried basil, oregano, and parsley. Can't forget classic salt and pepper!
Kitchen equipment needed
Baking dish (I used a 9×13)
Food processor with slicer (optional)
Small mixing bowl
Saucepan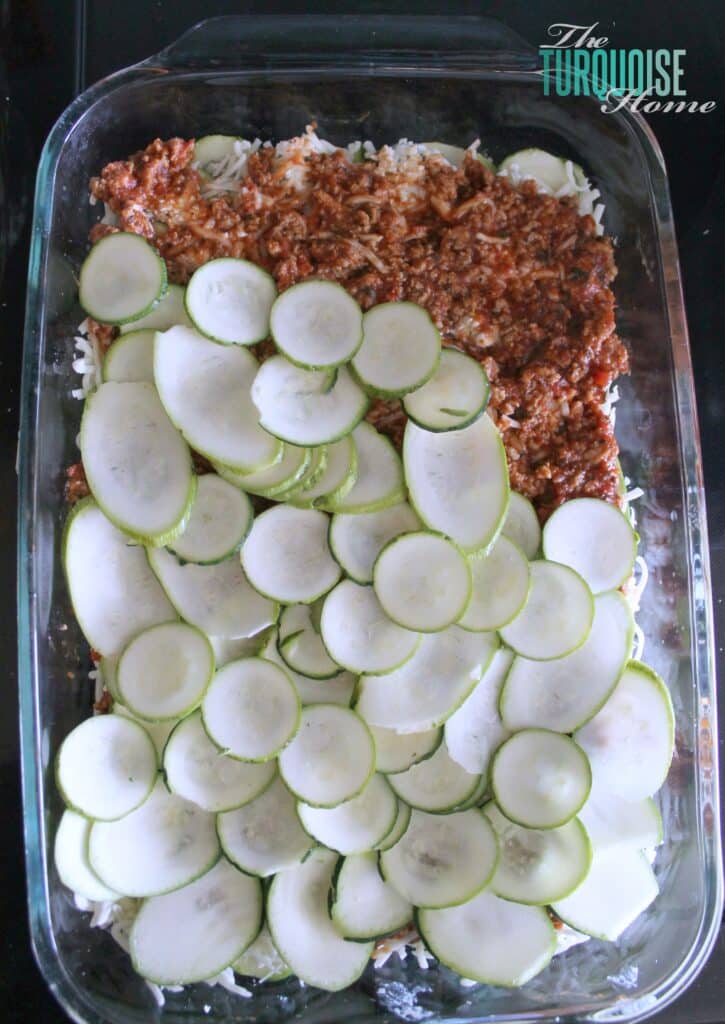 Correct layer order for zucchini lasagna recipe
When making the perfect lasagna, order matters! Here is the layer order(starting from the bottom):
Ground beef tomato sauce (just enough to lightly cover the bottom)
Thinly sliced zucchini
Cottage cheese mixture
Mozzarella cheese
Ground beef tomato sauce
Follow this order until you have reached the top of your baking dish. When you get to the top, finish off with a generous layer of mozzarella cheese and a sprinkle of parmesan cheese to create the perfect cheese crust.
What to serve with zucchini lasagna
This lasagna pairs perfectly with a fresh salad, homemade garlic bread, and roasted vegetables. You can't go wrong with some simple roasted broccoli.
You also can't skip out on dessert! After you finish a helping of this healthy zucchini lasagna, enjoy a slice of homemade cheesecake with fresh berries and the best 5-minute whipped cream.
However you choose to serve this delicious dish, your family and friends will love it!
FAQS
Whenever I share this zucchini lasagna recipe, I get some of the same questions. Here are the most popular ones that people ask!
If you have a question that isn't listed here, please leave them in the comments, and I'll answer them as soon as possible.
Do I really need to use a food processor to slice the zucchini?
No, it's not necessary. You can also use a sharp knife and thinly slice each zucchini by hand.
Can I use something other than cottage cheese?
Sure – Ricotta cheese is a great substitution. Or, you can mix ricotta and cottage cheese together for an even creamier lasagna.
Can I make this zucchini lasagna a vegetarian recipe?
Absolutely! Just leave out the ground beef and use veggie-based sauce instead.
Can I freeze zucchini lasagna?
Yes, you can! This lasagna freezes really well. To freeze it, let it cool completely and then wrap it tightly in parchment paper, aluminum foil, or an airtight container. It will stay fresh for up to 6 months.
When I'm ready to eat the lasagna, can I reheat it as is?
Yes, but make sure you thaw it overnight in the refrigerator first. To heat, cover with aluminum foil and bake at 375°F for 25-30 minutes or until heated through.
More grandma-approved recipes
If you loved this recipe for ground beef lasagna with zucchini, here are a few other recipes you should try! They are all delicious and grandma-approved.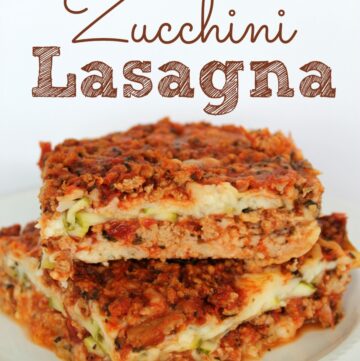 Zucchini Lasagna
Looking for a healthy, low-carb version of a classic lasagna? This delicious zucchini lasagna recipe is a must! This dish is perfect for anyone looking to cut down on carbs or just looking for a new and exciting way to enjoy lasagna. 
Equipment
9 x 13 bakin dish

food processor with slicer, optional

small mixing bowl

sauce pan
Ingredients
1

lbs.

ground beef

1

teaspoon

onion powder

1

teaspoon

garlic powder

32

ounces

crushed tomatoes

1

teaspoon

salt

½

teaspoon

pepper

1

Tablespoon

dried basil

1

teaspoon

dried oregano

3

Tablespoon

dried parsley, divided

2-3

small zucchinis, thinly sliced

12

ounces

cottage cheese

¼

cup

parmesan cheese, grated

3

cups

mozzarella cheese, shredded
Instructions
Brown meat in with onion and garlic powders. Drain.

Add tomatoes, basil, oregano, parley and pepper. Simmer for 1 hour until thickened.

Combine cottage cheese, parsley and Parmesan cheese.

Spread a little sauce on the bottom of 9×13 baking dish.

Layer half the zucchini, half the cottage cheese mixture, half the mozzarella and half the meat.

Bake at 375 degrees for 40-45 minutes.

Let stand 10-15 minutes before cutting.
Notes
I get about 3 small zucchini and that usually covers the lasagna. I throw them into my food processor and slice them up pretty thin. I think if they were big slices, they might not get soft enough when you cook it. Thin slices are the way to go!