Sweet and Savory Pumpkin Chili
Made with a blend of hearty ground beef, savory pumpkin puree, and a medley of spices, this pumpkin chili recipe will be the star of your fall season! It's a delicious twist on the classic chili dish and will surely be a crowd-pleaser.
Embrace the autumn vibes with this hearty pumpkin chili recipe!
There's nothing quite like a warm bowl of chili on a crisp fall day. Now, I make my classic beef chili all the time, but sometimes it's fun to switch things up and add a new twist on an old favorite. That's where this pumpkin chili comes in!
Don't let the idea of pumpkin in your chili scare you off – trust me, it adds a deliciously sweet and savory flavor that will have you going back for seconds (or thirds). Plus, it's a great way to incorporate some seasonal produce into your meals.
The ground beef paired with the pumpkin puree and a blend of spices creates the perfect balance of flavors that will warm you up from the inside out.
So let's get cooking and whip up this tasty pumpkin chili for your next fall gathering or cozy night in.
Ingredients needed to make pumpkin chili
To make this sweet and savory pumpkin chili, here are all of the ingredients you'll need:
Ground Beef: For some added protein, I used a pound of ground beef in this recipe. You can also use ground turkey or pork if you'd like. You can also do 50/50 of beef and turkey for a leaner option. Shredded chicken breast is a delicious option as well!
Pumpkin Puree: The star ingredient in this chili, pumpkin puree, adds a subtle sweetness and creamy texture to the dish. Make sure to use pure pumpkin puree, not pumpkin pie filling. The filling has added sugar and spices that we don't need for this recipe.
Bell Peppers: I used a combination of red and orange bell peppers for some added color and flavor. You can use any color you'd like or just stick to one type if that's what you have on hand. Make sure to dice them in small pieces so they cook evenly with the other ingredients.
Jalapeno Peppers: For a kick of heat, I used one jalapeño pepper. If you prefer a milder chili, you can omit this ingredient or use less than what the recipe calls for. Just make sure to remove the seeds and ribs before dicing it up. You can leave the seeds if you want it to be a spicy pumpkin chili.
Beans: I went a little crazy and used TWO different types of beans in this pumpkin chili recipe. I used white cannellini beans and light red kidney beans. The beans with the pumpkin puree add thickness and heartiness to the chili. Just make sure to drain and rinse them before adding them to the pot.
Garlic and Onions: No chili is complete without some aromatics! I used freshly minced garlic and diced onions for added flavor and depth. You can also use shallots if you prefer.
Tomatoes: For a burst of freshness and acidity, I added a can of fire-roasted diced tomatoes. You can also use regular diced tomatoes or crushed tomatoes if you prefer. I like to use the fire-roasted kind, as it adds a smoky flavor to the chili.
Chicken Broth: For the liquid base of this chili, I used low-sodium chicken broth. You can also use beef or vegetable broth! You'll need about 3 cups.
Spices: The key to this pumpkin chili's flavor is in the spices. I used a blend of chili powder, cumin, smoked paprika, cinnamon, nutmeg, brown sugar, salt, and black pepper. These spices work together to create a perfect balance of sweet and savory flavors.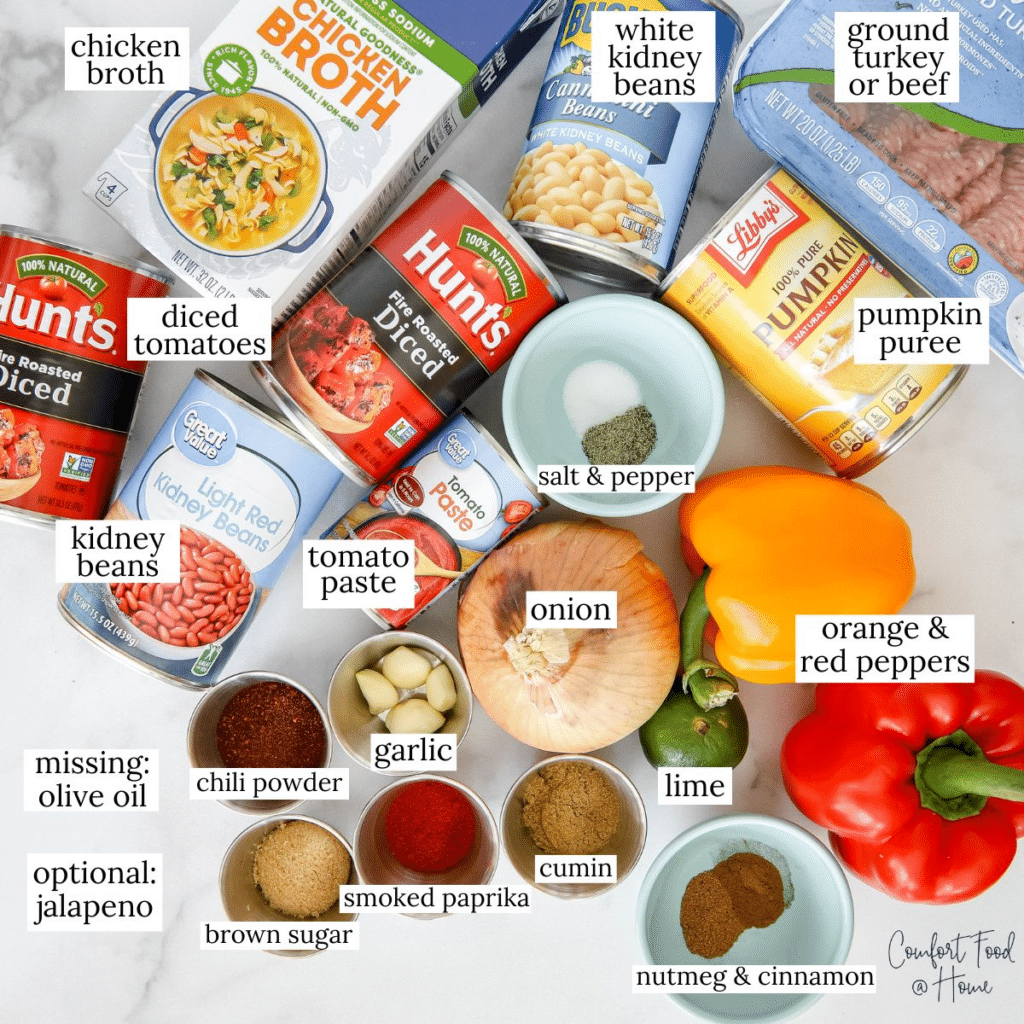 Chili toppings
When it comes to chili toppings, the possibilities are endless!
Some of my favorite toppings for this pumpkin chili include diced avocado, sour cream, shredded cheese, chopped cilantro, and green onions. You can also add a squeeze of lime juice or some roasted pumpkin seeds for an added crunch!
Kitchen equipment needed
Large Stock Pot
Spatula
Slotted Spoon
Measuring Cups and Spoons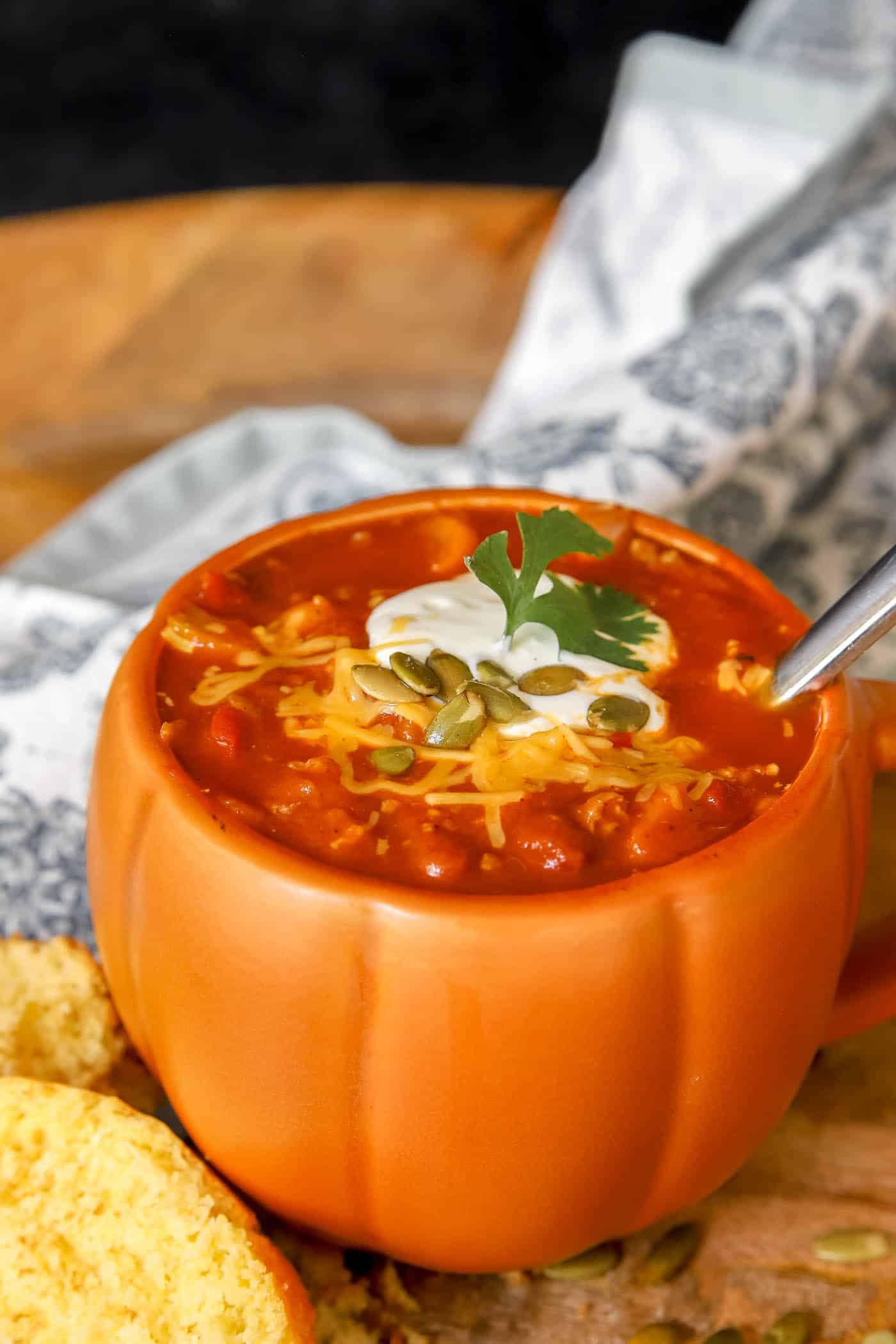 Tips for making the best chili with pumpkin
Brown the turkey or beef: Make sure to fully brown the ground meat before adding any other ingredients. This allows for more flavor to develop and helps to make sure that the meat is fully cooked.
Drain excess grease: After browning the beef, make sure to drain any excess grease before adding in the remaining ingredients. This helps keep the chili from becoming too oily.
Adjust the spices to your liking: Feel free to play around with the amount of spices in this recipe based on your own taste. You can add more or less chili powder, cumin, or even a little extra cinnamon for a bolder pumpkin flavor.
Puree the pumpkin: If you prefer a smoother chili, you can puree the pumpkin before adding it to the pot. This will create a creamier texture and incorporate the pumpkin more evenly throughout the chili.
Add extra veggies: If you prefer a chunkier chili, you can also add in some diced butternut squash or sweet potatoes.
What to serve with homemade pumpkin chili
This pumpkin chili is a complete meal on its own, but if you'd like to serve it with something else, there are a few different options you can make.
I love serving this pumpkin chili with a side of fluffy white rice. The rice soaks up the rich flavors of the chili and adds some extra heartiness to the dish.
You can never go wrong with serving chili and cornbread together! The sweetness of the cornbread pairs perfectly with the savory chili, creating a delicious balance of flavors.
Grandma's yeast rolls are another favorite in my family. The soft and fluffy bread is perfect for dipping into the chili.
For a fun twist, you can also serve this pumpkin chili with some Fritos chips! The salty crunch of the chips adds a nice texture to the dish. Simply top your bowl of chili with some crushed chips and enjoy!
Frequently asked questions pumpkin beef chili
Whenever I share this recipe, I get some of the same questions. Here are the most popular ones that people ask!
If you have a question that isn't listed here, please leave them in the comments, and I'll answer them as soon as possible. Thank you!
Can I make this pumpkin chili vegetarian?
Absolutely! You can omit the ground beef and use extra beans or even add some diced tofu for added protein.
How do I store leftover pumpkin chili?
Store any leftover chili in an airtight container in the refrigerator for up to 4 days. You can also freeze it for up to 3 months. Just make sure to thaw it completely before reheating.
Can I make this chili in a slow cooker or Instant Pot?
Yes, you can!
For the slow cooker, simply cook the ground beef and add all ingredients (except for the beans) to the crockpot. Cook on low for 6-8 hours or high for 3-4 hours. Add the beans 30 minutes before serving.
To make this chili in an Instant Pot, use the saute function to cook the ground beef and onions. Then add all other ingredients (except for beans) and pressure cook on high for 10 minutes. Let the pressure release naturally before adding the beans and heating through.
More Grandma-Approved Recipes To Try
If you enjoyed this recipe for pumpkin chili, take a look at some of these other yummy recipes:
Print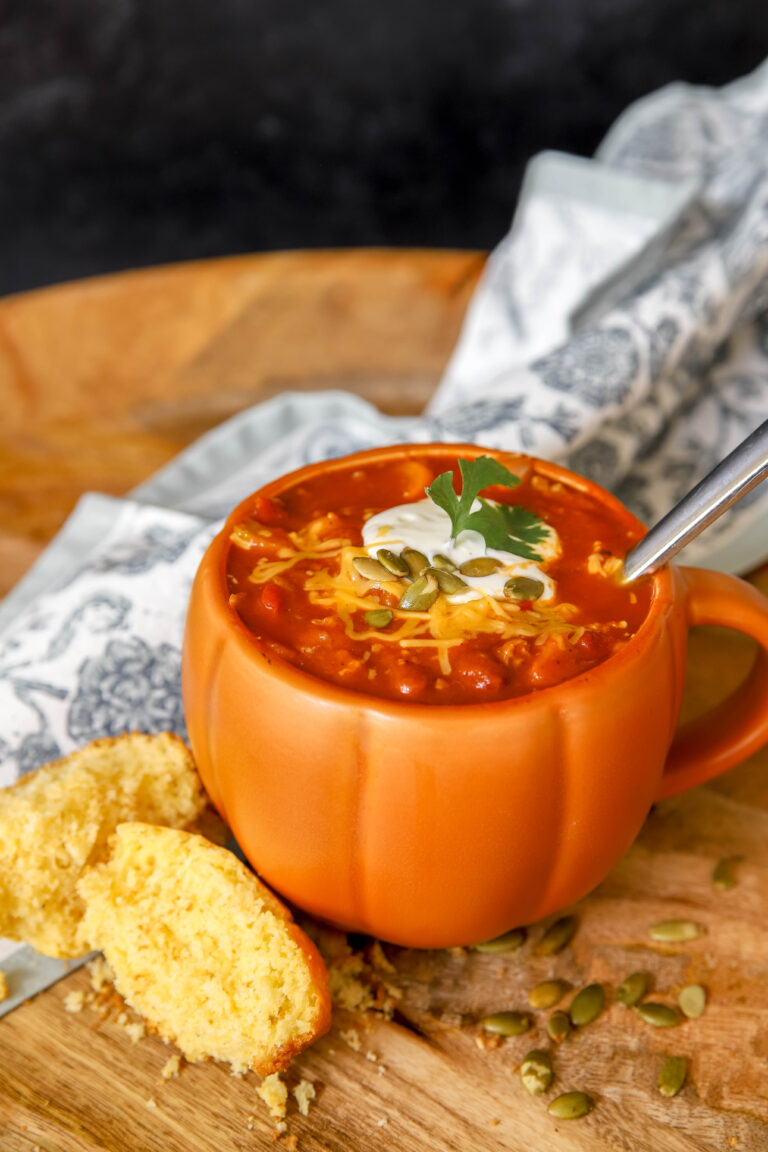 Sweet and Savory Pumpkin Chili
Made with a blend of hearty ground beef, savory pumpkin puree, and a medley of spices, this pumpkin chili recipe will be the star of your fall season! It's a delicious twist on the classic chili dish and will surely be a crowd-pleaser.
Total Time:

55 minutes

Yield:

6

servings

1

x
2 Tbsp

Olive oil

1

small yellow onion, diced

1

orange pepper, diced

1

red pepper, diced

1

jalapeño, diced,

optional

4

cloves garlic, minced

1

lb ground beef or turkey

1

15 oz. can pumpkin puree

1

can white (cannellini) beans, drained and rinsed

1

can light red kidney beans drained and rinsed 

2

14 oz cans fire roasted diced tomatoes

2 tbsp

chili powder

2 tsp

cumin

1 tsp

smoked paprika

½ tsp

. Cinnamon

½ tsp

. Nutmeg

1 Tbsp

. brown sugar

1 tsp

. Salt

½ tsp

. Ground pepper

3 cups

chicken broth (more or less depending on the thickness you like)
Topping Ideas:
Sour cream

Green onion

Avocado

Cilantro

Cheddar cheese

Roasted pumpkin seeds
Instructions
Heat oil in a large stock pot on the stove. 

Add in chopped onion and peppers (and jalapeños, if you decide to use them) and let sauté for a few minutes until slightly soft.

Add in minced garlic and let sauté for one more minute.

Add in ground meat and cook until no longer pink.

Drain liquid to remove any grease. 

Reduce heat to medium-low and stir in pumpkin, beans and diced tomatoes.

Then add all the spices into your chili mixture.

Pour in the chicken broth and simmer for at least 20-30 minutes over low heat. Cover, if it's too thick. 

Top with your favorite toppings like sour cream, green onion, avocado, cilantro, roasted pumpkin seeds and/or cheese. 
Notes
If you want even more heat, add in 1/2 teaspoon of cayenne pepper.
Author:

Laura

Prep Time:

10 minutes

Cook Time:

45 minutes