Grandma's Homemade Yeast Rolls
This post contains links to affiliate websites, such as Amazon, and we receive an affiliate commission for any purchases made by you using these links. We appreciate your support!
Making homemade yeast rolls from scratch is a great way to impress your family and friends. They are warm, doughy, and buttery- perfect for dinner or as a side dish with a Thanksgiving meal. But, be warned: they go fast! Follow this recipe to make the best yeast rolls ever- you won't regret it.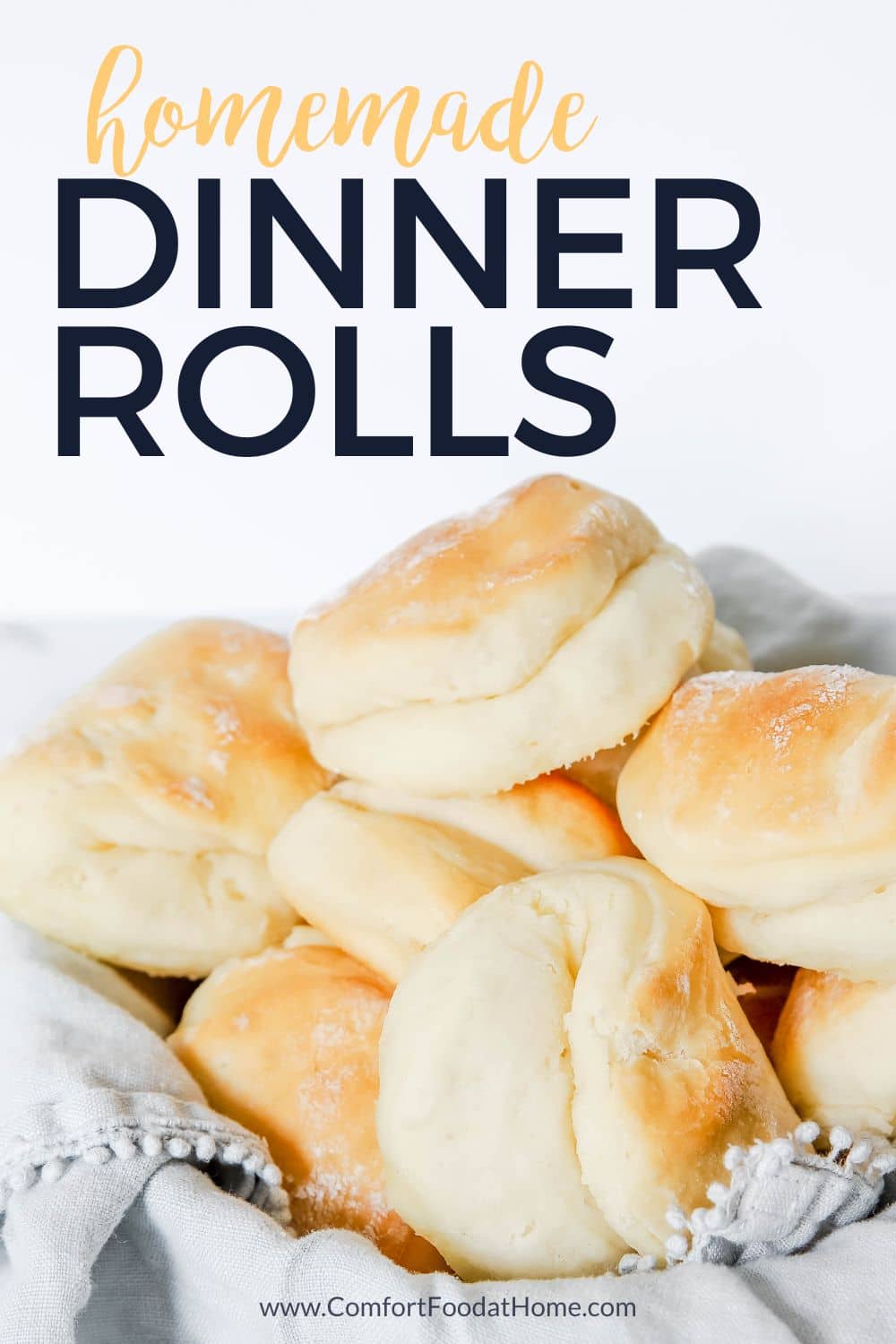 The Best Homemade Dinner Rolls To Serve At Thanksgiving Dinner!
These rolls are honestly the star of the show at the holidays.
At Thanksgiving, our family uses the dough for yeast rolls. They melt in your mouth when you eat them straight from the oven on the big day. And, nothing beats a day-after-Thanksgiving turkey sandwich on a homemade yeast roll. NOTHING!
Then, at Christmas, we split the dough in half and use one half for dinner rolls and the other half to make my great-grandmother's cinnamon rolls. Basically a two-for-one recipe!
Parker House Rolls
I recently found out that these rolls are also known as Parker House Rolls, made famous by the Boston Parker House Hotel. The tell-tale characteristic is the signature folded-over roll that has a golden brown outside and a soft and buttery inside. They are the most requested food at our table every holiday.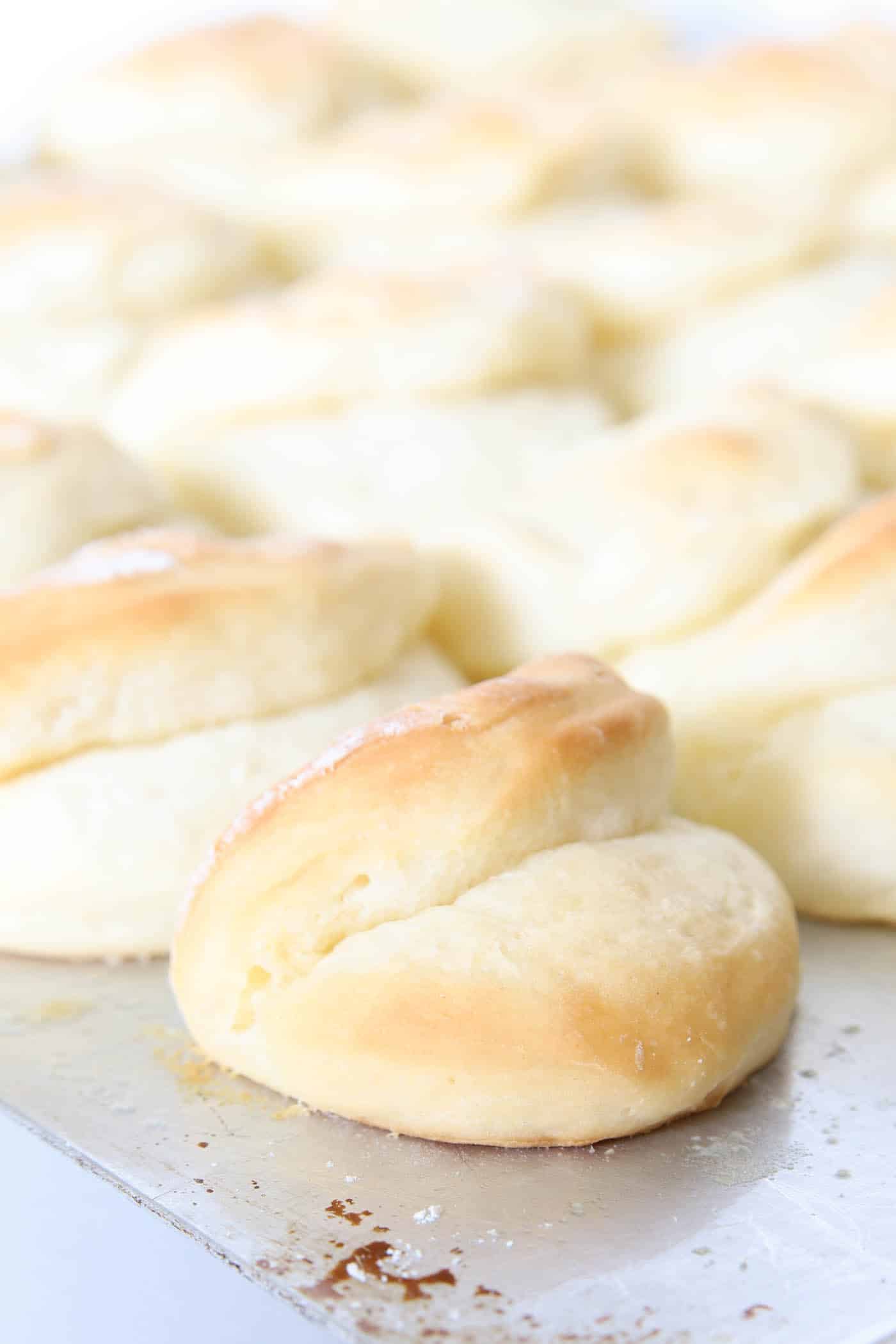 Make the Roll Dough Ahead of Time
I make these rolls every Christmas (and Thanksgiving, if I'm hosting). And it's a long process. But don't be intimated by the length of time it takes to make them, because most of the time is letting them rest and rise.
My biggest tip is to make the dough 2-3 days ahead of time. It's good in the fridge for up to 5 days. And then on the day of the dinner, make the rolls out and let them rise while you're making your other food! It's so easy! Don't be overwhelmed or turned off by the time it says it takes to make these!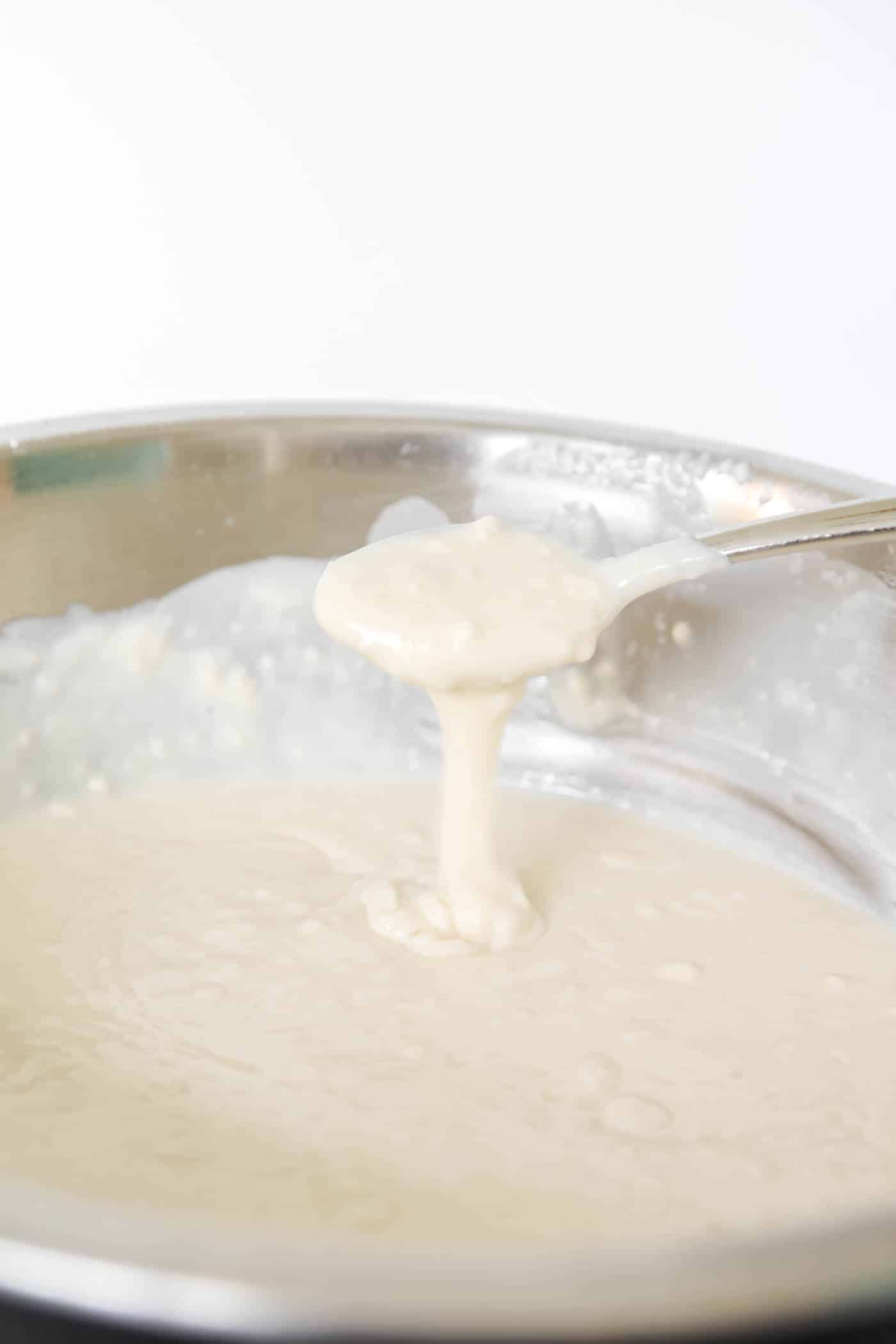 Ingredients Needed To Make Yeast Rolls From Scratch
Now, I know it can sound a bit intimidating to make dinner rolls from scratch but it doesn't have to be! With just a few simple ingredients (plus some time and patience), you can make your very own fluffy dinner rolls to serve.
To make this dinner roll recipe, here's what you will need:
Milk: For this recipe, I used whole milk but you can also use almond milk.
Sugar: You can use granulated white sugar when making dinner rolls.
Shortening: I like to use shortening in this dinner roll recipe because it helps the bread rolls be fluffy and buttery. Margarine and butter are great substitutions!
All-Purpose Flour: You can use bread flour or all-purpose. If you are in a pinch, you could even make these yeast rolls with half white and half whole wheat though it's not ideal.
Active Dry Yeast: This is the key ingredient in homemade yeast rolls. It makes them rise!
Baking Soda: This ingredient is essential for making homemade bread. It gives them structure and allows for the dough to rise in the oven!
Baking Powder: Using baking powder when making dinner rolls helps the dough rise before it's even baked!
Salt: Salt is needed for the yeast mixture to grow and bubble. For this recipe, I use kosher salt but you can also use regular table salt. This is one of the most important ingredients in baking because, well, without salt there would be no flavor! So don't forget to include some salt in your bread dough!
Butter: Butter is the star of homemade yeast rolls. It makes them taste so buttery and delicious! I recommend using unsalted butter.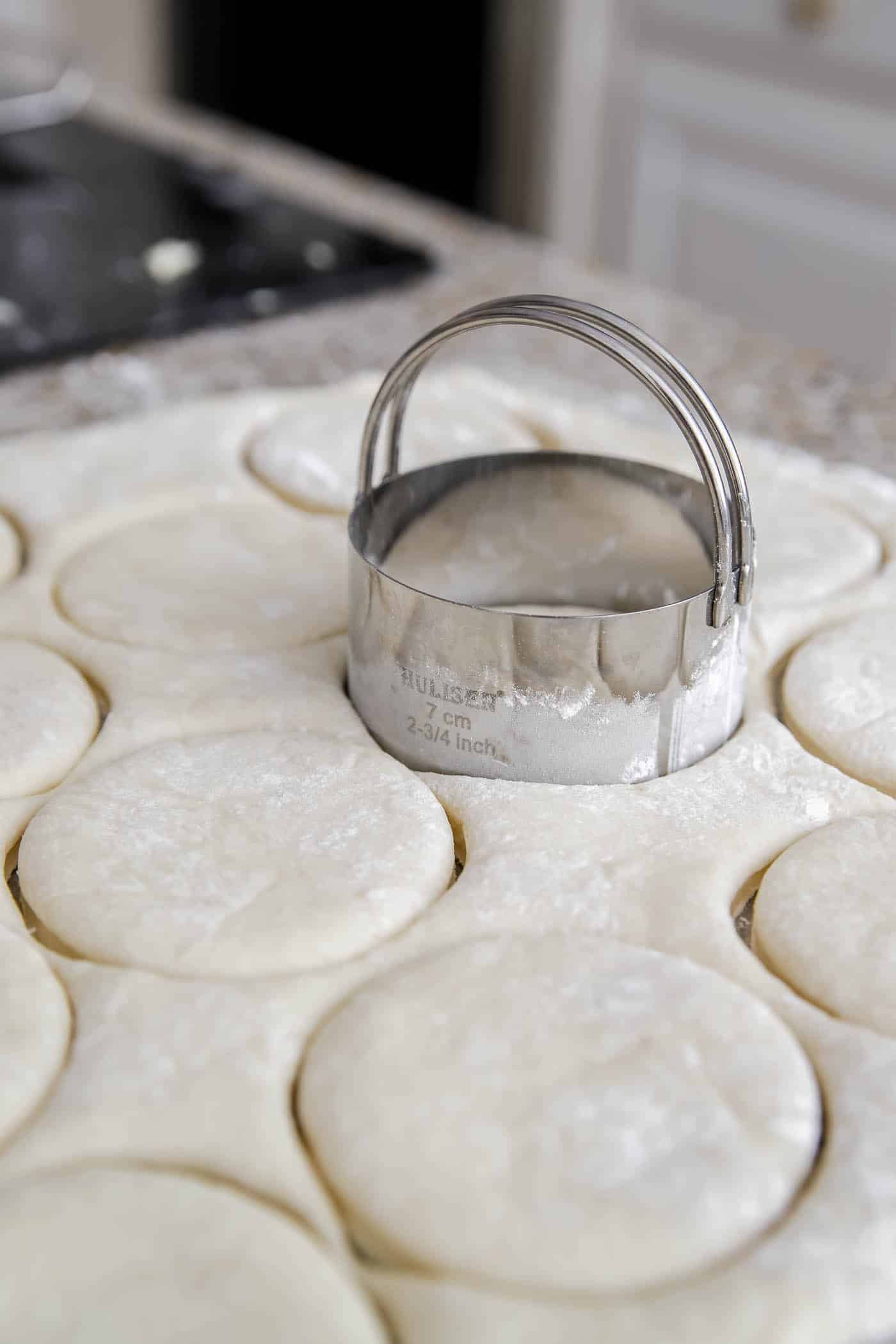 What To Serve With Buttery Dinner Rolls
Whenever I make these soft dinner rolls, I love to split them open when they are nice and hot and slather on some salted butter. It makes all the difference to serve warm!
When it comes to Thanksgiving, I love to serve these homemade yeast rolls with my our family's favorite turkey, southern cornbread dressing, baked sweet potatoes, strawberry Jell-O salad and green beans. My kids' favorite part is to use the warm rolls to scoop up any leftover gravy and mashed potatoes.
As far as dessert recipes go, make some pecan pie or a classic homemade cheesecake. They are both my grandma's specialty!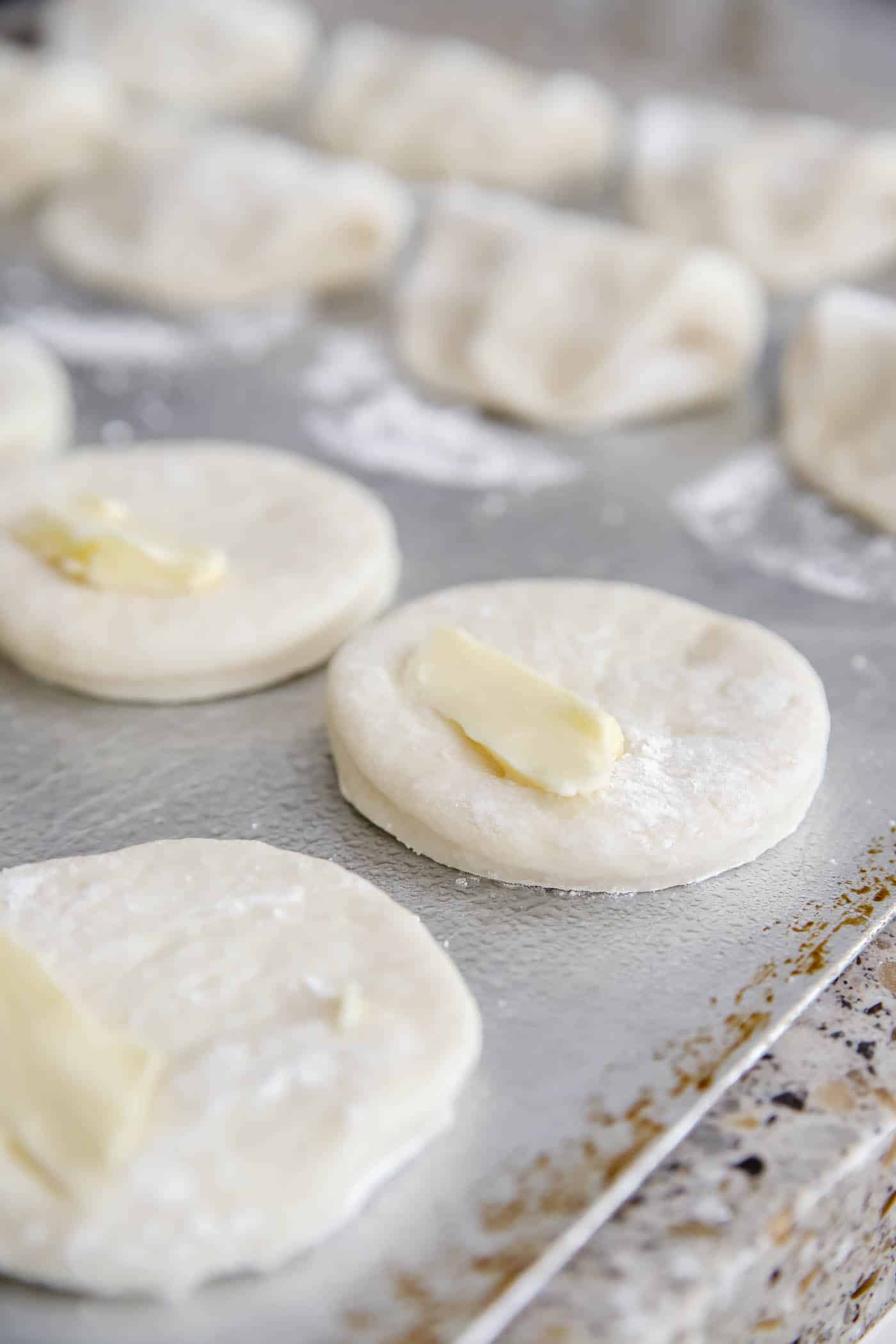 Frequently Asked Questions About These Amazing Dinner Rolls
Whenever I share this roll recipe, I get some of the same questions. Here are the most popular ones that people ask!
If you have a question that isn't listed here, please leave them in the comments, and I'll answer them as soon as possible.
What kind of equipment or kitchen tools do I need to make these soft dinner rolls?
To make these yeast rolls, you will need:
A saucepan
Large mixing bowl (and a small one)
Cookie sheet
Rolling pin
You can also use a bread machine or a stand mixer with an attached dough hook.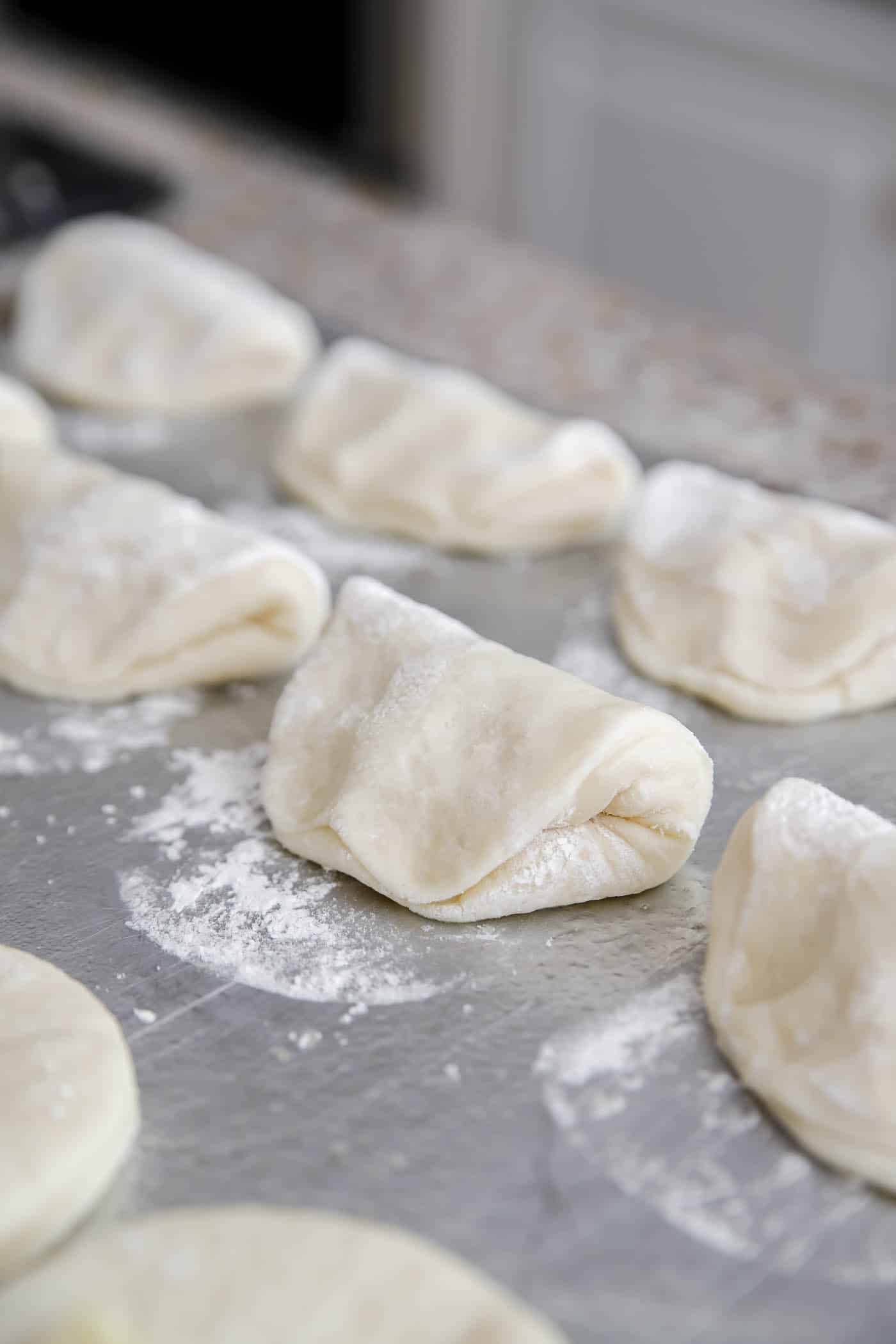 Can I use instant yeast?
While I'm sure you can use instant yeast to make homemade dinner rolls, it isn't recommended. Instant yeast is a lot different than active dry yeast and doesn't require proofing (giving the dough time to rest before making it into rolls).
How do I get the bread dough to not stick to the counter?
After you have let the dough rise and rest, make sure to knead the dough on a lightly floured surface so it doesn't stick.
Why do I have sticky dough?
If you have a sticky dough after letting it rise, that could mean two things:
First, it could mean your yeast didn't activate properly. Try using warm water (about 115 degrees ) or check that your yeast doesn't expire.
Secondly, you could be using a lighter flour and need to add more. Different flours have different densities. You'll need to add more flour in the final step until the dough is slightly sticky but manageable. But, if you add too much flour, then the rolls will be too dense.
Can I make these yeast rolls ahead of time and freeze them?
Yes! But, be aware that they will lose their fluffiness after being frozen.
To bake bread rolls straight from the freezer, place them on a baking sheet at room temperature for about 30 minutes or until they thaw out. Then, bake them at 375°F for 15-20 minutes or until golden brown and cooked through.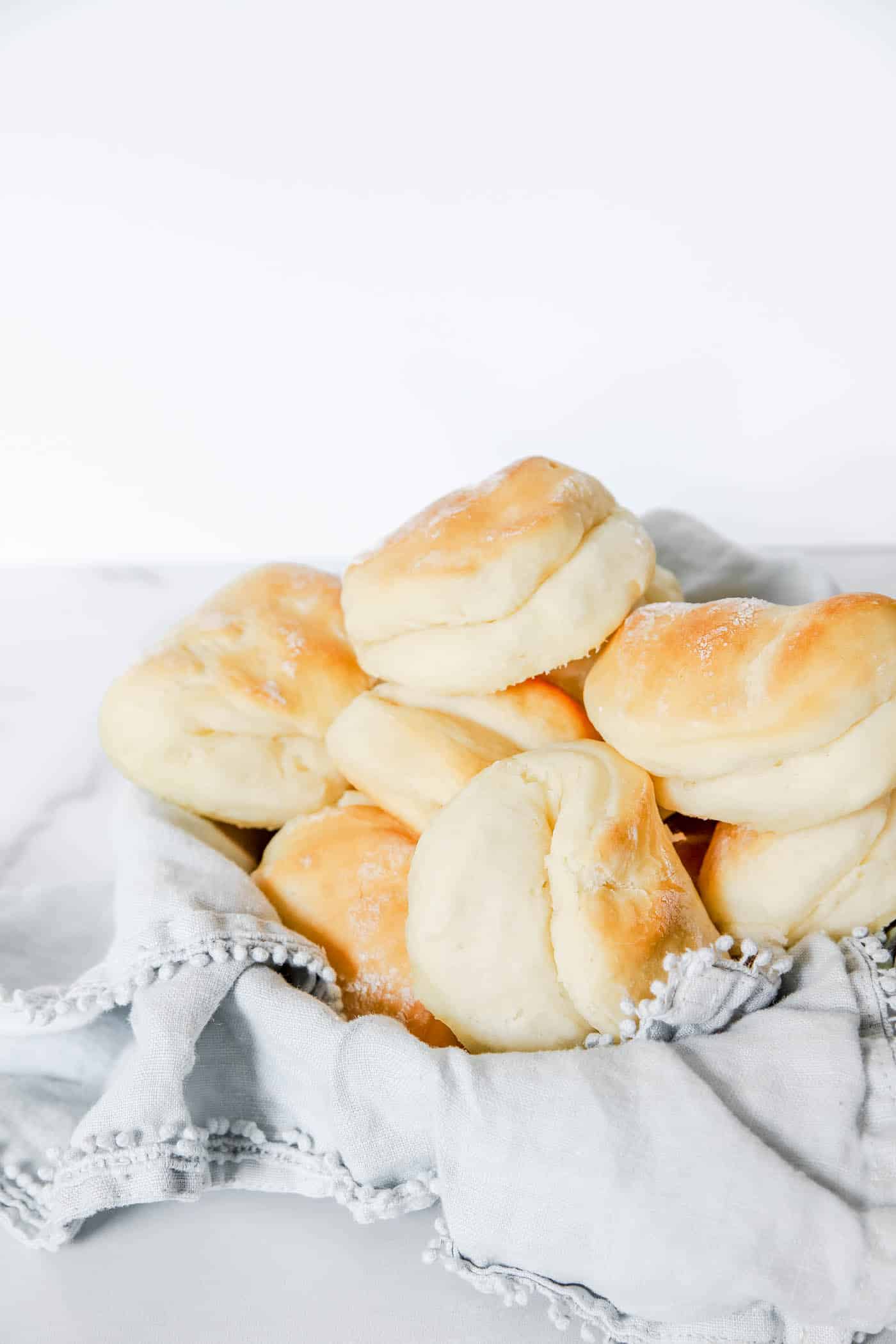 MORE GRANDMA-APPROVED RECIPES TO TRY
If you enjoyed this recipe for classic dinner rolls, take a look at some of these other yummy recipes:
Are you ready to make the best dinner rolls ever this Thanksgiving dinner? If so, let me know! I'd love to hear what you think in the comments below!
Print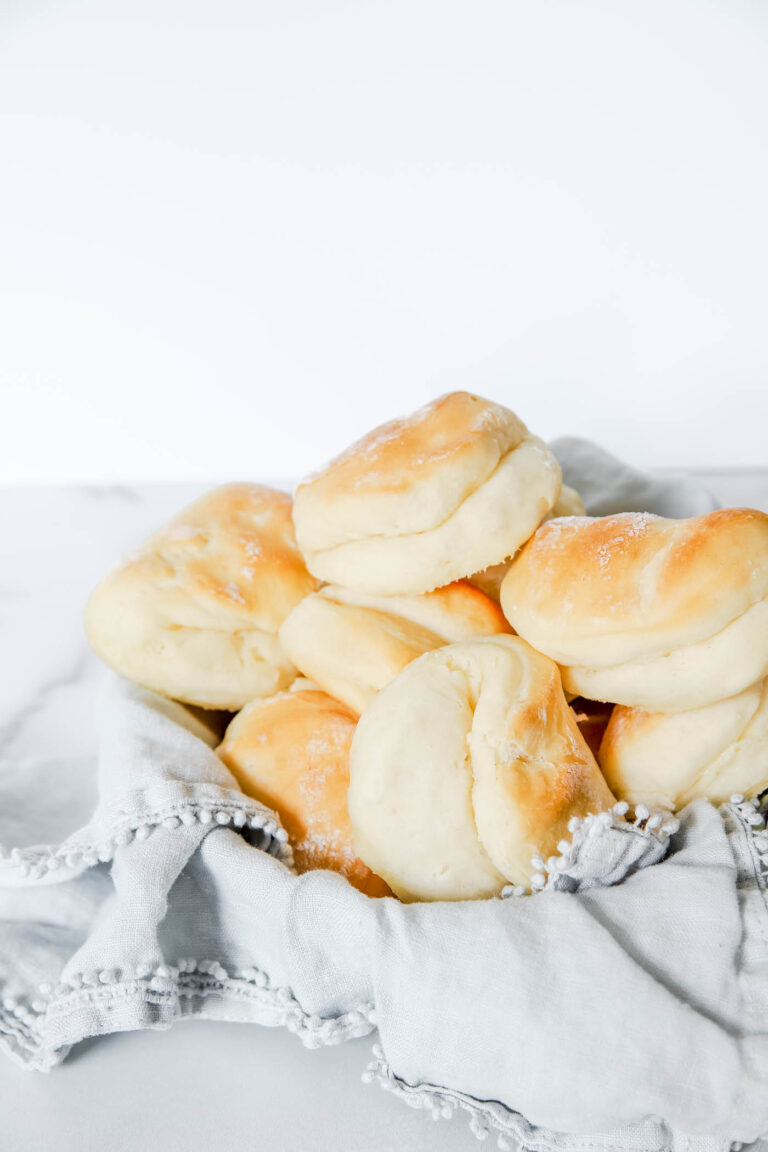 Homemade Yeast Rolls
Making homemade yeast rolls from scratch is a great way to impress your family and friends. They are warm, doughy, and buttery- perfect for dinner or as a side dish with a Thanksgiving meal. But, be warned: they go fast! Follow this recipe to make the best yeast rolls ever- you won't regret it.
Total Time:

5 hours 15 minutes

Yield:

48

rolls

1

x
1 quart

milk

1 cup

sugar

¾ cup

shortening

7

–

8

cups all-purpose flour, divided

1 Tbsp

. dry yeast

1 tsp

. baking soda

2 tsp

. baking powder

1 Tbsp

. salt
butter
oil spray for greasing pan
Instructions
In a medium saucepan, combine milk, sugar and shortening.
Heat on medium-high heat until shortening melts, but do not let it boil.
Remove the saucepan from heat and let cool to 115 degrees, using a candy thermometer.
In a very large bowl combine 5-6 cups of flour and 1 Tbsp. dry yeast.
Once cooled to 115 degrees, add the milk mixture to the flour and yeast. Stir until well blended and it is the consistency of thick cake batter.
Let this mixture rise in a warm place until double in size. (This could take up to two hours, unless you use rapid rise yeast.)
In a small mixing bowl combine 2 cups of flour, 1 tsp. baking soda, 2 tsp. baking powder and 1 heaping tsp. of salt.
Add this second flour mixture to the dough after it has finished rising. Stir well.
Turn this dough out onto a floured surface and work in extra flour until dough is easy to handle.
At this point you can refrigerate the dough for up to 5 days before you use it for yeast rolls or cinnamon rolls.
Make the Yeast Rolls
Roll the dough out onto a floured surface with a floured rolling pin until about ½ inch thick.
Cut the dough with a floured, round 2-3 inch biscuit cutter.
Place round roll onto a slightly greased cookie sheet. Put a slice of butter on top and fold one side over the other and press to seal.
Let the rolls rise 1-2 hours before cooking.
Cook rolls on 375 degrees for 15-20 minutes, until golden brown.
Notes
Use rapid rise yeast if you want a faster rising time. 
The consistency of "thick cake batter" is an old fashioned term, but it means it's still kind of sloppy. 
Different flours have different densities. So, some flours will require less and some will require more. And the flavors will vary depending on which flour you use. A light flour like White Lily (winter white flour) will need more flour to reach the right consistency. And the texture will be light and fluffy. King Arther's (hard red wheat flour) will need less flour and will be more dense.
Our family halves the recipe and uses half for dinner rolls and the other half for cinnamon rolls. 
Author:

Laura

Prep Time:

1 hour

Resting Time:

4 hours

Cook Time:

15 minutes

Category:

Breads

Cuisine:

American
Keywords: rolls, bread, Thanksgiving, holiday, yeast rolls