The Best White Queso Dip
This post contains links to affiliate websites, such as Amazon, and we receive an affiliate commission for any purchases made by you using these links. We appreciate your support!
If you are looking for a rich and flavorful party dip, you need to try this white queso dip recipe! This cheese-based dip is fresh, creamy, and full of bright and spicy flavors. It is easy to make and can be served immediately or saved for later if you want to make it ahead of time. I love to make it for game day too!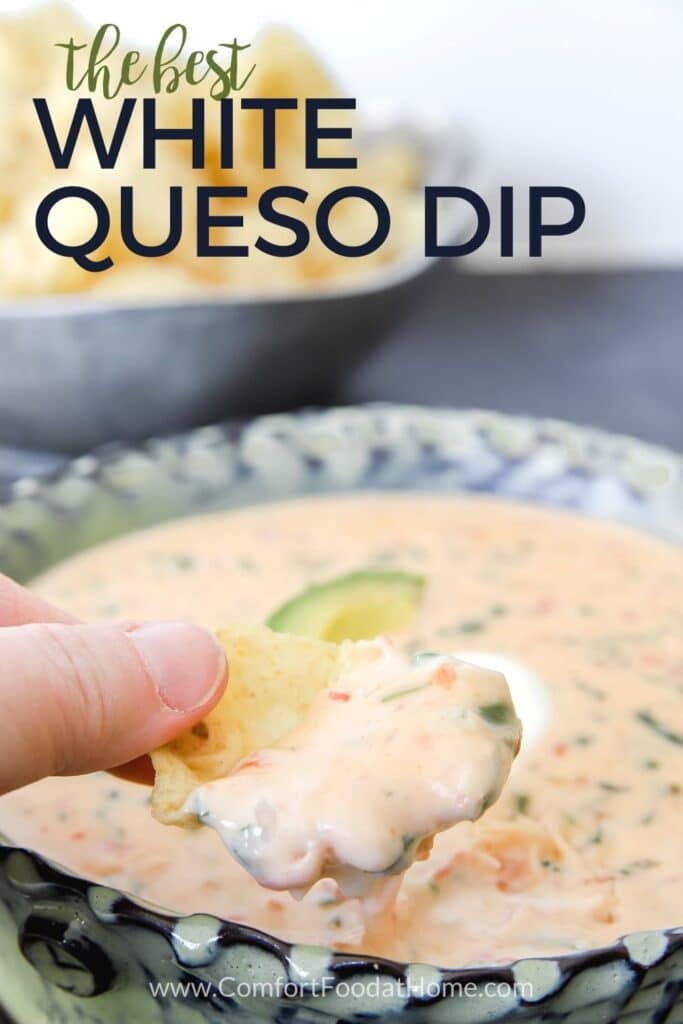 The Best White Queso Dip For Your Next Party!
Do you love a good queso dip? So do I! I always look forward to whipping out this yummy recipe during football season or when I am hosting a game day party.
This white queso recipe is packed full of flavor and all of the cheese. I love to serve this dip alongside other Mexican dishes or at any kind of gathering where finger foods are preferred. Everyone loves this dip and usually asks for the recipe!
I can't tell you how many times I have made this dip. While I do traditionally serve it at get-togethers, I like to surprise my family every once in a white and serve up this queso on Taco Tuesday alongside some juicy ground beef tacos seasoned with my homemade taco seasoning.
Talk about YUM!
This is also a versatile recipe that can be adapted according to your personal taste. I love a kick of spice, but if you don't like spicy food, you could easily change this recipe to accommodate that.
You could even add more (or less) spices depending on how you like your dips to taste. This is a great recipe to play around with! You can even use any other kind of white cheese if you do not have the queso cheese available.
Ingredients Needed To Make White Queso Dip Recipe
To make this recipe, you will need the following ingredients:
White Queso Cheese: Queso cheese is a white cheese that is rich but mild in flavor. This allows the other flavors and spices to shine through in the recipe. My go-to brand is the Velveeta Queso Blanco.
Salsa or Pico De Gallo: The addition of salsa or pico de gallo adds a punch of flavor and spice to this recipe as well as some much-needed freshness to cut through the cheese.
Cilantro: Cilantro is a traditional herb found in most Mexican-inspired dishes. It offers a fresh and slightly tangy flavor as well as some color to the dish.
Lime Juice: The juice of one lime helps to add some acidity to this dip. It is the perfect complement to the richness of the cheese and balances the flavors of the dip.
Jalapeno: You can't have queso dip without jalapenos! These spicy peppers are full of flavor and add a kick of spiciness to the cheesy dip.
Cumin: Cumin is another traditional spice that takes this dips flavors to the next level and gives it some depth.
Hot Sauce: Any kind of hot sauce that you prefer will do in this recipe. It helps to give this dip another kick of spice since the cheese is very rich. If you do not like very spicy foods, you could leave the hot sauce out of the recipe. I use Texas Pete hot sauce.
Heavy Whipping Cream: Heavy whipping cream adds creaminess to this recipe as well as makes the consistency more pleasing. It helps to thin out the cheese, making it much easier to eat as a dip.
Garlic: Garlic is the last ingredient that makes this dip absolutely irresistible! It brings all of the flavors together and gives it a kick of garlicky goodness.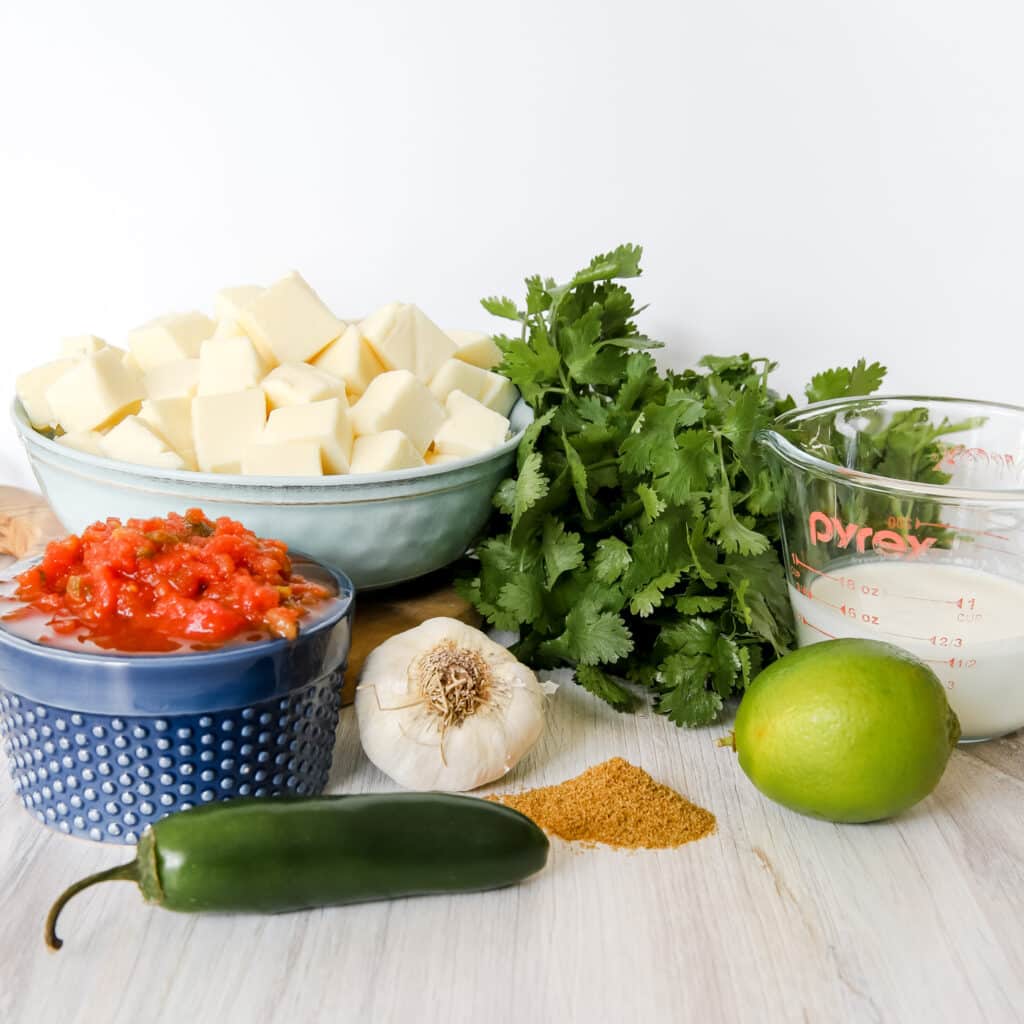 What To Serve With White Queso Dip
This white queso dip is a very versatile dish that goes well with a number of foods. The most common option is tortilla chips for dipping, but you can even dip vegetables, like carrots or celery, into this dip!
This dip is a great option if you want to add a punch of flavor to a certain dish or want an easy side to offer at parties or gatherings.
You can serve this dip with dishes, such as: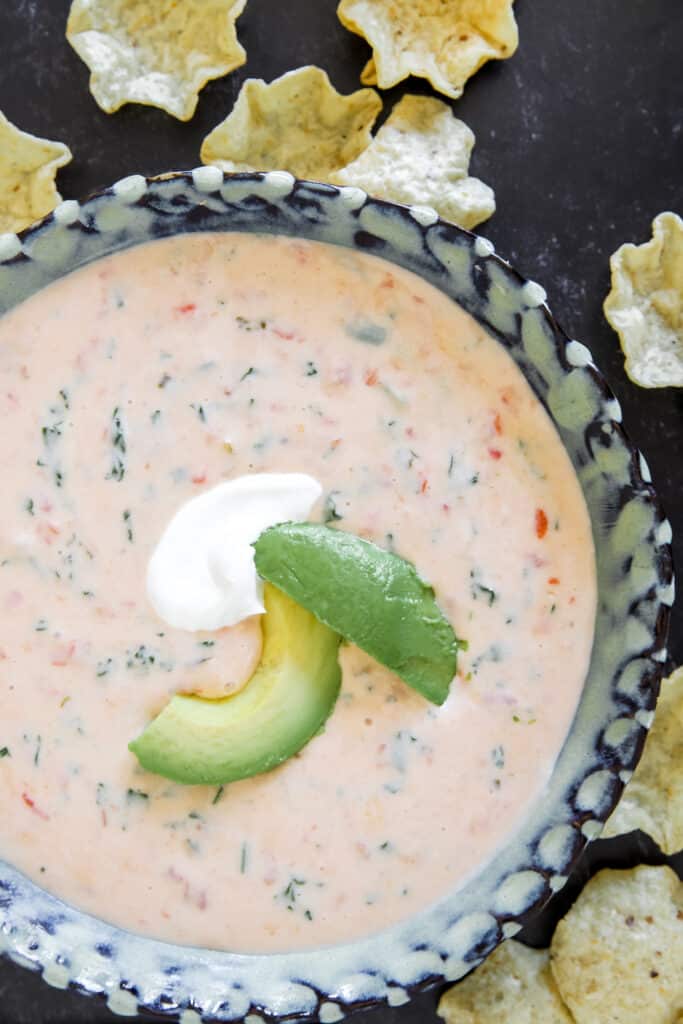 Frequently Asked Questions About White Queso Dip
Before I share the full recipe for this white queso dip, here are a few commonly asked questions that people have had.
Can I use other types of cheese in this white queso recipe?
If you do not have queso cheese or want to add a variety of cheeses. Both American white cheese and mozzarella are good options to add to this dip.
These cheeses will both maintain this dips white color and are mild enough in flavor to let the other ingredients shine.
How long will this dip last?
If stored in the fridge, this dip can last for up to four days. It should not be left out at room temperature much longer than two hours. So it is best to either serve immediately or put it in the fridge for later.
Can this be stored in the fridge for later?
Yes, you can store this white queso recipe in the fridge for up to four days. Make sure to keep it in an airtight container to maintain freshness.
Because this dip is made mostly with cheese, it will become more firm after being in the fridge. You can fix this by popping it in the microwave for 30-second intervals until it is warmed through. Or, you could heat it up on the stove until it is melted again.
What can I eat with queso dip?
This tasty dip is so flavorful and rich that you can eat it with all kinds of other foods. The most obvious option is to eat this dip with tortilla chips or over nachos.
You could also use this as a sauce to go on your tacos, burritos, or a bean and rice bowl.
There are all kinds of things that you could eat with this dip. It is a great way of adding flavor to any meal!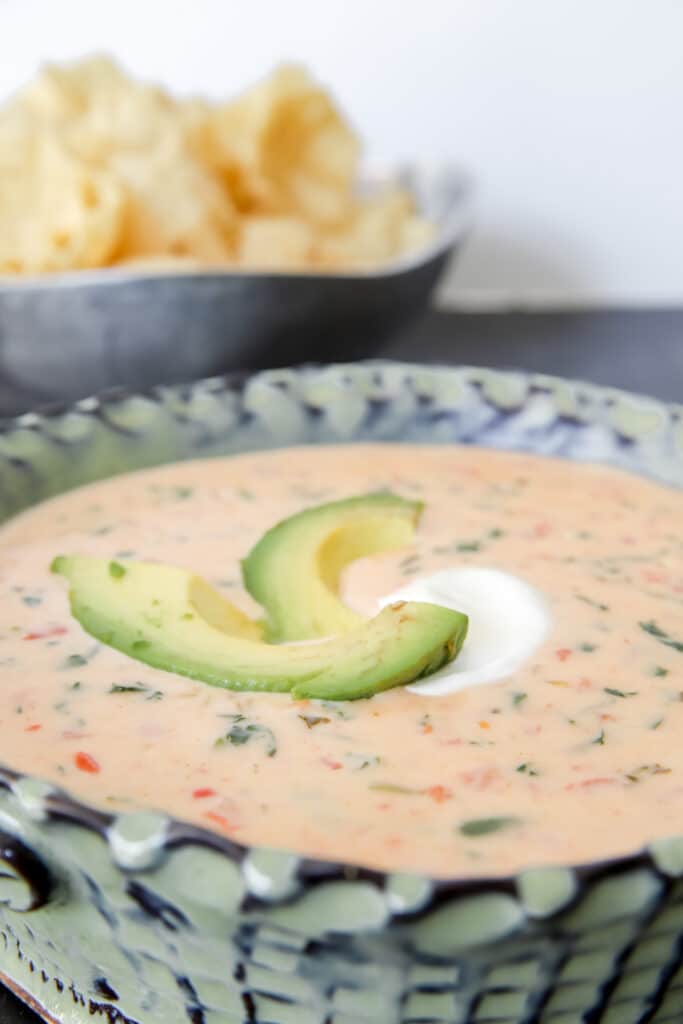 More Grandma Approved Recipes to Try
If you enjoyed this delicious recipe for white queso, you should try some of these other grandma-approved recipes!
I hope you love this cheese dip as much as my family does! Let me know if you try it!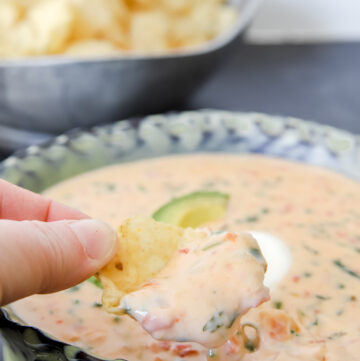 The Best White Queso Dip
If you are looking for a rich and flavorful party dip, you need to try this white queso dip recipe! This cheese-based dip is rich, creamy, and full of bright and spicy flavors. It is easy to make and can be served immediately or saved for later if you want to make it ahead of time. I love to make it for game day too! 
Equipment
large sauce pan

Cutting Board

Knife for chopping

Vegetable holder (optional)
Ingredients
2

lbs.

white queso cheese block, cubed

1 ½

cup

fresh made salsa or pico de gallo

1

cup

fresh cilantro, finely chopped

1

lime, juiced

1

jalapeño, finely chopped

1

tsp.

cumin

1

tsp.

hot sauce

½

cup

heavy whipping cream

1-2

cloves of garlic, minced

Tortilla chips
Instructions
Cube the queso cheese into 1-inch cubes.

Chop the cilantro and jalapeño.

Combine all of the ingredients into a large sauce pan and heat over medium heat until fully combined.

Serve warm with tortilla chips. Optional: add some sour cream and slices of avocado to the side.
Notes
I use the Velveeta brand "queso blanco" cheese block for this recipe. You'll find it with all the other Velveeta cheese. 
For the freshly made salsa, I get it from the deli section at my grocery store, instead of making my own. 
I use a vegetable holder (like this one) to hold the jalapeño while I cut it. That way I don't get pepper on my hands and risk rubbing it in my eyes later.