Black Bean Salad With Corn
Fresh and tasty, enjoy this easy black bean salad made with a simple lime vinaigrette mixed in for a perfect blend of tang and crunch. As it happens, black bean salad with corn makes a perfect salsa too!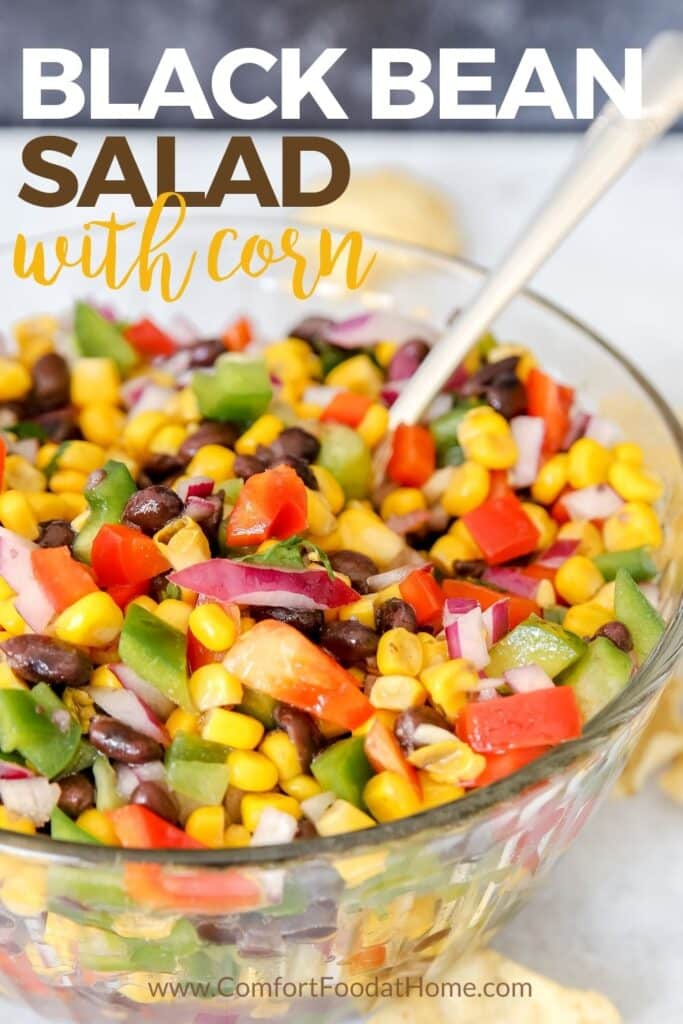 Black Bean Salad With Corn: The Perfect Summer Salad!
Whether you are firing up the grill or gathering at the pool with half the neighborhood for a fun summer potluck, black bean salad is the perfect side dish for just about any light and refreshing meal!
Black bean salad with corn brings back memories of long days playing in the sun and food piled high on a picnic table. It's that exhaustion at the end of a long day swimming in the sun and then that perfect cold, crunchy, zesty bite that makes this recipe extra special.
Served cold, this easy salad is full of vegetables and protein, not to mention packed with nutrition! The lemon vinaigrette makes it a perfect accompaniment for the flavors of the Southwest.
Ingredients Needed To Make Homemade Black Bean Salad
Besides the black beans, here is the list of ingredients you will need:
Peppers: Diced green and red peppers add both sweetness and tanginess to the dish. Not to mention crunch!
Red Onion: Diced red onion adds deep flavor to the salad.
Corn: Canned and drained corn adds a touch of sweetness and a nice contrasting texture.
Fresh Garlic: Mincing your own garlic isn't as hard as it sounds, and the flavor cannot be beaten. However, if you need to use jarred minced garlic, just do it. No guilt and no garlic smell on your fingers. I get it!
Cilantro: Chop up fresh cilantro straight from your garden or produce shelf at the grocery store. In a pinch, you can use dried cilantro but it will not be the same.
Olive Oil: Use high-quality olive oil for the most robust flavor.
Red Wine Vinegar: A rich red wine vinegar blends with the oil for a perfect vinaigrette to dress the salad.
Lemon Juice: Add a touch of acid to balance out the richness of the olive oil and vinegar mix.
What To Serve With This Black Bean Salad Recipe
Black bean salad with corn is really a side dish, so it works great with just about any recipe.
For example:
With so many vegetables in the salad itself, serve on top of any grilled meat and ripe watermelon for a nice contrast.
You can serve black bean salad with or without tortilla chips to scoop. Honestly, it's just as good straight out of a spoon.
Pair it with this 5-layer Mexican taco dip for a delicious Southwest spread!
Make a lettuce wrap with the black bean salad or eat it in a tortilla as a vegetarian taco filling.
Add a spoonful of black bean corn salad on top of a baked sweet potato for a light vegetarian lunch.
Serve it alongside cornbread to soak up all of those flavors. Plus it's a great way to use any leftover corn!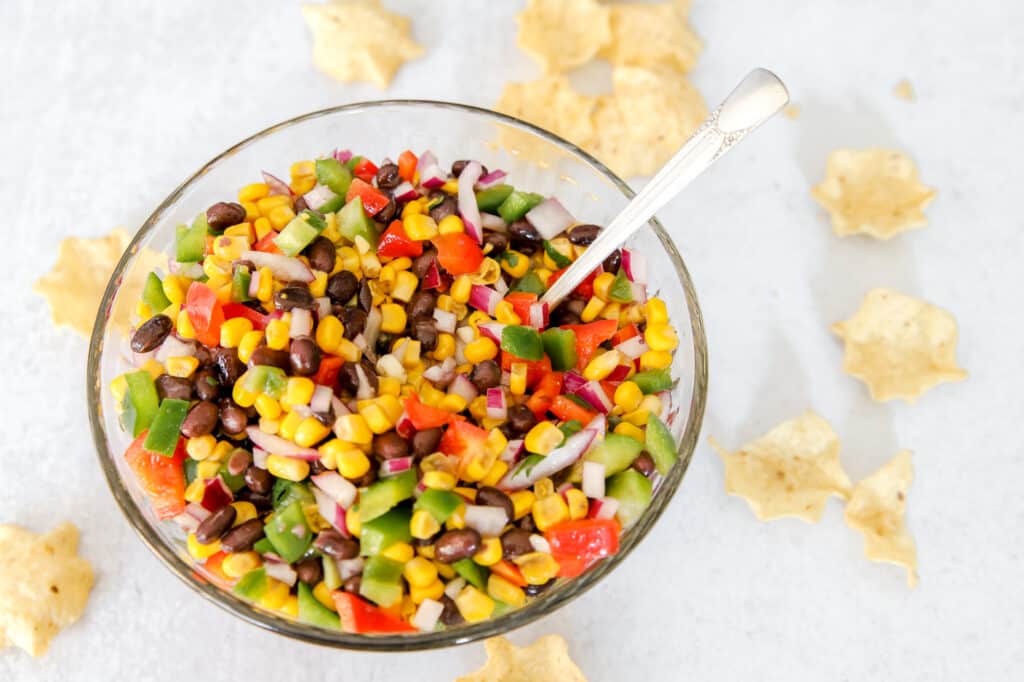 Frequently Asked Questions about Black Bean Salad with Corn
Whenever I share this recipe, I get some of the same questions. Here are the most popular ones that people ask!
If you have a question that isn't listed here, please leave them in the comments, and I'll answer them as soon as I possibly can.
Do I have to chill the black bean salad?
Well, yes, and no.
Yes, you should chill the salad for at least an hour to get the best blend of flavors and give the vinaigrette time to do its job of marrying all the vegetable flavors in the dish. Plus, it's really just best served cold.
But no, you don't technically have to chill the salad if you are in a rush. If you are serving it outdoors in the heat, it's going to warm up pretty quickly anyway.
Pro Tip: Mix up a black bean salad in a mason jar in the morning before work, and enjoy a perfectly refreshing homemade meal at the office mid-day. This recipe makes enough for several jars!
Can I add more protein?
So technically, our easy black bean salad already has protein from the beans, but if you want to add even more, you can add the meat of your choice to the salad. You could try salmon, shredded chicken, or carne asada.
How long can I store black bean salad with corn?
You can store leftovers for up to three days in an airtight container, but the salad will be at its best on the first day. I do not recommend freezing black bean salad.
I don't have black beans. What can I substitute it with?
You can make a very similar salad with cannellini beans or kidney beans. You could even use a blend of the two! It won't have quite the same crunch of firmness as a black bean salad, but the flavor profile will be similar in this recipe.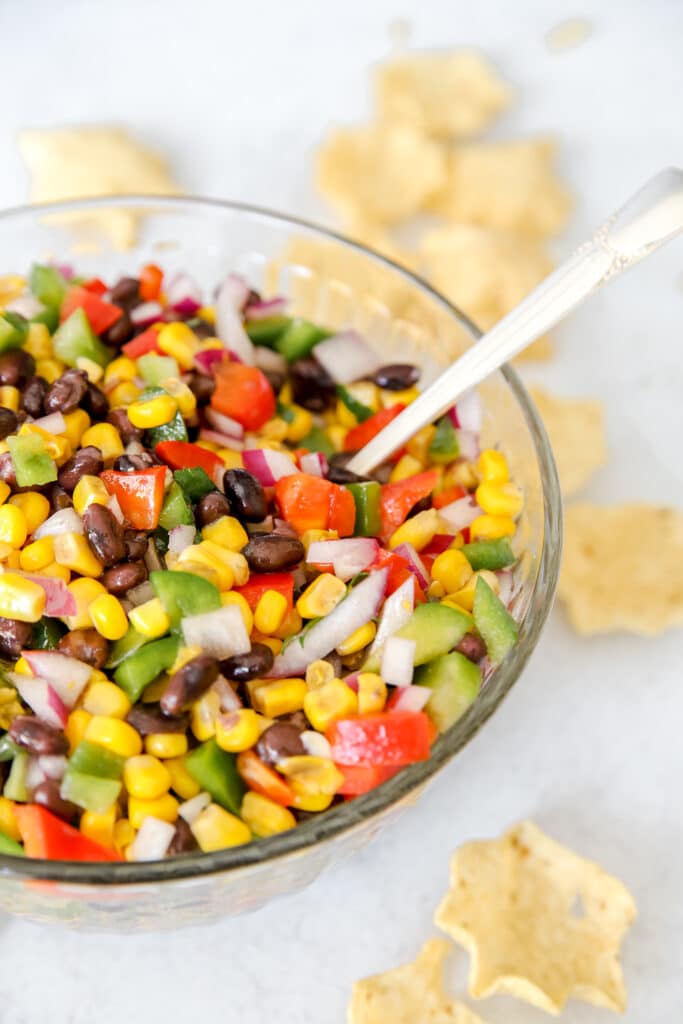 MORE GRANDMA-APPROVED RECIPES TO TRY
If you enjoyed this recipe for black bean salad with corn, then take a look at some of these other yummy recipes:
How do you plan to serve this easy black bean salad? I'd love to hear about it in the comments below!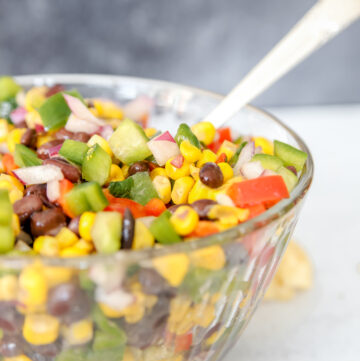 Black Bean Salad With Corn
Fresh and tasty, enjoy this easy black bean salad made with a simple lime vinaigrette mixed in for a perfect blend of tang and crunch. As it happens, black bean salad with corn makes a perfect salsa too!
Ingredients
1

red pepper, diced

1

green pepper, diced

½

red onion, diced

15.25

oz.

can of corn, drained

1

clove of garlic

1

tsp.

cilantro

¼

cup

olive oil

5

Tbsp.

red wine vinegar

1

tsp.

lemon juice

15

oz.

can of black beans, drained

tortilla chips, for serving
Instructions
Rinse and dry all of the produce.

Finely dice the peppers, onions and cilantro.

Combine all ingredients, except for the tortilla chips.

Serve chilled with tortilla chips.