Chicken Crescent Roll Squares
Y'all, this recipe is a classic. Chicken crescent roll squares is one of my favorite dinner recipes growing up. Creamy chicken filling with a flaky crescent roll crust- to die for. It's absolutely delicious!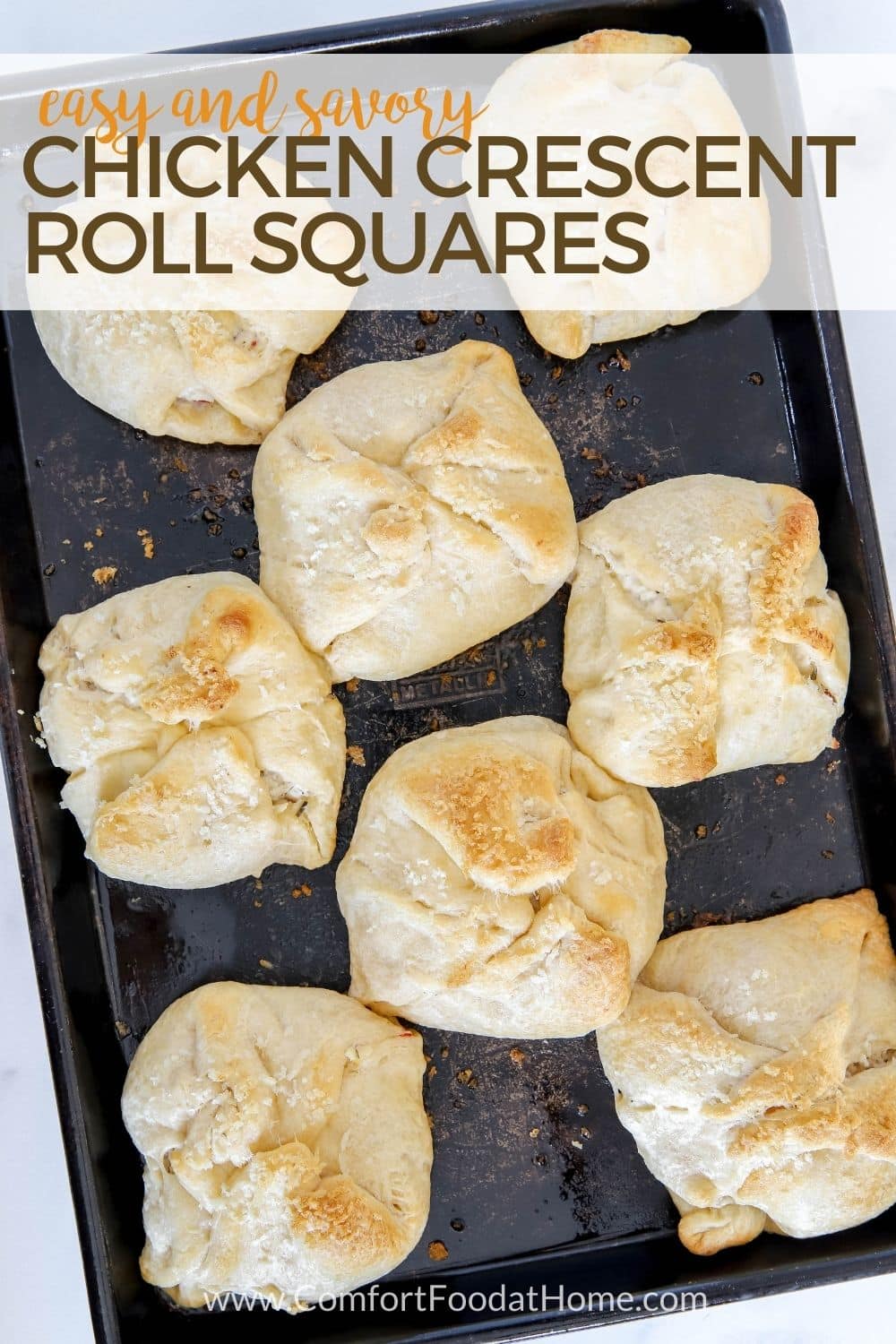 Savory Chicken Crescent Roll Casserole- Perfect For A Family Meal!
When I was growing up, there were some dinners you could just count on popping up more frequently than others. Usually, because they took less time to make and fed more people, like creamy mac and cheese and chicken fettuccine alfredo.
This chicken crescent roll square dinner was one of those recipes!
I know my mom liked it because it was so easy to throw together and bake. It also uses just a few ingredients, which most of the time we already had in the fridge.
At the time, I didn't realize how much time making this dish saved. Now that I bake it for my family, I truly understand! I just love the creaminess from the cream cheese and the flaky dough that soaked up all that goodness.
Looking back on memories of this dish makes me feel like a kid again, which may be one more reason why I have such an appreciation for chicken crescent squares (that's what my mom always called them).
As you can probably guess, we used canned Pillsbury crescent rolls for the trademark pastry we needed to fill out the casserole. It just pops right out of the can and it's so easy to use with the other ingredients. The buttery flaky pastry is the perfect cushion for the creamy chicken mixture. It's impossible to put it down once you start!
If you can resist a double serving, it makes great leftovers, too.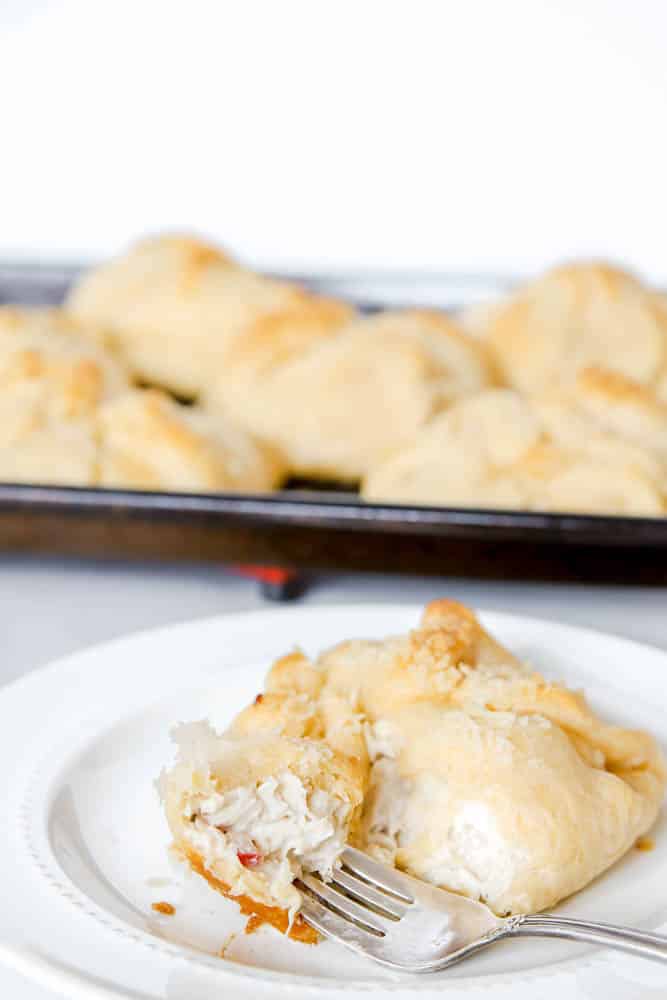 Ingredients Needed To Make Homemade Chicken Crescent Squares
To make this casserole dish at home, these are the ingredients you will need:
Cream Cheese: This brings the creamy cheesy flavor to the casserole that will make you come back for more.
Butter: You can use margarine if you don't have butter. Make sure it is fully melted before using in this recipe.
Chicken: You can use cooked boneless skinless breasts or chicken thighs. Whatever you like! If you are in a time crunch, you can also pick up a whole rotisserie chicken at the grocery store and shred it.
Milk: This ingredient helps combine everything for a creamier filling. You can also swap this out for half and half or a non-dairy alternative, like almond milk.
Onion: Make sure to use a sharp knife when chopping the onion. Also, leave the bulb intact until you've finished chopping- it helps keep everything together and you are more likely to make concise cuts.
Pimientos: These give the chicken casserole a burst of color and don't have too strong of a flavor. It also helps nicely balance the richness of the casserole.
Crescent rolls: 2 cans will get the job done!
Panko crumbs: Not a must but highly recommend. These crumbs give the casserole a nice crunchy texture on top.
Don't forget the salt and pepper!
What To Serve With This Flaky Chicken Casserole
My recipe for chicken crescent roll casserole makes a great meal on its own, but you can also serve it with sides. I recommend leafy greens or my broccoli salad. My roasted butternut squash soup also compliments the casserole nicely!
For dessert, I recommend a frozen no-bake lemonade pie. So yum!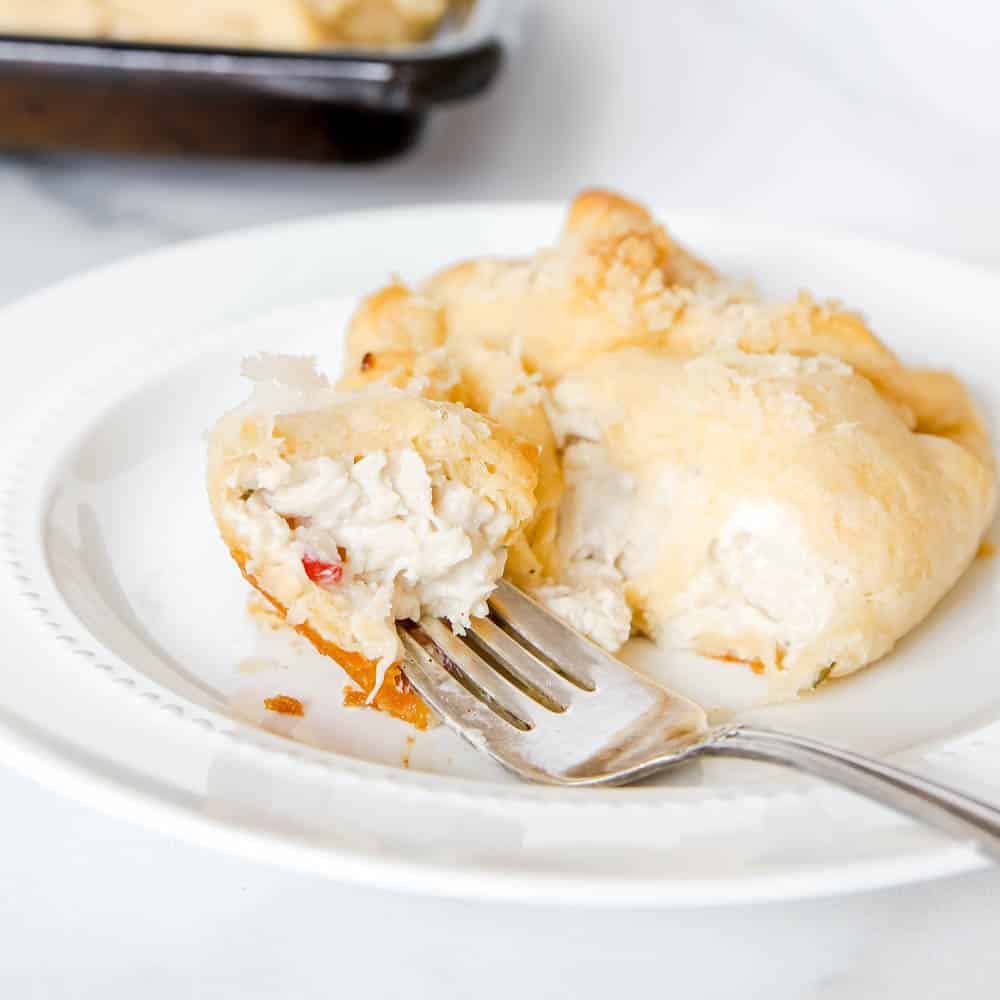 Frequently Asked Questions About Chicken Crescent Rolls Casserole
Whenever I share this recipe, I get some of the same questions. Here are the most popular ones that people ask!
If you have a question that isn't listed here, please leave it in the comments and I'll answer it as soon as I possibly can.
Can I use canned biscuit dough instead of crescent roll dough?
Yes. Although there is a large difference between the way the two pastries are structured, using an extra flaky biscuit dough can help make the texture feel more like crescent rolls were used. However, you should use the crescent roll dough whenever possible since the formation of the dough is key to the creation of the finished product.
Can I substitute the milk if I am lactose intolerant?
Yes! You can substitute the milk in this recipe for coconut milk. It is among the creamier milk alternatives. You could also use almond milk but it won't be as creamy. 
Do I have to use pimientos in the recipe?
Pimientos are included in the recipe to add a pop of color to an otherwise pale and unstimulating appearance. This ingredient also aids in providing a more balanced flavor profile against the sweet, creamy, buttery ingredients it bakes with.

As a substitute for pimiento, you could use red bell peppers that are finely diced!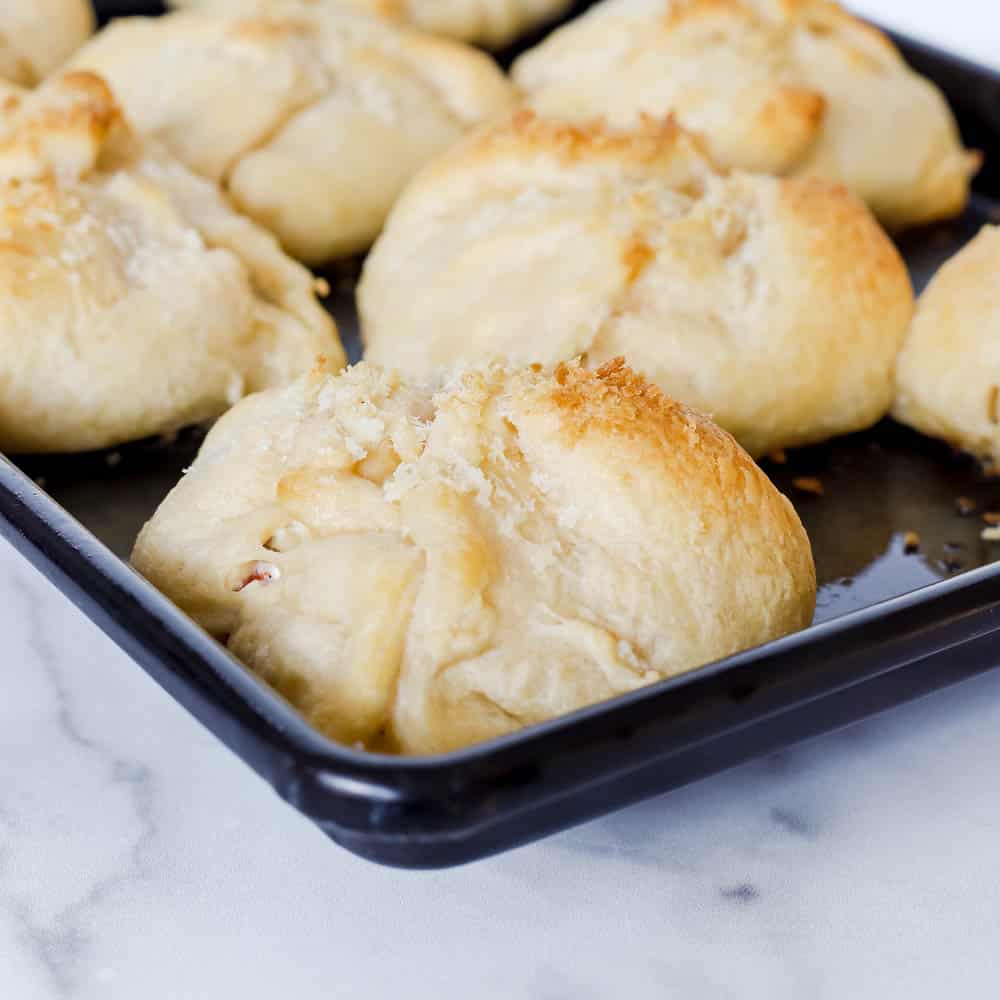 MORE GRANDMA-APPROVED RECIPES TO TRY
If you enjoyed this recipe for chicken crescent roll casserole, take a look at some of these other yummy recipes:
Do you think you'll make this recipe? If so, let me know! I'd love to hear what you think in the comments below!
Print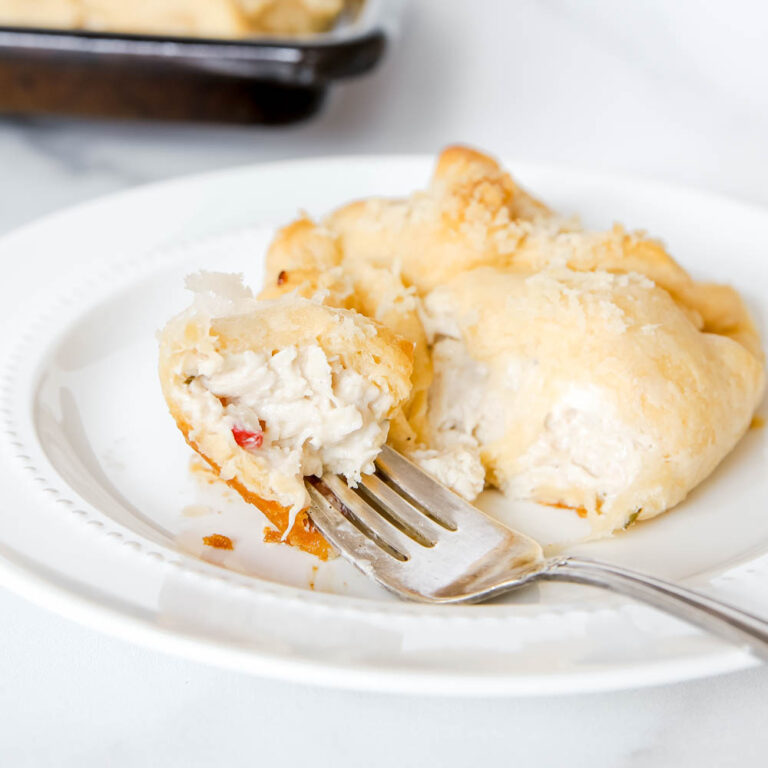 Chicken Crescent Squares
Y'all, this recipe is a classic. Chicken crescent roll squares is one of my favorite dinner recipes growing up. Creamy chicken filling with a flaky crescent roll crust- to die for. It's absolutely delicious!
Total Time:

55 minutes

Yield:

8

people

1

x
6 oz

. cream cheese

6 Tbsp

. butter, melted, then divided

4 cups

chicken, shredded or cubed

½ tsp

. salt

¼ tsp

. pepper

4 Tbsp

. milk

2 Tbsp

. onion, finely chopped

2 Tbsp

. pimientos

2

8 oz. cans of crescent rolls

2 Tbsp

. panko crumbs
Instructions
Preheat oven to 375 degrees.
Bake and shred or cube chicken until you have 4 cups. I use two large or 3 medium size breasts.
Mix the cream cheese, half the butter, shredded or cubed chicken, salt, pepper, milk, chopped onions and pimientos. Stir until combined.
Open crescent rolls and put two crescent rolls side by side to create a rectangle and press seams together.
Fill the crescent roll with ⅛th of the chicken mixture and pull the corners of the roll over the mixture. Press the edges together.
Repeat 8 times.
Brush each crescent square with remaining melted butter and sprinkle some panko on top.
Bake at 375º for 15 minutes.
Notes
I didn't include the time needed to bake your chicken in the recipe, but if you don't start with cooked and shredded chicken, add about 45 minutes to the time. 
This is a great recipe to use up shredded chicken from the freezer. 
It's really easy to stir the filling up in a stand mixer, but you can stir it by hand, too!
Author:

Laura

Prep Time:

40 minutes

Cook Time:

15 minutes