The Best Broccoli Salad Recipe
Crunchy broccoli salad – A fun summer side dish that is perfect to serve at your next backyard BBQ. This broccoli salad recipe is packed full of flavor with red onions, raisins, sunflower seeds with cheese (and broccoli, of course). Don't forget the salty bacon bits!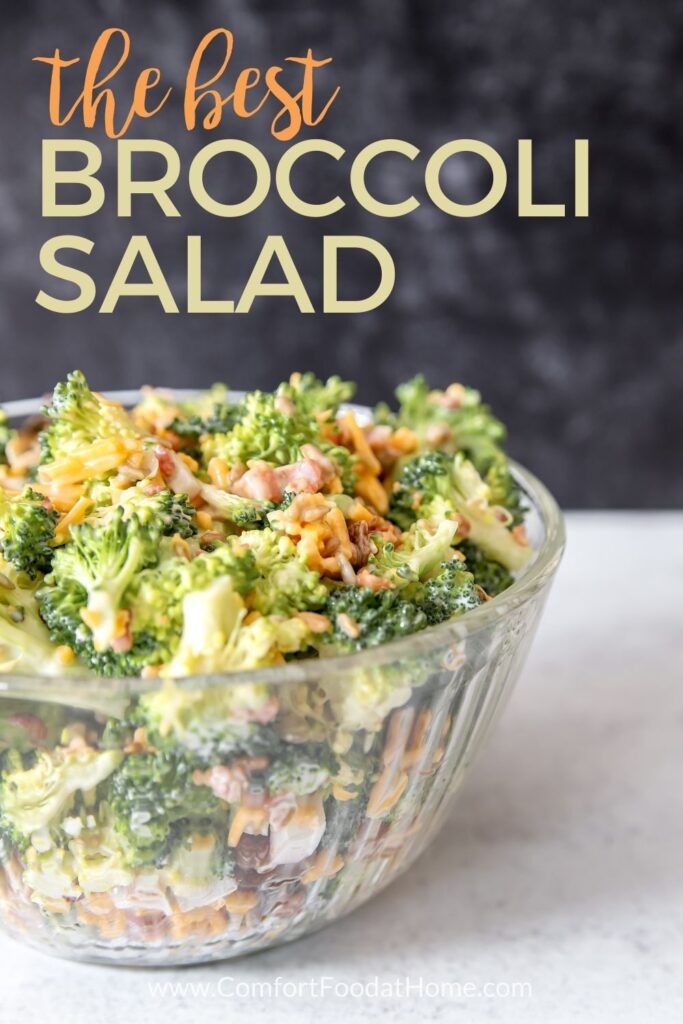 Broccoli Salad: A Crunchy Summer Side Dish!
Okay, when I say this broccoli salad is the best you're ever going to find, I really mean it! This broccoli salad recipe works perfectly for summer BBQs and any kind of potluck you may be attending. I even made it for our Sunday Easter lunch with my cheesy hashbrowns casserole and it was a hit!
This family recipe was a great and sneaky way for my mother to get me to eat my green veggies. And now, I do the same thing to my kids!
Plus, let's be honest- anything that has crispy crumbly bacon in it is amazing, right?
Ingredients Needed To Make This Broccoli Salad With Bacon
To make this broccoli salad at home, these are the ingredients you will need:
Broccoli Florets: I like to buy 2 broccoli heads and chop them into florets myself. You can also buy pre-chopped broccoli bags too. Such a time saver! 
Red Onion: This type of onion has a much more intense flavor than white onions but it pairs really well with the sugar and vinegar in the homemade dressing. 
Golden Raisins: These golden raisins are a bit juicier and a bit more fruity. If you don't like raisins, keep reading to find out what you can substitute them with. 
Sunflower Seeds: These sunflower seeds add a little bit of nuttiness to the salad. You can also substitute it for some roasted pumpkin seeds. 
Bacon: I usually love to buy thick-cut bacon and bake it in the oven until it's nice and crispy. You can also buy bacon bits or pieces at the store to save time. 
Cheddar Cheese: This recipe normally uses shredded cheddar cheese but my grandmother would sometimes buy a whole block of cheddar cheese and chop them up into small bite-size cubes.  I like the thick pre-shredded cheese from the store.
Broccoli Salad Dressing Ingredients:
Mayonnaise: This ingredient serves as the perfect base for this homemade salad dressing. I prefer to use full-fat mayo but you can always use an olive oil-based mayo to cut the calories. 
Sugar: This sweetener helps level out the flavor profile and tempers the creaminess of the mayo and tartness of the red wine vinegar. 
Red Wine Vinegar: This vinegar is exactly what this recipe needs. It's perfectly tartly!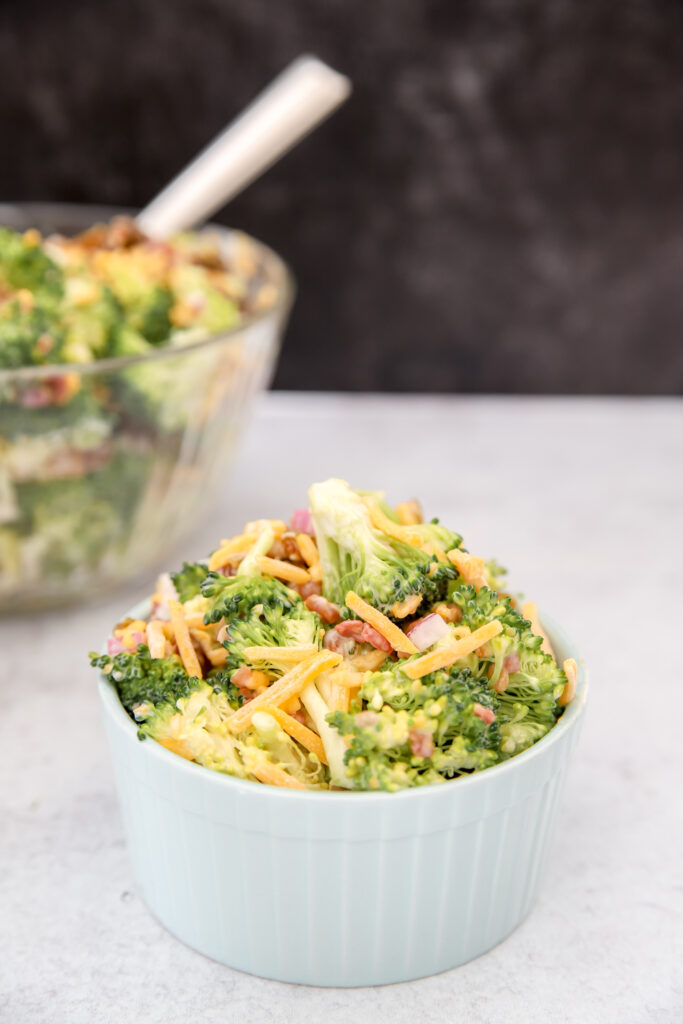 What To Serve With This Broccoli Salad Recipe
This salad is great to serve in so many different settings.
At my family's yearly summer BBQ party, I love to make a huge batch of this broccoli salad recipe with lots of bacon while we grill hamburgers, hot dogs, and chicken legs. We also like to cook up a few baked sweet potatoes and corn on the cob which pair really nicely with the broccoli salad. A little something for everyone!
If I have too much broccoli leftover, I like to make my cheesy broccoli and rice casserole.
Frequently Asked Questions About Bacon Broccoli Salad
Whenever I share this recipe, I get some of the same questions. Here are the most popular ones that people ask!
If you have a question that isn't listed here, please leave them in the comments and I'll answer them as soon as I possibly can.
Do you steam broccoli for broccoli salad?
You can steam the florets for about a minute or so if you want them to be a little less crunchy. But, I prefer to eat them raw!
Do I have to use broccoli florets?
No, you don't. I have seen many different variations of this recipe where people use a broccoli slaw in place of the broccoli florets.
Can I use a different dressing in this broccoli salad recipe?
I prefer to make my own broccoli salad dressing but you could use a store-bought dressing if you are short on time. I would recommend using a creamy ranch!
I don't like raisins. Can I leave them out?
Yes, you can. I personally like to add them for that little bit of sweetness. You can also substitute them with dried cranberries if you prefer them. 
Can I make this broccoli salad in advance?
Yup! You can make this salad 2-3 days in advance and let the dressing get soaked up by all of the ingredients. I usually like to make it a few hours before we eat the salad to really let the flavors blend together.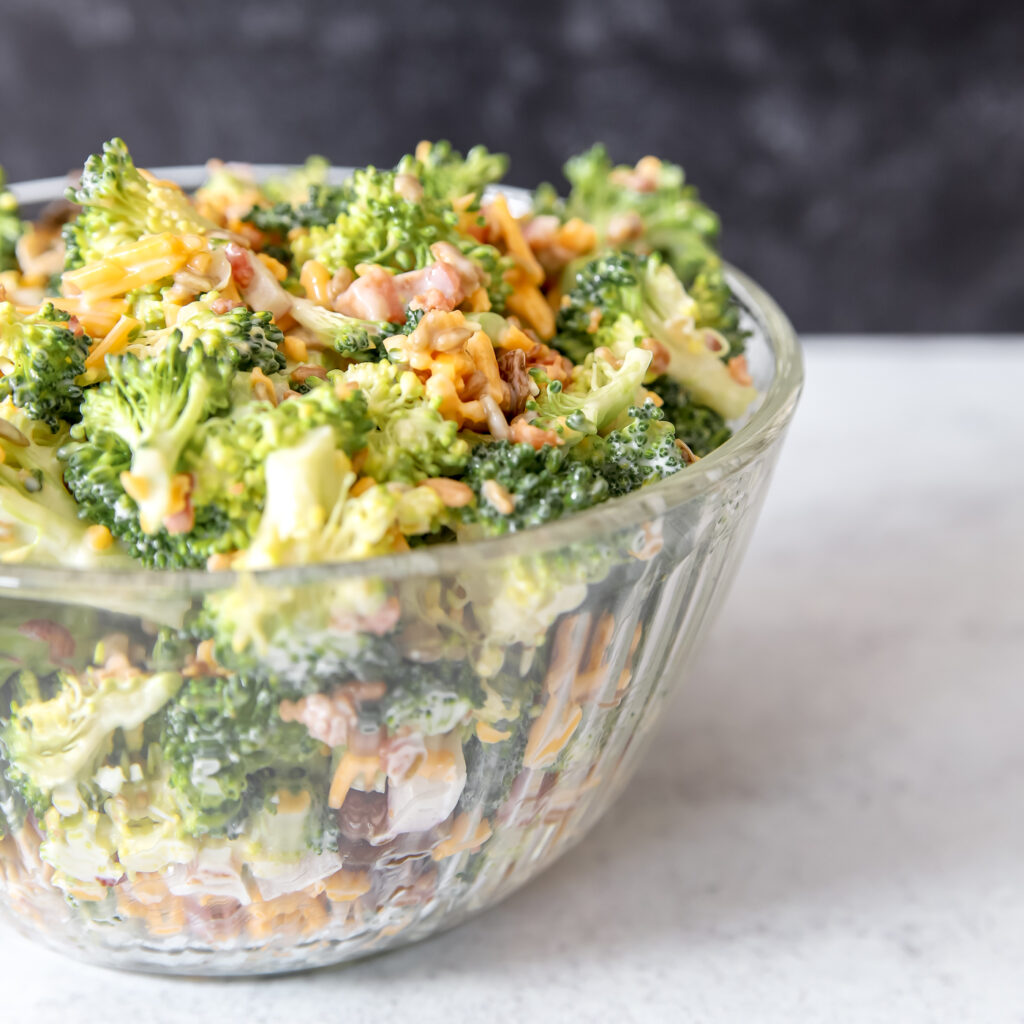 MORE GRANDMA-APPROVED RECIPES TO TRY
If you enjoyed this recipe for broccoli salad, take a look at some of these other yummy recipes:
Do you plan on making this broccoli salad recipe at your next potluck? If so, let me know! I'd love to hear what you think in the comments below!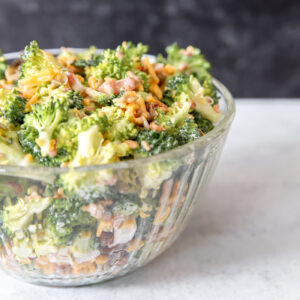 The Best Broccoli Salad
This simple, classic broccoli salad is a staple side dish, perfect for a potluck or party. Start with bacon, red onion, golden raisins, sunflower seeds and cheddar cheese and end with an easy homemade dressing!
Equipment
Large bowl

small bowl

Cutting Board

Knife for chopping

Baking sheet, if cooking bacon
Ingredients
4

cups

broccoli florets, chopped

¼

cup

red onion, chopped

½

cup

golden raisins

½

cup

sunflower kernels

¼

cup

cooked bacon, chopped

or bacon pieces

¾

cup

shredded cheddar cheese
Dressing
1

cup

mayonnaise

¼

cup

sugar

2

Tbsp.

red wine vinegar
Instructions
If you didn't buy bacon pieces, go ahead and cook the bacon in the oven first.

While the bacon is cooking, rinse the broccoli and chop it into small florets.

Chop red onion until you have ¼ cup.

Once bacon is finished cooking, pat the grease off with paper towels and chop until you have ¼ cup.

Combine broccoli, chopped red onion, golden raisins, sunflower kernels, chopped bacon and cheddar cheese.

Mix the salad dressing ingredients together with a whisk.

Pour salad dressing over salad mixture and stir until well combined.

Chill in the fridge for 2 hours before serving.