Beef Enchilada Recipe with Cheese Sauce
This beef enchiladas recipe features a delicious meat and cheese filling, corn tortillas and a creamy decadent cheese sauce. It will delight your family and feed a crowd!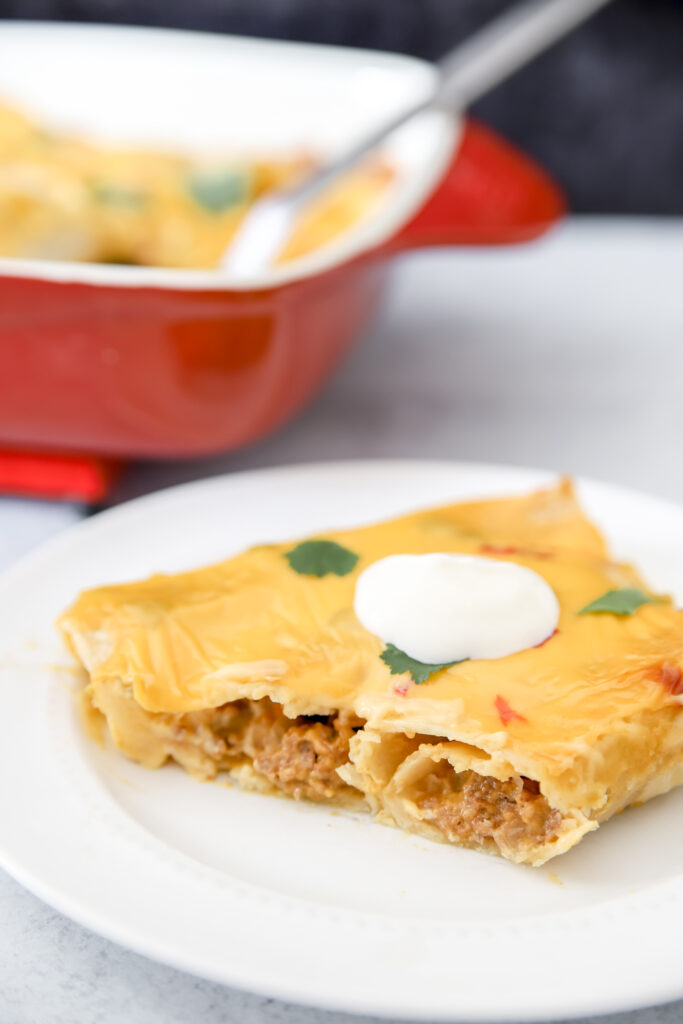 Beef Enchilada Recipe
Cheesy dinner recipes are some of the most popular ones I make for my family. Everyone loves digging into a meal with lots of gooey, melted cheese. It just brings back memories of so many other cheesy recipes we love – from classic lasagna to our favorite mac and cheese!
Enchiladas With Cheese Sauce
Normally, you mix in the meat with some cheese and a can or two of enchilada sauce and then roll that mixture up in some tortillas and bake it. I wanted to make some really cheesy enchiladas, so I changed things up and made my own seasoning.
This recipe has double cheesy goodness, because not only does the meat filling have cheddar cheese in it, but you have the cheese sauce topping as well!
The result is a decadent beef enchilada casserole that everyone enjoys – even people that don't normally like the taste of Mexican food. It's a crowd-pleasing recipe that you can take with you to cookouts and parties.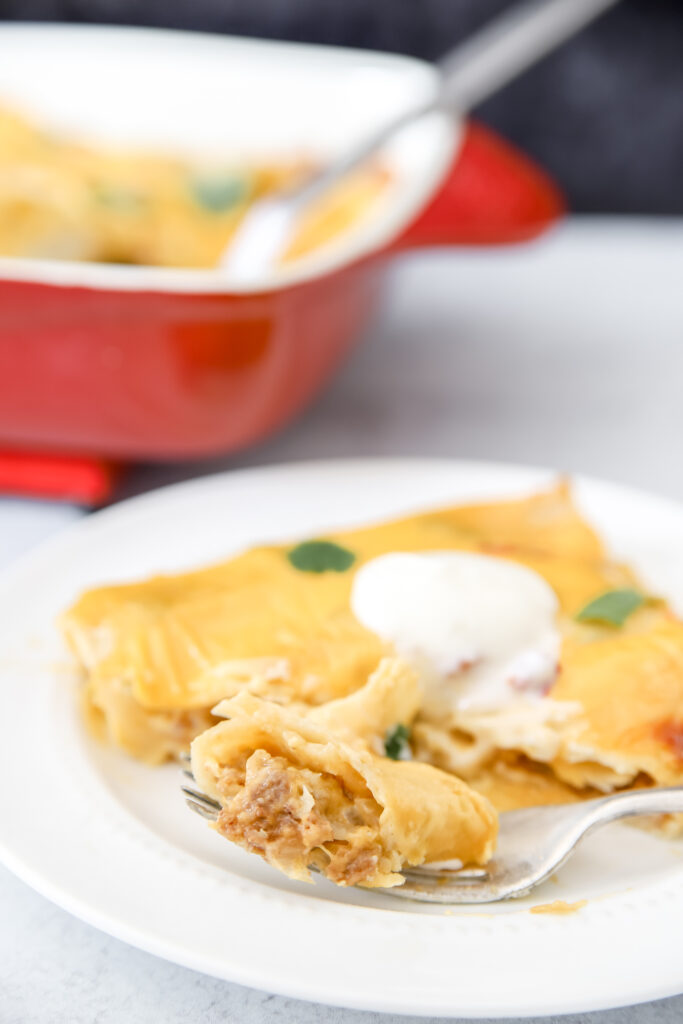 How To Make Homemade Cheese Sauce
The secret to these enchiladas is the homemade cheese sauce that you bake on top. In fact, you could use this cheese sauce on other things. It would taste amazing on some noodles for a homemade cheesy pasta bake!
I used the following ingredients in my cheese sauce (the entire recipe for it is in the printable card at the bottom of this post).
Cream of Chicken Soup – You can substitute cream of mushroom soup if you have it. I think the cream of chicken gives it a better flavor.
Evaporated Milk – Half and half is the best substitute if you don't have evaporated milk.
Pimientos – In a pinch, you can use red bell peppers instead of pimientos.
Diced Green Chiles – If you don't have a can of diced green chiles, use a can of Ro-Tel tomatoes with green chiles or de-seed and dice a fresh jalapeño.
Velveeta Cheese – This is what gives the sauce the creamy texture. There is a way to make your own, but there really isn't a store-bought substitute for it.
How to Assemble the Enchiladas
You start by cooking the beef mixture in a large skillet. Then prepare the corn tortillas (explained in the FAQ section below) by warming them in a small skillet. Then you take a little less than a fourth a cup of the beef filling and place it on the tortilla.
Roll up the tortilla, seam side down, and place it in the casserole dish. Keep filling and rolling until you have finished up all of the meat filling. After assembling all of the enchiladas, pour the cheese sauce over top.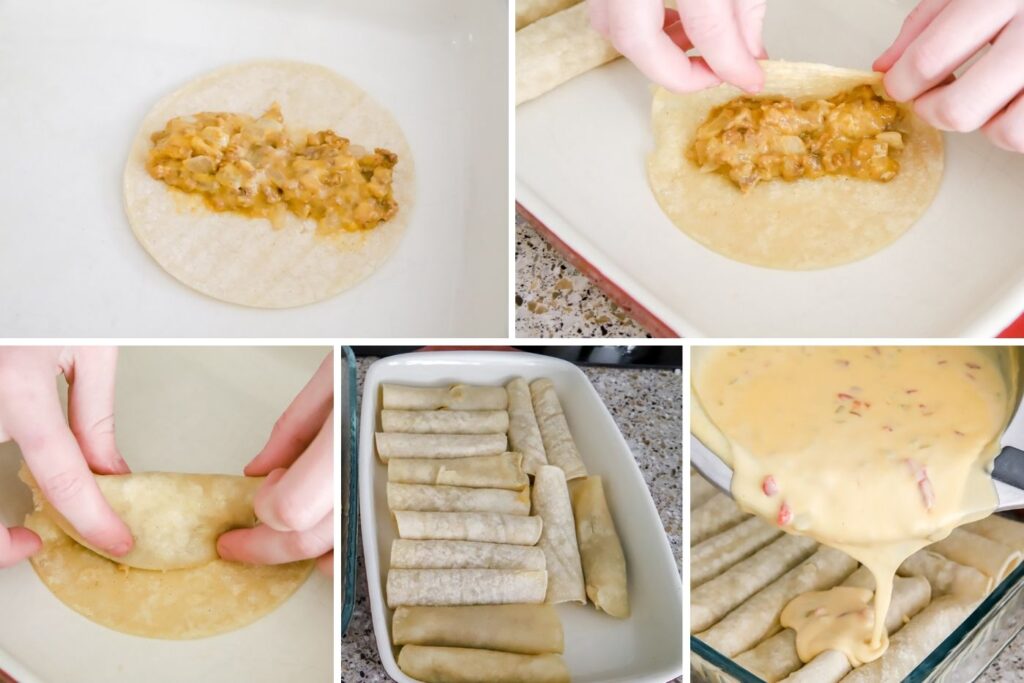 Beef Enchilada Casserole Storage
These enchiladas have such a mild and amazing flavor, that you won't have very many leftovers. If you do, it's best to store them in an airtight container in the refrigerator for no more than 3 days.
When you are ready to eat your leftovers, the cheese sauce melts quickly in the microwave. These beef enchiladas taste amazing even on the second day.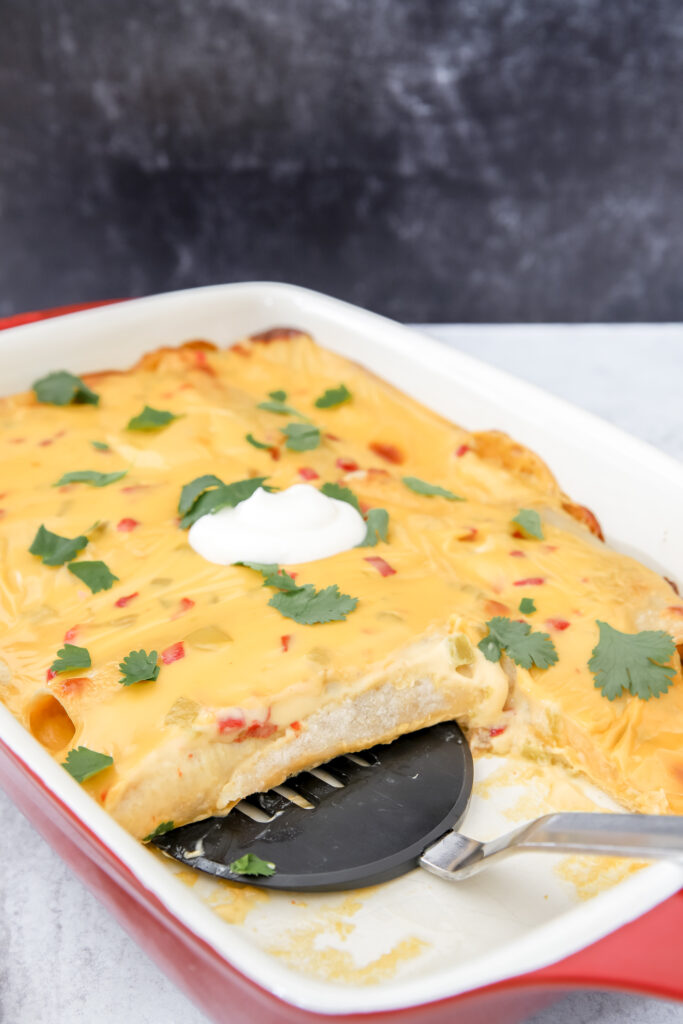 How To Freeze Ground Beef Enchiladas
These enchiladas are the ideal recipe for a make-ahead meal. They will stay fresh in the freezer for up to 3 months.
To freeze them, follow the instructions in the recipe.
Place the assembled enchiladas in a disposable aluminum pan and top with the cheese sauce.
Cover the tray with aluminum foil, and label it with the recipe name and date.
After it cools, store it in the freezer.
Make sure these are covered tightly to prevent freezer burns and spills. Some people suggest wrapping them in plastic wrap before freezing and then adding aluminum foil on top!
When you are ready to eat your frozen enchiladas, either let them thaw in the refrigerator the night before or just add about 7 minutes to the cooking time.
Once they are ready to go, remove the foil and bake.
What To Serve With Beef Enchiladas
My family loves eating these enchiladas with rice and beans. Here are some side dish ideas that you can use to make this an entire dinner:
Spanish Rice
Refried Beans
Black Beans and Rice
Cilantro Lime Rice
Guacamole and Chips
Cucumber Tomato Avocado Salad
Mexican Street Corn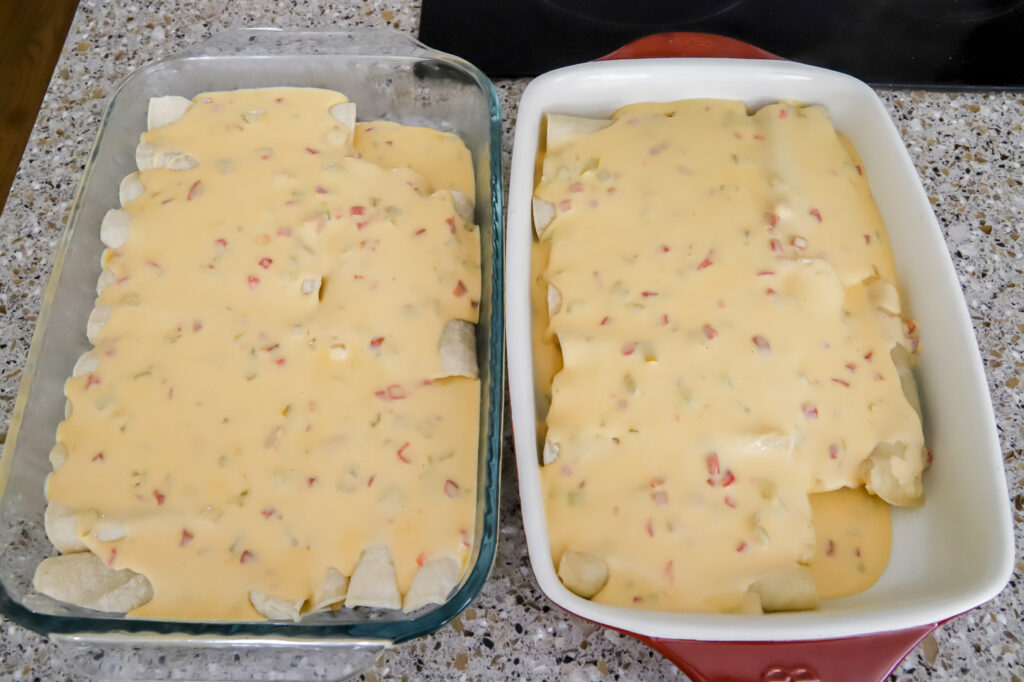 How To Make Beef Enchiladas: Frequently Asked Questions
Whenever I share this recipe, I get some of the same questions. Here are the most popular ones that people ask. If you have a question that isn't listed here, please leave them in the comments and I'll answer them as soon as I possibly can.
Can I use frozen chopped onions to save time?
Yes, you can definitely use frozen chopped onions in the ground beef mixture instead of fresh onions. This will not only save you time, but it will save your eyes too!
If you want to use fresh-chopped onions, I prefer the flavor of yellow onions in the enchiladas. Sweet red onions work really well, too.
What type of tortillas are best to use for enchiladas?
The best type of tortillas for enchiladas depends on your comfort level and taste. Corn tortillas are used in traditional enchiladas, but they are more difficult to work with.
I like to use corn tortillas, but you have to warm them individually in an oiled saucepan. If you don't warm the corn tortillas before filling them, they will crack, like the first one I rolled in the photo below.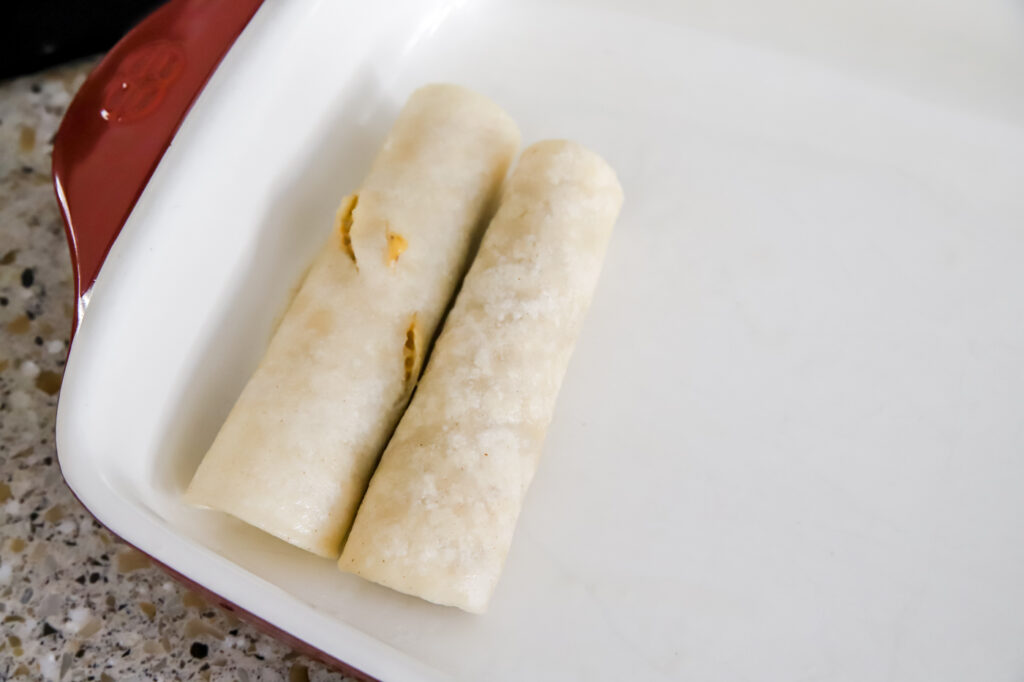 I put a drizzle of olive oil in a small skillet over medium heat and heat the tortillas for about 1 minute on each side. I usually don't get the first one hot enough, hence the cracks in the first one. But after that, they usually will get hot enough and not crack.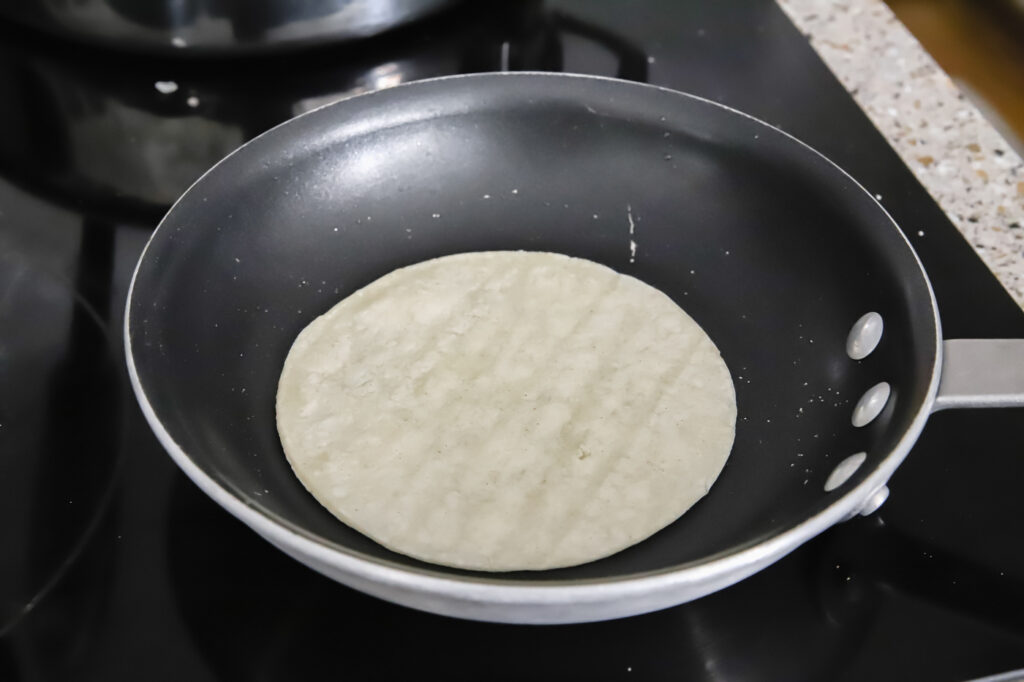 But you can also take the easier route and use flour tortillas. My family really likes their mild flavor, too.
No matter which type of tortilla you choose to use, pick smaller ones. You want either 7 or 8-inch flour tortillas or 6-inch corn tortillas. If you try to use the larger burrito-sized ones, you won't have enough filling.
What is a good melting cheese for enchiladas?
I created my own cheese sauce because it melts so perfectly on the enchiladas and creates a creamy texture on top. I used a combination of cream of chicken soup and Velveeta cheese.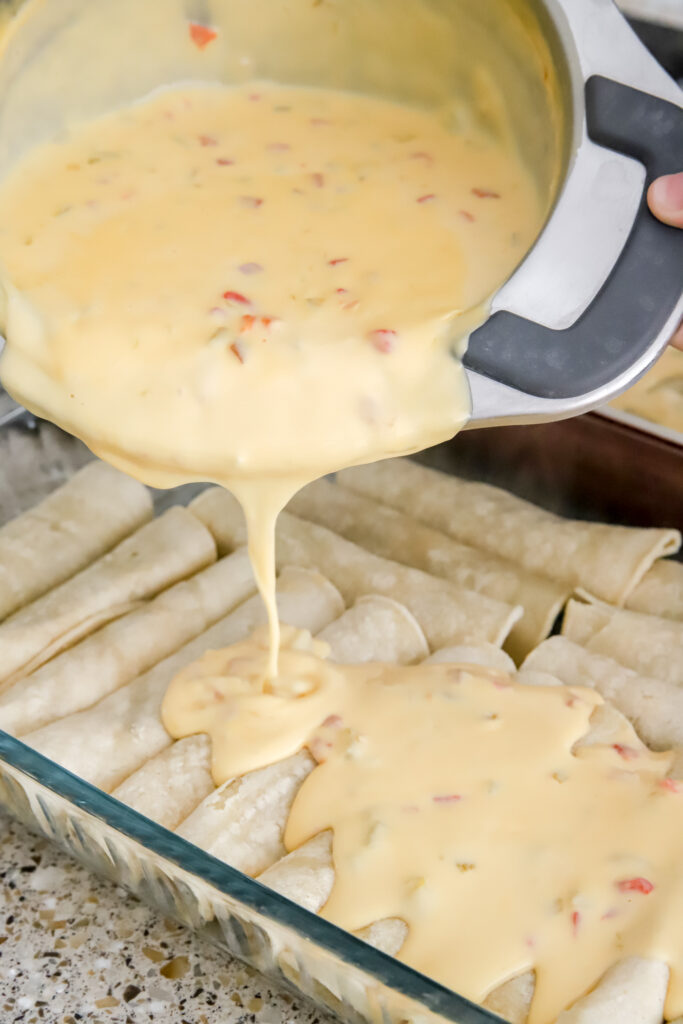 Traditionally, Mexican restaurants use manchego cheese because it grates easily and melts perfectly on top of the enchiladas.
Can you make this with chicken?
Yes, these beef enchiladas taste amazing with any other type of meat that you want to use. Just follow the instructions and replace the ground beef with any other type of meat that you want to use.
Any of these meat ideas will taste perfect inside the enchiladas:
Shredded chicken breast
Chorizo sausage
Shredded pork roast
Shredded beef roast
Ground turkey or chicken
Or a combination of any of the above! Doesn't a chicken & chorizo enchiladas sound amazing?
How do you make the enchiladas taste spicier?
Since these beef enchiladas are so mild, they are perfect to serve your family and kids. If you prefer your food to have a kick, that's an easy fix!
There are a few ways you can add some heat to this dish.
Sprinkle in some red pepper flakes and cayenne pepper in the ground beef mixture. This will make the meat filling spicier.
Add some freshly-chopped jalepeño peppers to the cheese sauce. You'll love how much spicier it tastes with this one small change.
This post contains affiliate links for your convenience.
What size casserole dish is best for beef enchiladas?
My recipe calls for a large baking dish or two medium-sized baking dishes. These are my two 9 x 13 baking dishes.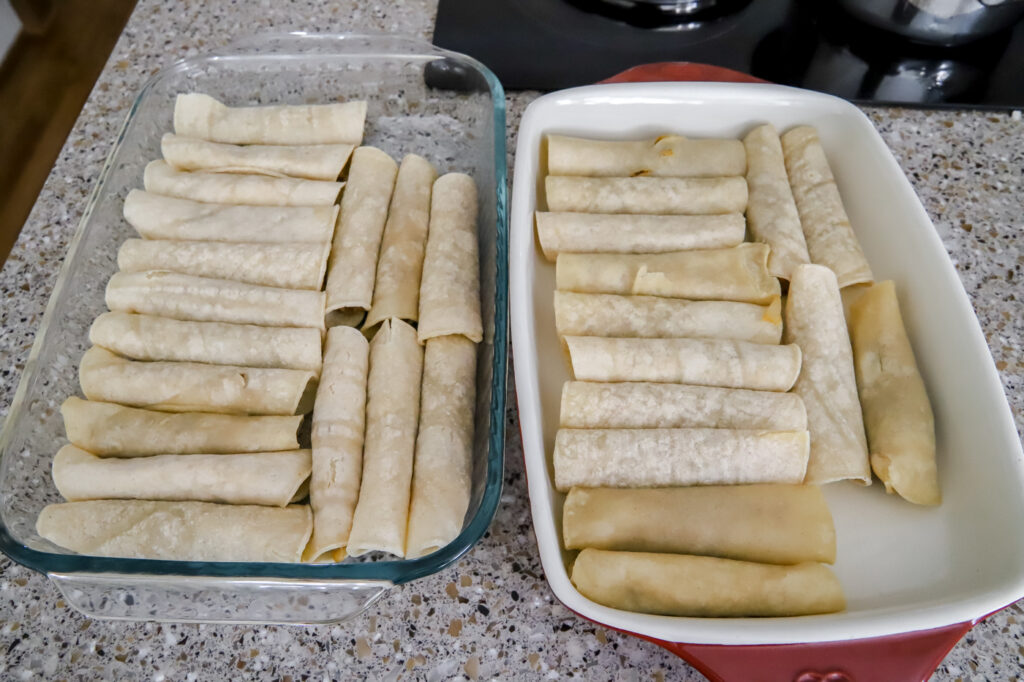 But it really depends on how much filling you put in each one and how much you squish them in there together. I can sometimes fit them all in one 9×13 dish and an 8×8 dish. Or, if you have one larger casserole dish, like a 10×16 casserole dish that would be perfect!
Have you ever made beef enchiladas with a creamy cheese sauce on top? I'd love to hear about it in the comments below!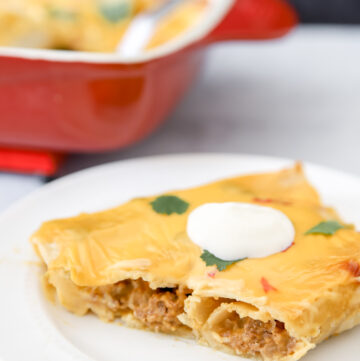 Beef Enchiladas with Cheese Sauce
Yummy beef enchiladas with delicious meat and cheese filling, corn tortillas and a creamy decadent cheese sauce will delight your family and feed a crowd!
Equipment
1 very large baking dish, or 2 medium size baking dish

large sauce pan

small skillet

double boiler
Ingredients
Ground Beef Filling
1 1/2

lbs.

ground beef

1/2

tsp.

salt

2

tsp.

cumin

1

large onion, chopped

1

lb.

cheddar cheese, grated
Cheese Sauce
1

can of cream of chicken soup

5 1/2

oz.

can evaporated milk

4

oz.

jar of pimientos

4

oz.

can of diced green chiles

1

lb.

Velveeta cheese
Tortillas
24-32

corn tortillas, warmed

I do this one-by-one in a warm skillet with a drizzle of oil, as I fill them. This keeps the corn tortillas from cracking.

drizzle of oil
Instructions
In large sauce pan, brown ground beef and chopped onions. Drain if necessary.

Add cumin, salt and cheddar cheese. Cover and let the cheese melt.

Separate this mixture into fourths. Split each fourth into 6 equal parts and use that amount as filling for each tortilla. (It's a little less than ¼ of a cup in each tortilla.)

Roll each tortilla as you fill it and place it, seam side down, in 1 very large or 2 medium sized casserole dishes.

Combine the Cheese Sauce ingredients in double boiler and heat until Velveeta cheese melts. Pour over rolled tortillas.

Bake uncovered on 350º for 30 minutes until sauce is hot and bubbly.