Creamy Mac and Cheese (Grandma's Recipe)
It's dinner time, and I'm feeling nostalgic. For today's classic southern dish, I am going to share my grandma's recipe for creamy mac and cheese! This pasta dish is made with a homemade cheese sauce using some delicious Velveeta cheese.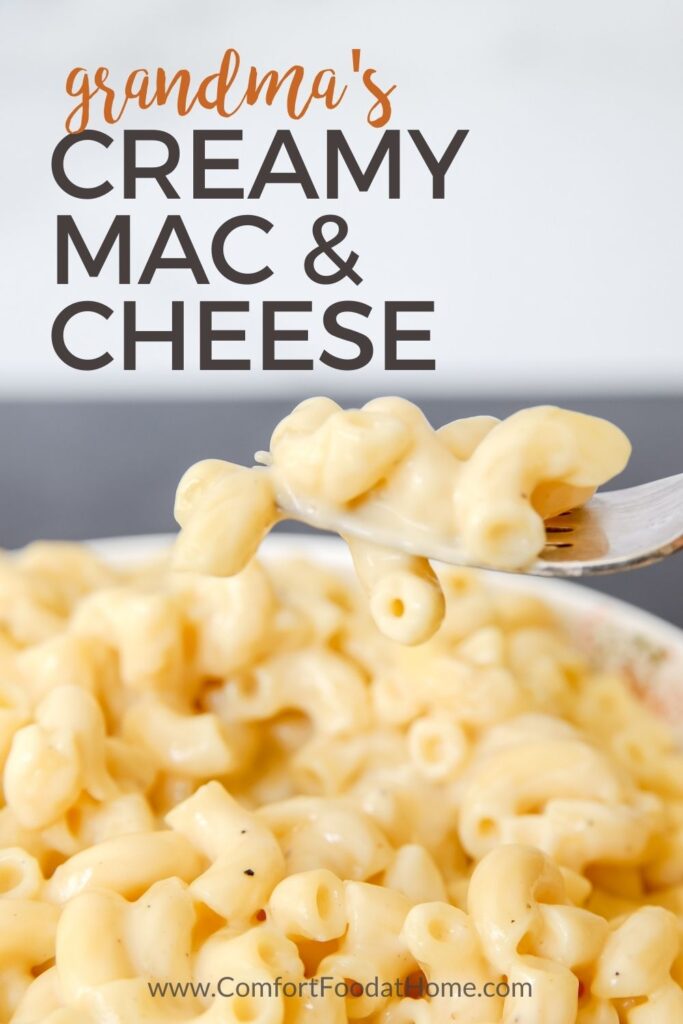 The Perfect Kid-Friendly Recipe For Creamy Mac and Cheese!
My family had different "go-to" meals growing up, but when it came down to it, EVERYONE loved Grandma's mac and cheese.
I mean, in the south, everyone has their own family recipe for macaroni and cheese, but I always preferred Grandma's. And, even after all this time (now that I have a family of my own), creamy mac and cheese is always a hit at my house!
It's just so perfectly rich and cheesy, thanks to Velveeta cheese. I know my grandmother favored Velveeta because it made cooking dinner quick and easy. It also helped make the recipe simpler so I could "help" in the kitchen more!
The best part about this homemade mac and cheese recipe is that it can work both as the main meal or as a side dish to serve alongside a protein and a veggie.
I mean, who doesn't love a bowl of cheesy, luscious comfort food?
Ingredients Needed To Make Grandma's Creamy Macaroni and Cheese With Velveeta
To make this creamy mac and cheese at home, these are all the ingredients you will need:
Pasta: You can use any kind of pasta you prefer, from elbows to shells. Just make sure to use a type of pasta that will hold the cheese sauce well.
Butter: Don't skimp out on this ingredient! Butter makes everything taste better, and it's the unsung hero in a good creamy mac and cheese.
Flour: The best thickening agent around for the gooiest cheese sauce! If you don't have flour, try using arrowroot powder or cornstarch as a replacement.
Milk: Milk helps the cheese melt better and helps create the cheese sauce base for extra creamy goodness.
Velveeta Cheese: A staple in southern mac and cheese, Velveeta cheese is affordable and easy to melt down for a quick mac and cheese sauce, just like grandma always made it.
Tip: You can jazz up the flavor of this macaroni and cheese recipe by adding in some spices like a good cajun spice mix, a little bit of ground mustard, or smokey paprika. You can also start with some sauteed onions or minced garlic and add some green Italian herbs like: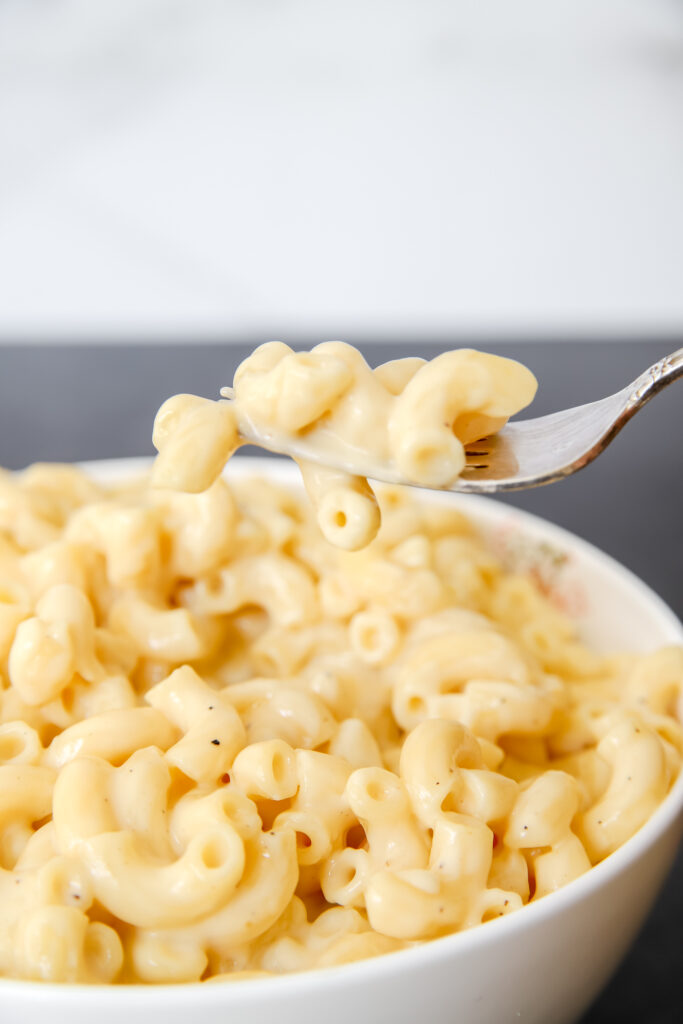 What To Serve With Homemade Mac and Cheese
Whether your creamy mac and cheese is the main course or a side dish, it's always better to have a good protein or veggie to round out the meal. Here are some of my favorite things to serve with it:
Broccoli
Cauliflower
Fried Chicken
Southern Greens
Keep it extra cheesy and add some protein with a side of Cheesy Sausage Balls!
Frequently Asked Questions About Grandma's Macaroni and Cheese Recipe
Whenever I share this recipe, I get some of the same questions. Here are the most popular ones that people ask!
If you have a question that isn't listed here, please leave them in the comments, and I'll answer them as soon as possible.
What's the best pasta to use to make creamy macaroni and cheese?
There are so many options, and it all comes down to personal preference, but some pasta styles work better in this recipe than others.
Elbows are a classic choice with good reason, but you can also look to other commonly used pasta shapes, such as shells and penne. The biggest thing you want to look for with the pasta shape is being able to scoop up and hold that creamy cheese sauce.
Nothing is sadder than getting a plain bite of macaroni and cheese and it's dry or plain!
One of my favorites (besides elbows) is rotini, which is more common in pasta salad, but it holds the cheese really well and it's easy to stab with a fork.
How can I make this mac and cheese recipe gluten-free?
That's actually very easy to do with this recipe!
Besides swapping the pasta out for a gluten-free option, the flour used to thicken the cheese sauce needs to be replaced. You can swap it out for a 1:1 gluten-free flour or use a starch like tapioca. I personally prefer to use arrowroot powder as my thickener if
I need to make this mac and cheese gluten-free!
You could also skip the flour altogether, but you might end up with a runny and lumpier sauce.
I don't like Velveeta. What other cheese can I use to make the cheesy sauce?
If Velveeta isn't your first choice, you can always make a base roux yourself using heavy cream and a mixture of different shredded cheeses.
I recommend using:
Sharp cheddar
Mild cheddar
Colby jack
Pepper jack
Gruyere
The nice thing about doing it this way is you get to decide on the cheese blend, but it does add an extra step and take longer to do.
Totally up to you!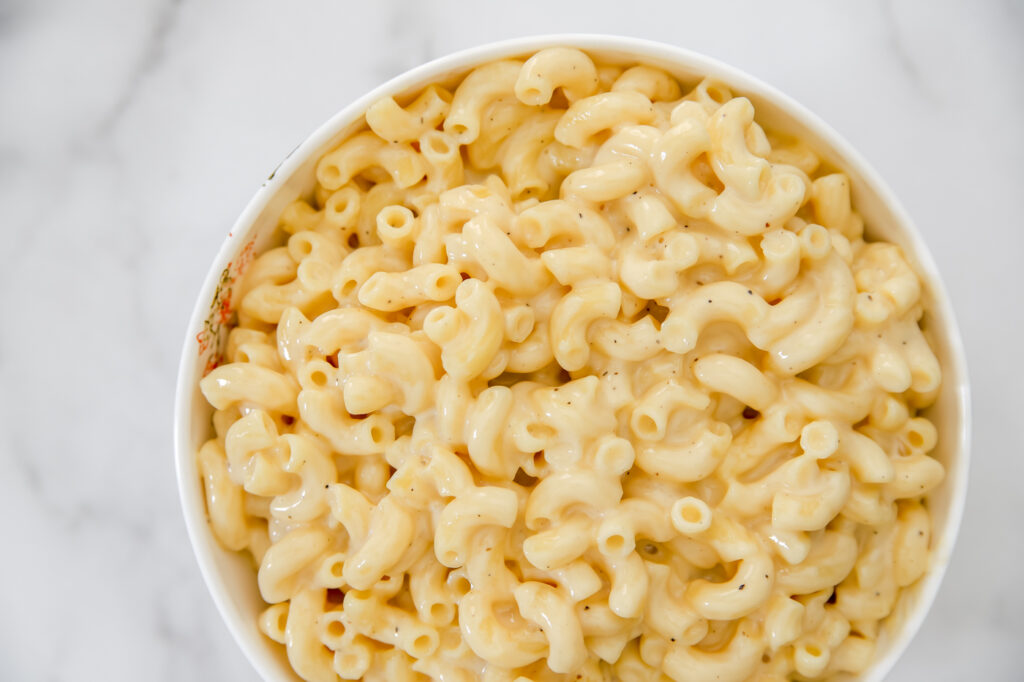 MORE GRANDMA-APPROVED RECIPES TO TRY
If you enjoyed Grandma's recipe for macaroni and cheese, take a look at some of these other yummy recipes:
Have you ever made creamy mac and cheese at home using Velveeta? If so, let me know! I'd love to hear what you think in the comments below!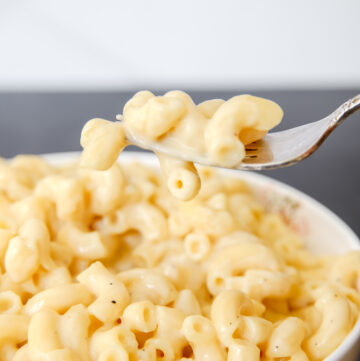 Creamy Macaroni and Cheese
It's dinner time, and I'm feeling nostalgic. For today's classic southern dish, I am going to share my grandma's recipe for creamy mac and cheese! This pasta dish is made with a homemade cheese sauce using some delicious Velveeta cheese. 
Equipment
small pot

strainer

Large mixing bowl
Ingredients
8

oz.

macaroni pasta, shells, bow ties or penne pasta

4

Tbsp.

butter

4

Tbsp.

flour

2

cups

milk

4

oz.

Velveeta cheese, cut into cubes

½

tsp.

salt

¼

tsp.

pepper
Instructions
Cook noodles according to package.

Melt butter in skillet on medium heat. Remove from heat.

Stir in flour with a whisk, making a smooth mixture.

Return to the stovetop and continue stirring for 30 seconds until thick and bubbly.

Remove from heat and gradually stir in milk with the whisk.

Return to stovetop on medium-high heat, add Velveeta cubes and stir until melted and thickened. Add salt and pepper, to taste. I use ½ tsp. salt and ¼ tsp. pepper.

Drain the macaroni pasta.

Mix sauce and macaroni together. Serve warm.