With Cinco de Mayo right around the corner, I wanted to share my family's recipe for Mexican 5 layer dip! It mainly consists of some of our favorite taco ingredients: Beans, guacamole, sour cream, cheese, and your favorite Mexican toppings. Best of all? You can make this dish vegetarian or add-in some of your favorite protein. Just don't forget the tortilla chips!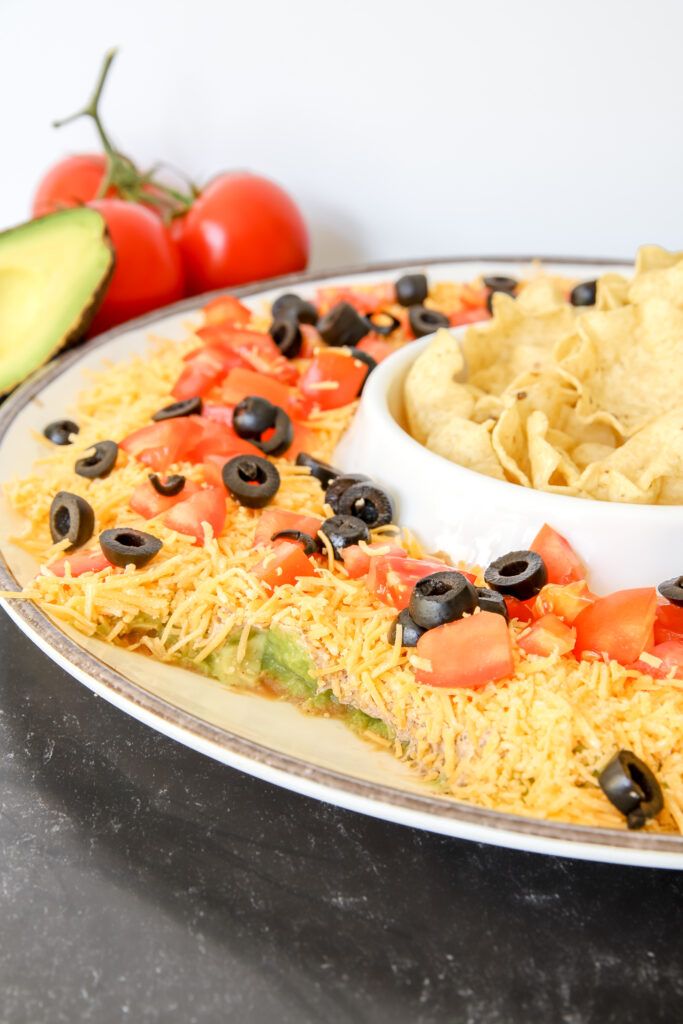 Bring The Perfect 5 Layer Dip To Your Cinco De Mayo Party!
Who's ready to party? I am!
I don't know about you but, where I come from in the South, I was raised to never show up to a party empty-handed. You'll always find me bringing some sort of pot luck or appetizer dish (like my homemade charcuterie board)- even a fun party dip!
With my love of tacos and chili (we do taco Tuesday at my house EVERY week), I knew my family's recipe for Mexican 5 layer dip was going to eventually make it onto this blog… just in time for Cinco De Mayo!
To make this dip your own, think of all your favorite Mexican taco toppings and now layer them into a dish to serve at your next party. It's really that simple and delicious.
5 layer bean dip is super versatile which makes it great to shake things up or try out new layers every time it's made for an event (or because I'm craving it).
This dip is honestly perfect for any kind of party or get-together, even game day!
Ingredients Needed To Make Mexican 5 Layer Dip
To make this bean dip at home, these are the ingredients you will need. I made it super easy for you and broke it down per layer!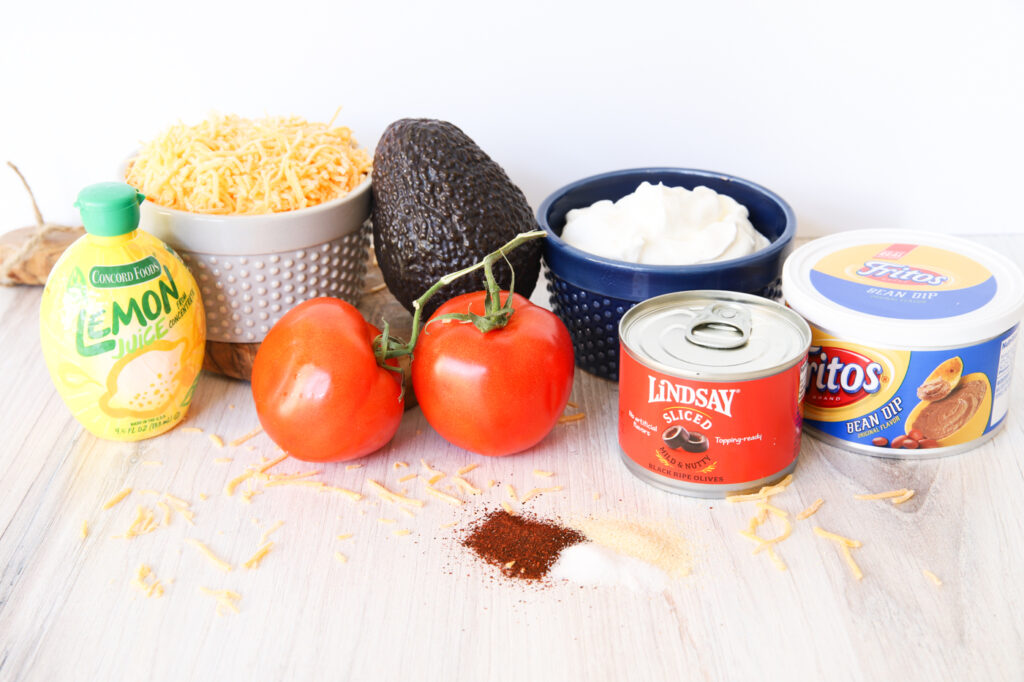 1st Layer
Beans: For this layer, I usually use a can of Frito Bean Dip or just a regular can of refried beans. If you want to keep this vegetarian, make sure to buy beans that are not cooked with lard.
2nd Layer
Guacamole: What's a Mexican dip without guacamole? I like to keep mine simple for this recipe and only need avocados, lemon juice, salt, and garlic powder. There's already so much going on in this dip recipe that you want to make sure you can really taste the avocados.
3rd Layer
Sour Cream: This is the layer where I like to add most of the seasonings for this dip as the sour cream acts as a blank base. For this dip, I like to use chili powder and garlic powder. You could also add in a bit of cumin!
4th Layer
Cheese: I really like using shredded cheddar cheese for this recipe since it's a type of mild cheese. But, you can easily swap it out for whatever cheese you like. I think I am going to try to use Monterrey jack or pepper jack next time and I'll let you know what it tastes like. Just make sure to get enough cheese to cover the whole plate.
5th Layer
Favorite Toppings: For this fifth and final layer, this is where you add the last few must-have toppings for your Mexican layer dip. I usually go for some sliced black olives, diced tomatoes, and salsa or taco sauce drizzled over the top. You can also add some shredded lettuce or diced sweet onions!
What To Serve With 5 Layer Bean Dip
When I make a batch of this delicious Mexican dip, I always like to serve it with a variety of dippers and sides.
Chips: Of course, we've got your classic tortilla chips that always pair perfectly with this dip. My kids love it when I buy the scoopable tortilla chips because they are able to scoop up a heaping bite of dip. You can also serve regular sea salt or sweet potato chips if you don't like tortilla chips.
Veggies: If you are looking for a more low-carb or healthier option to serve with this Mexican dip, try serving it with dippable veggies like carrots, broccoli, radishes, and celery.
Bread: Add a few slices of some crusty bread like sourdough or french bread to dip into this 5 layer dip!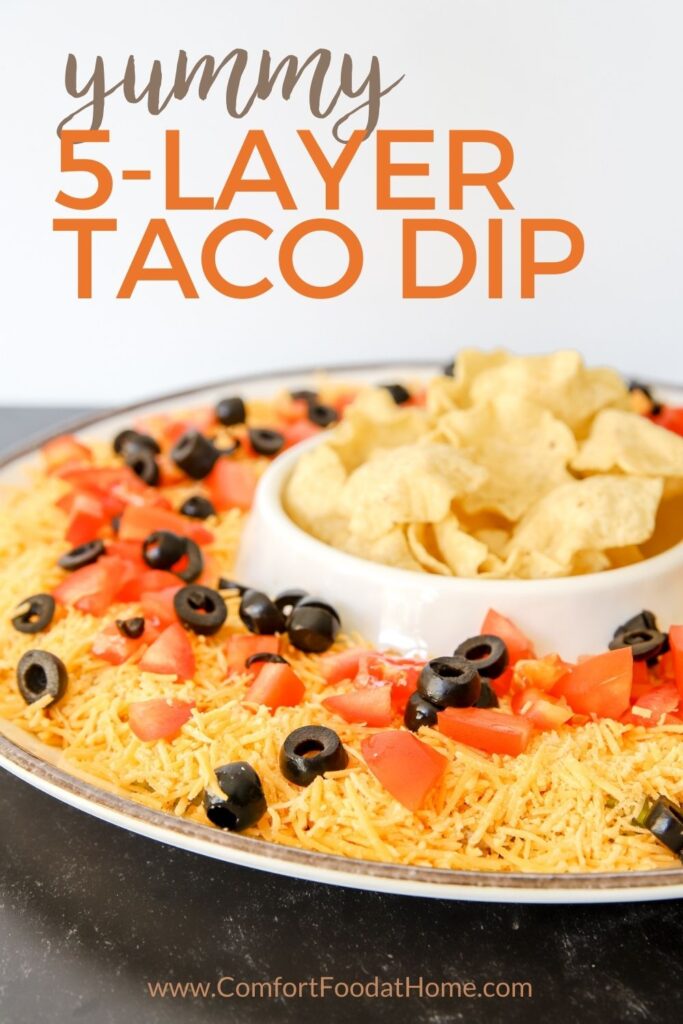 Frequently Asked Questions About Mexican 5 Layer Dip Recipe
Whenever I share this recipe, I get some of the same questions. Here are the most popular ones that people ask!
If you have a question that isn't listed here, please leave them in the comments and I'll answer them as soon as I possibly can.
Is this 5 layer dip served hot or cold?
Because of the ingredients used (specifically the sour cream and guacamole), this bean dip is best served cold.
Can I add protein to this dip?
Yes! If you want some added protein, consider cooking up some ground beef (same as you would make for easy ground beef tacos) or shredded chicken and add it in the first layer with the beans (or completely swap out the beans for the meat).
I would recommend seasoning your choice of protein with this homemade taco seasoning mix to mimic those Mexican flavors we all know and love.
How can I make this Mexican dip spicy?
To give this party dip a hint (or truckload) of spice, I would recommend chopping up some jalapeno or serrano peppers to sprinkle over the top. Leave a few seeds behind depending on how spicy you want it. Also, choose a medium or hot salsa or taco sauce to drizzle over the top.
Can I make this 5 layer dip ahead of time?
Yes, you can. Just follow the directions down below to make each layer of the dip. Then, you can do one of two things:
Option 1: Make the whole dip and store it in the refrigerator until you are ready to serve and eat.
Option 2: Prep all of the ingredients in advance and, when you are ready to serve the dip, quickly put it all together.
MORE GRANDMA-APPROVED RECIPES TO TRY
If you enjoyed this recipe for Mexican 5 layer dip, take a look at some of these other yummy recipes:
Are you excited to serve this 5 layer bean dip at your next Cinco de Mayo party? I'd love to hear what you think in the comments below!
Mexican 5 Layer Dip
Equipment
2 small bowls

large flat plate or dish
Ingredients
1st Layer
1

can

Frito Bean Dip or can of refried beans
2nd Layer
2

avocados

1

Tbsp.

lemon juice

½

tsp.

salt

¼

tsp.

garlic powder
3rd Layer
½

cup

sour cream

1

Tbsp.

chili powder

½

tsp.

salt

¼

tsp.

garlic powder
4th Layer
shredded cheddar cheese

to cover the whole plate
5th Layer
black olives

2

tomatoes, diced

salsa or taco sauce, optional
Instructions
Remove the skin from the avocados.

In a bowl, mash avocados and combine with lemon juice, garlic and salt until well mixed. Set aside for the 2nd layer.

In another bowl, combine sour cream, chili powder, salt and cumin until well mixed. Set aside for 3rd layer.

Spread one layer at a time on a large, flat plate or dish.

Add mild taco sauce or salsa to the top if desired.

Serve with tortilla chips