Homemade Cheesy Garlic Bread Recipe
Homemade cheesy garlic bread is the ultimate comfort food that is easy to make and perfect for any occasion. With just 6 simple ingredients, you can create a delicious appetizer that will have everyone coming back for more! So next time you're in need of a tasty snack or side dish, try this cheesy garlic bread recipe and enjoy the warm, gooey goodness that it brings.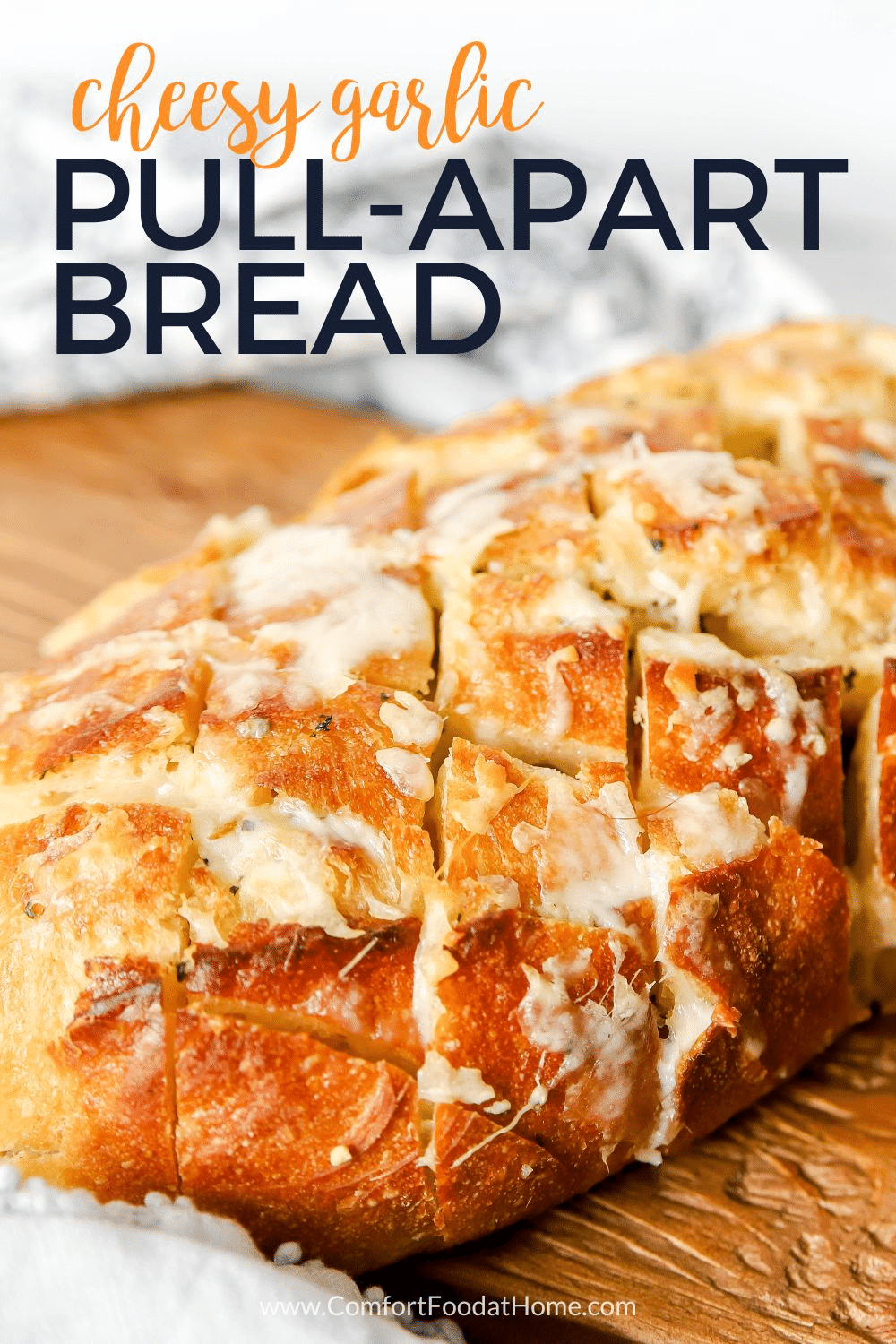 The most delicious cheese garlic bread recipe
I am always looking for easy-to-make appetizer recipes that are perfect for a cozy night in or a get-together with friends. I love to host game day parties or even game nights in my home, so it's the perfect opportunity for me to try out some new recipes to add to my recipe box.
So far, the contenders have been my 7-layer taco dip, this creamy and spicy white queso, as well as these BLT tater tots.
And this homemade cheese garlic bread recipe has quickly become one of my absolute favorites! It's also great for dressing up a basic spaghetti dinner! Add some caesar salad and you'll feel like you're eating at a gourmet restaurant.
It's cheesy, garlicky, and oh-so-delicious – trust me, your taste buds will thank you for making this.
By cutting the bread into bite-sized pieces and pulling them apart, this recipe creates a fun and interactive way to enjoy cheesy garlic bread. And with just a few ingredients, you can make it in no time!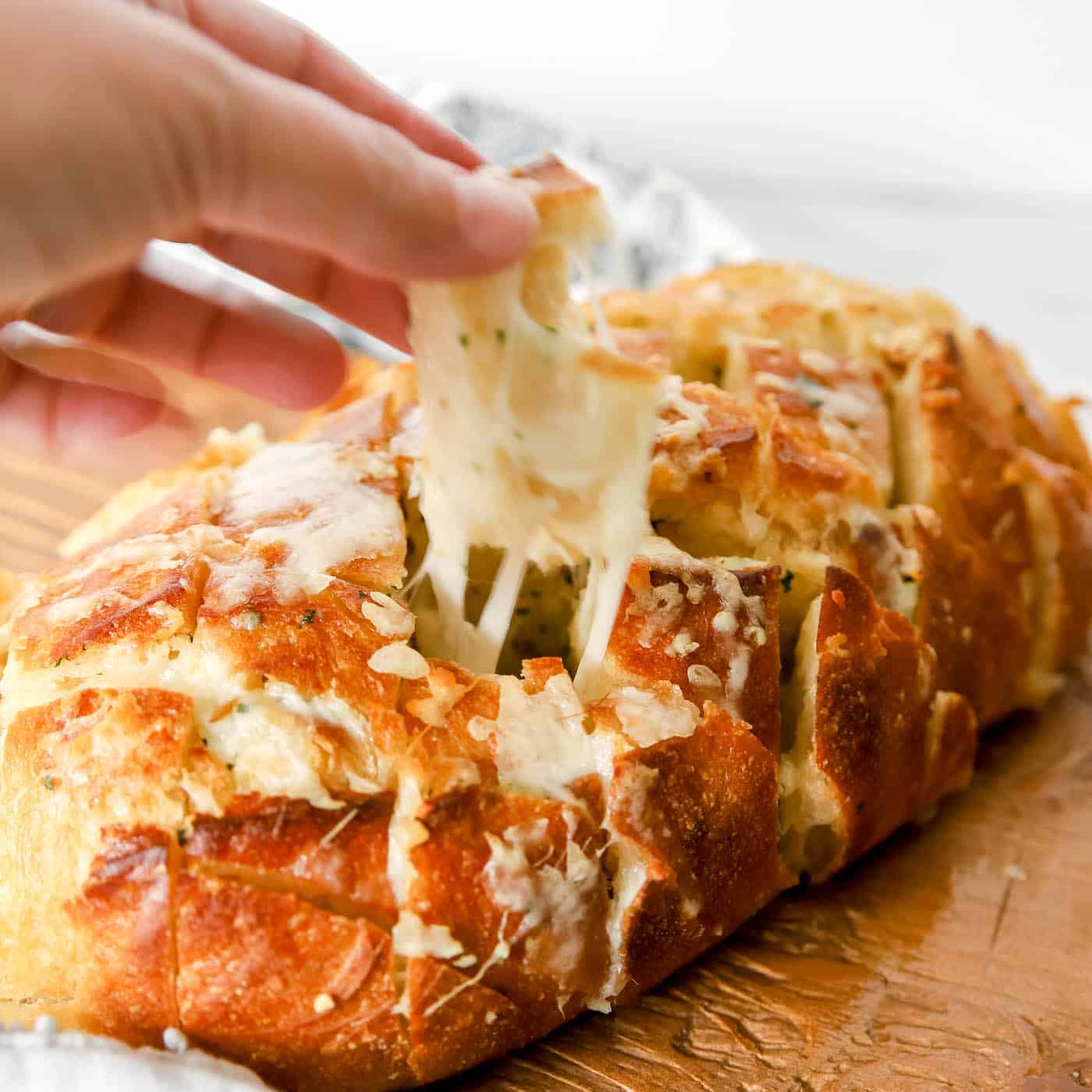 Ingredients needed to make homemade cheesy garlic bread
To make this appetizer at home, these are the garlic bread ingredients you will need:
Bread: The best kind of bread to use for this pull-apart bread recipe is sourdough. However, you can also use Italian or French bread. You just want to make sure it is a hearty bread that can hold up to the cheesy garlic filling.
Garlic: Fresh garlic cloves are best for this recipe, but you can also use minced garlic from a jar if needed.
Butter: Salted or unsalted butter will work for this recipe, depending on your preference. I like to use salted butter to bring out the flavors of the garlic. Make sure it is softened enough so it is easy to mix with the other ingredients.
Cheese: The star of this recipe is, of course, the cheese! You will need shredded mozzarella because it melts beautifully and adds a gooey texture to the bread. You can also use shredded parmesan or a blend of Italian cheeses for extra flavor. Freshly shredded cheese melts better than store-bought shredded. But either one works!
Parsley: Fresh parsley adds a pop of color and freshness to this dish. If you don't have fresh parsley, you can also use dried parsley flakes.
Salt: Just a pinch of salt is needed to bring out the flavors in this dish.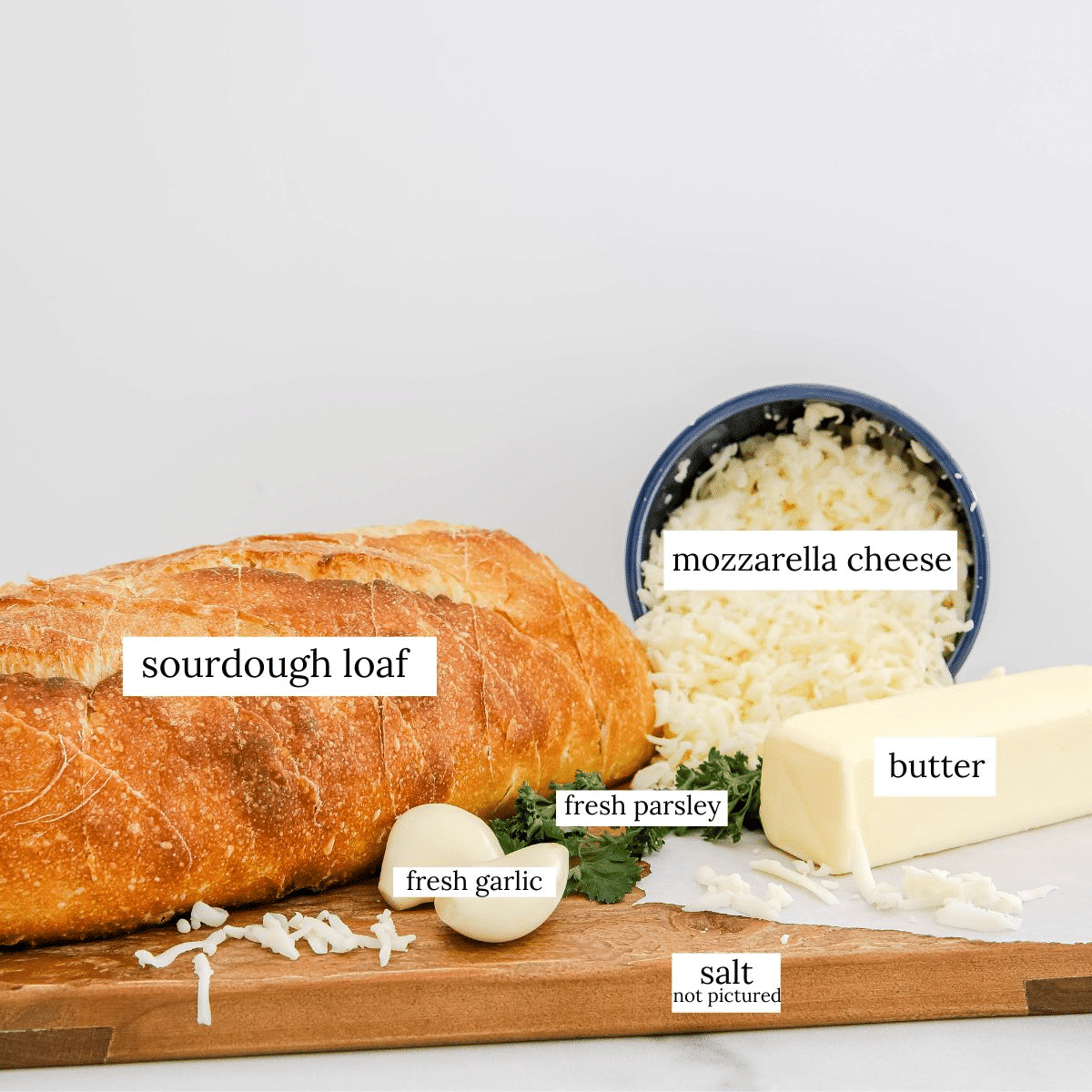 Tips for making garlic bread from scratch
Make sure to use fresh garlic for the best flavor. Minced garlic from a jar can also work in a pinch, but it won't have the same intense garlic taste.
Soften your butter before mixing it with the other ingredients. This will make it easier to spread on the bread.
Don't skimp on the cheese! The more cheese, the better.
Make sure to spread the garlic butter mixture evenly on each slice of bread. This will ensure that every bite is filled with deliciousness.
Bake your bread in a preheated oven for best results. This will allow the cheese to melt and the bread to become crispy.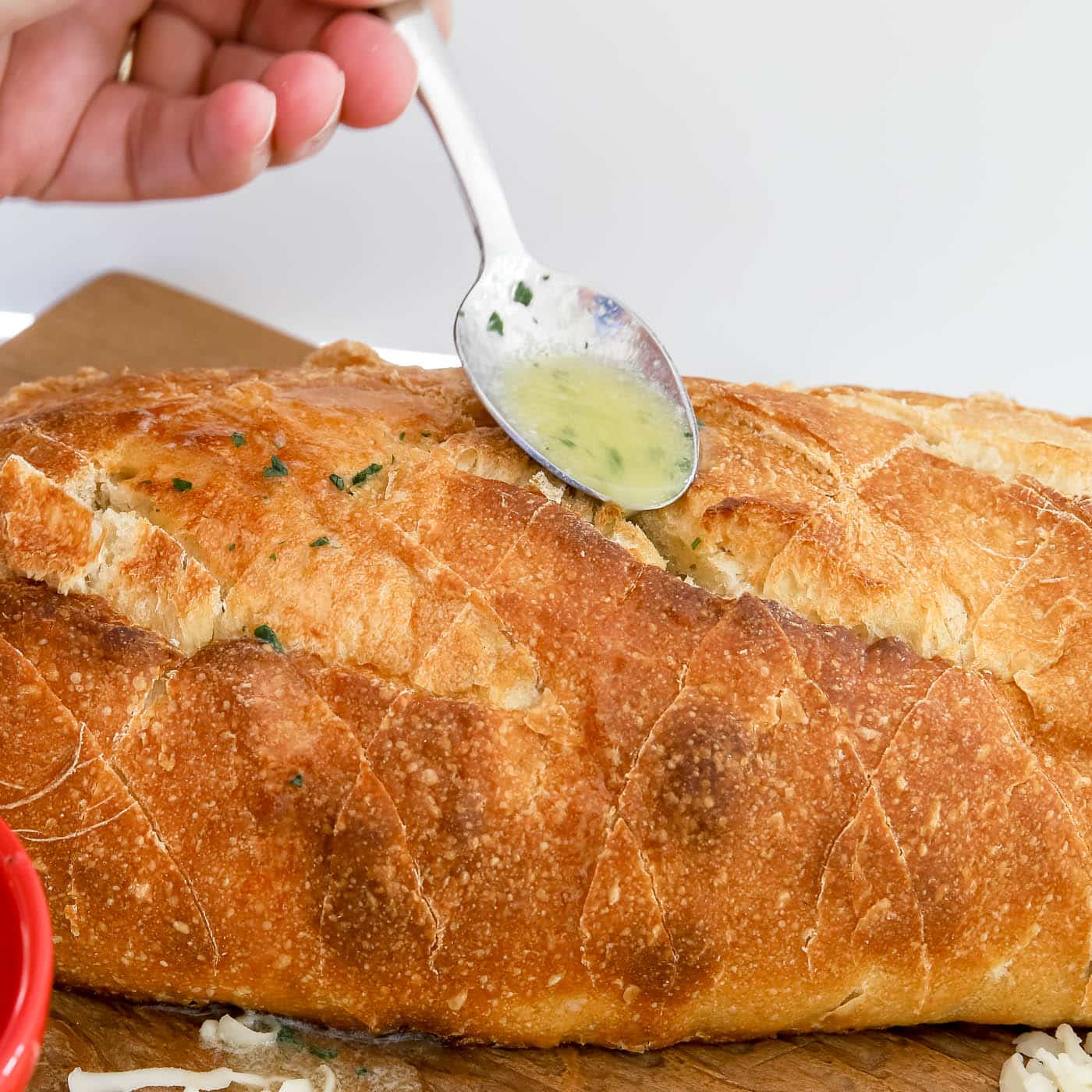 What to serve with cheesy garlic pull apart bread
This cheesy garlic bread is a perfect appetizer for any occasion. It pairs well with pasta dishes, soups or even as a snack on its own.
Here are some other ideas for what to serve with it:
Marinara sauce or ranch dressing for dipping
Spaghetti and Italian beef meatballs
Sweet tomato soup
A side salad to make it a complete meal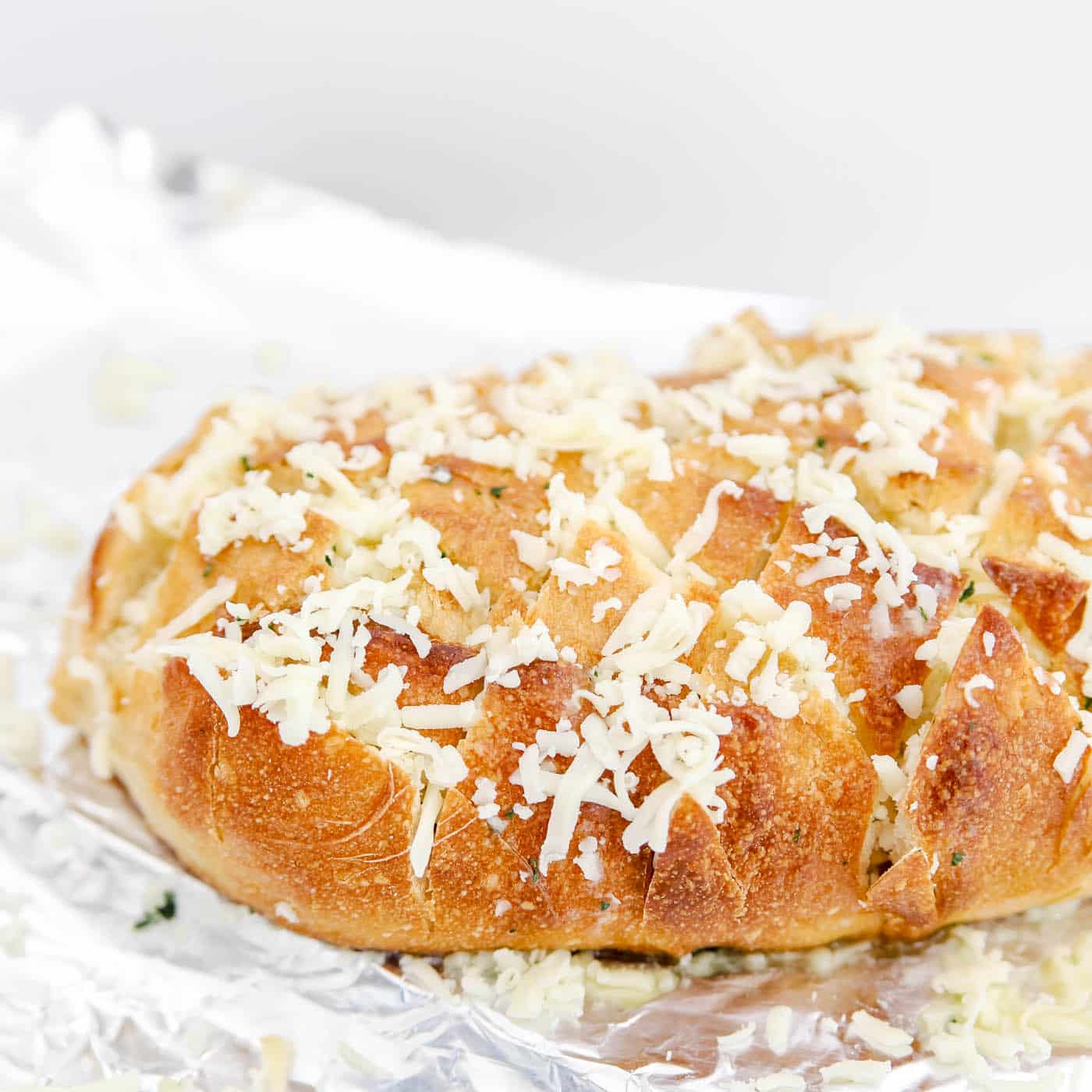 Frequently asked questions about cheesy garlic bread
Whenever I share this recipe, I get some of the same questions. Here are the most popular ones that people ask!
If you have a question that isn't listed here, please leave them in the comments, and I'll answer them as soon as possible.
Can I use other types of cheese for this recipe?
Yes! You can use any type of shredded cheese you like. Other popular options are cheddar, gouda, or a blend of Italian cheeses.
What other herbs can I use in this cheesy garlic bread recipe?
You can also use dried Italian seasoning, oregano, or basil instead of parsley for a different flavor profile.
How else can I cut this bread? Do I have to make it pull apart?
You can also make this bread into slices and serve it like traditional garlic bread or breadsticks. Just spread the cheese mixture on top of the bread, bake it, and then slice before serving.
Can I make this bread ahead and freeze it for later?
Yes! This loaf can be made ahead and wrapped in foil for up to 3 days in the refrigerator or 1 month in the freezer. To bake, thaw, and follow the heating instructions.
How do I reheat this cheesy garlic bread?
You can bake the bread first and then refrigerate it for up to 3 days.
Reheat in the oven at 350°F for 5 minutes. Or, microwave the bread on high for 2 minutes (always remove the foil first before microwaving) to re-melt the cheese.
More Grandma-Approved Recipes To Try
If you enjoyed this recipe for cheesy garlic bread, take a look at some of these other yummy recipes:
Print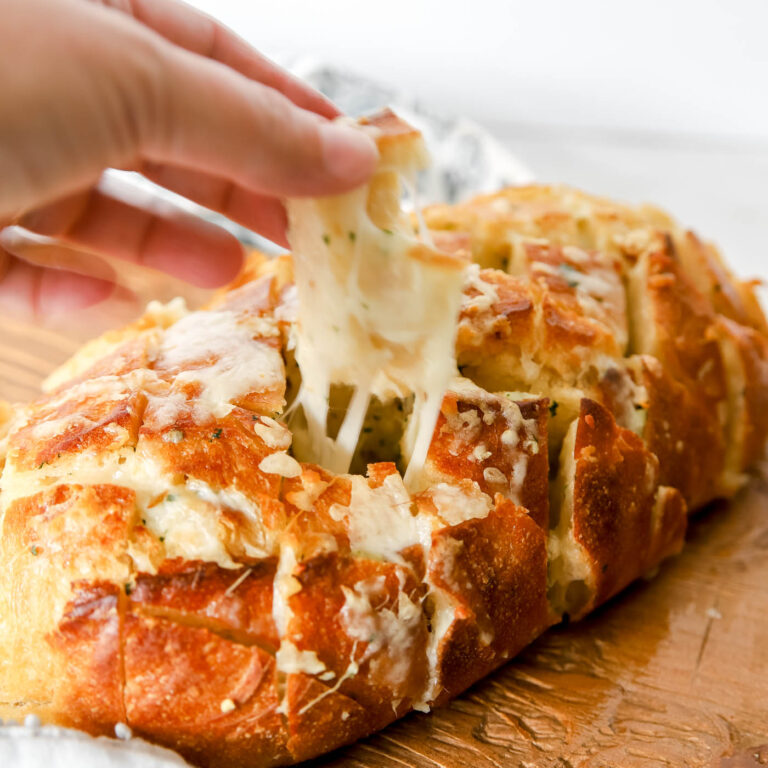 Cheesy Garlic Pull Apart Bread
Total Time:

55 minutes

Yield:

10

servings

1

x
1

dense loaf of bread, like sourdough

1 cup

shredded mozzarella cheese

1/2 cup

(

1

stick) salted butter, softened

1

garlic clove, minced

1/2 teaspoon

salt

2 tablespoons

fresh parsley, finely chopped
Instructions
Preheat the oven to 350 degrees F
Melt butter in a microwave-safe bowl in the microwave for 20 seconds at a time
Whisk together minced garlic, salt, chopped parsley and melted butter until well combined
Cut the bread diagonally, about 1 inch apart, creating diamonds in the bread. Be sure not to cut all the way through the crust. 
Open the bread cuts with your fingers or a knife and drizzle the butter mixture between each slice of bread.
Stuff the mozzarella cheese into the slices, as well. The effort is worth it, promise!
Wrap the loaf in aluminum foil and place the loaf on a baking sheet
Bake for 20 minutes, then unwrap the bread loaf and finish baking for another 5-10 minutes until the cheese is slightly browned and the bread is crusty.
Serve warm
Notes
This loaf can be made ahead and wrapped in foil for up to 3 days in the refrigerator or 1 month in the freezer. To cook, thaw and follow heating instructions. 
You can also cook it first, then refrigerate it for up to 3 days. Then reheat in the oven on 350 degrees for 5 minutes. Or microwave the bread on high for 2 minutes (always remove the foil first before microwaving) to re-melt the cheese. 
Pair this with spaghetti and a salad to make a basic meal feel gourmet!
Author:

Laura

Prep Time:

25 minutes

Cook Time:

30 minutes

Category:

Appetizer

Cuisine:

Italian