Cheesy Bacon Spinach Dip
This post contains links to affiliate websites, such as Amazon, and we receive an affiliate commission for any purchases made by you using these links. We appreciate your support!
This creamy, savory cheesy bacon spinach dip is perfect for pleasing a crowd! Serve it for the big game or a weekend at home!
I don't know about you, but I love party food. And whether I love a sport or not, any reason to try out a new scrumptious recipe and gather with friends sounds like fun to me!
So, today I'm going to share some amazing recipes with you to get ready for the big game this weekend – or anytime!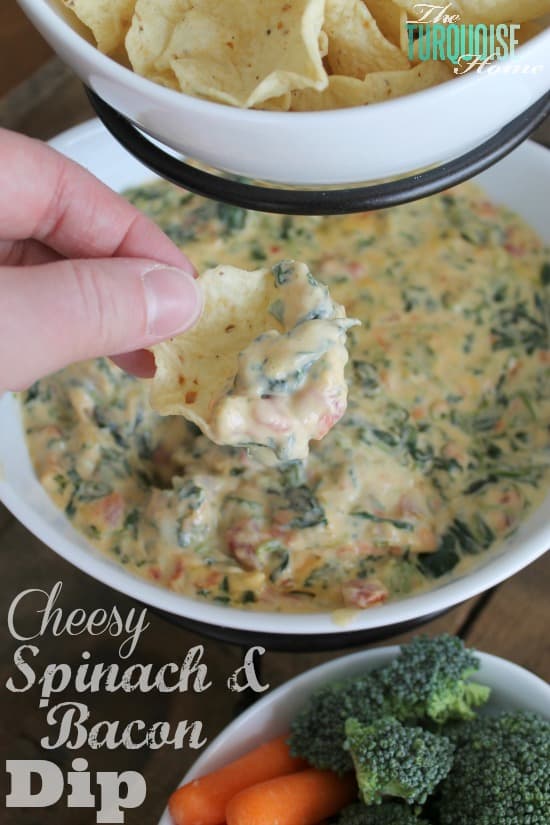 I've always loved the basic cheese dip with just Velveeta Cheese & Rotel green chilies and tomatoes.
My grandmother always made it for me when I spent the night at her house as a little girl. We'd stay up late eating potato chips with cheese dip and playing word games. It brings back such fun memories!
So, I was super excited to make Cheesy Bacon Spinach dip, which adds some incredible new flavors to my favorite childhood late-night snack.
Ingredients Needed
Chopped Frozen Spinach: This is the easiest way use this vegetable because it's already cooked down for you! Just thaw it and squeeze the water out before adding it to the recipe!
American Cheese: It's as American as football. This creamy cheese is my favorite base for a dip and my favorite brand is Velveeta with 2% Milk Cheese. If you like this, you'll also like my Best White Queso Dip.
Cream Cheese: Adding another creamy cheese to the dip adds another layer of taste that is delicious!
Diced green chilies and tomatoes: This adds a little bit of heat to the dip and added pop of green and red! We love to add this canned goodness to soups and dips!
Bacon: Bacon makes all recipes better! I love to cook bacon in the oven for an easy, mess-free cooking experience!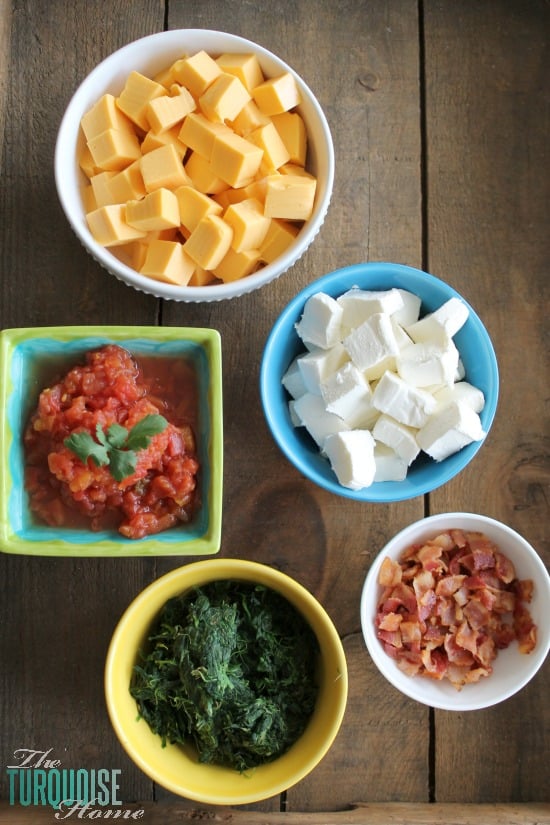 What to serve Alongside Cheesy Spinach Dip with Bacon
This is a party food in my book, so I love to serve it with other dips, like Black Bean Salad or 5-Layer Mexican Taco Dip.
Or serve is as an appetizer before Taco Tuesday!
The Yummiest Dip for the Big Game
So take the basic Rotel and Velveeta cheese recipe and add add bacon, spinach and cream cheese for a great new flavor! Who doesn't love that combo?
Ok, so it's super simple to make. You cut up the American cheese block and cream cheese into cubes. Unthaw and squeeze out the frozen spinach. You cook and crumble the bacon. And open your can of green chiles and tomatoes. Easy peasy!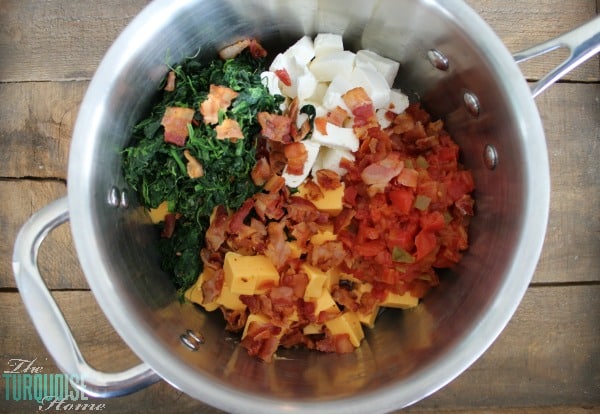 Then you arrange them all in nice little bowls and take a picture. Just kidding. 🙂 I just wanted to show you how pretty all of the ingredients will be.
Combine it all in a pot and heat on the stove on medium until melted, stirring continually.
Another option: place in a microwave-safe bowl and heat on high 5 minutes or until cheese is completely melted and mixture is well blended, stirring after 3 minutes.
I could hardly stop eating it when I made it, it was so yummy! And then when my husband got home from work, he had to have some as a late-afternoon snack. He literally walked in the door and asked, "what smells so good!?" It definitely passed the taste test with flying colors!
What is your go-to recipe to make for the big game?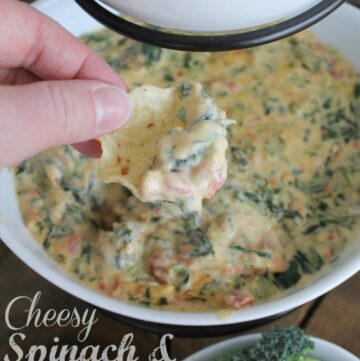 Cheesy Bacon Spinach Dip
This creamy, savory cheesy bacon spinach dip is perfect for pleasing a crowd! Serve it for the big game or a weekend at home! Enjoy this dunkable snack with chips or veggies!
Ingredients
10

oz.

frozen chopped spinach, thawed and drained

1

lbs.

Velveeta cheese, cubed

4

oz.

cream cheese, cubed

10

oz.

can of green chilies and tomatoes

8

slices

cooked bacon, crumbled

chips or vegetables for serving
Instructions
Set the spinach out to thaw 1-2 hours before you start the recipe.

While bacon cooks, squeeze the water out of the thawed spinach.

Cut the Velveeta cheese and cream cheese into cubes.

Once the bacon is cooked and cooled a little bit, crumble or chop it into small pieces.

Combine all ingredients into a saucepan on the stove on medium heat, stirring continually.

Once all of the cheese is melted and the ingredients are well-combined, serve in a bowl with vegetables or chips!