Old-Fashioned Chess Pie Recipe
A staple in Southern cuisine, the chess pie's distinct, sweet flavor, coupled with its rich, custardy texture, make it a beloved dessert that has been passed down through generations. This timeless treat is easy to make and can be enjoyed year-round, whether you're craving a slice of nostalgia or simply looking for comfort food at home!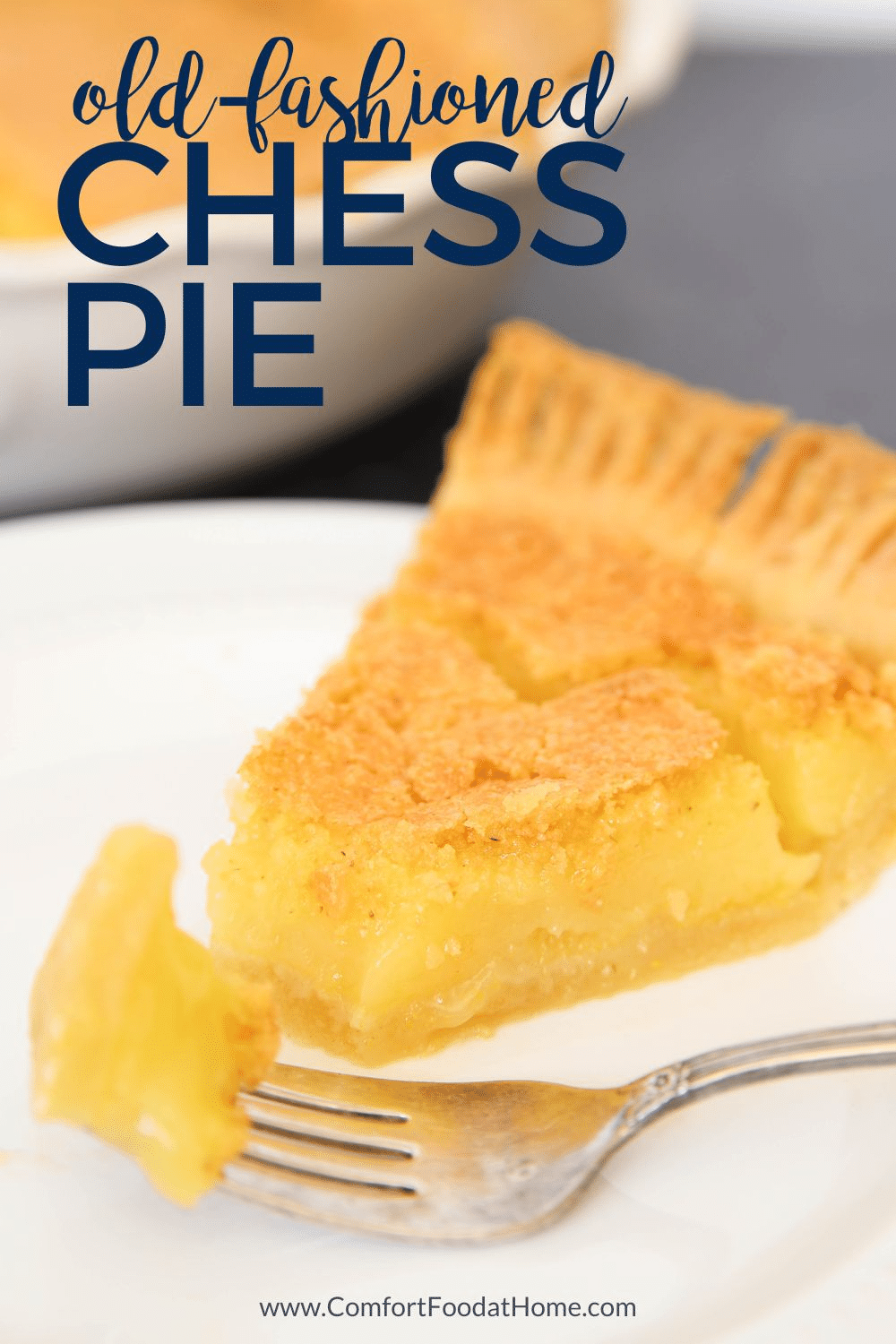 The best Southern chess pie
Yes, yes – ANOTHER pie recipe. But, I have to – pies are a must down here in the south, and I have so many to try and share. So far, we have Mom's Apple Pie, the Classic Pumpkin Pie, and my secret Chocolate Fudge Pie.
But there's one recipe that I hold near and dear to my heart – the old-fashioned chess pie.
This one really is a throwback for me. Both my grandmother and mother would whip up this dessert for special occasions, and it was always a hit. The simplicity of ingredients and the richness of flavor make this chess pie an all-time favorite in my family.
So, let's dive into how to make this delicious treat from scratch!
Ingredients needed to make chess pie recipe
To make this dessert at home, you'll need the following chess pie ingredients:
Butter: With one stick of butter, you'll get that buttery, flaky crust that chess pies are known for. One stick equals out to about 1/2 a cup. I prefer to use unsalted butter when baking.
Sugar: Just like most sweet treats, this recipe calls for granulated sugar. You can also use brown sugar or substitute it with a sugar alternative of your choice.
Eggs: As the main ingredient in the filling, eggs give this pie its signature custardy texture.
Cornmeal: This ingredient adds a unique, slightly grainy texture and a touch of nutty flavor to the pie. Three tablespoons is plenty!
Vinegar: Don't be fooled by this unexpected ingredient – it helps balance out the sweetness and adds depth to the flavor profile. You can use white or apple cider vinegar for this recipe.
Vanilla Extract: A dash of vanilla extract enhances the flavor of this pie and adds a touch of warmth to the filling. If you don't have any, feel free to omit it.
Heavy Whipping Cream: This ingredient adds a creaminess to the pie and takes it up a notch. You can also substitute it with half-and-half or whole milk.
Unbaked Pie Crust: You can use a pie crust from scratch or use a store-bought one. If you're feeling adventurous, try using a graham cracker crust for a twist on the classic recipe.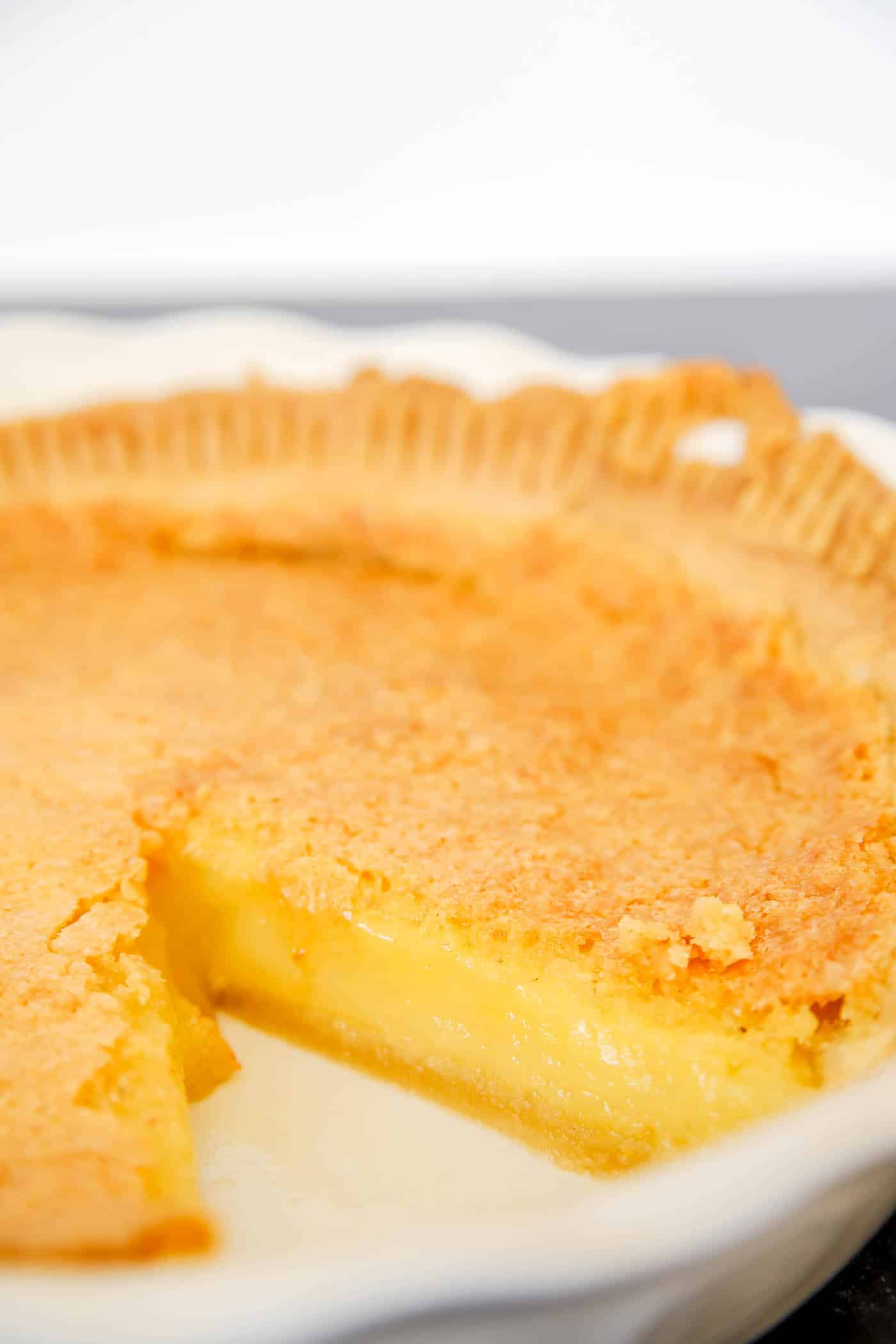 What to serve with old-fashioned chess pie
As a self-proclaimed pie connoisseur, I have to say that chess pie is best served on its own. However, if you want to really wow your guests, here are some delicious accompaniments:
Whipped Cream: A classic topping for pies and desserts in general, whipped cream adds an extra layer of lightness and sweetness to the rich pie.
Fresh Berries: I love adding fresh raspberries or blueberries on top of the pie for a burst of fruity flavor and some additional texture.
Vanilla Ice Cream: Nothing beats a warm slice of chess pie with a scoop of vanilla ice cream on top. It's the perfect combination of hot and cold, creamy and crunchy.
Tip: Want something chocolatey? You should try making this Chocolate Chip Pie as well! Trust me; chocolate lovers will thank you!
Frequently asked questions about classic chess pie
Whenever I share this recipe, I get some of the same questions. Here are the most popular ones that people ask!
If you have a question that isn't listed here, please leave them in the comments, and I'll answer them as soon as possible.
Why is it called chess pie?
The classic chess pie has a simple answer as to why it's called "chess" – no one knows for sure! Some say that the name comes from the fact that this dessert was so common in households it became known as "just pie."
When someone asked what kind of pie it was, the response would be "it's jes' (just) pie."
Others say that the chess pie was originally made with a splash of brandy, which sounds like "chess" in some Southern accents.
Whatever the true reason may be, it's safe to say that this delicious dessert has stood the test of time!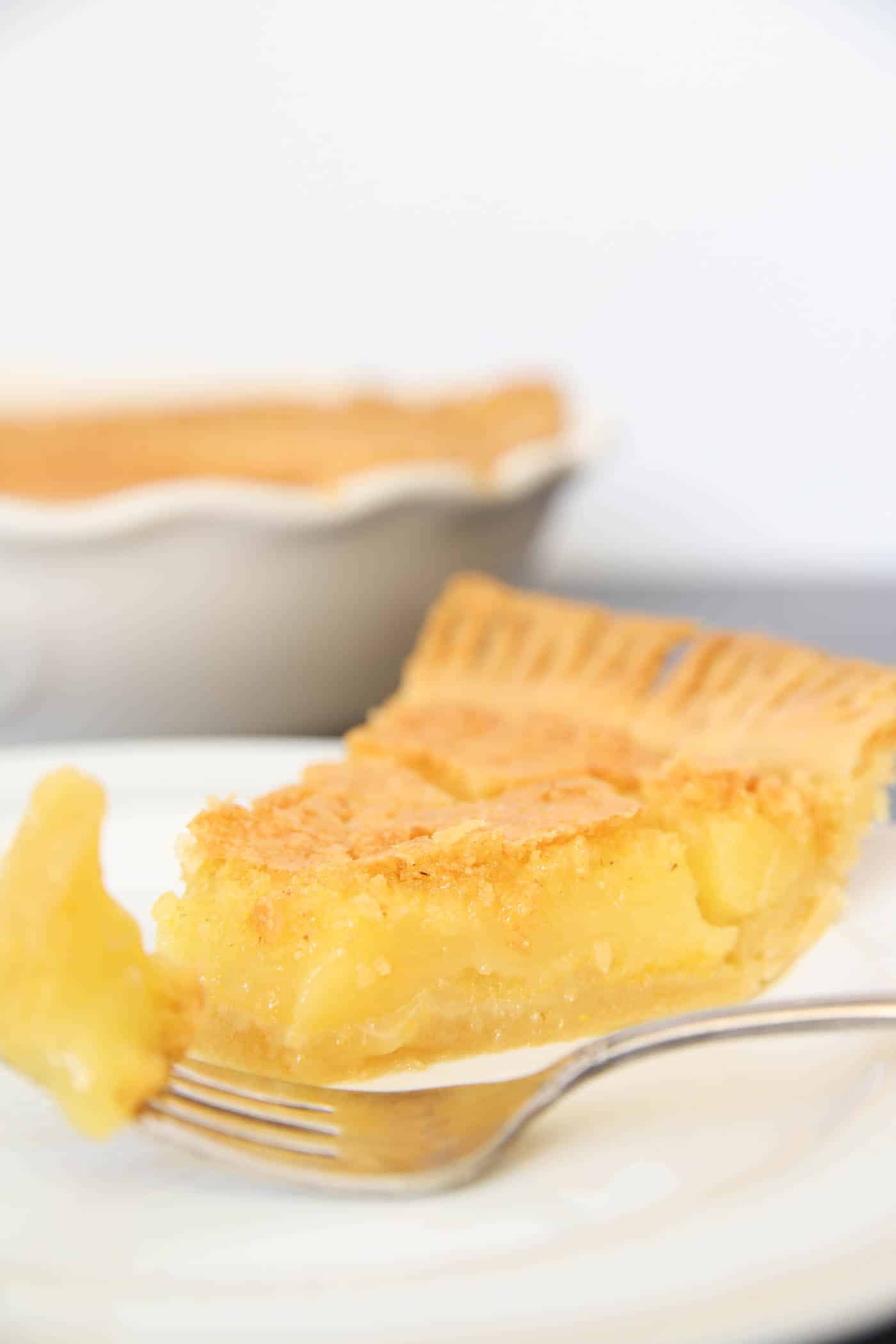 Is chess pie supposed to be runny?
No, chess pie is not supposed to be runny. If you find that your pie is runny, it could mean that the filling did not cook long enough or was not properly chilled before serving.
Make sure to follow the recipe instructions carefully for best results.
Should chess pie be jiggly?
Yes, chess pie should be jiggly when it comes out of the oven. As it cools, it will set and become a firm custard-like texture.
What is the difference between chess pie and buttermilk pie?
While similar in texture and ingredients, the main difference between chess pie and buttermilk pie is that buttermilk pie has a tangy flavor from the addition of buttermilk. Chess pies, on the other hand, have a sweeter taste due to the use of sugar.
Can I make this pie ahead of time?
Absolutely! This pie can be made a day or two in advance and kept in the refrigerator. Just make sure to let it come to room temperature before serving, or warm it up slightly in the oven.
Can I freeze a homemade chess pie?
Yes, you can. You can freeze it before you bake it or after. Make sure to wrap it in food-safe plastic to avoid freezer burn, and place it in the freezer. It will keep in the freezer for up to 2 months.
Ready to serve it? Remove it from the freezer and let it defrost in the fridge or on the counter before serving.
How do I store leftovers?
If you happen to have any leftovers (which is a rare thing in my house), just pop them in the fridge for up to 3 days. When you're ready to enjoy them again, simply reheat the slices in the microwave or oven.
More Grandma-Approved Recipes To Try
If you enjoyed this recipe for an old-fashioned chess pie, take a look at some of these other yummy recipes:
Print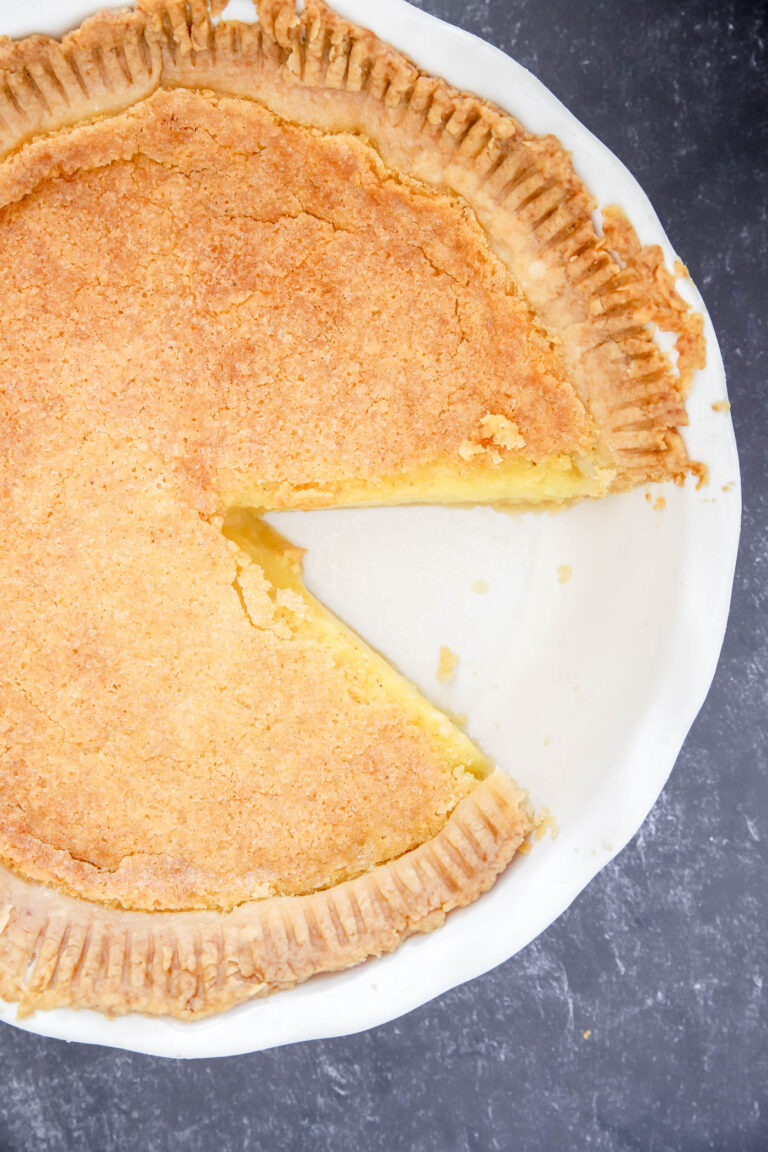 Chess Pie
A staple in Southern cuisine, the chess pie's distinct, sweet flavor, coupled with its rich, custardy texture, make it a beloved dessert that has been passed down through generations. This timeless treat is easy to make and can be enjoyed year-round, whether you're craving a slice of nostalgia or simply looking for comfort food at home!
Total Time:

55 minutes

Yield:

6

servings

1

x
1

stick of butter (

1/2

a cup)

1 1/2 cups

of sugar

3 tablespoons

of cornmeal

3 tablespoons

of heavy whipping cream

1 tablespoon

of white vinegar

1 teaspoon

of vanilla

3

eggs
unbaked pie crust
Instructions
Preheat oven to 400 degrees
Cream butter and sugar together in a stand mixer
Add the cornmeal, cream, vinegar and vanilla until combined.
Add eggs one at a time until mixed thoroughly.
Pour mixture into the unbaked pie crust.
Bake for 10 minutes at 400 degrees.
Then reduce the temperature to 325 degrees and bake another 35 minutes until the middle isn't jiggly anymore. Stick a knife in the middle and it should come out clean.
Allow to cool for 2 hours until room temperature.
Can be left out at room temperature for up to 2 days, then refrigerated for up to a week.
Author:

Laura

Prep Time:

10 minutes

Cook Time:

45 minutes

Category:

dessert

Cuisine:

American
Nutrition
Serving Size:

1/6 of the pie

Calories:

578

Sugar:

50 g

Sodium:

316 mg

Fat:

31 g

Saturated Fat:

16 g

Unsaturated Fat:

11 g

Trans Fat:

0 g

Carbohydrates:

74 g

Fiber:

1 g

Protein:

5 g

Cholesterol:

141 mg
Keywords: pie, pastry, dessert