Homemade Cheesecake Recipe (With Classic Toppings)
If you've been on the hunt for a delicious homemade cheesecake recipe, look no further. This velvety-rich dessert is absolutely delicious and delightful for your taste buds. You'll have no regrets when you make this classic cheesecake!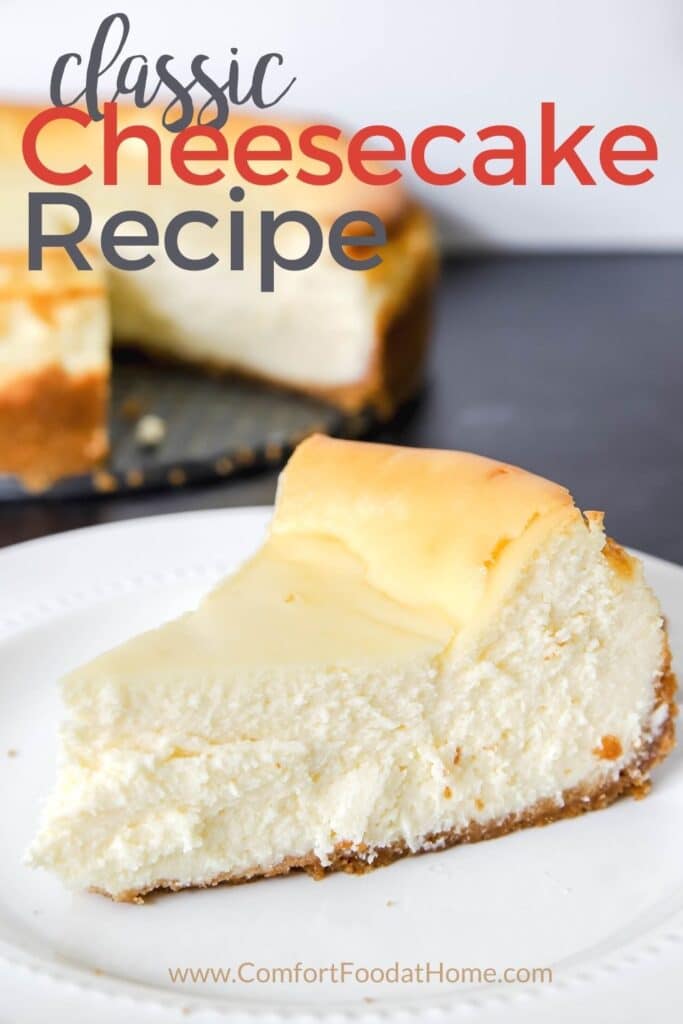 Make Your Own Homemade Cheesecake With This Classic Recipe!
Cheesecake is a classic dessert that we all love to savor and enjoy. It's not just a cake. It's in its own category! But, for all the amazing and delicious things you can do with cheesecake, sticking with the classic new york style still stands out as number one.
It's the perfect silky blend of sweet and tangy with a crumbly graham cracker crust. But, you can also top it with just about anything to give it the added boost you crave. My favorite growing up? Strawberries! My grandma used to save me a few extra berries on the side because I loved having one with each bite of cake.
It may sound intimidating, but it's so easy to make your own homemade cheesecake. All you need are 8 straightforward, fundamental ingredients! There are a few tricks to making a great cheesecake that is easy to learn and easy to do. Luckily, I have all the advice you need for making a flawless cheesecake right in your own kitchen.
Ingredients Needed To Make Easy Homemade Cheesecake
To make this dessert at home, these are the ingredients you will need:
Crust:
Graham Cracker Crumbs: These are for the delightfully crumbly crust. You can also add in chopped nuts if you desire. I like walnuts or pecans.
Sugar: This adds sweetness and a caramelized "brûlée" effect to the crust.
Butter: Adding in melted butter is essential to get the graham cracker crumbs to stick together for the formation of the crust.
Cheesecake Filling
Cream Cheese: This ingredient must be softened! Leave this out to come up to room temp before mixing.
Sugar: Not just for sweetness, it halts the coagulation of proteins and slows cooking for the right texture and consistency.
Flour: Using flour in the filling helps to thicken the mixture, especially if it is too runny. You can also use corn starch if you want to make it gluten-free. 
Vanilla Extract: Just a touch for classic flavor. Or, you can choose another flavored extract such as almond.
Sour Cream: This is important for balancing the sweetness and creating that essential cheesecake flavor.
Eggs: Leave the eggs out to bring them up to room temperature before starting so you can avoid cracking in the cheesecake while it bakes. (Also, stir them in gently at the end to keep the cracking at bay!)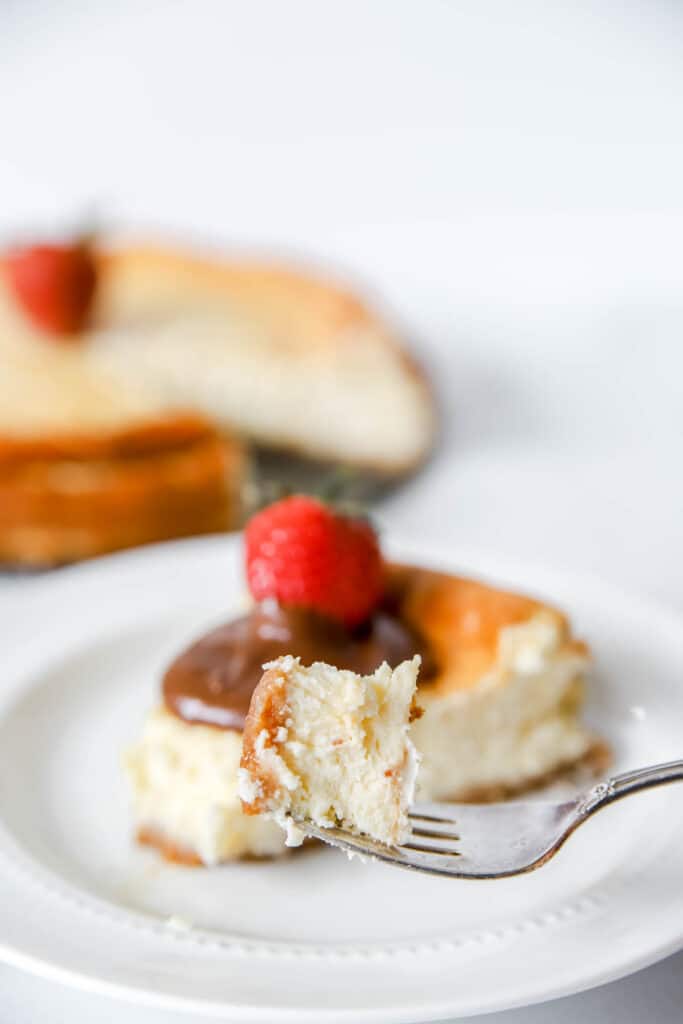 Additional Cheesecake Toppings And Mix-ins
Classic homemade cheesecake should be topped with a dollop of whipped cream on the side for the ultimate cream cheese bliss!
Cheesecake without the homemade whipped cream topping just looks indecent if you ask me. It also helps to cover unsightly cracks in the cake if they should occur.
The best thing to add to cheesecake is fresh fruit! Depending on the season, you might use anything from apples to strawberries. If citrus is your go-to, that is best baked into the cake itself or mixed into a whipped topping that you can apply when the cake is complete.
The best fruit to top cheesecake with is a berry. Blueberries are an especially good choice because they are easy to use and easy to eat. However, raspberries, blackberries, and strawberries taste incredible with cheesecake!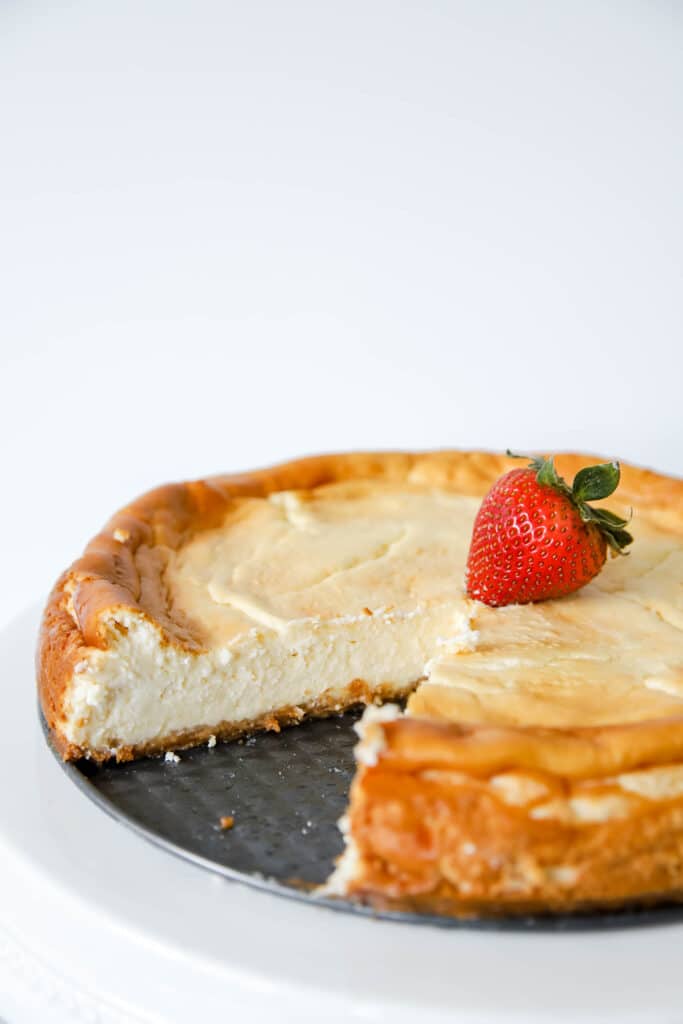 What To Serve With Creamy Cheesecake
Cheesecake makes the best dessert to follow almost any meal. However, it's best enjoyed when accompanied by lighter courses such as soup or salad and entrees that are lean and don't have too much cheese, or other dairy.
However, if you are really in the mood for some cheesy or creamy indulgence, my classic lasagna or creamy chicken alfredo recipes will send you over the moon. If you want something lighter that's still hearty and balanced, give my ground beef tacos a try!
We love to eat cheesecake at Christmas paired with a delicious meal of sliced ham and vegetable sides.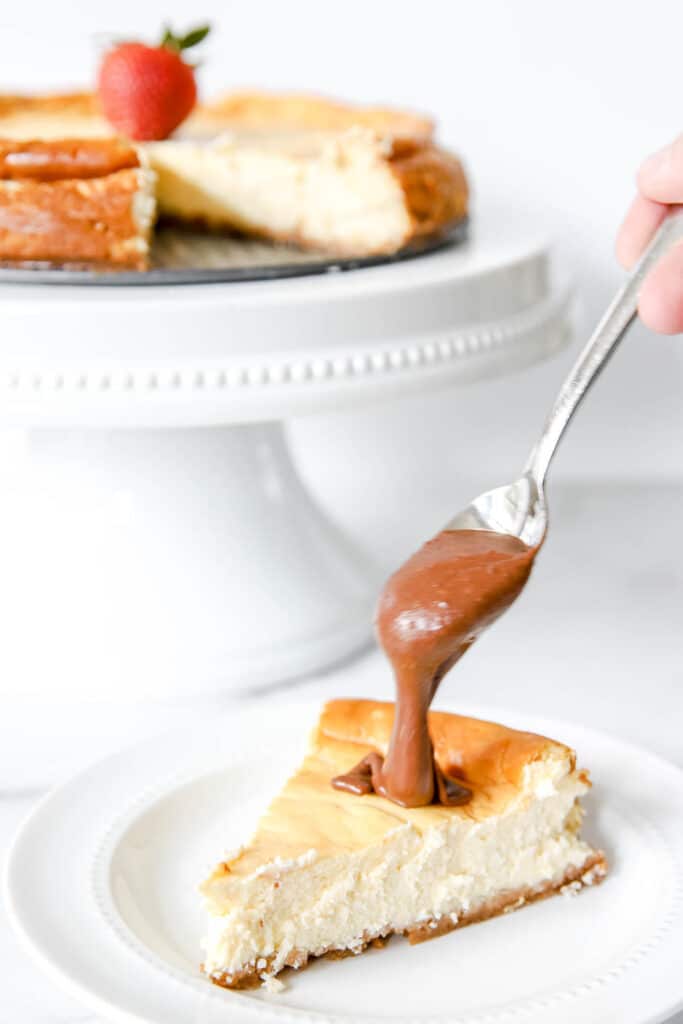 Frequently Asked Questions About Classic Cheesecake Recipe
Whenever I share this recipe, I get some of the same questions. Here are the most popular ones that people ask!
If you have a question that isn't listed here, please leave them in the comments and I'll answer them as soon as I possibly can.
Do I need a water bath for my cheesecake?
The water bath helps the cheesecake cook evenly and avoids drying out which results in a cracked surface. This step helps maintain evenness as your homemade cheesecake bakes. Personally, I've never baked my cheesecake in a water bath, so it's not necessary and I don't have instructions for it in my recipe.
I don't have a springform pan. What should I do?
Springform pans make it very easy to take the cheesecake out, but you can use another pan as well. Make sure it is lined well with parchment paper and have an exit strategy in mind (ie. a way to loft the cake out without turning it over).
A disposable aluminum pan will also work as it's possible to cut it away to remove the cake.
How do I know if the cheesecake is done?
The cheesecake is ready to remove from the oven when the majority of the cake looks firm and the center jiggles slightly when you move it. Just give it a nudge on the rack to see how close it is to being done.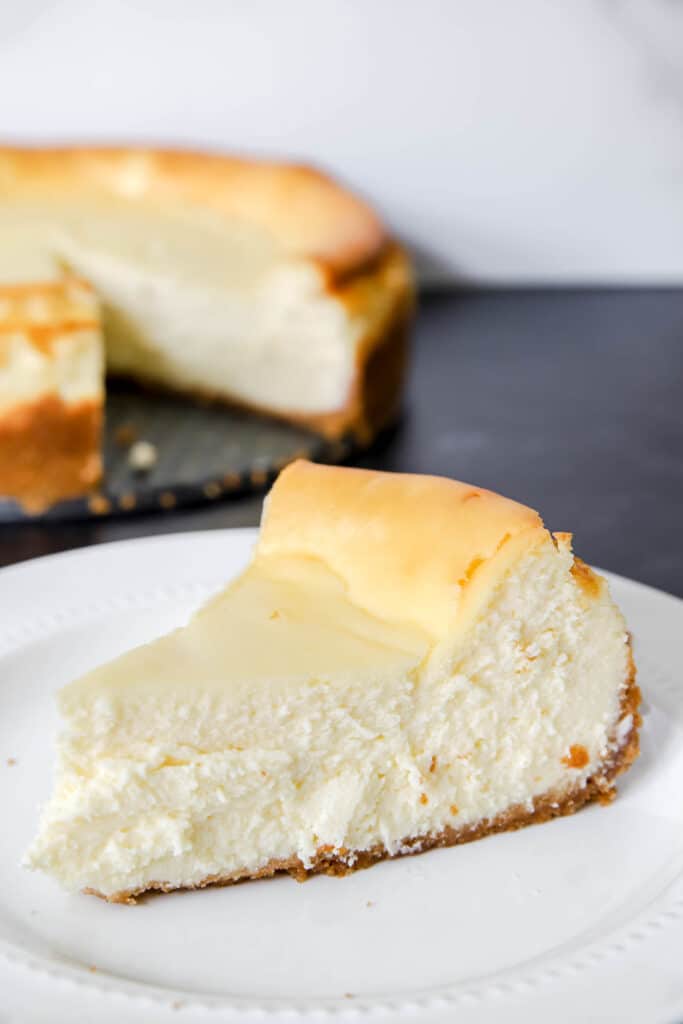 MORE GRANDMA-APPROVED RECIPES TO TRY
If you enjoyed this recipe for creamy homemade cheesecake, take a look at some of these other yummy recipes:
Make your own cheesecake following this easy classic recipe. You'll be surprised how simple it is to have a homemade cheesecake in your refrigerator! If you decide to try this recipe, let me know. I'd love to hear what you think in the comments below!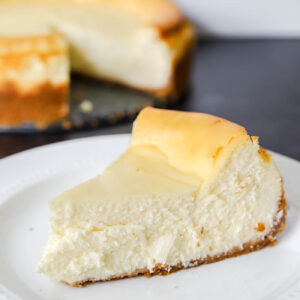 Classic Cheesecake Recipe
If you've been on the hunt for a delicious homemade cheesecake recipe, look no further. This velvety-rich dessert is absolutely delicious and delightful for your taste buds. You'll have no regrets when you make this classic cheesecake!
Equipment
small mixing bowl

9 or 10 inch springform pan

stand mixer or hand mixer

Large mixing bowl
Ingredients
Crust:
1

cup

graham cracker crumbs

3

Tbsp.

sugar

3

Tbsp.

butter, melted
Cheesecake Filling
32

oz.

cream cheese, softened (must be softened!)

1

cup

sugar

1

Tbsp.

flour

1

Tbsp.

vanilla extract

1

cup

sour cream

4

eggs
Instructions
Crust:
Preheat oven to 325 degrees.

Mix the graham cracker crumbs, 3 Tbsp. of sugar and 3 Tbsp. of butter.

Press the crust mixture into the bottom of a 9 or 10 inch springform pan

Bake for 10 minutes on 325 degrees.
Filling:
With a stand mixer, beat softened cream cheese and sugar very well until light and fluffy.

Mix in flour and vanilla, then sour cream until well combined.

Add eggs and stir by hand very gently until just combined. This will help your cheesecake from cracking when you bake it.

Pour the mixture into the baked pie crust and bake on 325 degrees for 1 hour and 10 minutes or until center is almost set.

Remove from oven and run a knife around the edge of the cheesecake. This prevents the cheesecake from sticking to the sides when it falls.

Refrigerate and serve chilled. Top with chocolate or strawberry sauce.
Notes
Be sure to let the cream cheese sit on the counter for a couple hours before making this dish. If it's not softened, your cheesecake will be lumpy!
Let the eggs reach room temperature as well to keep the cheesecake from cracking. 
Also, be sure to gently stir in the eggs to keep the cheesecake from cracking as well!