Homemade Fudge Brownies Recipe with Frosting
These homemade fudge brownies are nice and chewy with a really rich taste! They work perfectly as a dessert or for a midnight snack when those chocolate cravings hit ya.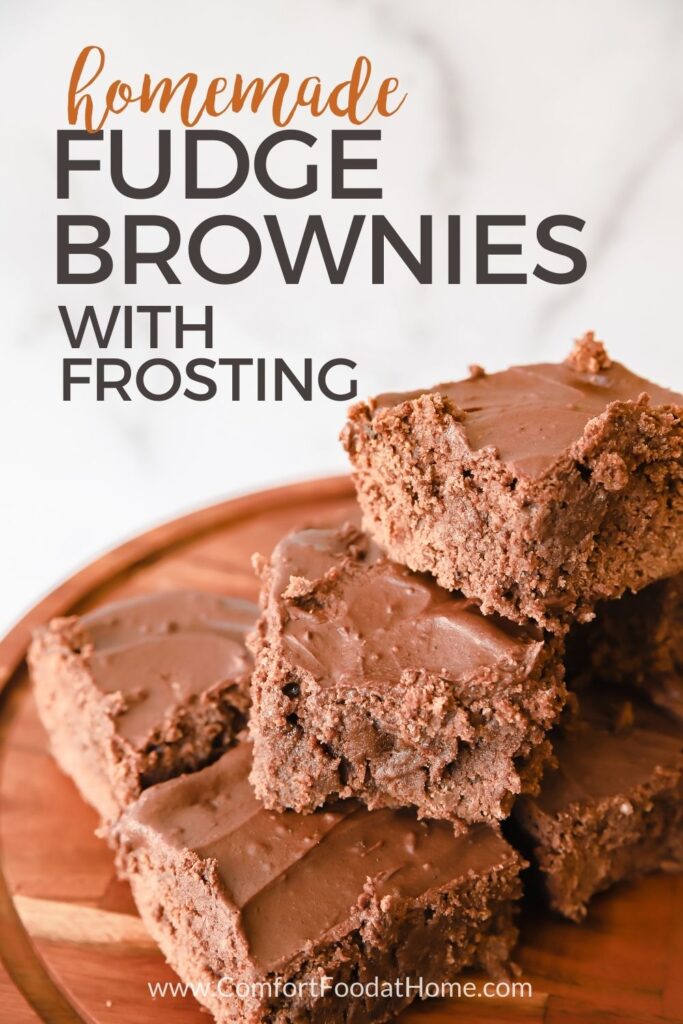 Amazing Chocolate Fudge Brownies With Homemade Frosting
I can't tell you how EXCITED I am to share our family's favorite fudge brownies recipe!
This is honestly in my top 5 recipes I ever learned from my mom – and with good reason. A piece of ooey-gooey fudge brownie just really hits the spot when those chocolate cravings emerge.
This brownie recipe is also great to make for any party or potluck you may be attending. I sometimes even make a batch when my friends come over for a play date with the kids!
Ingredients Needed To Make Rich Chocolate Brownies
To make these fudge brownies, these are the ingredients you will need:
Butter: Always use unsalted butter when you bake. If all you have is salted butter, then cut back on how much salt you use in the rest of the recipe.
Sugar: Granulated sugar is the best choice for this brownie recipe! If you want to make this lower in calories, replace the sugar with a granulated or liquid sugar-free sweetener.
Cocoa Powder: The most popular choice when making fudge brownies is to use unsweetened cocoa powder. If you want these to have a lot more rich chocolate flavor, then consider using dark chocolate powder.
Eggs: The eggs help bind all the ingredients together.
Flour: You can either use all-purpose flour or gluten-free all-purpose flour.
Nuts: The nuts are completely optional, but I think they give the brownies a delightful crunch and a deeper, nuttier flavor. I prefer to use chopped walnuts!
Spices: To make the most out of this recipe, try to use real vanilla extract to enhance the flavor of this fudge brownies recipe.
Don't forget the salt!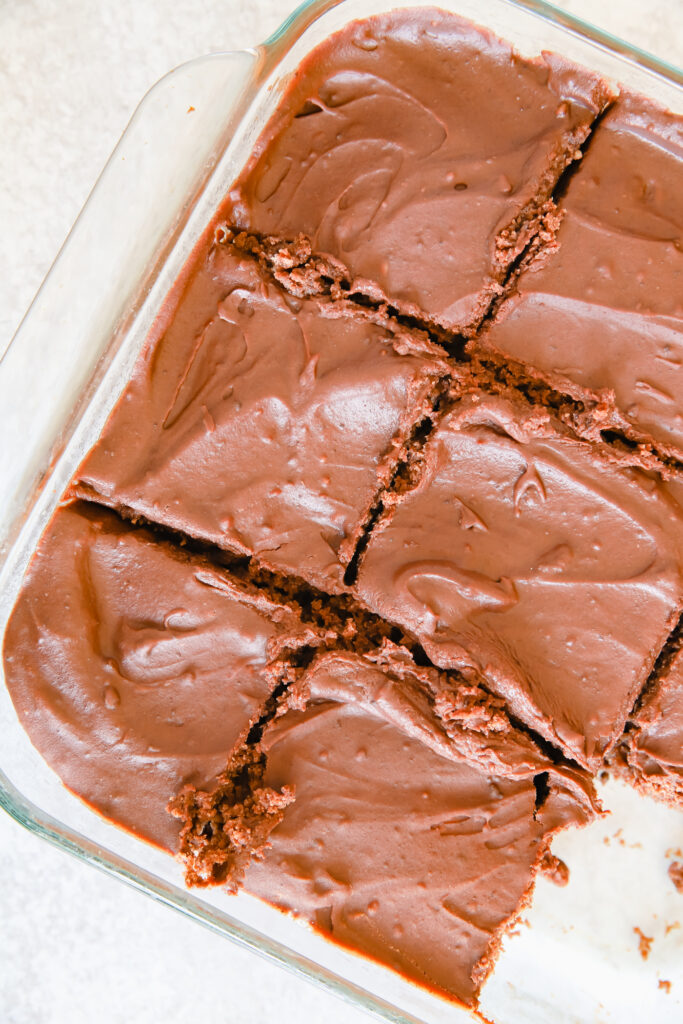 To Make The Chocolate Brownie Frosting:
Keep the recipe for the frosting handy too – you can use it in lots of other recipes!
Here is what you'll need to make the frosting:
Powdered Sugar: Whenever you make the brownie icing, always use powdered (confectioner's) sugar. I would recommend sifting it before using it so you can make a smooth chocolate frosting!
Cocoa Powder: Just like with the brownies, you can use dark chocolate cocoa powder for the frosting for a bolder flavor.
Butter: Make sure to melt the butter or soften it get to room temperature before you mix it in with the ingredients because this will help everything combine easier. Using cold butter could leave you with clumps and small pockets full of unblended butter which does not taste good.
Vanilla: Don't forget to use pure vanilla extract. It has the best flavor for frosting!
Milk: Only use as much milk as you need to obtain the consistency that you want. For me, this ended up being about a tablespoon.
What To Serve With Chocolate Brownies With Icing
I don't know about y'all but I love eating a slice of fudge brownies with a scoop of vanilla ice cream. What a classic! You can also make a homemade ice cream sundae and use this fudge brownie recipe as the base for your sundae.
Sometimes, I'll chop up a few bites of brownie and add it to my greek yogurt parfait with a few seasonal berries and mint leaves. So delicious!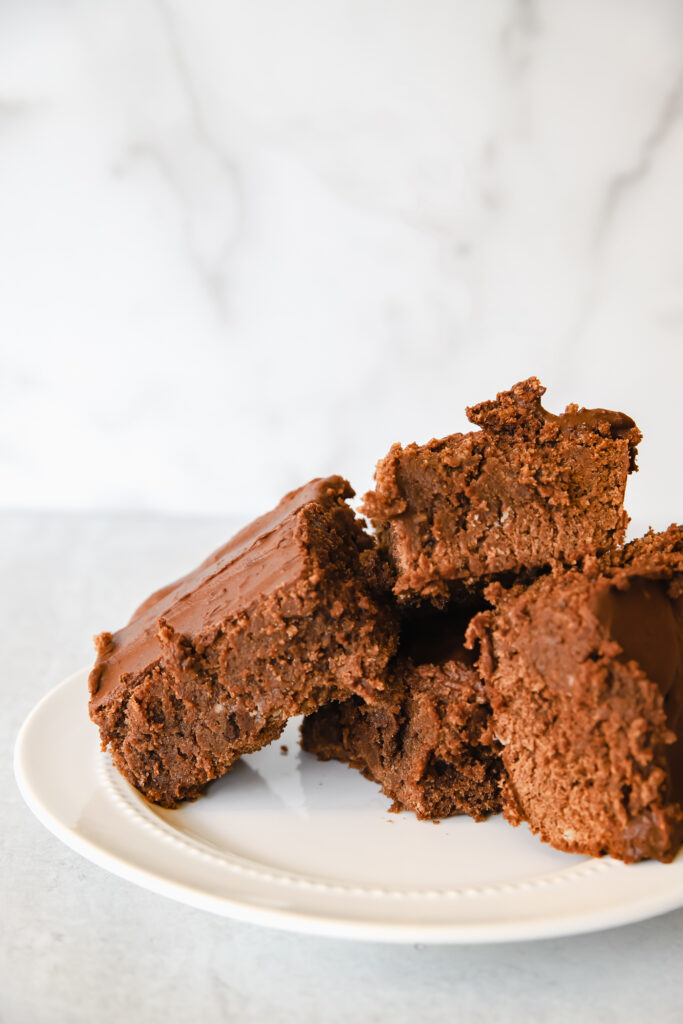 Frequently Asked Questions About Homemade Fudge Brownies Recipe
Each time I share this recipe, the same questions pop up. Here are the most popular ones that people ask!
If you have a question that isn't listed here, please leave them in the comments and I'll answer them as soon as I possibly can.
Can I freeze the brownies with the frosting?
Yes, you definitely can freeze the brownies! This is a fantastic way to make them ahead of time so you can save yourself time before a big party.
My favorite way to freeze the brownies is to bake them in a disposable aluminum pan. After you bake and frost the brownies, seal them up tightly with an aluminum lid or more foil.
I also love to cut them into large pieces and freeze them individually. That way when I need a chocolate fix, I can just pull one out at a time and have a piece of chocolate heaven!
The brownies will stay fresh in the freezer for up to 3 months. I recommend labeling the pan or bag with the date you baked them so you don't forget.
How do you know when the fudge brownies are done baking?
You will know the brownies are completely done baking when you insert a toothpick and it comes out clean. The baking times in my recipe seem to be pretty accurate for most ovens.
Leave me a comment if your baking time ends up being different!
What other flavors can I use in the chocolate frosting for the brownies?
I love messing around with extracts and flavors when it comes to frostings.
Try adding about a teaspoon of peppermint extract into your homemade frosting and you'll have a brownie that tastes like a peppermint patty! So good!
Another idea is to drizzle the frosted brownies with a little cherry glaze. Don't like cherry? Add some caramel sauce and sprinkle with salt. Yum!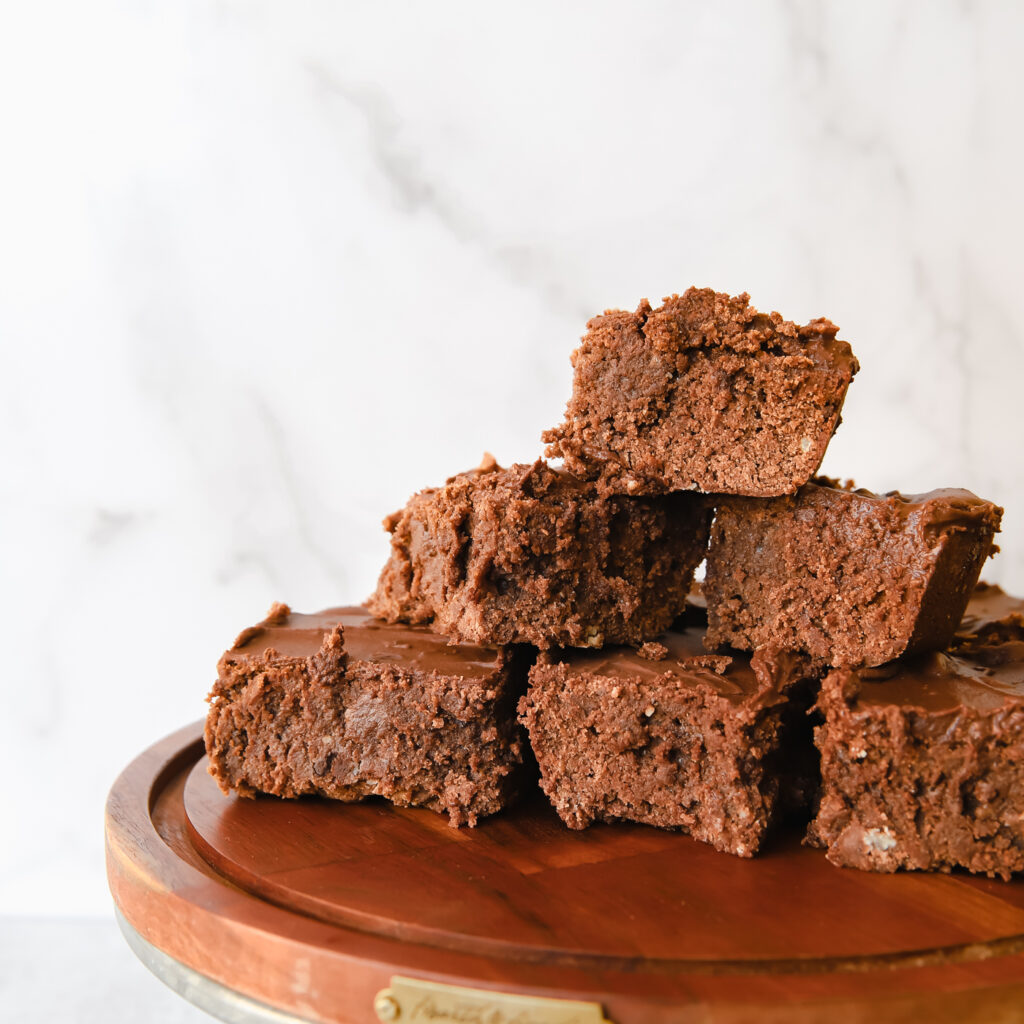 More Grandma-Approved Recipes To Try
If you enjoyed this homemade fudge brownies recipe, take a look at some of these other yummy recipes:
Which do you think is better: brownies for a midnight snack or party dessert to share? I also have to ask… are you a middle piece or corner piece kind of person? I'd love to hear what you think in the comments below!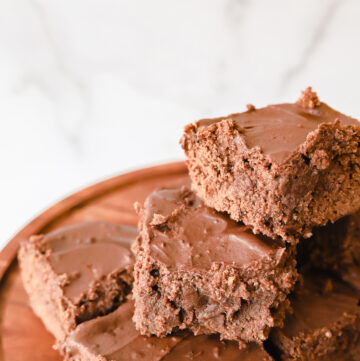 Fudge Brownies with Frosting
These homemade fudge brownies are nice and chewy with a really rich taste! They work perfectly as a dessert or for a midnight snack when those chocolate cravings hit ya.
Equipment
9 x 13 Baking Dish

Large mixing bowl

Medium mixing bowl

Large spoon or hand mixer
Ingredients
Brownies
1

cup

butter (2 sticks)

2

cups

sugar

½

cup

cocoa powder

4

eggs

1 ½

cups

flour

3

tsp.

vanilla

½

tsp.

salt

1 ½

cups

nuts, optional
Brownie Icing
1 ½

cup

powdered sugar

3

Tbsp.

cocoa powder

¼

cup

butter (½ stick), melted

1

tsp.

vanilla

1-2

Tbsp.

milk, as needed
Instructions
Grease and flour 9 x 13 baking dish and set aside.

Melt 1 cup of butter (2 sticks) and mix with sugar and cocoa powder.

Add to the mixture eggs, flour, vanilla and salt and stir until mixed well.

Fold in nuts (optional) last.

Pour into greased and floured 9 x 13 baking dish.

Bake 30 minutes at 325 degrees.

Allow to cool completely before adding icing.
Brownie Icing
Mix together powdered sugar, cocoa powder, melted butter and vanila until well combined.

Add 1 Tbsp. of milk to the icing mixture and stir. Add more milk, 1 tsp. at a time, if it's still too thick.

Spread on brownies once they are cooled down completely.