Bacon And Cheese Quiche with Spinach
This bacon and cheese quiche recipe is both luxurious and incredibly simple to make. Perfect to serve for a yummy breakfast, this quiche recipe will impress all of your family and guests. Plus, who doesn't love bacon for breakfast?!?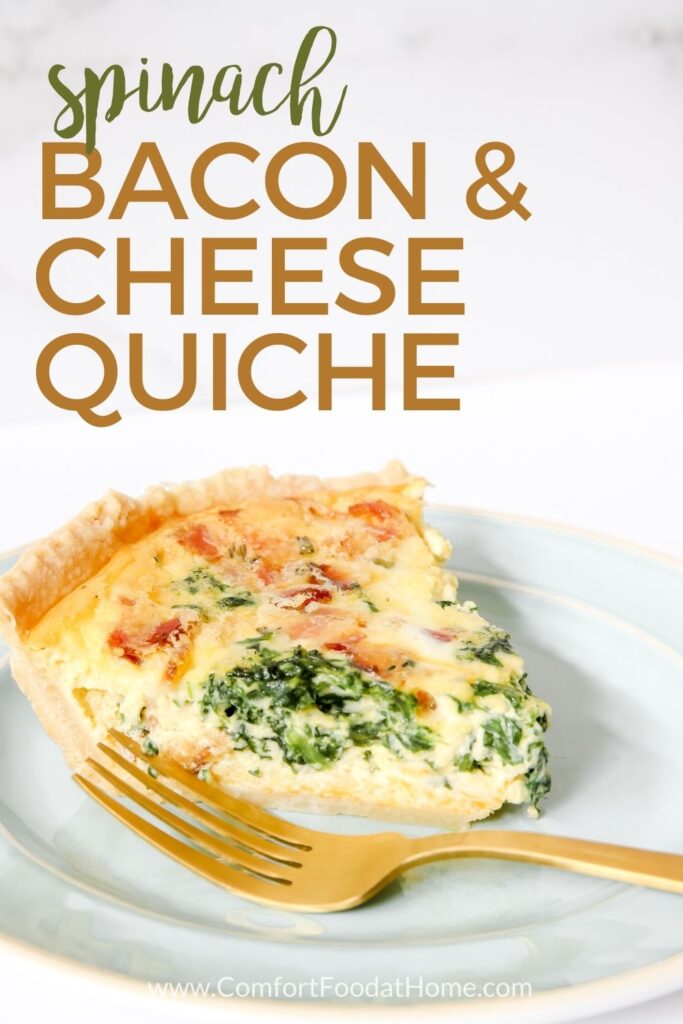 The Perfect Bacon and Cheese Quiche Recipe For Breakfast Or Brunch!
Every single time I hear the word quiche, I think of fancy teas or brunches with family and friends, which is super common in the south.
Good news is- now I know how to make them for myself!
This bacon and cheese quiche recipe is perfect for any occasion you can think of. Yes, it's even tasty enough to share at a group pot-luck. Honestly, you don't even need an excuse to make it. It's the perfect savory breakfast dish!
I love that you can add a number of veggies to it, as well, in order to make it healthier! I always add spinach because my kids don't seem to notice.
All you need are just a few ingredients and an hour of your time.
Ingredients Needed To Make Easy Breakfast Quiche
To make this bacon and cheese quiche at home, these are the ingredients you will need:
Eggs: This is what your quiche is mainly made out of. Use your favorite type of eggs (farm-raised? Cage-free? You choose!).
Half and Half: Honestly, if you don't have half and half, you can just use all heavy cream (and vice versa).
Heavy Cream: Either heavy cream or heavy whipping cream will both work to help give the quiche filling a creamy texture.
Bacon: This is my favorite part about this quiche! It's the perfect pairing with the eggs and cheese.
Cheese: I've found that shredded cheddar cheese works best in this bacon and cheese quiche but you can always swap it out for any other kind of cheese.
Pie Shell: Use a premade deep-dish pie shell and make sure it is uncooked. It needs to be deep enough to hold all of the fillings. I typically find these pie shells in the freezer section.
Don't forget the salt and pepper!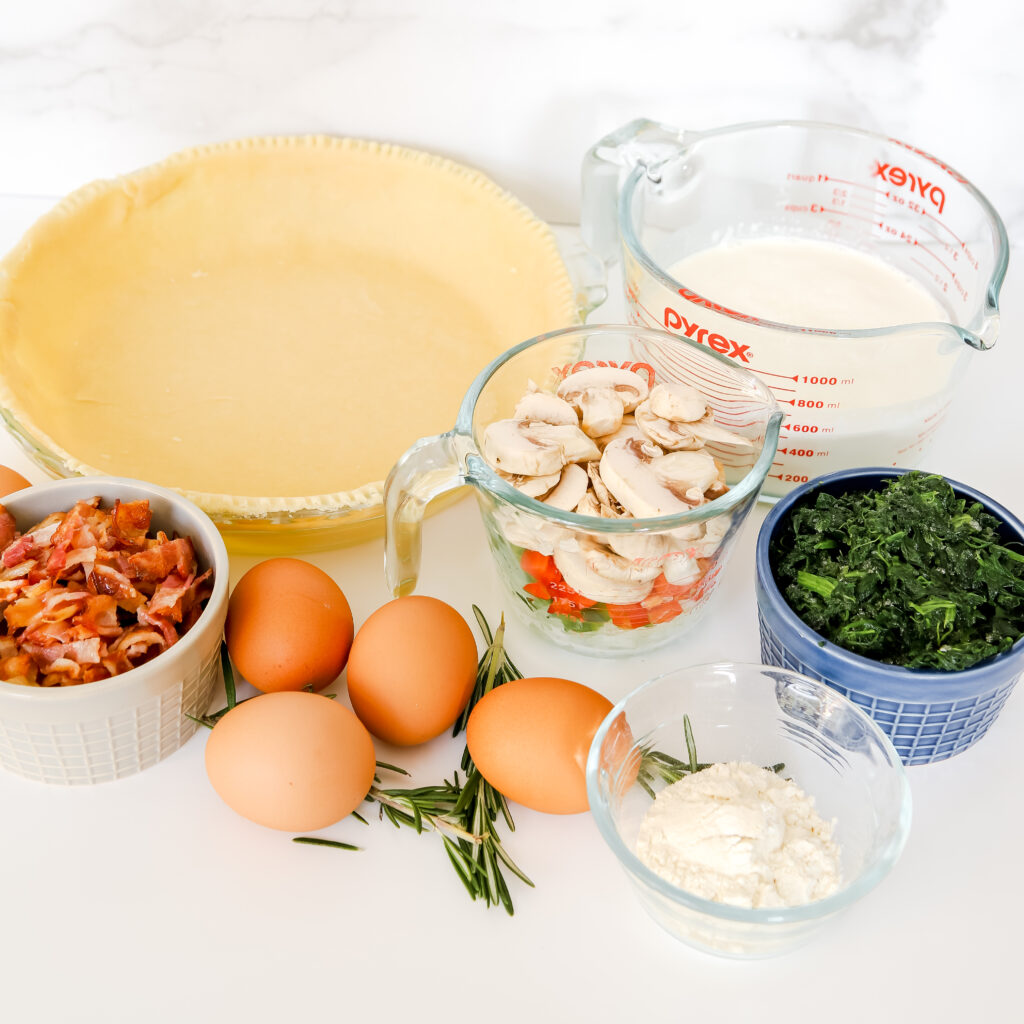 Optional Mix-Ins For Quiche:
These next few ingredients are optional and can be added to the egg mixture before baking! Use them to mix into your filling and use as many or as few of them as you wish.
Onions: If you don't want to grate your onion, you can use frozen diced onions instead.
Rosemary: Fresh rosemary has a much bolder flavor, so I suggest chopping it up finely and sprinkling it in. Yum!
Peppers: I like to sometimes add red or green peppers to this quiche recipe, but use your favorites! Yellow peppers are even sweeter. For some spice, add in some chopped jalapenos or serrano peppers.
Ham: Use ham instead of bacon if you have to, but bacon really elevates it!
Spinach: Frozen and thawed spinach work best in this recipe. Make sure you squeeze out as much water as you can before adding it to the egg mixture.
Mushrooms: Fresh, sliced legumes are delicious in this quiche!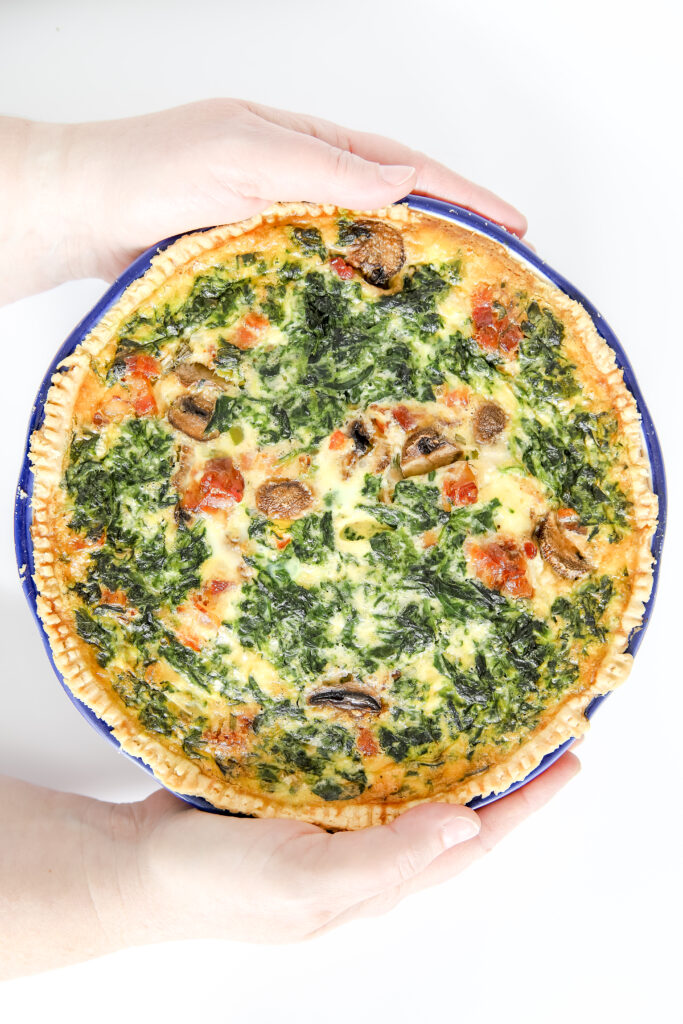 Frequently Asked Questions About Baked Quiche With Bacon
I usually get the same questions whenever I share this recipe, so I'll answer them for you right here.
If you have a question that isn't listed here, please leave them in the comments and I'll answer them as soon as I possibly can.
Can I make this recipe a crustless quiche?
If you are trying to eat low-carb, I totally get it! Yes, you can turn this into a crustless quiche recipe very easily. I'd just add 3 more eggs to the recipe and then, pour the ingredients into a greased pie plate.
Since it doesn't have a crust, check on it after about 40 mintues. If you insert a knife and it comes out clean, you know it is fully cooked!
Can I freeze bacon and cheese quiche?
Yes, you can freeze your quiche and save it for later. In fact, quiche is one of the best things you can freeze and use for a make-ahead meal because it's so easy to reheat.
After you fully bake the quiche, let it cool off completely. Then, seal it tightly with a lid or some aluminum foil and make sure you write the date on it.
This quiche recipe will stay fresh in the freezer for up to 3 months.
Tip: You don't need to let it thaw to heat it back up. Just bake it in the oven at 325 degrees for about 45 minutes.
How do I know when the quiche is done cooking?
You will know the quiche is completely cooked when you insert a knife or toothpick into the middle of it and it comes out clean.
Don't forget to let it cool down slightly before you cut and serve it!
Can I use sausage instead of bacon?
For sure, you can definitely use sausage instead of bacon. In fact, if you use a spicy sausage, it will give this quiche a little kick! I've even heard of some people adding a few splashes of hot sauce to their quiche too.
What other types of cheese can I use in this recipe?
Even though I love sharp cheddar cheese (because it melts the best and has the best flavor), you can swap it out for any of these:
Monterey Jack
Swiss
Gruyere
Pepper Jack
Mozzarella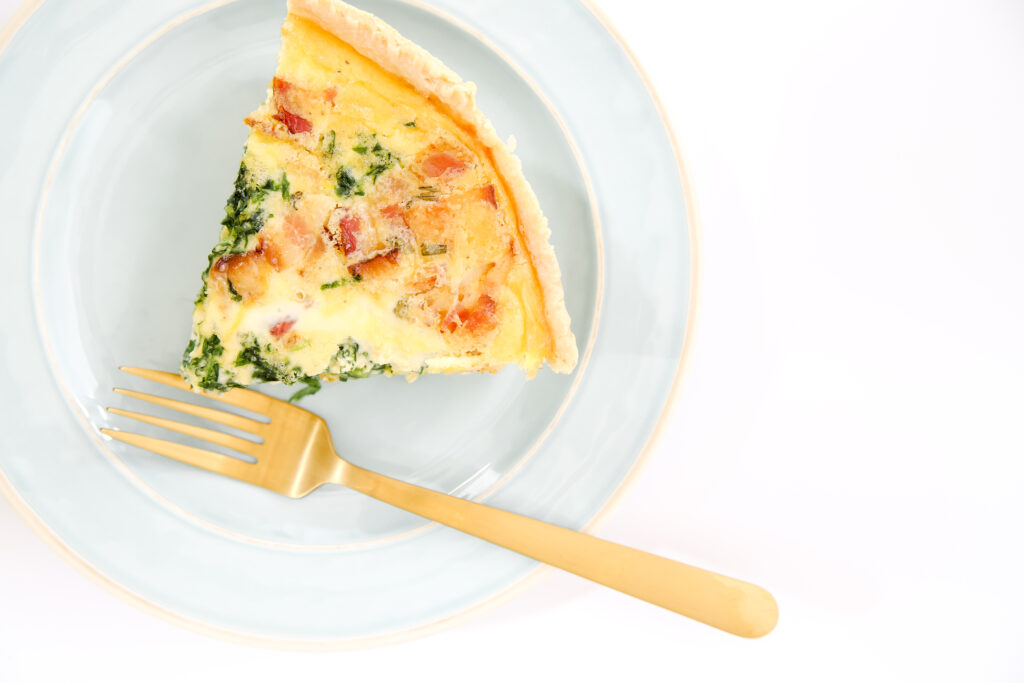 MORE GRANDMA-APPROVED RECIPES TO TRY
If you enjoyed this bacon and cheese quiche recipe, take a look at some of these other yummy recipes:
I hope this bacon and cheese quiche wows your guests at your next Sunday brunch. I'd love to hear how it turned out in the comments below!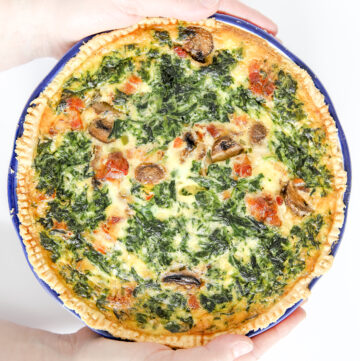 Bacon and Cheese Quiche
This bacon and cheese quiche recipe is both luxurious and incredibly simple to make. Perfect to serve for a yummy breakfast, this quiche recipe will impress all of your family and guests. Plus, who doesn't love bacon for breakfast?!?
Equipment
Pie dish

Medium mixing bowl
Ingredients
5

eggs, mixed with a fork

½

cup

half and half

1 ½

cups

heavy cream

1

Tbsp.

flour mixed with ¼ cup of water

½

tsp.

salt

¼

tsp.

pepper

1

deep dish pie shell, uncooked
Filling (choose any combination)
1

cup

shredded cheese

¼

cup

onion, grated

¼

tsp.

dried rosemary (or fresh rosemary chopped)

6 Tbsp.

red, green or yellow pepper, minced

⅓

cup

mushrooms, sliced

1

cup

bacon pieces or ham, diced

½

small package of frozen spinach

thawed with moisture pressed out
Instructions
Cook bacon first, if using real bacon pieces.

Set out frozen spinach to thaw, if you're using spinach

In a medium mixing bowl, combine the first six ingredients and mix with whisk or fork

Sprinkle cheese on the bottom of the pie shell.

Next layer the bacon and any other combination of filling ingredients you want.

Pour the egg and cream mixture into the uncooked pie shell.

Bake in a preheated oven at 325º for 1 hour, until knife inserted into the center comes out clean.

Let sit for 15-20 miuntes after it comes out of the oven in order to let it cool slightly.