Homemade Taco Seasoning Mix Recipe
Instead of reaching for prepackaged seasoning mixes at the grocery store, make your own right at home using this taco seasoning mix recipe! It's super easy to make a batch and it will last you for a while. All you need are 9 different spices, which you probably already have in your spice cabinet, making this taco seasoning mix super affordable!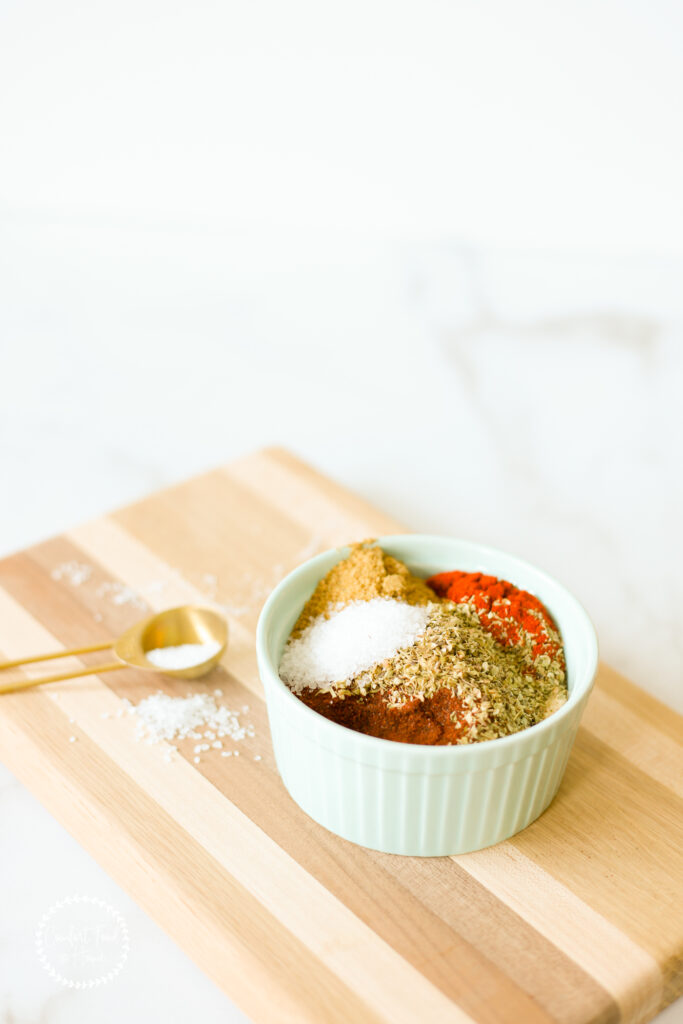 Easy Taco Seasoning Mix For Taco Tuesday!
Getting ready to make tacos for family Taco Tuesday? ME too! It's a weekly dinner tradition and my family loves it.
Mexican cuisine is one of our family favorites, which you know can be hard when there are multiple people with different palates and preferences.
But, when it comes to Mexican food, we all agree!
Now, I've tried making some of our favorite family recipes using purchased taco seasoning and I have to say, it just doesn't taste the same as when my grandmother would make it when I was younger. It doesn't have the same intense flavors or freshness as it does when she would make it.
So, I started going through my grandmother's recipe box and I was able to find her homemade taco seasoning mix recipe! I quickly made a batch and tested it out by making some ground beef tacos and it brought me back to my childhood.
I'm excited to share this recipe with all of you. I think you are going to love it!
Ingredients Needed To Make Taco Seasoning Recipe
When it comes to making this taco seasoning recipe, it's actually quite simple. All you need to do is mix these 9 spice ingredients together for the perfect spice combo to use on Taco Tuesday.
To make this taco seasoning mix at home, these are the ingredients you will need:
Chili Powder: This is a fairly common spice used to season tacos. It adds a punch of flavor and can be overwhelming if too much is added.
Garlic and Onion Powder: Adding in onion and garlic powder gives your dish those aromatics we all love.
Ground Cumin: This is another classic spice you will find in Mexican dishes. It sort of has this warm earthiness to it that pairs really well with the chili powder.
Crushed Red Pepper Flakes (cayenne pepper) and Paprika: These two spices are what give this homemade taco seasoning that pop of heat! If you prefer to make a milder seasoning, you can leave out the crushed red peppers altogether.
Dried Oregano: For this specific recipe, I used Mexican oregano which does not have those sweeter undertones as regular oregano does. It has more of a citrus profile.
Don't forget the sea salt and pepper as well!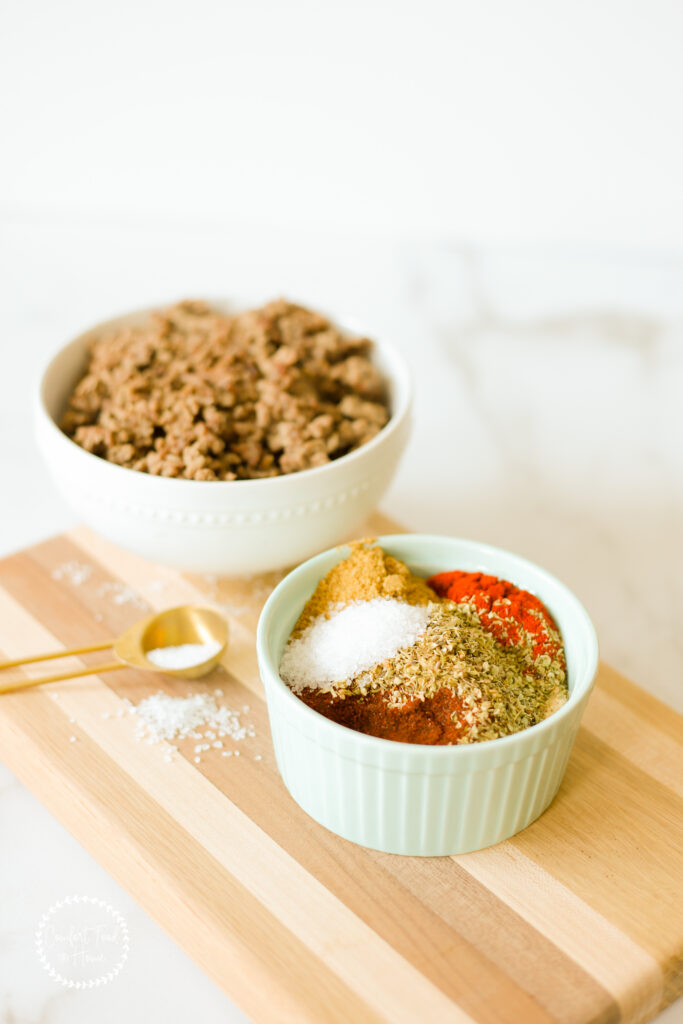 Frequently Asked Questions About Homemade Taco Seasoning
Whenever I share this recipe, I get some of the same questions. Here are the most popular ones that people ask!
If you have a question that isn't listed here, please leave them in the comments and I'll answer them as soon as I possibly can.
How can I make this taco seasoning spicier?
Between the smoked paprika and the crushed red peppers, I personally feel like this taco meat seasoning already has a kick to it. But, if you want it even spicier, I would recommend adding in an extra 1/2 tsp of crushed red peppers.
What can I make with this homemade taco seasoning?
This homemade taco seasoning mix can be used in so many different recipes.
I recently used this seasoning mix to my favorite ground beef tacos and it turned out delicious.
You can also use it to season some homemade beef chili, cheesy beef enchiladas, or juicy chicken fajitas! It's the perfect seasoning to use on different types of protein and veggies for taco night.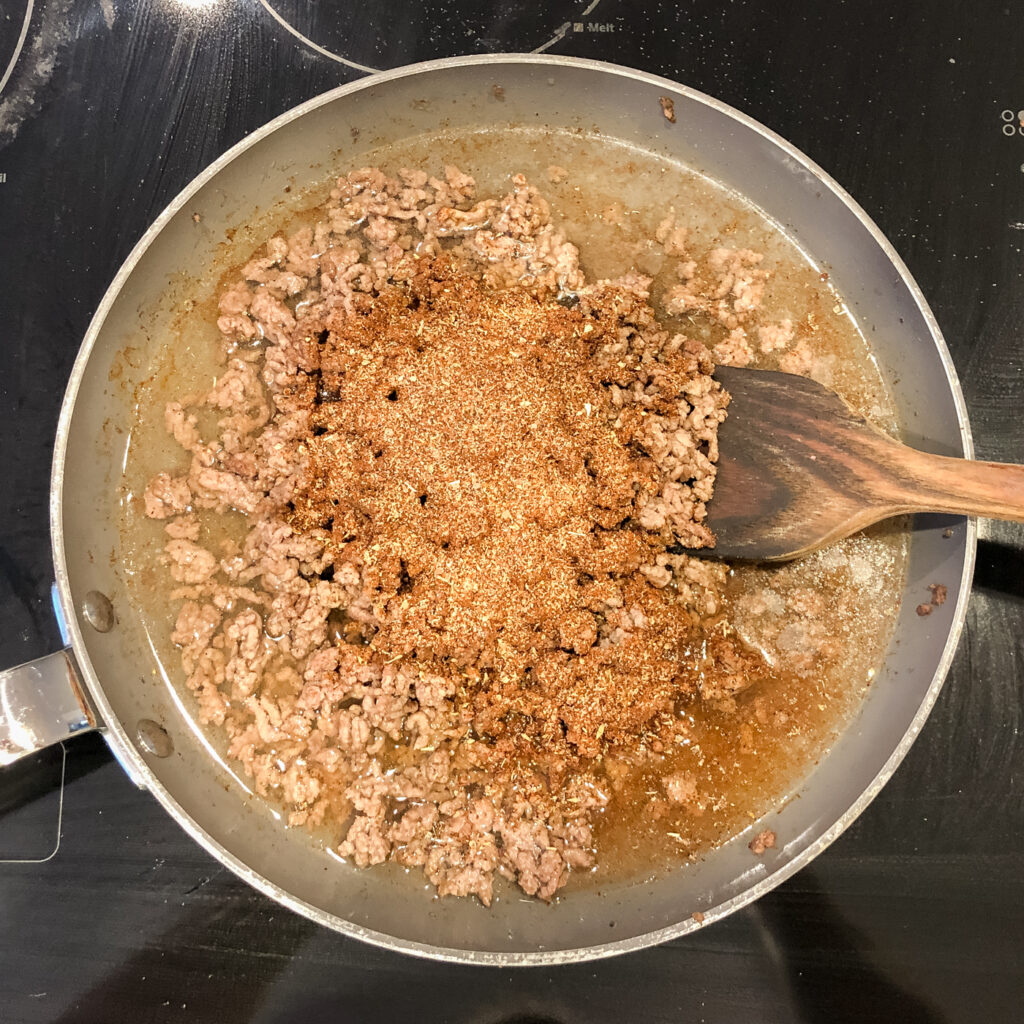 How much seasoning do I need for one pound of meat?
It really depends on the kind of meat you are using. Leaner types of protein, like ground turkey, tend to need a bit more seasoning because it doesn't have as much flavor from fat as ground beef does.
For example- When I made the ground beef tacos, I used 2 tbsp of taco seasoning mix per one pound of meat. If I were to use ground turkey, I might add an extra 1/2 tbsp. It really depends on how much flavor you want.
Just make sure to taste test along the way so you don't over-season your dish!
How do I store this homemade taco seasoning mix?
When I make this taco seasoning mix recipe, I like to purchase mini mason jars or spice jars to store it and keep it fresh. Whichever container you decide to use, make sure it's an airtight container to be able to seal out any air.
Can I make a lot of seasoning all at once?
Yes! Just simply double or triple the ingredient measurements listed in the recipe card below and properly store them in an airtight container.
More Grandma-Approved Recipes To Try
If you enjoyed this recipe for taco seasoning, take a look at some of these other yummy recipes:
How excited are you about having your own homemade taco seasoning mix and ditch those store bought packets? What are you going to cook this seasoning with? I'd love to hear about it in the comments below!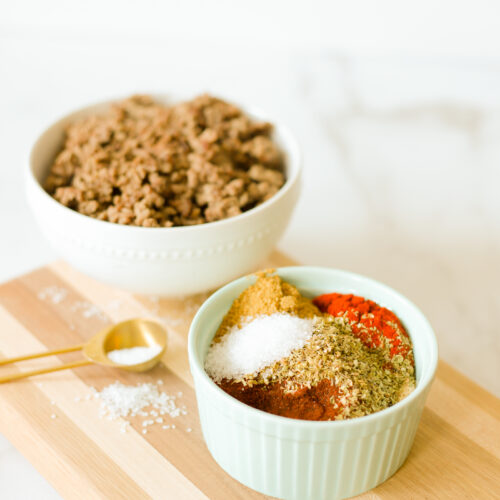 Taco Seasoning
It's so easy to make your own taco seasoning! Just mix 9 common ingredients together for the perfectly delicious combination to season your tacos!
Ingredients
¼

cup

Chili Powder

1

tsp

Garlic Powder

1

tsp

Onion Powder

½ – 1

tsp

Crushed Red Pepper Flakes

(to taste)

2

tsp

Dried Oregano

2

tsp

Smoked Paprika

2

Tbsp

Ground Cumin

3

tsp

Sea Salt

½

tsp

Black Pepper
Instructions
Add all of the spice into a bowl and stir to mix.

Store in an airtight container for up to 6 months.

Use 2 – 2½ of taco seasoning in place of a store-bought taco seasoning packet from the store.