A Homemade Classic Lasagna Recipe
This best lasagna recipe is the one I grew up with. My mom made this all throughout my childhood, and I love making this classic lasagna for my own children. This version keeps it simple – no extra fancy ingredients needed!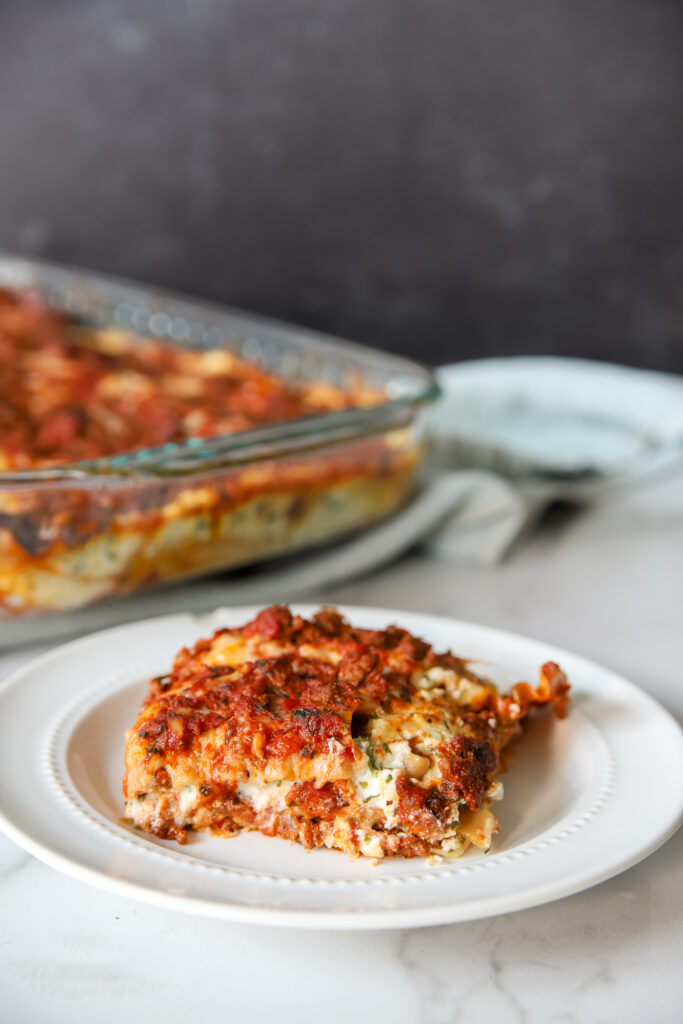 Classic Lasagna Recipe
So many of my childhood memories revolve around spending time with my mom as she was cooking. As long as I can remember back, I loved dragging a chair over to the counter and "helping" my mom create meals.
How helpful I actually was remains debatable, but the one thing I know for sure is my mom made some incredible dinners. This lasagna is one of them!
Easy Lasagna
I know the idea of making a homemade lasagna is a bit intimidating. However, if you have only eaten this dish from a box in the freezer section, I highly recommend you give this recipe a try!
Not only is a homemade classic lasagna recipe a million times better than anything you can buy at a store, but it's surprisingly simple to make, too. I promise it's not hard to learn how to make lasagna!
If you can cook ground beef and boil noodles, you can make this dish!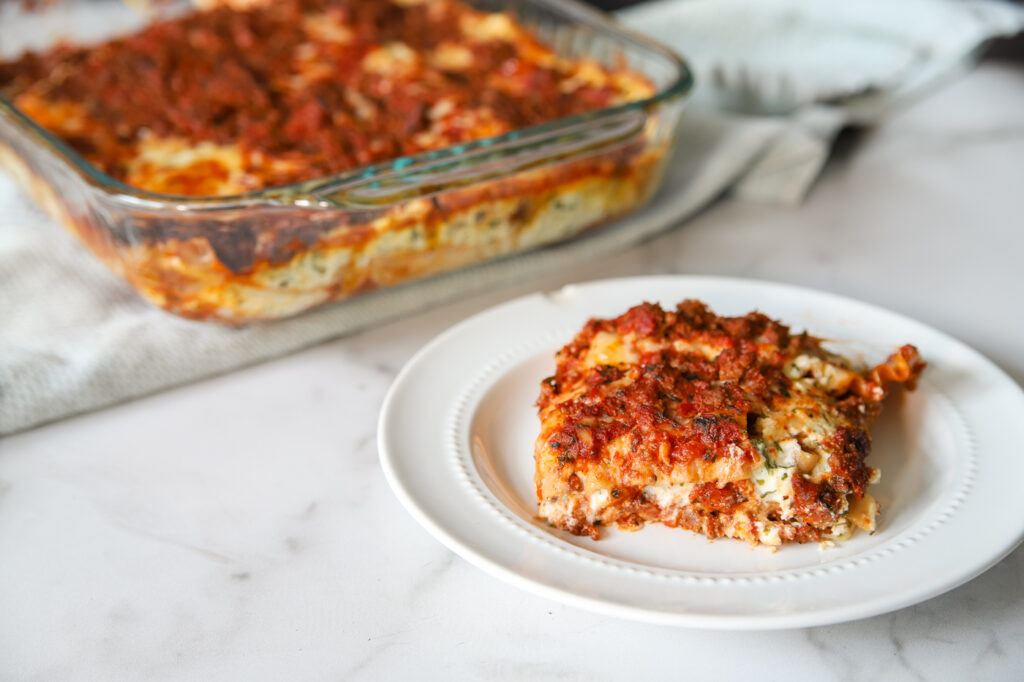 Layers in Lasagna
As you'll see in the recipe, the lasagna ingredients are very simple. There's nothing in here that you can't easily find at your neighborhood grocery store! Here's what each layer has:
Ground meat sauce. I keep it classic with a combination of browned ground beef seasoned with onion powder and garlic powder. Then, canned tomatoes are added with Italian seasoning and stewed on the stovetop to create a thick, delicious tomato sauce.
Italian Sausage – If you want to give your dish a little bit of kick, you could replace the ground beef with Italian sausage.
Lasagna noodles. Yes, you can buy noodles at the store. They are in the same aisle as all the other pasta. Easy-peasy!
Cheese. What's a lasagna recipe without cheese? You can use either ricotta or cottage cheese mixed with parmesan cheese and mozzarella. I personally prefer ricotta vs. cottage cheese, but my mom made hers with cottage cheese—both are delicious.
Correct Layer Order for Lasagna
In a classic recipe, the layer order, starting from the bottom is as follows:
Meat sauce (just enough to lightly cover the bottom)
Noodles
Cottage Cheese or Ricotta Mixtures
Mozzarella Cheese
Meat sauce
Noodles
Ricotta or Cottage Cheese Mixtures
Mozzarella Cheese
Meat Sauce
I finish with the meat sauce on top, but it doesn't cover up all of the cheese. Having some cheese on the top edge is important as it will melt and the edges will crisp up just slightly. It's sooo good!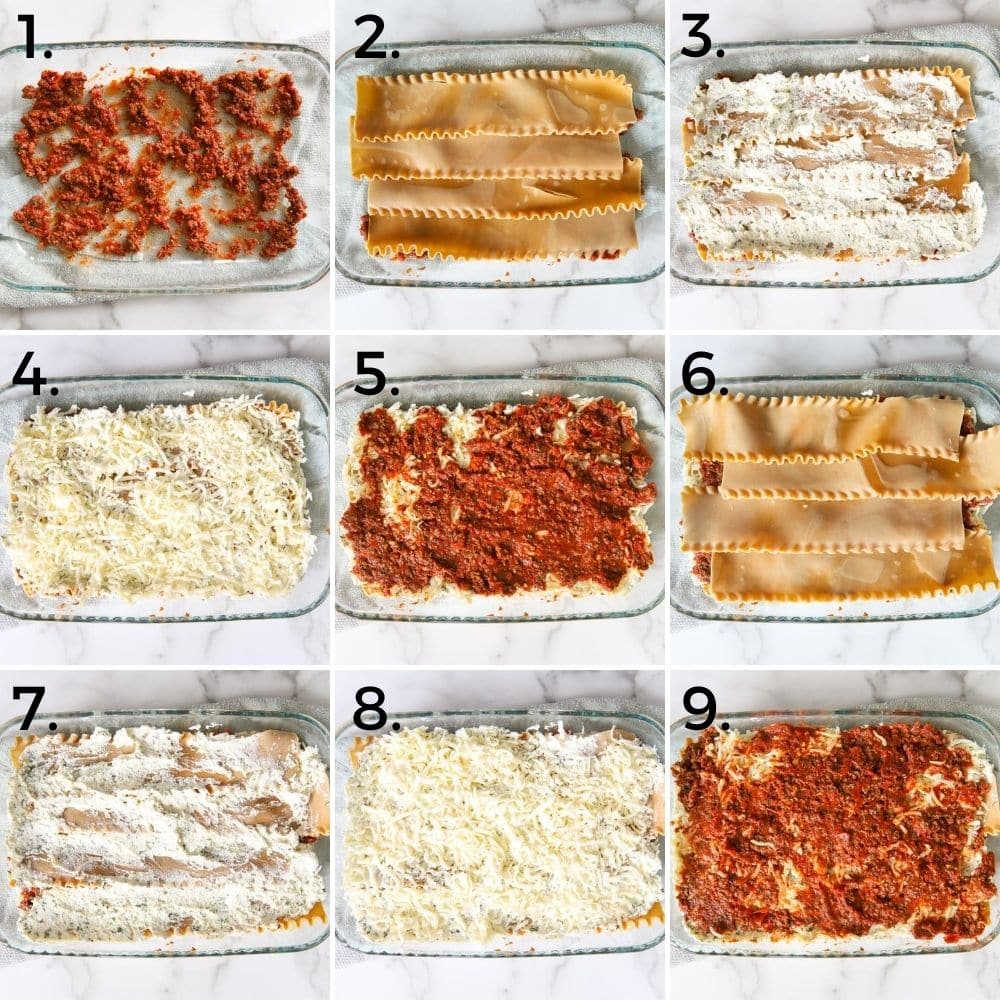 How to Make a Classic Lasagna Recipe: Frequently Asked Questions
Everytime I share this recipe, I get a ton of questions. I've gathered some of the most commonly asked ones here, but if you have more, please leave them in the comments and I'll answer them as soon as I can.
Should I cook the noodles before baking this dish?
Yes, you will need to cook the noodles before you layer them into the lasagna. The amount of time you'll need to boil them will differ by brand, so make sure to check the instructions.
Whichever brand you get, make sure you cook the noodles to be al dente. They will continue to cook as you bake the dish, so it's important they don't get too mushy beforehand.
It's important to note that some lasagna noodles are marketed as "no-boil" or "oven-ready" – meaning you don't cook them beforehand. I will say that I've had some very mixed results using this type of noodle. I prefer to boil mine before and then cook it—there's nothing worse than finally biting into your dinner only to find the noodles are raw or undercooked!
Can I freeze lasagna?
Yes!! Lasagna happens to freeze very well. This means you can double up the recipe and make one to enjoy now and the other to put in the freezer. The next time you feel like taking a break from cooking, all you need to do is pull your homemade lasagna out of the freezer, heat, and serve.
If you can, however, you'll get a little better results if you defrost the lasagna in the fridge overnight before cooking.
When cooking your lasagna straight from the freezer, plan on cooking it for about 45-55 minutes.
If you are cooking it after defrosting, follow the instructions below and cook for 30 minutes.
What do I do if my lasagna is runny?
If your lasagna is looking extra wet, chances are that either the sauce was not cooked down to be thick enough, or the noodles were not drained and dried before layering.
To help save a runny dish that's already cooking, you can add a layer of dry cheese (such as parmesan) to help soak up the liquid. Also, make sure you are cooking the lasagna uncovered—foil will keep the moisture inside the dish instead of letting it cook out.
Keep in mind that the recipe instructs you to let the lasagna to rest for 15 minutes or so after you cook. This will allow a bit of time of the dish to firm up and cut into those classic squares of yummy goodness!
MORE GRANDMA-APPROVED RECIPES TO TRY
If you enjoyed this recipe for lasagna, take a look at some of these other yummy recipes:
Have you ever made lasagna from scratch? I'd love to hear about your experience in the comments below!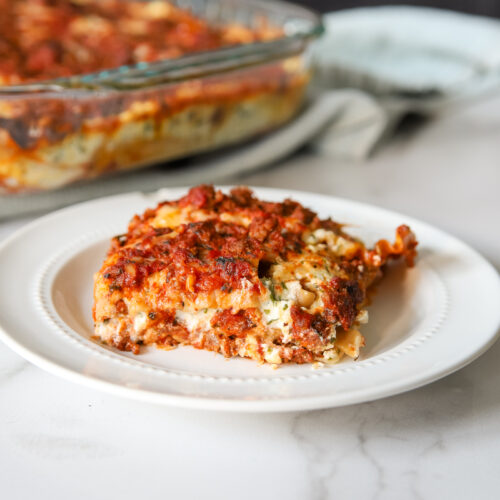 Classic Homemade Lasagna
The best homemade lasagna with all of the classic tastes: cheesy, full of pasta with a delicious homemade meat sauce! It's sure to please your family and friends!
Equipment
9×13 baking dish

large sauce pan

large pot

noodle strainer

small bowl
Ingredients
1

lbs.

ground beef

1

tsp.

onion powder

1

tsp.

garlic powder

32

oz.

crushed tomatoes, canned

1

tsp.

salt

1/2

tsp.

pepper

2

Tbsp.

italian seasoning

or use 1 Tbsp. dried basil, 1 tsp. dried oregano, 1 Tbsp. dried parsley

6

oz.

lasagna noodles

(8 noodles)

12

oz.

cottage or ricotta cheese

I prefer ricotta after eating cottage cheese my whole life. Ha!

2

Tbsp.

dried parsley

1/4

c.

parmesan cheese, grated

3

c.

mozzarella cheese, grated
Instructions
Brown meat in with onion and garlic powder until cooked thoroughly, then drain.

Add canned tomatoes, italian seasoning, salt and pepper to the meat sauce and simmer until thickened (approximately 1 hour, but can be shortened if needed).

Fill a large pot with water and add a pinch of salt on high heat. Once boiling, add the lasagna noodles and cook according to package.

Drain noodles and rinse in cold water when they are finished cooking.

In a small bowl, combine ricotta or cottage cheese, parsley and parmesan chese. Stir until combined.

Once the tomato sauce is thickened, spread a little sauce on the bottom of a 9×13 baking dish. It's OK if the sauce doesn't completely cover the bottom of the dish.

Layer half the noodles, half the cheese mixture, half the mozzarella cheese and half the meat mixture in the dish. Repeat layers.

Bake at 375º for 30 minutes. Let stand for an additional 10-15 minutes before serving. Enjoy!