The Best Pecan Pie Recipe
This classic pecan pie is rich and gooey with a traditional filling full of nutty pecans. It is the perfect pie for any occasion (especially Thanksgiving), and you will have friends and family asking you for the recipe!
Craving grandma's best pecan pie recipe? Me too- which is why I went looking for her recipe and I am excited to share it with you all today!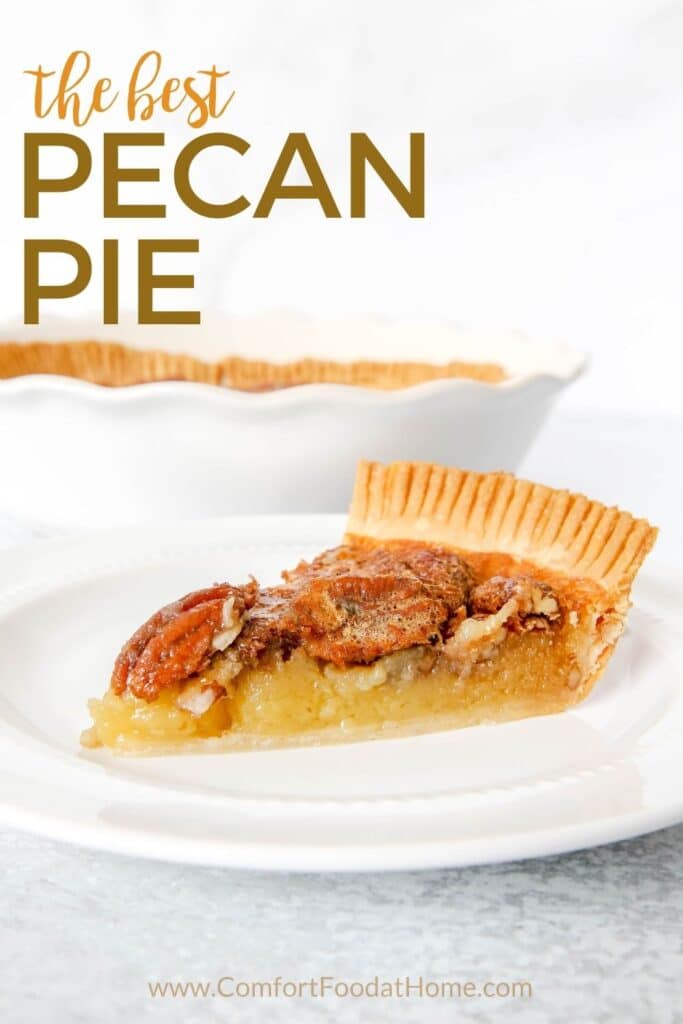 Move Over Pumpkin Pie– Here's The Best Pecan Pie Recipe For Thanksgiving!
I would consider this to be one of the best pie recipes out there! I mean… it's a classic for a reason. It's just like grandma used to make and is what I consider "pecan pie perfection".
This sweet pie is easy and fast to make with all of the traditional pecan pie ingredients. There isn't anything fancy or out of the ordinary- it's delicious just as it is!
I like to make this pie for all kinds of occasions, whether it be family gatherings or dinner with friends. But, our favorite time of year is Thanksgiving. It just really compliments the rest of the dishes we tend to make around that time of year like this roasted butternut squash soup or this southern cornbread dressing.
This classic pecan pie is the perfect recipe to quickly whip up for all occasions!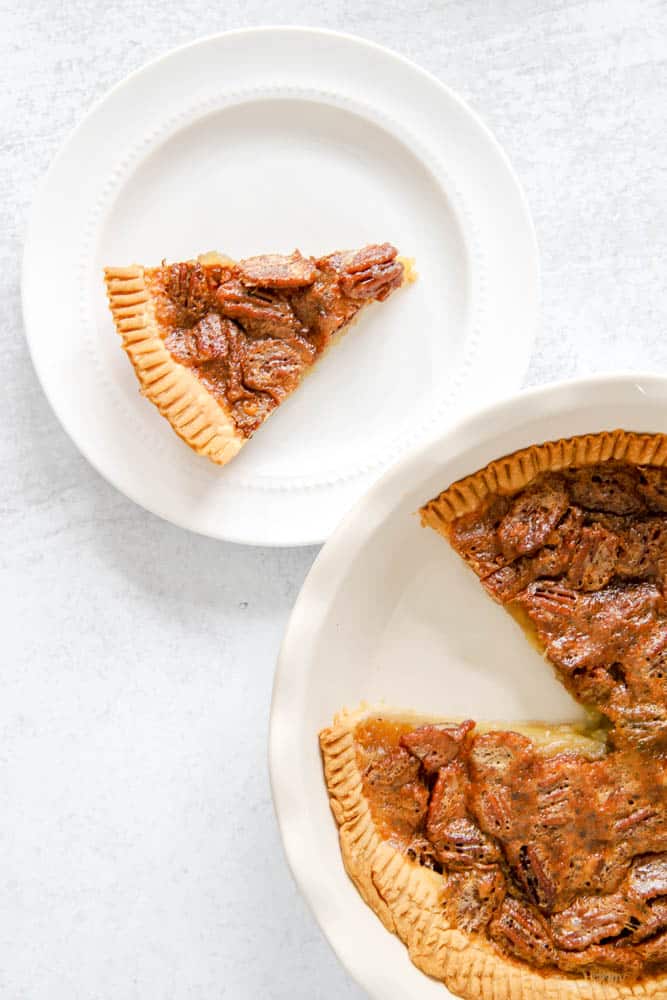 Ingredients Needed To Make Classic Pecan Pie
To make the best pecan pie recipe, you will need the following ingredients:
Unbaked Pie Crust: I prefer to used frozen pie crusts, but you can make your own pie crust if you choose to.
Eggs: The eggs are an important part of this recipe as they help the filling to completely set up for that deliciously familiar custard-y filling.
Light Corn Syrup: Corn syrup helps to make the pecan filling silky and sweet. It also makes this rich and delicious when combined with the pecans!
Sugar: Sugar is needed to help create the filling and gives this pie all of the sweetness.
Butter: What's a southern recipe without butter? This creamy ingredient helps this pie filling to be rich and decadent. It also gives it a bit of saltiness that helps to bring out all of the other flavors.
Pecans: Pecans, pecans, and more pecans! These nuts are another important ingredient that makes this pecan pie just like grandma used to make it.
Vanilla: The addition of vanilla extract helps to bring this pie to the next level. It makes the filling even more delicious, flavorful, and adds just the right amount of warm vanilla flavor.
Be sure to check out the full ingredient measurements and complete recipe below.
Additions And Substitutions
Maple Syrup: If you want to avoid using corn syrup or just want more flavor in your pecan pie, you can use maple syrup instead! This will give the same effect as corn syrup, only your pie will have a slight maple flavor.
Brown Sugar: Instead of using white sugar, you could use brown sugar for a deeper flavor in your pie. Brown sugar will make an even richer pie filling and will make it slightly darker in color.
Bourbon: Want to make a boozy pie? You can add a splash of bourbon instead of vanilla extract! This will give it a much richer and warmer flavor.
What To Serve With The Best Pecan Pie Recipe
This easy pecan pie recipe is a delicious dessert to go alongside any meal. It tastes great served alongside this easy banana bread for a dessert spread. Or, served after a generous helping of some of grandma's creamy mac and cheese!
This classic pecan pie pairs perfectly with a cup of hot coffee or a glass of sweet iced tea as an after-dinner treat.
Don't forget to make this pie for Thanksgiving!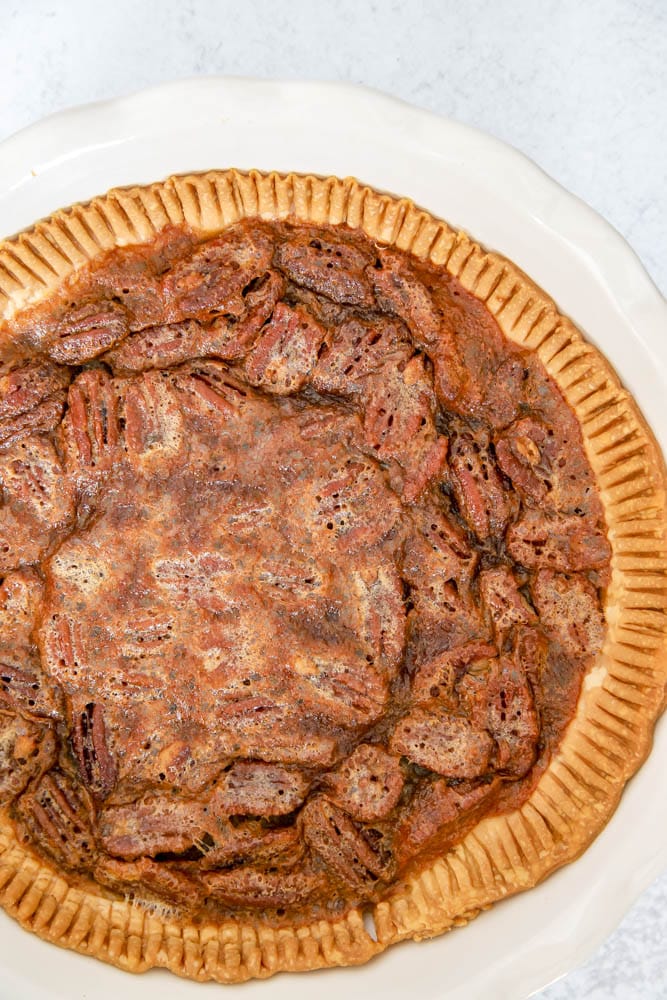 Frequently Asked Questions About The Best Pecan Pie Recipe
Whenever I share this recipe, I get some of the same questions. Here are the most popular ones that people ask!
If you have a question that isn't listed here, please leave them in the comments, and I'll answer them as soon as I possibly can.
How can I tell when my pecan pie is done baking?
The best way to tell when a pecan pie is done baking is to give it a little wiggle! If the whole pie jiggles, that means that it isn't done yet.When a pecan pie is done baking, the edges will be completely set, and the center will jiggle just a little.
It will finish setting up completely as it cools.
How can I make a pecan pie without corn syrup?
If you do not want to use corn syrup, it is actually very easy to replace it in your pecan pie.
Maple syrup is a popular option as it yields a very tasty flavor, but you can also use simple syrup, cane syrup, or agave syrup.
All will give you slightly different results, so you might have to experiment.
Can I freeze pecan pie?
Yes! The best pecan pie recipe can be frozen ahead of time and thawed out when needed. All you need to do is bake the pie, allow it to cool, and wrap it in foil before sealing it in a plastic bag.
A pecan pie can be frozen for up to 3 months. When you are ready to use the pie, take it out the night before and allow it to thaw completely.
You can pop it into the oven for a few minutes to warm it up again.
Can I make a pecan pie without pecans?
Whether you are on a tight budget and can't afford all of those tasty pecans or have a nut allergy, there are a few options for going without pecans.
For a pecanless pecan pie, you could use rice crispies instead this helps to imitate some of the texture. Or, you could use crushed pretzels instead! This provides texture and looks very similar to traditional pecan pie.
You could also just add a bit of flour for thickness and make a syrupy custard pie minus the pecans.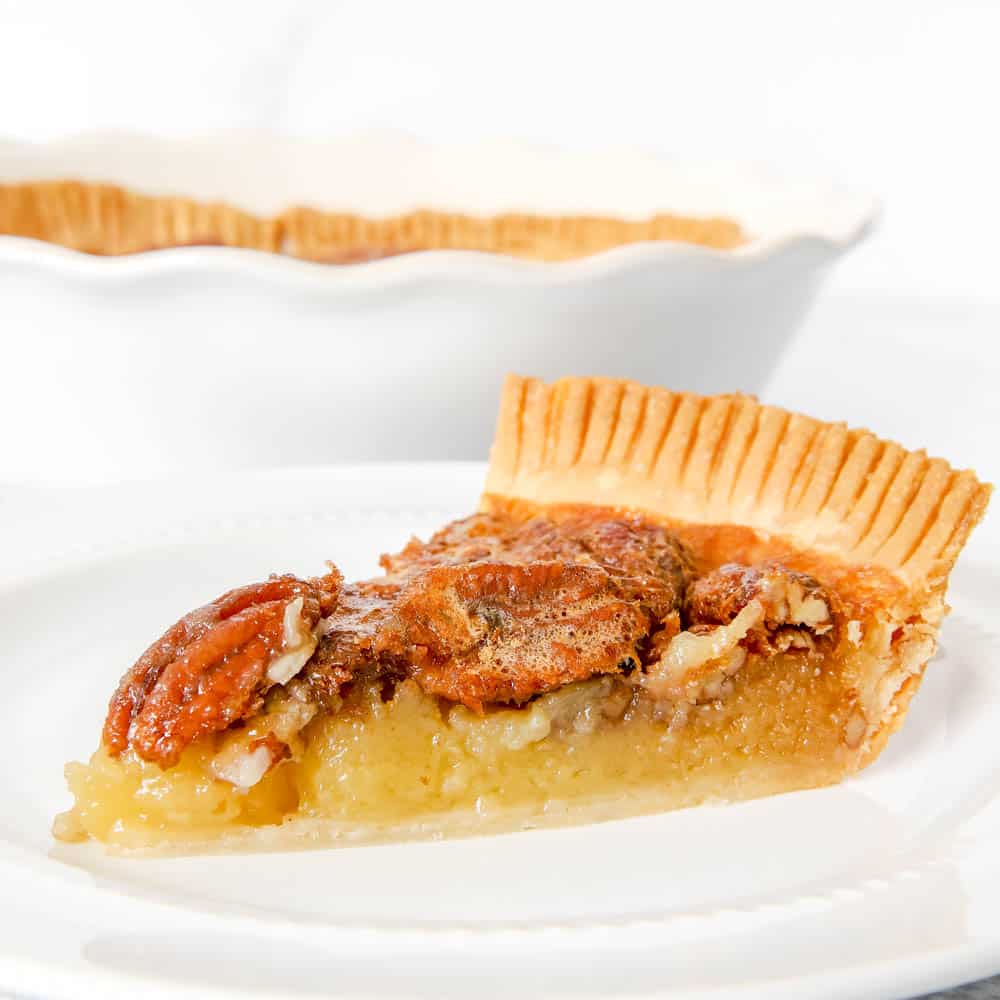 More Grandma Approved Recipes
Did you enjoy the best pecan pie recipe? If you did, you should try some other recipes that are just as good!
Print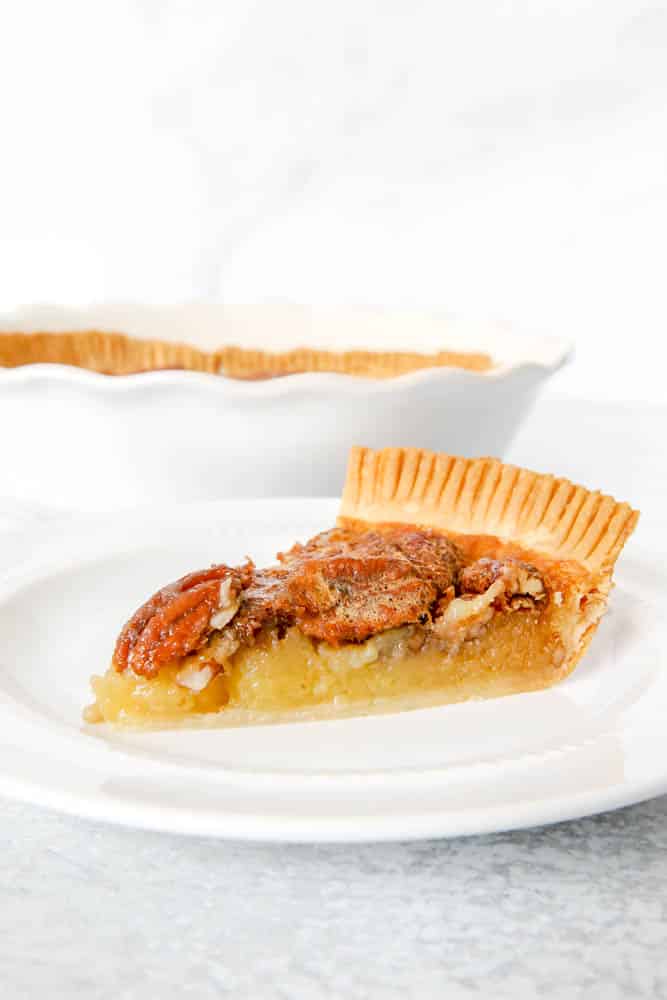 Easy Pecan Pie
This classic pecan pie is rich and gooey with a traditional filling full of nutty pecans. It is the perfect pie for any occasion (especially Thanksgiving), and you will have friends and family asking you for the recipe!
Total Time:

55 minutes

Yield:

6

people

1

x
1

unbaked pie crust

3

eggs

¼ cup

light corn syrup

1 cup

sugar

¼ cup

butter, melted

1 cup

pecans, halved or chopped

1 tsp

vanilla
Instructions
Preheat oven to 400 degrees.
Go ahead and make your pie crust if you are making it from scratch.
Melt the butter either in a microwave-safe bowl in the microwave or on the stovetop and set it aside to cool.
In a medium mixing bowl, beat the eggs with a whisk by hand.
Add sugar and light corn syrup to the eggs and stir well.
Add melted butter (cooled down a little bit), pecans and vanilla.
Stir it all to combine well.
Pour the pie mixture into the unbaked pie shell.
Bake at 400 degrees for 10 minutes.
Then reduce the over to 350 degrees and continue to bake for another 30-35 mimnutes, until the middle of the pie is no longer jiggly.
Serve warm. Enjoy!
Notes
I use a frozen deep dish pie crust for my pies, but you could absolutely make your own and bake this in your favorite pie plate.
I prefer to chop the pecans in my pecan pie, but halves are good, too!
This pie is wonderful with a scoop of vanilla ice cream. Yum!
Add 1/4 a cup of chocolate chips to the pie filling to make it a chocolate pecan pie. 
Author:

Laura

Prep Time:

10 minutes

Cook Time:

45 minutes

Category:

Dessert

Cuisine:

American