Snickerdoodle Cookie Recipe
If you are looking for a classic cookie recipe that'll make you miss your granny, you should take a look at this snickerdoodle recipe! Snickerdoodles are a cookie that has been around for a long time and makes the perfect sweet treat. Rolled in cinnamon sugar, this cookie is so scrumptious!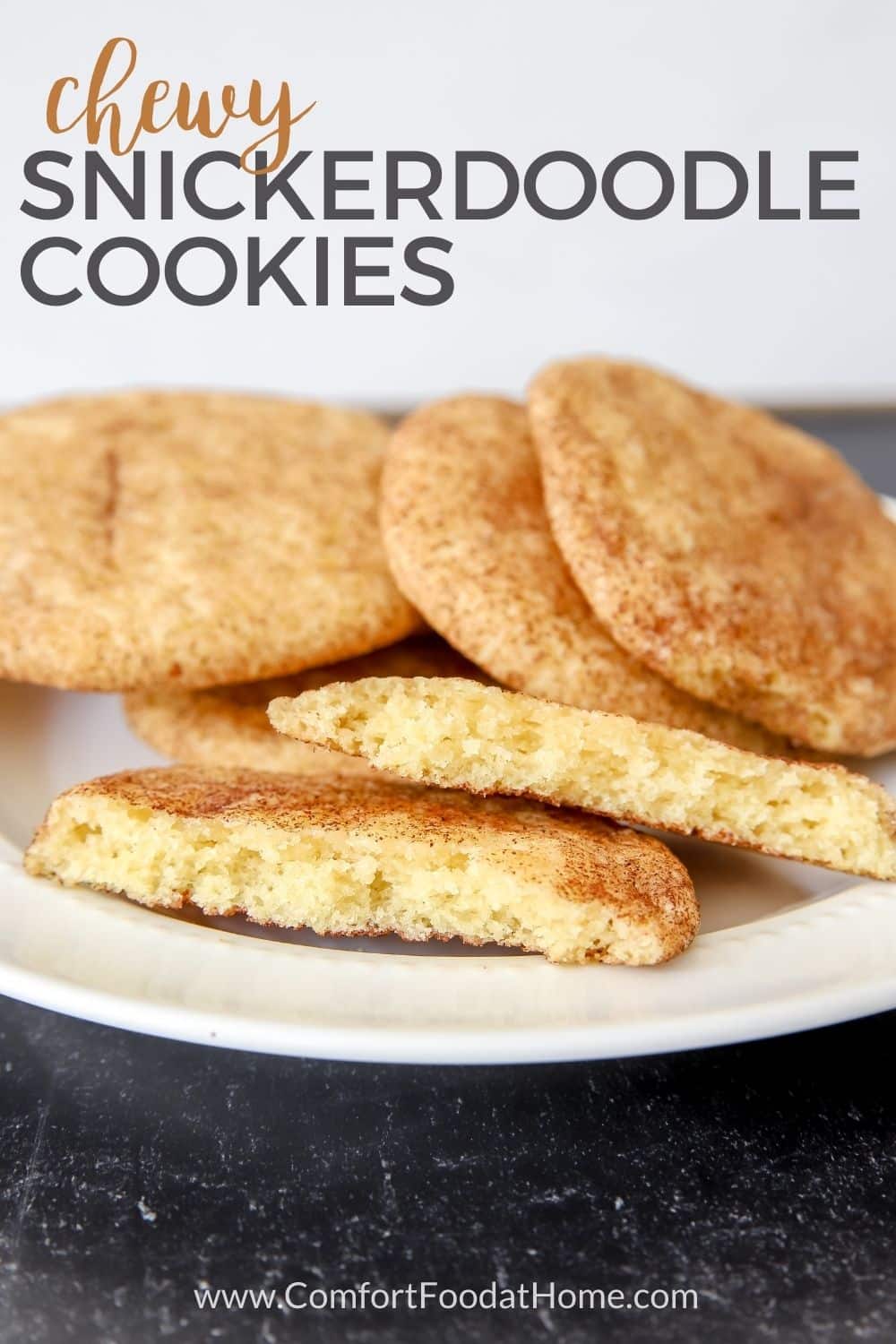 Add This Snickerdoodle Recipe To Your Family Cookbook- Trust Me!
This snickerdoodle recipe is an easy-to-make cookie recipe that is a wonderful crowd-pleaser. Adults and children alike all enjoy these little bites of delight! Our family typically considers this to be a Christmas cookie, but they are so good anytime of the year!
As far as cookie recipes go, this snickerdoodle recipe is very easy and requires only the most basic baking ingredients.
It is the perfect last-minute cookie recipe for when you need to bring a dessert to a special gathering or party, especially when you are craving something sweet to have with your coffee.
This recipe will take you back to afternoons watching your grandma take hot cookies out of the oven and serving them on a plate with a glass of milk for you to enjoy after school.
Oh, memories!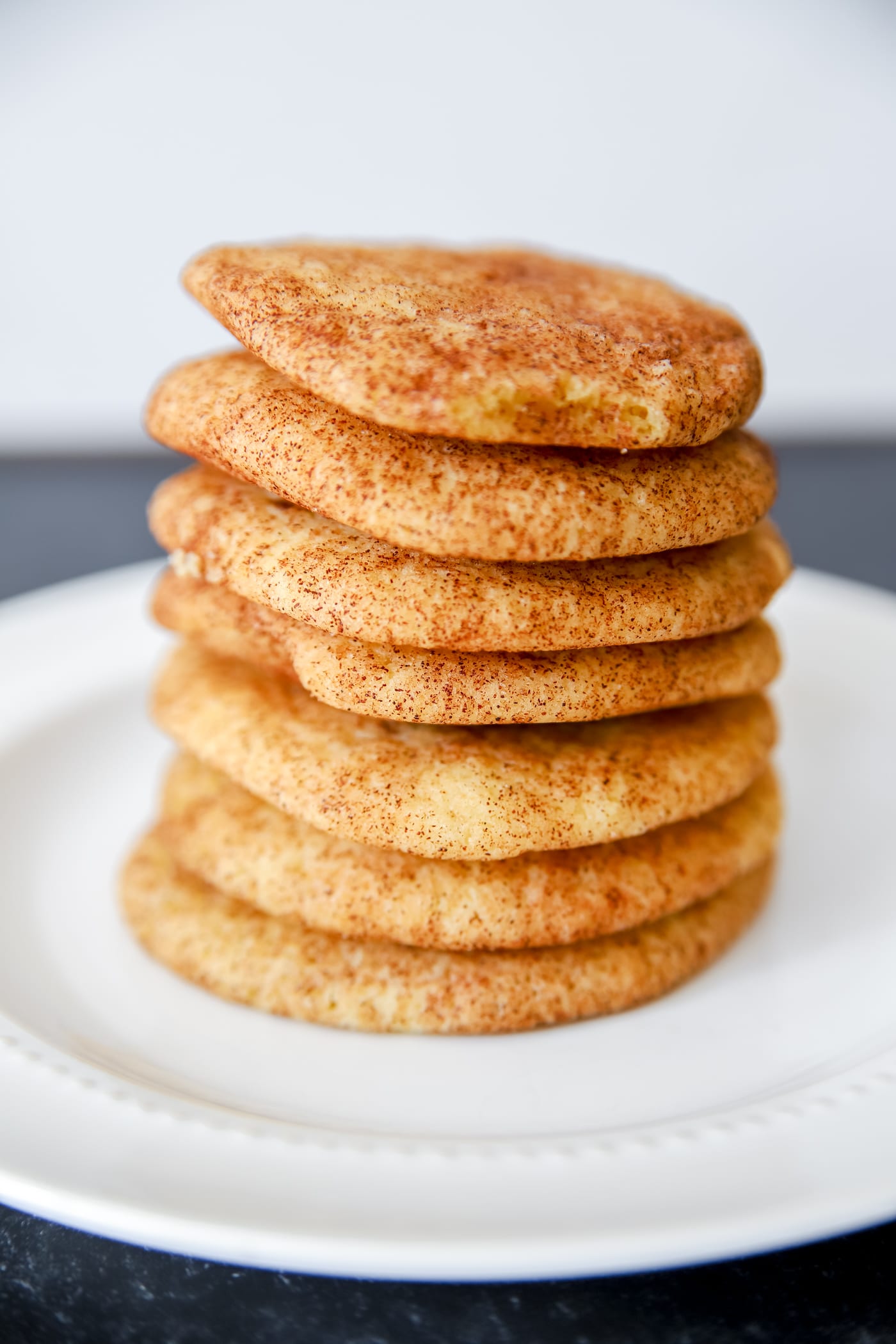 Ingredients Needed To Make Snickerdoodle Cookies
To make these delicious snickerdoodle cookies, you will need to have these ingredients on hand:
Butter: The butter in this recipe plays an important part in how your cookies will turn out. It can even affect how much they spread out and how crispy they get.
Sugar: Sugar gives these cookies their sweetness, but it also helps with the structure of a cookie and gives it its chewiness and softness.
Eggs: The eggs in this recipe help to make soft and chewy cookies that have a pleasingly rich texture.
Vanilla Extract: A little bit of vanilla extract goes a long way in giving these cookies a nice note of fragrant vanilla that pairs nicely with the cinnamon. If you can, try to use the real stuff, not flavoring. Trust me- it makes a difference!
Flour: All-purpose flour gives these snickerdoodles a soft texture without affecting the flavor profile.
Salt: Salt is an important ingredient in baking as it pulls all of the other flavors together and balances out the sweetness.
Baking Soda: This is a good leavening agent for cookies that aren't cakey but aren't flat either. It helps them to spread just enough for a nice consistency.
Cream Of Tartar: The cream of tartar in this snickerdoodle recipe acts as another leavening agent as well as a stabilizer for the eggs and sugar. It also gives snickerdoodles their classic, slightly acidic flavor.
Cinnamon: Cinnamon is a very important ingredient in snickerdoodle cookies as cinnamon is what sets snickerdoodle apart from other cookies!
Be sure to check out the full ingredient measurements and complete recipe below.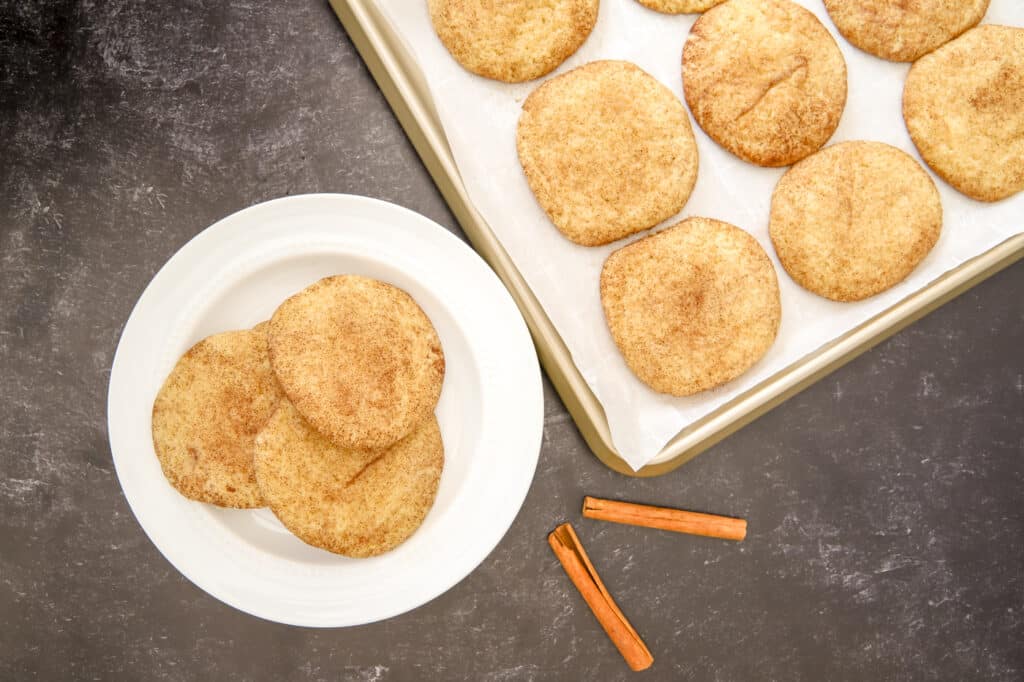 Equipment Needed to Make the Cookies:
Stand Mixer
Large Mixing Bowl
Baking Sheet
Parchment Paper, optional
Shallow Bowl or Plate
Additions and Substitutions For Snickerdoodles
Here are a few substitution ideas when it comes to this cookie recipe…
If you don't happen to have any cream of tartar on hand, you can substitute it with some baking powder for similar results. The taste won't be quite the same, but they will still work.
Don't have white sugar or prefer to use another sugar? That's okay! You can substitute brown sugar in place of white. It will make the cookies a little darker and chewier.
For a slightly less classic cookie, you could replace half of the vanilla extract with cinnamon extract. This will give the cookies a much stronger cinnamon flavor!
What To Serve With This Easy Snickerdoodle Recipe
This snickerdoodle recipe is perfect on its own and could simply be eaten with milk like we did when we were kids! Or, you could pair these cookies with a hot cup of coffee or tea, maybe even some rich, hot chocolate.
If you are baking these cookies to take to a family gathering or special dinner, you could make a dessert platter. Snickerdoodles would go perfectly with some easy no-bake chocolate oatmeal cookies or some homemade fudge brownies!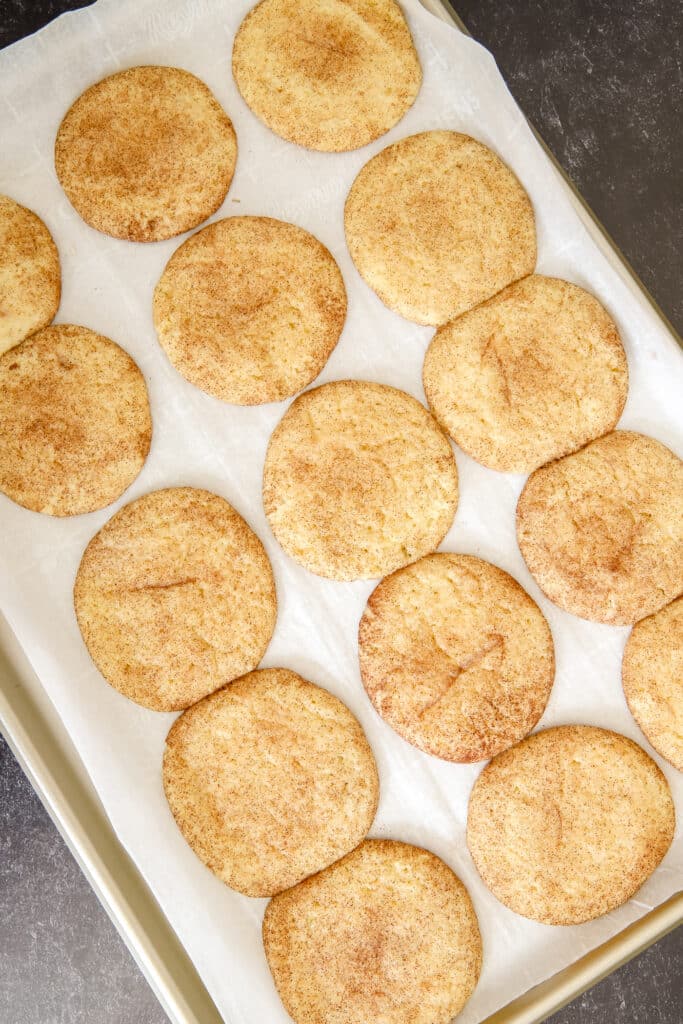 Frequently Asked Questions About Snickerdoodle Cinnamon Cookies
Whenever I share this recipe, I get some of the same questions. Here are the most popular ones that people ask!
If you have a question that isn't listed here, please leave them in the comments, and I'll answer them as soon as I possibly can.
Why do they call it snickerdoodle?
It is believed that snickerdoodles originated from Germany sometime in the late 1800s. They are also called snipcookies or cinnamon sugar cookies.
Are snickerdoodles the same as sugar cookies?
Some people call snickerdoodles sugar cookies, but they are different types of cookies. Sugar cookies are often rolled in white sugar before baking, while snickerdoodle cookies are rolled in a mix of cinnamon and sugar, giving them their distinct cinnamon flavor.
Is snickerdoodle dough supposed to be crumbly?
Snickerdoodle dough will usually seem somewhat dry and crumbly when you first mix it together. This is normal and will go away as you finish combining the ingredients.
Chilling the dough before separating your cookies also helps the dough to hold together better.
Help! Why are my snickerdoodle cookies flat?
The main culprit for flat snickerdoodle cookies is the butter. This is usually because your butter was either too soft or melted, which caused the cookies to spread too much.
Flat cookies could also be a result of using too little flour, make sure to measure your flour as accurately as possible.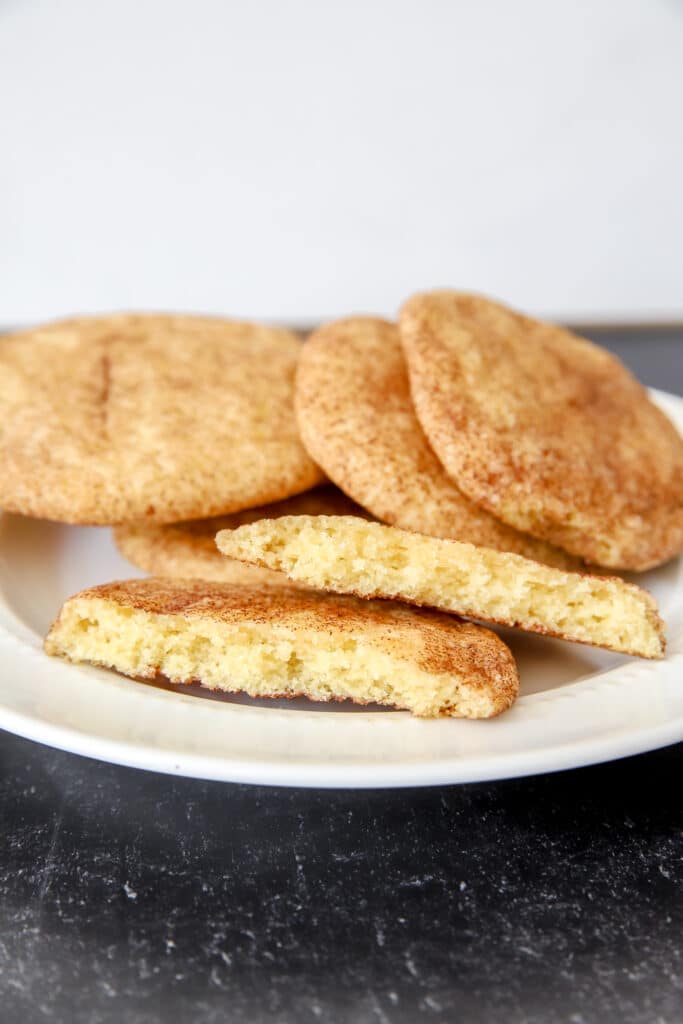 MORE GRANDMA-APPROVED RECIPES TO TRY
If you enjoyed this recipe for snickerdoodle cookies, take a look at some of these other yummy recipes:
Are snickerdoodles your kind of cookie? If so, let me know! I'd love to hear what you think in the comments below!
Print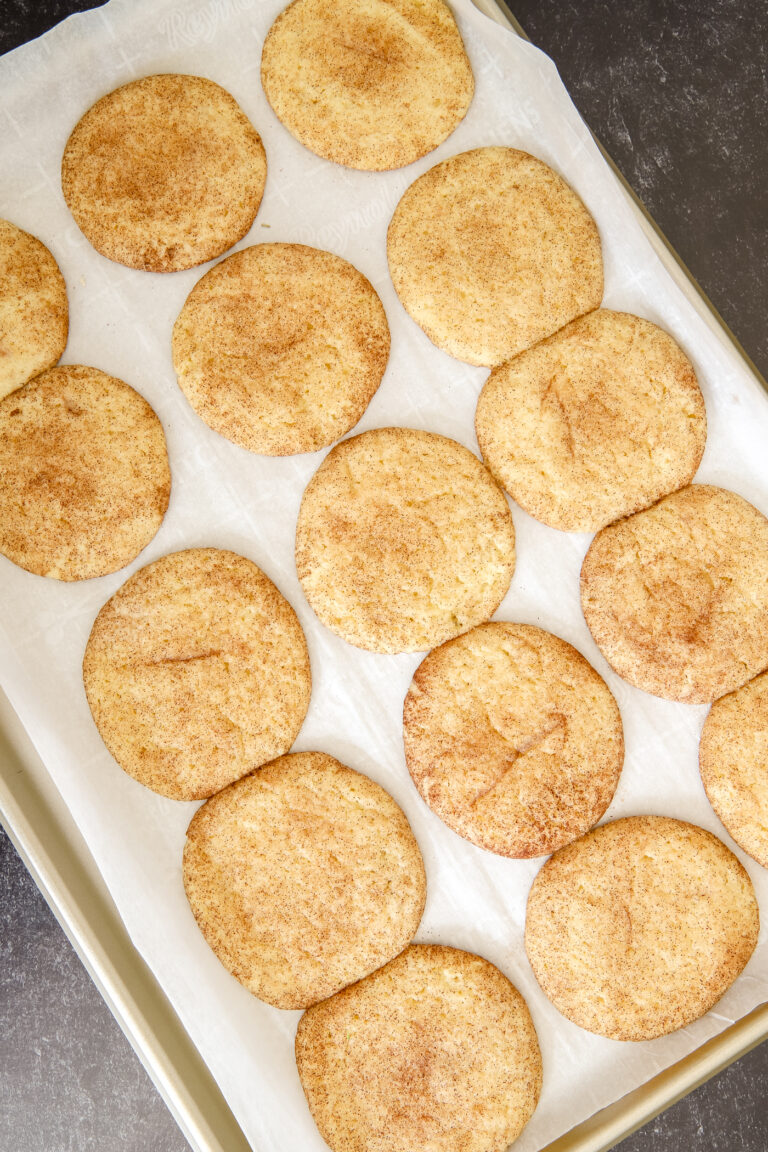 Snickerdoodle Cookies
If you are looking for a classic cookie recipe that'll make you miss your granny, you should take a look at this snickerdoodle recipe! Snickerdoodles are a cookie that has been around for a long time and makes the perfect sweet treat. Rolled in cinnamon sugar, this cookie is so scrumptious!
Total Time:

1 hour 8 minutes

Yield:

8

people

1

x
1 cup

butter (

2

sticks), softened to room temperature

1 ½ cup

sugar

2

eggs

2 tsp

. vanilla

2 ¾ cup

flour, plain

1 tsp

. salt

½ tsp

. baking soda

1 tsp

. cream of tartar
Cinnamon Sugar Mixture
¼ cup

sugar

1 ½ Tbsp

. cinnamon
Instructions
Preheat oven to 350 degrees.
In a stand mixer, blend butter and sugar until creamy, about 4-5 minutes.
Then add eggs and vanilla and mix another 1-2 minutes.
Mix add flour, salt, baking soda and cream of tartar until just combined. don't over mix at this point.
Optional: allow dough to cool in the refrigerator for 20-30 minutes before rolling it into balls.
In a shallow bowl, combine ¼ cup of sugar and 1 ½ Tbsp. of cinnamon. Stir until well combined.
Roll dough into smooth, round balls, about 2-inches in diameter.
Roll the balls into the cinnamon sugar mixture until well coated.
Place the dough balls on parchment lined baking sheets and press down in the middle for a flatter cookie.
Bake at 350º for 8-10 minutes, until edges start to brown. I really like to take them out at the 8-minute mark.
Let the cookies cool before placing them in an air tight container.
Notes
Mixing the butter and sugar together for 4-5 minutes allows the dough to get fluffy with lots of air for a softer, chewier cookie. 
Prep Time:

30 minutes

Cook Time:

8 minutes

Category:

Dessert

Cuisine:

German
Keywords: baked goods, cookies, dessert