Orange Sweet Potato Soufflé
A southern Thanksgiving just wouldn't be complete without a sweet potato soufflé. I've got the perfect twist on the classic dish, with a hint of orange zest and raisins to add texture and more flavor to the sweetness. Learn how to make sweet potato soufflé, just like my grandma used to do it!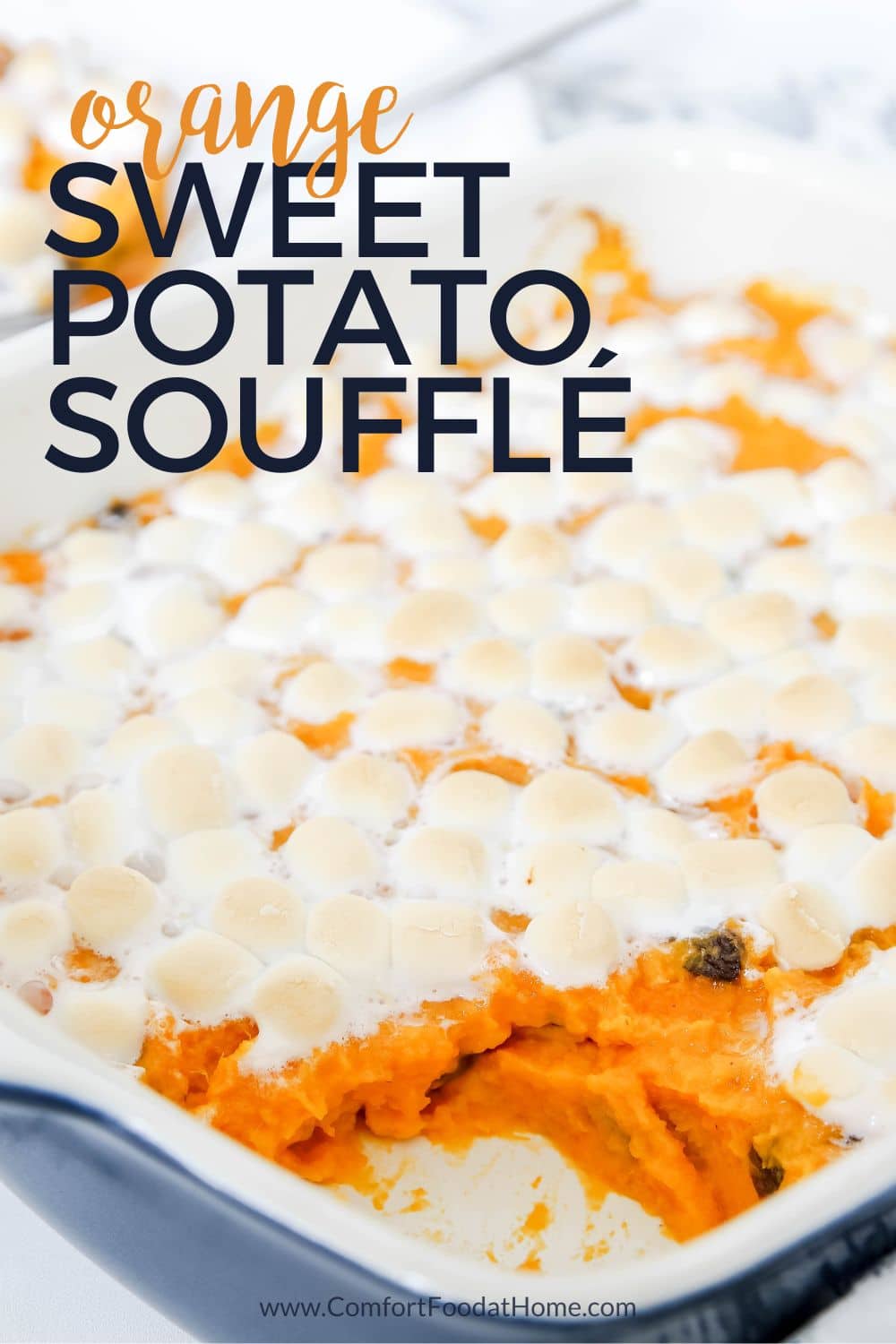 Somewhere between a sweet potato casserole and a sweet potato pie, you have the sweet potato soufflé. Thanks to a handheld blender, it has the smoothest texture out of the bunch. Fluffy and puffed, it is the absolute only way to prepare sweet potatoes for Thanksgiving in my house!
My family likes to keep things classic, but this dish offers a fun twist on simple mashed sweet potatoes. On top, I put mini marshmallows to give an extra burst of sweet flavor.
Some debate whether you would consider this a side dish or a dessert, but you'll find me way over on team side dish. When you have a whole dinner of meat, salads, and casseroles, this fluffy sweet potato soufflé recipe is the perfect change for your palette.
While it's a Thanksgiving favorite, eat it any time of the year. Easy, sweet, and delicious, here is how to make sweet potato soufflé!
Ingredients Needed to Make This Sweet Potato Soufflé Recipe
To whip up this recipe, make sure to have these ingredients on hand:
Sweet Potatoes: The core of this dish, you are first going to mash the sweet potatoes before sweetening them up and mixing them with a handheld mixer. This gives them that fluffy texture that makes this dish that much more scrumptious. Make sure you purchase the right potatoes, as sometimes they can be labeled as yams.
Salt: Things are about to get really sweet! Salt helps to balance out the sweetness and accentuate the other flavors present.
Butter: It just wouldn't be a southern recipe without butter now would it?!
Egg: 1 beaten egg in this recipe acts as a binder. Much like other baking, it makes the dish stiffer without adding any extra heaviness.
Raisins: The unexpected bite, raisins add a change of texture to the smooth whipped potato and compliment the sweetness of the dish.
Oranges: 2 medium-sized oranges should get you enough zest for this recipe. The zest gives that hint of citrus flavor to also help offset the sweet nature of the potatoes.
Whipping Cream: To add creaminess, use ¼ cup of whipping cream or half and half cream.
Nutmeg: While it's a little bit sweet, nutmeg adds an earthy and nutty flavor to the dish and makes it a hint more savory.
Mini Marshmallows: While technically optional, I will always include mini marshmallows as my topping for sweet potato soufflé. Another popular option includes chopped pecans or walnuts sprinkled on top.
Be sure to check out the full ingredient measurements and complete recipe below.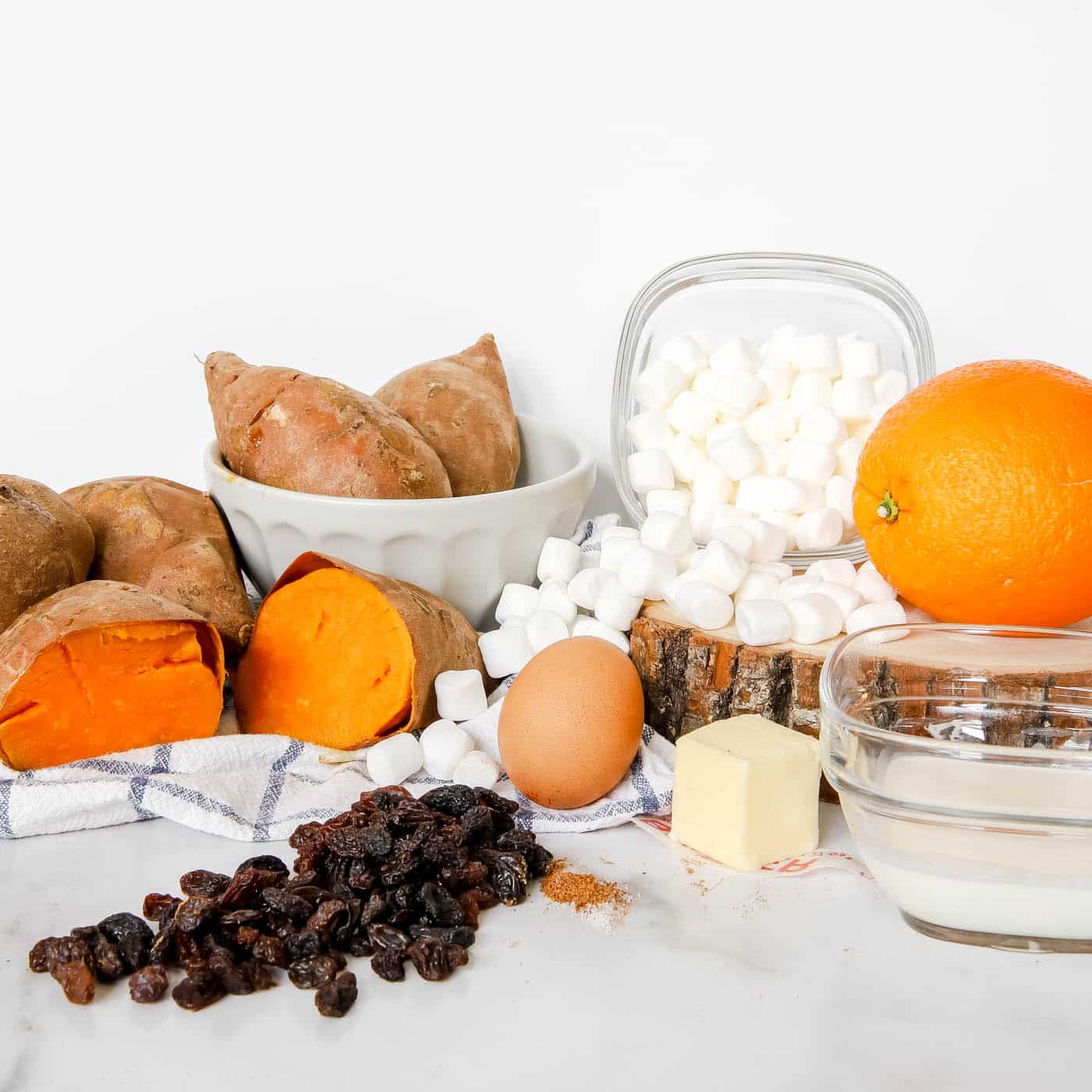 Equipment Needed for Sweet Potato Side Dish
Large bowl
9 x 9 or 8 x 8 glass baking dish
Citrus zester
Hand held mixer
What To Serve With Fluffy Sweet Potato Soufflé
Without a doubt, sweet potato soufflé is a Thanksgiving dinner favorite. Chances are, turkey is already on the menu for the night and now you're looking to fill in the other gaps. I have you covered!
Start off the night with this roasted butternut squash soup and a healthy (but mighty tasty) broccoli salad. In addition to the sweet potato soufflé, you will also want some other great side dishes. I recommend two other southern favorites, cornbread dressing, and cheesy hashbrown casserole. Trust me, everyone will be going for seconds!
Keeping in theme with the heaviness that is Thanksgiving dinner, I always turn to pie as my first dessert offering. My pecan pie recipe is the perfect combination of ooey gooey and nutty pecans for the classic dessert option. Other favorites of mine include my rich chocolate fudge pie for the chocolate lovers out there and my soft and moist carrot cake with cream cheese icing.
Of course, you can eat this dish any time of year. The same rules apply! Pair it with a meat main, some fellow veggies, other side dishes, and a fan favorite dessert.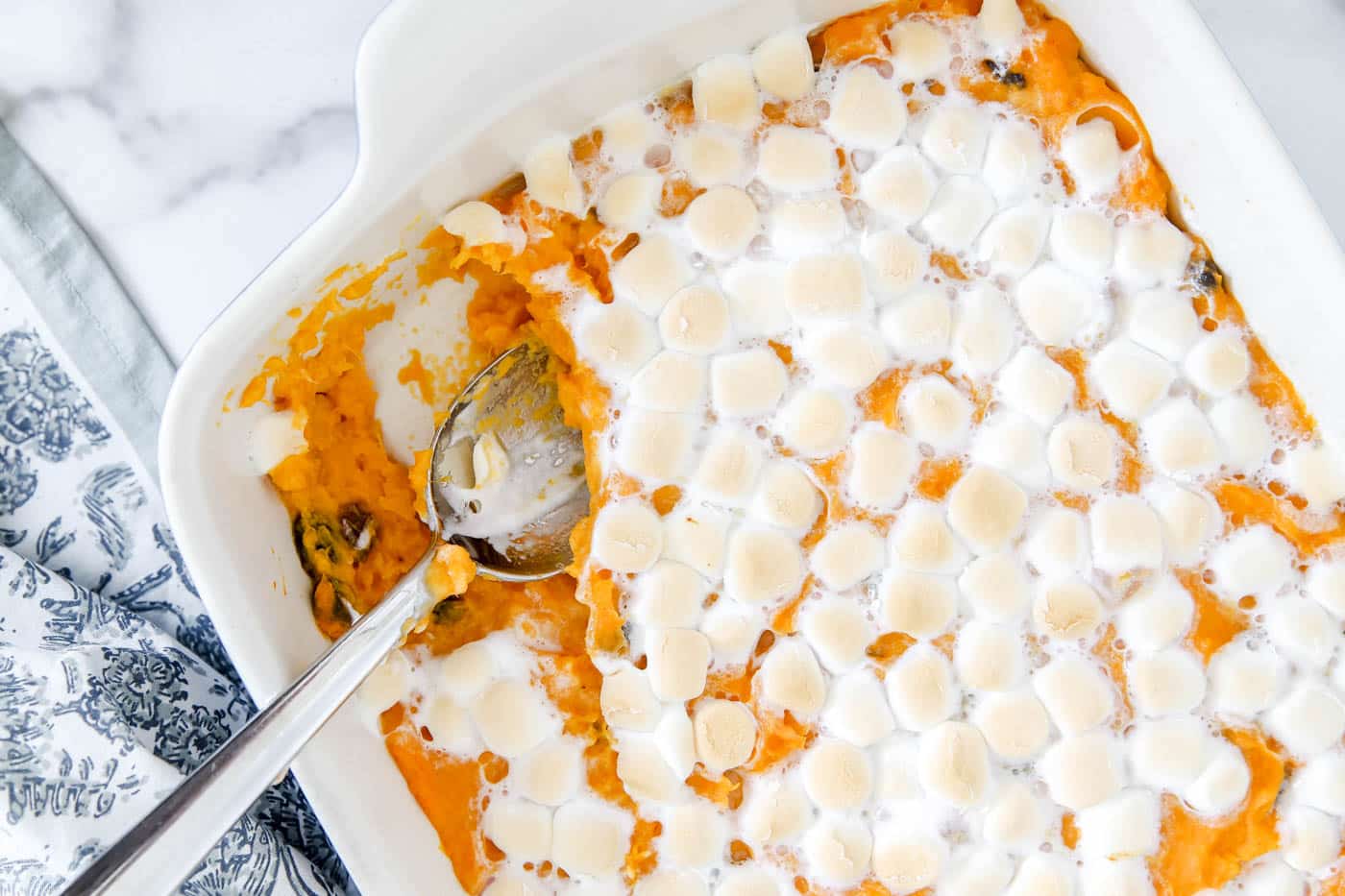 Frequently Asked Questions about Sweet Potato Soufflé
Whenever I share this sweet potato soufflé recipe, I get some of the same questions. I've compiled some of them here to hopefully make cooking that much easier for you.
If you have any other questions about the recipe, feel free to leave a comment down below and I will do my best to answer them just in time for Thanksgiving dinner!
Can you use canned yams for this soufflé recipe?
Yes, you certainly can! I always prefer to use fresh ingredients whenever possible, but I know that using canned vegetables can be a huge timesaver, especially if you are cooking a ton of other dishes as well.
Keep in mind that most canned yams will come in syrup. Be sure to drain out the syrup well as it will make the dish sweeter than normal. If you use canned yams, I wouldn't recommend adding any additional sugar as there will already be tons compared to a freshly baked sweet potato.
Can you make sweet potato soufflé ahead of time?
Yes! I know how busy cooking can get when it comes to making a huge meal for many people. If you want to make your Thanksgiving Day to-do list that much shorter, you can make this sweet potato soufflé recipe ahead of time.
To do so, prepare your dish right up until you add the marshmallows and pop it in the oven. Instead, cover the dish and refrigerate it overnight. When you're ready to enjoy it, cover the dish with tinfoil and warm the dish for approximately 20 minutes.
Once warm, take off the foil and add the marshmallows. Bake for another 10 minutes or so until the marshmallows are completely melted.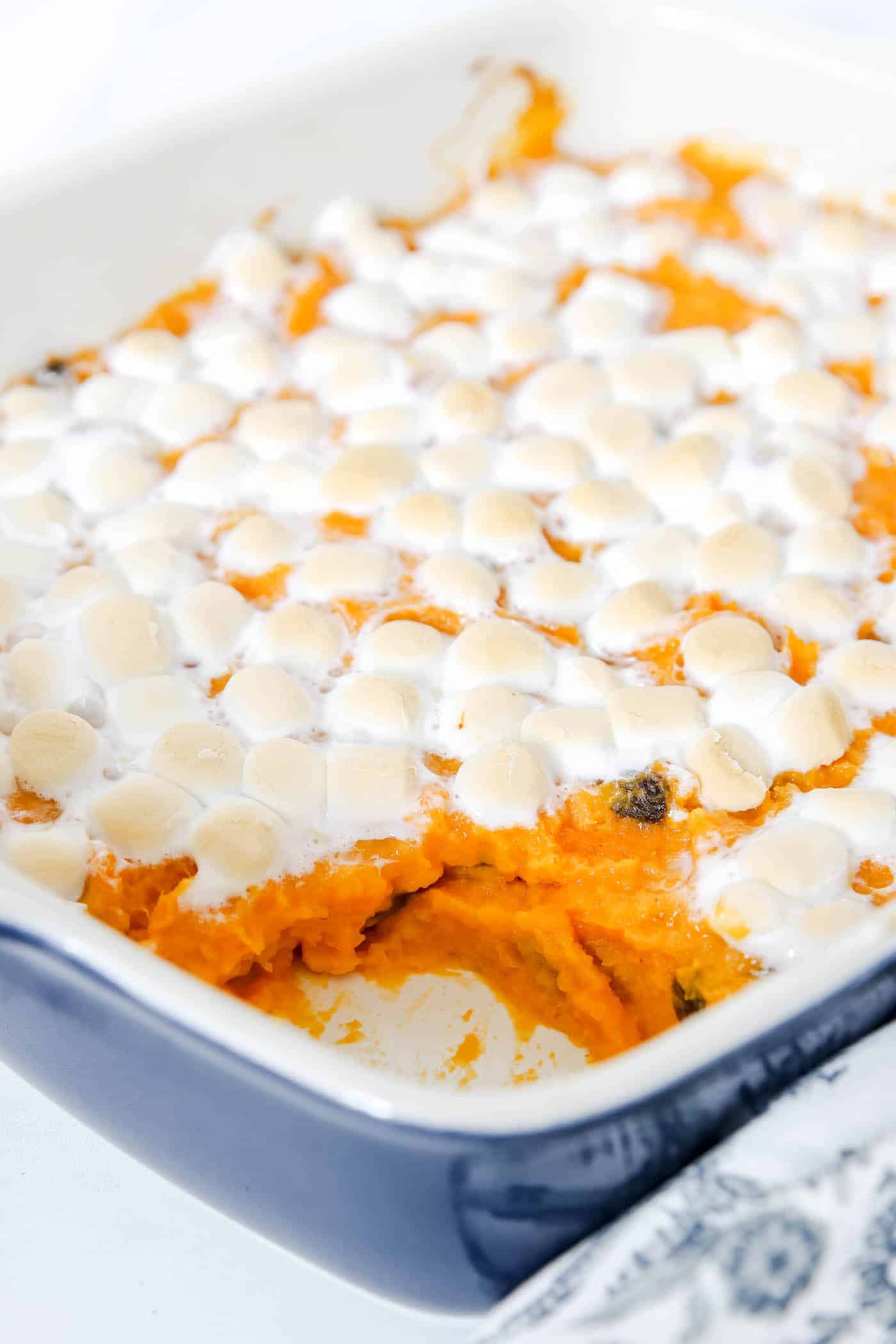 How can you store a soufflé?
If there are leftovers (which is highly unlikely), you can store them in a shallow airtight container or leave it directly in the baking dish by covering them tightly with food wrap.
When you want to divvy up Thanksgiving leftovers, you can also put them in a resealable bag. All leftovers should last between 3-5 days. But, I bet you'll finish them right away!
MORE GRANDMA-APPROVED RECIPES TO TRY
If you enjoyed this recipe for homemade soufflé, take a look at some of these other yummy recipes:
Are you excited to make this sweet potato soufflé with oranges? If so, let me know if you try it! I'd love to hear what you think in the comments below!
Print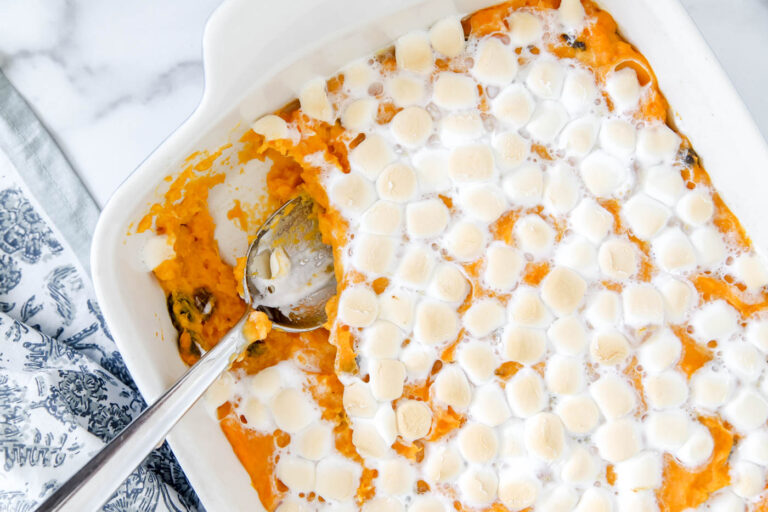 Orange Sweet Potato Soufflé
A southern Thanksgiving just wouldn't be complete without a sweet potato soufflé. I've got the perfect twist on the classic dish, with a hint of orange zest and raisins to add texture and more flavor to the sweetness. Learn how to make sweet potato soufflé, just like my grandma used to do it!
Total Time:

1 hour 20 minutes

Yield:

8

1

x
6

medium or

5

large sweet potatoes 

½ tsp

. salt

2 Tbsp

. butter

1

egg, beaten

½ cup

raisins

2

medium oranges, for zested peel

¼ cup

whipping cream (or half & half)
pinch of nutmeg

1

–

2

cups mini marshmallows, optional
Instructions
Bake sweet potatoes for 1 hour on 400 degrees.
While the potatoes are cooking, zest the orange peel until you have 3 Tbps.
Spray the baking dish with cooking spray and set aside.
Once potatoes are easily pierced with a fork, they are done cooking.
Allow the potatoes to cool enough to handle, then peel and mash well.
Add the remaining ingredients to the mashed sweet potatoes.
Whip the potato mixture with hand-held mixer until light and fluffy.
Spoon the mixture into the greased baking dish. (You can use the same baking dish that you used for baking the potatoes.)
Optional: Top with 1-2 cups of mini marshmallows to cover the top.
Bake at 375 degrees for 10 minutes until heated through (and marshmallows are melted and slightly brown on top, if you used them).
Notes
This recipe doesn't include sugar, but you can add a half a cup of brown sugar if you want a sweeter dish. If you don't add sugar, but add the marshmallows, it will add to the sweetness.
Author:

Laura

Prep Time:

10 minutes

Cook Time:

70 minutes

Category:

Side Dish

Cuisine:

American
Keywords: Thanksgiving, sweet potato