This easy coconut cake recipe is just like grandma used to make, only simpler and faster! Using yellow cake mix and shredded coconut, this cake is the perfect sweet treat to whip up on a warm summer day to enjoy with a glass of cold lemonade or sweet tea on the porch.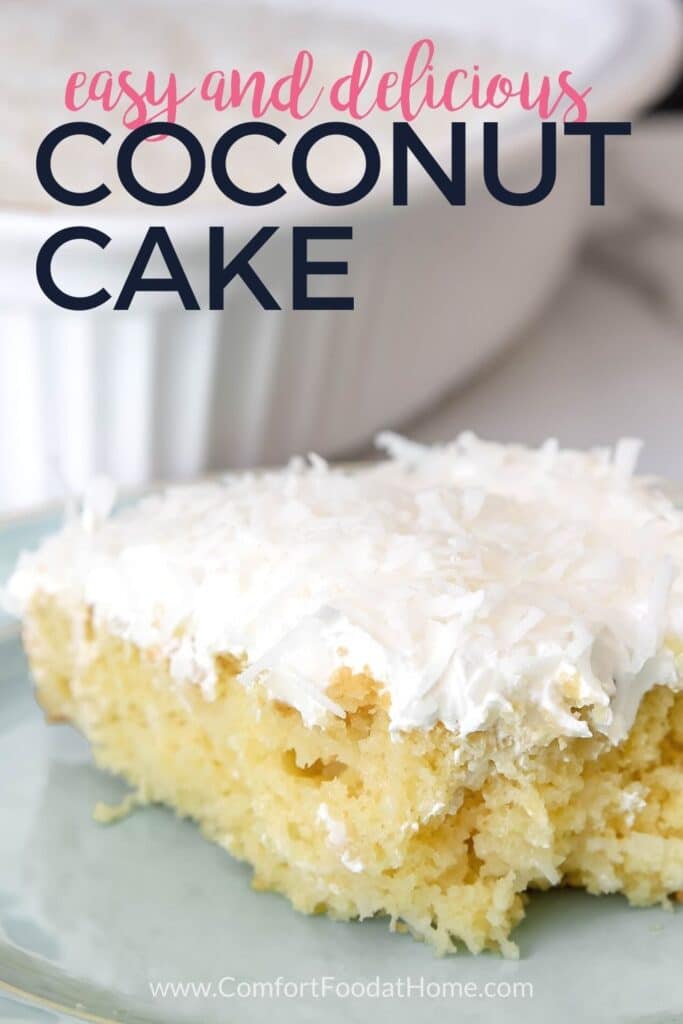 Yummy Coconut Cake – Perfect For A Hot Summer Day
Coconut cake is one of those easy and delicious cake recipes that we probably all grew up eating. This old-fashioned cake was a staple in most people's homes, especially mine! There was nothing better than coming home to find a freshly baked coconut cake on the kitchen counter.
But the best part of this whole cake is the cream of coconut poured into little holes poked all over the cake. The creamy coconut in each and every bite is so delicious!
This light cake is perfect for warm summer days spent lounging on the porch with family or friends. It is an easy recipe to quickly put together for when you are in need of a last-minute dessert. I've found that it is generally a crowd pleaser and turns out every time!
Ingredients Needed To Make Easy Coconut Cake Recipe
To make this delicious coconut cake at home, here are the ingredients that you are going to need as well as a few options for substitutions.
Yellow Cake Mix: A simple yellow box cake mix is the perfect base for this coconut cake! I found that it helps make it light and airy like grandma's cake would be with the traditional appearance of a homemade coconut cake. Use a gluten-free cake mix if you have an allergy!
Eggs: The eggs in this recipe help the cake to be nice and fluffy while still having a firm crumb and pleasing texture.
Vegetable Oil: Oil adds richness and moisture, making sure that your coconut cake recipe doesn't become dry. You could substitute other kinds of oil for vegetable oil if you need to. Mild olive oil or canola oil will work too!
Water: The liquid in this recipe helps everything come together nicely. It could also be substituted with milk or coconut milk for a richer and more moist cake.
Shredded Coconut: Shredded coconut adds just the right amount of coconut flavor and texture, giving this coconut cake a traditional feel and taste. I used sweetened shredded coconut but you can use unsweetened to tone it down some.
Coco Lopez Cream of Coconut: This cream of coconut adds richness and even more refreshing coconut flavor!
Whipped Topping: This whipped topping turns this cake into a light and refreshing summertime dessert. You could also make a simple buttercream frosting if you prefer. Just keep in mind that it will make the cake taste sweeter.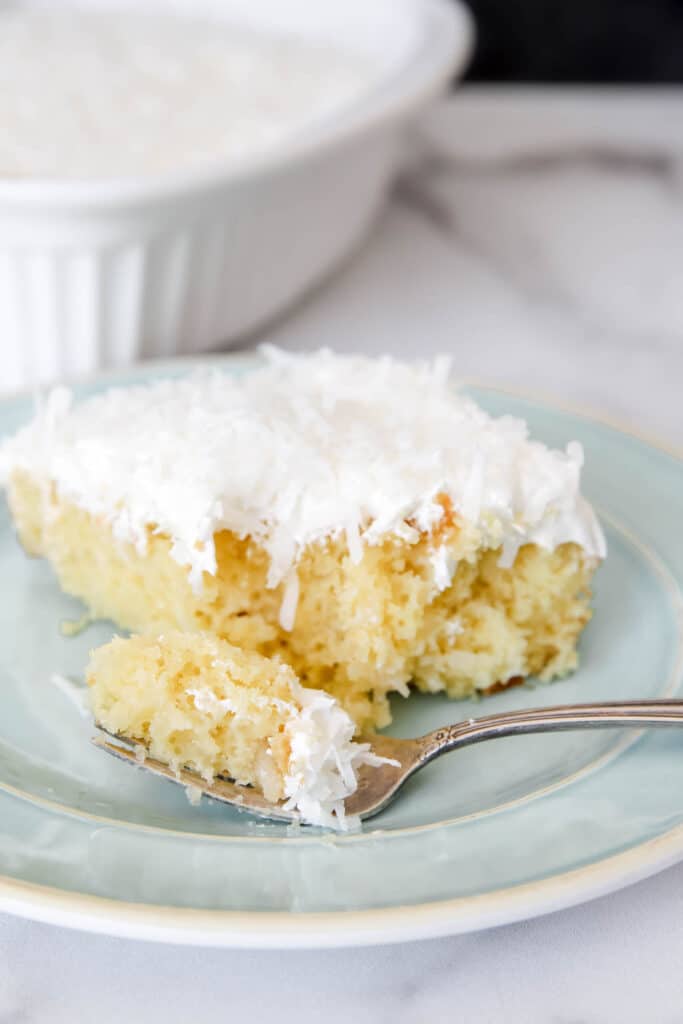 What To Serve With Creamy Coconut Cake
In the spirit of fast and easy dishes to make during those warmer months, why not serve this easy coconut cake after dinner, like this chicken and rice casserole? This is an easy meal to put together after a busy day. Plus, it can be whipped up quickly and enjoyed outside. It is also one of those 'dump and go' dishes that require very little prep work.
Or, if you are taking your cake as a dessert for a picnic or BBQ, why not make a broccoli salad to go along with it? This makes the perfect light and refreshing meal to eat outside during summer.
If you want to find the perfect summer dessert that you can serve alongside this coconut cake, why not try out this frozen lemonade pie recipe? It is cool with plenty of tartness- perfect for a warm day.
And, don't forget to serve up your deliciously homemade coconut cake with plenty of fresh lemonade or sweet iced tea! Just like grandma would!
Frequently Asked Questions About Coconut Cake Recipe
Whenever I share this recipe, I get some of the same questions. Here are the most popular ones that people ask!
If you have a question that isn't listed here, please leave them in the comments, and I'll answer them as soon as I possibly can.
How do I get the Cream of Coconut evenly dispersed?
It's important to poke a lot of little holes in the top of the cake before pouring on the cream of coconut. I use a skewer to poke a hundred or more holes in the top of the cake. And then drizzle the cream of coconut over the entire cake.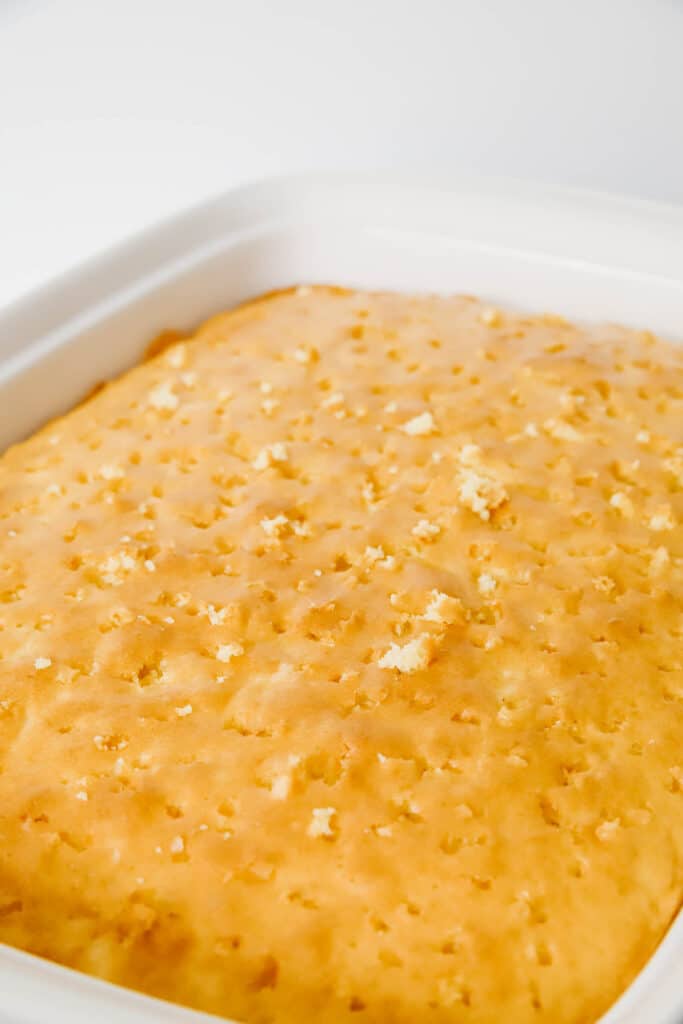 Can I use coconut milk instead of water?
You can definitely substitute coconut milk for the water in the recipe! You will most likely get a more moist and slightly more compact cake.
The addition of coconut milk will probably add extra coconut flavor as well! Even if you don't have coconut milk on hand, you could replace the water with other milk options such as full-fat milk or a milk substitute.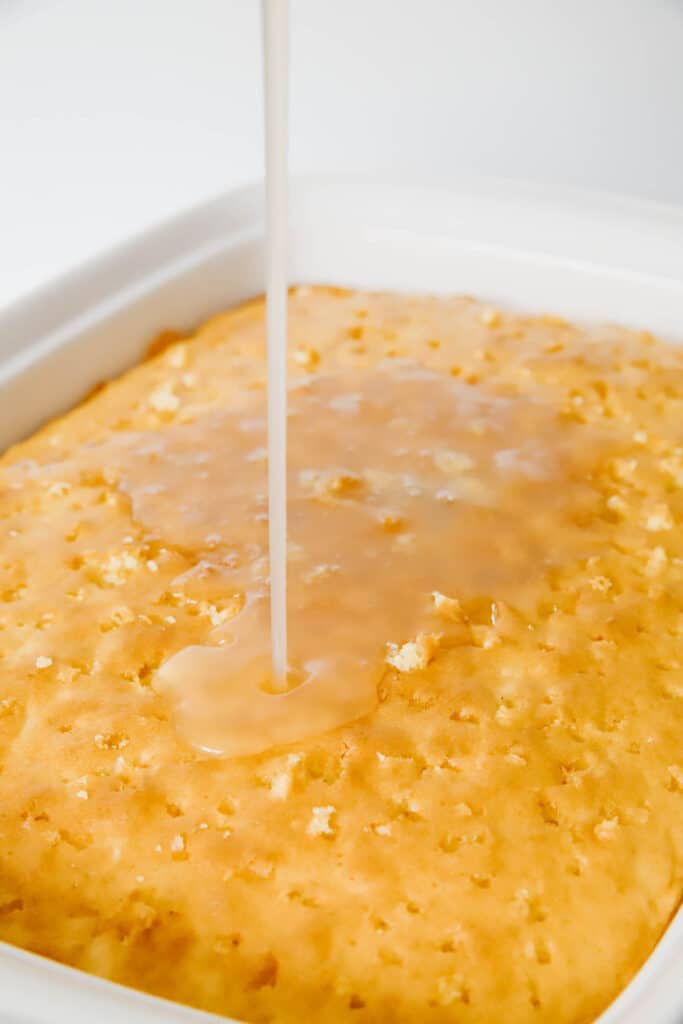 Does this coconut cake recipe need to be refrigerated?
I always recommend keeping frosted cakes in the refrigerator since the frosting could begin to melt. This cake is topped with whipped topping, which can also melt.
If you plan on eating this cake over a period of a few days, it is best to keep it refrigerated. It will stay fresher for a longer period of time this way. Just make sure to keep it covered in order to keep it nice and soft!
Can I use other kinds of cake mix for this recipe?
You can use other kinds of cake mix such as a white cake mix or a butter cake mix. These two alternatives will not affect the outcome of the cake too much. A yellow cake mix is considered the better option since it makes the perfect base for all kinds of cakes.
For a fun twist on this traditional coconut cake recipe, you could also try using a lemon cake box mix. I haven't tried this out for myself, but I imagine that it would create a more tropical-tasting cake!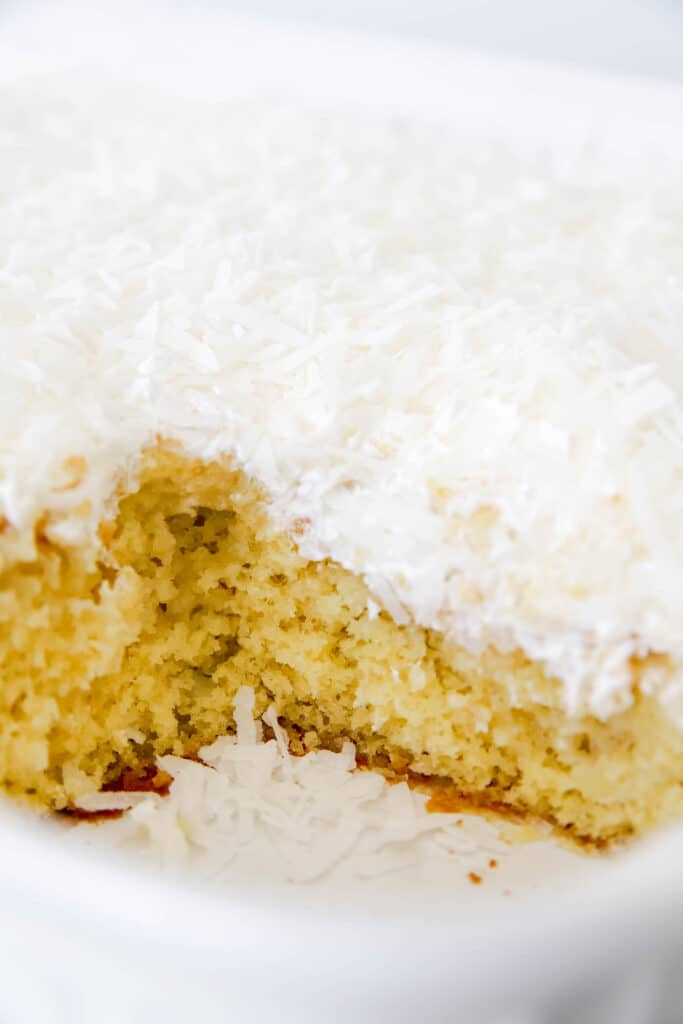 MORE GRANDMA-APPROVED RECIPES TO TRY
If you enjoyed this recipe for coconut cake, take a look at some of these other yummy recipes:
Are you going coconuts over this cake recipe? Let me know! I'd love to hear what you think in the comments below!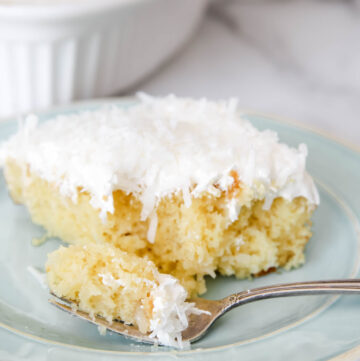 Easy Coconut Cake
This easy coconut cake recipe is just like grandma used to make, only simpler and faster! Using yellow cake mix and shredded coconut, this cake is the perfect sweet treat to whip up on a warm summer day to enjoy with a glass of cold lemonade or sweet tea on the porch.
Equipment
9 x 13 Baking Dish

Large mixing bowl

Hand mixer (or stand mixer)

Shallow bowl or dish
Ingredients
1

box yellow cake mix

3

eggs

½

cup

vegetable oil

1

cup

water

1 ¾

cups

shredded shredded coconut, divided

15

oz.

can of Coco Lopez Cream of Coconut

8

oz.

whipped topping
Instructions
Preheat oven to the temperature on the back of the cake mix box. It's usually 350 degrees for a shiny metal or glass pan, or 325 degrees for a non-stick pan.

Put the can of coconut cream in a bowl or shallow dish of hot tap water to sit while baking the cake.

Grease the bottom of the cake pan(s).

Make cake batter according to the back of the box. Depending on the brand, you'll typically use the 3 eggs, ⅓ – ½ cup of vegetable and 1 cup of water.

Add ¾ cup of shredded coconut to the cake batter.

Pour batter with added coconut into the greased baking dish and cook according to the directions on the back of the box. (If you're using a 9 x 13 pan, this is usually 28-33 minutes.)

After cake is finished baking, poke a LOT of small holes in the top of the cake with a large skewer or toothpick. The more holes the better!

Shake the can of warmed coconut cream and open it, then pouring it slowly over the cake. This allows the cream to sink down into the holes in the cake, evenly distrbuting it throughout.

Let the cake cool to room temperature.

Spread whipped cream topping over the cake.

Sprinkle the remaining shredded coconut over the cake.

Refrigerate until ready to serve.
Notes
You can use different baking pans for your cake:

2 – 8 inch round baking pans
2 – 9 inch round baking pans
bundt cake pan
24 cupcake tin

Just be sure to adjust the oven time based on which pans you use!