Spicy White Pimento Cheese Recipe
This post contains links to affiliate websites, such as Amazon, and we receive an affiliate commission for any purchases made by you using these links. We appreciate your support!
Looking for a delicious and easy appetizer to serve at your next party? Consider making this spicy pimento cheese recipe with white cheddar!
This classic southern dip is easy to make. Plus, it's perfect for any occasion – from game day gatherings to elegant dinner parties.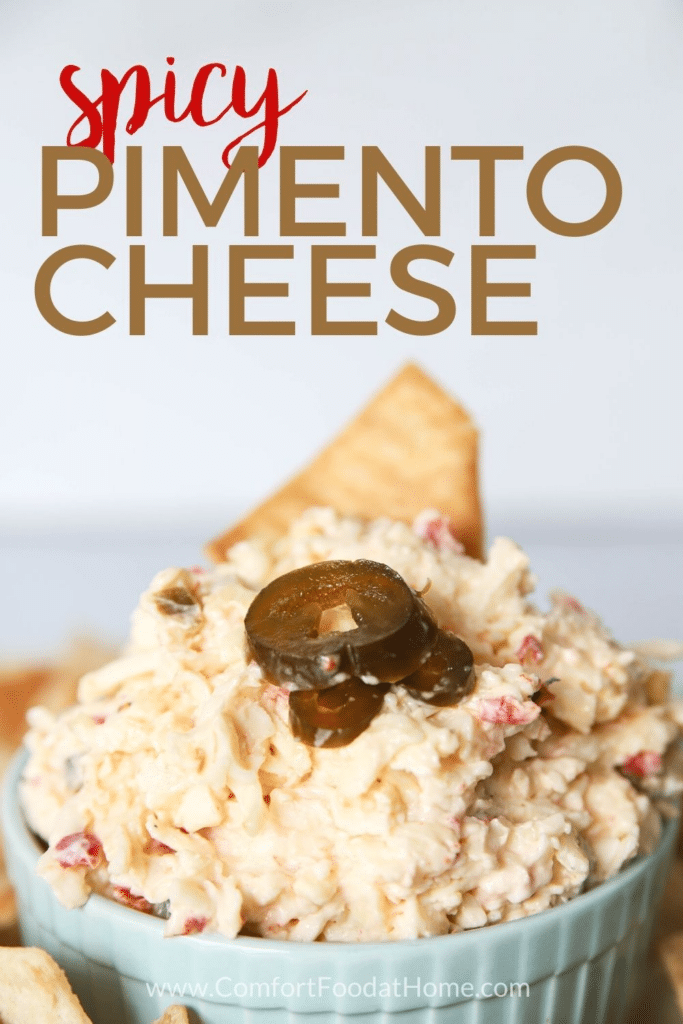 Growing up in the South, pimento cheese is a staple for our annual beach trips! Usually, I will make two batches to share – and none is left by the end of the week!
We grab some pita chips or bread and have it as a snack on the beach under our umbrellas. But it also makes a great appetizer at parties. Eliminate the jalapeños for a more kid-friendly version.
I have to say, though, this is the best pimento cheese recipe I've come up with to date! It's super easy to make and it tastes delicious.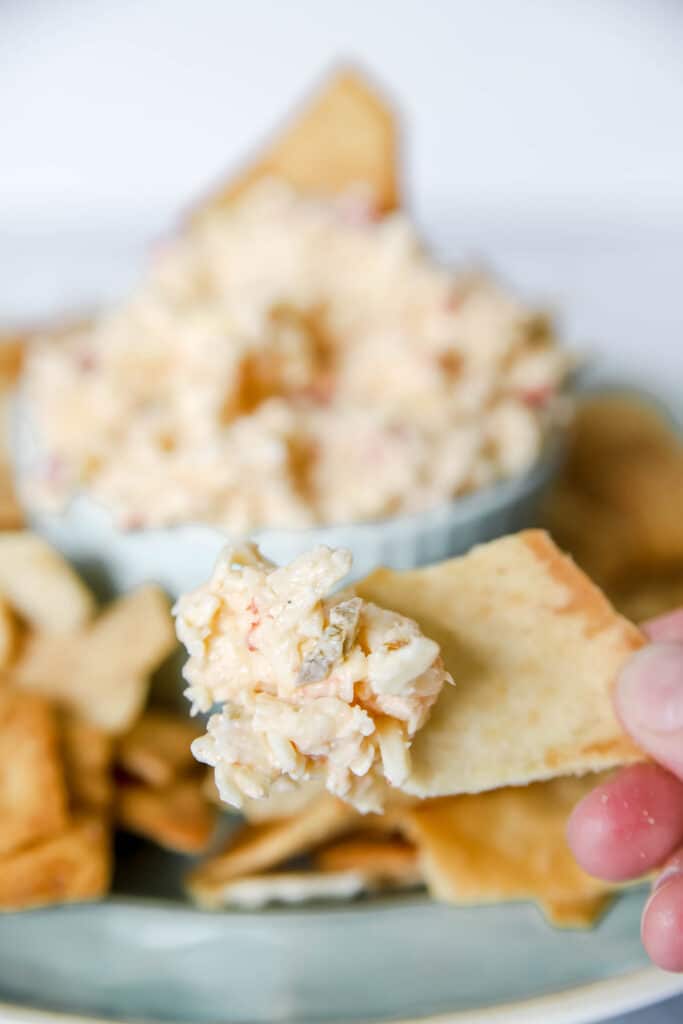 Ingredients Needed
You will need the following ingredients to make this delicious homemade pimento cheese recipe…
Sharp White Cheddar Cheese: I love using this kind of cheese! It has a sharp bold flavor that comes through the cheese dip. Try shredding your own cheese for the best flavor.
Monterrey Jack Cheese: This kind of cheese has a milder flavor but it helps balance the sharpness of the white cheddar. If you are low on time, use pre-shredded cheese.
Mayonnaise: Adding mayo to the pimento cheese dip gives it a nice creamy texture and helps bind all of the ingredients together. You can also make some homemade mayonnaise if you have enough time!
Greek Yogurt: You want to make sure you buy plain Greek yogurt to cut through all of the richness from the cheese and mayo.
Dijon Mustard: This pimento cheese recipe calls for a tablespoon of Dijon mustard. It helps cut through the creamy texture and gives it just a little bit of a zing.
Candied Jalapeños: These jalapeños have a sweet and spicy flavor. You can find these in most grocery stores or online. (I have to get it online because my local stores don't carry it.)
Pimentos: There's no pimento cheese with out pimento peppers! I can find jarred diced pimento peppers near the olives at the grocery store.
Roasted Red Peppers: This helps give the dip a bit of sweetness.
Cayenne Pepper: This is optional but it gives the pimento cheese a nice spicy kick.
Salt and Pepper: Just enough to make this dip pop!
Kitchen Equipment Needed
Here are a few things you'll need to make this yummy southern pimento cheese:
Large Mixing Bowl: You'll need a big enough bowl to mix all of the ingredients.
Food Processor: This will help to mix everything together smoothly. (This is the food processor I own, and it's fabulous!)
Cheese Grater: Use this to freshly shred the blocks of cheese if your food processor doesn't have a grater. This helps combine everything together.
What To Serve With Spicy Pimento Cheese
This is my favorite pimento cheese recipe because it can be served in so many ways!
You can serve it as a cheese dip for an appetizer or a potluck dish. Enjoy it with some pita chips or potato chips.
For a low-carb diet, make a whole veggie spread! Chop up some crunchy veggies like celery sticks, red bell pepper, carrots, cucumbers, and radishes.
I also like to make some extra pimento cheese and keep some in the fridge to make sandwiches through the week!
You can stick with the classic grilled cheese sandwiches and creamy tomato basil soup. Or, you can make a pan of these ham and cheese sliders and swap out the swiss cheese for the pimento cheese spread! Yum!!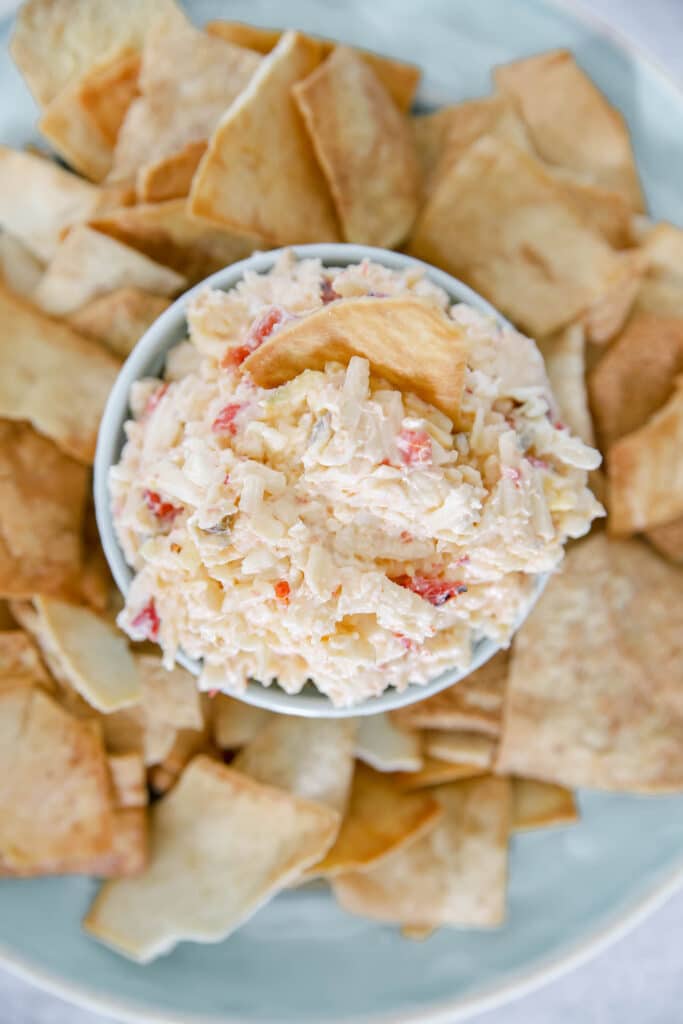 FAQS
Whenever I share this pimento cheese recipe, I get some of the same questions. Here are the most popular ones that people ask!
If you have a question that isn't listed here, please leave them in the comments, and I'll answer them as soon as possible.
Can I use light mayonnaise?
You can use light mayonnaise if you want, but I like the pimento cheese a little creamier. So I always use full-fat mayonnaise.
How can I make this cheese dip recipe spicier?
I used candied jalapenos to add more of a kick to this white pimento cheese but you can also add in some chopped poblano peppers or some more cayenne pepper.
Maybe even try some smoked paprika!
Can I make this recipe even creamier?
Yes! You can also add in some cream cheese. Make sure you buy the regular-sized blocks of softened cream cheese and use a food processor to combine all of the ingredients together.
How do I store the pimento cheese?
The pimento cheese can be stored in little glass jars in the fridge for about a week. The pimentos and jalapenos have spicy juices that will seep into the pimento cheese and make it spicier as time goes on.
So, if you don't like your pimento cheese too spicy, only keep it in the fridge for a few days.
More Grandma-Approved Recipes
If you loved this spicy pimento cheese dip, here are a few other recipes that you should try! They are all delicious and grandma-approved.
Print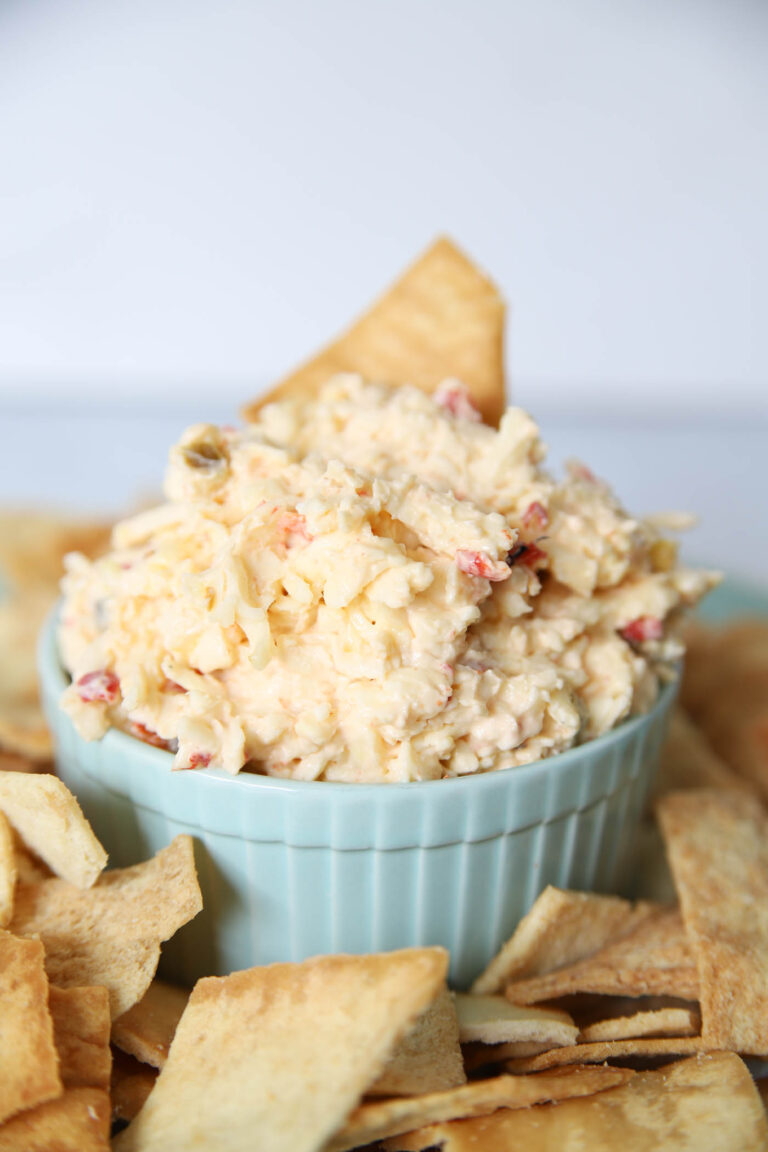 Spicy White Pimento Cheese Recipe
Looking for a delicious and easy appetizer to serve at your next party? Consider making this spicy pimento cheese recipe with white cheddar! This classic southern dip is really easy to make. Plus, it's perfect for any occasion – from game day gatherings to elegant dinner parties.
Total Time:

15 minutes

Yield:

6

servings

1

x
8 oz

. Sharp White Cheddar cheese

8 oz

. Monterrey Jack cheese

¼ cup

mayonnaise

¼ cup

plain Greek yogurt

1 Tbsp

. dijon mustard

4 oz

. pimentos, diced and drained

¼ cup

roasted red peppers, finely chopped

¼ cup

candied jalapeños
dash cayenne pepper
salt, to taste
pepper, to taste
Instructions
Grate cheese blocks with food processor or hand grater.
Finely chop pimentos, red peppers and candied jalapeños.
Combine everything in the large bowl.
Mix until well combined.
Refrigerate for a couple of hours for flavors to meld. Enjoy with pita chips or on a sandwich!
Author:

Laura

Prep Time:

15 minutes

Category:

Appetizer, Lunch

Cuisine:

American