These cheese wafers are southern comfort food that is perfect for serving at any occasion! Not only are they easy to throw together, but they taste amazing and are always a crowd-pleaser at any gathering.
Making crispy cheese wafers with Rice Krispies works as the perfect cheesy appetizer or finger food for any occasion or gathering. Your friends and family will probably be after you for the recipe after tasting one!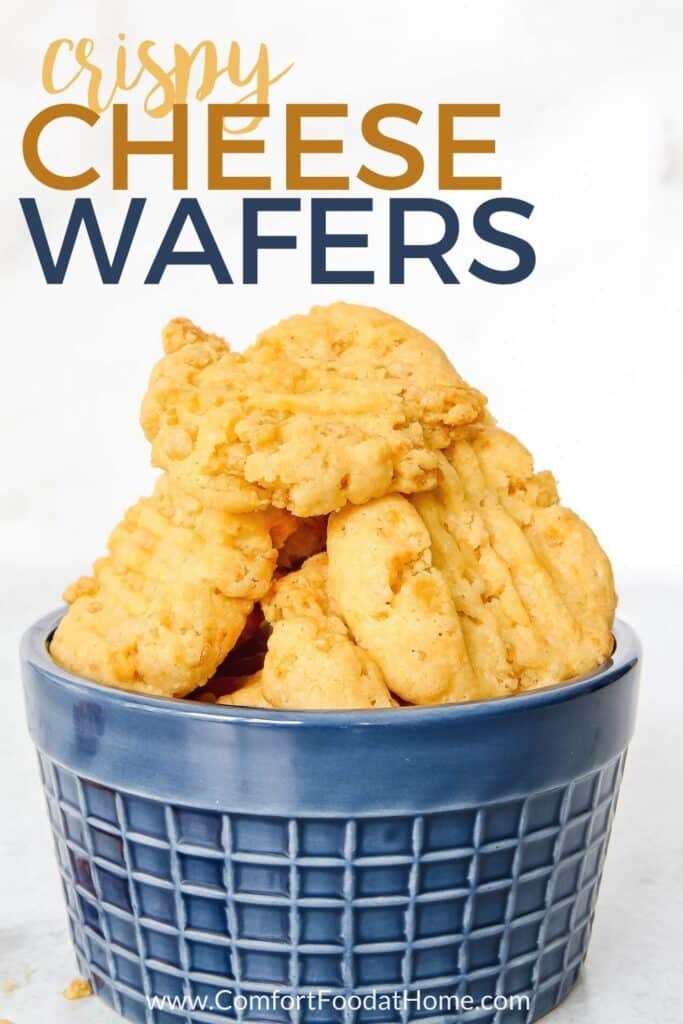 Make These Crispy Cheese Wafers With Rice Krispies For A Snack!
I love cheese! There I said it. I can't help it. Buttery, ooey, goodness… so delicious! When I came across this recipe for cheese wafers, I knew I HAD to make them.
And, I was right!
These baked cheese wafers are very similar to another southern classic snack- the cheese straw. Except, these wafers have a flaky butter crust made with freshly shredded sharp cheddar cheese.
Growing up, I always looked forward to going to weddings or parties just so I can munch on these. They are a huge staple in the south! Everyone loves them, and they are easy to make in large batches for these kinds of gatherings.
After making these cheesy treats for yourself, you will probably find yourself making them very often. They make the perfect appetizer or finger food or can be eaten as a midday snack if you like! I know that sometimes I like to whip up a batch of these tasty wafer snacks just to eat as a treat.
Not only are they easy to make, but you probably already have most if not all of the necessary ingredients already on hand. They also make a tasty side to soups and salads, adding some cheesiness and crunch to your normal meals.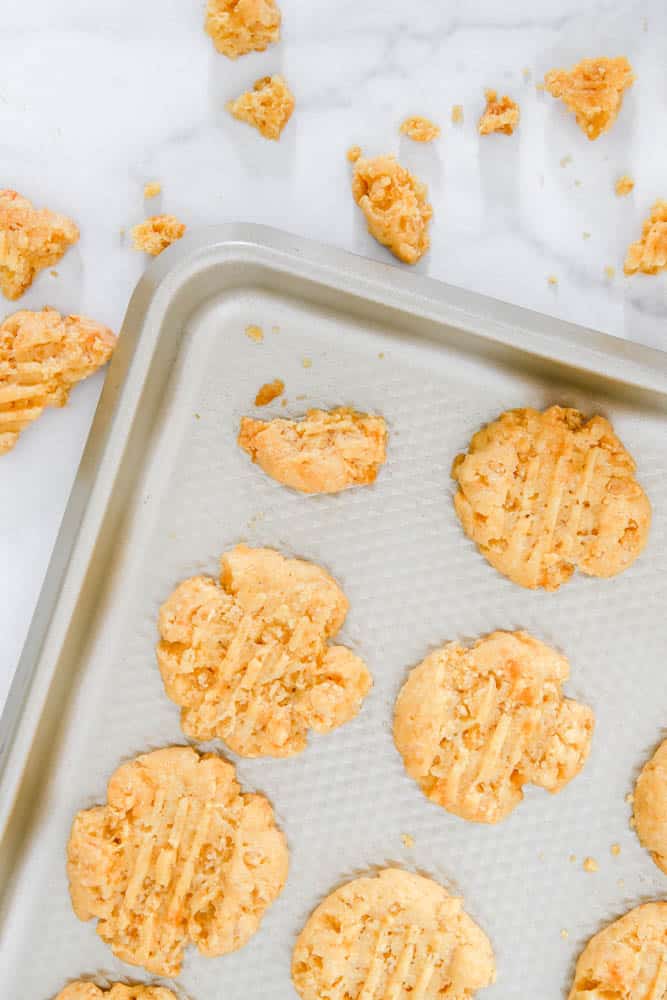 Ingredients Needed To Make Recipe For Cheese Wafers
To make this tasty recipe for cheese wafers at home, you will need the following ingredients:
Sharp Cheddar Cheese: This recipe calls for sharp cheddar cheese because of the depth of flavor that it provides. You could use regular cheddar cheese, but they won't be quite as flavorful and delicious!
Plain Flour: Plain flour helps to add structure and sturdiness to these cheese wafers. Making them easier to eat and a bit more satisfying and filling.
Butter: The amount of butter in this recipe might seem like a lot, but it helps to add richness to this recipe for cheese wafers!
Salt: A bit of salt helps to fully bring out the amazing flavor of the sharp cheddar cheese.
Crisped Rice Cereal: Crisped rice cereal adds texture and crunch to these tasty cheesy treats, making them all the more satisfying with that traditionally crunchy texture.
Tabasco: Just a dash of tabasco sauce adds a bit of much-needed heat and flavor to these cheesy treats. If you don't have Tabasco sauce, you could use your favorite hot sauce instead or leave it out altogether for less spiciness.
Cayenne Pepper: Cayenne pepper also adds a kick of spice and flavor to these homemade wafers. You could use other kinds of pepper, such as black pepper if you don't have cayenne. Smoked paprika would also add a nice bite of flavor!
What To Serve With Crispy Cheese Wafers
If you are hosting a wedding, baby shower, or any other kind of gathering, this recipe for cheese wafers makes a great appetizer. They are the perfect finger food for any kind of gathering that you might host whether it be a large event or just a family get-together at your home.
They would pair perfectly with some Bisquick sausage balls as well for a satisfying spread of appetizers. Both are simple to make and can be made in large batches!
I'm excited to try it out the next time I make a charcuterie board.
If you wanted to make some of these wafers to have as a cheesy side dish, you could serve them alongside some roasted butternut squash soup. This makes a comforting dinner that everyone will love!
They would also go well with a pasta dish like this recipe for creamy chicken fettuccine alfredo. Or, you could simply eat these tasty wafers all on their own as an amazingly cheesy and crunchy snack!
Just keep track of how many you are eating. They are so good that you might find yourself devouring the whole batch in one sitting!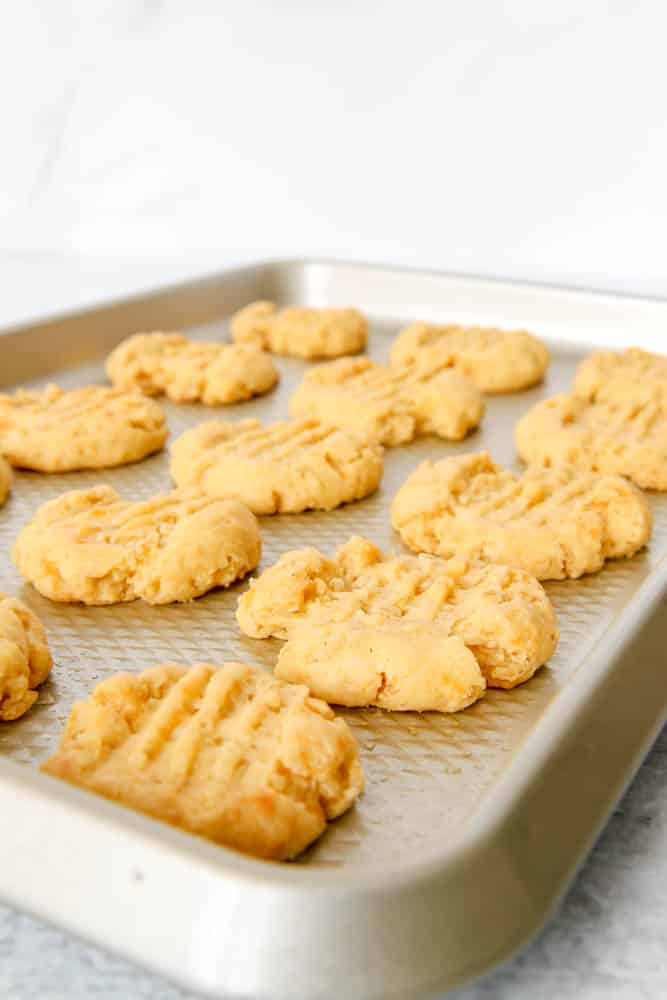 Frequently Asked Questions About Cheesy Wafers
Whenever I share this recipe, I get some of the same questions. Here are the most popular ones that people ask!
If you have a question that isn't listed here, please leave them in the comments, and I'll answer them as soon as I possibly can.
Can I make these wafers with other kinds of cheese?
I have never tried making these wafers with any kind of cheese other than sharp or regular cheddar cheese.
Cheddar provides a strong flavor that other cheeses might lack. It is also a hard cheese, which helps to hold these wafers together and make them easier to eat.
Because of those things, I am not sure if any other cheese would provide the same results or would hold together as it should.
If you were to swap it out, I would try using a hard cheese.
Can this recipe be made with low-fat cheese?
Because low-fat cheese doesn't really have, well, fat, I am not entirely certain that the recipe will still work with it.
Your cheesy wafers might end up being too dry and crumbly without the extra fat from the cheese. To combat this, you could add a bit of extra butter to the recipe.
But, you can always try it out to see for yourself. And, if you do, let me know how they turned out!
How long will these wafers last?
If stored in an airtight container, these wafers should last up to 4 days. It is best to store them in the fridge if you don't plan on eating them within a day or two. Keep in mind that they will get softer when they are stored for over 2 days.
For very crunchy wafers, it is best to eat them within the first or second day.
You could also freeze them for up to 4 months if you want to have them on hand. When you are ready to eat them, just take them out and leave them to defrost until they are at room temperature!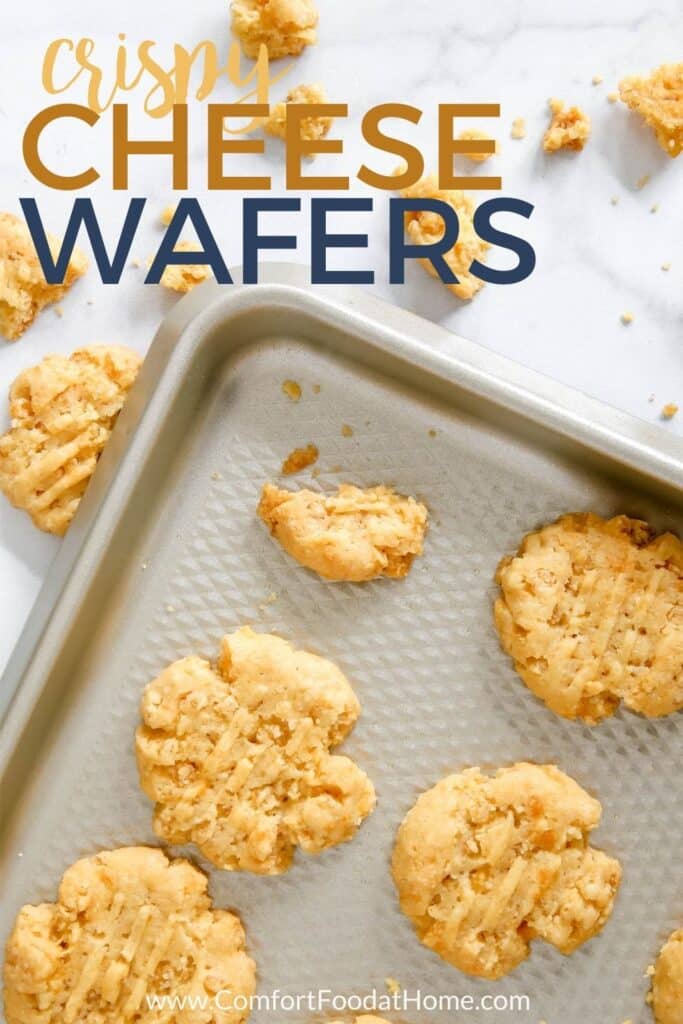 MORE GRANDMA-APPROVED RECIPES TO TRY
If you enjoyed this recipe for cheese wafers, take a look at some of these other yummy recipes:
So which are you? Team cheese straws or team cheese wafers? I'd love to hear what you think in the comments below!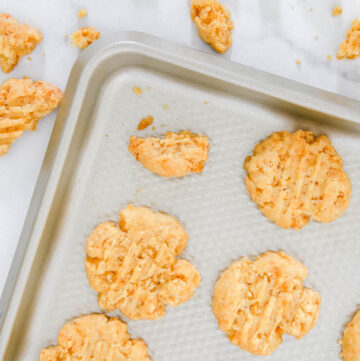 Crispy Cheese Wafers
These crispy, yet flaky, cheese wafers are the cousin of the southern staple: the cheese straw. It's a delicious blend of sharp cheddar cheese and a flaky crust with a hint of spicy heat. You'll find these delicious appetizers to be a staple at many southern wedding and baby showers!
Equipment
Baking Sheet

Grater

Medium mixing bowl

Pastry cutter/blender tool
Ingredients
2

cups

sharp cheddar cheese

2

cups

plain flour

1

cup

butter (2 sticks)

1

tsp.

salt

2

cups

crisped rice cereal

dash

of tabasco

cayenne pepper, to taste
Instructions
Preheat oven to 350 degrees.

Grate cold cheddar cheese (by hand or in food processor) until you get 2 cups.

Let cheese and butter soften until room temperature.

Cut cheese into flour with the pastry cutter tool until well mixed.

Add remaining ingredients, crisped rice cereal last.

Mix with your hands to combine and roll into small 2-inch balls.

Press the balls with a fork.

Arrange on a baking sheet about 2 inches apart and bake for 15 minutes on 350º.

Let cool and serve at room temperature.
Notes
It's best to use a block of cheddar cheese and grate it by hand or with a food processor. This will mix better with the rest of the ingredients and make for a creamier texture.