If you don't like radishes, you just haven't tried this radish potato salad recipe! This recipe will change your mind about radishes since they are so good in this dish. I normally am NOT a fan of these bite-sized vegetables, but in this case, they are delicious! So, even if you think you wouldn't like this side dish, I encourage you to at least try it! It's very good.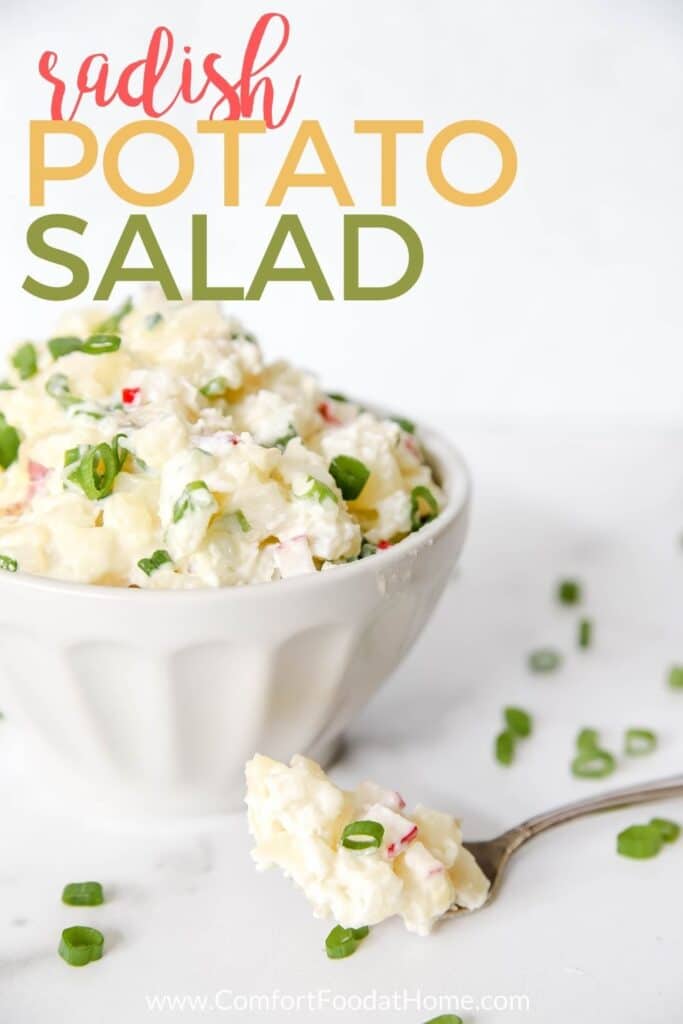 Radish Potato Salad- Light and Bright For An Outdoor BBQ!
Have an abundance of radishes? Me too! And, that's what inspired me to whip out this recipe. My mom got this salad recipe from a dear friend who lived in Ukraine for a while, and I think that she brought it back home with her.
It is a delicious dish that is reminiscent of the traditional potato salad that I remember my mom and grandma both making often growing. I mean- potato salad is a staple in the south and everyone makes it different. So, when I saw my mom adding these baby radishes to a classic, I didn't know what to think.
But, you know what they say? Don't knock it before you try it!
Radish potato salad is creamy and light- perfect for summer when you want to make easy meals that can be chilled. This recipe is a fun way of adding more radishes to your diet without having to experience all of their zingy flavors!
This post contains affiliate links for your convenience.
Ingredients Needed To Make Homemade Potato Salad With Radishes
To make this potato radish salad, you will need the following ingredients:
Red Potatoes: Red potatoes are one of the main ingredients in this dish and add a bunch of heartiness. Potatoes are very filling and always leave you feeling satisfied.
Radishes: Radishes make up the second half of this recipe and pair beautifully with the mildness of the red potatoes. They add just the right amount of zing to this recipe, giving it lots of flavor!
Green Onions: Green onions are a complementary flavor in this salad and help to brighten it up. They are the perfect ingredient if you are wanting a burst of fresh flavor to brighten up a dish.
Mayonnaise: Mayonnaise is literally the glue that holds this dish together. It helps everything to combine into a delicious and creamy salad.
Durkee Famous Sauce: This Durkee sauce adds a punch of flavor to this salad and makes it taste that much better. I love to add this sauce to all kinds of creamy salads for more flavor.
Milk: Milk helps to thin everything out, making it easier to coat the potatoes and radishes completely. This is important in order for everything to be flavorful.
Salt: A pinch of salt makes all of the difference by bringing out the flavors and making it more savory.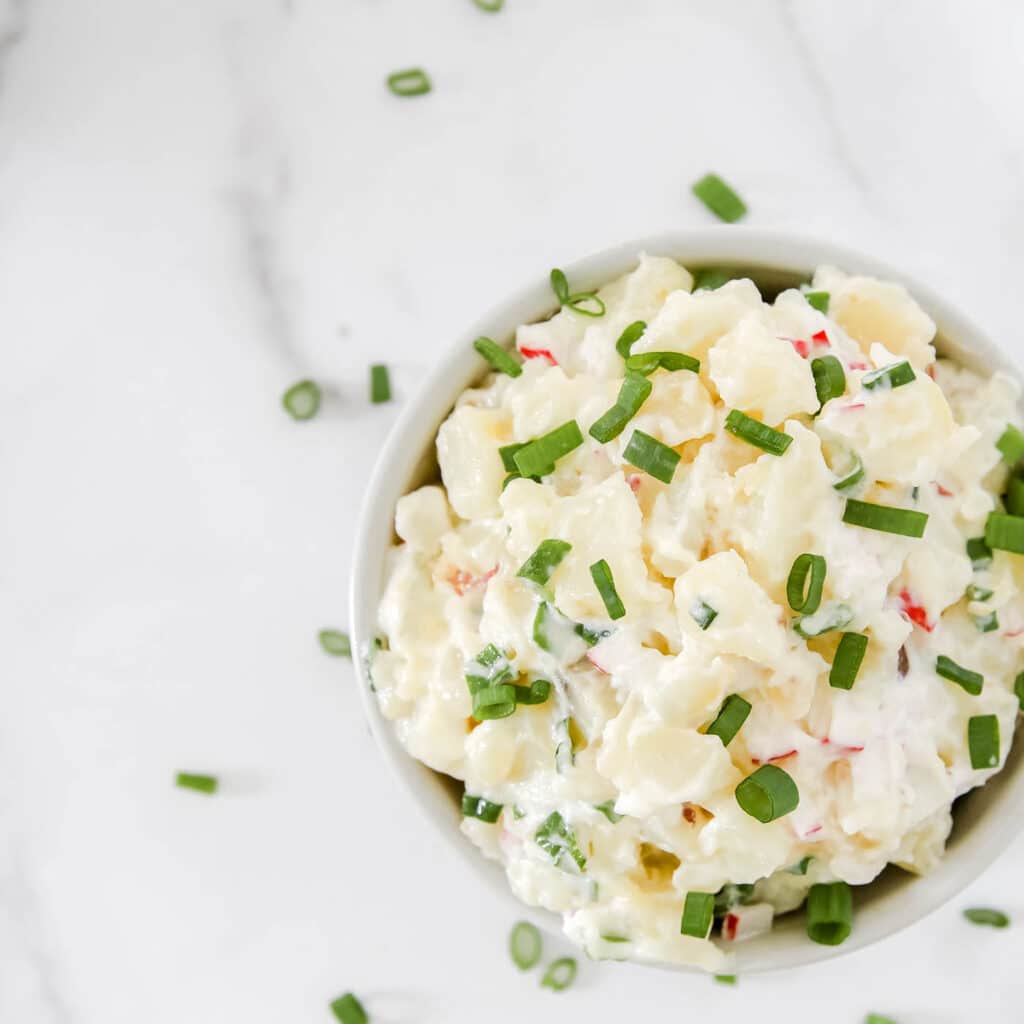 What To Serve With Radish Potato Salad Recipe
This radish potato salad is a delicious side dish that you can pair with all kinds of main dishes for a tasty summer meal.
It would be amazing served with this easy chicken and rice casserole! Or, this recipe for creamy chicken fettuccine alfredo.
It also goes well alongside other side dishes like this recipe for cheesy broccoli rice casserole or even some crusty french bread.
You could even eat this salad as a sandwich between some hearty slices of bread for a quick lunch! It is delicious no matter how you serve it or what you serve it with.
Frequently Asked Questions About This Radish Salad Recipe
Whenever I share this recipe, I get some of the same questions. Here are the most popular ones that people ask!
If you have a question that isn't listed here, please leave them in the comments, and I'll answer them as soon as possible.
Can I make this salad without potatoes?
You definitely can make this radish salad without potatoes. In fact, there are many recipes that exclude potatoes completely!
The most common substitute that I have seen for potatoes is hard-boiled eggs. It gives a similar texture and bulks up the salad in the place of the potatoes.
This is a great option if you are on the keto diet or are trying to cut back on carbs.
Can this recipe be made vegan-friendly?
If you are vegan or know someone who is vegan, this is still a good recipe for you! This salad can be made without milk or mayonnaise with a few simple adjustments.
Instead of regular milk, you could use plant milk like almond or soy milk. And, to replace the mayonnaise, you could use a vegan mayo or vegan unsweetened yogurt.
You will also need to leave out the Durkee Famous sauce. Add more seasonings to the salad to make up for the flavor.
Can I store this salad in the fridge?
Yes, you can store this salad in the fridge for later if you have made too much or want to eat it for a few days.
It should last in the fridge for 3 to 5 days and still stay pretty fresh.
What makes this recipe different from potato salad?
This recipe is definitely very similar to potato salad, except for the addition of radishes. The radishes give this salad a whole new flavor profile, making it completely different from potato salad.
I also find this potato radish salad to be less heavy and more refreshing than traditional potato salad.
If you enjoy potato salad but are looking for another option, this is a great salad to try!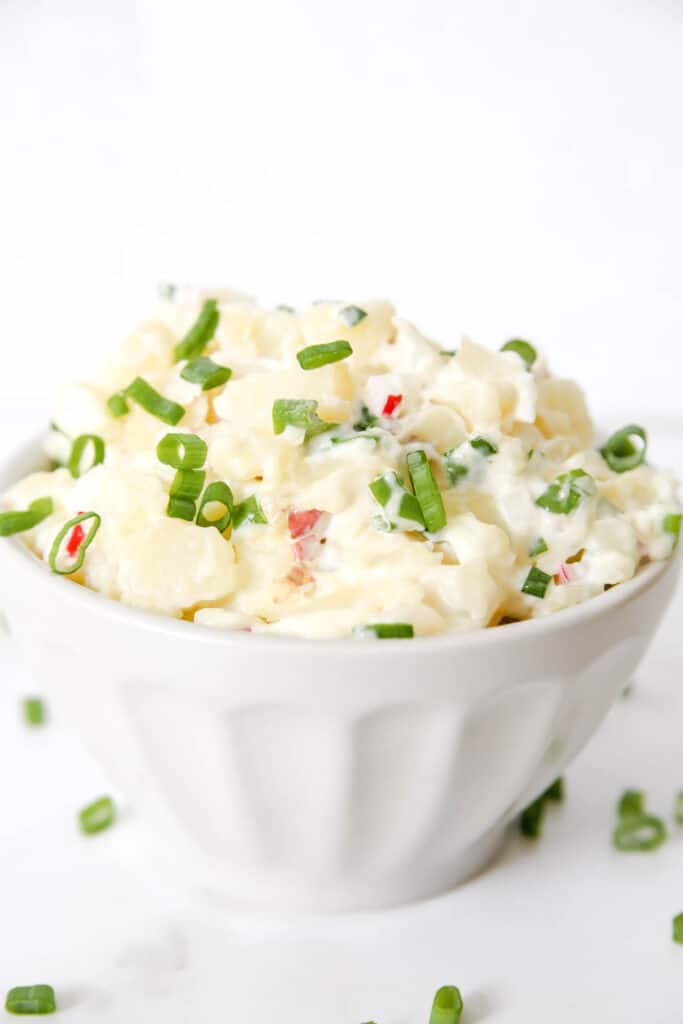 More Grandma Approved Recipes
If you loved this potato salad with radishes, here are a few other recipes that you should try! They are all delicious and grandma-approved.
Radish Potato Salad
Equipment
large pot

Large mixing bowl

Cutting Board

Sharp knife for cutting fruits and vegetables

Colander
Ingredients
6

red potatoes

6

radishes

6

green onions

1

cup

mayonnaise

1

Tbsp.

Durkee Famous Sauce

½

cup

milk

salt, to taste
Instructions
Rinse and dry all produce.

Place potatoes in a large pot and cover them with water.

Boil potatoes for about 45 minutes, or until pierced easily with a fork.

While the potatoes are cooking, chop the radishes and green onions.

When the potatoes are finished boiling, drain the potatoes and let them cool.

Once potatoes are cooled down enough to handle, peel the potato skins and cut into small pieces.

Sprinkle the potatoes lightly with salt.

Mix the mayonaisse, Durkee sauce and milk in a large bowl.

Add the potatoes, radishes and green onions to the mayonaisse mixture. Stir to combine.

It will be a little "sloppy," but will absorb over time and be better the next day.

Store in the refrigerator and serve chilled.