This strawberry pretzel salad is a delicious and refreshing dessert for any family get-together! This old-fashioned recipe tastes just how grandma used to make it and will send you back to childhood summers. I mean- it's strawberries and pretzels… what's not to love?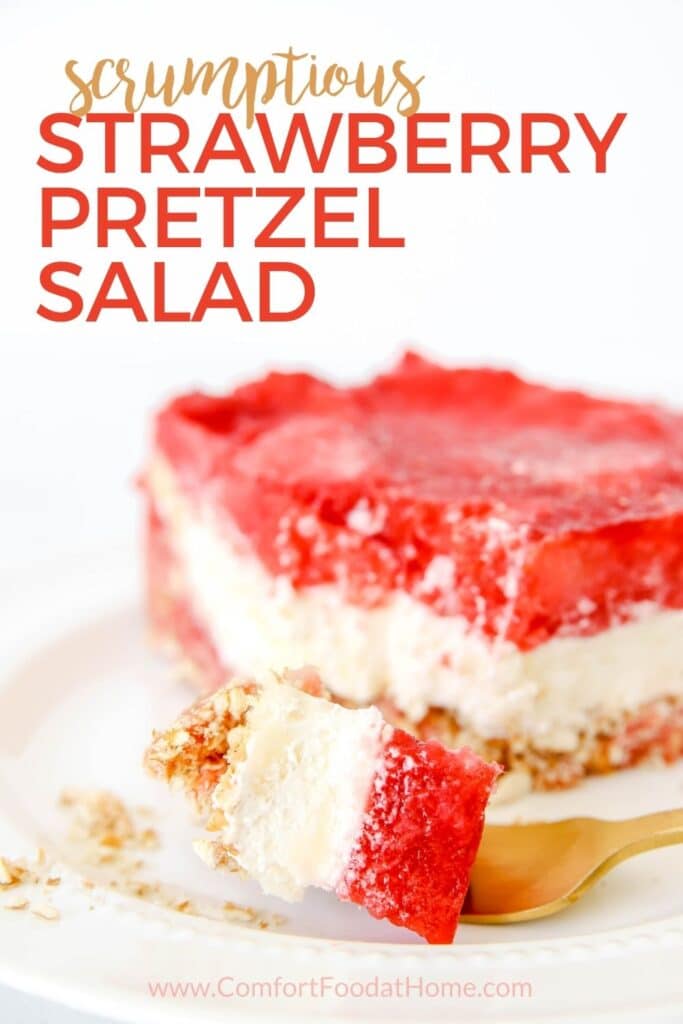 Strawberry Pretzel Salad: A Refreshing Summer Dessert!
This scrumptious old-fashioned strawberry pretzel salad recipe is a classic southern treat for summertime!
It is refreshing and light with an explosion of bright strawberry flavor complimented by creamy cream cheese center and whipped cream.
This strawberry salad recipe is one of my kids' favorite and they always beg me to make it just like "Grammy" does during those hot summer days. It's a great dessert to take to your next family BBQ or neighborhood block party. Your friends and family will love it and will be asking you for the recipe! (Although my Grammy loved it so much, she would serve it at Thanksgiving every year, as well!)
My favorite part about this "salad"? I can quickly whip it up in the kitchen without having to labor over a hot stove for an hour. It is one of those recipes that take minimal prep work to make.
This strawberry pretzel salad is full of fresh strawberry flavor and pairs perfectly with a cold glass of sweet tea!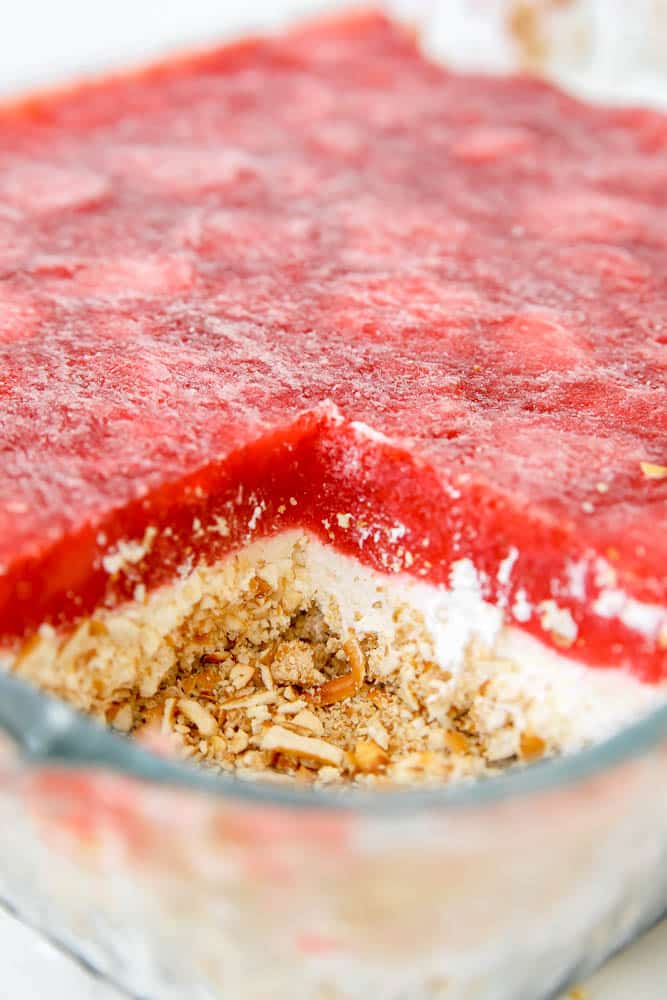 Ingredients Needed to Make Old Fashioned Strawberry Pretzel Salad
To make this strawberry jello pretzel salad recipe, these are the ingredients that you are going to need:
Pretzels: Pretzels are what are used to make up the crumb base of this recipe. Pretzels create a unique and salty-tasting crust that helps hold all of the other ingredients together.
Butter: Adding butter to the pretzel crust helps it to become more stable and firm, but it also adds additional flavor. It makes the crust rich and buttery!
Sugar: Sugar helps this dish to become more of a dessert and brings out the brightness of the flavors. You could use white sugar or cane sugar, depending on what you have on hand.
Frozen Strawberries: Frozen strawberry slices make up a large part of this recipe. They provide flavor and texture to the jello layer. If you don't have frozen strawberries, you could also replace them with fresh strawberries finely sliced.
Cream Cheese: Cream cheese adds a creamy and refreshing element to this strawberry pretzel salad. It makes up the middle layer of this dessert and makes it a bit richer.
Whipped Topping: Whipped topping is added to the middle layer to help the cream cheese not be overpowering. It also helps to lighten the dessert and make it feel more summer-friendly!
Strawberry Jello: Strawberry jello is an important ingredient for the top layer of strawberry jello pretzel salad. It helps to create a solid layer for the frozen strawberries to be suspended in. It also adds additional strawberry flavor to the dessert.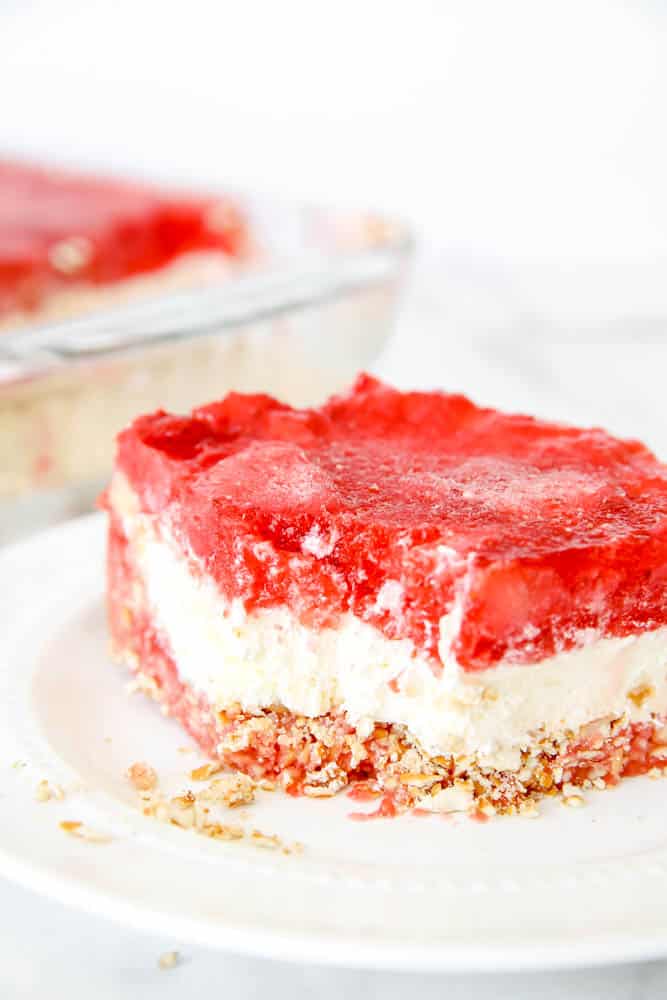 What To Serve With Pretzel and Strawberry Salad
This light and refreshing summertime dessert would be a delicious dessert for any occasion! If you are taking it to a gathering or BBQ, it would be the perfect dessert to serve alongside this equally refreshing frozen lemonade pie.
It is the perfect dessert for any light meal like these baked sweet potatoes!
Strawberry pretzel salad makes a delicious dessert, but it is also good all on its own! Served with a cold glass of lemonade or sweet iced tea.
Frequently Asked Questions About Strawberry Jello Pretzel Salad
Whenever I share this recipe, I get some of the same questions. Here are the most popular ones that people ask!
If you have a question that isn't listed here, please leave them in the comments, and I'll answer them as soon as I possibly can.
Can I make this dessert sugar-free?
If you are cutting back on sugar, you can make this dessert sugar-free with just a few changes to the original recipe.
You will need to buy sugar-free jello, whipped topping, and frozen strawberries. You can also replace the added sugar in the recipe with stevia or any other natural or artificial sweetener.
How much you add will depend on how sweet you want the dessert as well as what kind of sweetener you are using.
Can a strawberry salad be made ahead of time?
Yes! This strawberry jello pretzel salad can be made ahead of time if necessary. It can be stored in the fridge for up to three days. In fact, this dessert is best served after 24 hours since the extra time allows it to be completely set.
I recommend that you make it the day before you plan to eat it so that it will be as fresh as possible.
Can I make strawberry pretzel salad without jello?
If you do not want to use strawberry jello, you could try to cook the frozen strawberries down into a jam. This would solidify into a similar jelly layer as the jello creates, but it might affect the flavor of the dessert.
You could also try using unflavored gelatine instead of jello if you are looking for a healthier option. Just keep in mind that it won't be as flavorful without the strawberry jello.
Can I freeze this dessert to use later?
I have never tried to freeze this recipe, but I would assume that it wouldn't hold up very well. Dairy products tend to separate if they have been frozen and thawed out.
This would give your strawberry salad a very unappealing appearance, even if it still tasted fine. Since the cream cheese and whipped topping would most likely separate, I wouldn't recommend it. It might even become a bit watery, which would make the crust soggy.
How can I make strawberry pretzel salad gluten-free?
To make this recipe gluten-free, all you need to do is purchase gluten-free pretzels from your local grocery store or health food store.
They will act the same in the recipe, and no one will even be able to tell the difference!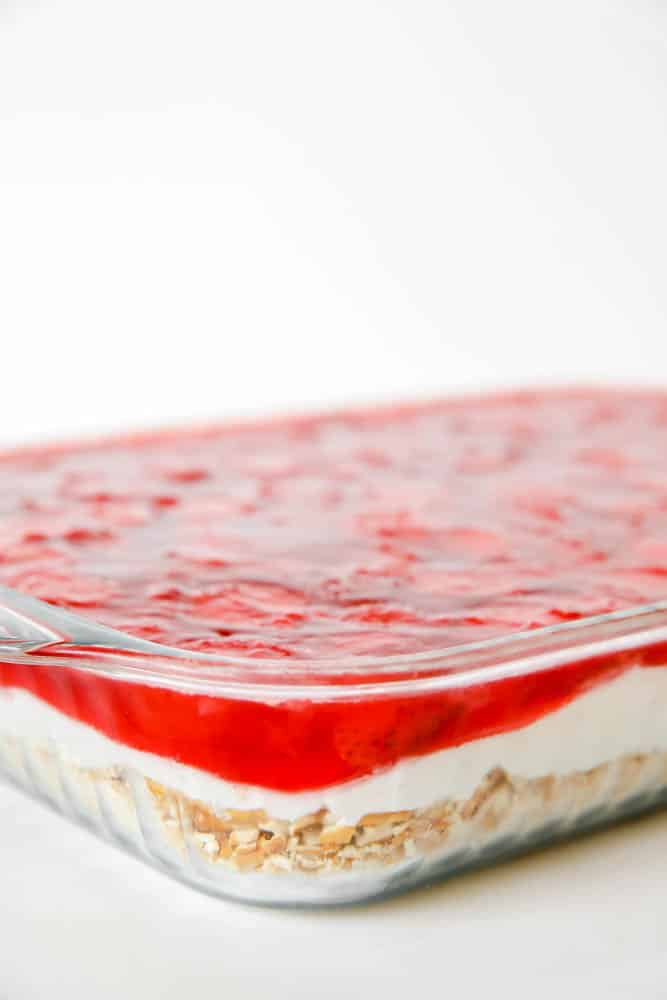 More Grandma Approved Recipes to Try
If you enjoyed this strawberry jello pretzel salad recipe, here are some other grandma-approved recipes that you should try for yourself!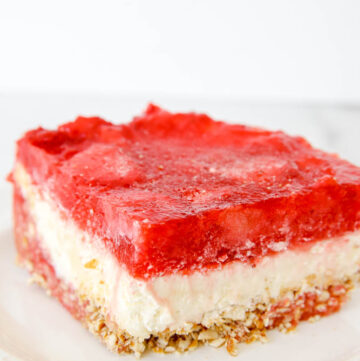 Strawberry Pretzel Salad
This strawberry pretzel salad is a delicious and refreshing dessert for any family get-together! This old-fashioned recipe tastes just how grandma used to make it and will send you back to childhood summers. I mean- it's strawberries and pretzels… what's not to love? 
Equipment
Large mixing bowl

Medium mixing bowl

9 x 13 inch baking pan

Hand mixer (or stand mixer)
Ingredients
2 ½

cups

pretzels, coarsely crushed

⅓

cup

butter

3

Tbsp.

sugar

8

oz.

cream cheese

2

cups

boiling water

1

cup

sugar

8

oz.

container of whipped topping

6

oz.

strawberry Jello (2 – 3 oz. packages)

20

oz.

frozen sliced strawberries (sweetened)
Instructions
Preheat oven to 350 degrees.

Combine crushed pretzels, softened butter and 3 Tbs of sugar. Mix well.

Press in the bottom of a 9" x 13" pan and bake at 350 deg for 10 minutes.

While the crust is baking and cooling, cream the softened cream cheese and 1 cup of sugar in a medium mixing bowl.

Gently fold in the 8 oz. whipped topping, mixing well.

Spread cream mixture over the cooled pretzels.

In a large mixing bowl, dissolve the Jello into 2 cups of boiling water.

Add the frozen strawberries to the Jello, breaking them up with a fork as you stir.

Chill strawberry Jellow mixture until slightly thickened.

Pour over the Cool Whip layer.

Refrigerate for 4 hours, until completely set.
Notes
This is the perfect dish to make ahead of time since you need to chill it for 4 hours after making it!