Overnight Breakfast Casserole With Sausage
Breakfast casserole with sausage is the perfect dish for a big family breakfast or brunch. This easy and delicious recipe can be made overnight and just popped in the oven in the morning.
All you need are 7 simple ingredients. It's perfect for meal prep or to feed a crowd, this savory breakfast casserole is sure to please everyone!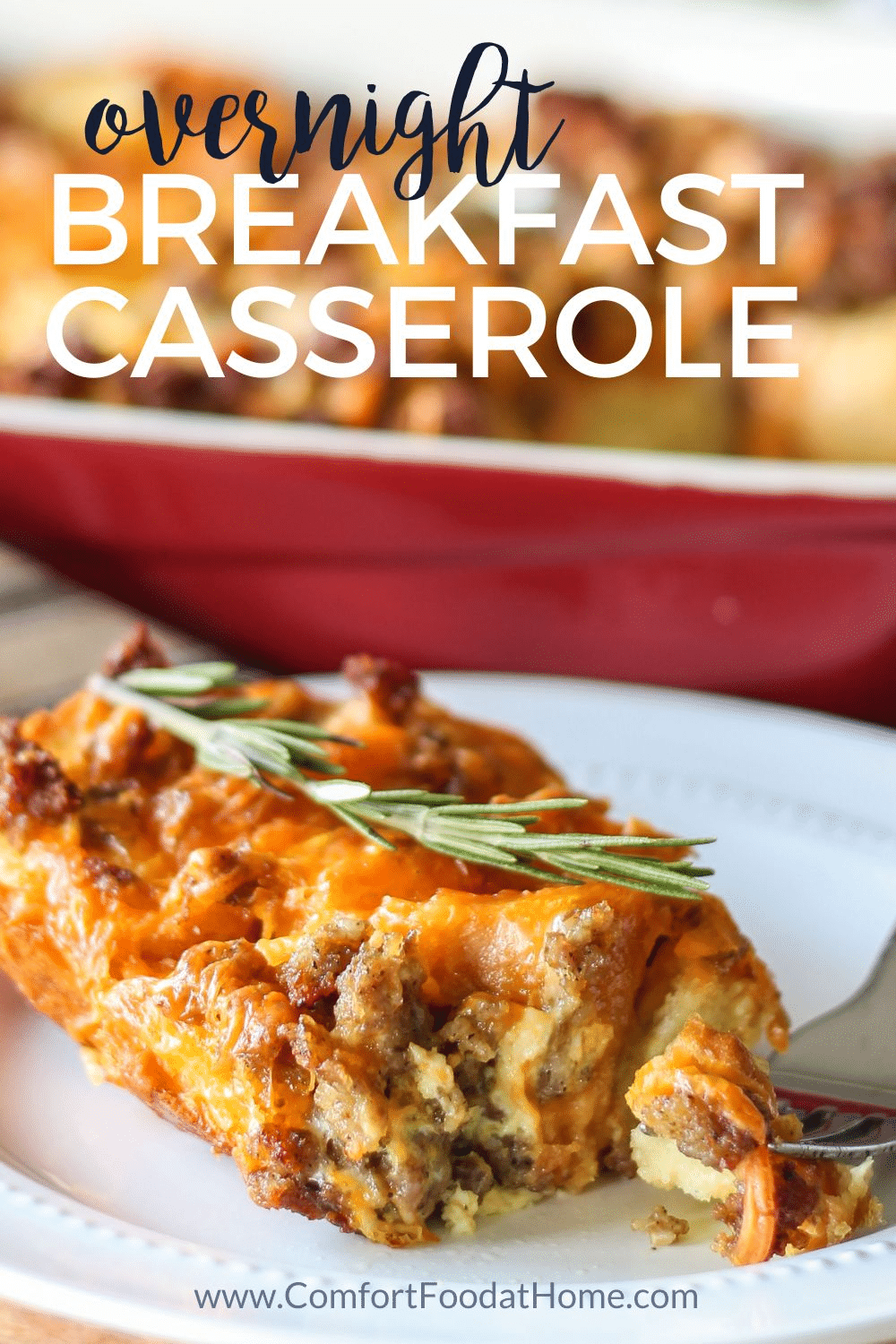 I'm BIG on making casseroles. Anything I can do to make my life easier, I'm up for it!
So, why make a breakfast casserole with sausage? Well, for starters, it's a crowd-pleasing dish that can easily feed a large group of people. It's also can be customized to your liking. Plus, it's a great way to use up leftover ingredients you have on hand.
You can swap out the sausage for bacon or ham, or add in some vegetables like spinach or peppers. The possibilities are endless!
It's the perfect dish to have on hand for any crazy hectic morning with the kids or Sunday family brunch.
Let's get started!
Ingredients needed
You will need the following ingredients to make this overnight breakfast casserole…
Eggs: Using 6 large eggs adds a layer of fluffy texture and rich flavor.
Milk: Adding 2 cups of milk to the beaten eggs helps to make the casserole creamy. Feel free to use your favorite kind of milk.
Dried mustard: Adding a teaspoon of dried mustard gives the eggs an extra punch of savory flavor.
Salt: A classic! You just need 1 teaspoon.
White baguette: Start by layering thinly sliced baguette in the bottom of your baking dish. This helps to create a crunchy base for your breakfast casserole. I love to use crusty French bread, but sourdough or whole wheat would work too.
Sausage: A pound of ground sausage is the perfect topping for your egg casserole. I like to use classic breakfast sausage; sometimes, I'll buy the spicy kind for a bit of a kick! If you want to make it a bit healthier, use ground turkey or chicken sausage.
Cheese: Sprinkling a cup of shredded cheddar cheese over the sausage adds even more deliciousness! It melts into the sausage and sliced bread, making the casserole come all together.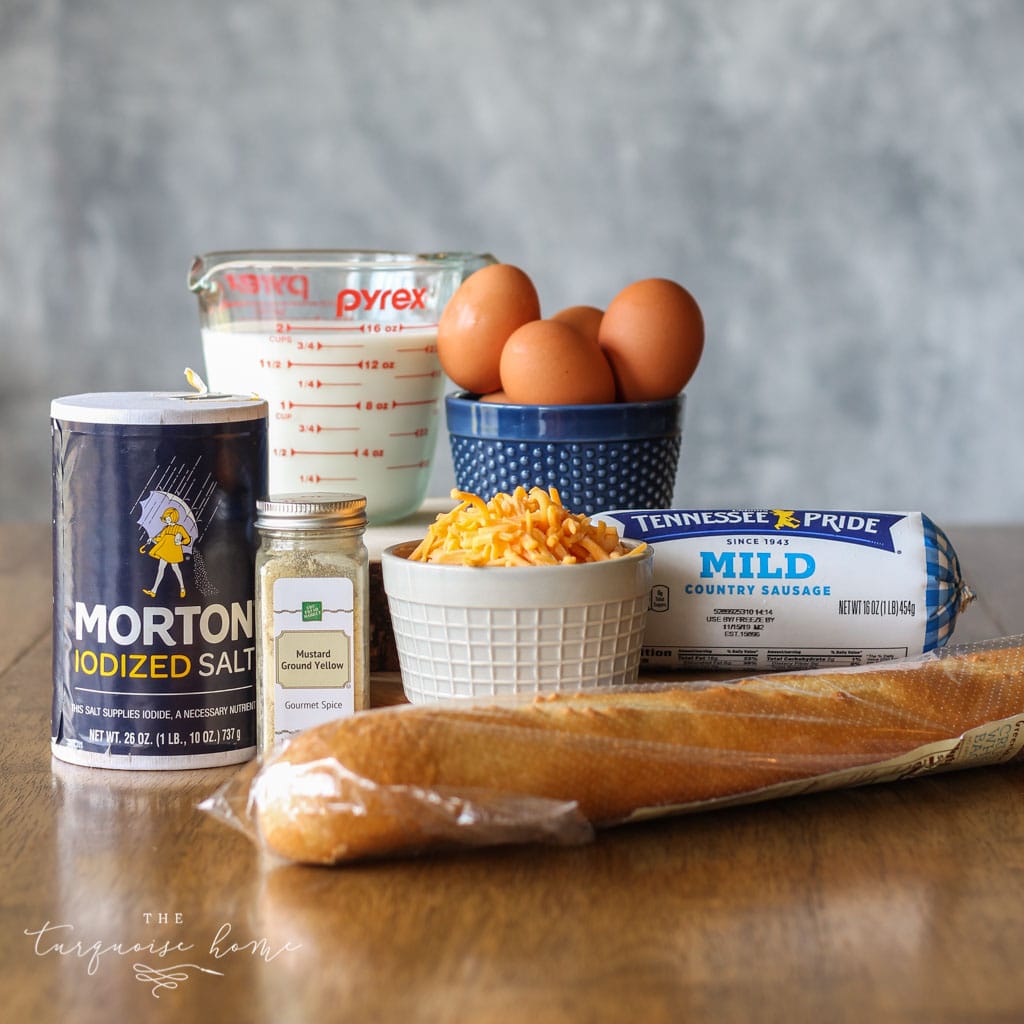 Add-ins
Now is the time to get creative! You can add any mix-ins you like. Some of my go-to's are:
Cooked bacon or ham
Diced potatoes
Sliced mushrooms and peppers
Spinach
Broccoli
Chopped tomatoes and onions
Fresh herbs
For seasonings, I will sometimes add red crushed peppers or red cayenne pepper for a bit of heat.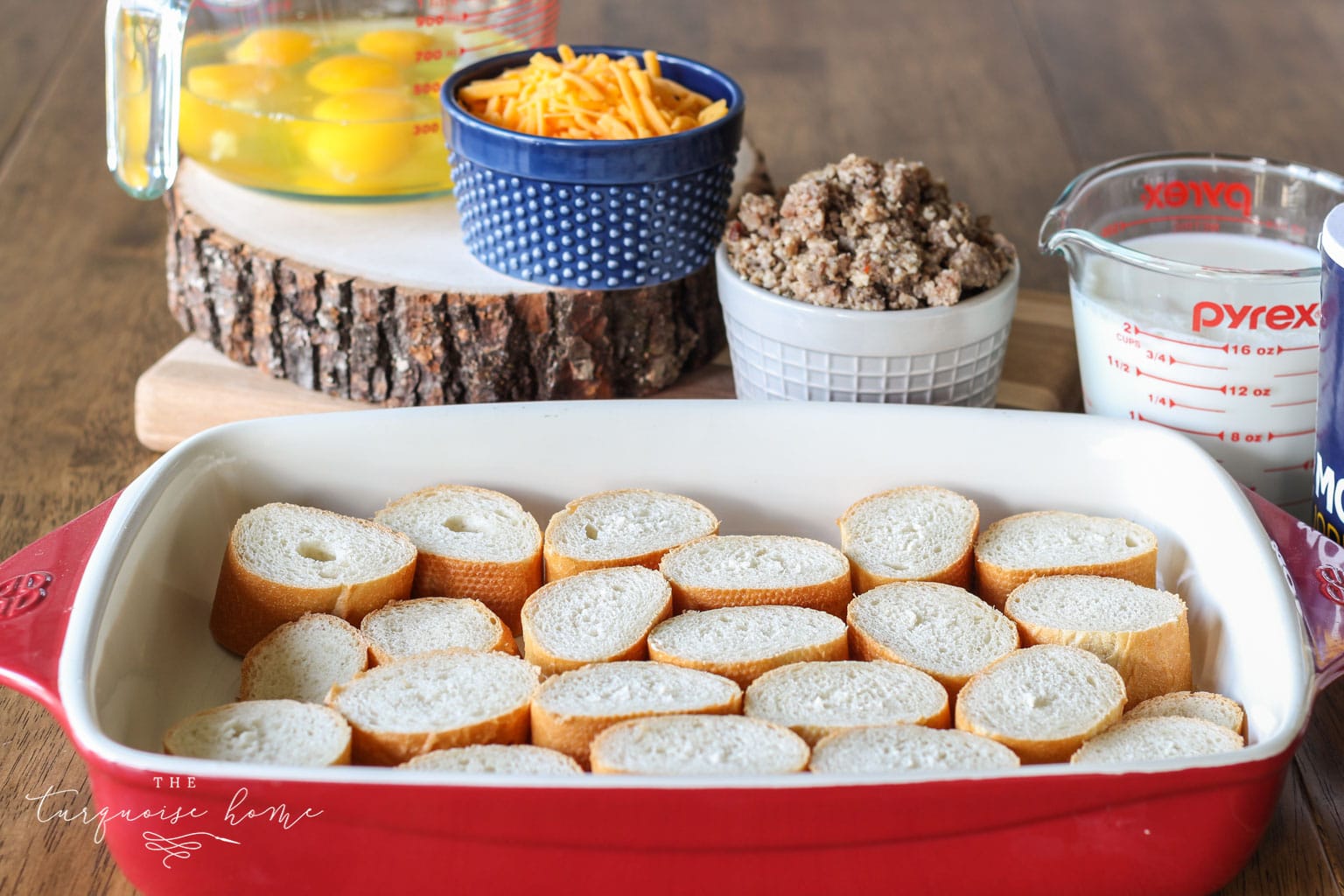 Kitchen equipment needed
Here are a few things you'll need to make this sausage egg bake:
9 x 13 Baking Dish
Small Mixing Bowl
Cutting Board
Bread Knife
Whisk
Cup and Teaspoon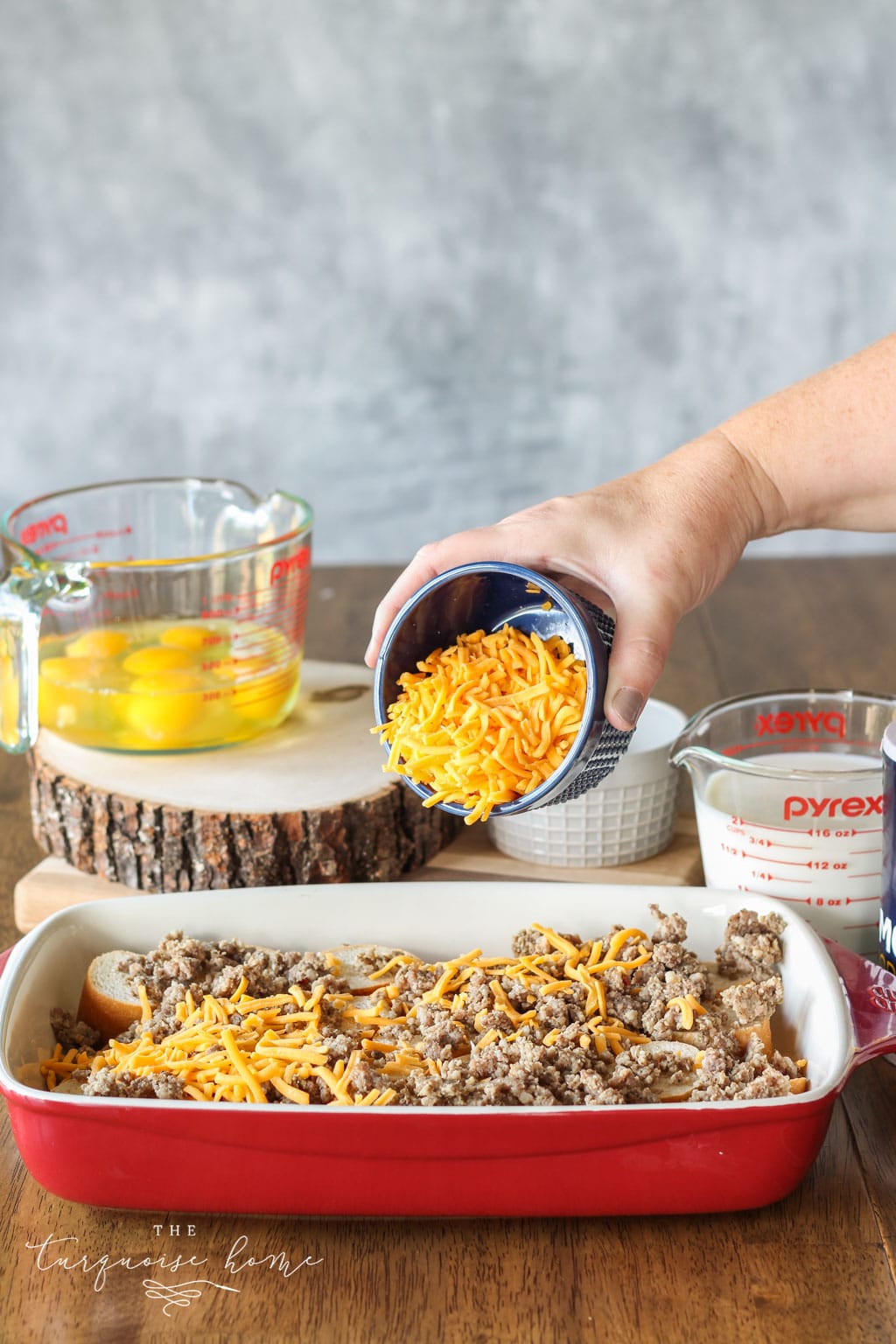 Layer order for make-ahead breakfast casserole
When making this sausage and egg breakfast casserole, you will need to layer the ingredients in a particular order. Here's how (starting from the bottom):
Sliced baguette
Crumbled sausage
Shredded cheese
Seasoned beaten eggs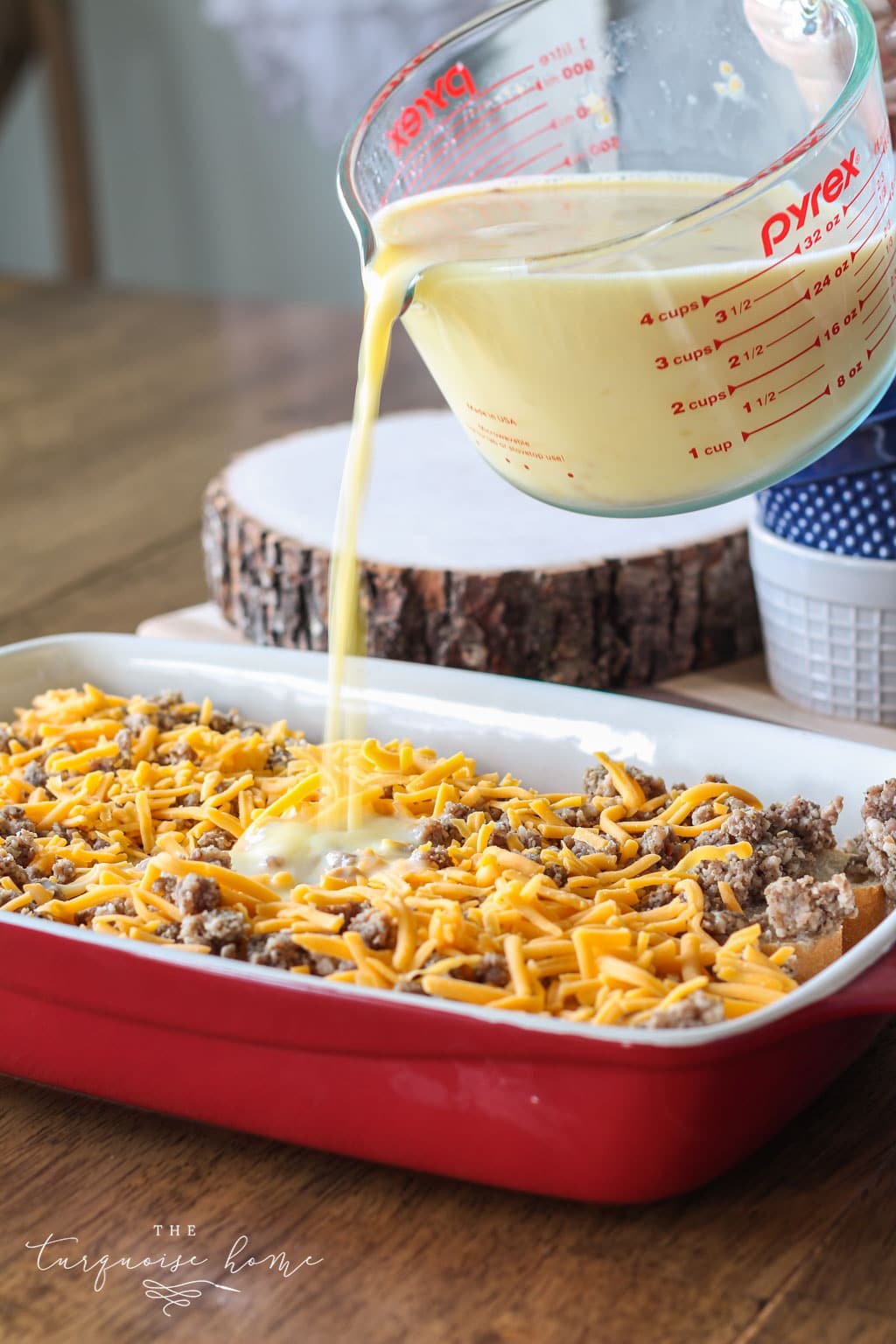 What to serve with sausage egg bake
Once your overnight breakfast casserole has cooled, you can slice it up and serve it! My favorite way to serve it is to top it with sour cream and hot sauce or salsa.
As far as what sides to serve with it, try enjoying it with a few breakfast staples, such as:
Tater tots or seasoned potatoes
Fruit is also a great side dish, such as sliced grapes, berry medley, or apples. A side green salad is also a nice accompaniment to balance out all the savory flavors.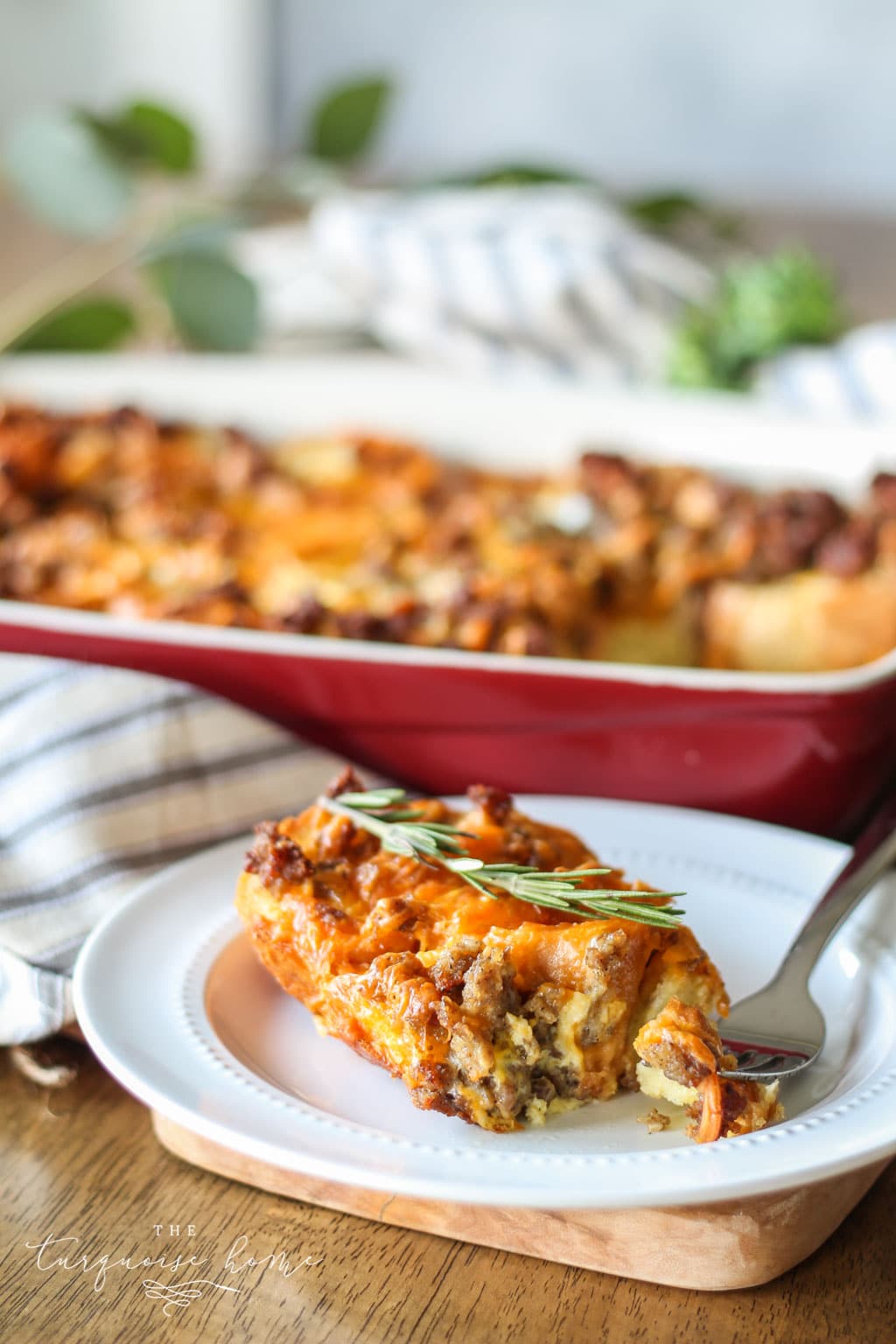 How to store and freeze
For storage of the casserole, wait until it has cooled down completely. Then, cover it with foil and keep it in the refrigerator for up to 4 days.
To freeze the casserole, first, let it cool down. Then, wrap it with plastic wrap followed by aluminum foil. Add a label with the date and store it in the freezer for up to 3 months.
Frequently Asked Questions
Whenever I share this breakfast casserole recipe with sausage, I get some of the same questions. Here are the most popular ones that people ask!
If you have a question that isn't listed here, please leave them in the comments, and I'll answer them as soon as possible.
What kind of shredded cheese can I use?
I like to use cheddar cheese for this recipe but feel free to switch it up. You can try Italian, Mexican-blend, smoked gouda, or Monterey Jack for a different twist.
Can I make this sausage breakfast casserole dairy free?
Yes, there are a few ways to do this.
For the cheese, you can either leave it out or swap it out for a yummy dairy-free version. You can also sprinkle in some nutritional yeast.
As for the milk, swap it out for a non-dairy alternative like almond, coconut, or soy milk.
Can I make it gluten-free?
Definitely. Just switch out the baguette for your favorite kind of gluten-free bread!
How do I know when my breakfast casserole with sausage is done baking?
When the eggs are set, and the cheese is melted, your casserole is ready to come out of the oven. To make sure, you can also insert a knife into the center and check for any uncooked eggs.
Can I double the recipe?
Yes, you can! All you need to do is double the ingredients and use a larger baking dish. You can also use 2 pans of the same size. It should cook at the same time at the same temperature, but keep an eye on it to make sure it doesn't burn!
Can I freeze this breakfast casserole?
Yup. Just assemble everything in the baking dish and wrap it tightly with plastic wrap or foil. Make sure to label the dish and freeze it for up to 2 months. To reheat, let it thaw overnight in the refrigerator and bake according to the instructions.
More Grandma-approved recipes
If you loved this recipe for overnight sausage breakfast casserole, here are a few other recipes you should try! They are all delicious and grandma-approved.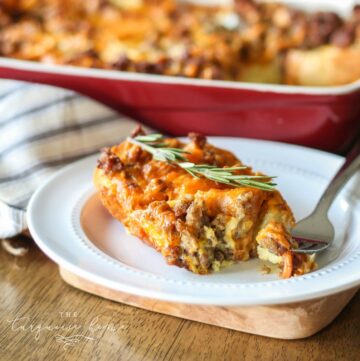 Easy Breakfast Casserole with Sausage
Breakfast casserole with sausage is the perfect dish for a big family breakfast or brunch. This easy and delicious recipe can be made overnight and just popped in the oven in the morning. 
Equipment
9 x 13 Baking Dish

small mixing bowl

Cutting Board

Bread knife

whisk
Ingredients
6

eggs

2

cups

milk

1

teaspoon

dried mustard

1

teaspoon

salt

1

crusty white baguette

1

pound

breakfast sausage

1

cup

shredded cheddar cheese
Instructions
Beat the eggs in a small bowl.

Add the milk, dried mustard and salt to the egg mixture. Whisk until well combined.

Slice the bread into 1-2 inch slices.

Cover the bottom of a 9 x 13 inch baking dish with the bread.

Sprinkle the cheese and sausage on top of the bread.

Pour the egg and milk mixture over the bread.

Cover the dish and refrigerate overnight.

The next morning, remove the cover and bake at 350 degrees for 45 minutes.