The Best French Toast Recipe
Are you looking for the best french toast recipe that is fast and easy to make? Well, you found it! This homemade french toast is my version of a classic recipe I highly recommend you try for deliciously rich and crispy french toast!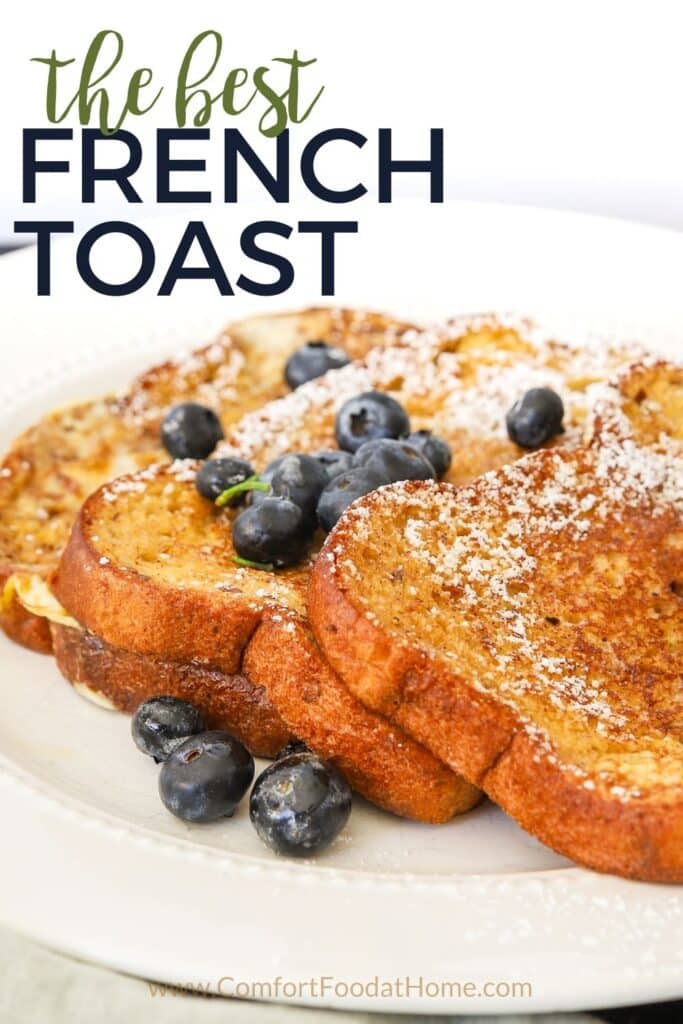 The Best French Toast Recipe For A Yummy Breakfast!
If you want to throw together a delicious and hearty breakfast or brunch, this easy french toast recipe is the way to go!
Deliciously soft and sweet in the center and crispy on the outside, this french toast is perfection. And, not to mention, very simple and easy to make. You can make have it on the table in less than 30 minutes!
This french toast will bring back memories of mom cooking up a scrumptious breakfast spread on Sunday mornings with the whole family. Boy, was that french toast good! And, my recipe is just as good and brings back all of those sweet memories.
Now, I get to do it with my own kiddos!
Ingredients Needed to Make This Easy French Toast Recipe
To make this breakfast french toast recipe, you will need the following ingredients:
Egg: Eggs are an important part of this homemade french toast recipe as they help to create the custardy coating for the bread.
Milk: Milk helps to thin out the eggs in the coating and makes it easier to coat the bread evenly without over-soaking them.
Sweetener: You can use sugar or honey to sweeten the french toast mixture. Most of the sweetness will come from the toppings that you use on your french toast.
Cinnamon: Cinnamon is the perfect flavor to pair with french toast and gives it a warming and spicy flavor.
Nutmeg: Just a pinch of nutmeg gives this dish a spicy nuttiness to it and compliments the cinnamon.
Salt: A bit of salt helps to bring out the sweetness in the french toast and enhance the other flavors as well.
Bread Slices: Probably the most important ingredient that you need is bread slices! They should be thick enough not to become soggy but not so thick that they can't cook through. White bread is the best for french toast.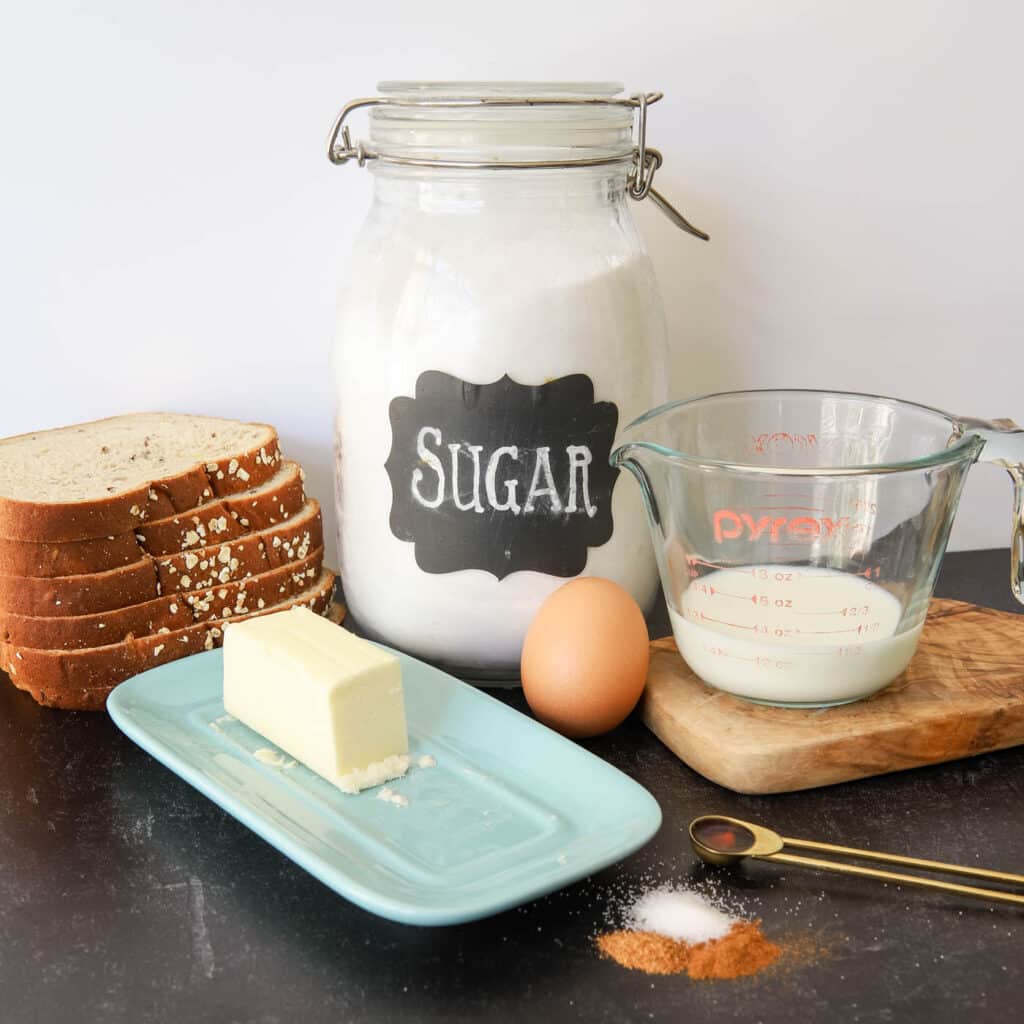 Additions and Substitutions
Maple Syrup: Instead of using sugar or honey, you could use maple syrup for some extra flavor! This will give your french toast a lovely note of maple.
Non-Dairy Milk: You could replace the milk with a non-dairy option such as coconut milk or almond milk. Any kind of non-dairy milk will work perfectly in this recipe.
Flour or Cornstarch: If you do not have eggs or do not eat eggs, you can use a few tablespoons of flour or cornstarch instead. This will help to thicken the mixture like the eggs would. Just keep in mind that it will be harder to get crispy french toast without the presence of eggs.
Spices: You can use any kind of baking spices you prefer if you do not want to use cinnamon or nutmeg. You could use apple pie spice, pumpkin pie spice, or ginger to change up the flavor of your french toast!
What To Serve With The Best French Toast Recipe
This cinnamon french toast recipe is perfectly simple and oh so tasty! The perfect sweet dish that you can quickly whip up before the kids are sitting at the table.
This french toast would be delicious paired alongside some crispy bacon and a serving of this cheesy hashbrown casserole!
If you are in a hurry, this french toast can be a meal all by itself. Just pair it with a big glass of orange juice or coffee, and you are good to go!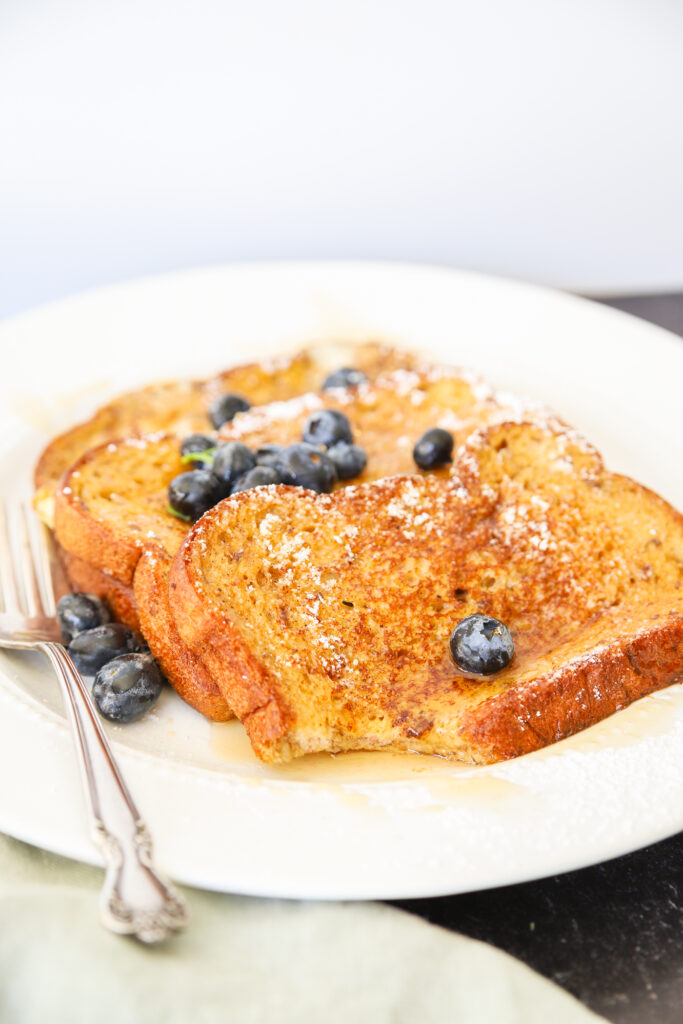 Frequently Asked Questions About Homemade French Toast
Whenever I share this recipe, I get some of the same questions. Here are the most popular ones that people ask!
If you have a question that isn't listed here, please leave them in the comments, and I'll answer them as soon as I possibly can.
Why is my toast soggy?
Usually, your french toast is soggy for a few specific reasons. The most common reason is that you left the bread in the egg and milk mixture for too long. This allowed the bread to soak up too much of the liquid.
Another reason your french toast might be soggy is that you used a thin kind of bread that already tends to be very soft. This can make your french toast feel soggy instead of crispy.
Can I use this recipe to make french toast sticks?
Yes! You definitely can adapt this easy french toast recipe to make french toast sticks.
All you need to do is cut your bread into stick shapes, coat the sticks individually, and cook as the recipe says.
This will make deliciously crispy finger food french toast sticks that are easy to eat!
What kind of bread should I use for homemade French toast?
You don't want to use a regular sandwich or sliced bread to make french toast. These types of bread are far too soft and thinly sliced.
The best kind of bread for french toast is going to be slightly chewy and sturdy. Sourdough, french bread, and other bakery bread are good options. Make sure they are not sliced too thin or thick.
How long will french toast last in the fridge?
If you have french toast leftover, put it in an airtight container in the fridge for later. French toast will last up to 5 to 7 days in the fridge and can be reheated on the stove or in the microwave.
If you make a huge batch of french toast, you could store any extras in the freezer for up to a month!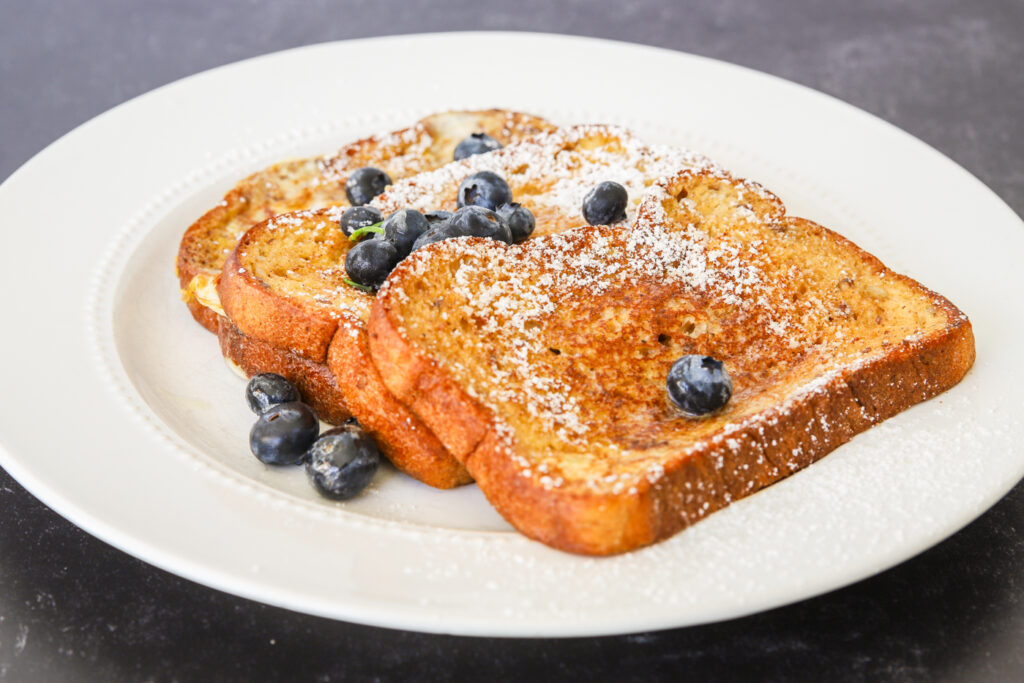 More Recipes Like Grandma Used To Make
If you enjoyed the best french toast recipe, you should try some of these other breakfasts and brunch-inspired recipes!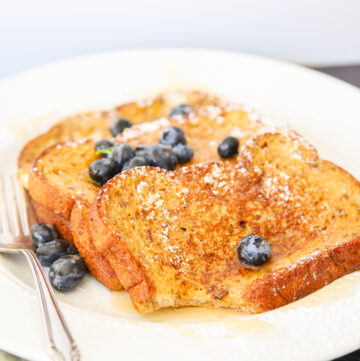 French Toast
Are you looking for the best french toast recipe that is fast and easy to make? Well, you found it! This homemade french toast is my version of a classic recipe I highly recommend you try for deliciously rich and crispy french toast!
Equipment
Shallow dish that fits a piece of bread

Frying pan

Whisk or fork

Spatula

Aluminum foil, optional
Ingredients
Egg Mixture
1

egg

⅓

cup

milk

1

tsp.

sugar or honey

¼

tsp.

cinnamon, or less to taste

dash

nutmeg

dash

salt
Additional Ingredients
butter for frying

6

slices

bread

maple syrup

powdered sugar
Instructions
In a shallow dish, mix together the ingredients for the egg mixture with a whisk or fork until well beaten.

Heat frying pan to medium heat.

Put a slice of butter in the frying pan, moving it around to coat the pan as it melts.

When butter is melted, quickly dip a slice of bread in the egg mixture on both sides and place into the hot frying pan. **

Brown both sides of the bread for 1-2 minutes on each side.

When the bread has reached a golden brown color on each side, remove from pan and put on a plate covered by foil (optional) to keep it warm.

Add another piece of butter to the frying and repeat the last 3 steps with each piece of bread.

Serve with maple syrup and a dusting of powdered sugar.
Notes
** Be careful not to leave the bread soaking in the egg mixture or it will soak up all of it and you won't have any mixture left for the other pieces of bread!
Note that this only makes 6 pieces of bread, enough for 2 people to eat. I usually double or triple the recipe for my family of 4.