Easy Banana Bread Recipe
This post contains links to affiliate websites, such as Amazon, and we receive an affiliate commission for any purchases made by you using these links. We appreciate your support!
The next time you are in the mood to bake a classic, take a chance on my easy banana bread recipe! This classic banana bread loaf is incredibly soft and utterly delicious.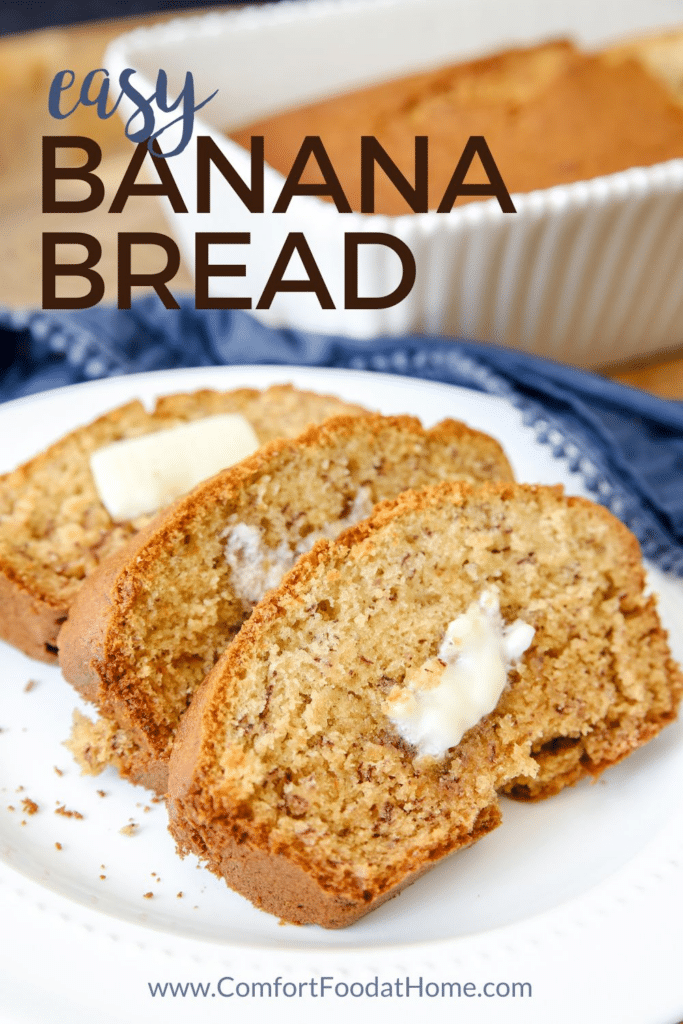 fMake This Warm And Nutty Banana Bread For Your Next Get-Together!
I know I share a lot of my family's recipes on this blog but this easy banana bread recipe really brings me back.
I remember being young and standing on the kitchen stool beside my mom in the kitchen. She'd let me help her mash all of the ripe bananas she needed to make her classic banana bread while she put the rest of the ingredients together.
It's truly one of my fondest memories!
It makes me so happy to share this family recipe with all of you. It really is easy to make, and you might even have a majority of the ingredients right in your pantry!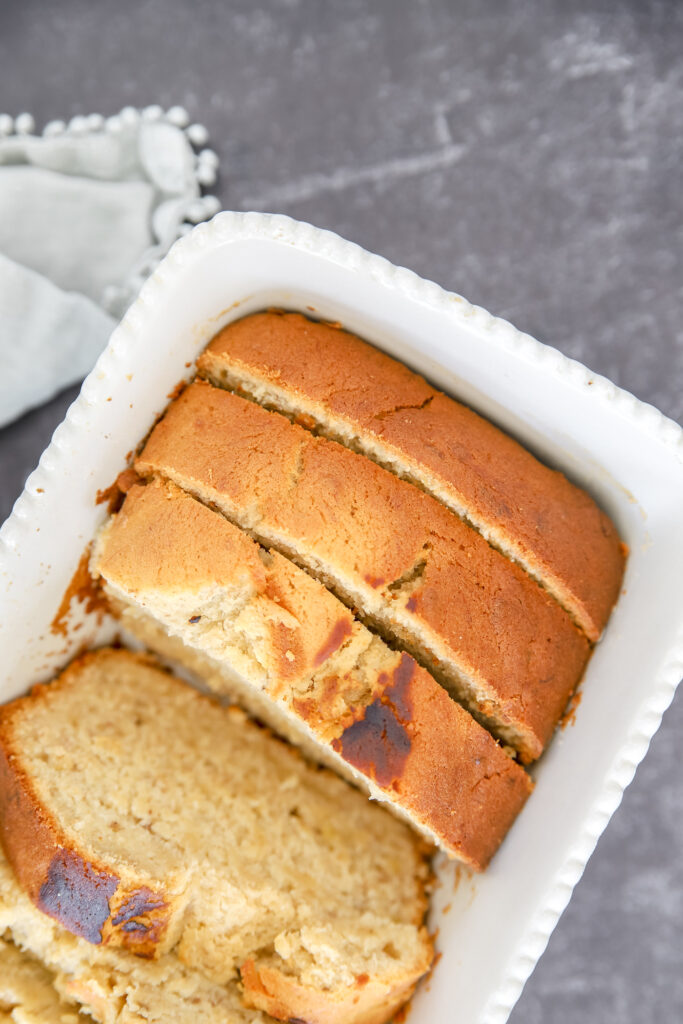 Ingredients Needed To Make Easy Banana Bread Recipe
To make this banana bread at home, these are the ingredients you will need:
Bananas: To make a loaf of really great banana bread, you must use ripe bananas. I find that using ripe bananas makes it easier to mash and mix into the batter. Not to mention, they are sweeter!
Flour: I used white all-purpose flour in this recipe. However, if you are trying to make healthy banana bread, replace the white flour with whole wheat flour. (My mom uses and prefers whole wheat!)
Eggs: Using eggs helps to bind all of the ingredients together.
Sour Cream: I know it sounds a little weird to add sour cream to a banana bread recipe, but it's actually a great secret ingredient! The sour cream adds a bit of tartness, which helps level out the sweetness of the bread, and it helps the banana bread stay fluffy and moist.
Brown Sugar: I prefer to use brown sugar over white sugar because of its deep, rich flavor. If you don't have any on hand, white sugar works too.
Butter: It just makes the banana bread taste buttery good!
Baking Soda: The baking soda in this recipe helps give the banana bread its light and airy texture. Without it, you might end up with a loaf of much denser banana bread.
Don't forget a pinch of salt to help enhance the flavors!
Optional Mix-Ins
While this easy banana bread recipe is perfectly delicious all on its own, sometimes I like to mix in a few extra ingredients to surprise my family.
Here are some of my favorite go-to's:
Nuts: Banana walnut bread is amazing! The walnut's crunchiness is perfect in this recipe, and it doesn't overwhelm or take away from the banana flavor. If you don't have (or want to use) walnuts, you can also use chopped-up pecans or almonds.
Chocolate Chips: I usually go semi-sweet chocolate chips in this recipe because milk chocolate is just too sweet. But, dark chocolate chips also work in this banana bread recipe. Its bitterness contrasts against the sweetness of the bananas, giving you a perfect bite! My kids ALWAYS want chocolate chips added, of course.
Ground Cinnamon: Banana and cinnamon is one of my all-time favorite flavor combos. The ground cinnamon gives off a hint of spiciness that really elevates the flavor of the banana. It's delicious!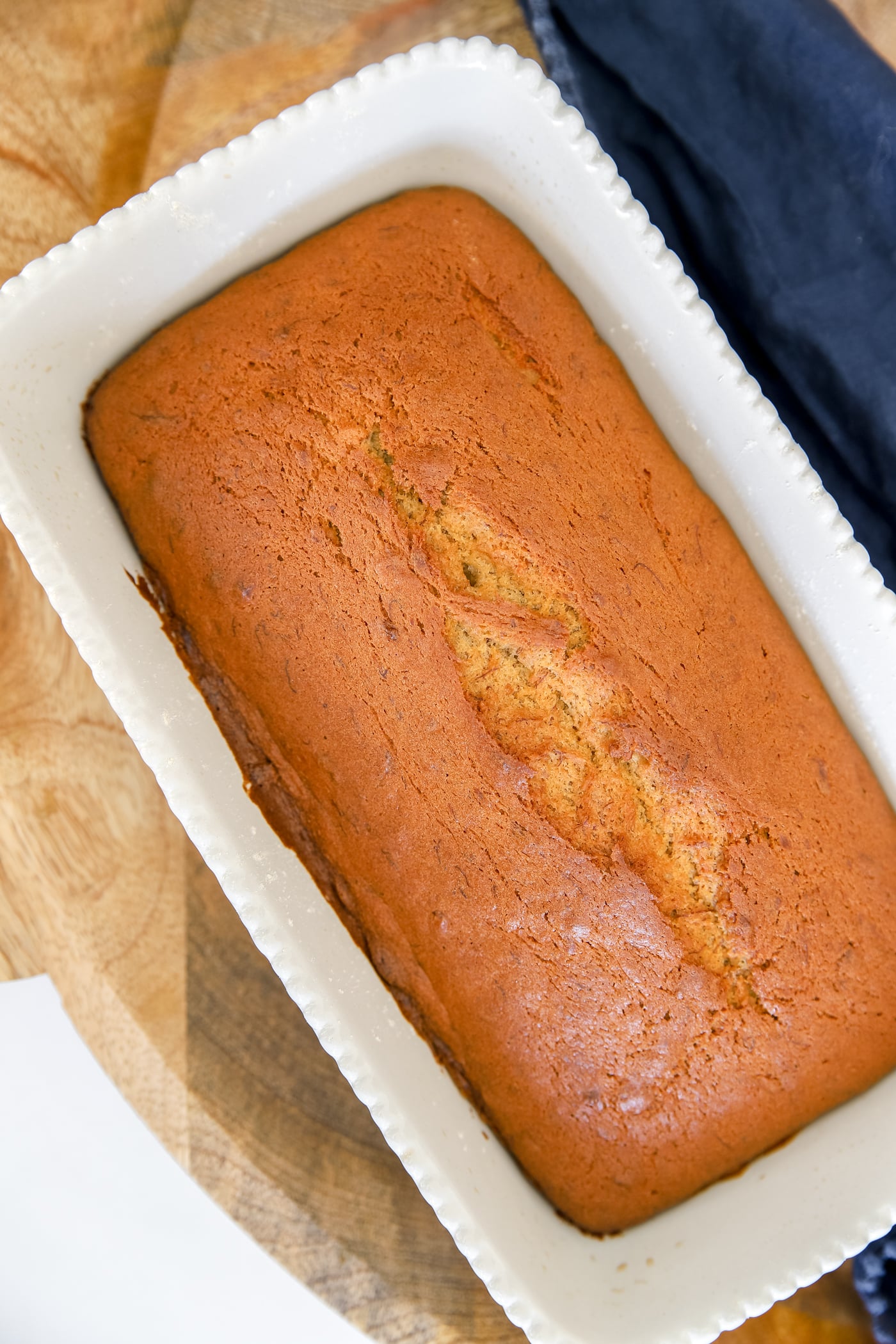 What To Serve With This Classic Banana Bread Recipe
I'm not going to lie- I normally sneak a slice of banana bread as I'm doing house chores or walk by the kitchen. I can't help myself! Sometimes, I'll even slather on a layer of chocolate hazelnut butter or peanut butter over the top. Yum!
If I'm planning a small get-together and make a loaf or two of this classic banana bread, I like to serve it with some tea or coffee.
But, my favorite thing to serve with a slice of warm banana bread is a hot cup of my grandma's homemade hot chocolate. There is nothing like it!
Frequently Asked Questions About Banana Bread
Whenever I share this recipe, I get some of the same questions. Here are the most popular ones that people ask!
If you have a question that isn't listed here, please leave them in the comments, and I'll answer them as soon as possible.
How do you keep banana bread moist?
Adding in the sour cream and not overmixing the batter helps keep the banana bread soft and moist.
Also, be mindful of how long you bake it. If you leave it in the oven for too long, it'll dry out your banana bread loaf.
How do I ripen my bananas to use in this recipe?
If you don't have ripe bananas on hand, here's what you can do:
Place a few whole bananas on a baking sheet and stick them into a 200-degree oven.
Leave the bananas in there until the banana peels are completely black.
Let the bananas cool down before you unpeel them and add them to your banana bread batter.
I will buy bananas a week before I want to make banana bread and they are always the perfect ripeness when I'm ready to bake! I just leave the out on the counter.
Can I freeze banana bread?
Yes, you can!
If I plan on stocking up and saving some banana bread to eat in the future, I like to double the recipe and make a few extra loaves.
I'll leave one or two out to eat during the week and the rest I prep to freeze for later.
To do this:
Let the banana bread loaves completely cool down.
Once they are cool, wrap each loaf individually in food-safe plastic wrap or aluminum foil and store them in a freezer-friendly storage bag.
Note: You'll want to freeze them in whole loaves and not in slices to maintain as much freshness as possible.
Don't forget to write the date on them so you can keep track of how long you have been storing them!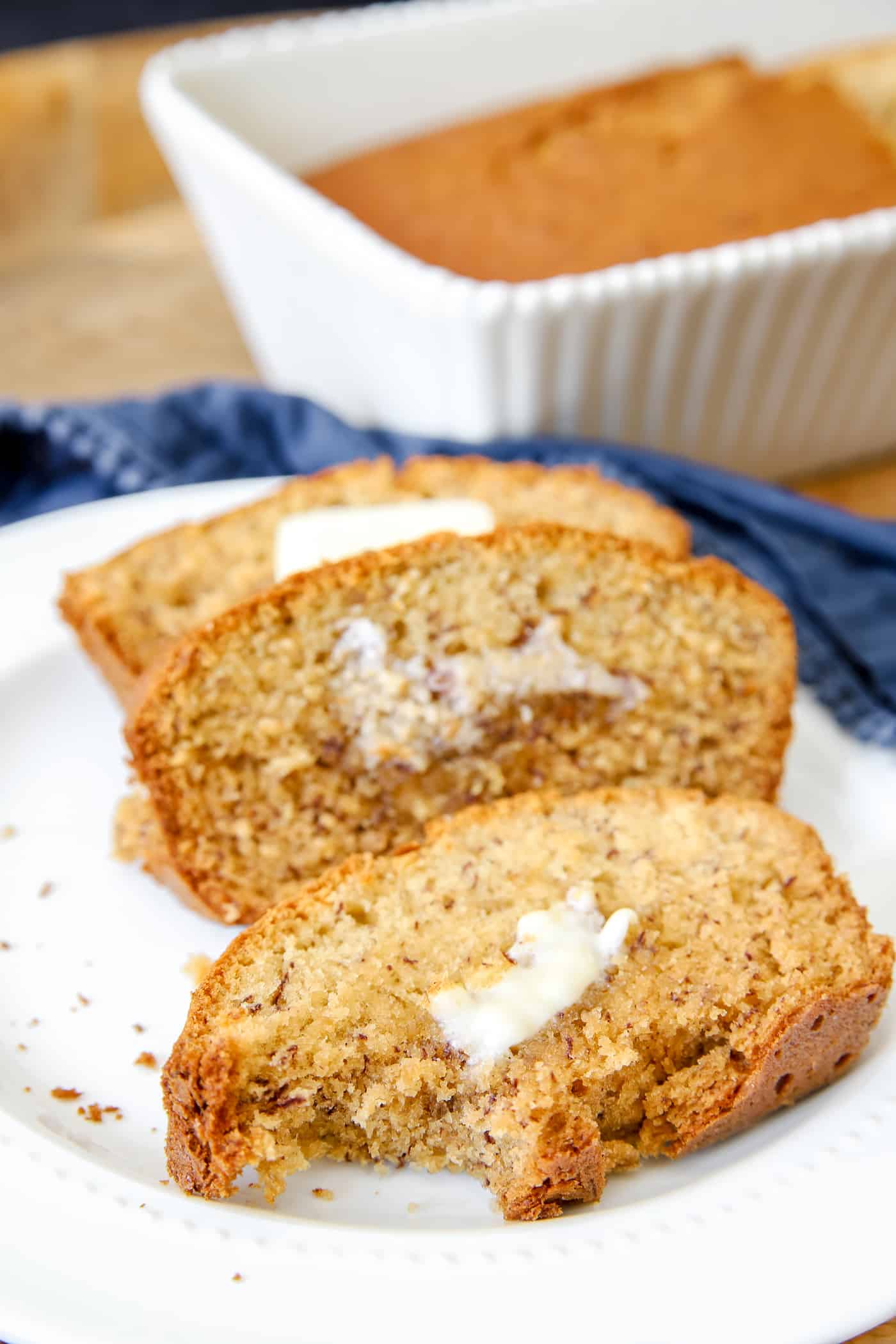 MORE GRANDMA-APPROVED RECIPES TO TRY
If you enjoyed this recipe for easy banana bread, take a look at some of these other yummy recipes:
So, did you end up adding chocolate chips or nuts to your banana bread? Did it turn out dry or moist? Let me know! I'd love to hear what you think in the comments below!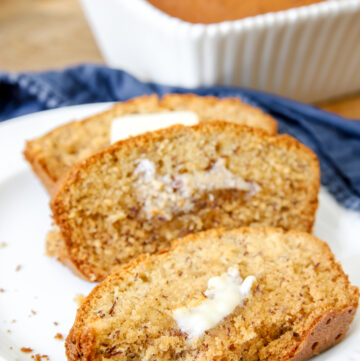 Easy Banana Bread
The next time you are in the mood to bake a classic, take a chance on my easy banana bread recipe! This classic banana bread loaf is incredibly soft and utterly delicious. 
Equipment
loaf pan

stand mixer or hand mixer
Ingredients
½

cup

butter (1 stick), softened

1

cup

brown sugar

3

ripe bananas

¼

cup

sour cream

1

teaspoon

baking soda

2

eggs

2

cups

flour (whole wheat or white, or combination of the two)

⅛

teaspoon

salt
Instructions
Preheat oven to 350 degrees.

Cream butter and sugar with mixer.

Add bananas and mix well.

Add eggs and continue mixing.

Dissolve soda in sour cream, then add to mixture.

Add flour and salt and mix well.

Pour batter into a well-greased and floured pan.

Bake at 350 degrees for 1 hour.