Baking Bacon: How To Cook Bacon in the Oven
This post contains links to affiliate websites, such as Amazon, and we receive an affiliate commission for any purchases made by you using these links. We appreciate your support!
Today, I am going to show you how to bake bacon in the oven! It's the perfect way to cook up a whole batch of delicious bacon without getting popped with bacon grease or wasting your time just standing by the stovetop. Cooking bacon has never been easier!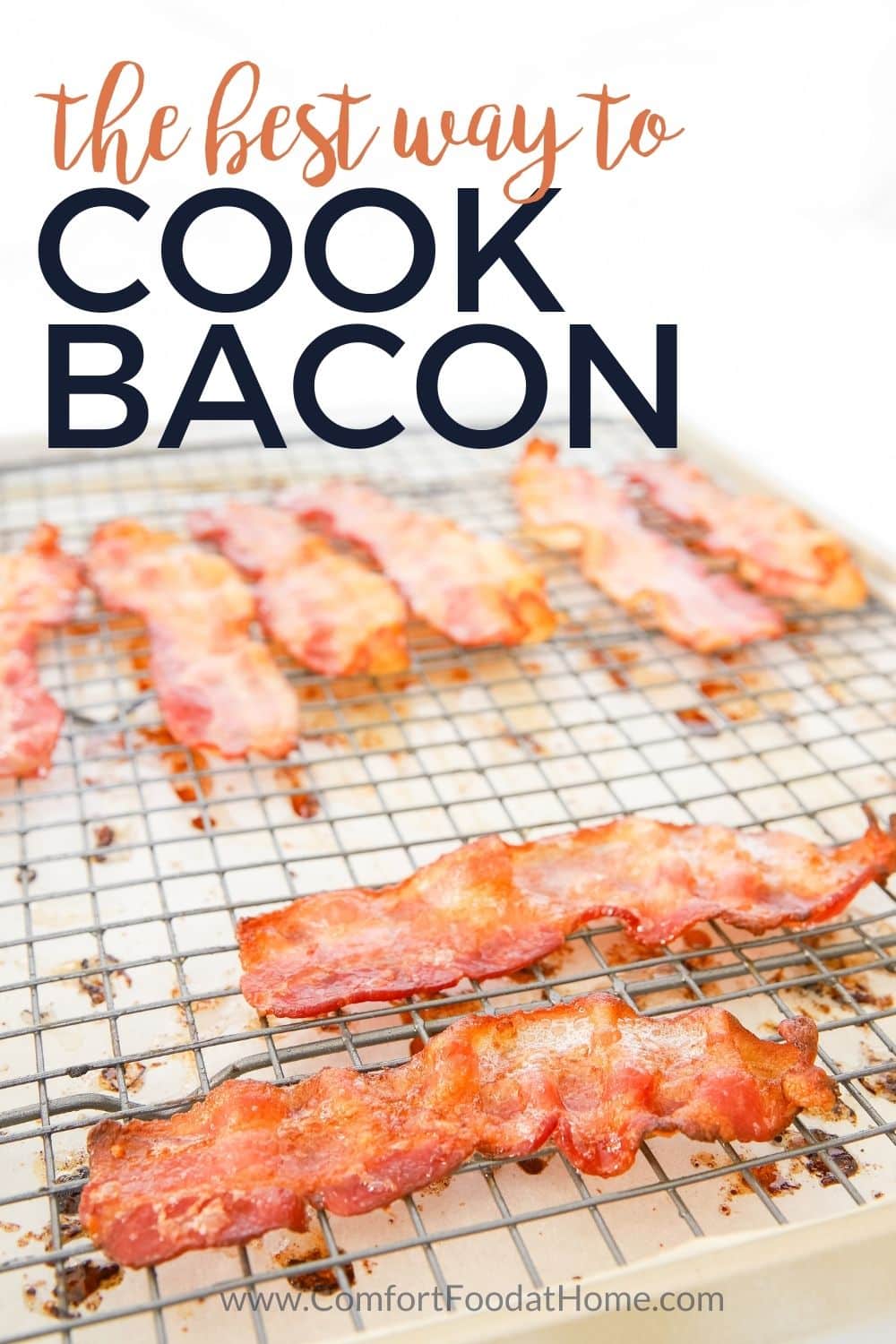 5 Perfect Reasons Why You Should Bake Your Bacon In The Oven!
Cooking bacon has never been easier!
I know for myself, my first instinct was to cook bacon in a pan on my stovetop, and I truly dreaded it. The only reason I would do it is because I love bacon so much. But then, my mom showed me how she likes to cook it: by baking bacon in the oven!
Life-changing!
This oven method is so much easier than cooking bacon on the stove. All you need is a baking sheet, parchment paper (or an oven-safe grid), bacon, and an oven. That's it!
Still not convinced? Here are 5 reasons why you should switch to baking bacon in the oven.
It's healthier. Cooking bacon in the oven is a healthier alternative to cooking baking on the stovetop because it's not cooking in its own grease.
Get rid of a lot of unwanted bacon grease. Using something like this baking sheet with an oven-safe grid can help you cook the bacon without grease.
Batch cook. Baked bacon is the best way to cook a bunch of bacon all at once. It's also a great way to meal prep bacon for multiple recipes and meals for the week.
Consistency. You are most likely to get an even cook on all the bacon slices so that they are all cooked perfectly crispy (even the fatty parts).
Easier cleanup. This one is a biggy for me! I found that cooking it at a steady temperature in the oven makes for less of a mess. Laying down that parchment paper is a huge time saver when it comes to cleaning the baking sheets.
Truly, I typically cook bacon on parchment paper, unless I'm trying to drain the fat off while I'm booking. Then I'll use the grid to lift the bacon out of the grease.
Note: Want to know how to cook bacon in the oven? Scroll down to the bottom of this post and check out the recipe card! It has a full list of instructions. 😉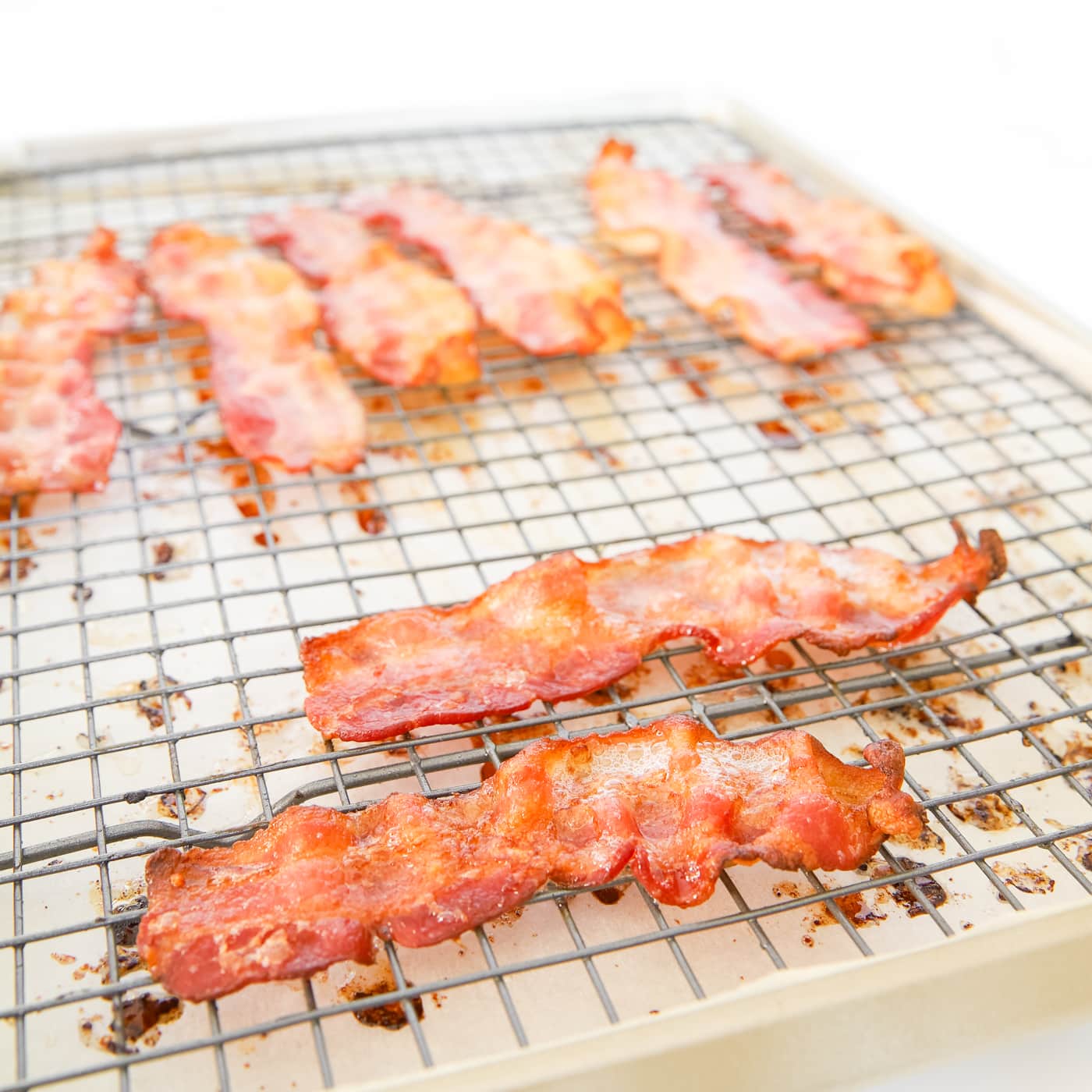 What To Make And Serve With Crispy Baked Bacon
I think we can all agree that bacon can be eaten for breakfast, lunch, and dinner. It can even be a snack!
Here are a few different meal ideas that I love to use to make and serve alongside bacon…
For Breakfast:
Breakfast sandwiches – Add all of your favorite breakfast toppings, along with the baked bacon, in between two slices of sourdough bread for an on-the-go breakfast. Yum!
Classic breakfast plate – Cook up your favorite eggs and serve this baked bacon with a slice of cheesy hashbrown casserole.
Bacon and cheese quiche – Perfect for any occasion, this quiche is fluffy, cheesy, and full of deliciousness. The bacon really takes it to a whole other level.
Lunch:
Sandwiches – I'm a big lover of sandwiches for lunch, especially when they are so easy to make. You can stuff anything you have in the fridge between two pieces of bread and call it a sandwich! When I make baked bacon, I like to whip up a few BLTs or a turkey club sandwich.
Salads – Try chopping up a few pieces of bacon and tossing them in any salad you like. I love to throw it into this classic broccoli salad and serve it for lunch!
Dinner:
Pasta – I love to bake bacon in the oven and then repurpose it in a dinner recipe, especially with anything related to pasta. I recommend chopping it up and adding it to this creamy chicken fettuccine alfredo with broccoli. Tasty!
Stuffed baked potatoes – Have you ever tried stuffed potato dinners? You basically scoop out the potato from the baked potato and mix it with some protein and/or veggies and then stuff it back in. One of my favorite stuffed potato recipes is this cheesy bacon ranch chicken. It's as good as it sounds! You can also swap out the potato for a baked sweet potato as well.
Equipment Needed
baking sheet with sides
baking grid, optional
parchment paper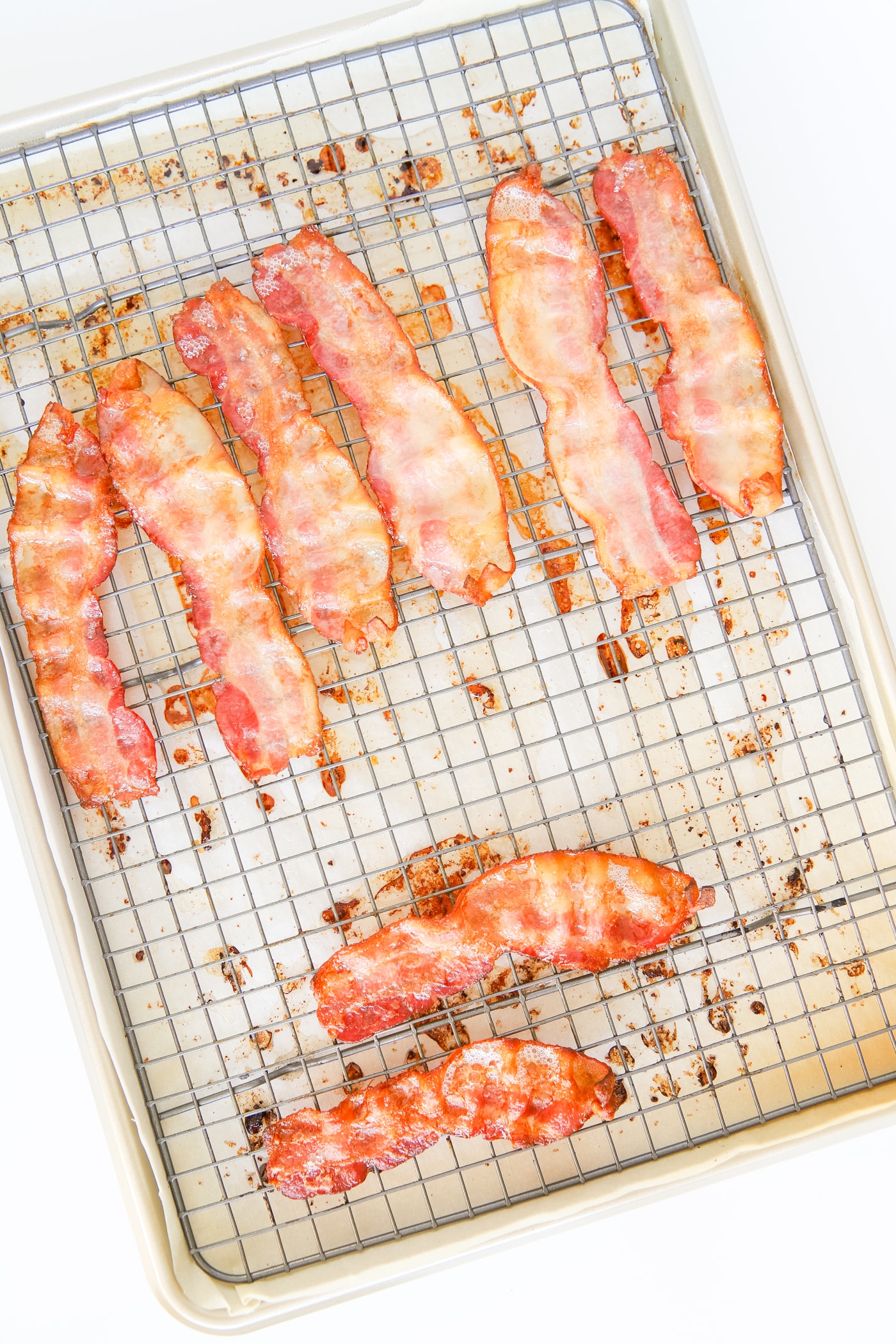 Frequently Asked Questions About Baked Bacon
Whenever I share this method of cooking bacon, I get some of the same questions. Here are the most popular ones that people ask!
If you have a question that isn't listed here, please leave them in the comments and I'll answer them as soon as I possibly can.
What is the best oven temperature to cook bacon?
For this recipe, I set the oven temperature to 400 degrees. I've tried more or less, but I found that 400 degrees left me with perfectly crisp bacon every single time!
Should I wait till the oven is preheated to place the bacon in the oven?
I don't know if you know this, but there is a huge debate over this question on the internet.
Some people claim to get the best bacon, you have to place your baking sheet with the bacon in a cold oven and then set the temperature. Others claim you need to wait till the oven is preheated before you add your baking sheet.
For this recipe, I went ahead and preheated the oven first and then, placed the baking sheet with the bacon into the oven.
I like my bacon extra crispy! Should I set my oven to broil?
No- and I'll tell you why. Bacon grease has a high smoking point and, by setting the oven to broil, you can easily create a bunch of smoke and cause the grease to splatter and turn your oven into a mess. Or, better yet, there's a higher chance of you burning the bacon!
It's better to leave the oven at 400 degrees and let the bacon cook in the oven low and slow.
Can I use thick-cut bacon?
Yes! For this recipe, you can use whatever kind of bacon you like. I just like to use what I have on hand.
I always go for:
Thick-cut bacon
Thin-cut bacon, or
Applewood smoked bacon
They are all delicious and turn out perfectly when baked in the oven.
MORE GRANDMA-APPROVED RECIPES TO TRY
If you enjoyed this recipe for baking bacon in the oven, take a look at some of these other yummy recipes:
Have you ever tried baking bacon in the oven? What's your preferred method of cooking bacon? Let me know! I'd love to hear what you do in the comments below!
Print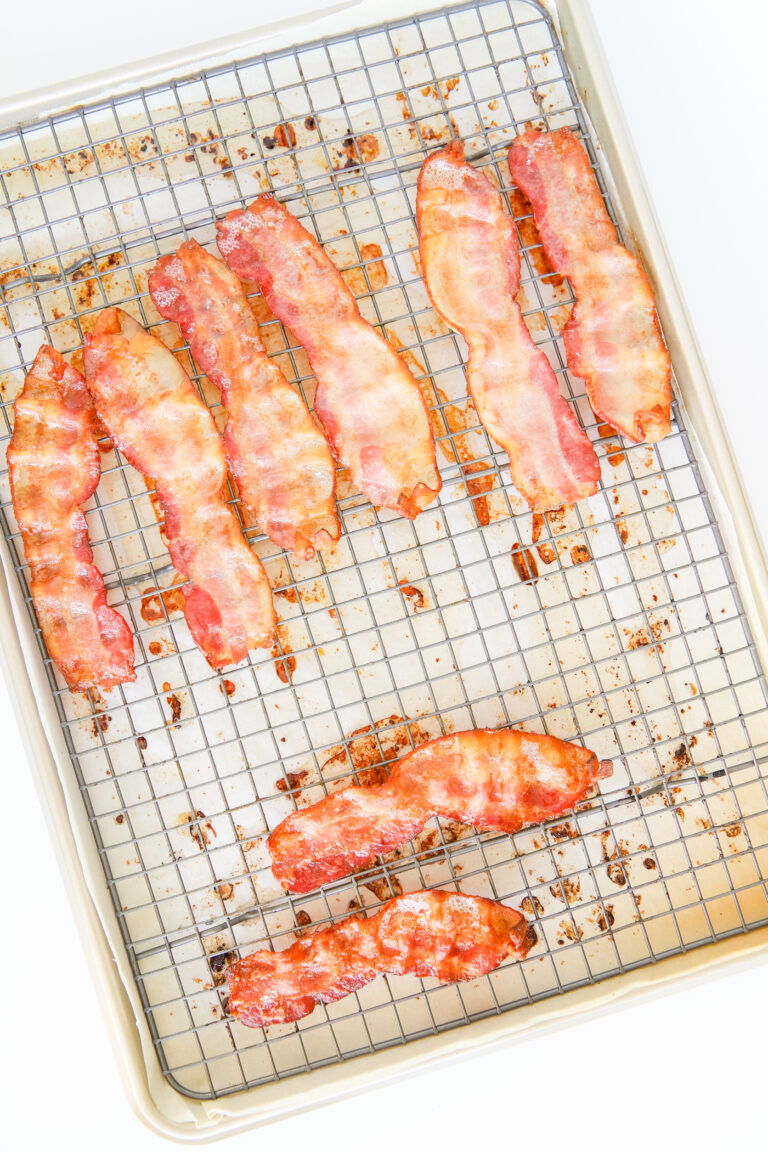 How to Cook Bacon in the Oven
Cooking bacon in the oven is so much easier than cooking bacon over the stove. No more getting popped with grease or wasting precious time flipping bacon. All you need is a baking sheet, parchment paper, bacon and an oven!
Instructions
Preheat the oven to 400 degrees.
Place a sheet of parchment paper on the baking sheet.
Place the bacon on the parchment paper in a single layer. Do not overlap the pieces if you can help it! Use 2 baking sheets, if needed.
Tip: You can also use an oven-safe baking grid (looks like a cooling rack) over the baking sheet in order to let the fat drip off the bacon.
Place the baking sheet in the oven on 400º for 16-18 minutes, until your desired amount of crispness is achieved.
Author:

Laura

Prep Time:

5 minutes

Cook Time:

18 minutes

Category:

Breakfast

Cuisine:

American