Homemade Carrot Cake Recipe
This homemade carrot cake is EVERYTHING! It's incredibly soft and moist- the best carrot cake with cream cheese icing that you will ever make! It is rich and decadent with all of the traditional flavors that we associate with this type of cake. This is the perfect cake to bake for parties or any kind of celebration.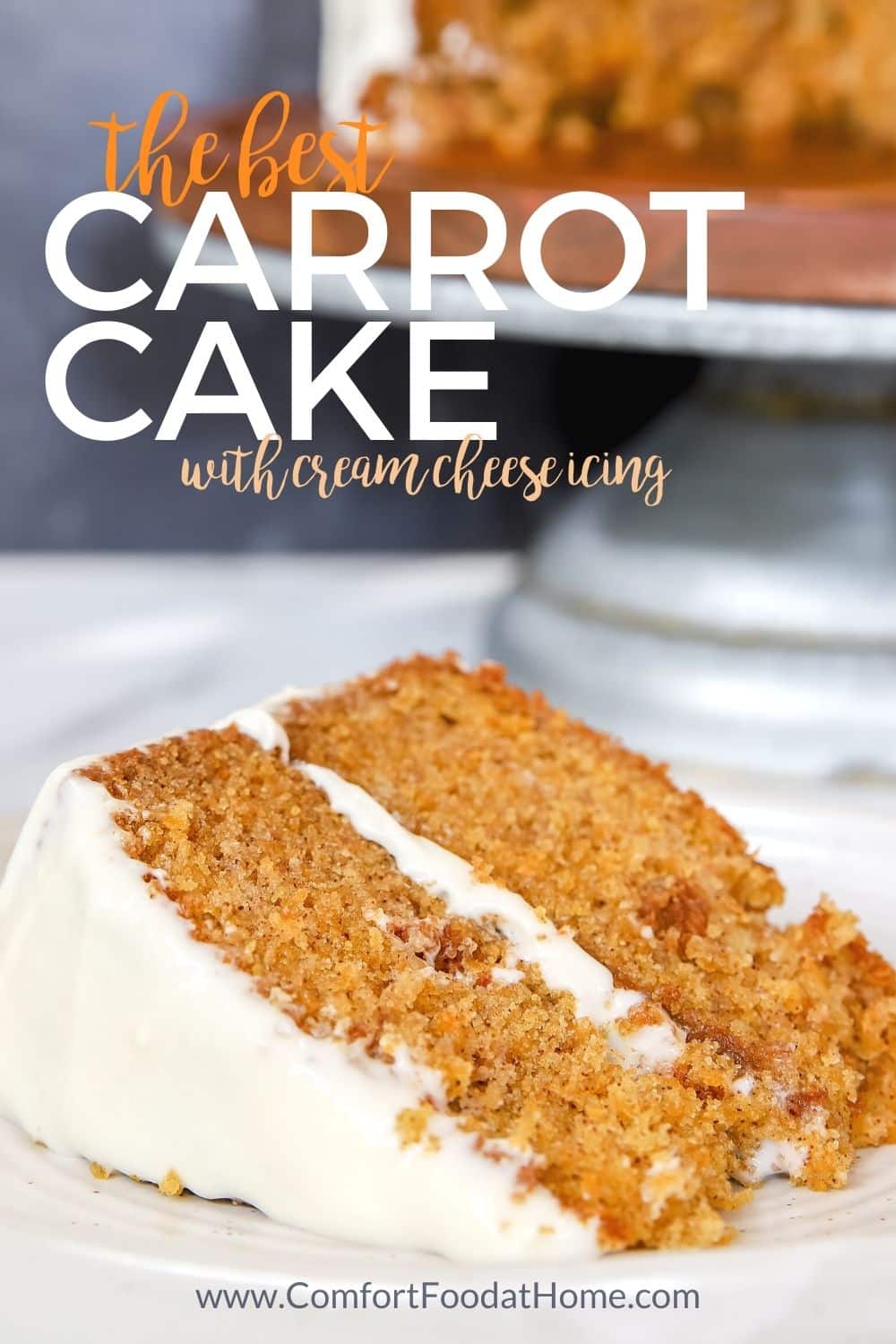 The Best Carrot Cake Recipe- EVER!
This cake is ahhhhmazing!! So moist (even if you don't like the word, it exactly describes this cake) and delicious – thanks to the crushed pineapple!
It is so much better than any store-bought cake that you could ever buy and tastes just like the carrot cake I grew up eating, especially around the holidays and Easter! It was my grandfather's favorite and my grandma made it for him every year.
My mom loves to serve it at Thanksgiving and my sister-in-law has declared it's the most delicious carrot cake she's ever put in her mouth. And I tend to agree!
I can guarantee that people will be begging you for this recipe if you take this cake anywhere. It is a simple and classic cake but is so perfectly made that no one can resist.
Not only is the cake itself so delicious, but the icing is literally just the icing on the cake! It is a perfect homemade cream cheese frosting that compliments the carrot flavor beautifully. If you are anything like me, you might even be tempted to eat the frosting all on its own.
If you are looking for a moist cake that comes out just right every time, then you need to try this recipe for yourself.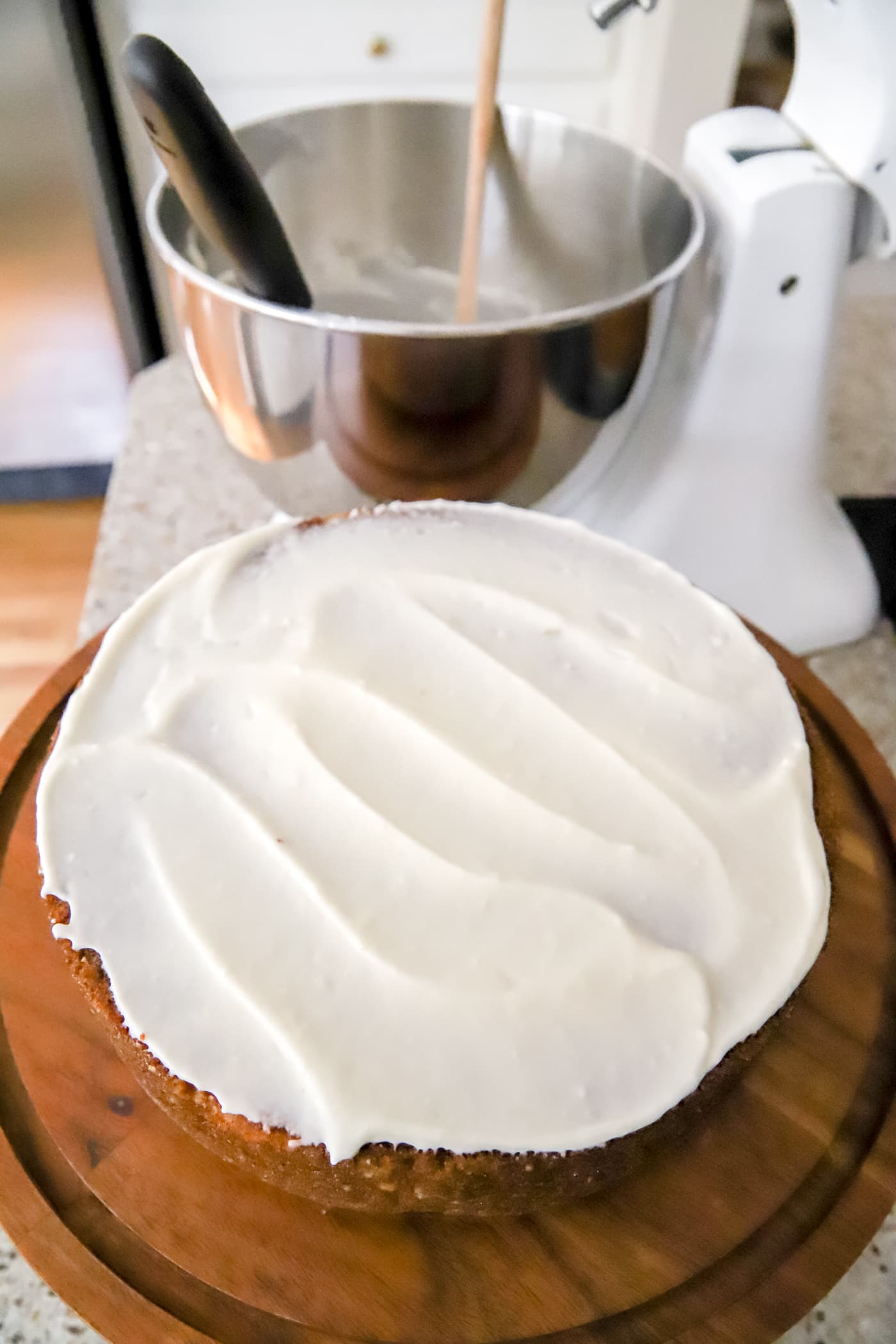 Ingredients Needed To Make Homemade Carrot Cake
To make this delicious cake, you will need the following ingredients:
Cake
Flour: The flour in this recipe is just plain all-purpose flour for a nice and spongy cake that still has some structure to it.
Sugar: A generous amount of sugar helps to create a balance with the carrots in this recipe, making this cake perfectly sweet for any sugar craving you might have!
Baking Powder and Soda: Baking powder and baking soda help to give this cake lift and airiness. It has just the right amount of fluffiness so that the carrots don't weigh the batter down.
Eggs: Eggs help to create structure in this cake and help it to rise nice and tall. This helps it create that familiar domed shape.
Salt: Salt helps to balance out the sweetness, helping it not be too overpowering.
Cinnamon: Cinnamon powder is the perfect complement to the carrots and gives this cake its classic carrot cake flavor.
Vegetable Oil: The vegetable oil in this recipe helps this cake to be nice and rich without being oily. It is light enough that it does drag the cake down or make it dense.
Carrots: Shredded carrots are such an important ingredient in this recipe! They provide the taste, texture, and color that we all know and love.
Pineapple: Pineapple adds a tasty burst of flavor while also helping the cake to remain nice and moist. It is a natural tenderizer and helps to prevent the cake from becoming dry or chewy.
Pecans or Walnuts: Pecans or walnuts can be used in this recipe depending on what you prefer. They add just the right amount of texture and nuttiness to the cake.
Icing
Butter: Butter is part of the base of this icing recipe and makes it rich and delicious. The icing just wouldn't be icing if it didn't have butter!
Cream Cheese: Cream cheese is what is going to give this icing that classic cream cheese flavor. It also helps to create a smooth and silky texture that is easy to spread.
Vanilla Extract: A touch of vanilla extract pulls the flavors together to create a perfectly balanced cream cheese frosting!
Powdered Sugar: Powdered sugar is the sweetener and thickening agent in this frosting recipe. It gives it the perfect amount of sweetness and makes the cream cheese flavor stand out.
Be sure to check out the full ingredient measurements and complete recipe below.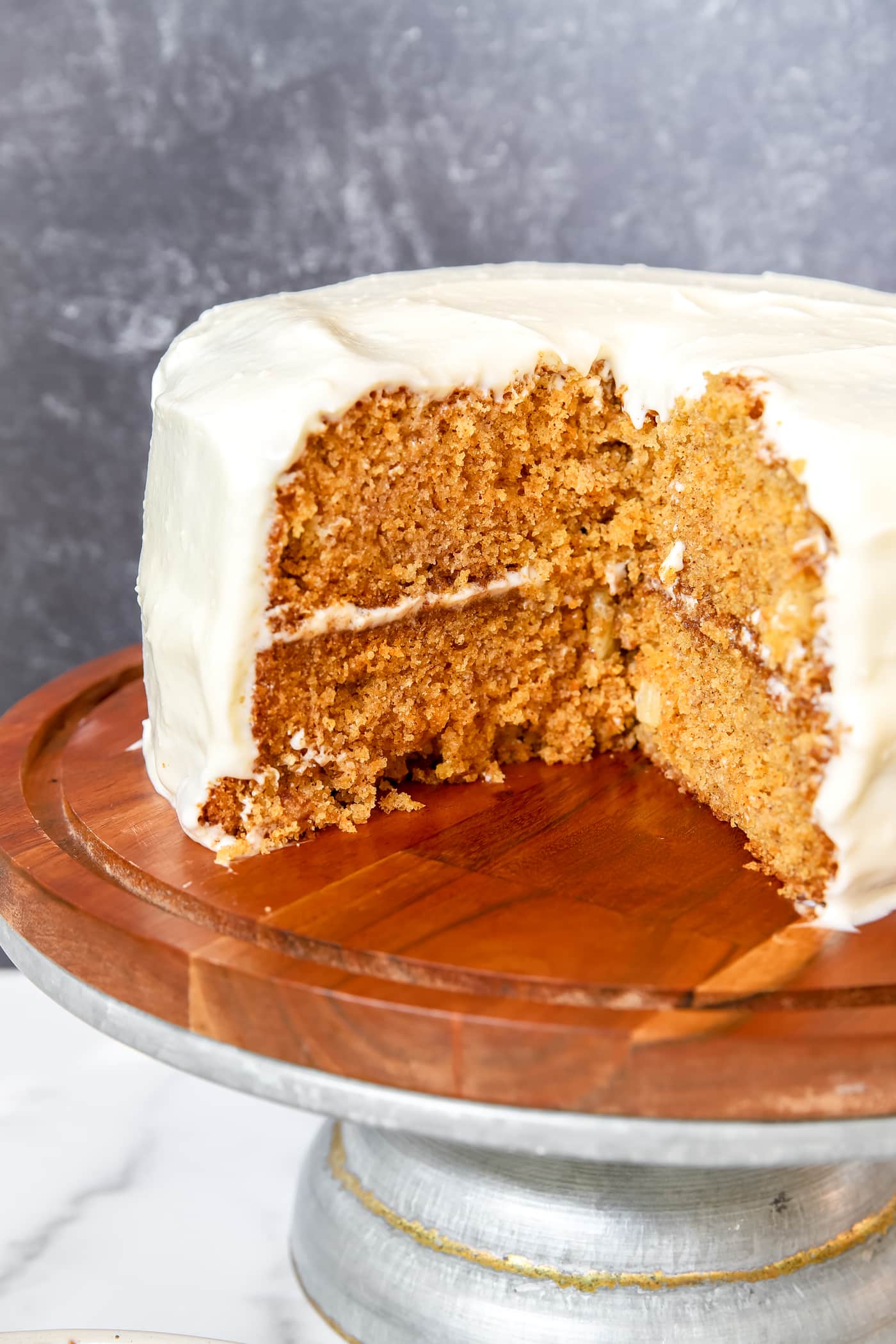 Equipment Needed to Make a Carrot Cake
Food processor or hand grater
Large bowl
9 x 13 pan or 2 – 8 inch round cake pans
Stand mixer or hand beater
Large mixing bowl
Medium mixing bowl
What To Serve With This Delicious Carrot Cake Recipe
This carrot cake is the perfect after-dinner dessert or midday treat for yourself. Because it has a generous amount of cream cheese frosting, this cake is plenty sweet.
But, if you want to enjoy your cake with something, here are a few tasty options to pair with your slice of homemade carrot cake:
Whipped cream
A scoop of vanilla ice cream
A chai tea latte
Stewed apple slices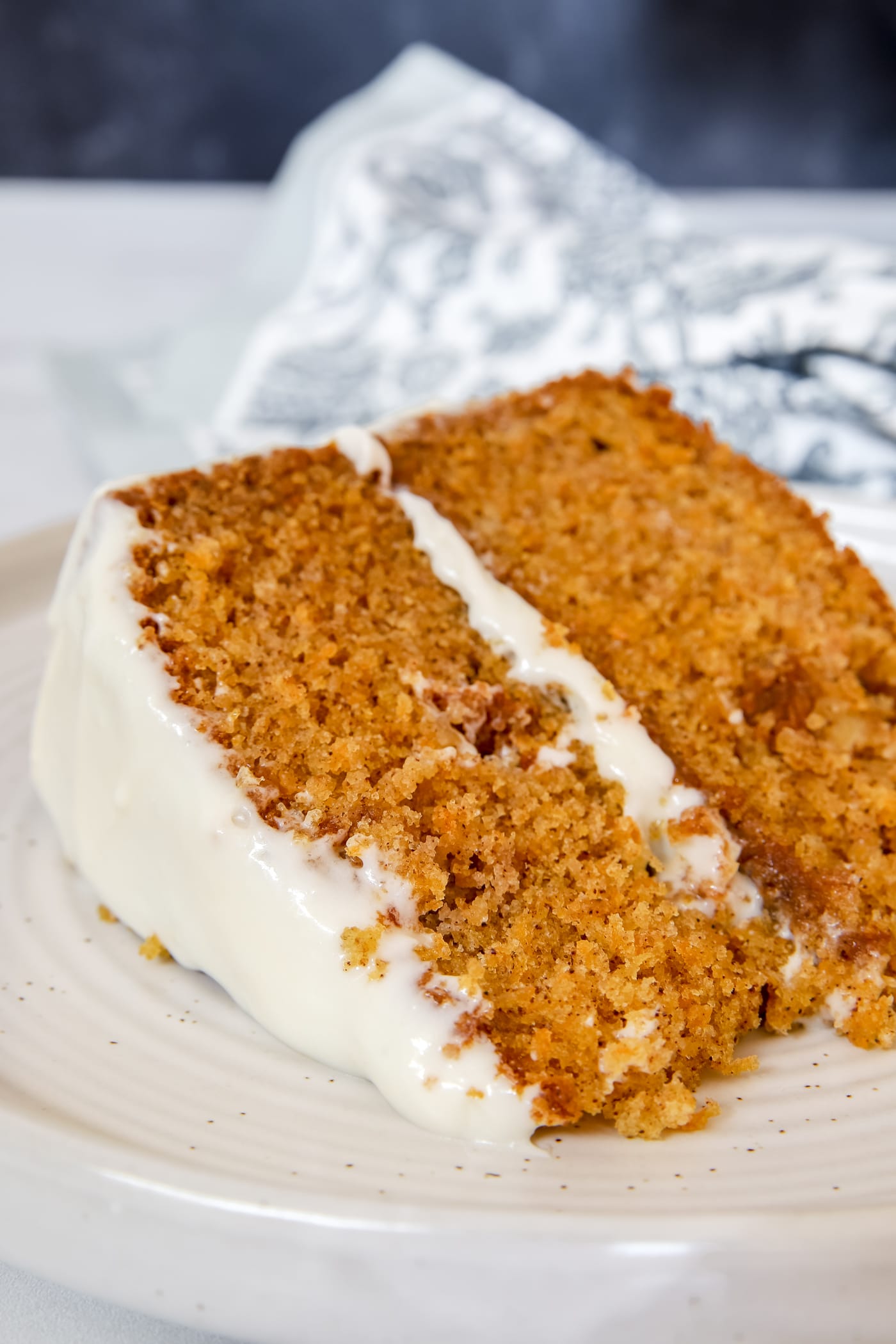 Frequently Asked Questions About Carrot Cake From Scratch
Whenever I share this recipe, I get some of the same questions. Here are the most popular ones that people ask!
If you have a question that isn't listed here, please leave them in the comments, and I'll answer them as soon as possible.
Why does carrot cake have pineapple in it?
Pineapple might seem like a strange ingredient to add to a cake like this one. But, it is actually a very traditional ingredient to add.
Pineapples are tenderizers since they contain an enzyme that breaks down proteins. This effect creates a much more moist cake that doesn't get dry or chewy.
Can I replace the pineapple in the recipe?
If you do not want to add pineapple to your cake or have any on hand, you can substitute it with applesauce.
Applesauce is not a tenderizer, but it will add plenty of moisture to the cake. You most likely won't even be able to tell the difference taste-wise.
Is there a way to make carrot cake without carrots?
You can substitute the carrots in this recipe for equal amounts of pumpkin, butternut squash, shredded coconut, or zucchini.
Just keep in mind that these are not perfect substitutes. The cake will not taste or look the same, and the texture might be slightly different as well.
What is the best way to store this cake?
If you want to make this cake ahead of time, you can store it in an airtight container in a cool area for up to a week. Make sure that it is un-frosted, you can frost it the day that you plan on eating it.
You can also freeze an un-iced carrot cake in an airtight container. It will last for 2 to 3 months and can be defrosted and iced when ready to eat.
If your cake is frosted, you can store it in an airtight container in the fridge for up to 5 days. Any longer and the icing can start to either develop a crust or melt into the cake.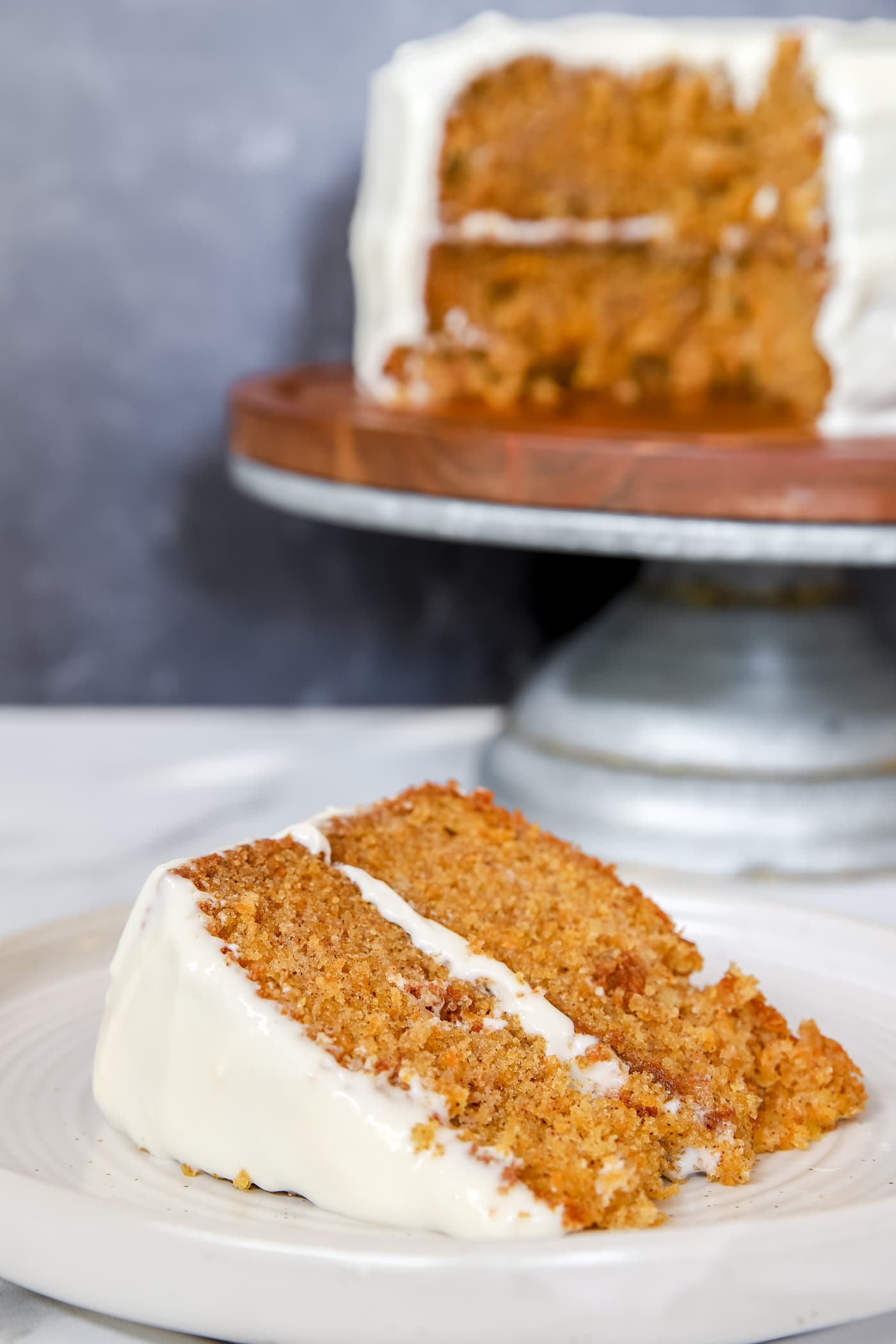 More Grandma-Approved Recipes to Try
If you liked this cake recipe, you should try some other grandma-approved desserts!
Print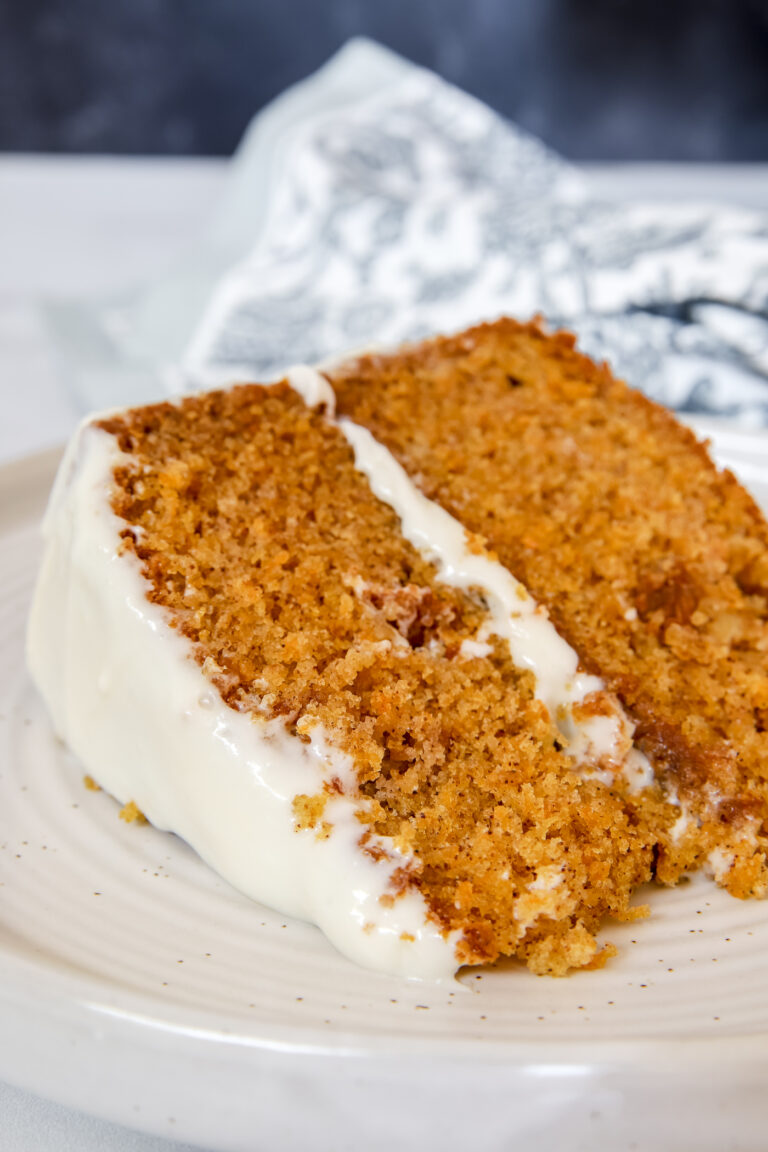 Homemade Carrot Cake
This homemade carrot cake is EVERYTHING! It's incredibly soft and moist- the best carrot cake with cream cheese icing that you will ever make! It is rich and decadent with all of the traditional flavors that we associate with this type of cake. This is the perfect cake to bake for parties or any kind of celebration. 
Total Time:

2 hours 15 minutes

Yield:

10

people

1

x
Cake
3 cups

flour

2 tsp

. baking powder

1 ½ tsp

. baking soda

1 tsp

. salt

2 cups

sugar

2 tsp

. cinnamon

3

eggs

1 ½ cups

vegetable oil

2 cups

carrots, grated

8

oz. can of crushed pineapple, drained

1 cup

pecans or walnuts, roughly chopped
Icing
¼ cup

butter (

½

stick)

8 oz

. cream cheese, softened to room temperature

2 tsp

. vanilla extract

2 ¼ cup

powdered sugar
Instructions
Set out the cream cheese and butter for the icing to let it soften while making the cake.
Make the Cake
Preheat the oven to 350 degrees.
Grate the carrots with a food processor or hand grater until you have 2 cups. Set aside.
Drain crushed pineapple and set aside.
Roughly chop nuts until you have 1 cup.
In a large bowl, or stand mixer, combine the dry ingredients: flour, baking powder, baking soda, salt, sugar and cinnamon. Mix well.
To the flour mixture, add grated carrots, drained pineapple and chopped nuts. Stir until well combined.
Grease a 9 x 13 pan or 2 round cake pans.
Fill pan(s) with cake batter.
Bake on 350 degrees for 45 minutes.
Make the Icing
In a medium bowl, cream butter and cream cheese together.
Add vanilla and combine.
Beat in powdered sugar.
Once the cake has cooled completely, spread the icing on the cake.
Any leftover cake needs to be kept in the refrigerator.
Author:

Laura

Prep Time:

30 minutes

Cook Time:

45 minutes

Category:

Dessert

Cuisine:

Swiss
Keywords: baked goods, cake, dessert, nuts