Soft and fluffy, this lemon blueberry muffins recipe is the perfect combination of sweet and tangy. Easy to make and a crowd-pleaser, all picky eaters are guaranteed to devour these lemon blueberry muffins for a yummy afternoon snack or breakfast!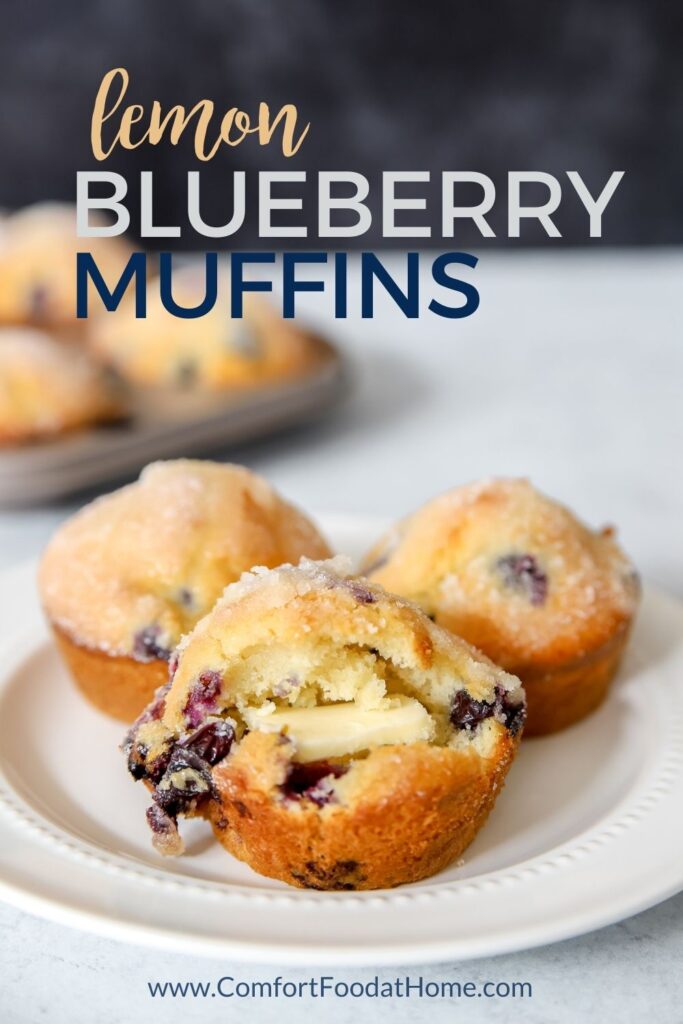 Make These Lemon Blueberry Muffins As The Perfect Summer Treat!
Have you ever gone blueberry picking? It is such a fun family activity that gets everyone outside for a couple of hours. I'm always amazed at how many blueberries one bush can produce. When you're picking, it's easy to get buckets and buckets of the berry within a couple of hours!
Of course, you can't enjoy all those blueberries at once- and this blueberry lemon muffins recipe is just the thing to have on hand!
Make a batch with your fresh blueberries and every family member will quickly flock to the kitchen to find out what that scrumptious smell is. Blueberry picking followed by muffin baking has quickly become a summer tradition in my family.
Where I live, blueberries tend to be in season between April and June. This means that it can sometimes align perfectly with Mother's Day. Use the fresh blueberries to make these muffins as a part of your Mother's Day brunch!
These blueberry lemon muffins are also so versatile. They work wonderfully as an everyday muffin to feed the family. We enjoy them as snacks, desserts, and even as a sweet breakfast. The sweetness of the sugared blueberries combined with the lemon zest makes these muffins not too overwhelming. They are light and fresh, sitting in your stomach just right.
They are definitely a favorite!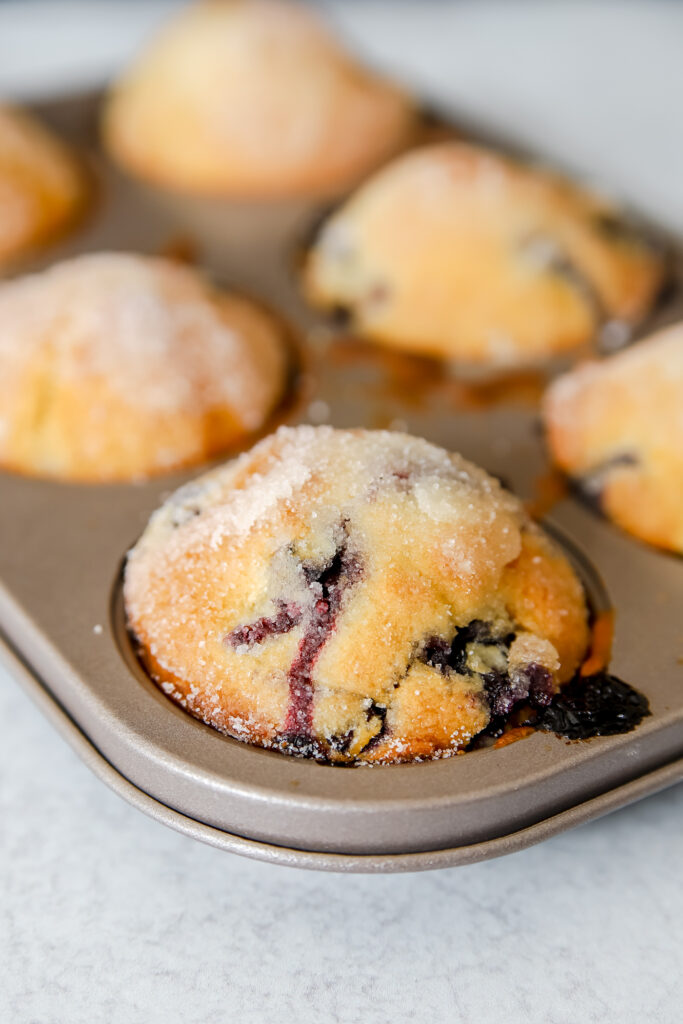 Ingredients Needed To Make Homemade Blueberry and Lemon Muffins
To make these blueberry lemon muffins at home, make sure you have these ingredients on hand:
Flour: Also known as all-purpose or white flour, plain flour is the best for baking where a crumbly texture is encouraged.
Sugar: Use the white sugar to sweeten the batter as well as to toss the blueberries in. The will help the berries maintain their shape and not sink to the bottom of the muffin. Your sweet tooth will adore these muffins!
Baking Powder and Salt: Two baking staples! Add these ingredients to your dry mix.
Blueberries: If blueberries aren't your favorite, feel free to also substitute them with raspberries or blackberries. All berries should pair well with the lemon!
Lemon Zest: The addition of lemon zest adds a nice tanginess to the batter. I recommend using a small grater like a citrus zester to break down the lemon peel to add to your batter.
Egg: Using eggs in muffins helps to create air bubbles, making the muffins fluffy and crumbly. And, what is a muffin without its crumbs?
Milk: Regular milk works just fine, but you can also use buttermilk for more flavor and texture.
Vegetable Oil: If you don't have vegetable oil, applesauce is a great replacement to make sure your muffins stay moist.
Melted Butter: This is completely optional but I like to add a little dab of melted butter over the top of the blueberry lemon muffins. It's the perfect last touch!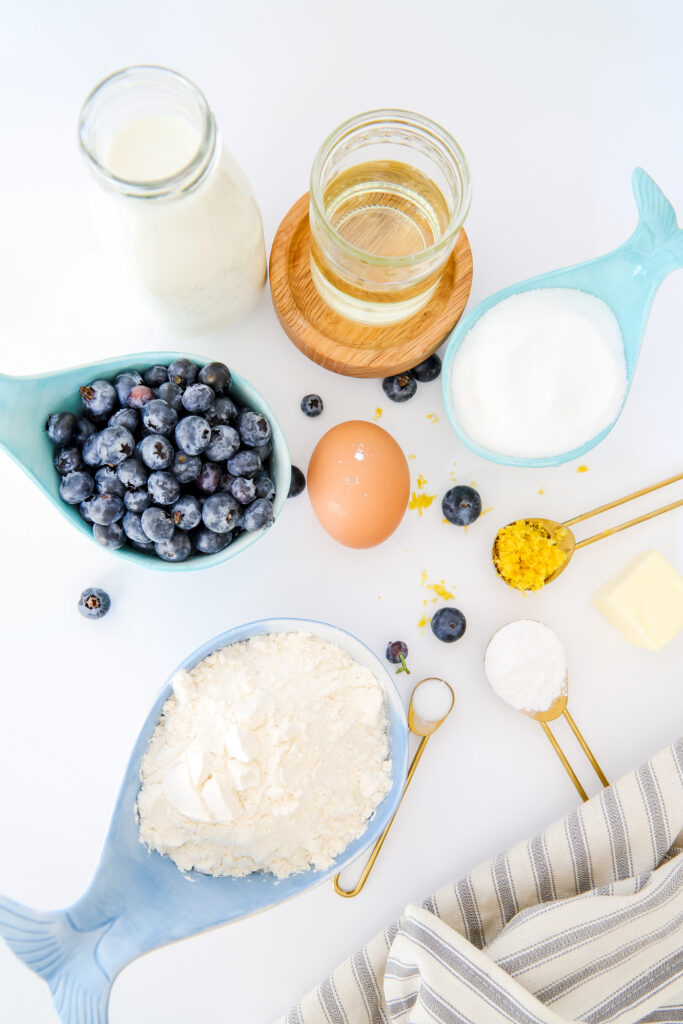 What To Serve With This Lemon Blueberry Muffins Recipe
Honestly, my idea of a perfect weekday breakfast is one of these blueberry lemon muffins paired with a coffee. Since they are so easy to make, they work wonderfully as a quick muffin to whip up during the workweek.
You can also enjoy these muffins with other brunch staples like bacon, sausage, French toast, and other baked goods such as this chocolate chip bundt cake.
Frequently Asked Questions About Blueberry Lemon Muffins
Whenever I share this recipe, I get some of the same questions. Here are the most popular ones that people ask!
If you have a question that isn't listed here, please leave them in the comments and I'll answer them as soon as I possibly can.
Do I need to use fresh or frozen blueberries to make these muffins?
Frozen or fresh blueberries work fine for this recipe. I tend to use fresh blueberries whenever they are in season. When I pick blueberries, I make sure to put a ton in my freezer to use for the coming months when the price of blueberries jumps back up.
If you use frozen blueberries, do not thaw them before you add them to the batter. Otherwise, they will fall apart in the batter as you're mixing them in.
Do I need to use cupcake liners?
Liners are optional for these muffins, but I think it makes serving them easier. Standard liners will make smaller-sized muffins as they hold less batter.
If you don't use liners, be sure to generously spray your muffin tin beforehand so the muffins come out easily and look delicious.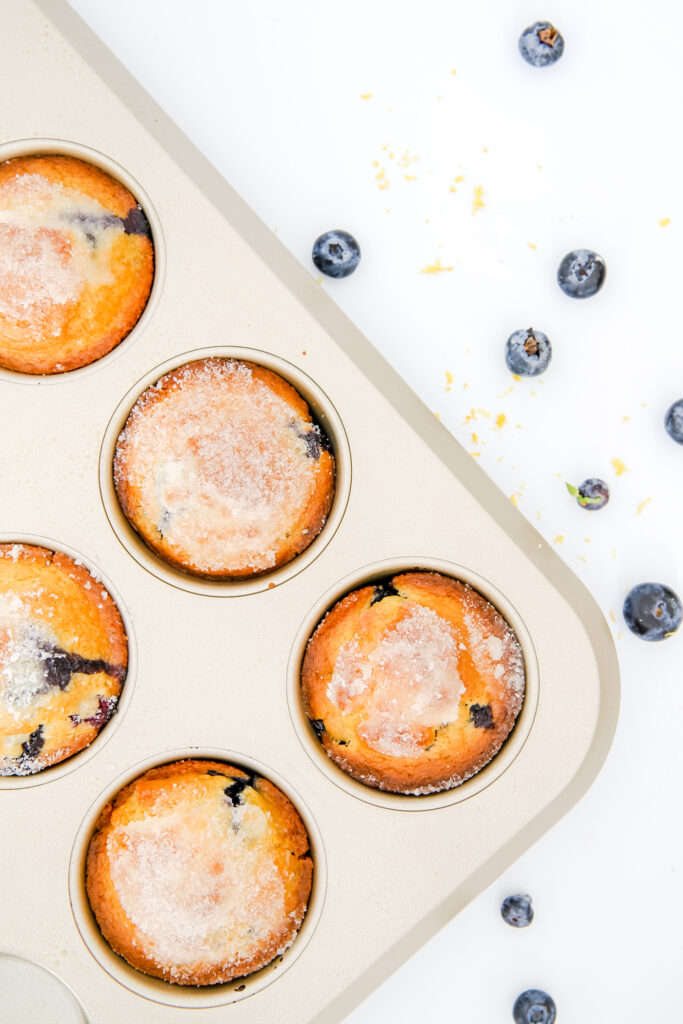 Can you freeze blueberry lemon muffins?
Yes! These muffins freeze beautifully. Make your muffins normally and forego the melted butter topping.
Tip: Add it when you're ready to thaw and enjoy them. Once they have completely cooled, place them in a freezer-safe bag and put them in the freezer.
These muffins are good for up to six months in the freezer. However, I find these muffins don't last long in my house! Like a day, if we're lucky! I suggest making a double batch just so you have some extras to freeze.
Remove a muffin one at a time and defrost it in the microwave when you want to eat them. Or, take out a whole batch of blueberry muffins when guests are coming.
They also are a great road trip snack or camping snack to take on the go! But take wipes if you take them in the car. The juicy blueberries can be messy!
MORE GRANDMA-APPROVED RECIPES TO TRY
If you enjoyed this recipe for blueberry lemon muffins, take a look at some of these other yummy recipes:
Would you serve these blueberry lemon muffins as a snack? I really want to know! I'd also love to hear what you thought of this recipe in the comments below!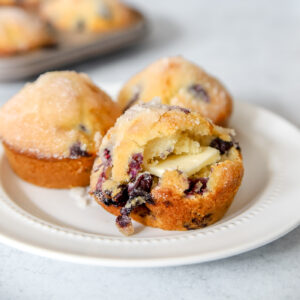 Lemon Blueberry Muffins
Soft and fluffy, this lemon blueberry muffins recipe is the perfect combination of sweet and tangy. Easy to make and a crowd-pleaser, all picky eaters are guaranteed to devour these lemon blueberry muffins for a yummy afternoon snack or breakfast!
Equipment
12-cup muffin tin

Medium mixing bowl

Small Microwave-Safe Bowl
Ingredients
1 ¾

cup

plain flour

½

cup

sugar, divided in half

2 ½

tsp.

baking powder

¼ – ¾

tsp.

salt

1 – 2

tsp.

lemon peel, grated

1

egg, beaten

¾

cup

milk

⅓

cup

vegetable oil

1

cup

blueberries, rinsed & dried, tossed with 2 Tbsp. of sugar

2

Tbsp.

butter, melted for topping
Instructions
Grease a 12-cup muffin tin or line each tin with baking liner or parchment paper.

Combine dry ingredients (except for ¼ cup of sugar) in on bowl.

Combine liquid ingredients in a larger bowl.

Add dry ingredients to liquid ingredients and stir together until mixed well.

Fold in blueberries (coated in sugar).

Fill each muffin tin until halfway full with batter.

Bake at 400º for 20-25 minutes.

While muffins are cooking, melt the butter.

And place 2 Tbsp. of sugar in a bowl for dipping.

While the muffins are still warm, dip the top in melted butter, then dip in sugar.