No-Bake Frozen Lemonade Pie Recipe
This post contains links to affiliate websites, such as Amazon, and we receive an affiliate commission for any purchases made by you using these links. We appreciate your support!
Avoid the heat of the summer with this easy, no-bake lemonade pie. A southern classic, this frozen lemonade pie is one of my go-to recipes when I need something simple and sweet to serve after dinner or at a summer BBQ.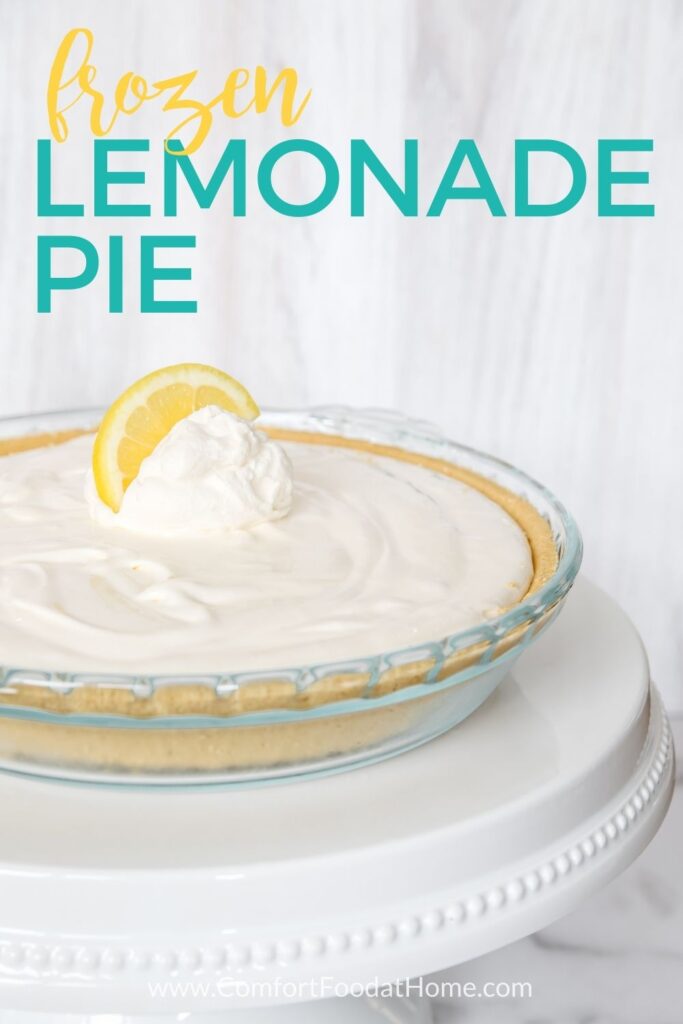 Frozen Lemonade Pie vs. Lemon Icebox Pie
Even though both of these pies have the fresh lemon taste, this no-bake frozen lemonade pie is not to be confused with its cousin, the lemon icebox pie. The biggest difference is that the lemon icebox pie has eggs in it, thus requiring it to be cooked. While the frozen lemonade pie is 3 simple ingredients and no cooking involved!
There is such a thing as a no-bake lemon icebox pie, but it will typically have cream cheese instead of eggs and will get its lemon flavor from lemon zest.
This lemonade pie is exactly what is sounds like – made with frozen lemonade!
But either way, both types of pies are served cold and are a delicious treat in the hot summer months!
Make A Delicious Lemonade Pie This Summer!
If there ever was a perfect pie for the summer, this lemonade pie would be it! The ultimate combo of tart and sweet, the frozen texture of the pie melts right in your mouth. It has a creamy filling and a distinct lemon taste that reminds me of hot summer days.
And, us southerners know how hot our summers can get!
I don't know about you, but I avoid turning the oven on at all costs in the summer. While this does mean my baking slows down, I know I have a few classic no-bake desserts I can turn to. I can enjoy a tasty dessert, and I don't sweat in the kitchen. A win-win!
I like to make this pie when I'm hosting an outdoor dinner or summer cookout. It tops off the night when no one wants something too heavy and instead, calling for a refreshing dessert. Plus, I can make it ahead of time!
Since it is so easy to make, I often recruit the kids to help me mix all the ingredients. And, if we want a quick recipe for tonight's dessert, I know I can always make this lemonade pie. It takes only 5 minutes and requires only four ingredients.
It can't get simpler than that!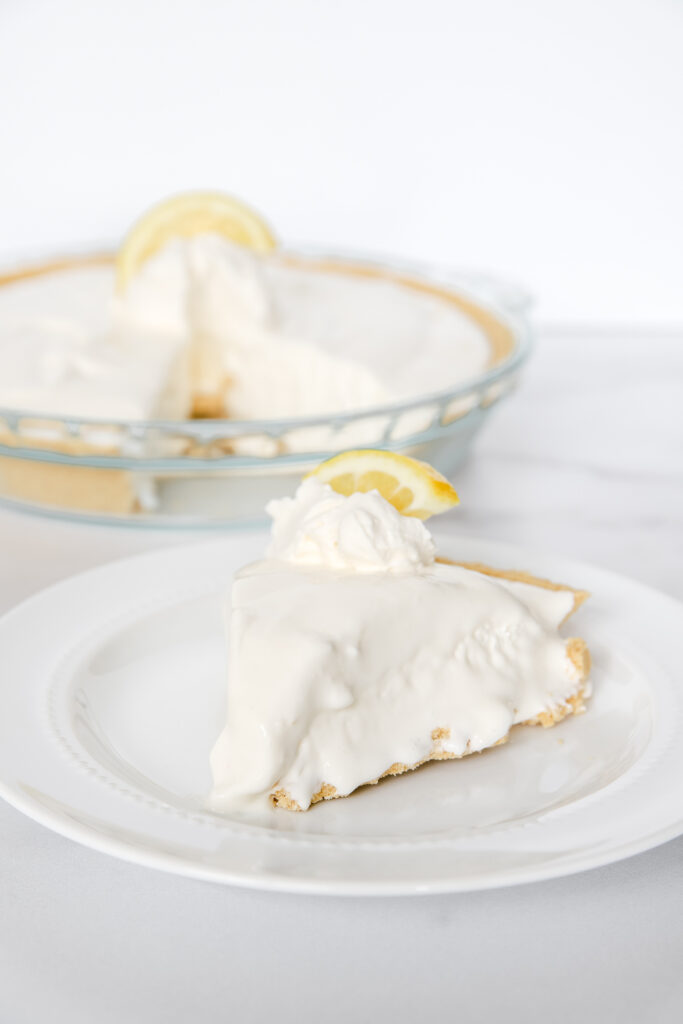 Ingredients Needed to Make Homemade Lemonade Pie
To make this icebox lemonade pie at home, these are the ingredients you will need:
Frozen Whipped Topping: Avoid using real whipped cream as it isn't stable enough and will create a different consistency. Instead, use frozen whipped topping, like CoolWhip, thawed from the freezer.
Sweetened Condensed Milk: This recipe requires no extra sugar because this sweetened condensed milk is all you need. The taste of it really comes through, and it makes the pie ideal for sweet tooths!
Frozen Lemonade: Don't worry about squeezing fresh lemons. Simply use a thawed, frozen lemonade concentrate to get the lemon flavor. You can also substitute it with other drink concentrates such as limeade or pink lemonade.
Graham Cracker Crust: Why make a crust when you don't have to? Pre-made crusts are inexpensive and tasty. I prefer a graham cracker crust, but you can also use shortbread or other available pie crusts.
What To Serve With This Lemonade Pie Recipe
Since this lemonade pie is the perfect pairing for a summer BBQ, start off the dinner with an appetizer such as this 5 Layer Mexican Taco Dip.
Then, get grilling and make burgers, hot dogs, and other BBQ favorites! My Creamy Mac and Cheese recipe is a side dish that everyone is sure to love. Make sure to pair your meal with a cool drink in hand.
Tip: Another amazing no-bake recipe that is useful during a heatwave is my No-Bake Chocolate Oatmeal Cookies!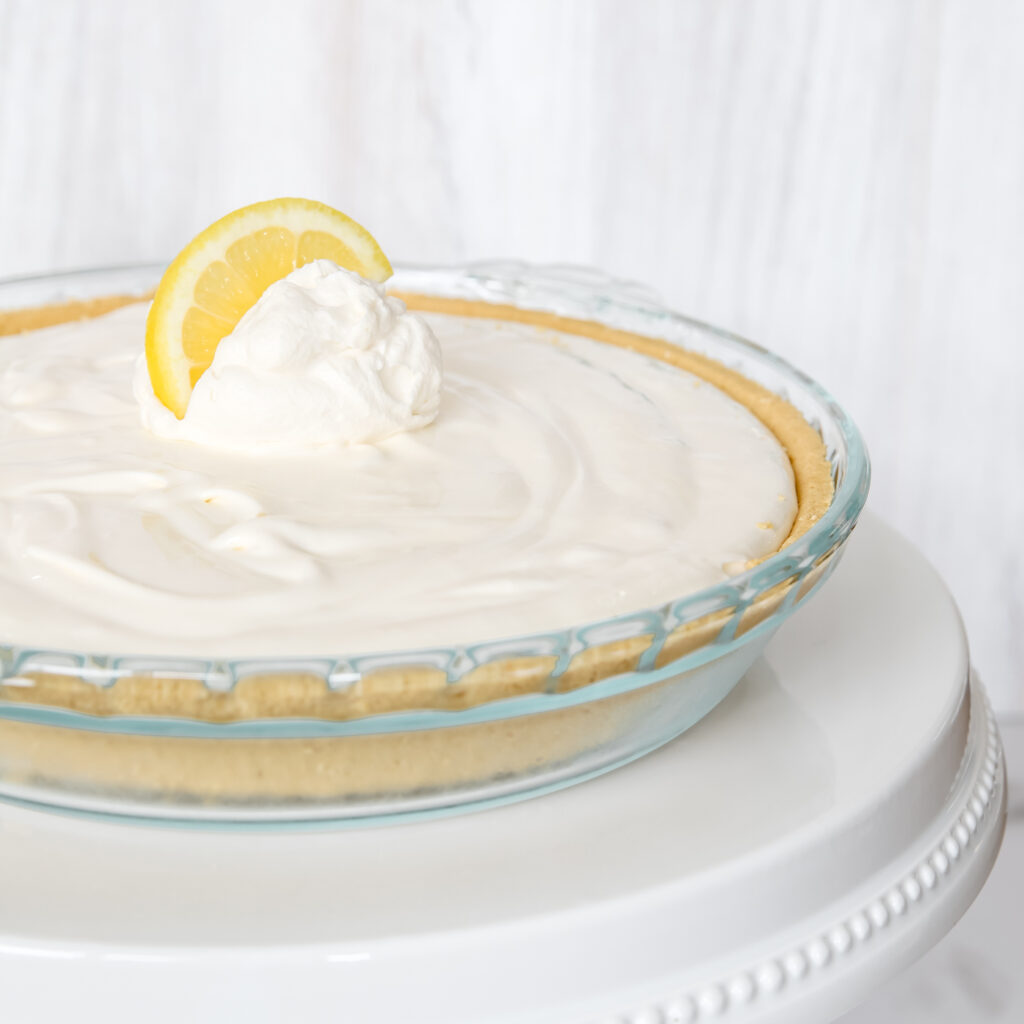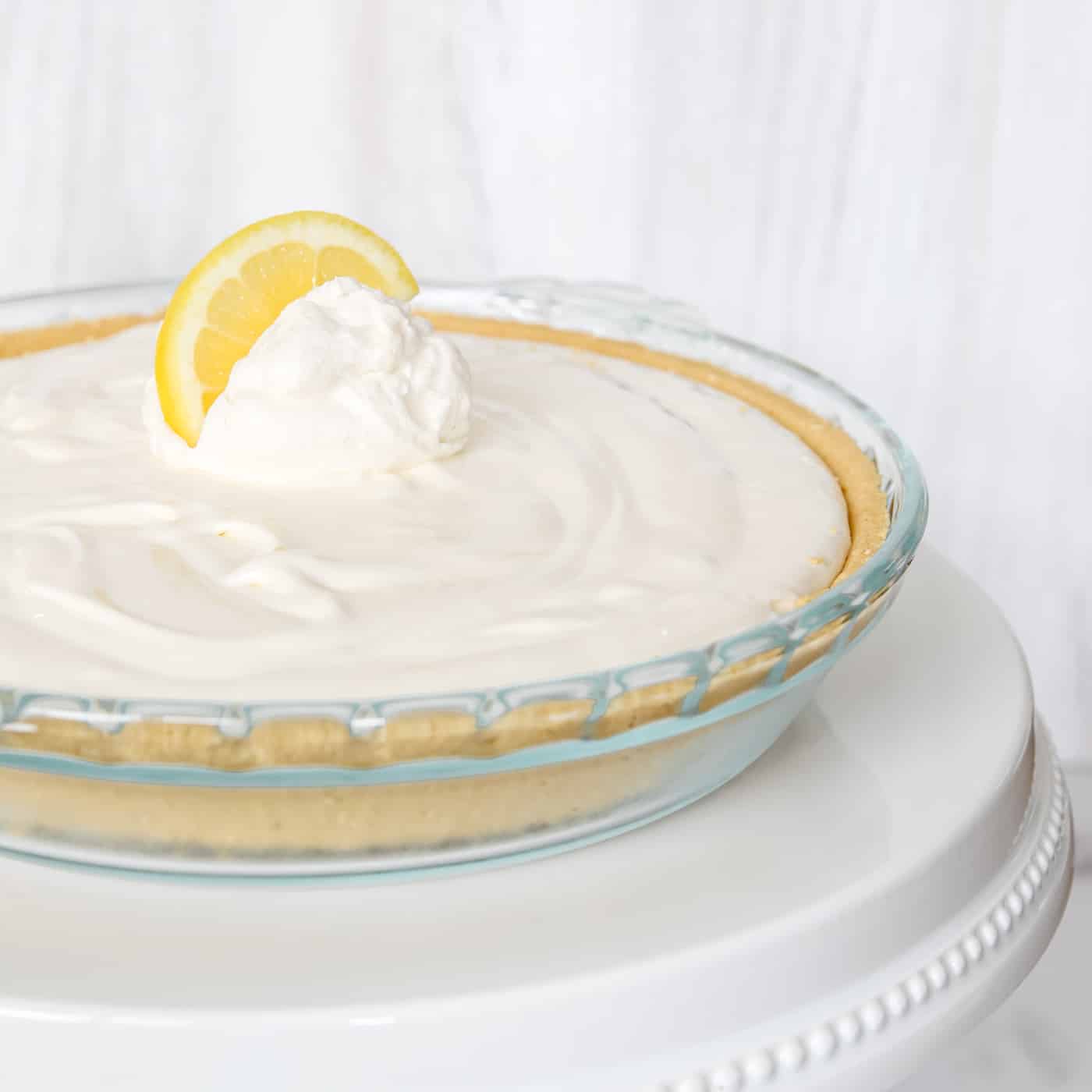 Frequently Asked Questions About Frozen Lemonade Pie
Whenever I share this recipe, I get some of the same questions. Here are the most popular ones that people ask!
If you have a question that isn't listed here, please leave them in the comments, and I'll answer them as soon as I possibly can.
Should I freeze or refrigerate my lemonade pie?
Depending on the ingredients of lemonade pie, many different people will tell you to either refrigerate or freeze it. For this recipe, it is best to freeze the pie. In the fridge, you will get a pudding-like consistency while the freezer will help to firm it up.
When you're ready to serve your pie, take it out and let it sit for 5-10 minutes or enjoy completely frozen. I like to add a little bit of lemon zest, whipped cream, or leftover frozen whipped topping if you have some to make the pie a little more fun.
How long is the frozen pie good for?
This lemonade pie recipe is best eaten within 1-2 days after you make it. Cover it with plastic wrap and leave it in the freezer until you're ready to serve it.
Once firm, you can remove it from the freezer and into the fridge if you prefer. After 3-4 days in the fridge, the pie will begin to break down and become soggy. If properly stored in the freezer, it can last up to 3 months!
How can I change up the pie recipe?
Since this recipe is so simple, it is easy to mix things up. You can add a different juice concentrate that you prefer. You can also mix in canned, drained fruit such as mandarins or pineapple to pair with your different juice flavors.
Try to have fun with decorating, adding things such as candied lemons and powdered sugar sprinkled over top!
Another fun idea is to make these mini-personal pies instead. This recipe will make approximately six personal pies.
MORE GRANDMA-APPROVED RECIPES TO TRY
If you enjoyed this recipe for frozen lemonade pie, take a look at some of these other yummy recipes:
So… Did you love making this frozen lemonade pie recipe? Let me know! I'd love to hear what you think in the comments below!
Frozen Lemonade Pie
Avoid the heat of the summer with this easy, no-bake lemonade pie. A southern classic, this frozen lemonade pie is one of my go-to recipes when I need something simple and sweet to serve after dinner or at a summer BBQ.
Equipment
Electric Mixer

Medium mixing bowl

Spatula
Ingredients
8

oz.

carton of frozen whipped topping, thawed

14

oz.

can of sweetened condensed milk

6

oz.

frozen lemonade, thawed

1

graham cracker crust
Instructions
Combine thawed lemonade and sweetened condensed milk, mixing well with an electric mixer.

Pour mixture into pie crust and freeze until firm, about 4 hours.

Thaw 5-10 minutes before serving.