No-Bake Chocolate Oatmeal Cookies
Full of ingredients you already have in your kitchen pantry, you can quickly whip up these no-bake cookies to satisfy your sweet craving anytime. Fudgy, chewy, and delightful, make these no-bake chocolate oatmeal cookies in a matter of minutes!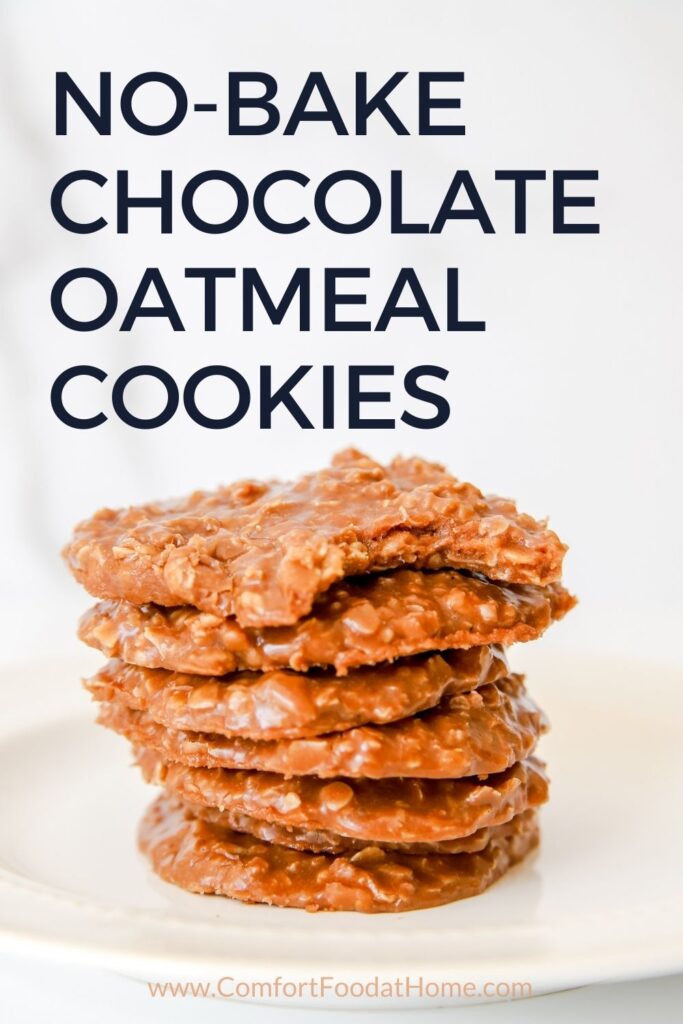 The Perfect No-Bake Recipe For Chocolate Oatmeal Cookies!
Do you ever have a sudden sweet craving?
Whenever one of these cravings hit, and I have nothing to munch on immediately, these no-bake chocolate oatmeal cookies are what I turn to. They are so quick and easy to make, plus ready to hit the taste buds in a matter of minutes!
And that's just to name a few reasons. There are just so many things I love about this recipe.
First, I always have the ingredients on hand. They are made with fridge and pantry staples, so I don't have to head out to the grocery store to get any more ingredients. Anything that is a time saver for me is a big hit in my eyes!
The second thing I love most about them is all in the name…no baking! I find myself baking a lot less in the hot months simply because I can't stand to turn on the oven. These cookies are the perfect solution to having a homemade goodie that requires only a smidge of stovetop heat.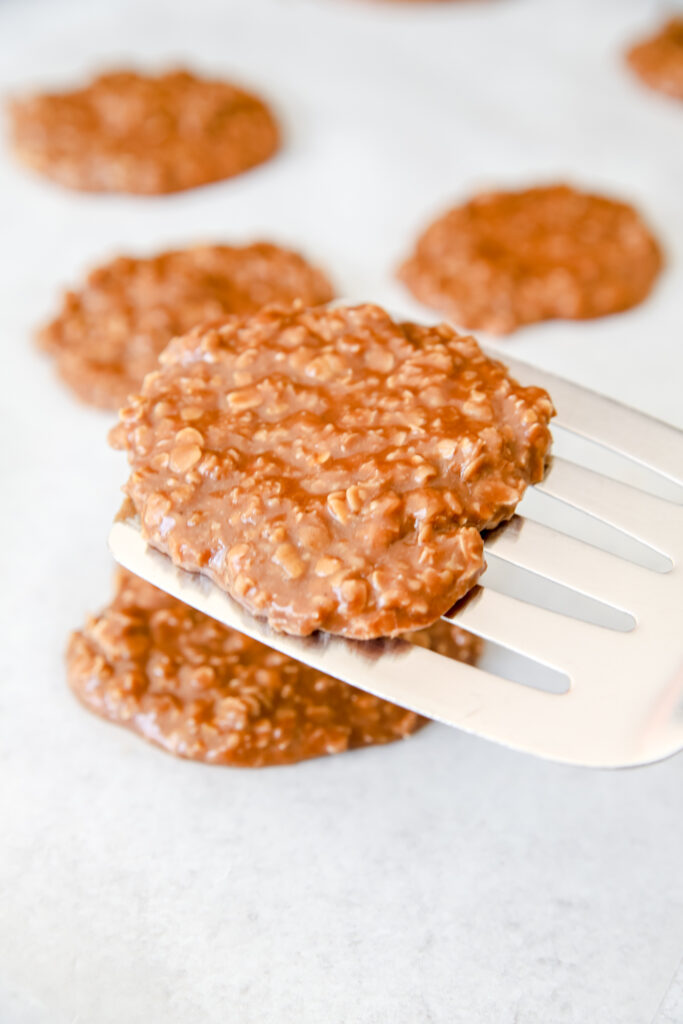 Convinced yet? Worried your kids won't eat them?
Well, let me tell you- This recipe for no-bake chocolate oatmeal cookies is a family favorite! Since they're so easy to make, it's a great recipe to involve the kids in. Teaching kids to bake with simple recipes they can easily partake in is a great way to get them excited about being in the kitchen.
I remember making these cookies with my mom whenever I wanted something sweet, and I love knowing that my girls will have the same cookie-making memories. I hope they become a family tradition in your house too!
Ingredients Needed To Make No-Bake Chocolate Oatmeal Cookies With Peanut Butter
To make this oatmeal cookie recipe at home, these are the ingredients you will need:
Sugar: No real cookie is complete without some sugar.
Cocoa: Cocoa gives this cookie some much-loved chocolate flavor. Use unsweetened cocoa for a more intense chocolate flavor.
Butter: Try and use the real stuff here! Margarine has a different flavor that doesn't work as well with these cookies.
Vanilla: Just like butter, I always notice a massive difference in flavor when you use the real vanilla extract instead of artificial vanilla flavoring. However, both will work just fine.
Peanut Butter: I prefer creamy and natural peanut butter as it works well into the dough and doesn't add additional sugar. You can use crunchy peanut butter if you like that texture. But add a bit extra, so the consistency isn't affected.
Oats: Quick oats give a more tender texture to the cookie, making every nibble of the cookie soft. If you use rolled oats, you may get a chewier bite.
What To Serve With Homemade Chocolate Peanut Butter Oatmeal Cookies
While these cookies are delicious all on their own, I usually like to pair a cookie or two with a drink of milk, coffee, tea, or any other hot or cold drink that suits your fancy.
These oatmeal cookies are also a great snack to have on hand for the kids! Make a batch for the kids to enjoy on a playdate while the adults sit and enjoy a slice of chocolate chip bundt cake.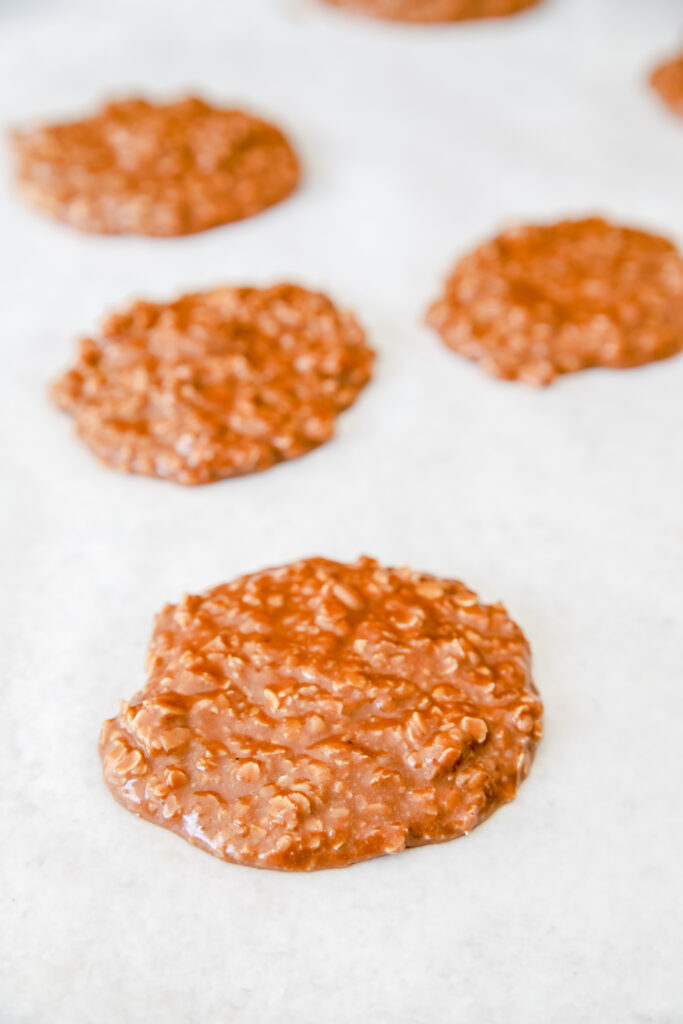 Frequently Asked Questions About This Recipe For No-Bake Chocolate Oatmeal Cookies
Whenever I share this recipe, I get some of the same questions. Here are the most popular ones that people ask!
If you have a question that isn't listed here, please leave them in the comments, and I'll answer them as soon as I possibly can.
Can I make this cookie recipe gluten-free?
Absolutely! Since there is no flour or baking required for this recipe, it is much easier to make it gluten-free. When shopping for your oats, simply look for a brand that is labeled gluten-free.
Why did my cookies not set?
Hopefully, this recipe should turn out perfect! If it doesn't, I would first look at your peanut butter. Peanut butter that is too drippy or oily could use an extra tablespoon or two of oats.
The other culprit is problem might be you did not boil the chocolate mixture long enough. Make sure the mixture reaches a full boil, not a simmer, for a full 60 seconds.
If the cookies are too wet after 60 seconds, add an additional 15 seconds!
How do I properly store these no-bake cookies?
The secret to stopping your cookies from going dry is all about timing! When the cookies have cooled mostly and are set up properly, place them in an airtight container. This way, they retain some of the moisture and will stay fresher longer.
If you enjoy a thick and chewy cookie, you can also store them in the fridge. This recipe freezes well in a plastic storage bag!
Note: Make sure to eat the cookies within six months while still fresh.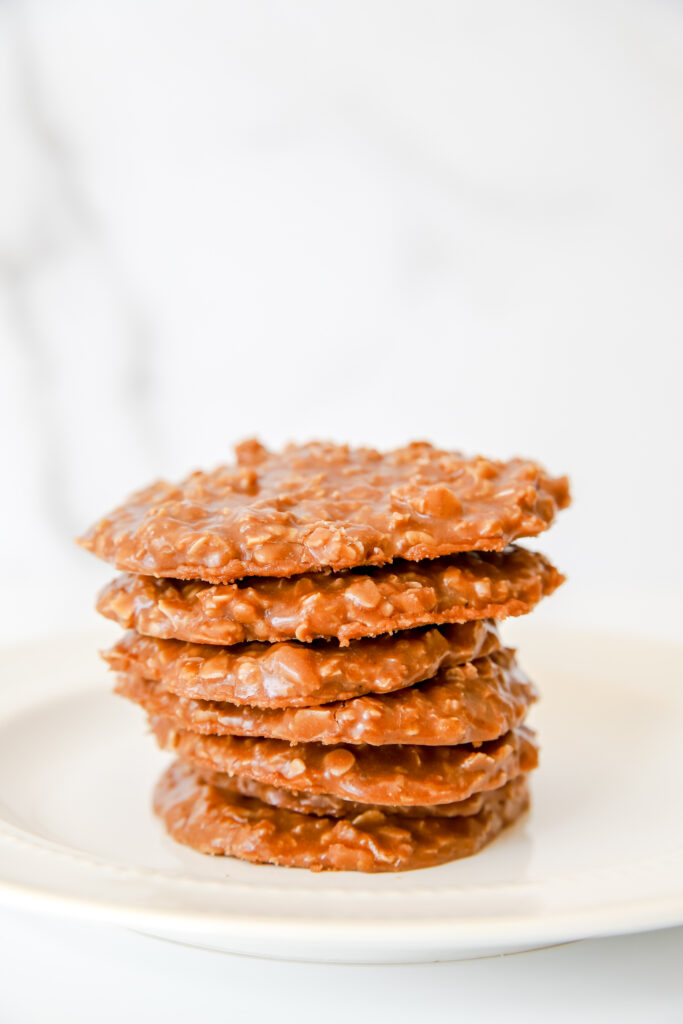 MORE GRANDMA-APPROVED RECIPES TO TRY
If you enjoyed this recipe for no-bake cookies, take a look at some of these other yummy recipes:
Do you think you'll use creamy or chunky peanut butter to make these no-bake chocolate oatmeal cookies? Do you like adding oats to your cookie recipes? If so, let me know! I'd love to hear what you think in the comments below!
No Bake Chocolate Oatmeal Cookies
Full of ingredients you already have in your kitchen pantry, you can quickly whip up these no-bake cookies to satisfy your sweet craving anytime. Fudgy, chewy, and delightful, make these no-bake chocolate oatmeal cookies in a matter of minutes!
Equipment
double boiler

Wax Paper

Large mixing bowl
Ingredients
2

cups

sugar

¼

cup

cocoa

½

cup

butter (1 stick)

1

tsp.

vanilla

⅓

cup

peanut butter

2 ½

cup

quick cooking oats
Instructions
Mix sugar, cocoa, milk and butter in a double boiler.

Heat until boil; let boil for 2 minutes.

After mixture reaches boiling, remove and cool.

Stir in vanilla, oats and peanut butter until well mixed.

Drop by tablespoon onto waxed paper.

After cookies are firm, place them in an airtight container while they are still warm to retain moisture.