Bisquick Sausage Balls Recipe With Cheese (3 Ingredients)
Looking to put out all of your best appetizers this upcoming game day? Make sure this sausage balls recipe with Bisquick is on that list! This recipe is super simple. All you need are three ingredients: sausage, cheese, and Bisquick!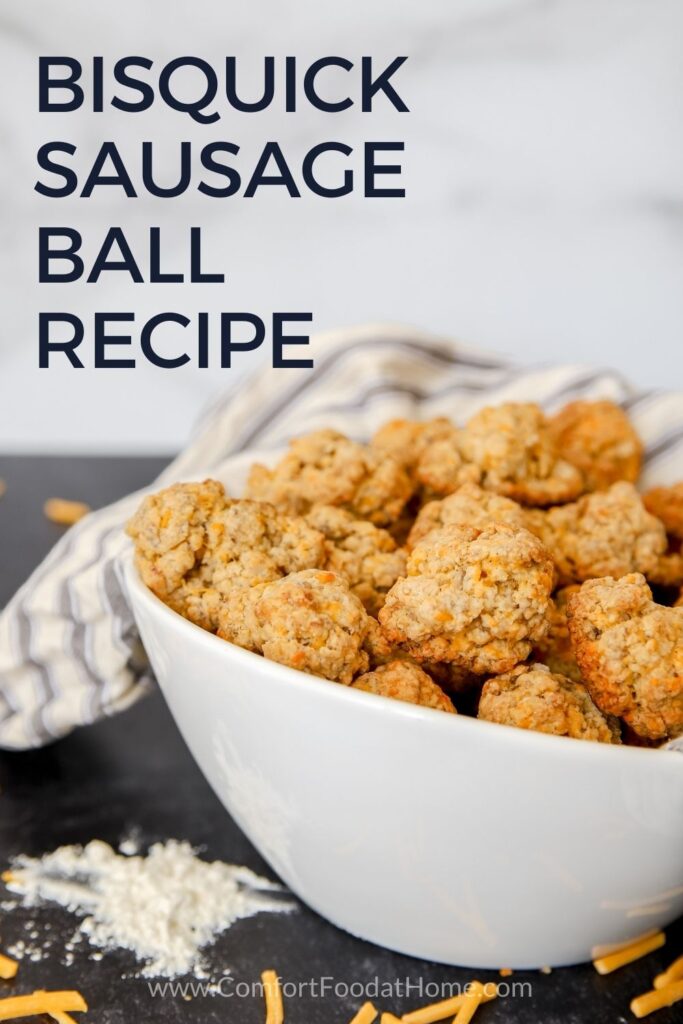 This quick and easy breakfast or appetizer food has been a Christmas day tradition in our family for as long as I can remember. I don't know how it started, but my mom always made homemade cinnamon rolls and sausage balls for the big day!
It may have been an odd combination, relying heavily on carbs, but it's a delicious tradition I now carry on with my family. (And I might add some eggs or bacon to the mix, too.)
But whether you are making a traditional holiday meal, or getting ready for a big party, these easy sausage biscuits are delicious!
Cheesy Sausage Balls: The Perfect Game Day Appetizer!
Football season is always on our minds, which means it's never a bad time to put together some amazingly delicious recipes for game day parties and potlucks!
Down south (at least where I'm from), these parties have 2 huge factors when it comes to game day:
The food
And, the actual football game
I have to admit- I take huge pride in coming up with some fantastic game day appetizers and bites that everyone can enjoy!
Besides this amazing charcuterie board and your go-to sliders, wings, and dips, I love to make these mini Bisquick sausage balls with cheddar cheese for a bite-sized appetizer.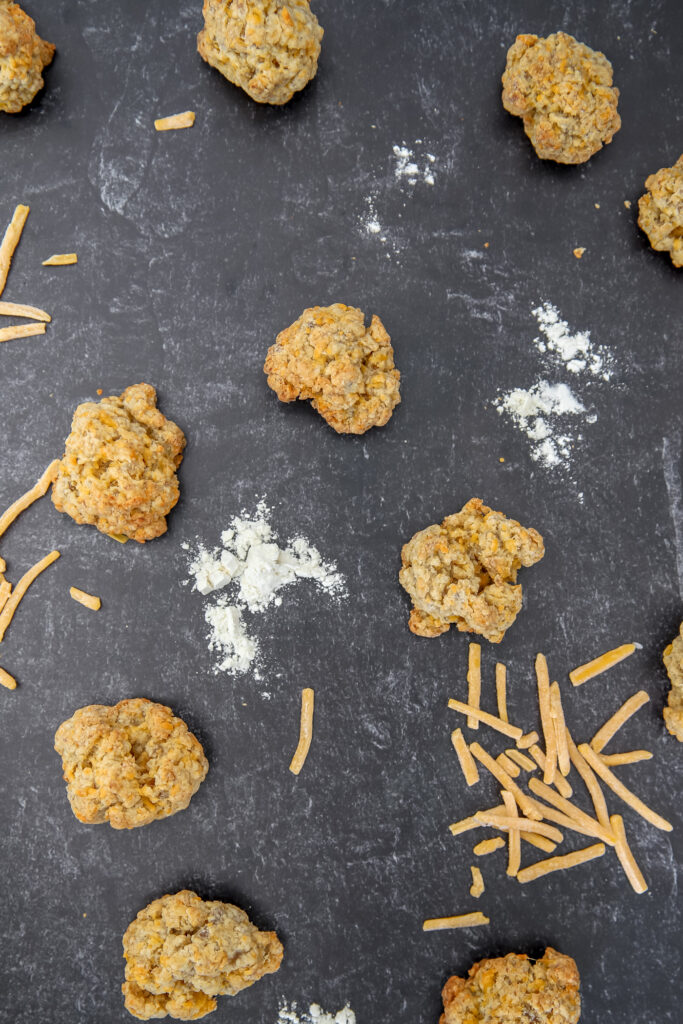 These cheesy sausage balls have always been a staple at any birthday party I ever attended, especially growing up. So, I figured they would work perfectly for a game day party… and they did!
Your party guests are going to be asking you for this recipe- guaranteed!
Ingredients Needed To Make Bisquick Sausage Balls Recipe
To make these sausage balls, here are the 3 ingredients you will need:
Sausage: You can be a bit more creative when it comes to the sausage because there are so many different kinds. I used regular ground pork sausage, but you could use breakfast sausage or pork Italian sausage if you'd like. If you don't eat pork, try some chicken sausage!
Cheese: I like to use sharp cheddar cheese for this recipe, but you can use whatever cheese you like. I bet pepper jack cheese or mozzarella would taste great! I also like to buy a big block of cheddar cheese and shred it myself. The cheese tends to melt better within the sausage ball when I do it myself.
Bisquick: If you want to make these sausage balls gluten-free, make sure you buy gluten-free Bisquick!
What To Serve With Sausage Cheese Balls
When it comes to what to serve with these Bisquick sausage balls, it really depends on when you plan to make them.
Let's say you want to make them for a quick dinner. If you decide to use Italian sausage with mozzarella cheese, add a side of marinara tomato sauce as a dipping sauce. Think pizza bites!
Thinking about using breakfast sausage so you can serve it for breakfast or brunch? I highly recommend whipping up a batch of southern white gravy to serve on the side as a dipping sauce or over the top.
You can also just follow the recipe and serve them as is. They are still very delicious on their own and make the perfect game day appetizer!
Honestly, my mouth is watering just thinking about it!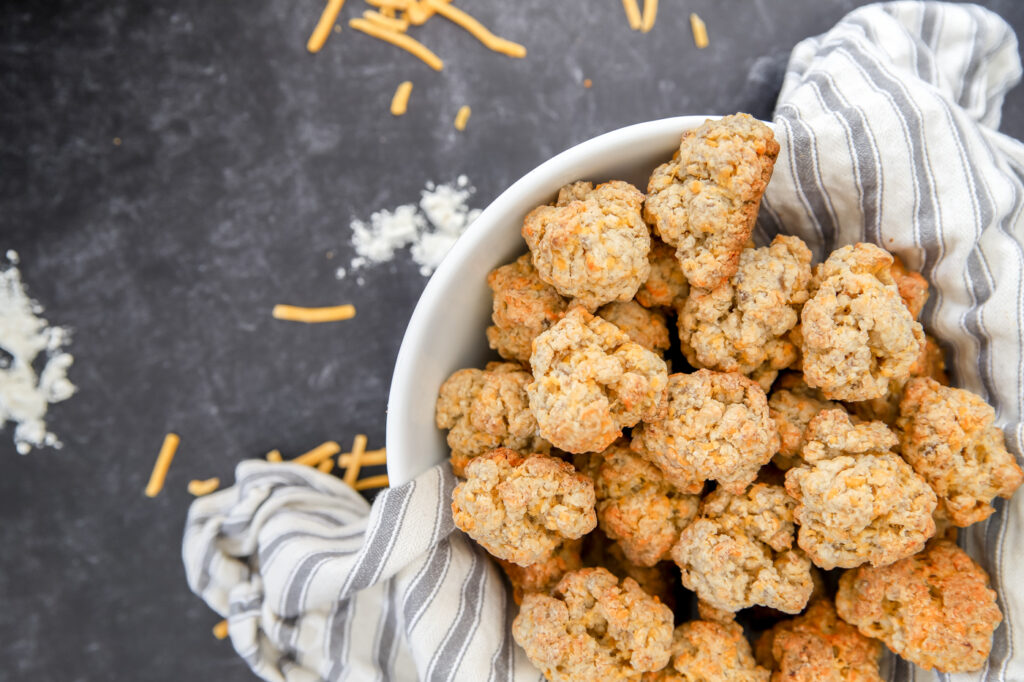 Frequently Asked Questions About Sausage Balls Recipe With Bisquick
Whenever I share this recipe, I get some of the same questions. Here are the most popular ones that people ask!
If you have a question that isn't listed here, please leave them in the comments, and I'll answer them as soon as possible.
Why are my sausage balls so dry?
This has happened to me several times and, 9 times out of 10, it's because I added too much Bisquick!
To help add a bit more moisture back into the mixture of ingredients, you can add a splash of milk. Also, make sure you really mix all of the ingredients well so that you don't have clumps of Bisquick within the sausage balls.
How many Bisquick sausage balls will I make with this recipe?
If you make the sausage balls as even as possible, this Bisquick sausage balls recipe can yield between 80-90 balls.
How do I properly store these sausage bites?
To make sure they stay as fresh as possible, save these cheesy sausage bites in an airtight container for 3-4 days.
The best way to reheat them when you are ready to serve is to pop them back into the oven at 350 degrees for 5-7 minutes or until heated through.
Can I freeze these sausage cheese balls?
Yes! The best way to freeze these appetizer bites is raw.
To freeze them:
Follow the instructions listed down below in the recipe card.
Once you have mixed everything and formed all the balls, place them on a baking sheet and flash freeze them for about two hours or at least until they have firmed up.
Once they are frozen, store them in a freezer-safe plastic bag and lay them flat in your freezer.
Make sure to add the date you made them so you can keep track.
When you are ready to cook them, let them thaw out in the fridge the day before and then follow the rest of the instructions in the recipe card.
Enjoy!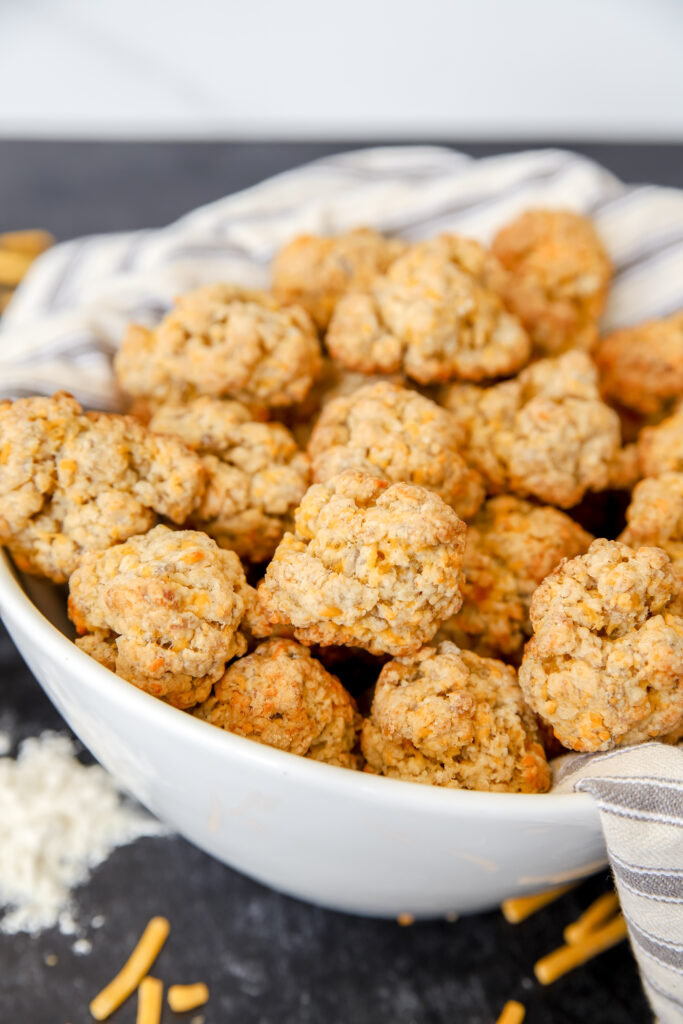 MORE GRANDMA-APPROVED RECIPES TO TRY
If you enjoyed this recipe for sausage and cheese balls, take a look at some of these other yummy recipes:
Do you think these Bisquick sausage balls are a good option to serve on game day? If so, let me know! I'd love to hear what you think in the comments below!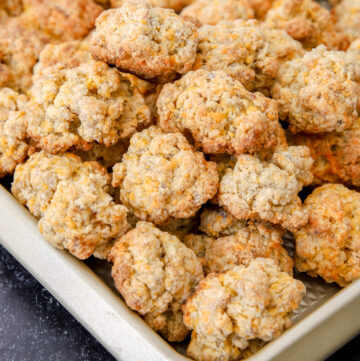 Bisquick Sausage Balls
Looking to put out all of your best appetizers this upcoming game day? Make sure this sausage balls recipe with Bisquick is on that list! This recipe is super simple. All you need are three ingredients: sausage, cheese, and Bisquick! 
Equipment
Large mixing bowl

Baking Sheet
Ingredients
1

lb.

sausage

8

oz.

sharp cheddar cheese, shredded

3

cups

Bisquick
Instructions
Grate cheese, if not already grated.

Put cheese and sausage in a large bowl and let them get to room temperature.

Preheat oven to 375 degrees.

Combine all ingredients by working with hands.

May freeze raw, if desired.

To bake: Place on ungreased cookie sheet. Bake at 375 degrees about 15 minutes. Yields 80-90 balls.
Notes
I mix the mixture with my hands. And it may seem like it won't all come together, but keep working and it will!
If the mixture is to dry, you might have added too much Bisquick. Add a splash of milk until the mixture isn't too dry.