How to Make a Charcuterie Board
A charcuterie board is not only a work of art, it's a scrumptious, casual way to feed a crowd! Don't let "work of art" scare you, though, they are incredibly easy to make. I'll show you!
Can I tell you a secret? This was my first time making a charcuterie board. Yep! First-timer here. So, even if you've never made on before, you can do it! And it'll be such a hit, I promise!
My youngest daughter is 5 and saw me make this for the photos and quickly asked if she could have the board for the next day for lunch. So, needless to say, it's a keeper for adults and kids alike!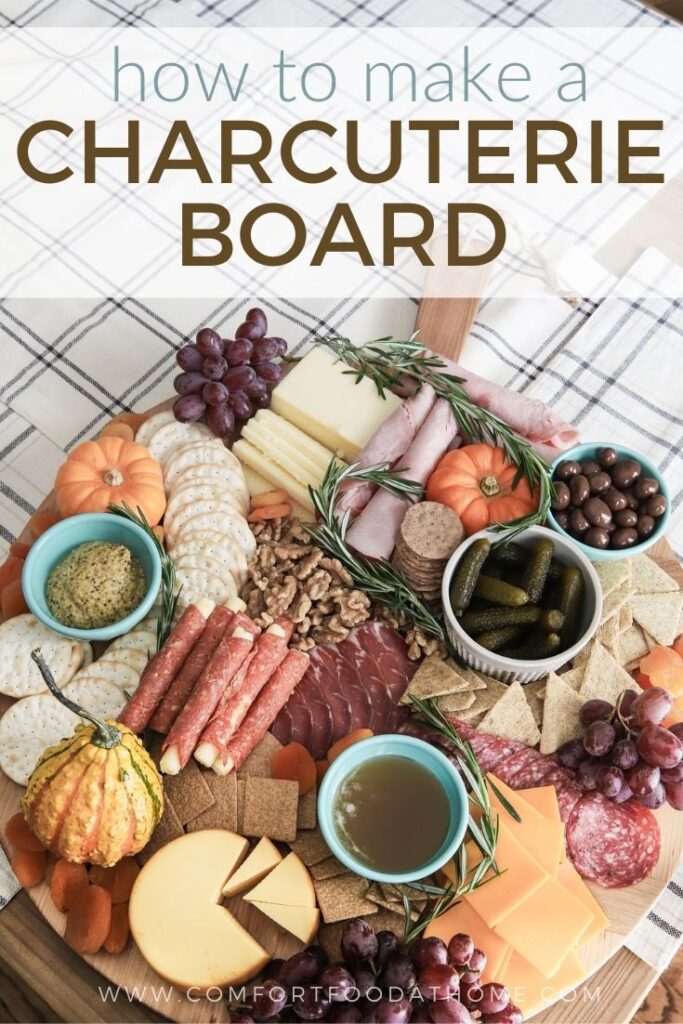 What is Charcuterie?
You might want to know how to pronounce it first, right? It's a french word that sounds like … shahr-koo-tuh–ree. Kind of rolls of the tongue. 😜
The word means "cooked meat" and refers to cured meats like bacon, ham, sausage, prosciutto and salami. Today pairing it with artisanal cheese is the popular way to serve these cooked meats. So, a meat and cheese board with additional sauces, fruits and nuts is the definition of a modern day charcuterie board.
What Foods Typically go on a Charcuterie Board?
Cured meats
Cheeses
Olives or pickles
Nuts
Dried Fruit
Crackers or baguette bread
Jelly or jam
Mustard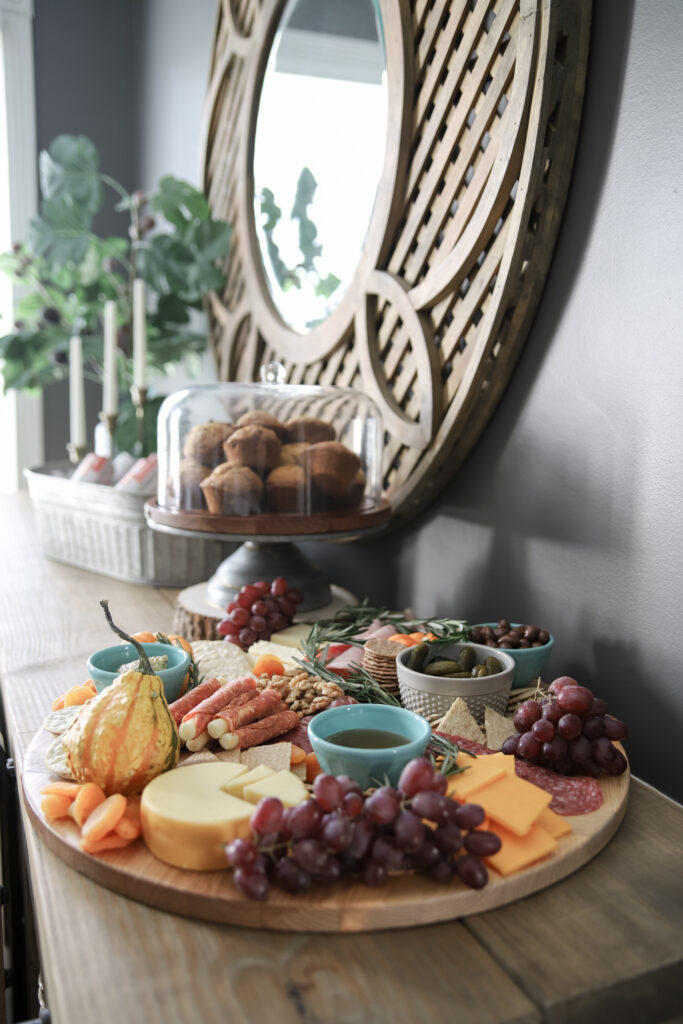 This post contains affiliate links for your convenience.
Board and Bowls We LOVE
First off you will need a board or tray to hold your cheese and meats. Mine is a large size round pizza board that is PERFECT for feeding 10-12 people. But any kind of board would work. Other board ideas include using a cutting board, cookie tray or a large pan.
Click/Tap the images below to shop boards:

If you don't already have small bowls or ramekins for holding sauces and jellies, then you'll want to buy a few for your board. I have plenty on hand, but these are some that I love.
Click/Tap the images below to shop bowls:

And of course small forks and spoons are so cute to complete the look, as well as make it easy for guests to serve themselves. I can't wait to add some of these to my collection.
Click/Tap the images below to shop utensils:

Shopping List for Charcuterie Board
When shopping at the grocery store for your meat, cheeses, crackers, nuts and fruits, be thinking about the colors, flavors and textures you'll want on your board. Think about pairings that go well together like blue cheese, walnut and honey. Or how ham, cheddar and ground mustard are such perfect pairings.
Sliced meats: think 1-2 oz. of meat per person and choose a variety. We enjoyed salami, prosciutto, thinly sliced ham and pepperoni. Don't be afraid to pile them high if you need to!
Hard cheeses: cheddar, asiago, parmesan, provolone
Soft cheeses: mozzarella, brie, goat cheese, gorgonzola, blue cheese, gouda
Crackers and breads: think of the crackers or breads as the vehicle to get the breads and cheeses into your mouth. Consider including baguettes, water crackers, butter crackers, wheat thins or nut thins for a gluten free option. Anything that complements the other foods on the board will work!
Nuts and Fruit: You could do both dried and fresh fruit, which not only are delicious, but will give beautiful color to your board. Grapes look gorgeous on the board in small clusters, but anything season will work. As far as nuts go, you can use a variety of unsalted, salted and candied nuts.
Extras: This is the most fun part! Have fun bringing in sauces, jellies and jams. I just did honey and stone ground mustard, but the sky's the limit! Some ideas for extras are olives, small pickles, honey, jams or jellies, mustard of all kinds, bacon jam, basil pesto or sun-dried tomato pesto, onion dip, etc.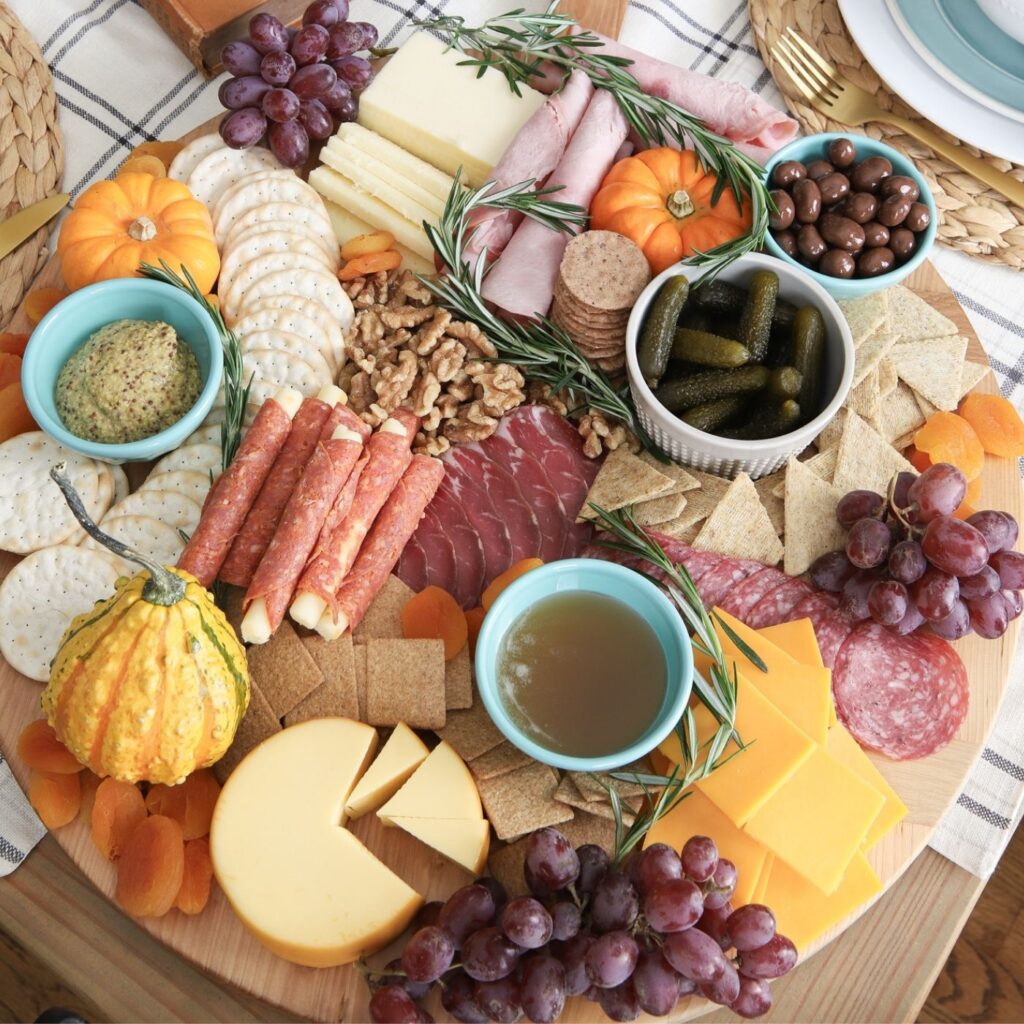 The Art of Preparing a Board
There are so many charcuterie board ideas out there, but this is the one I found to work perfectly! Layering each section on the board in order can make the art of preparing the board easy or difficult. So, let me walk you through it.
Step 1. Any Extras in Small Bowls
Step 2. Cheeses
It's easiest to add sliced cheese, but a wheel of cheese is pretty cute! Just don't forget to include a knife for your guests to cut off a wedge.
Step 3. Crackers or Breads
I love the cascading crackers and breads on a charcuterie board. It makes it look so pretty and gives it movement.
Step 4. Meats
Pile them on in a variety of places on the board.
Step 5. Fruits and Nuts
Fill in any empty spots with nuts and fruit!
Step 6. Fresh Herb Sprigs
Garnish with beautiful fresh herb sprigs like rosemary or mint.
As you add in each layer, take a step back and see if it looks even and colorful, like you'd like! Pile it on until the board looks full and beautiful!
MORE GRANDMA-APPROVED RECIPES TO TRY
If you enjoyed this recipe for butternut squash soup, take a look at some of these other yummy recipes: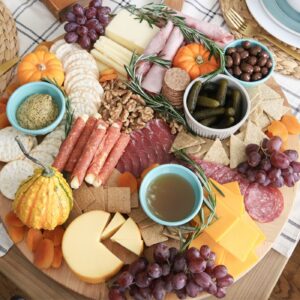 Charcuterie Board
Load up a board with your favorite meats, cheeses, fruits, nuts and extras for an easy appetizer or snacks for a crowd!
Equipment
Large board, tray or cookie sheet

Small bowls for extras

Small knives and spoons for spreads
Ingredients
Sliced meats: salami, prosciutto, thinly sliced ham and pepperoni.
Hard & soft cheeses: cheddar, asiago, parmesan, provolone and mozzarella, brie, goat cheese, gorgonzola, blue cheese, gouda.
Crackers & breads: water crackers, wheat crackers, nut crackers, baguette bites
Fruits: grapes, dried apricots, berries, dried banana chips
Nuts: a variety of salted, unsalted and candied
Olives and pickles
Extras: spreads, jams, jellies, mustards, honey
Fresh herb sprigs: mint or rosemary
Instructions
Select your board and start by arranging any sauces, spreads, olives or pickles that are in small bowls.

Then layer in your cheeses throughout the board.

Artfully arrange crackers and breads around the cheeses.

Fill in the empty spaces with fruits, nuts and fresh herb sprigs.