Roasted Butternut Squash Soup Recipe
This post contains links to affiliate websites, such as Amazon, and we receive an affiliate commission for any purchases made by you using these links. We appreciate your support!
Get cozy with a bowl of my mom's roasted butternut squash soup recipe! This vegetarian soup is super easy to make and, not to mention, creamy and quite scrumptious. My family rates this butternut squash soup 10/10!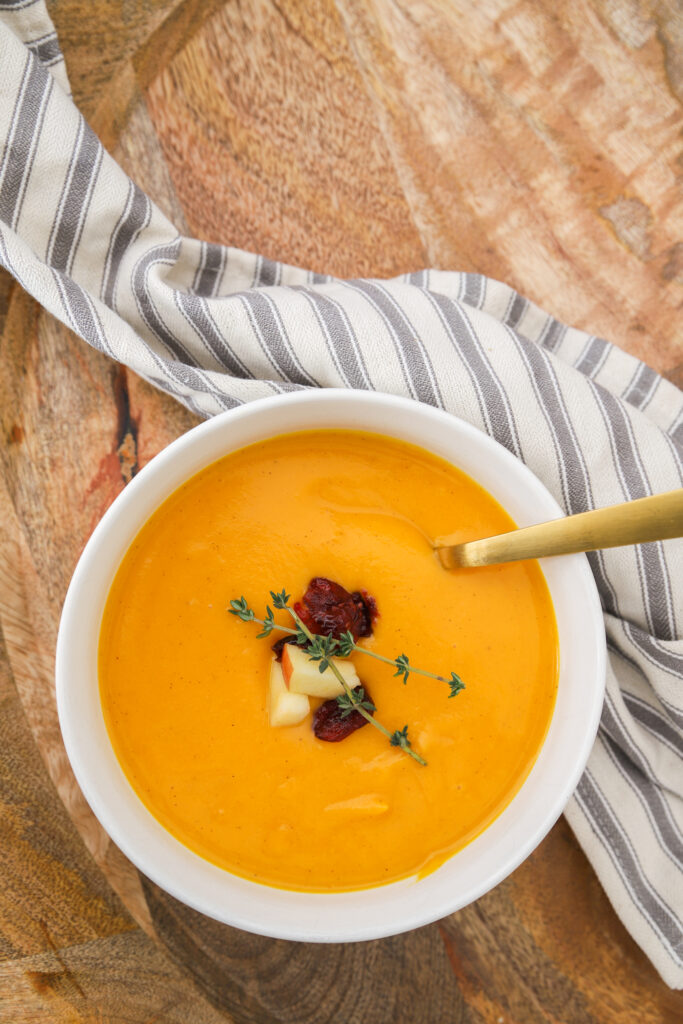 Warm Roasted Butternut Squash Soup For A Comforting Night In!
When I think of butternut squash, it instantly takes me to the fall season. Halloween, Thanksgiving, cooler weather, leaves changing… It's my favorite!
Another favorite of mine? It's this butternut squash soup recipe I learned from my mom. I always turn to this recipe on days with cooler weather and when I am in need of something warm and comforting.
Between the sweetness of the butternut squash, the creaminess of the heavy cream, and nuttiness from the ground nutmeg, a bowl of this butternut squash soup is exactly what I need!
Ingredients Needed To Make Creamy Butternut Squash Soup
To make this butternut squash soup at home, these are the ingredients you will need:
Butternut Squash: If you want to prep this soup even faster, I would look at buying prewashed and precut butternut squash at your local grocery store.
Chicken Broth: I typically reach for low sodium chicken broth so I can control the amount of salt in this dish. If you use regular chicken broth, make sure to taste along the way so you don't overseason this soup.
Butter: What's a southern dish without butter?!?
Heavy Whipping Cream: This ingredient is what gives this soup its creaminess. You can also sub it out and use milk or buttermilk instead. For a dairy-free option, use a can of full-fat coconut milk.
Spices: To season this butternut squash soup, I used ground nutmeg, cinnamon, and ginger. Sometimes, I like to also add in some ground cardamom which is totally optional.
Don't forget to season with salt and white pepper!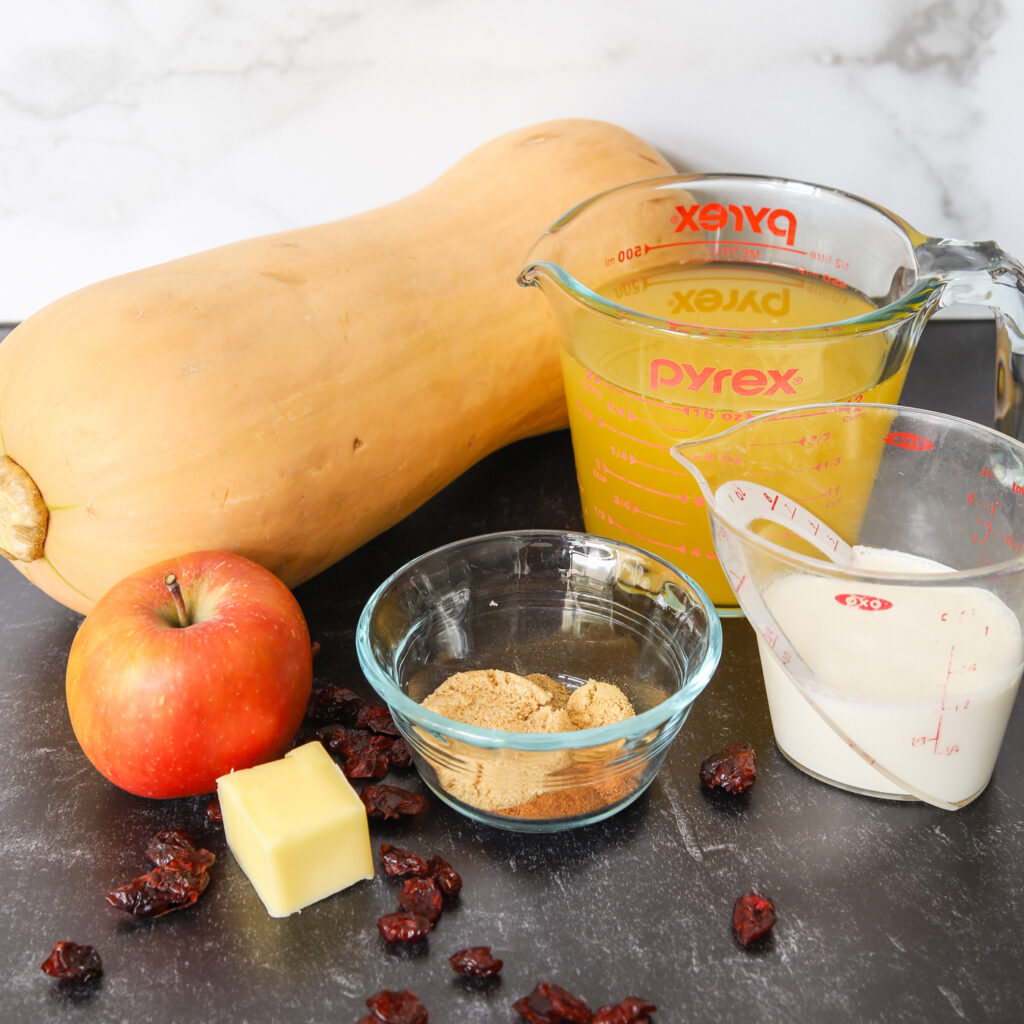 What To Serve With This Butternut Squash Soup Recipe
When I make a batch of this butternut squash soup, I like to make this quick apple and cranberry garnish to sprinkle over the top. It helps add a layer of texture as well as add some tart sweetness to the soup.
For added protein, I sometimes will serve this veggie soup as a side dish to some seasoned pork chops or Italian pork sausage and a side spinach salad with some of the leftover apple and cranberry garnish to mimic the same flavor profile. The fattiness from the pork tastes absolutely delish with the creaminess of the butternut squash.
Also, don't forget the bread! I typically lean towards a crusty bread like sourdough for dipping into the soup. If you really want to get fancy, consider serving the soup inside of a sourdough bread bowl!
Frequently Asked Questions About Roasted Butternut Squash Soup
Whenever I share this recipe, I get some of the same questions. Here are the most popular ones that people ask!
If you have a question that isn't listed here, please leave them in the comments and I'll answer them as soon as I possibly can.
How do I properly roast a butternut squash?
While preheating the oven to 350 degrees, make sure you properly wash the butternut squash. Then, cut the squash lengthwise and use a spoon to scoop out all of the seeds and strings in the middle.
Using a basting brush, brush some melted butter all over the inside of the squash before seasoning with salt and pepper.
To properly roast the veggie, use a wire rack on top of a baking sheet and place the squash face down. Cover the sheet with some aluminum foil and bake it in the oven for 1.5 hours.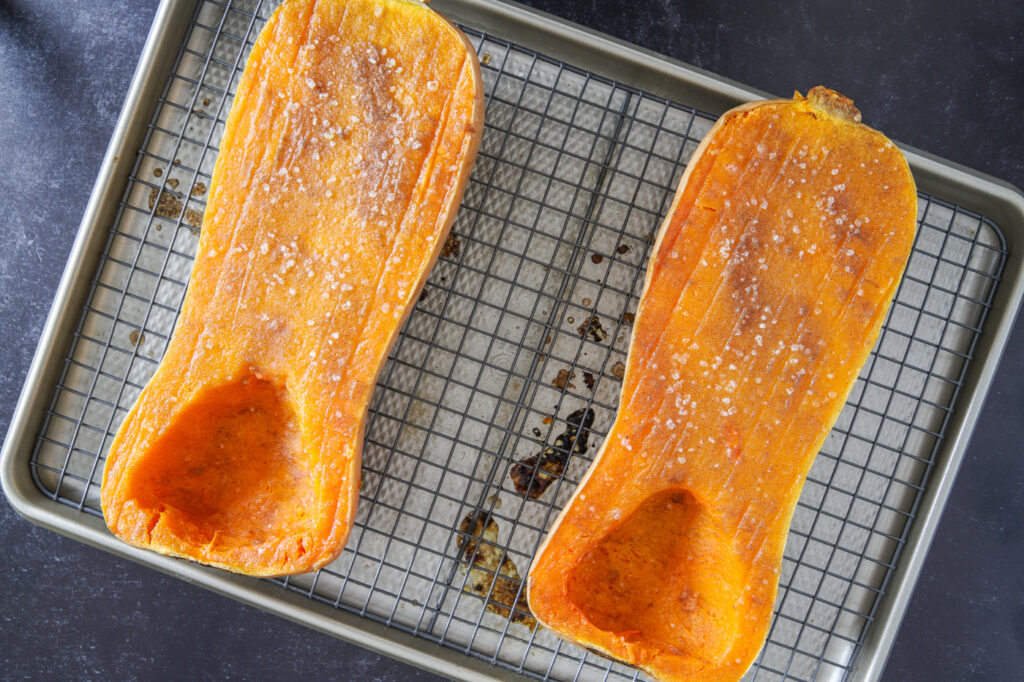 How long does it take to make this veggie soup?
Including prepping all of the ingredients, this butternut squash soup recipe takes a total of about 2 hours to make.
Can you make this soup recipe ahead of time and freeze it?
Yes! There are several ways to make the veggie soup ahead of time:
Option 1: Roast the butternut squash ahead of time, cut it up and save it in a freezer-safe bag until you are ready to make the soup.
Option 2: Make the entire soup recipe and follow the instructions listed down below but make sure to leave out the heavy cream. You really want to avoid freezing anything with dairy! When you are ready to eat the soup, reheat it in a pan and add in the heavy whipping cream before serving.
What's the best way to store butternut veggie soup?
I always love to make a whole soup pot of this delicious seasonal soup and stock up for at least a few days. To make sure the soup stays fresh, I highly recommend storing it in a glass container with an air-tight lid in the fridge. You can store the soup for up to 4 days.
How to puree the cooked squash?
You can use either an immersion blender inside the stock pot to puree the squash or put the squash in a blender.
I don't own an immersion blender, but I was SO thankful for my Vitamix blender in this scenario.
I would recommend splitting the squash into two batches and put them into the blender for 3-4 minutes to get it very smoothly pureed. The Vitamix is one of my favorite kitchen tools and I highly recommend it! (This is the Vitamix blender I have.)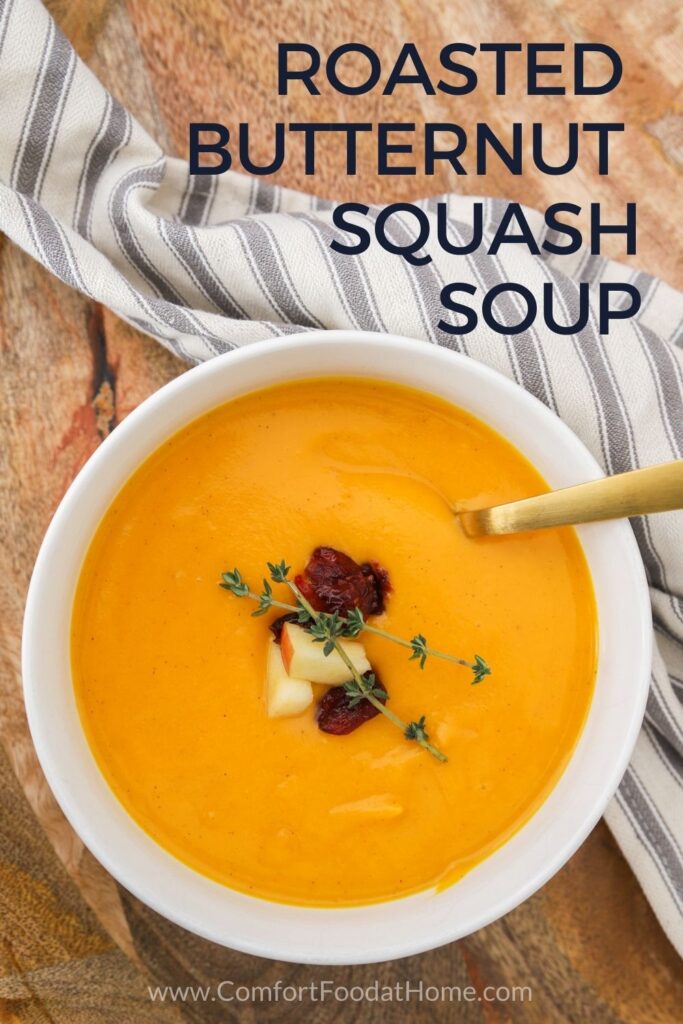 MORE GRANDMA-APPROVED RECIPES TO TRY
If you enjoyed this recipe for butternut squash soup, take a look at some of these other yummy recipes:
Do you plan on making this butternut squash soup recipe anytime soon? If so, let me know! I'd love to hear what you think in the comments below!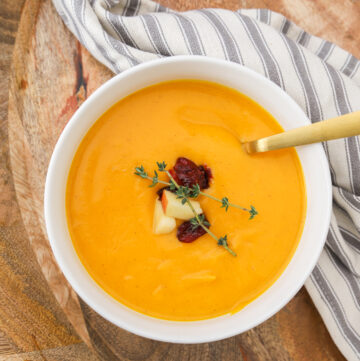 Butternut Squash Soup
Get cozy with a bowl of my mom's roasted butternut squash soup recipe! This vegetarian soup is super easy to make and, not to mention, creamy and quite scrumptious. My family rates this butternut squash soup 10/10! 
Equipment
Wire Rack

Baking Sheet

Aluminum Foil

Large Stock Pot

Medium Bowl

Small Bowls
Ingredients
1

large

butternut squash

2

Tbsp.

butter

salt, to taste

white pepper, to taste

¼

tsp.

ground nutmeg

¼

tsp.

ground cinnamon

¼

tsp.

ground ginger

⅛

tsp.

ground cardamom, optional

1

Tbsp.

brown sugar

2

cups

chicken broth

½

cup

heavy whipping cream
Cranberry Apple Garnish
1

cup

dried cranberries

1

apple, diced and sprinkled with lemon juice
Instructions
Carefullly cut squash lengthwise and scoop seeds and strings out.

Brush the inside of each piece of squash with butter and sprinkle with salt and white pepper.

Place squash face down on a wire rack on top of a baking sheet.

Cover with aluminum foil and baker for 1 ½ hours.

While the squash is baking, dice apples, sprinkle them with lemon juice and mix with dried cranberries to make the soup garnish.

Once squash is baked, let it cool for 10 minutes.

Scoop out the insides into a bowl.

Add spices and sugar to the squash mixture and mix well.

Put broth and cream in a large stock pot on medium heat. Letting it boil for a couple of minutes while stirring constantly.

Add squash mixture and blend together with an immersion blender or place in a large blender.

Serve hot with apple & cranberry garnish.