Butterscotch Brownies (Chocolate-Free Recipe)
Looking for a new brownie recipe? You have to give this butterscotch brownie recipe a try! Packed with brown sugar, butter, and butterscotch chips, these butterscotch brownies are absolutely delicious. Perfect for non-chocolate lovers!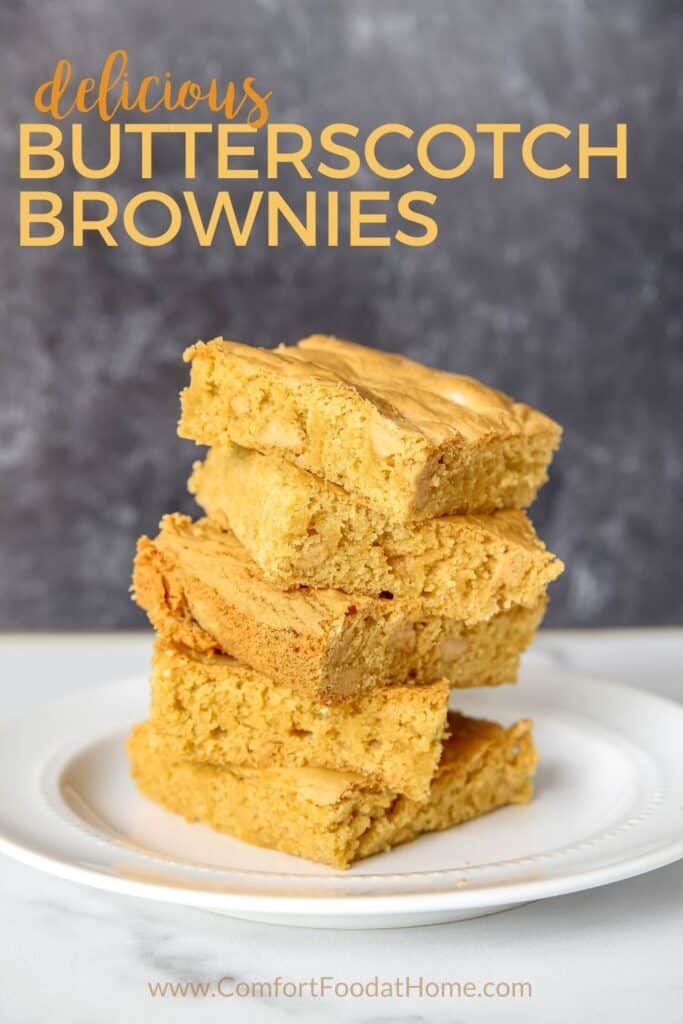 Butterscotch Brownies For The Win!
One thing for me that always stays the same is my desire to do something different. That especially applies in the kitchen and especially when it comes to dessert. My case in point – butterscotch brownies.
You don't have to be against chocolate to give this recipe a try. There is room to add some if you want. However, this is a great option if you just want to change things up from your usual fudge brownie recipe!
One of my brothers wasn't a fan of the chocolate, so my mom would make these butterscotch brownies around his birthday every year.
If there is one thing I know, it's that chocolate-lovers always find a way. Luckily, this brownie recipe is one of the few ways to give everybody what they want – chocolate or no chocolate!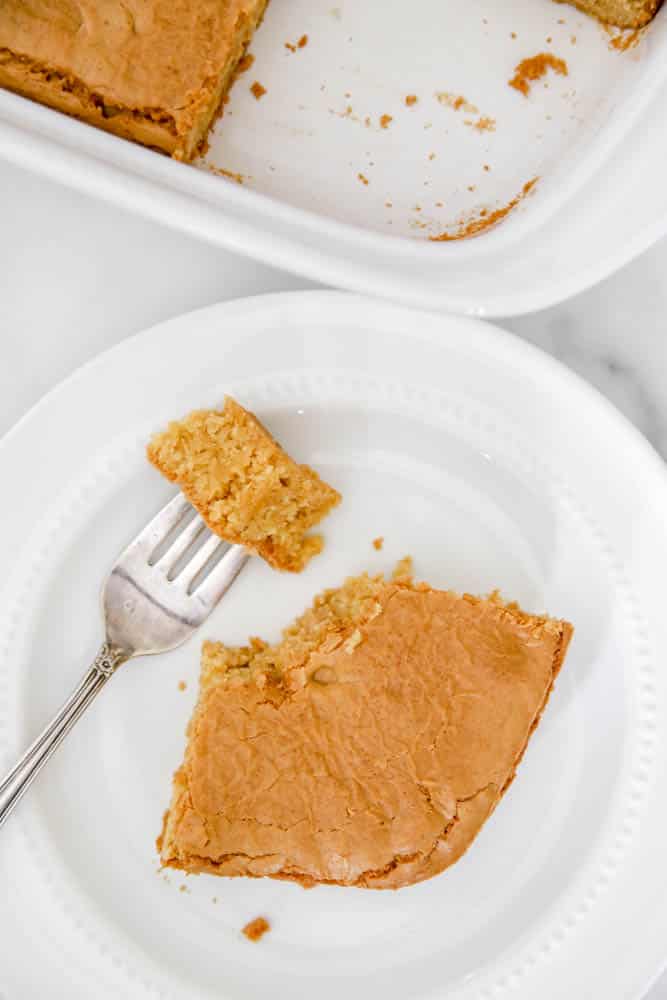 Ingredients Needed To Make Homemade Brownies With Butterscotch Chips
To make this brownie recipe at home, here are the ingredients you will need:
Butter: You need this not just for the mix but also to grease the pan.
Brown Sugar: Brown sugar adds deeper flavor and color to the brownies, plus it helps keep them chewy.
Eggs: An essential brownie-baking ingredient!
Flour: This thickens and binds the mixture to give the brownies their structure. I would go for all-purpose flour if you can. 
Baking Powder: Helps give the butterscotch brownies a light, fluffy texture.
Salt: Just a small amount to highlight the brownie's best features!
Butterscotch Chips: These put the butterscotch in butterscotch brownies. 😉
What To Serve With Butterscotch Brownies
Butterscotch brownies are best enjoyed as a quick dessert snack or as part of a larger recipe. They make a terrific base for a sundae, especially when the ice cream flavors and toppings can compliment butterscotch.
You could also break up the brownie and mix it into vanilla ice cream, making a flavor of your own. Or, top the brownies with a layer of fudge!
When serving these butterscotch brownies alongside other dessert recipes, I recommend pairing them with different flavored options so the spread isn't one-note. Try a no-bake lemonade pie or pair it with a strawberry pie!
You can even serve these brownies with a fresh batch of no-bake chocolate (or butterscotch) oatmeal cookies.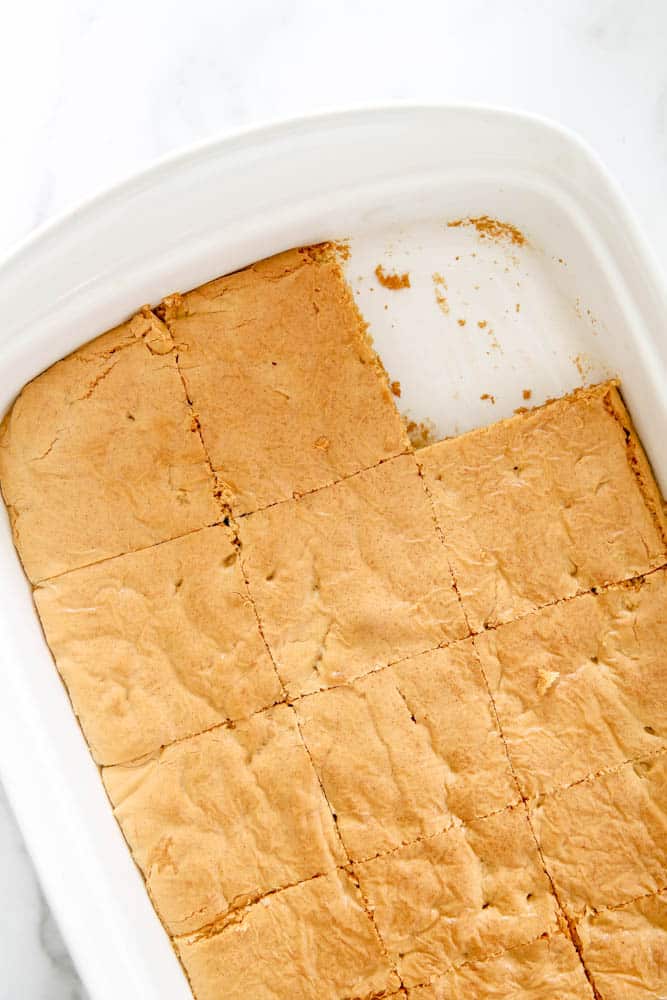 Frequently Asked Questions About My Butterscotch Brownies Recipe
Whenever I share this recipe, I get similar questions. Here are the most popular ones that people ask.
If you have a question that isn't listed here, please leave them in the comments, and I'll answer them as soon as possible!
What if I don't love butterscotch? 
I get this question all the time.
If the buttery flavor isn't your thing, you can still make and enjoy this recipe. You don't have to love (or even like) butterscotch to enjoy this recipe. It's easily modified to cater to your preference!
The butterscotch in the brownie recipe is replaceable by whatever kind of "chips" you want to use! Try them with:
Dark chocolate
White chocolate
Semi-sweet chocolate
Or, even peanut butter chips!
Can I add butterscotch chips to my boxed brownies?
Yes! Just as you can replace the chips in this recipe, you can also add butterscotch chips to almost anything you'd like. If you make a batch of boxed brownies, you can add butterscotch chips just as you might with chocolate ones.
The obvious difference is that your mix coming from a box is most likely a chocolate-flavored, generic brownie that won't taste as good as a brownie recipe that you make yourself.
What if I don't have brown sugar?
Brown sugar is essential to this butterscotch brownie recipe because of its contribution to the consistency and deep flavor of the brownie. You may be able to swap out the chips for another kind, but there is no substitute for the role of brown sugar in this recipe.
Long story short – butterscotch is not integral to these butterscotch brownies. However, brown sugar is!
What does butterscotch go with?
The flavor of butterscotch pairs best with fall flavors and seasonings like cinnamon and cloves. You can also pair it with sweet ingredients like maple and vanilla!
Butterscotch is similar to caramel, so consider sea salt, apples, and nuts such as pecans or toasted almonds.
These are all great options if you plan to incorporate your butterscotch brownies into a milkshake or a sundae with added ingredients!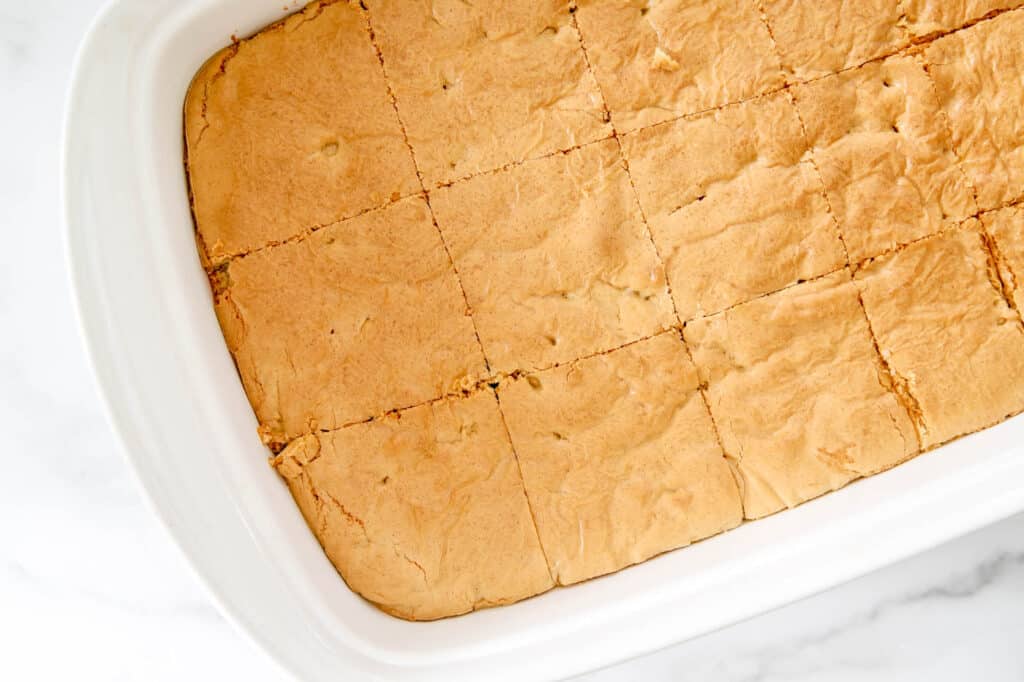 MORE GRANDMA-APPROVED RECIPES TO TRY
If you enjoyed this homemade butterscotch brownies recipe, take a look at some of these other yummy recipes:
Which do you think is better: chocolate brownies or butterscotch brownies? Also, are you a middle piece or corner piece kind of person? I'd love to hear what you think in the comments below!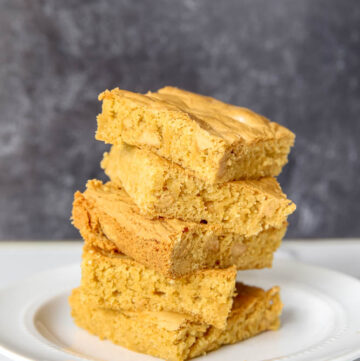 Butterscotch Brownies
Looking for a new brownie recipe? You have to give this butterscotch brownie recipe a try! Packed with brown sugar, butter, and butterscotch chips, these butterscotch brownies are absolutely delicious. Perfect for non-chocolate lovers! 
Equipment
9 x 13 Baking Dish

Large mixing bowl

Small sauce pan
Ingredients
⅔

cup

butter

2 ¼

cup

brown sugar

3

eggs

2 ⅔

cups

flour

2

tsp.

baking powder

1

tsp.

salt

6

oz.

butterscotch, chocolate or peanut butter chips
Instructions
Melt butter in small saucepan. Once melted, stir in the brown sugar.

Cool slightly, then beat in eggs once at a time until mixture is smooth.

In a large bowl, combine all of the dry ingredients except for chips.

Then add the butter mixture to the dry ingredients and stir until well combined.

Pour into a greased 9 x 13 baking dish.

Bake on 375 degrees for 25 minutes. It's done when a toothpick stuck in the middle comes out clean.

Cool and cut into squares. Enjoy them warm or store in an airtight container.