Ground Beef Casserole With Crescent Rolls
Whether you have a busy night or are looking for a hearty meal, a casserole is a great way to make dinner with whatever you have in the fridge. Using ground beef, canned crescent rolls, and a can of minestrone soup, you can make a delicious meal everyone will love! Trust me- this ground beef casserole with crescent rolls is worth it!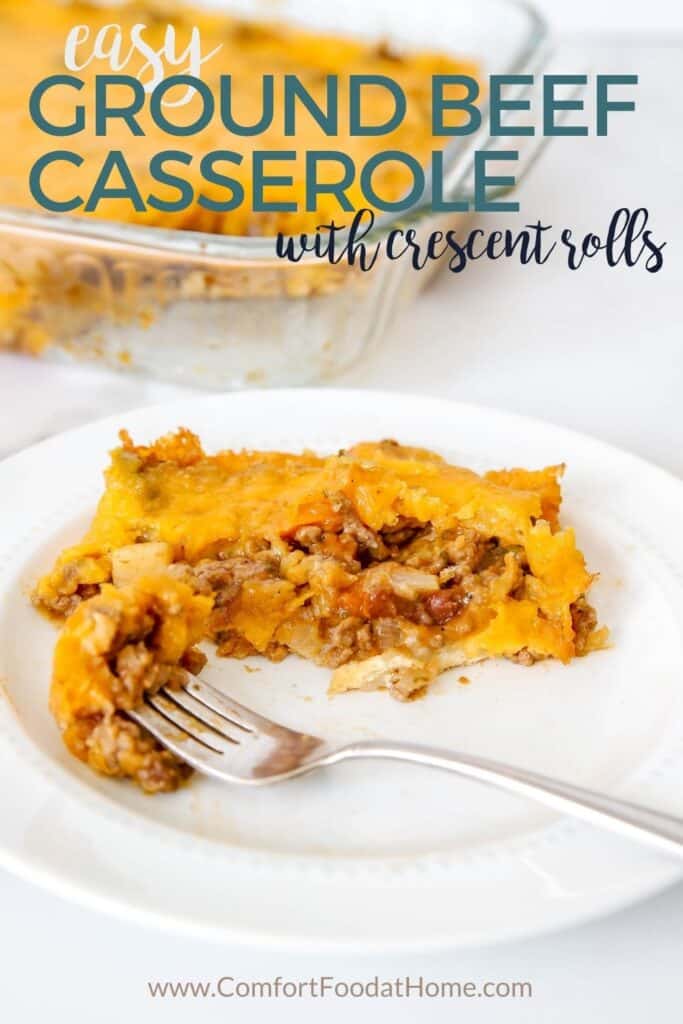 Make My Mom's Special Recipe For Ground Beef Casserole With Crescent Rolls!
There are few things that can make your day end on a high note, like this beefy casserole made with a crescent roll base.
The ground beef casserole is filled with cooked onions and minestrone soup for a hearty meal that will keep you feeling good all night long.
If you're looking for something to serve at your next family gathering or want to make sure the kids eat their vegetables, then this casserole recipe is perfect for you!
This crescent roll casserole, or beefy crescent squares, as my mom would call them growing up, is really easy to put together and super kid-friendly. Sometimes, while I am browning the ground beef, I'll have the kids help me pop open the can of crescent rolls and lay them out in the casserole. 
Not only am I getting dinner quicker on the table, but I am also spending quality time with my kids- just like I used to do with my mom when I was little. This is definitely mom-approved!
This casserole recipe is perfect because it only takes about 50 minutes from start to finish, and you can put together the ingredients in just 30 minutes. Definitely an easy dinner recipe!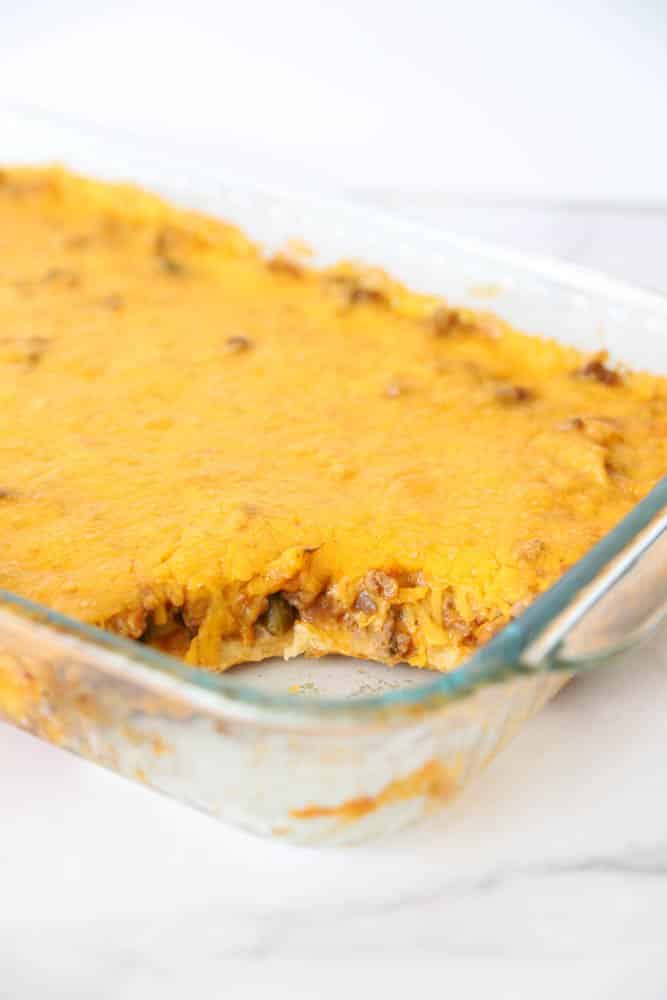 Ingredients Needed To Make Beefy Crescent Casserole
To make this casserole dish, here is the list of ingredients you will need:
Ground Beef: I went with an 85/15% ground beef as it had just enough fattiness to really make this casserole taste delicious. If you want to make it leaner, use 93/7% instead.
Onion: Make sure you chop the onion into nice bite-sized pieces. It doesn't taste as good when you bite into a chunk of onion.
Spices: To season this casserole, I went with salt, dried oregano leaves, and pepper. Nice and simple!
Ketchup: I know this sounds weird, but try it out first and let me know what you think!
Minestrone Soup: I found that adding this can of soup over just a bag full of frozen veggies really packed in more flavor into the casserole.
Crescent Rolls: I always have a can or two of these canned crescent rolls in my fridge. I like to have some when I make creamy chicken fettuccine alfredo to dip it into the leftover sauce.
Cheese: For this beefy casserole, I opted to use shredded cheddar cheese. I found that it tasted the best!
What To Serve With Ground Beef Casserole
When it comes to serving this beefy casserole, I like to make mashed potatoes. It really tastes good with beef squares. I also like to make some roasted broccoli! I have found that these two side dishes really complement the main dish.
Don't forget dessert! Maybe some homemade fudge brownies with frosting?
Frequently Asked Questions About Beef Crescent Roll Casserole
Whenever I share this recipe, I get some of the same questions. Here are the most popular ones that people ask!
If you have a question that isn't listed here, please leave them in the comments, and I'll answer them as soon as possible.
What other protein can I use in place of the ground beef?
You can swap out the ground beef for ground turkey or a plant-based option!
Can I meal prep this casserole ahead of time?
Yes, you can! To do so:
Bake the crescent roll crust and cook the ground beef with onions ahead of time.
Store them in the fridge until you are ready to bake.
Then, follow the rest of the instructions to bake the casserole!
How do I reheat ground beef casserole?
If you need to heat up the whole casserole, it would be much easier and quicker if you just reheat it in the oven. If it's just one portion, then the microwave works!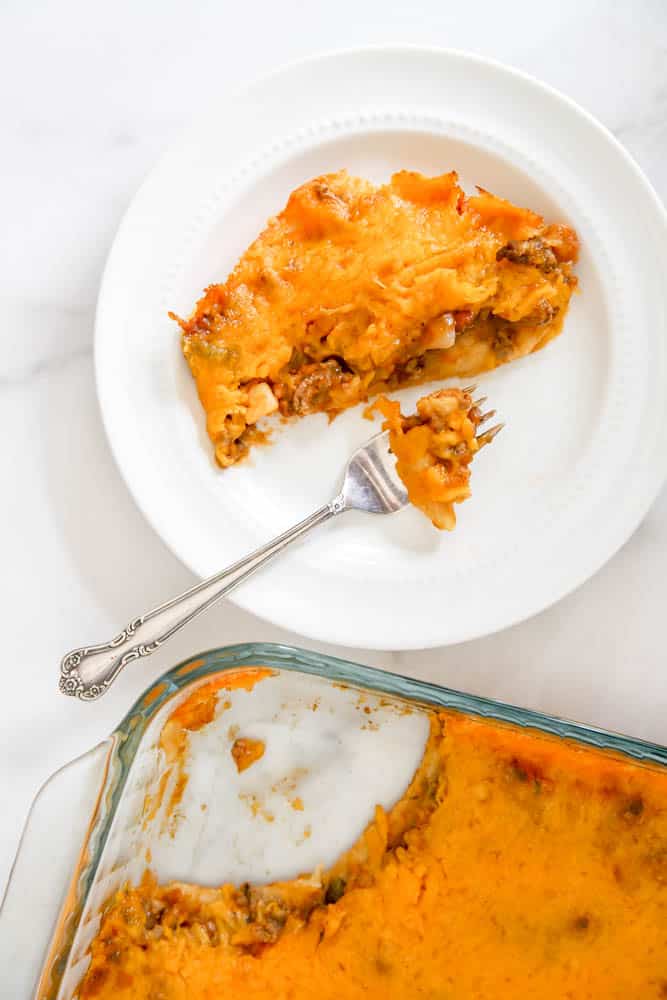 More Grandma Approved Recipes To Try
If you enjoyed my mom's recipe for beefy crescent roll casserole, take a look at some of these other yummy recipes:
Are you stocked up on canned crescent rolls? Are you going to use some to make this ground beef casserole? If so, let me know! I'd love to hear what you think in the comments below!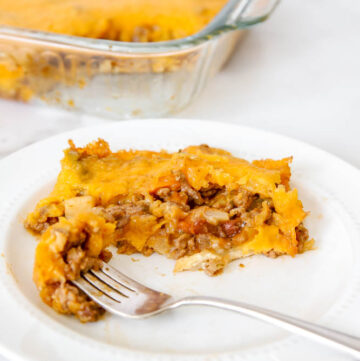 Ground Beef Casserole With Crescent Rolls
This savory week-night special is so easy to make and your family will LOVE it! Super kid-friendly and mom approved.
Equipment
large sauce pan

9 x 13 Casserole Dish
Ingredients
1

lb.

ground beef

½

cup

onion, chopped

½

tsp.

salt

½

tsp.

dried oregano leaves

⅛

tsp.

pepper

¼

cup

ketchup

16

oz.

can of minestrone soup

8

oz.

can of crescent dinner rolls

1

cup

shredded cheddar cheese
Instructions
Chop the onion into bite-sized pieces until you have ½ cup.

Brown the ground beef and onion together in a large sauce pan on high heat until the meat is browned.

Drain the excess fat from the meat mixture.

Add in the next 5 ingredients: oregano, salt, pepper, ketchup and minestrone soup.

Simmer on medium heat for 5 minutes.

Cover the bottom of the 9 x 13 casserole dish with the crescent rolls.

Spoon the meat filling over the rolls.

Sprinkle cheese over the top.

Bake at 375º for 15-20 minutes. Serve warm!