Easy Oven-Baked Chicken Breast
This post contains links to affiliate websites, such as Amazon, and we receive an affiliate commission for any purchases made by you using these links. We appreciate your support!
Today's recipe is so simple but it is helpful to have in your back pocket for any recipe that calls for cooked chicken breast. Sure, you can boil it or sauté it, but I prefer oven-baked chicken breasts in almost every chicken recipe. It always turns out flavorful and moist! Here's how to make it.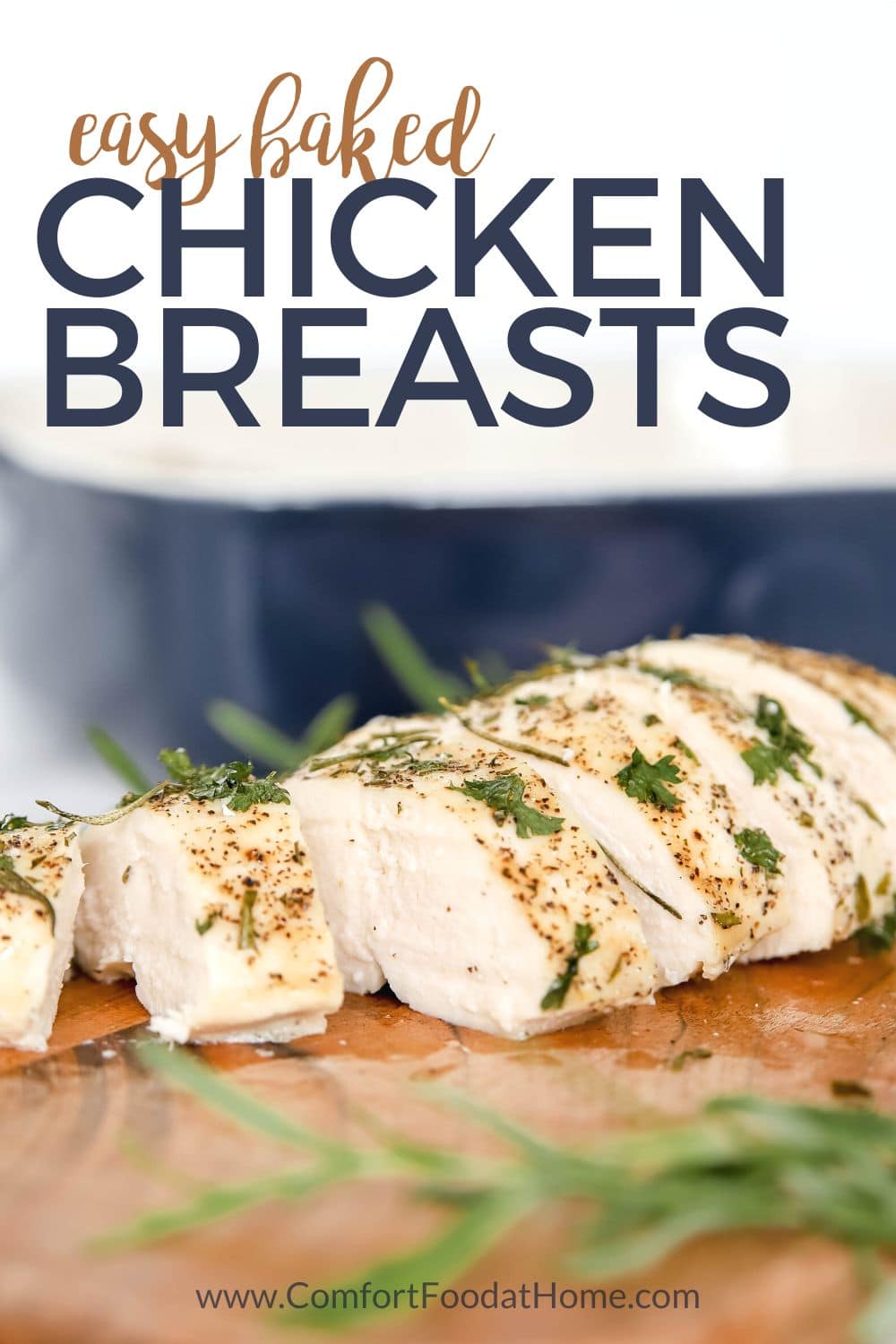 Imagine how easy it would be if you just had some deliciously cooked chicken in your refrigerator, ready for any meal you want to make. Sure, a rotisserie chicken can do this, but I like to bake my own chicken breasts too. This way, they have the perfect amount of spices and flavors – just how I like them.
And let me tell you about these spices! These chicken breasts have the perfect balance of sweet, savory, salty, and earthy. Forget about dry, rubbery chicken. With this recipe, it makes the chicken incredibly juicy, with flavors bursting in each bite.
There are lots of different ways to cook or prepare chicken breasts. I've grilled them, cooked them in the slow cooker, pan-fried them, and even made them in the air fryer.
My favorite way of all is in the oven. It only takes about 30 minutes for them to cook thoroughly. As they cook, the flavors infuse into the meat so that every bite is incredible. The tenderness is unmatched!
If you enjoy recipes that make meal prep more manageable, then this recipe is perfect for you!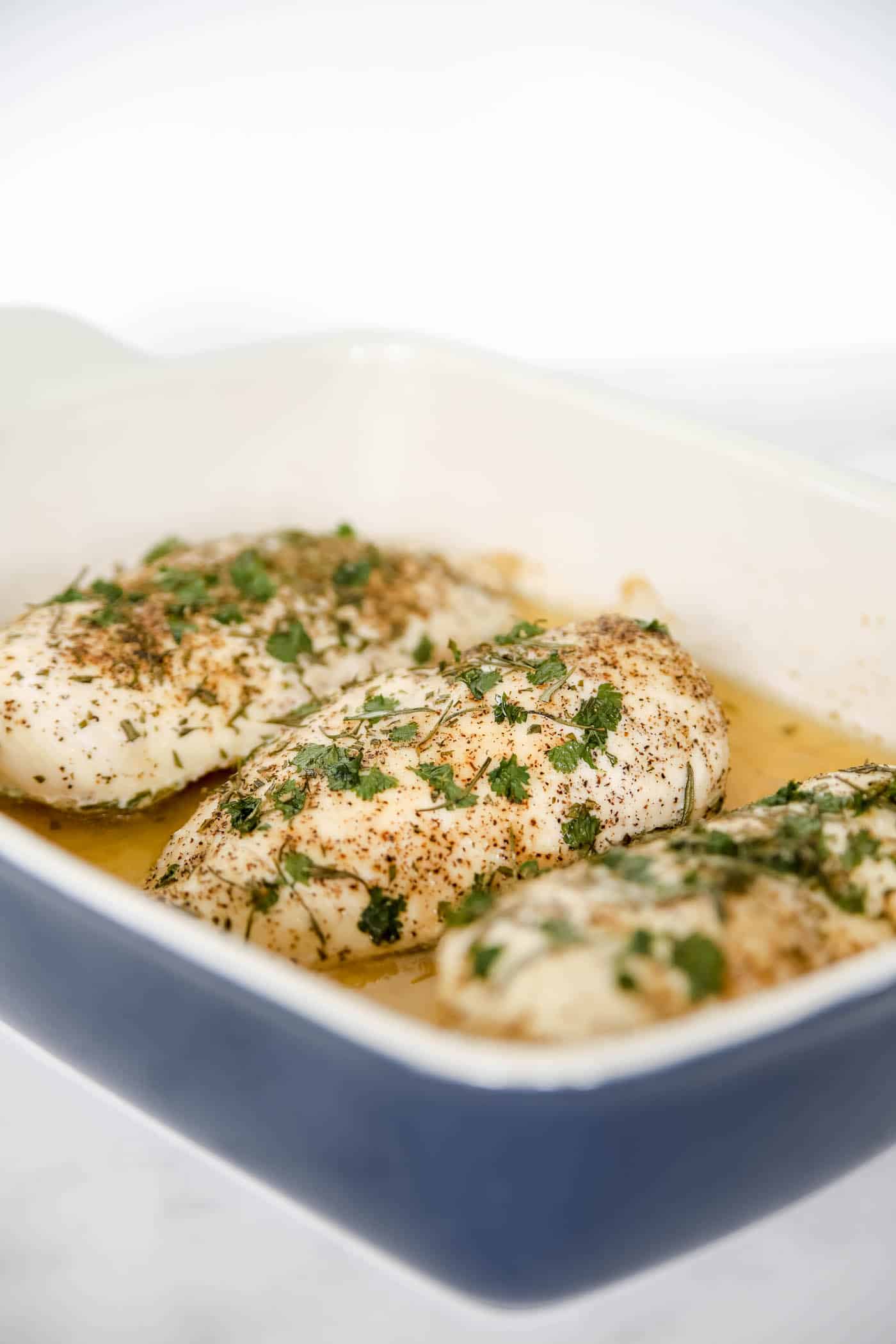 Ingredients Needed for Juicy Oven-Baked Chicken Breasts
To make this easy and delicious oven-baked chicken breast recipe, you will need just a few ingredients.
Chicken Breast: I highly recommend using boneless skinless chicken breasts for this. You can shred it, chop it up, or eat it just how it is.
Salt: You don't need very much salt at all. Just a dash or two!
Black Pepper: The pepper complements the salt and brightens the rest of the tastes in this chicken.
Rosemary: This is optional, but I suggest using it because it really adds a natural sweetness to the chicken. If you do, always use fresh herbs instead of dried – it will release more flavors as it bakes.
Parsley: Fresh parsley is also optional. Parsley also has sweeter notes mixed in with bright, earthy tones that enhance the light flavors of the chicken breast.
Olive Oil: This oil coats the chicken so that the juices stay locked in without evaporating. It also helps the spices stick to the chicken and prevents the chicken from sticking to the pan.
Chicken Broth: Adding a little bit of chicken broth at the bottom of the baking dish helps the chicken stay juicy and adds more saltiness and flavor at the same time!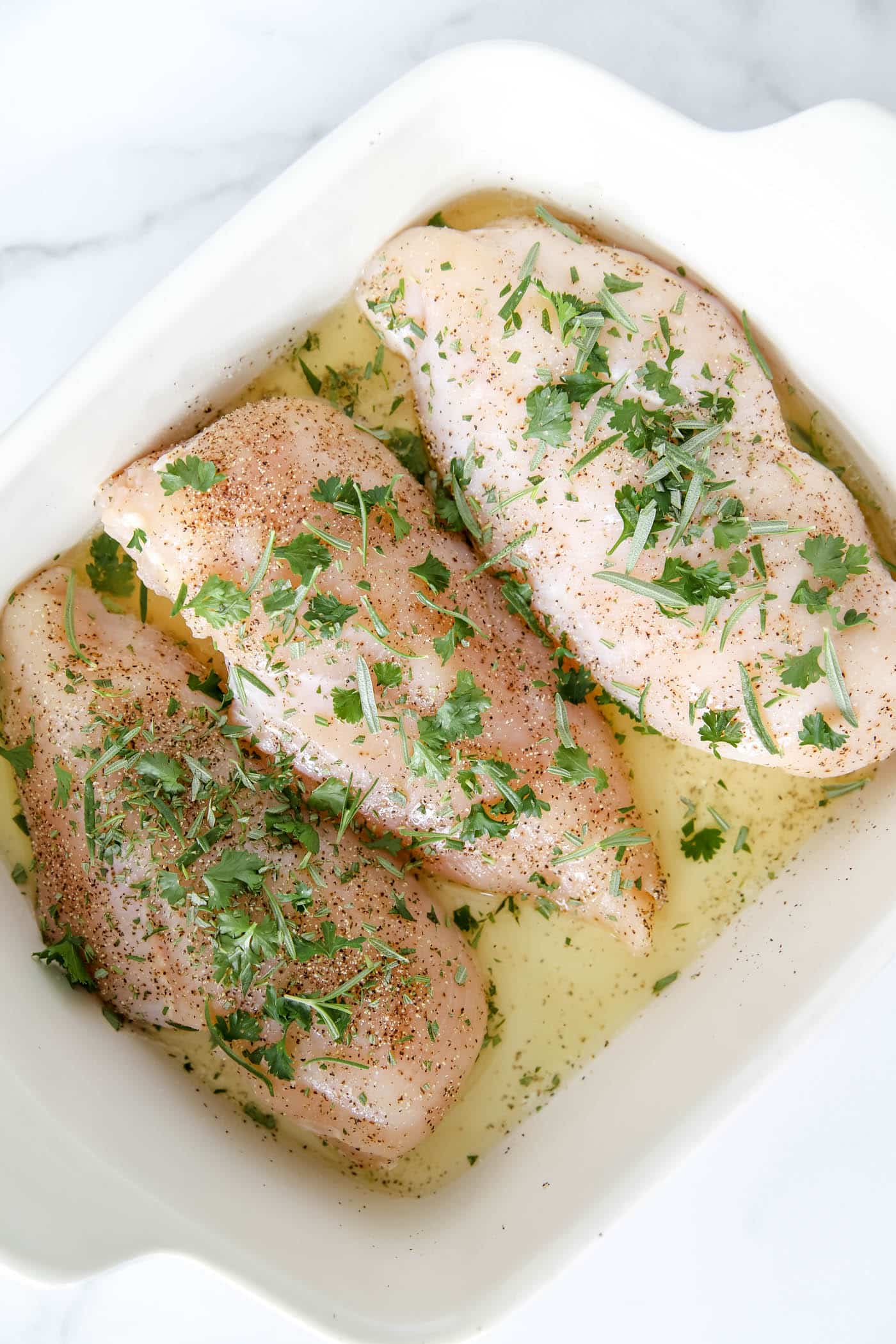 Substitutions
Avocado Oil For Olive Oil: If you don't have any olive oil, avocado oil is a healthy replacement. It has the same light taste and will help all the spices stick to the chicken the same way.
Chicken Stock For Chicken Broth: The differences between chicken stock and chicken broth are so minor that you won't be able to tell if you use one for the other. IIt'sa simple 1:1 replacement.
Chicken Thighs For Chicken Breasts: This recipe will also work with boneless skinless chicken thighs or chicken breast tenderloins. No matter which type of chicken you use, ensure the internal temperature reaches 165F before eating it. Chicken thighs will have approximately the same cooking time, but tenderloins will bake a lot faster.
Cilantro For Parsley: Both parsley and cilantro come from the same family of plants, so they have similar flavor profiles. You can easily use one for the other in almost any recipe, including this one.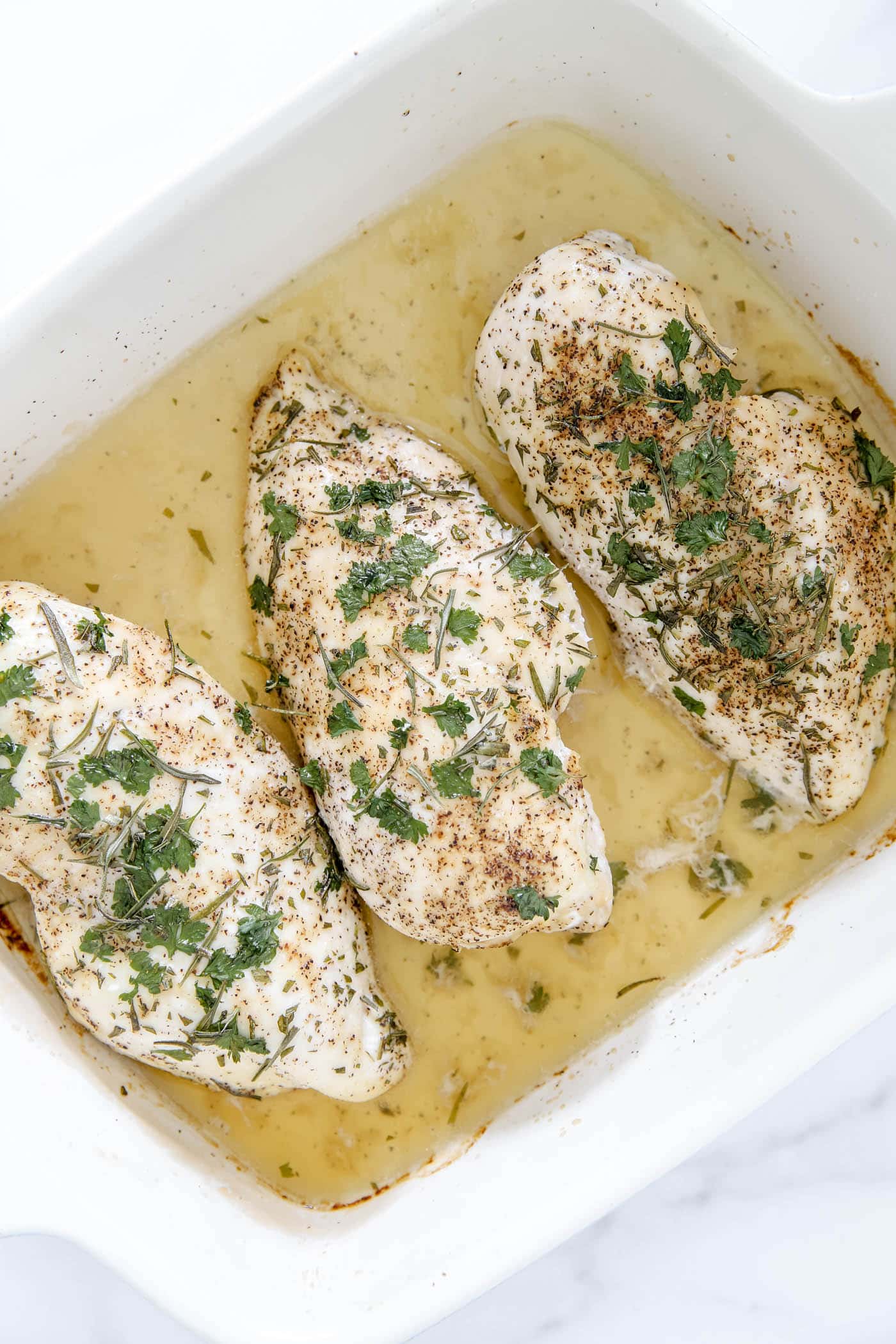 What To Serve With Oven-Baked Chicken Breasts
Want a really quick and comforting meal that comes together in minutes? Use the chicken breasts in an easy chicken and rice casserole. You will love this easy casserole as it's the classic dump-and-go recipe that cooks have made for years. It's creamy and filling and spiced with a dry onion soup mix.
For a bit of southwest flair, shred the chicken breast and add it to cilantro lime rice! Then you can either eat it as a one-plate meal or use it as filling in chicken tacos. The chicken is mild enough to taste delicious in various recipes.
The Italian seasonings in this chicken make it the perfect thing to dice and use in creamy chicken fettuccini alfredo. The long noodles and creamy cheese sauce make this recipe the epitome of comfort food!
Shredded chicken breasts are perfect for making chicken salad or adding to dips like Buffalo Chicken Dip.
Quick Tip:
Use a stand mixer with the paddle attachment for the easiest way to shred baked chicken. It's so quick and makes the perfectly shredded chicken for dips, salads and more!
You can also just serve these chicken breasts as the main course and add some healthy side dishes along with it. Easy scalloped potatoes are a classic side dish that is perfect to serve with chicken. You can't go wrong with cheese and potatoes!
Or, make a really easy side dish like oven-roasted broccoli. It's not just delicious, but it is really healthy for you too.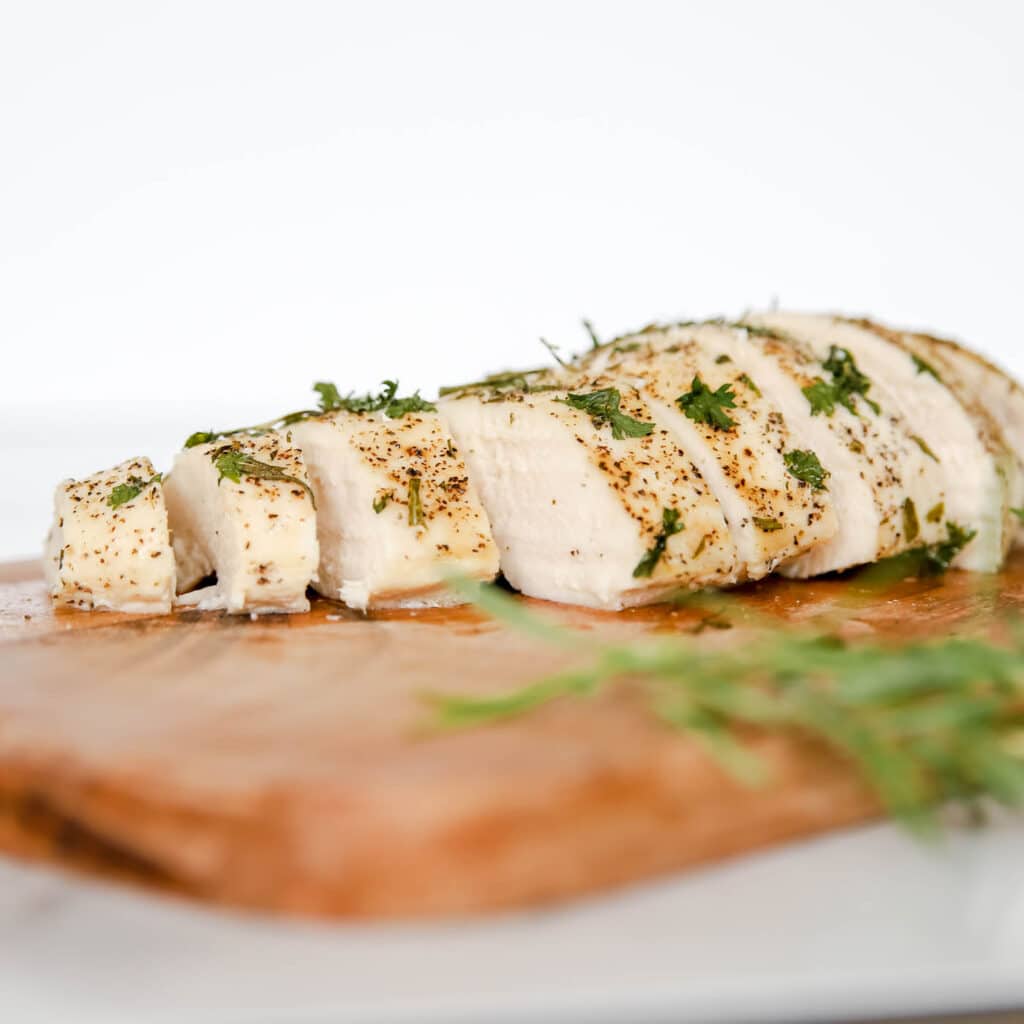 Frequently Asked Questions About Baked Chicken Breasts
Whenever I share this recipe, I get some of the same questions. Here are the most popular ones that people ask!
If you have a question that isn't listed here, please leave them in the comments and I'll answer them as soon as I possibly can.
What type of chicken is best?
Look for boneless, skinless chicken breasts. Even better if they are organic and free-range. These will give you the best flavors. And if you can, get chicken breasts that are similar in size so that they cook evenly. You will need to adjust the cooking time if you use larger pieces of chicken.
What are the best seasonings with this recipe?
If you are adding this cooked chicken to another recipe, you will want to tweak the spices or herbs to match the final dish you'll be making.
Other flavor pairing ideas with chicken: basil, oregano, onion powder, garlic powder, cayenne pepper, thyme, taco seasoning, chili powder, smoked paprika or regular paprika.
Can I make this recipe in a slow cooker?
Yes, you can make chicken breasts in the slow cooker too. The cooking times will be slightly different, and I suggest adding more chicken broth. Here is how to cook chicken breasts in the slow cooker.
Add all the ingredients to a slow cooker. Use 1/2 cup chicken broth instead of 1/4 cup. Cook it on low for about 4-6 hours or on high for 2-4 hours.
If you cook it longer than that, the chicken will become extra soft and might even become overcooked.
How do you store leftover baked chicken breasts?
Store baked chicken breasts in the fridge in an airtight container and they will stay fresh for up to three to four days.
How do I know when the chicken is fully cooked?
Use an instant-read food thermometer to check the internal temperature of the chicken breasts. They should be cooked until they reach an internal temperature of at least 165 degrees.
More Grandma-Approved Recipes to Try
If you enjoyed this recipe for baked chicken breasts, then take a look at some of these other yummy recipes:
Print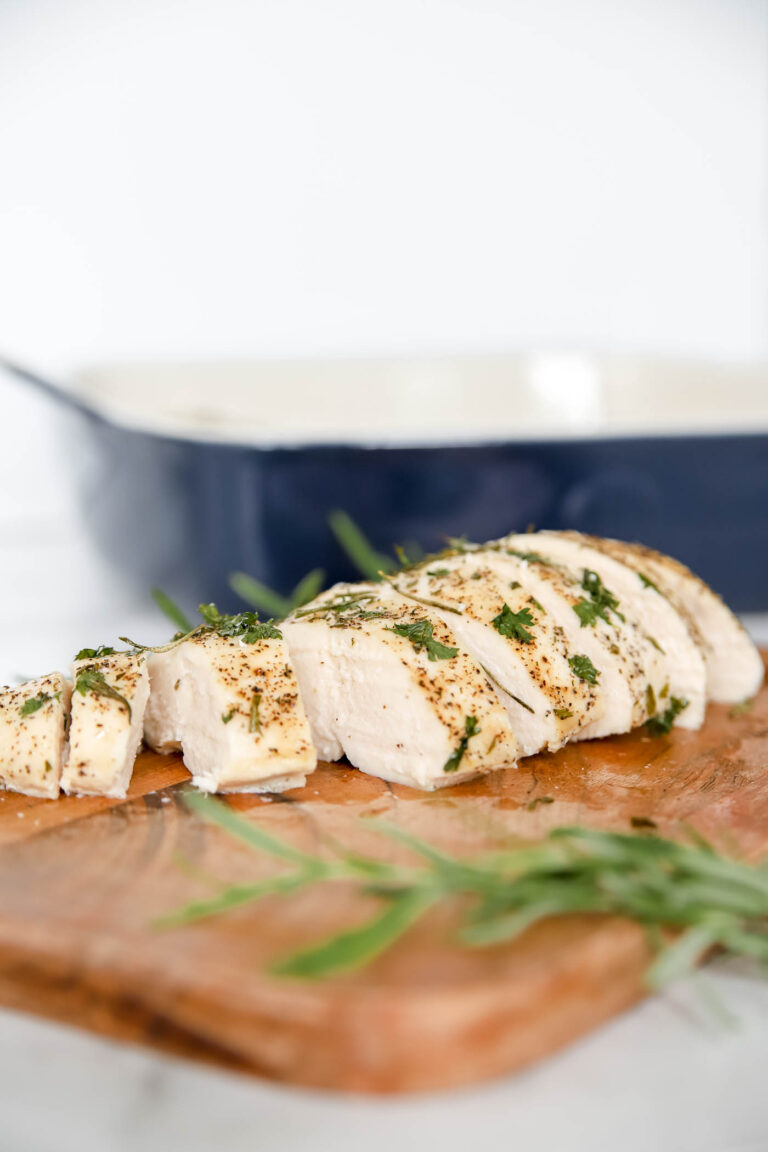 Baked Chicken Breasts
Learn how to make easy oven-baked chicken breasts in just under 30 mins. Perfectly seasoned and ready to serve with just about anything!
1.5

–

2

lbs. uncooked boneless, skinless chicken breasts

½ tsp

. salt

¼ tsp

. pepper

2 tsp

. fresh chopped rosemary, optional

2 tsp

. fresh chopped parsley, optional

1 Tbsp

. olive oil

¼ cup

chicken broth
cooking spray
Instructions
Preheat oven to 400 degrees.
Coat a shallow roasting pan or baking dish with cooking spray.
Dry off the chicken breasts with a paper towel and sprinkle both sides with salt, and pepper.
Place chicken in the pan and drizzle with olive oil.
Sprinkle the chicken with rosemary and parsley, if you'd like.
Pour chicken broth around the chicken to coat the pan.
Bake at 400 degrees for 30-35 minutes, until chicken is cooked through and reaches an internal temperature of 165 degrees.
Notes
If you don't have fresh rosemary or parsley, you can substitute dried herbs and just use half the recommended amounts. 
Author:

Laura

Category:

Dinner, Lunch

Cuisine:

American