Fresh Strawberry Pie Recipe
This post contains links to affiliate websites, such as Amazon, and we receive an affiliate commission for any purchases made by you using these links. We appreciate your support!
Have any leftover strawberries from your last fruit picking? Use those fresh strawberries to make a homemade strawberry pie! Sweet strawberry filling in a flakey butter pie crust topped with a light and airy whipped cream… This strawberry pie recipe is perfect for a hot summer's day or a 4th of July party!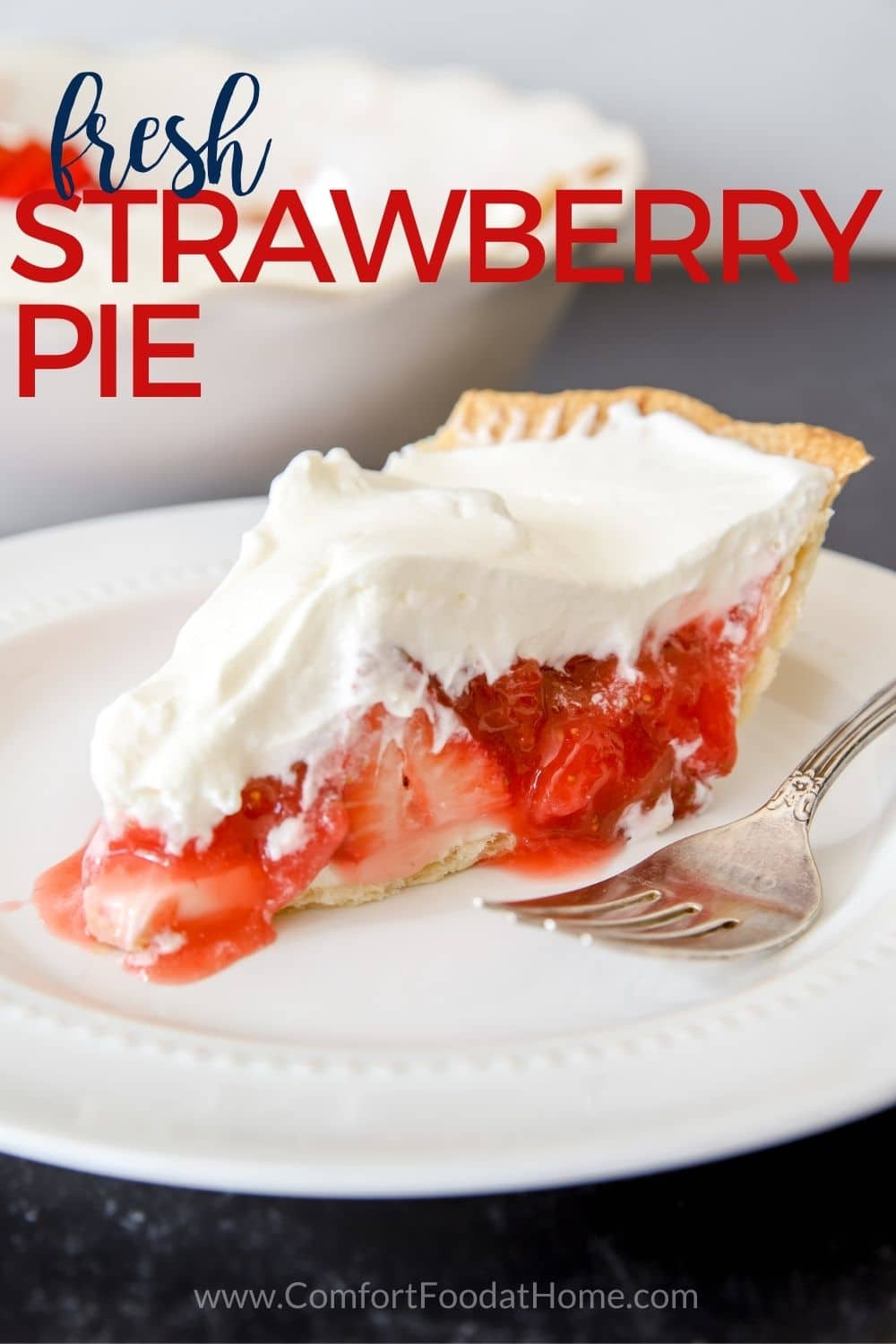 A Sweet Strawberry Pie For Your Next Summer Backyard BBQ!
Mmmmm… strawberry pie. WOW, does that bring back some memories. When I was a little girl, I used to go fruit picking at a local farm with my mom and brothers and we would just fill up all of our baskets with as much fruit as we could. Everything from berries, apples, strawberries – basically anything we could get our hands on.
Since we picked so much fruit, my mom used to come up with all sorts of recipes to use up all of our pickings. She HATED wasting food!
With the blueberries, she would make these lemon blueberry muffins for breakfast. And, if we had any leftover strawberries, she would make this fresh strawberry pie recipe. Today she will make this anytime we get together in the summer!
Not only could we use up all the strawberries but it was also so easy to make! This pie recipe requires very little baking and only the most minimal prep work. It's very simple and quick to make if you need a dessert in a hurry.
This strawberry cream cheese pie is an old-fashioned southern pie that is my go-to recipe anytime during strawberry season when fresh strawberries are readily available. It is the perfect dessert to take to barbecues with friends or on family picnics during the warmer months with a glass of lemonade or sweet tea! So delicious and a huge hit!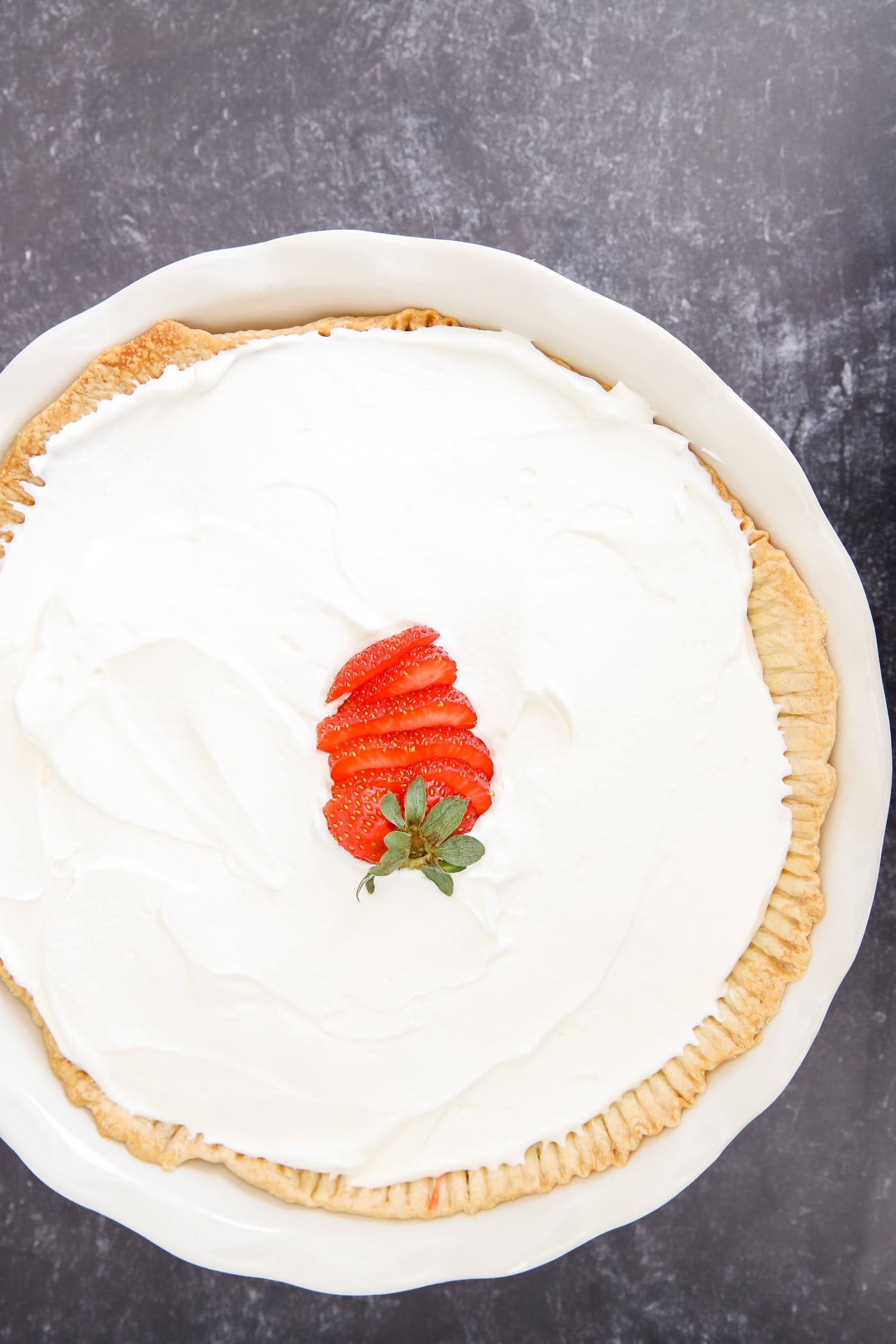 Ingredients Needed To Make Homemade Strawberry Pie
To make this strawberry cream cheese pie recipe, you will need the following ingredients:
Fresh Strawberries: Fresh strawberries are the real star of this pie. Try to get the best quality strawberries that you can find that are equally sweet and tart.
Pie Shell: To make this recipe quick and easy, you will need a basic pie shell as the base. You can typically find this in the refrigerated section at your local grocery store. They also have gluten-free pie crusts if you want to make this pie gluten-free!
Cream Cheese: Adding cream cheese to the base of this pie crust adds a rich and creamy element, not to mention a some tartness to balance the sweetness.
Powdered Sugar: Powdered sugar helps to sweeten the cream cheese layer, making it taste more like a dessert.
Sugar: White sugar helps to bring out the natural sweetness of the strawberries. Macerating berries help to release their juices to create a kind of syrup. You will also need sugar to make the whipped cream to top off the strawberry pie without outshining it or making it too heavy.
Cornstarch: This is a great thickening agent that does not affect the flavor of the pie. It helps to stabilize the filling so that it can be easily cut into.
Heavy Whipping Cream: Heavy whipping cream creates the perfect fresh and sweet topping for this strawberry pie!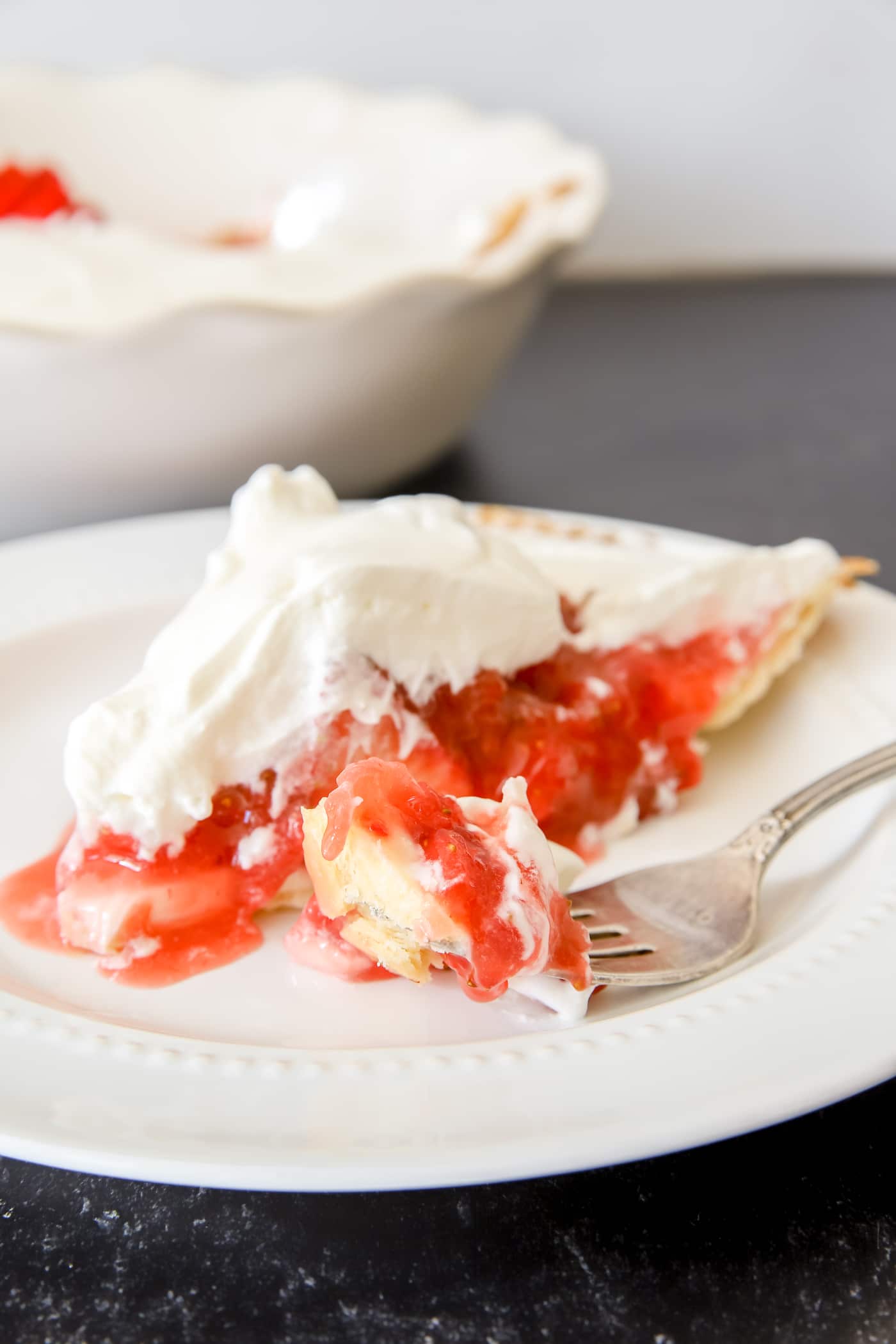 Additions And Substitutions
Strawberry Jello: For a more gelatinous strawberry pie filling, you could add in up to half a small pack of strawberry jello. This will make the filling more jelly-like and will give it a stronger strawberry flavor.
Homemade Pie Crust: If you want a more old-fashioned version of this strawberry pie recipe you could make your own pie crust. This will make your pie taste even better!
Whipped Topping: If you don't have heavy whipping cream or want to make this recipe faster, you could buy pre-made whipped cream. Either the spray canisters of whipped cream or the tubs will work.
Learn how to make homemade whipped cream! It's so easy and only takes 5 minutes!
Equipment Needed:
pie plate (optional)
stand mixer and/or hand mixer
sauce pan
spatula or spreader
1 cup measuring cup
small bowl
What To Serve With Fresh Strawberry Pie
This strawberry pie is the perfect dessert to have at any gathering with friends or family. It is a crowd-pleaser with its fresh and sweet strawberry filling!
If you are in the mood to make some easy pies, you could also make this no-bake frozen lemonade pie to go alongside this strawberry pie recipe! They are both refreshing and just the right balance of sweet and sour.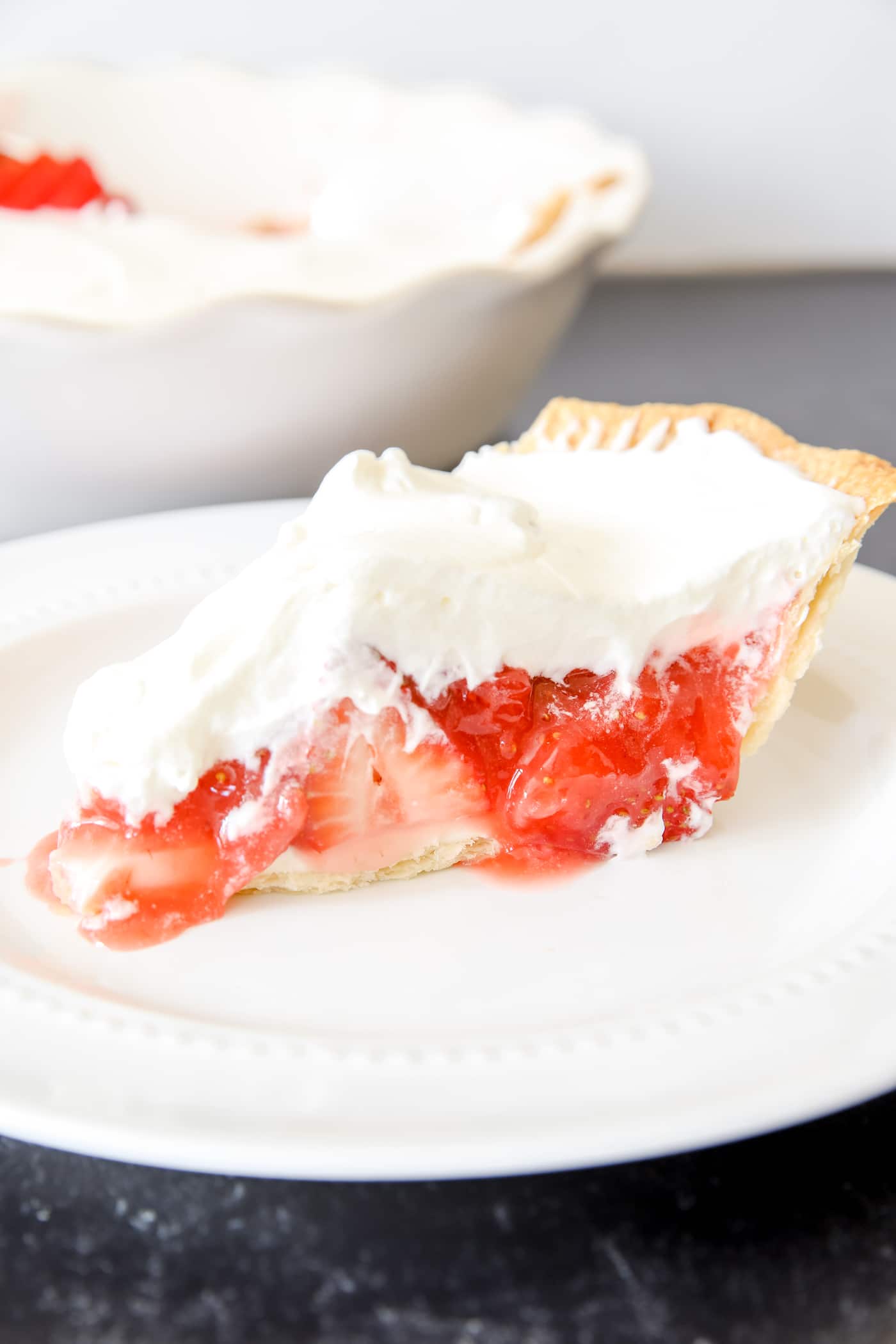 The 4 Layers of a Strawberry Pie
Layer 1. The Cream Cheese Mixture.
Gently spread the cream cheese mixture in the bottom of the pie crust. This is the magic! It's so creamy, sweet and delicious and really sets this pie above the rest. So good!
Layer 2. The Whole Strawberries.
Placing the strawberries "face down" or "top down" in the cream cheese layer will keep them from releasing too much moisture and making your pie runny.
Layer 3. The Strawberry Sauce.
Pour the strawberry sauce on top of the whole strawberries and cream cheese mixture, covering all of the strawberries as much as possible. The sauce may not cover them completely, but that's OK!
Layer 4. The Whipped Cream.
Whether you make homemade whipped cream or buy it at the store, you don't want to miss topping your pie with this creamy goodness!

Frequently Asked Questions This Strawberry Pie Recipe
Whenever I share this recipe, I get some of the same questions. Here are the most popular ones that people ask!
If you have a question that isn't listed here, please leave them in the comments, and I'll answer them as soon as I possibly can.
Why is my strawberry pie runny?
If your pie doesn't set and is still too runny to cut, you might have not cooked the filling long enough. Cornstarch needs to be cooked completely in order for it to thicken. Don't take the cornstarch and strawberry mixture off of the heat until it has thickened considerably.
Your strawberries might have also released more moisture than expected. This is a problem that can sometimes happen with fruit-based desserts.
How do you thicken strawberry pie filling?
In this recipe, we are using cornstarch as our thickening agent so that the pie can become easy to cut into slices. Some people add in other ingredients, such as jello or gelatin, in order to completely thicken the filling and get it to set.
What else can I do with strawberries?
If you are having a good season of strawberries and don't know how to use them all up, there are many desserts that go great with strawberries!
A strawberry shortcake trifle or a homemade cheesecake topped with strawberries is a wonderful spring and summer dessert that is fresh and light. You could also stew your strawberries to make a delicious strawberry crumble or even a homemade strawberry jam.
You could take this opportunity to use your fresh strawberries to make a homemade strawberry cake with strawberry icing!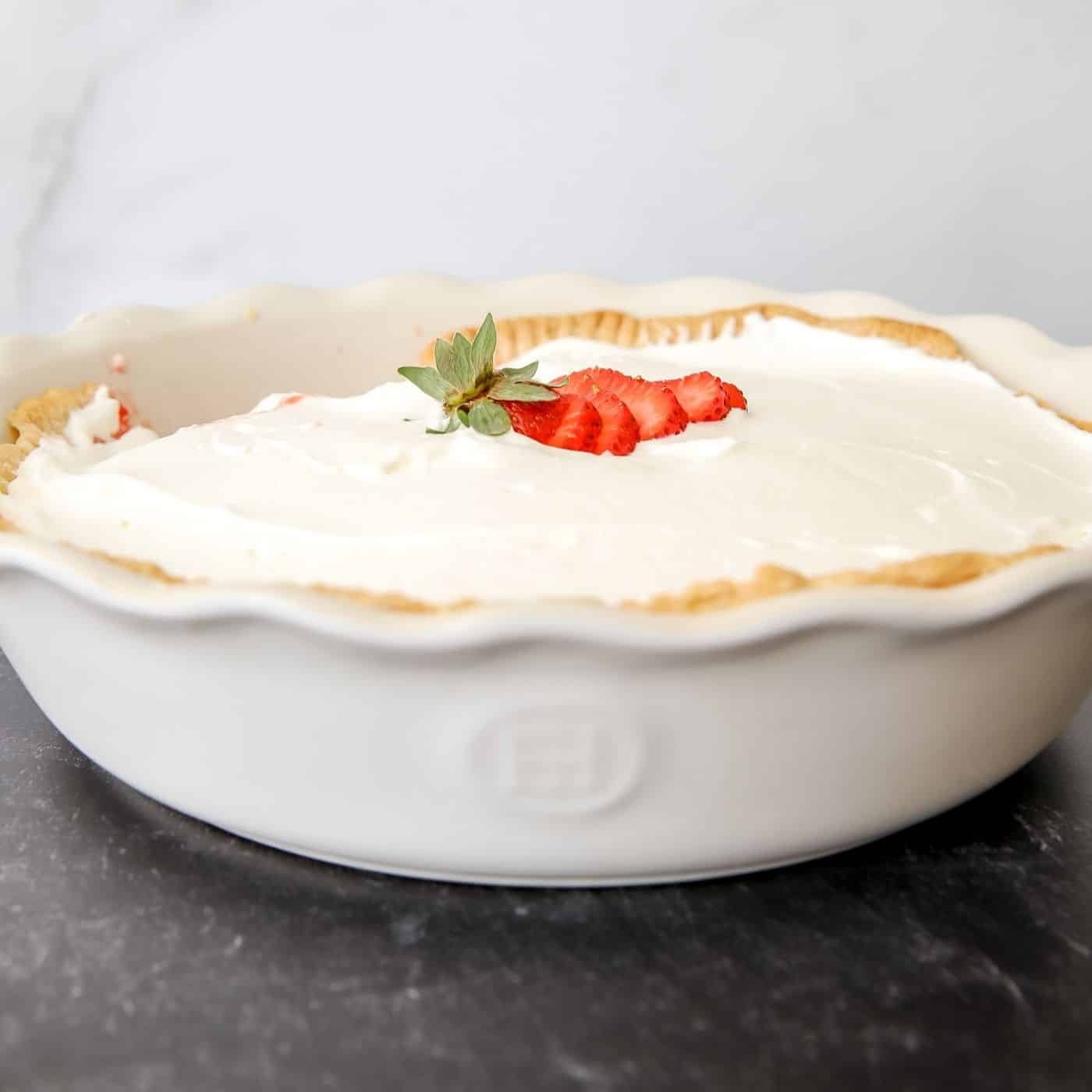 More Grandma-Approved Recipes to Try
If you enjoyed this recipe for strawberry pie, take a look at some of these other yummy recipes:
So… What do you think? Is the strawberry pie worth it? Let me know! I'd love to hear what you think in the comments below!
Print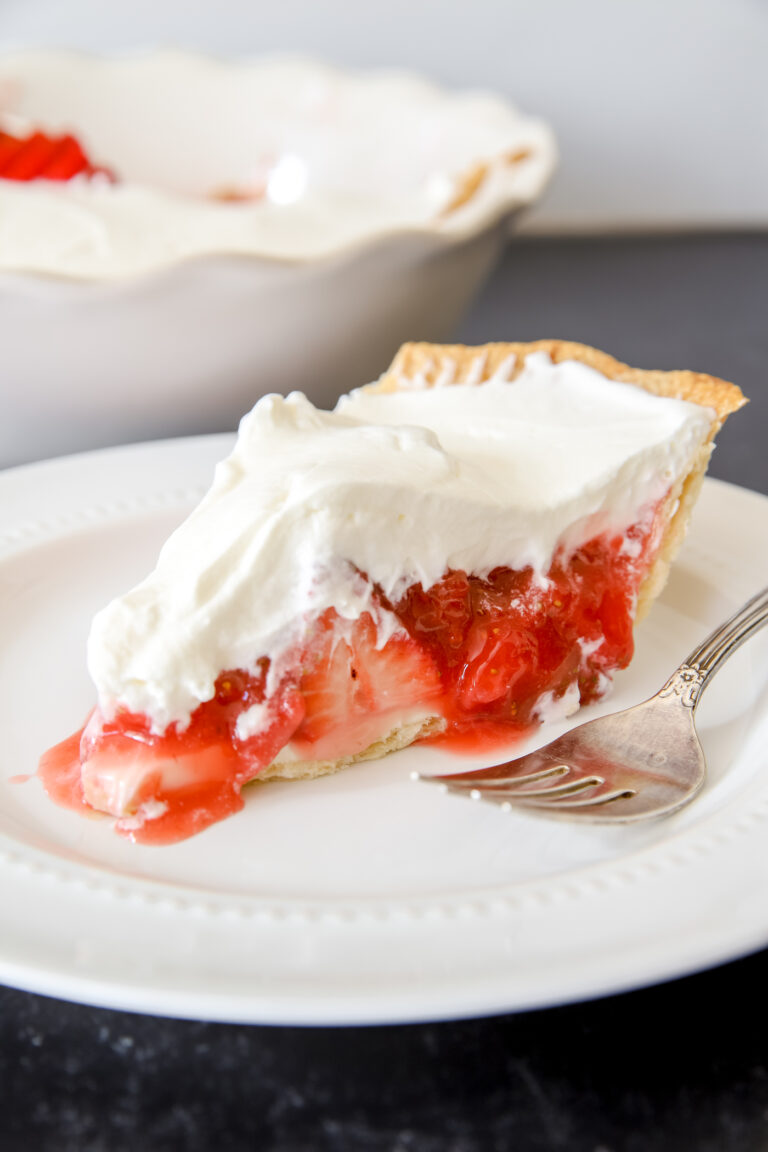 Fresh Strawberry Pie
Have any leftover strawberries from your last fruit picking? Use those fresh strawberries to make a homemade strawberry pie! Sweet strawberry filling in a flakey butter pie crust topped with a light and airy whipped cream… This strawberry pie recipe is perfect for a hot summer's day or a 4th of July party! 
Total Time:

1 hour 55 minutes

Yield:

6

people

1

x
9

-inch pie shell (store-bought or homemade pie crust)

3 oz

. cream cheese, softened to room temperature

2 Tbsp

. powdered sugar

2 quarts

fresh strawberries (the smaller the better), divided

1 cup

sugar

3 Tbsp

. cornstarch
Whipped Cream Topping
1 cup

heavy whipping cream

¼ cup

sugar
Instructions
Rinse the strawberries and set aside.
Set out the cream cheese to soften.
Cook the pie crust according to the package, or make your own. Fork the crust before you put it into the oven to keep it from bubbling. Once it's cooked, set it aside to cool completely.
While the pie crust is cooking, mash the biggest strawberries until you have 1 cup. Set aside.
Place cornstarch and sugar in a medium saucepan and mix well.
Add the 1 cup of mashed strawberries and cornstarch and sugar mix.
Heat gently on medium heat until sauce thickens. Stir continually. Set it aside to cool down.
In a small bowl, mix together the softened cream cheese and powdered sugar until creamy.
Carefully spread the cream cheese mixture on the bottom of the cooled pie crust.
Cut the tops off of the smallest strawberries and place them next to each other, "face down" in the cream cheese mixture on the bottom of the pie crust.
Pour the cooled strawberry sauce over the whole strawberries in the pie.
Top strawberry pie with whipped cream. Chill for about an hour and serve cold.
Pour 1 cup of heavy whipping cream in bowl or stand mixer. Beat until fluffy.
Add ¼ cup of sugar and continue beating slightly. Do not over beat or it will turn to butter.
Notes
You will only use about a quart of strawberries, but I buy two quarts in case some are bad and have to be thrown out. 
Use the smallest strawberries in the bunch for the whole strawberries that you place on the cream cheese mixture. And you want to cut the tops off of those strawberries, and place them top down in the cream cheese mixture. If you cut them any more than that, the pie will be mushy. 
Use the larger strawberries in the bunch for making the strawberry sauce. 
Sometimes I will stick the strawberry sauce in the fridge or freezer for about 15 minutes to get it to cool down faster. 
You can use frozen whipped topping instead of making your own whipped cream, but I prefer homemade whipped cream. 
I use a hand mixer to mix the cream cheese and powdered sugar together. And I use my stand mixer for the whipped cream. 
Don't over beat the whipped cream, or it will turn into butter. 
You can make the strawberry pie a day ahead, but the longer you wait from the time you make it, the softer the pie crust will become. I like to serve it within 24 hours of making it!
Author:

Laura

Prep Time:

45 minutes

Cook Time:

10 minutes

Category:

Dessert

Cuisine:

American
Nutrition
Serving Size:

1/6 of pie

Calories:

552

Sugar:

58 g

Sodium:

154 mg

Fat:

27 g

Saturated Fat:

13 g

Unsaturated Fat:

4 g

Trans Fat:

0 g

Carbohydrates:

79 g

Fiber:

5 g

Protein:

4 g

Cholesterol:

61 mg
Keywords: dessert, fruit, pies