Creamy Cheesy Potato Soup
Cheesy potato soup is a creamy, comforting dish that's perfect for cold winter days. This simple soup recipe combines potatoes and cheddar cheese (along with other delicious ingredients) to create a tasty and hearty meal that can be made in under 45 minutes! So if you're looking for an easy weeknight dinner or lunch option – cheesy potato soup is the way to go!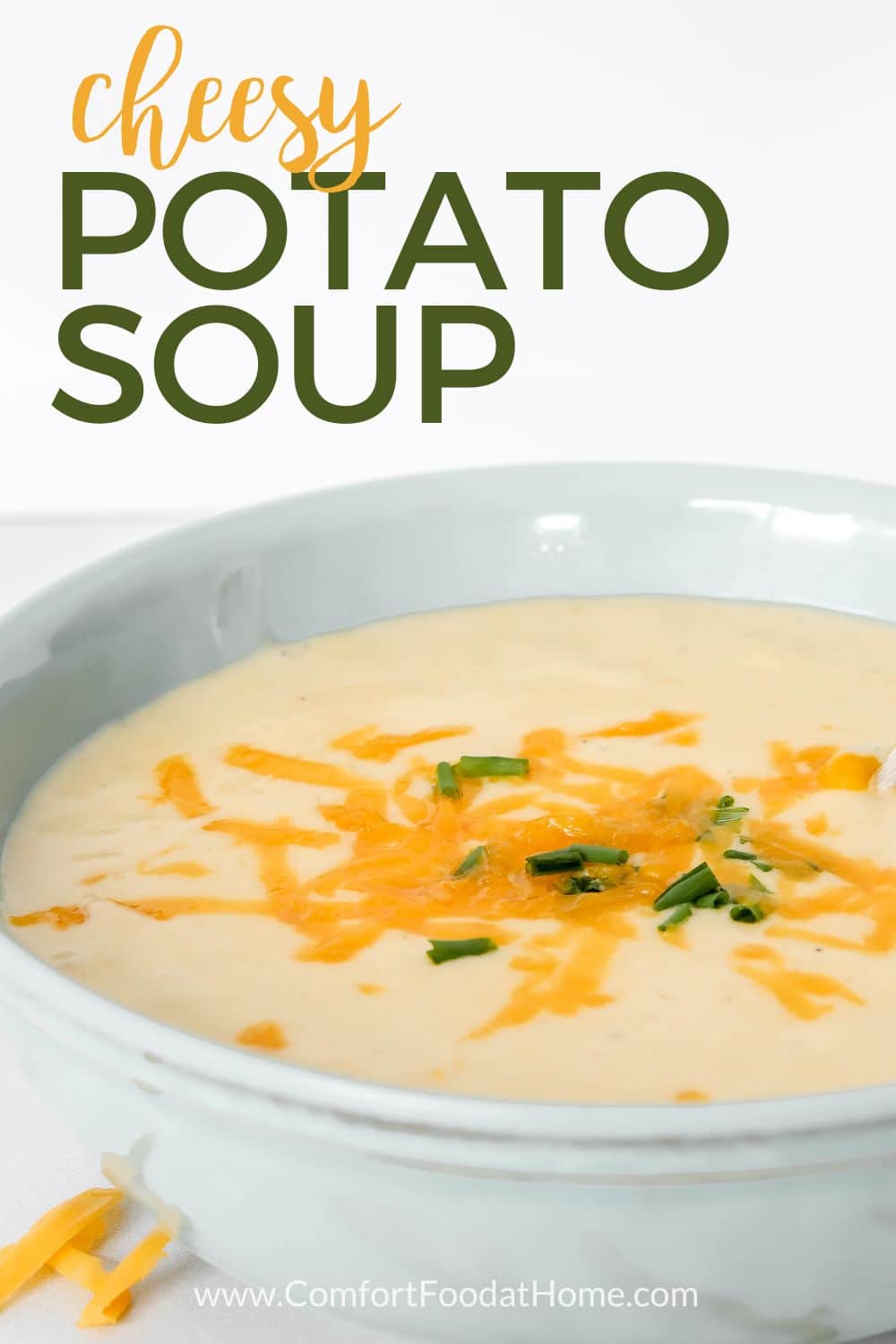 Craving something cheesy and comforting? So am I. That's why I made this cheesy potato soup!
Whenever I am feeling down and blue, cheesy potato soup is my go-to comfort food. It's a simple and delicious recipe that will make your tummy happy in no time.
My grandmother used to make it for me all the time, especially on a cold rainy day. The house felt warm and smelled like bacon (my favorite part of the soup). She would fill the bowl to the brim with this simple yet decadent soup and would leave just enough room for me to add all of my toppings.
Bacon, sour cream, green onions, and just a hint of hot sauce. My mouth is just watering at the memory.
Now, I'm happy to share my cheesy potato soup recipe with you!
Ingredients needed
You will need the following ingredients to make this
Potatoes: Choosing the right potato makes all the difference in this soup since potatoes are the base of this dish! I recommend using russet potatoes as they have a high starch content and will get nice and creamy when cooked. You'll need about 5 of them.
Cheese: For the cheesy flavor, you'll want to use a sharp cheddar cheese that has a strong, tangy flavor. You can also use a medley of different cheeses such as cheddar, gruyere, fontina, Monterey Jack, and parmesan for more depth of flavor.
Flour: To thicken the soup, you'll need a 1/4 cup of all-purpose flour.
Milk: Use 2% or whole milk for a richer, creamier soup. You'll need 2 to 3 cups of milk.
Veggies: To make this potato soup, you'll want to chop up some celery and onions. The onion adds flavor and aroma to the soup. The celery adds a nice fresh, vegetable flavor to balance out the richness of the cheese and potatoes.
Bacon: This cheesy potato soup is even better with the addition of bacon. I mean, it's bacon! Just crumble up a few slices and stir them in to add a layer of smoky flavor.
Chicken bouillon powder: 1 to 2 teaspoons of chicken bouillon powder adds a savory, meaty flavor to the soup. You can also use vegetable bouillon powder for a vegetarian version.
Butter: You'll need 1/4 cup of butter to help bind the ingredients together and give the soup a nice creamy texture.
Water: Adding 3 cups of water to the potato soup helps to thin out the soup, so it's not so thick.
Seasonings: Salt and pepper are the only seasonings you'll need to create a flavorful cheesy potato soup.
Toppings
Add a smoky, savory flavor to your dish with bacon bits or pieces. Then sprinkle on some chives for an earthy kick, and top it all off with creamy sour cream and grated cheddar cheese for the perfect finishing touch!
Kitchen equipment needed
Here are a few things you'll need to make this warm cheesy potato soup:
4-Quart Saucepan
Saute Pan
Large Cutting Knife
Cutting Board
Peeler
Blender (or Large Food Processor)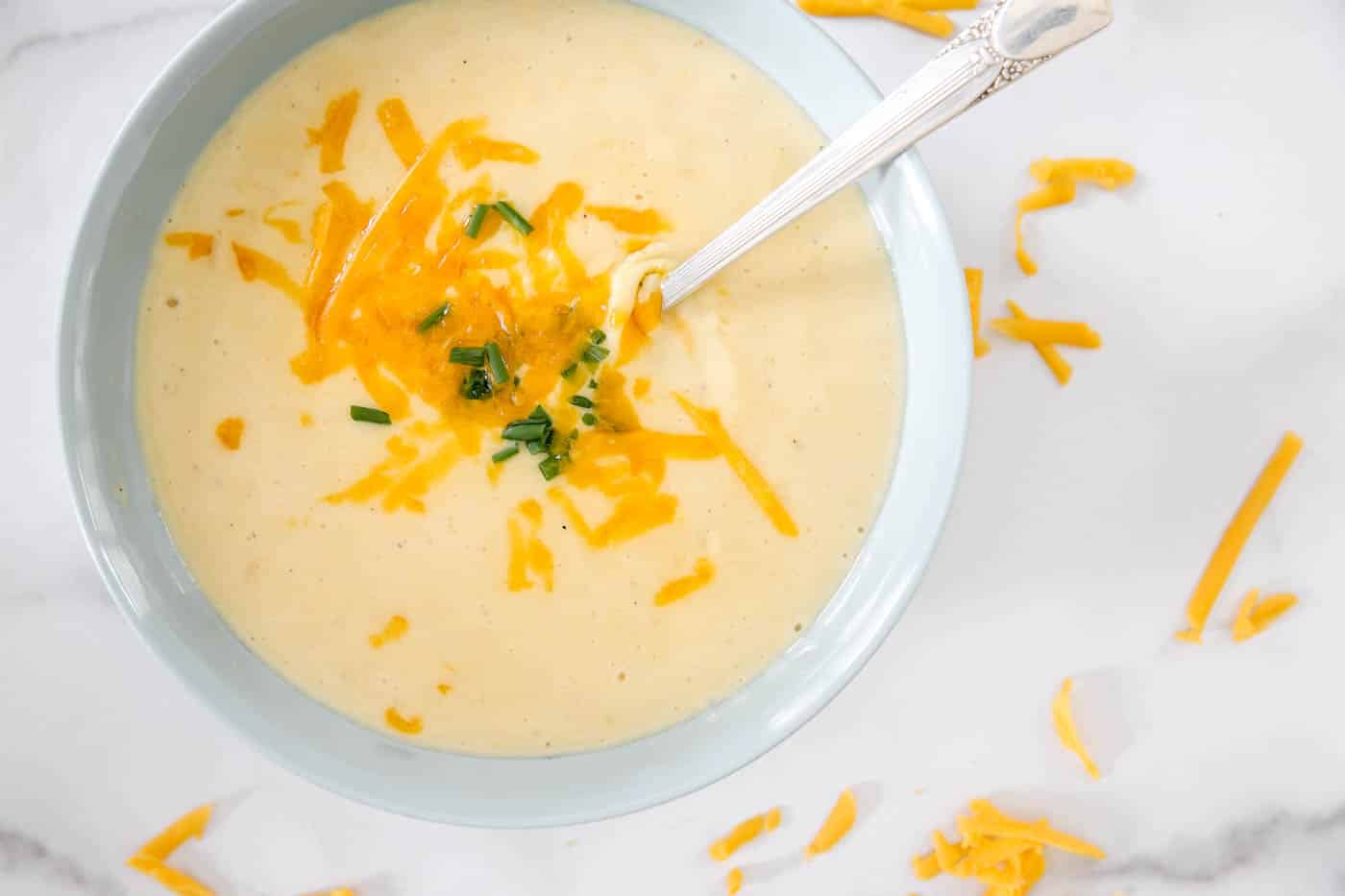 Tips on how to make the best potato and cheese soup
Follow these tips to make creamy dinner soup that's absolutely delicious!
Peel and dice the potatoes into small, even-sized cubes before cooking them. This will help them to cook evenly and faster.
Shred the cheese yourself. Pre-shredded cheese has a coating that can prevent it from melting properly in the soup. Freshly grated cheese just melts better.
Cook your bacon in the oven. This is an easy way to cook bacon without mess or fuss. Plus, you can easily save some time by cooking the bacon in the oven while the soup is coming together.
Choose your favorite mix-ins. From broccoli to carrots to ham, add whatever mix-ins you want for a cheesy potato soup that's unique to your tastes.
What to serve with cheesy potato soup
This cheesy potato soup is so creamy and cheesy, it's hard to believe it's made in under 45 minutes! Serve it as a side to a delicious pot roast for a hearty meal on a cold night.
Or, serve it alone with a side of crusty bread or some fluffy dinner rolls for the perfect meal. And don't forget about adding some bacon bits on top for an extra layer of flavor!
For a unique twist, try whipping up a batch of Bisquick sausage balls. For something light, consider tossing together a quick salad.
How to store and freeze
The cheesy potato soup will last for up to 5 days in the fridge if stored properly. To store it, let the soup cool completely before transferring it to an airtight container. Place a layer of plastic wrap directly on top of the soup so that there is no air between the soup and the lid.
Can I freeze cheesy potato soup?
Yes! This soup recipe freezes very well and will last up to three months in the freezer.
To freeze properly:
Let it cool completely, and then transfer it to an airtight container or a freezer bag.
When ready to eat, thaw the soup overnight in the refrigerator and then reheat it on the stovetop or in the microwave until warmed through.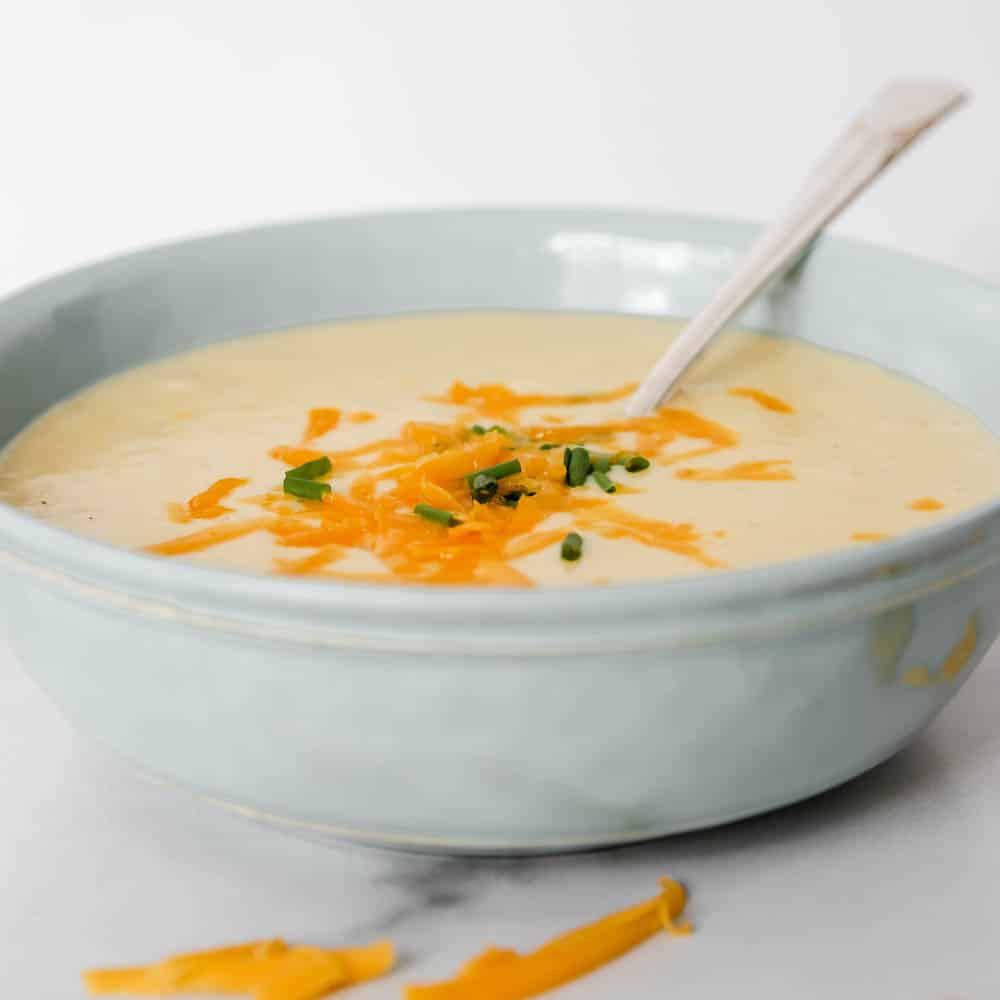 FAQS
Whenever I share this cheesy potato soup recipe, I get some of the same questions. Here are the most popular ones that people ask!
If you have a question that isn't listed here, please leave them in the comments, and I'll answer them as soon as possible.
Which types of potatoes are best for potato soup?
Russet potatoes are best for making cheesy potato soup. They have a high starch content, which will help create a creamy texture. You can also use Yukon Gold potatoes for a slightly sweeter and creamier soup.
Can I use frozen potatoes?
Yes, you can use frozen potatoes for this cheesy potato soup recipe. It's an easy way to save time if you don't have fresh potatoes on hand. Be sure to defrost the potatoes before using them in the recipe.
I've seen some even use frozen hashbrowns!
Can I make this cheesy potato recipe gluten-free?
Yes! Just replace the all-purpose flour with gluten-free all-purpose flour. You will also want to make sure that the bouillion you decide to use is also gluten-free.
Why is my cheese not melting?
The most common reason why cheese doesn't melt well is if it's too cold. Make sure to let the soup come to a simmer before adding the cheese, and stir until it melts completely. If you're still having trouble getting the cheese to melt, try shredding it yourself instead of using pre-shredded cheese.
You can also try adding a tablespoon of starch, such as cornstarch or arrowroot powder, which will help the melted cheese bind to the liquid, so it's creamy and cheesy.
Is cheesy potato soup vegan?
No, this cheesy potato soup is not vegan, as it contains milk, butter, and cheese. However, you can make a vegan version by substituting dairy ingredients with non-dairy alternatives.
How long will this soup last in the refrigerator?
If properly stored, this potato and cheese soup will last up to five days in the refrigerator. To store it, place it in an airtight container and keep it in the fridge. Reheat individual portions as needed.
More grandma-approved recipes
If you loved this recipe for creamy cheesy potato soup, here are a few other recipes you should try! They are all delicious and grandma-approved.
If you decide to try this recipe, let me know. I'd love to hear what you think in the comments below!
Print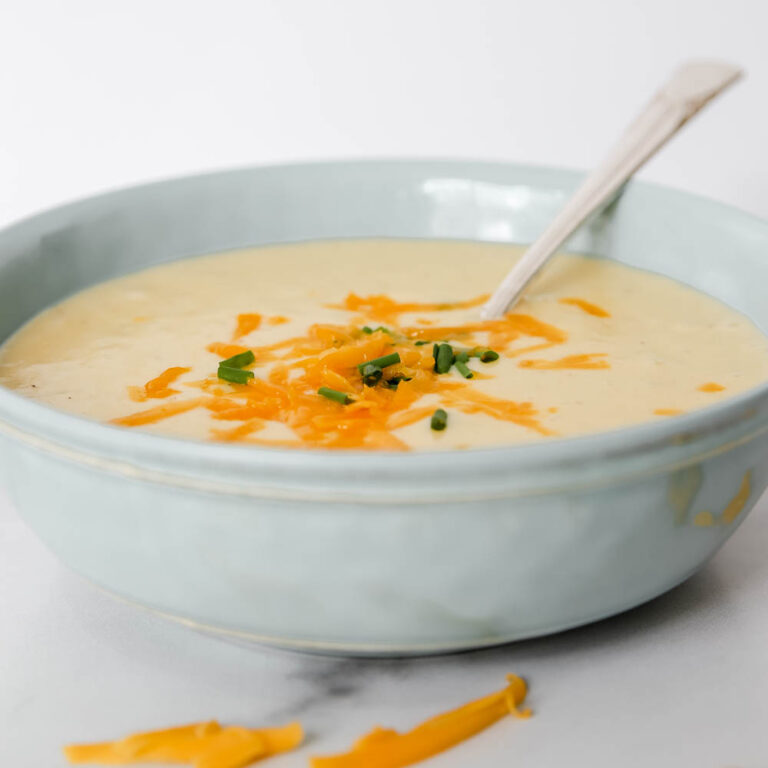 Creamy Potato and Cheese Soup
Cheesy potato soup is a creamy, comforting dish that's perfect for cold winter days. This simple soup recipe combines potatoes and cheddar cheese (along with other delicious ingredients) to create a tasty and hearty meal that can be made in under 45 minutes!
Total Time:

45 minutes

Yield:

8

people

1

x
5 cups

baking potatoes, peeled and chopped

¾ cup

celery, chopped

1

large onion, chopped

¼ cup

butter

3 cups

water

3 cups

milk, divided

4 teaspoons

chicken bouillon powder

½ teaspoon

salt

½ teaspoon

pepper

¼ cup

flour

4 cups

cheddar cheese, shredded

½ cup

bacon, crumbled
Toppings
Bacon bits or pieces
Chives
Sour cream
Cheddar Cheese, grated
Instructions
Rinse and dry all produce.
Peel potatoes and cut into 1-2 inch cubes.
Peel and chop onion. Chop celery.
Add butter to saute pan. Saute onion and celery in butter, on medium high heat for 3-5 minutes, until softened.
Combine potatoes, and water into a 4-quart saucepan. Bring to a boil, then reduce heat to a simmer for 15 minutes, until potatoes are very soft.
Reduce heat to low. Stir 2 cups of milk, bouillon, salt and pepper in with the potatoes.
In a small bowl, combine 1 cup of milk with flour and stir until combined. Stir into soup, then bring to a boil for 2 minutes, until thick. Stir continually.
Reduce heat to low. Add cheddar cheese and ½ cup of bacon crumbles to the soup. Stir until well combined.
Serve warm. Add toppings of choice and enjoy!
Prep Time:

15 minutes

Cook Time:

30 minutes

Category:

Dinner, Lunch, Soup

Cuisine:

American
Keywords: cheese, game day, lunch, potatoes, soup