Strawberry Jello Salad In A Mold
Looking for a quick and easy dessert recipe that will impress your guests? Try this strawberry jello salad in a mold! It's made with only 5 ingredients, and it's super simple to make. It's the perfect dessert for any occasion!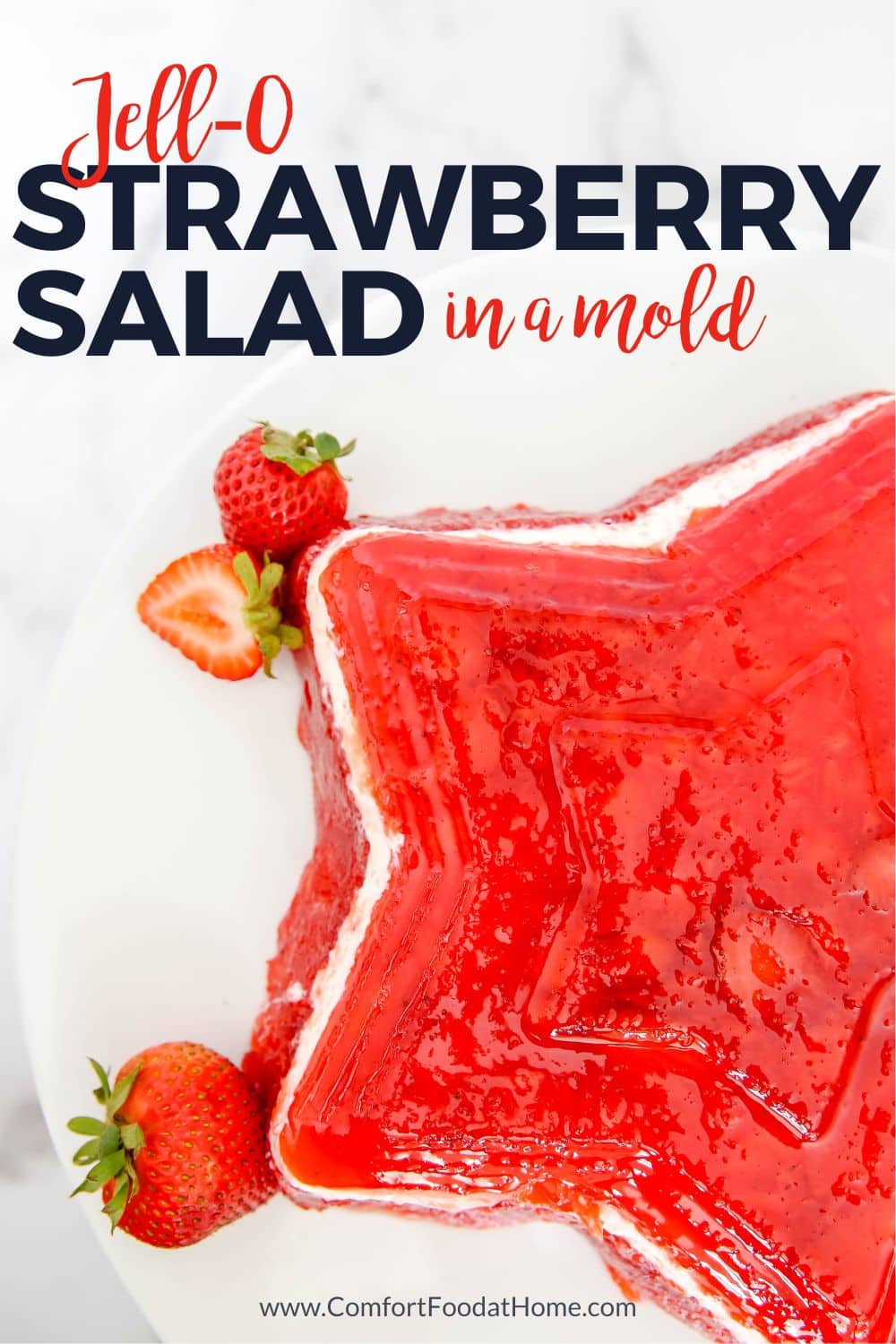 Growing up, my grandma and my mom always taught me that I needed to have a few good casserole and salad recipes up my sleeve for ANY occasion.
Boy, were they right!
Between the summer BBQs and family potlucks, it can be pretty boring to bring the same dishes over and over again.
Thankfully, they showed me a few good recipes that come in handy- like this strawberry jello salad! It's SO easy to make.
With 5 simple ingredients and a bundt pan mold, you can have a yummy dessert salad to bring with you to the next summer party. My family loves to devour this jello treat. They find it to be sweet but refreshing!
By the way, my family always called this a side dish, but it's a sweet one, so it could be considered a dessert, too.
Ingredients Needed
Besides a jello mold, you will need the following ingredients to make this scrumptious strawberry jello salad recipe:
Strawberry Jello Mix: This is the most important ingredient in this recipe! It provides the base and strawberry flavor in this salad. You'll need one 6 oz. box or two 3 oz. boxes.
Boiling Water: You'll need this to dissolve the strawberry gelatin powder and make it into a liquid.
Frozen Strawberries: Try to buy the sliced strawberries in the freezer section if you can! Let them thaw out a bit before adding them to the jello mixture.
Crushed Pineapple: Adding in a can of crushed pineapple adds that subtle tartness that this salad needs so that it is not overly sweet. Make sure to drain the juice before adding it to the jello mix!
Sour Cream: I know this is a weird one but it works! A layer of sour cream adds a sweet yet tart flavor to the strawberry jello salad that completes this recipe! You can use light or full-fat sour cream.
Note: If you enjoyed this strawberry dessert recipe, you should definitely check out my recipe for strawberry pretzel salad– another southern classic!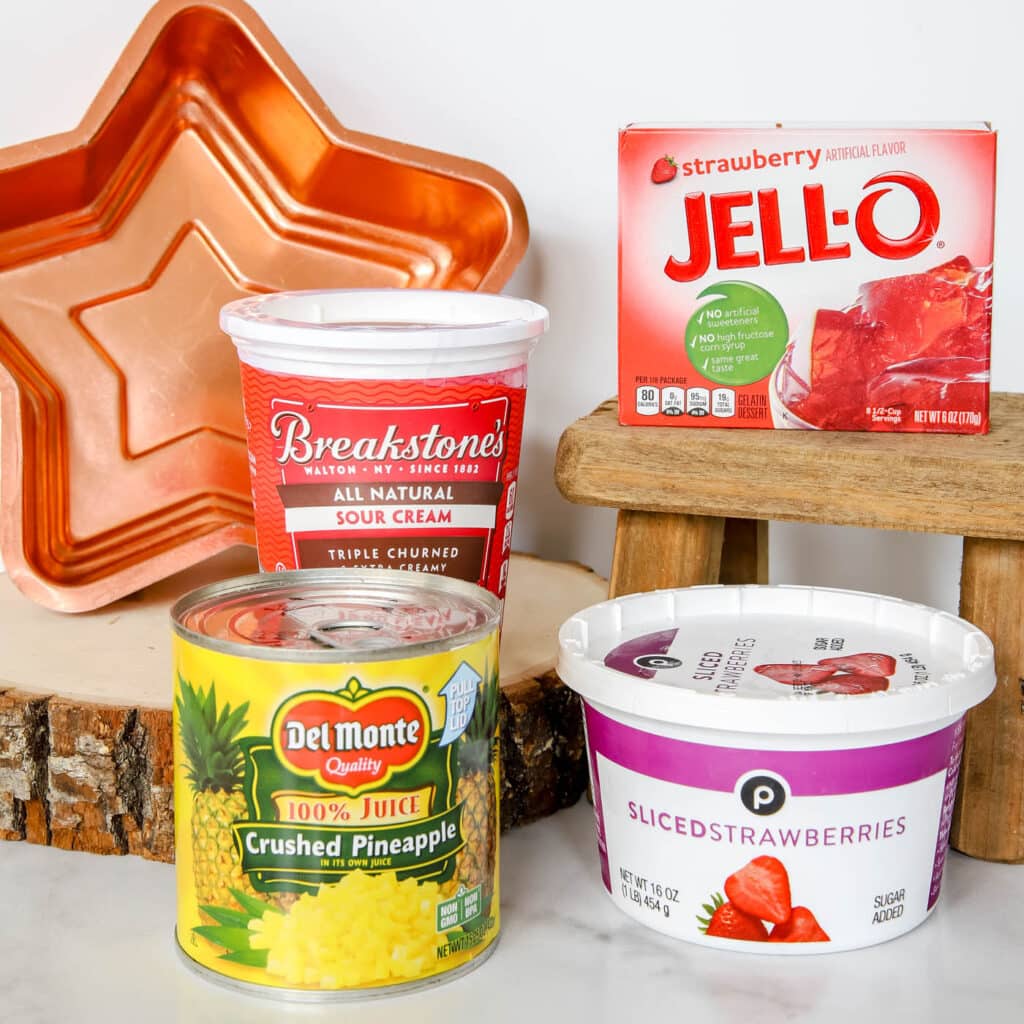 Add-Ins
I usually like to keep this recipe as easy and simple as possible.
With that said, I once attended a friend's get-together, and she made her family's version of strawberry jello salad, and she added a layer of fresh banana slices and chopped pecans.
It was yummy, and I really enjoyed the additional flavors!
I have also seen others use different frozen berries in the jello mix as well. I love getting to try other families' versions of this dessert!
Substitutions
While this recipe works great as is, here are a few swaps you can make:
Instead of using regular jello, swap it out for some sugar-free gelatin!
Use fresh strawberries instead of frozen strawberries. Just be mindful that the salad loses a bit of texture from using fresh berries. The frozen berries add a little bite to the jello salad.
If you really don't want to use sour cream, you can always swap it out for some whipped cream or cool whip. It will be on the sweet side though.
Kitchen Equipment Needed
Here are a few things you'll need to make this delicious salad:
Jello Mold: I love using star salad mold because it reminds me of my grandmother's Jello salad.
Large Mixing Bowl: This is where you will dissolve the strawberry jello into boiling water.
Whisk: A whisk helps to mix everything together well and ensures that the strawberry jello is free of any clumps.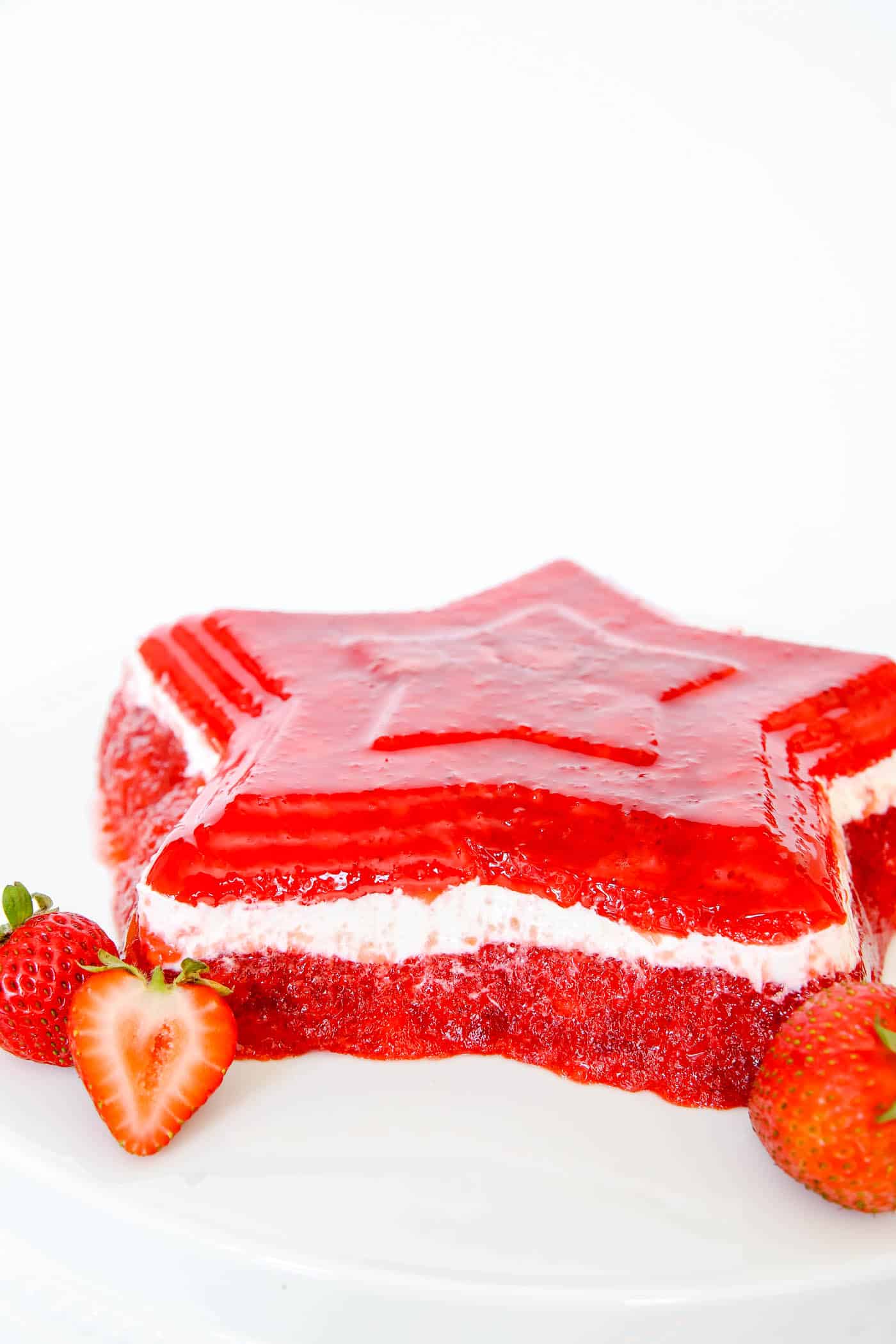 What To Serve With Strawberry Jello Salad In A Mold
A slice of this fruit salad is just perfect on its own! You can also serve it was a few fresh sliced strawberries or pineapple.
Or, you can make a few more desserts to add to the sweets table!
If you know there are going to be a handful of chocolate lovers at the party, make a chocolate fudge pie or fudgy brownies. For something a bit different, try making this super easy coconut cake to bring with you!
We love to eat it for holidays, sopped up with a yummy yeast roll!
FAQS
Whenever I share this strawberry jello salad recipe, I get some of the same questions. Here are the most popular ones that people ask!
If you have a question that isn't listed here, please leave them in the comments, and I'll answer them as soon as possible.
What kind of jello mold should I use?
You can use any type of bundt pan or jello mold for this recipe! If your mold is silicone, you won't need to worry about greasing it. If your mold is not silicone, I would suggest greasing it with a non-stick cooking spray or butter (just in case).
Can I use fresh strawberries?
Yes! You can use fresh strawberries in this recipe, but the salad will be softer than if you use frozen strawberries. Just make sure the strawberry slices are really small!
Why does my jello salad get watery?
There are a few reasons why this could happen.
One reason might be that you didn't dissolve the strawberry gelatin powder in enough boiling water. Make sure to stir it really well until it is all dissolved and there are no clumps.
Another reason might be that you added too much liquid to the mixture by not draining the pineapple or having too much liquid with the strawberries.
How can I properly store this strawberry jello salad?
It should be stored in the refrigerator. Once the jello has set, cover the top of the bundt pan with plastic wrap and store it in the fridge.
This strawberry jello salad can be stored for up to four days!
Can I freeze it?
I wouldn't recommend it. Because jello is made with gelatin, it won't really freeze well, and the texture will change. Once it's been sitting out for a while, it can separate and get really watery.
More Grandma-Approved Recipes
If you loved this strawberry jello salad in a mold, here are a few other recipes that you should try! They are all delicious and grandma-approved.
Print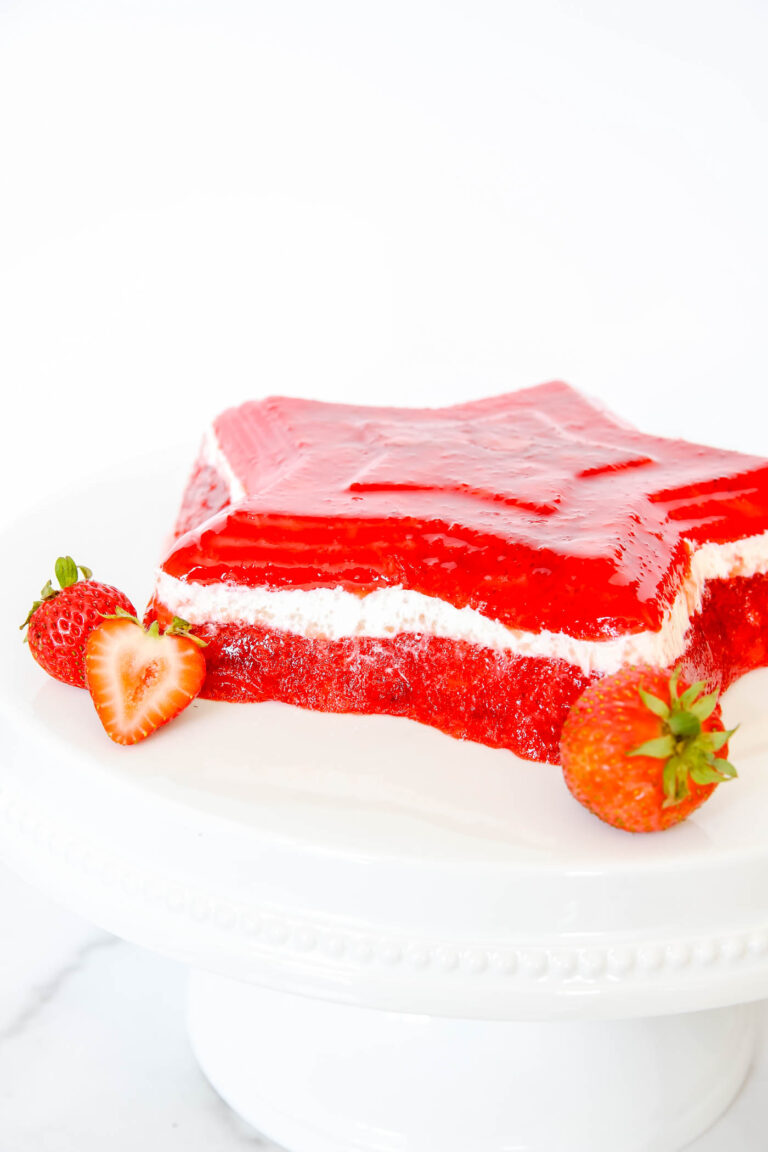 Strawberry Jello Salad in a Mold
Looking for a quick and easy dessert recipe that will impress your guests? Try this strawberry jello salad in a mold! It's made with only 5 ingredients, and it's super simple to make. It's the perfect dessert for any occasion!
Total Time:

30 minutes

Yield:

8

servings

1

x
6 oz

. strawberry Jello

1 cup

boiling water

16 oz

. package of frozen sliced strawberries, partly thawed

15 oz

. can of crushed pineapple, drained very well

8 oz

. sour cream
Instructions
Pull the strawberries from the freezer and allow to slightly thaw.
Mix the Jello with the boiling water, stir until dissolved.
Drain the pineapple. I press the water out of the pineapple in a metal mesh strainer. 
Add the strawberries and pineapple to the Jello mixture.
Pour half the mixture into the mold and refrigerate until firm.
Spread the sour cream on top of the Jello in the mold.
Then top with the remaining Jello mixture and refrigerate until firm.
Remove the Jello salad from the mold by dipping the bottom of the mold into hot water for 10-20 seconds. Score the edges with a knife. Place a plate on top of the mold and turn it over to let the Jello salad fall out.
Serve immediately and enjoy!
Notes
The star mold I use is a 5-cup mold. 
Author:

Laura

Prep Time:

10 minutes

Refrigeration Time:

20 minutes

Category:

Side Dish

Cuisine:

American
Keywords: salad, fruit, jello, dessert, side dish