Homemade Flaky Pie Crust Recipe
Are you tired of struggling with pie crust recipes that never turn out quite right? Look no further! The all-purpose flour, butter, sugar, salt, and ice water will guarantee a delicious, flaky pie crust recipe every time. And the best part? It's easy to make!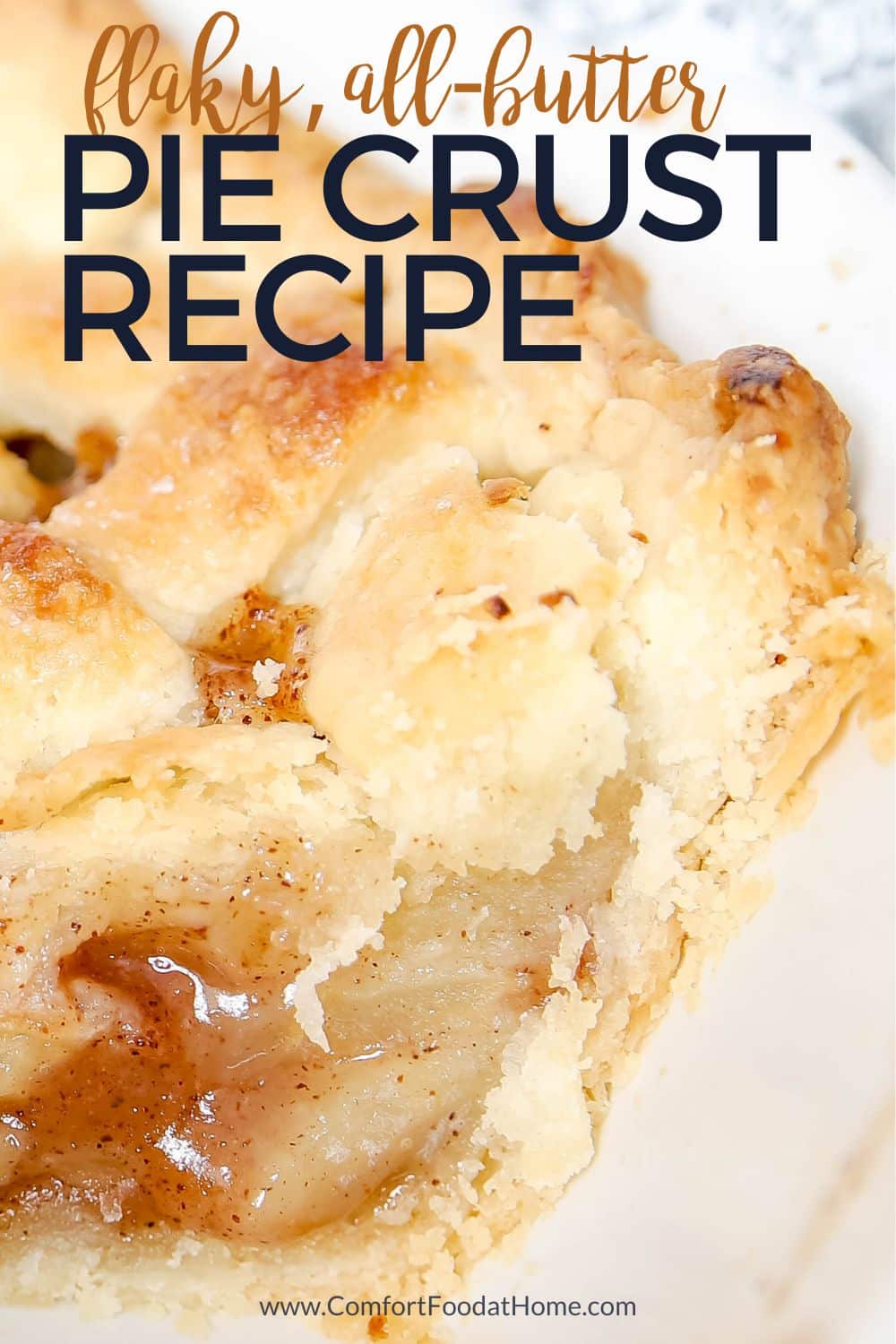 A Never Fail Flaky Pie Crust To Use This Holiday Season!
Listen, I'm all for a store-bought pie crust when I'm on a time crunch, but there's something special about homemade pie crust that makes a pie truly unforgettable.
Plus, with the holiday season quickly approaching, this is the perfect time to learn how to make the perfect flaky pie crust recipe!
My mama and I have tried a variety of homemade pie crust recipes over the years, and this one is hands down the most delicious! It's beautiful flaky, buttery, light, and delicious.
I'm super excited to try it out on my pecan pie and chocolate fudge pie. Just imagine the ooey gooey filling combined with this perfectly flaky crust. Talk about food heaven!
This pie crust recipe is perfect for a pie crust that needs to be baked after the filling is added. I'll have to share another blog post about how to bake an empty pie crust, otherwise known as blind baking.
So enough with the small talk, let's get started on making this never fail flaky pie crust.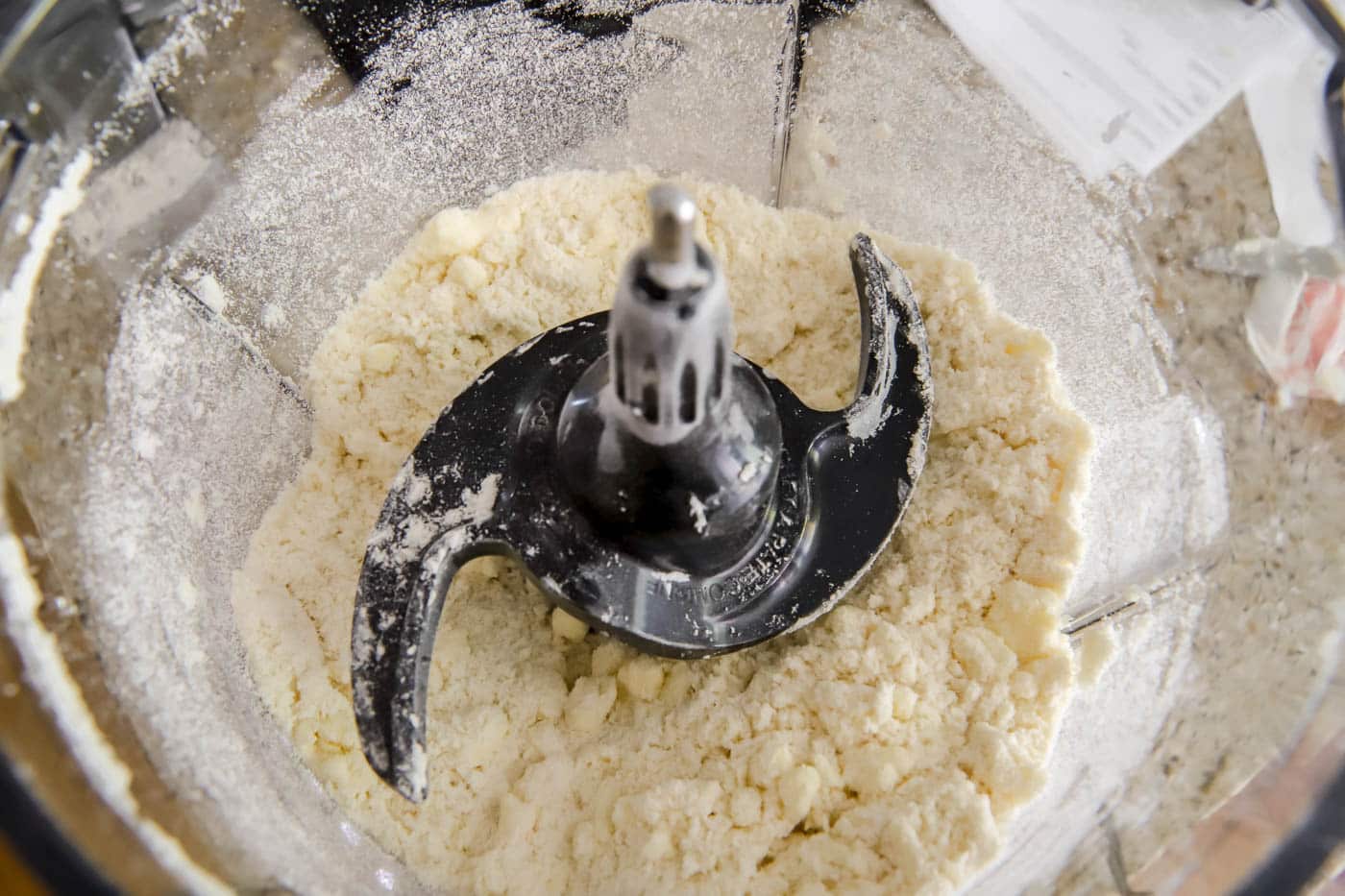 Ingredients needed to make flaky pie crust recipe
To make this amazing flaky pie crust, here are all of the ingredients you'll need:
All-Purpose Flour: The base of any good pie crust is flour, and all-purpose flour works perfectly for this recipe. It's important to measure the flour accurately, so make sure to spoon it into the measuring cup and level off with a knife. Make sure you have enough for 2 1/2 cups.
Granulated Sugar: A touch of sweetness in the crust adds a nice balance to the filling. Make sure to use granulated sugar, not powdered sugar. You'll need two tablespoons.
Salt: A pinch of salt helps enhance the flavors and balances out the sweetness of the sugar.
Cold Butter: It's important to use cold butter for this recipe. The chunks of cold butter in the dough are what create those flaky layers we all love in a pie crust.
Ice Water: Just like the butter, it's crucial that your water is cold. This helps keep the butter from melting and ensures a flaky crust. You'll need a few tablespoons.
Tips for making an all butter pie crust
Use cold butter: The key to making a flaky pie crust is using cold butter. This helps create layers in the dough, resulting in a light and airy texture.
Cut flour with a pastry cutter: To incorporate the butter into the flour, use a pastry cutter or two forks to cut it into small pieces. This will help distribute the butter evenly throughout the dough.
Add ice water gradually: It's important to add ice water slowly and only use as much as needed. Too much water can make the crust tough instead of flaky.
Don't overwork the dough: It's important to work quickly and not overmix the dough. Overworking it can cause the dough to become tough and result in a dense crust. If you're using a food processor, just give it a few pulses to mix everything up.
Make sure to chill the pie dough: Once the dough is formed, just pop the dough in plastic wrap and chill it for an hour or up to 3 days. If you're in a hurry, you can use it right away. And if you're short on time, just refrigerate it for as long as possible. This dough will keep in the freezer for up to three months. Just double-wrap it in plastic wrap and place it in a zip-top bag.
Note: The pie crust is ready to be used in a recipe that calls for an uncooked pie crust.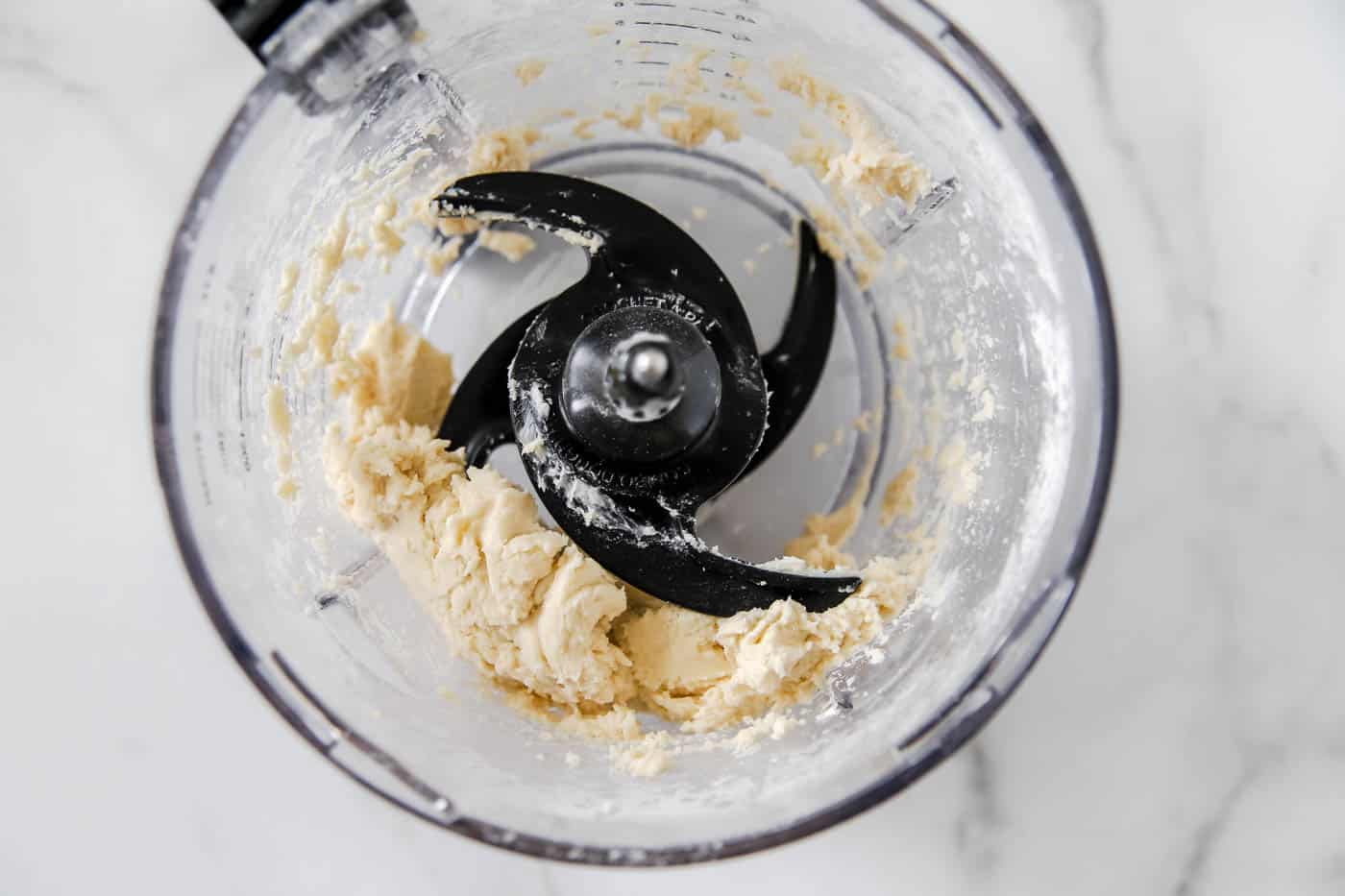 How to use a flaky pie crust recipe
The beauty of this recipe is that it can be used for any type of pie filling. You can use it for fruit pies, custard pies, or even savory quiches.
Simply follow the instructions in the recipe you are using and use this flaky crust as the base.
Here are some of my favorite ways to use this crust: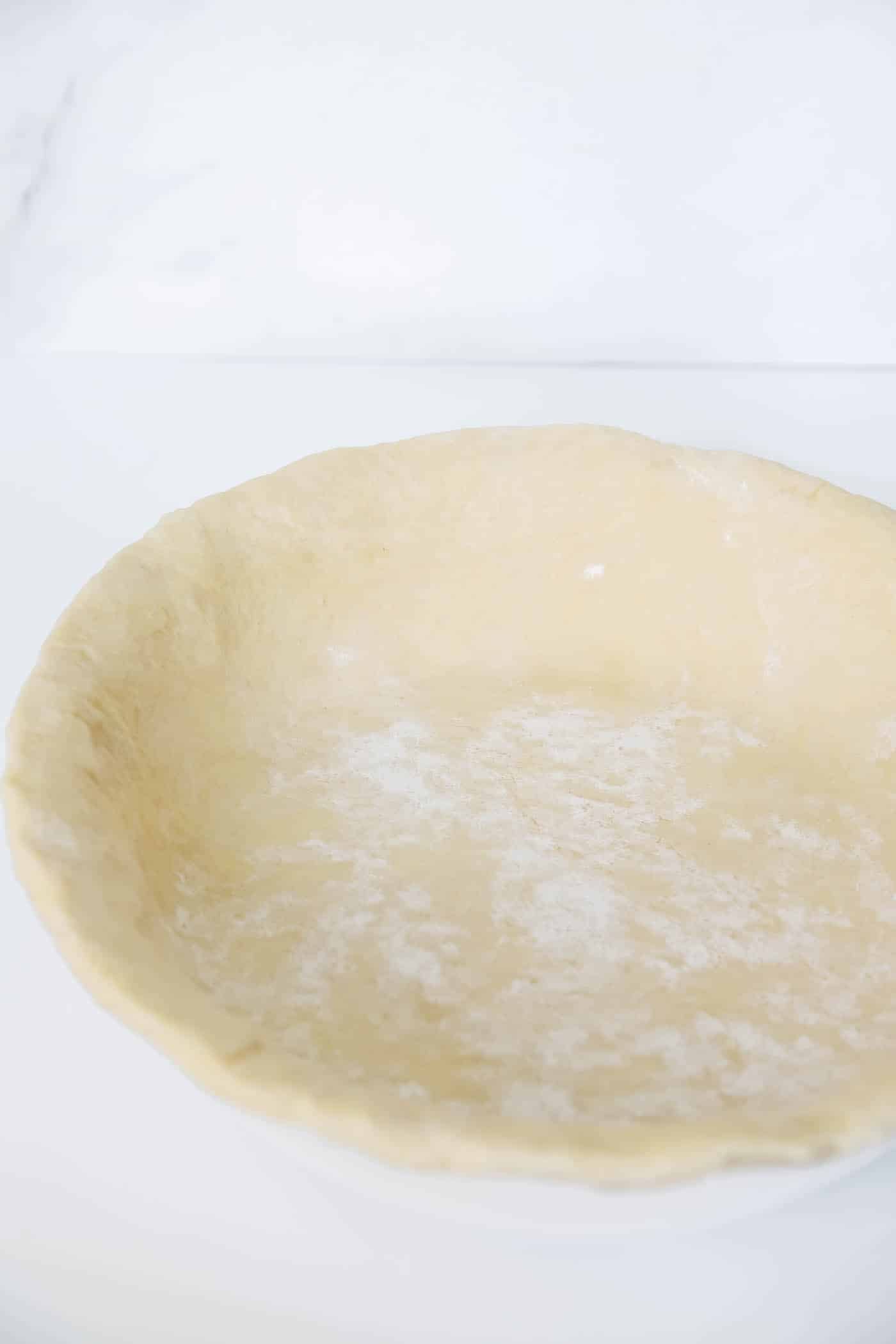 Frequently asked questions about homemade pie crust
Whenever I share this recipe, I get some of the same questions. Here are the most popular ones that people ask!
If you have a question that isn't listed here, please leave them in the comments, and I'll answer them as soon as possible.
What is the secret to flaky pie crust?
The secret to a flaky crust is using cold butter and not overworking the dough. When you cut the butter into small cubes, it creates tiny pockets of air that help create a flaky texture.
Also, when adding water, make sure it is ice-cold and only mix until the dough just starts to come together.
Can I use this recipe for a gluten-free pie crust?
This particular recipe is not gluten-free, but you can substitute the all-purpose flour with a gluten-free flour blend. The texture may be slightly different, but it should still yield a delicious and flaky crust.
Can I make this ahead of time?
Yes, you can make this simple pie crust dough in advance and keep it refrigerated for up to three days. You can also freeze it for up to a month. Just make sure to thaw it out in the fridge before using it.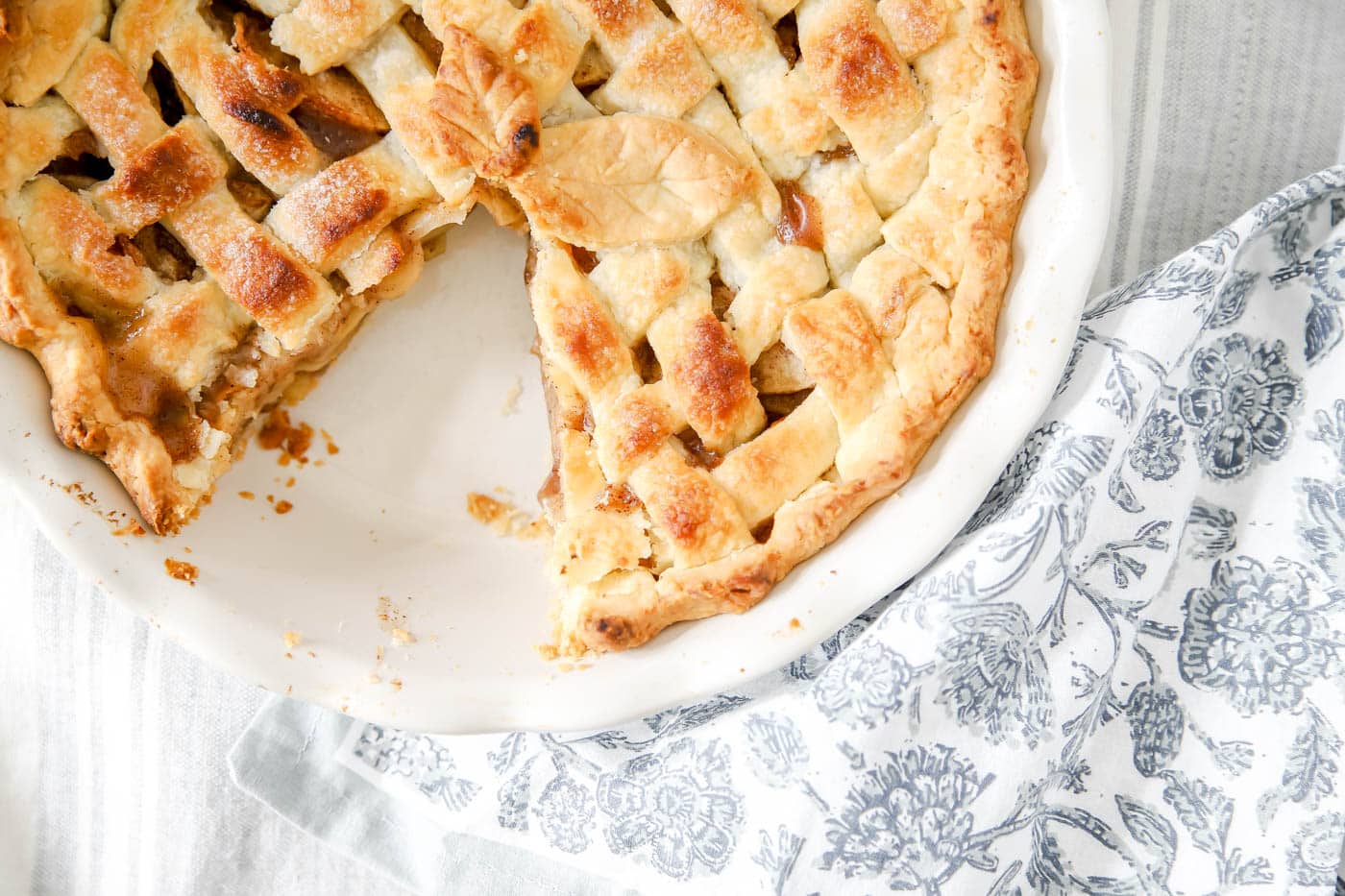 More Grandma-Approved Recipes To Try
If you enjoyed this recipe for flaky pie crust, take a look at some of these other yummy recipes:
Print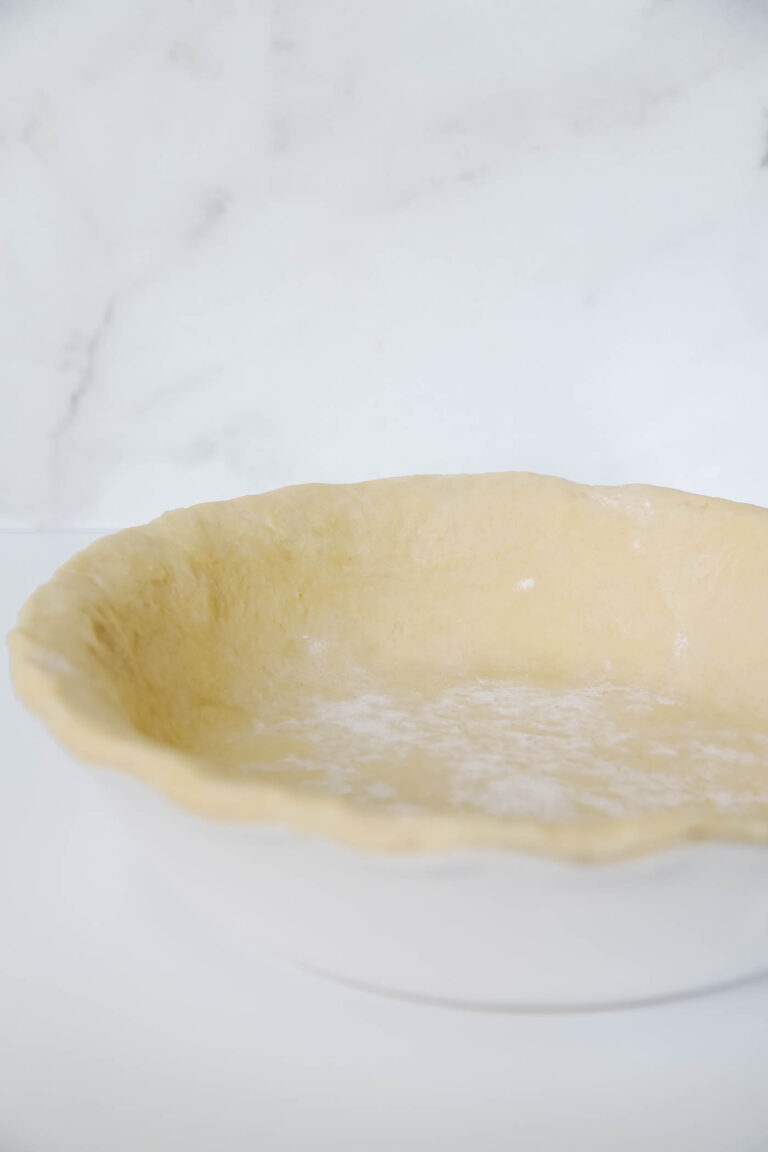 Flaky Homemade Pie Crust
Are you tired of struggling with pie crust recipes that never turn out quite right? Look no further! The all-purpose flour, butter, sugar, salt, and ice water will guarantee a delicious, flaky pie crust recipe every time. And the best part? It's easy to make!
1 1/4 cups

all-purpose flour

2 teaspoons

granulated sugar

1/2 teaspoon

salt

1/2 cup

(

1

stick) cold butter, cut into small cubes

1/4 cup

ice water
Instructions
Combine the flour, sugar and salt with a whisk in a medium bowl or by pulsing in a food processor. 
Remove the butter from the fridge and cut it into small cubes. 
Sprinkle the butter over the dry ingredients and cut it into the flour with a pastry cutter, or pull two knives through the mixture until the butter is evenly distributed. Be careful not to over mix, butter pieces should be about the size of popcorn kernels. If using a good processor, pulse the mixture a few times to combine, but not over mix. 
Add the ice water to the mixture and combine with a spoon or spatula until it starts clumping together. 
Using your hands, work the dough quickly into a ball. 
Chill the dough in plastic wrap for 1 hour, up to 3 days. The dough can be used immediately, if needed, though. Or just refrigerate it as long as you can, if you don't have an hour to wait. 
When Ready to Use the Dough
Place the dough on a well-floured, clean surface. Allow it to rest for about 10 minutes before dusting the rolling pin and rolling the dough out. Roll it into an even circle, about 12 inches in diameter. This will be enough to cover a standard 9-inch pie plate. 
Transfer the dough to the pie plate and lay it gently into the plate, careful not to stretch it. Trim the excess off the edge with a knife. 
The pie crust is ready to be used in a recipe that calls for an uncooked pie crust. 
Notes
It's important to choose the right kind of all-purpose flour. I usually buy unbleached hard red wheat all-purpose flour for most of my baking needs. But when making a pie crust, it's important to choose a soft winter wheat, something like White Lily.
It's also important to use cold butter and ice water in the recipe. These will keep the crust cool and give you the flaky results everyone loves. Simply keep the butter in the fridge until ready to use it. And keep a glass of ice water at the ready for when it's time to add the water. Simply pour it from the glass into the measuring cup.