Stuffed Italian Chicken Roll-Ups
This post contains links to affiliate websites, such as Amazon, and we receive an affiliate commission for any purchases made by you using these links. We appreciate your support!
Looking for a delicious and special chicken dish? Look no further than chicken roll ups! This Italian recipe is easy to follow and requires few ingredients. You'll need chicken breasts, mozzarella cheese, tomatoes, and mushrooms seasoned with Italian seasoning. The end result is a mouth-watering dish that your guests will love. So why not give it a try?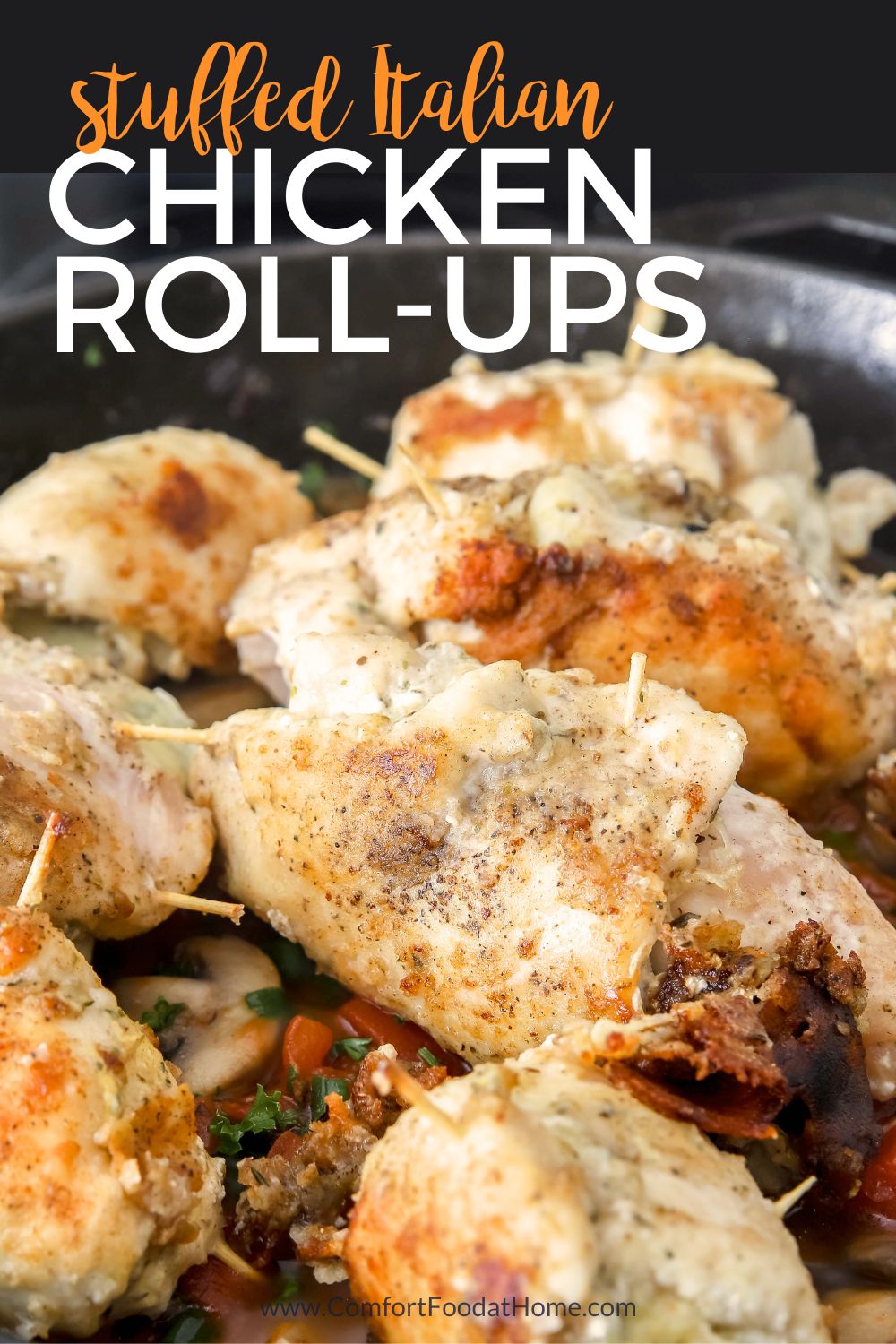 Growing up, my mama used to take some time on Sundays to make a few meals for the week so she wouldn't have to cook. She was a busy lady!
Her go-to's were always:
She also used to make these stuffed chicken roll ups to eat for lunch with a quick salad. Sometimes, she would stuff them differently but for today's recipe, I am going to share my Italian version of this dish.
You can have dinner ready in under an hour!
Chicken roll ups are delicious because they are filled with flavorful ingredients like mozzarella cheese and tomatoes. The chicken is also seasoned with Italian seasoning, which gives the dish a wonderful flavor profile.
They really are delicious- my kids love it!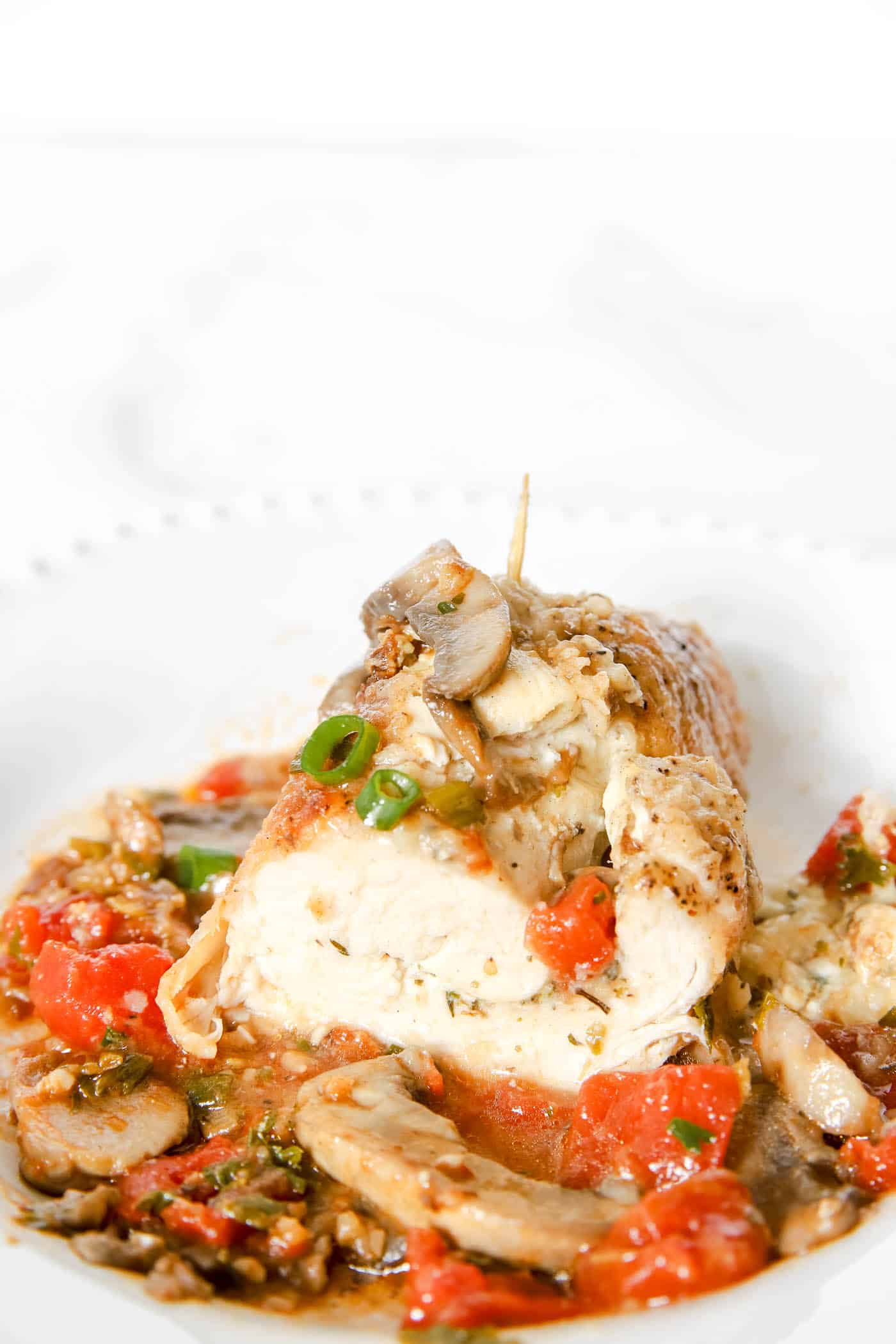 Ingredients needed
You will need the following ingredients to make this yummy Italian dinner…
Chicken: To make these roll ups, you want to use boneless, skinless chicken breasts. The thinner, the better!
Dijon mustard: This isn't a typical ingredient in Italian cuisine, but it really helps to give the chicken breasts some flavor. Spread it on a thin layer to keep the chicken nice and juicy.
Italian seasoning: This seasoning blend is key to giving this dish an authentic flavor. You can find it pre-made at the store, or make your own by mixing together dried basil, oregano, thyme, garlic powder, and onion powder!
Mozzarella cheese: You could use any type of cheese in these chicken roll ups, but we love the classic mozzarella. It's nice and mild, and it melts beautifully. You'll need about 4 slices.
Mushrooms: Sliced mushrooms are a great way to add some veggies into the mix. I prefer baby bella mushrooms, but you could use any type of mushroom that you like.
Tomatoes: Adding in two fresh tomatoes is a great way to add some sweetness and color to the dish. I like to dice them so that they cook evenly. You can also use a can of diced tomatoes instead!
Garlic cloves: You'll need one clove of garlic, minced. I love the flavor that garlic adds to this dish, but you could always leave it out if you're not a fan.
Flour: I used all-purpose flour to bread the chicken before frying. Just a cup will do!
Oil: You will need 2-3 tablespoons of olive oil to fry up the chicken rolls. You can also swap out the olive oil for vegetable or canola oil.
Green onions: These are completely optional, but I like to flavor my veggie sauce with some green onions. Plus, they add a nice pop of color!
Fresh parsley: I also like to garnish my chicken roll ups with some fresh parsley. This is optional, but it does add a nice flavor.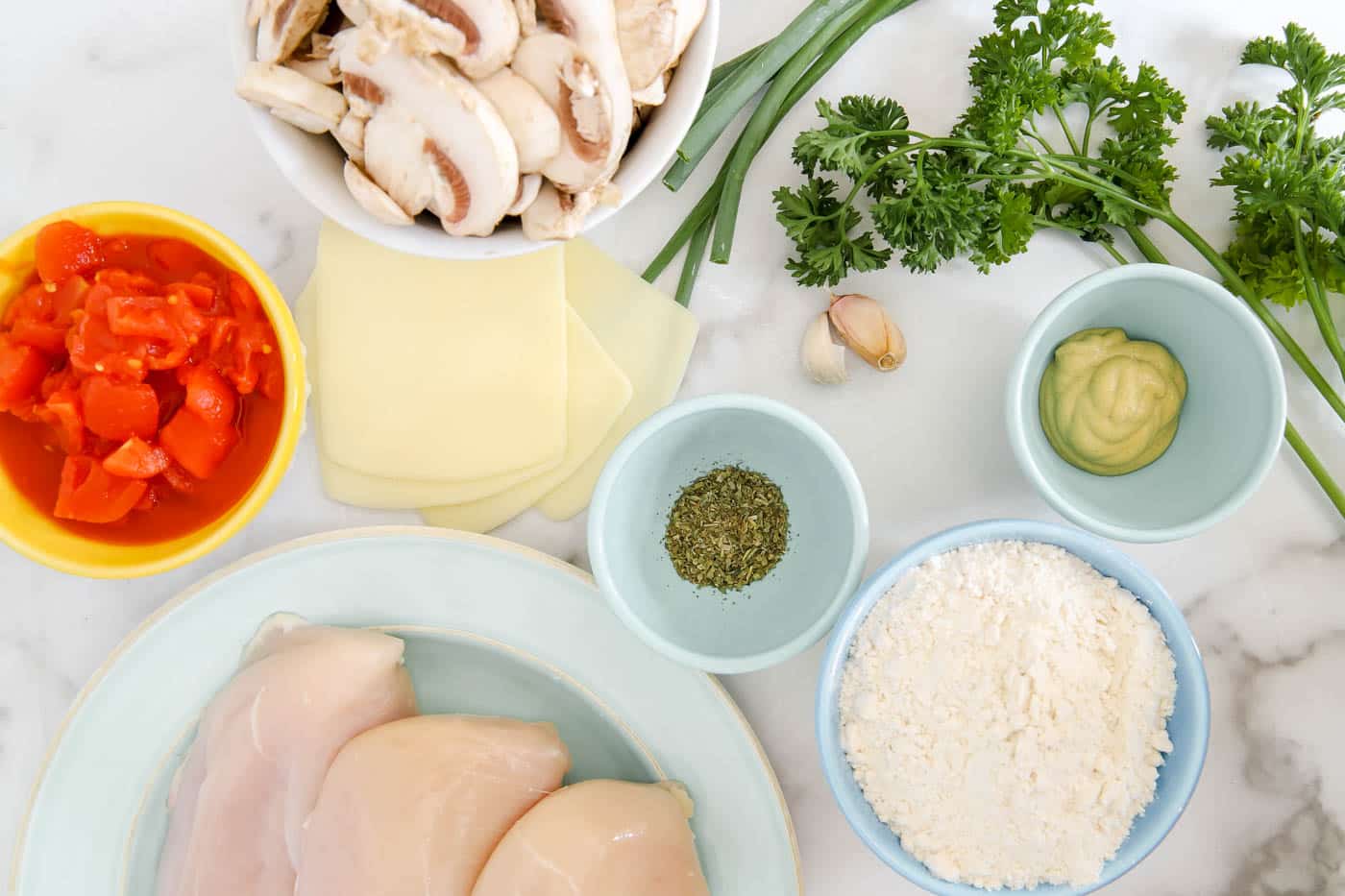 Tips for Rolling Up Chicken
If you've never made chicken roll-ups before, the process might be intimidating. But, the key is to get the chicken flat and roll-able. If you're working with larger chicken breasts, I would cut them in half length-wise before flattening them out.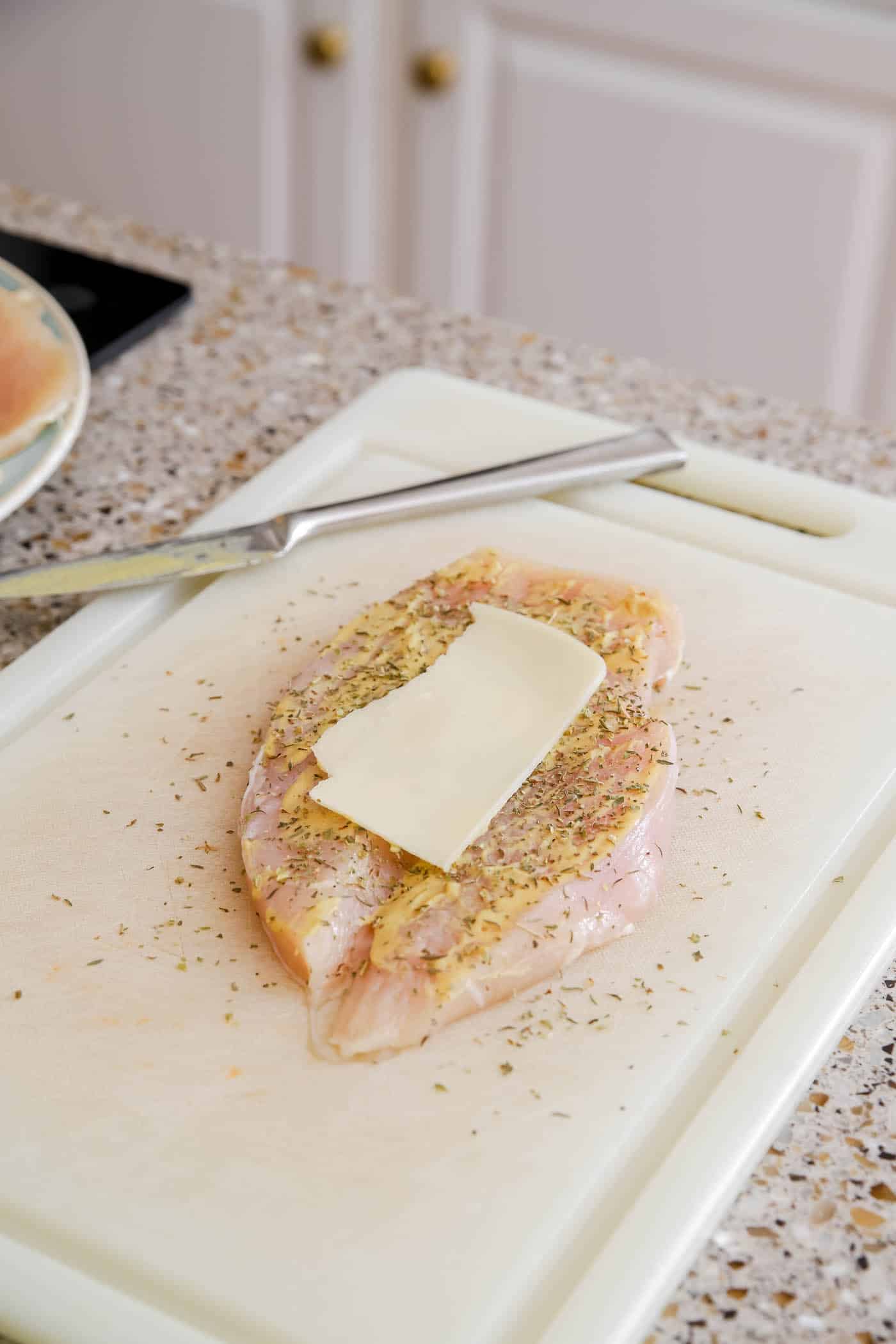 Then place the piece of chicken in between plastic wrap and use a meat tenderizer to beat it flat. Once flattened, layer the cheese, mustard and spices on top.
Then roll it as tight as you can, until all of the stuffing is covered. We used 2-3 toothpicks for each piece of chicken.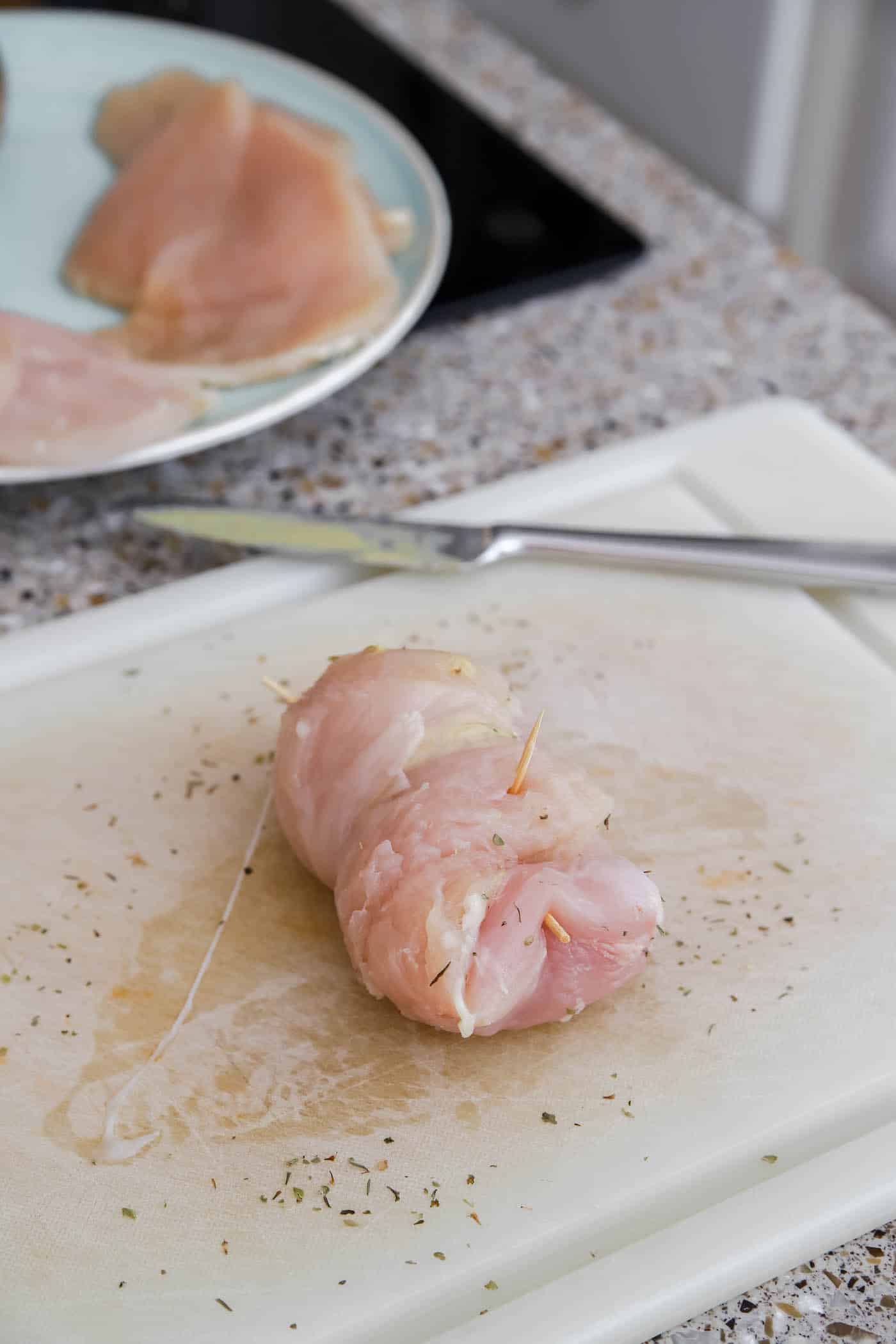 Kitchen equipment needed
Here are a few things you'll need to make these stuffed chicken rolls:
Plastic wrap
Toothpicks
Cutting Board
Sautéing pan with lid << this one is my favorite!
What to serve with Italian chicken rolls
This Italian chicken recipe goes really well with your favorite cooked pasta! I like to make some spaghetti and scoop any leftover tomato and mushroom mixture over the top.
For a veggie side dish, make some roasted broccoli!
And, for dessert, you can never go wrong with some homemade cheesecake.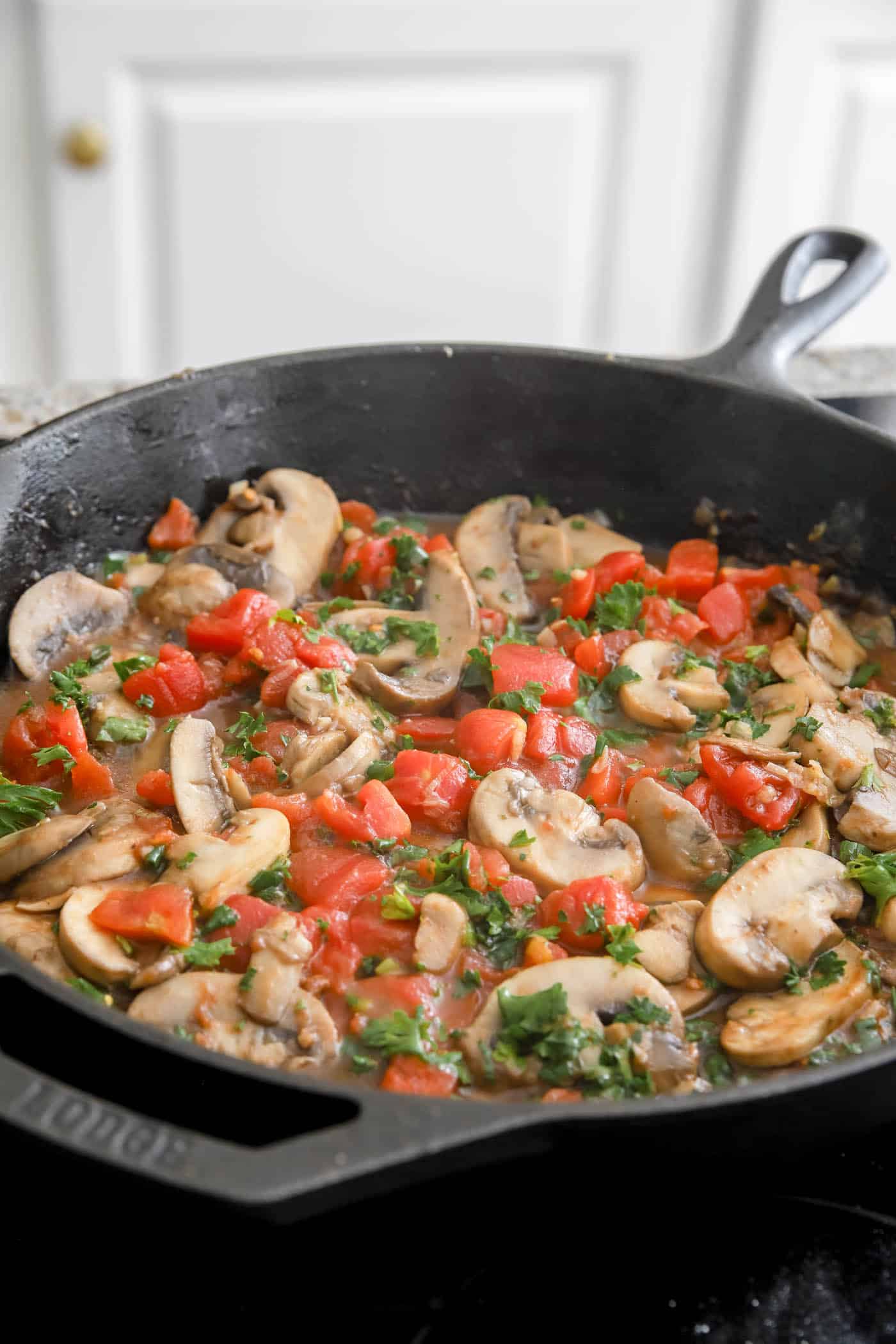 FAQs
Whenever I share this Italian chicken roll-up recipe, I get some of the same questions. Here are the most popular ones that people ask!
If you have a question that isn't listed here, please leave them in the comments, and I'll answer them as soon as possible.
How can I make these chicken roll-ups gluten-free?
The one thing I would recommend changing is the flour. Swap it out for a 1:1 gluten-free flour to coat the chicken.
As a gluten-free (low-carb) option, try using some coconut flour.
Can I make this recipe ahead of time?
Yes! These chicken roll-ups are actually even better when made ahead of time. Just follow all of the instructions up until frying the chicken. Then, cover and refrigerate for up to 24 hours.
When you're ready to cook, roll the chicken in flour and fry as directed.
Can I bake these stuffed chicken rolls instead of frying them?
Yup. If you'd prefer to bake them, preheat your oven to 400 degrees and spray a baking sheet with non-stick cooking spray. Place the chicken rolls on the baking sheet, and bake for 25-30 minutes, or until golden brown.
How should I store leftovers?
Any leftover chicken can be stored in an airtight container in the fridge for up to four days. Reheat them in the oven until warmed through.
I don't recommend freezing these, as the chicken can get a little tough.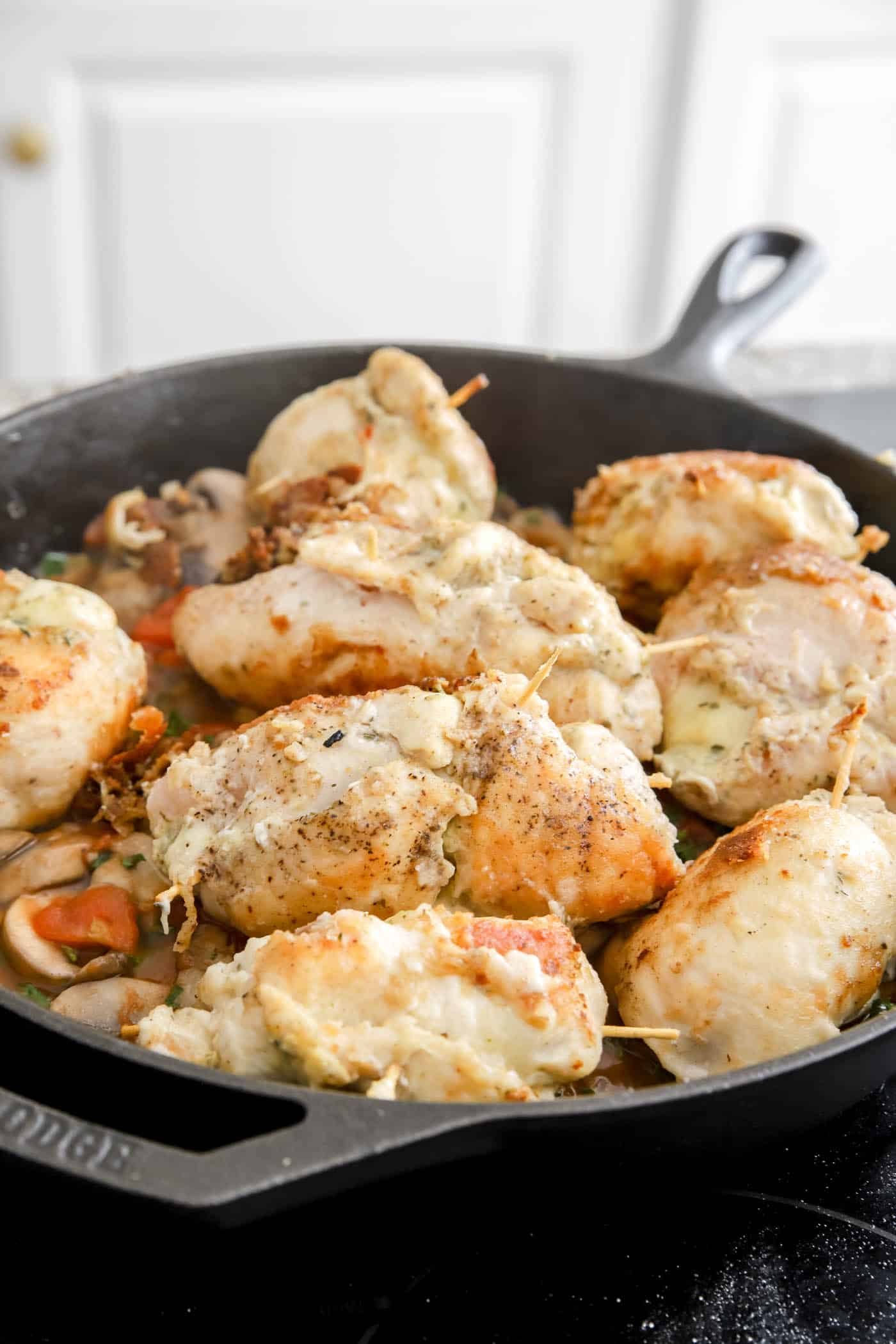 More grandma-approved recipes
If you loved this Italian chicken dinner, here are a few other recipes that you should try! They are all delicious and grandma-approved.
Print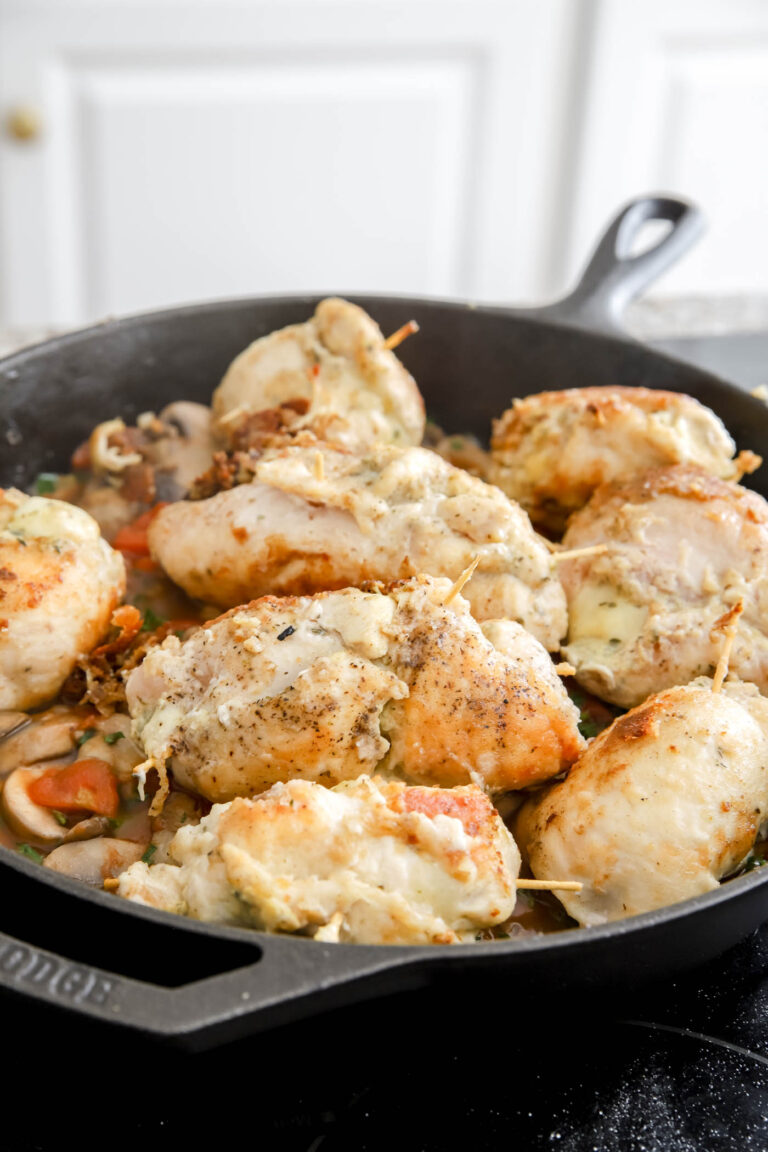 Stuffed Italian Chicken Roll-Ups
4

boneless, skinless chicken breasts

2 Tbsp

. dijon mustard

1 tsp

. Italian seasoning

4

slices of mozzarella cheese

1 cup

flour

2

–

3

Tbsp. olive oil

4

green onions, sliced

1

clove garlic, minced

2 cups

fresh mushrooms

14.5 oz

. diced tomatoes, or

two

fresh tomatoes, diced

1 Tbsp

. fresh parsley, chopped
Instructions
Put one cup of flour in a shallow dish and set aside.
Rinse and dry all produce.
Slice green onion thinly and set aside.
Dice tomato if using fresh and set aside.
Press garlic and set aside.
Slice mushrooms and set aside.
Chop parsley and set aside.
Place boneless skinless chicken breasts between two pieces of plastic wrap and beat with a meat tenderizer until thin. (Or cut them in half long ways to make thin pieces of chicken, then flatten if needed.)
Spread each piece of chicken with dijon mustard, sprinkle with Italian seasoning and top with mozzarella cheese slices.
Roll chicken breasts up and fasten with 2-3 toothpicks.
Sprinkle each chicken piece with salt and pepper and roll in the flour.
Heat a pan on medium-high heat and add the olive oil (enough to cover the bottom of the pan). Once the oil is hot, place the chicken in the pan. Cook for 3 minutes on each side, rotating to brown all the sides. (The chicken will continue to cook at a later step).
Remove pan from heat and put the chicken on a plate. Set chicken aside.
In the same pan used for the chicken, add a drizzle of olive oil. Sauté garlic, onions and mushrooms on medium-high heat for 3-5 minutes, until mushrooms are soft.
Add tomatoes and parsley. Stir until the parsley starts to wilt and all is combined, about 1 minute.
Then add the chicken back to the pan, reduce to medium-low heat, cover and cook for 15 minutes. Add a little water if not enough liquid.
Spoon the tomato and mushroom mixture over the chicken and serve.
Author:

Laura

Prep Time:

25 minutes

Cook Time:

30 minutes

Category:

Dinner

Cuisine:

Italian
Keywords: cheese, chicken dinner